The kitchen is probably the most essential space in our homes, especially since it can be said that we live in an era of food fetishizing.
Not only that it is the place where we prepare our meals, and a space where the whole family can gather and spend some time together, but also the place where we want to show our aesthetics and catch the overall home atmosphere while trying to take a perfect Instagram photo of the exotic dinner we have just prepared.
To make our cooking time easier and more enjoyable, we can improve and beautify our kitchen space with the effective arrangement and storage solutions. Here are some tips.
Kitchen Organization General Tips
Whether your kitchen has 3 or 33 square meters, there never seems to be enough room to store all the kitchen goods you might need. You know all the cookware, spices, utensils, and all sorts of details we find crucial in preparing our special meals?
If you want to find them at the very exact moment you need them, you should store them at your fingertips, while at the same time maximizing your kitchen space.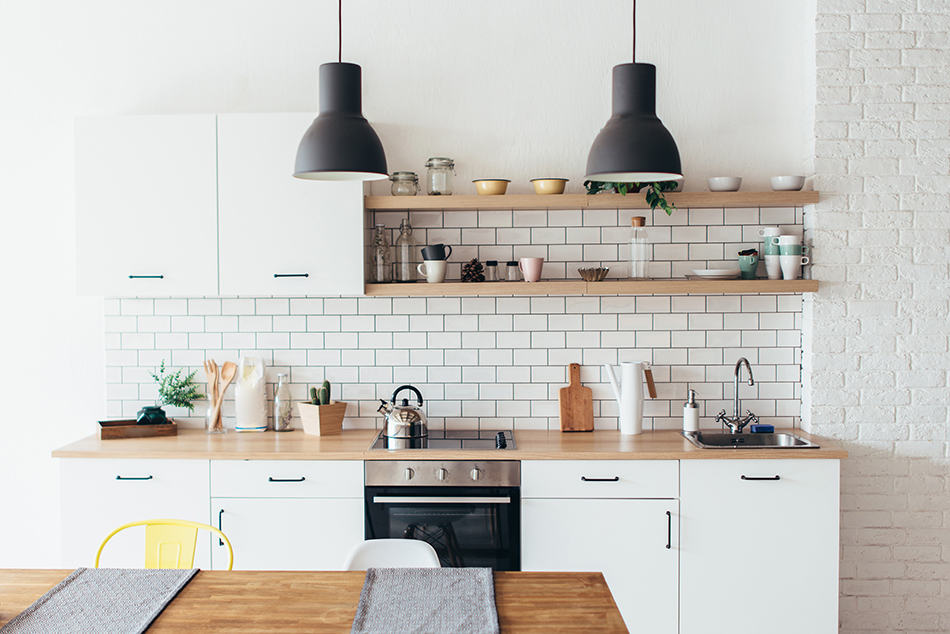 You have already got it: the keywords for kitchen organization are management and space. The design follows them and should depend on them, not the other way around.
However, you can always spice your kitchen up with several stylish details and ornaments.
We will show you some of the most popular kitchen organization ideas, divided into different vital elements of the kitchen space.
Kitchen Cabinet Organization
There are many kinds and ideas of kitchen cabinet, so kitchen planning usually begins with kitchen cabinetry design.
These cupboards with drawers and shelves typically occupy most of the kitchen space and are positioned on the floor and/or hang on the walls. It is why it is very important to consider the size and shape of this space prior to choosing the cabinet.
You should also consider your storage needs – how many shelves and how many drawers you need for storing plates, glasses, cooking pots, pans, or silverware.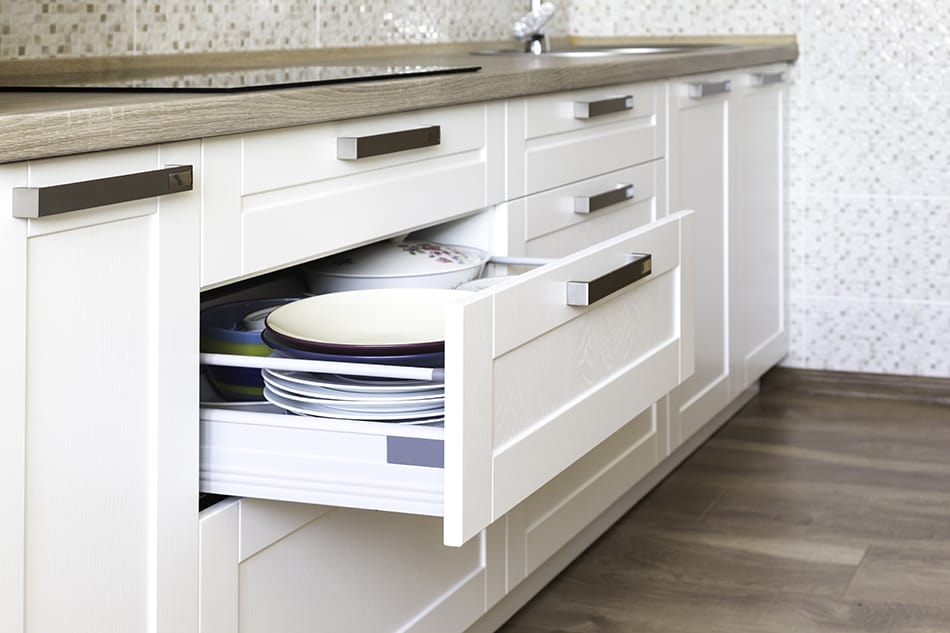 According to these needs, you create a floor plan and a wall plan.
The next step should be planning the outline of the kitchen. In other words, you decide what shape your kitchen is going to be. There are several common kitchen styles and layouts: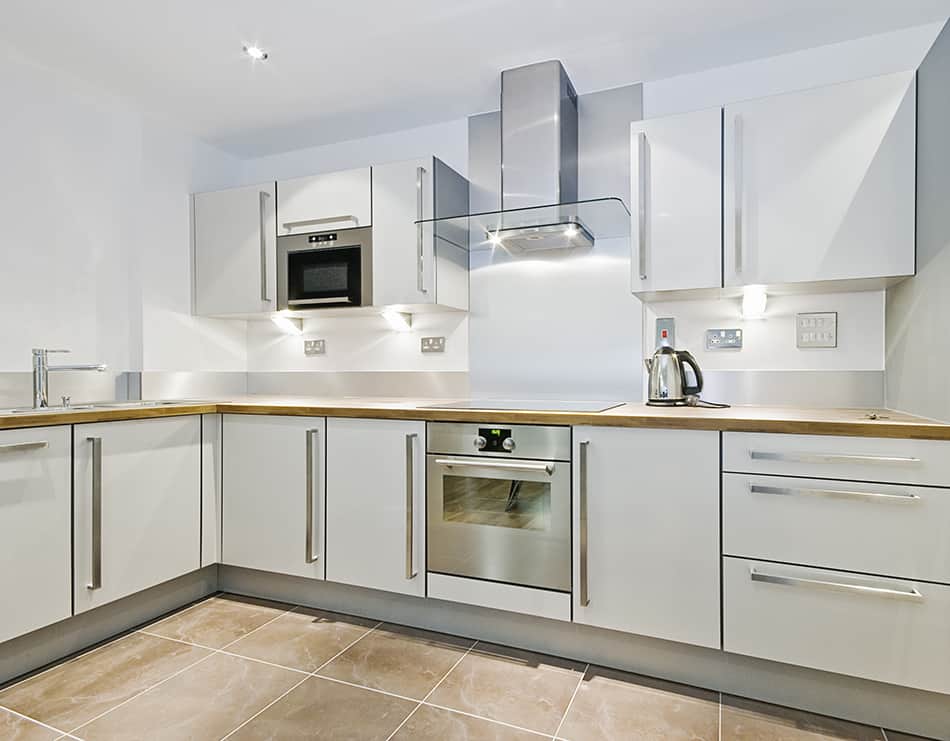 However, variations and combinations of different shapes are always welcomed.
The final step is choosing the right material and color, both for countertops and door fronts. Many options are available. However, there are some criteria kitchen cabinet material needs to meet before being used.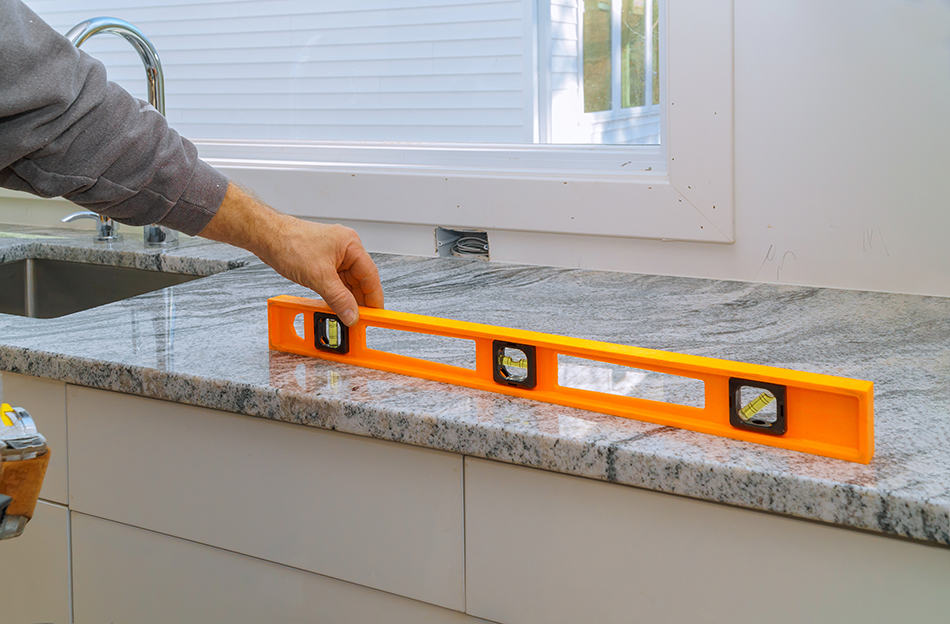 In the first place, it should be durable, since the kitchen is one of the most used homerooms. Secondly, the kitchen cabinet must be easily cleaned, for the very same reason. Finally, yet importantly, it should meet your budget and aesthetics.
Kitchen cabinets are mostly made out of wood and wood-like materials. Solid wood materials are among the most used – from hardwood, such as hickory, maple, walnut, or mahogany, to plywood of different grades, according to the quality level. Solid wood materials have the best reputation for high-quality kitchen cabinets.
Other common materials are fiberboard, veneer, as well as particleboard. They are inexpensive but also not very durable since they don't take well to moisture. Still, they are very popular at mass production stores such as IKEA. However, price is not the only reason for that – these materials allow for nice finishes, and you can find them in a variety of colors and texture.
Types of Kitchen Cabinets
The way you design your kitchen and the arrangement of the cabinets will depend on the kitchen outline.
A U-shaped kitchen is usually used in spaces with a centrally-positioned window. The sink is placed under it. The kitchen consists of three walls, lined with cabinets. The "U" is left open for a doorway.
A G-shaped kitchen is a configuration of four walls with cabinets. It is a good option if you have a large open plan loft space.
A L-shaped kitchen is an open space configuration. It leaves enough room for a kitchen table if needed.
A galley kitchen is used for narrow space. It looks like a corridor, just like a galley on a ship. It consists of two lines of cabinets, facing each other.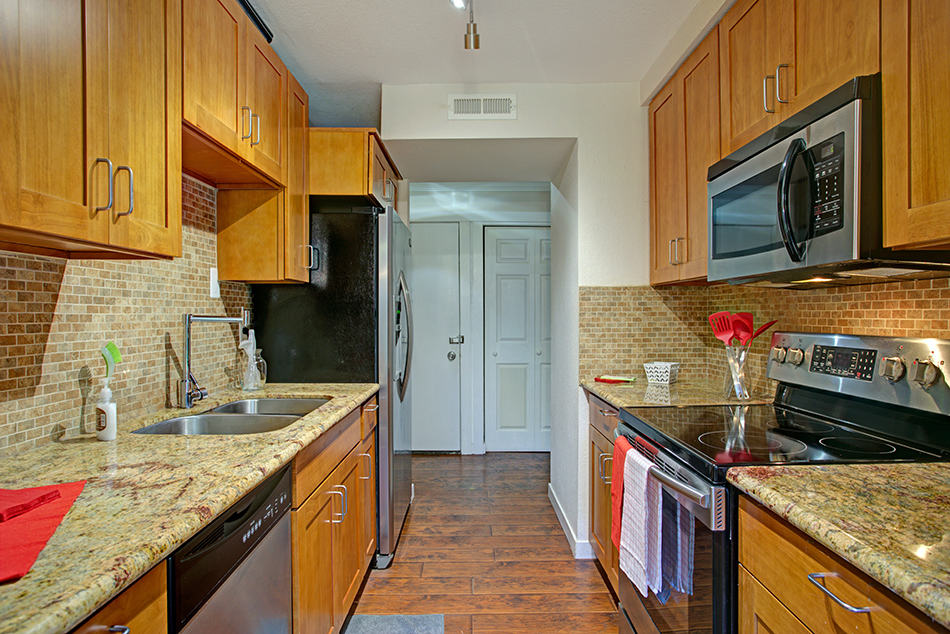 Each type of kitchen can be upgraded with an island, but only if you have enough room for it. It is a freestanding space, at the center of the kitchen, used as counter space and sometimes for storage.
It is considered to add special value to the kitchen and be very stylish.
Under Cabinet Organization
There are plenty of solutions for an under-cabinet organization which will help you to use storage space most efficiently.
The classical organizers are shelves and drawers.
However, nowadays you can improve your kitchen cabinet with various metal organizers that are custom-made, depending on your space and storage needs.
Whether you need to store your cooking pot or trash can, the good organizer will help each of your kitchen goods have its particular place, or "its home", as the queen of organizing Marie Kondo would say.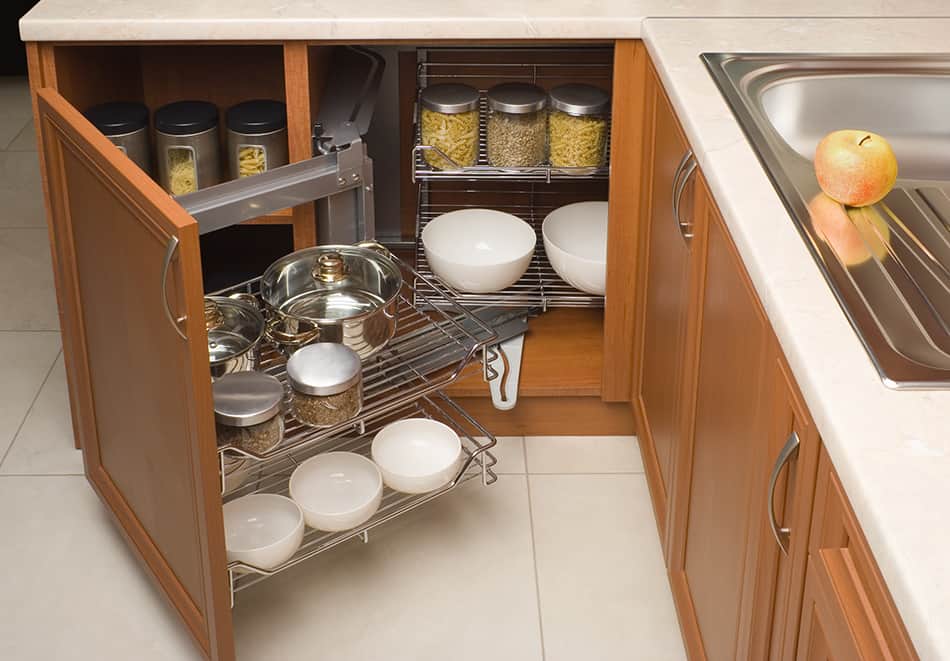 Kitchen Shelf Organizers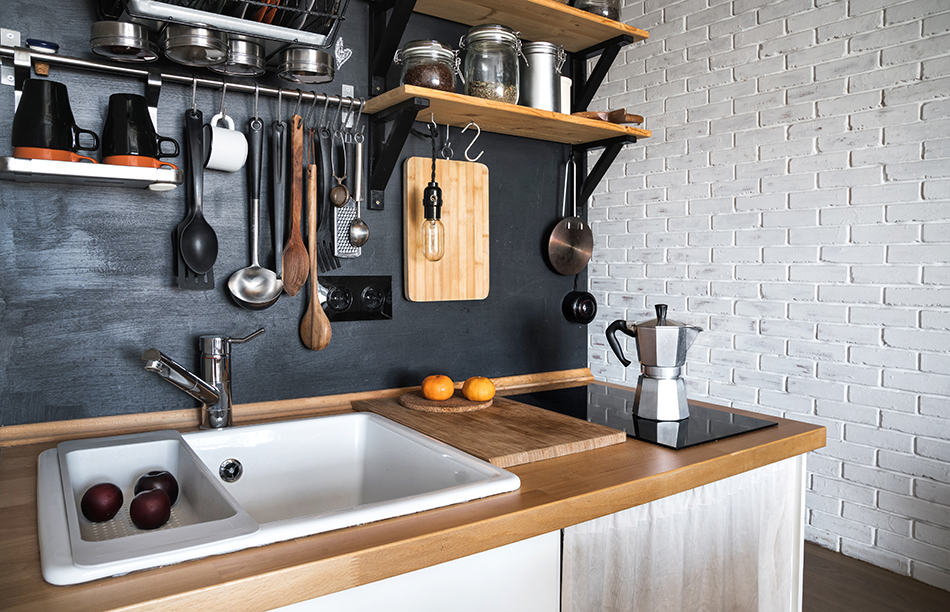 The creativity of home improvement retailers, offering plenty of products you can use to improve your kitchen organization, is rather impressive. From mini-shelves to mini-stairs, they are inventing all types of organizers for each kitchen tool you can imagine.
There are organizers specialized for plastic bags, pans, pot covers, spices, kitchen wraps, cans, bottles, and cutting boards. They can be wooden, plastic, metal, or combined, and can be fixed or pulled out. They can have multiple levels. Some of them are corner shaped so that you can save your storage space. In this case, they usually rotate while being pulled out.
Among the most advanced organizers are those that can be pulled out of the cabinet. It is not just they use your space efficiently, but they ease the whole process of searching for and taking out your kitchen tools.
Such organizers are metal constructions, made to last long and be persistent since you should be able to move them countless times per day.
Before adding some of these accessories, you should consider putting a shelf liner on each shelf. It helps you protect your shelves from moisture and water stains.
Kitchen Drawer Organizers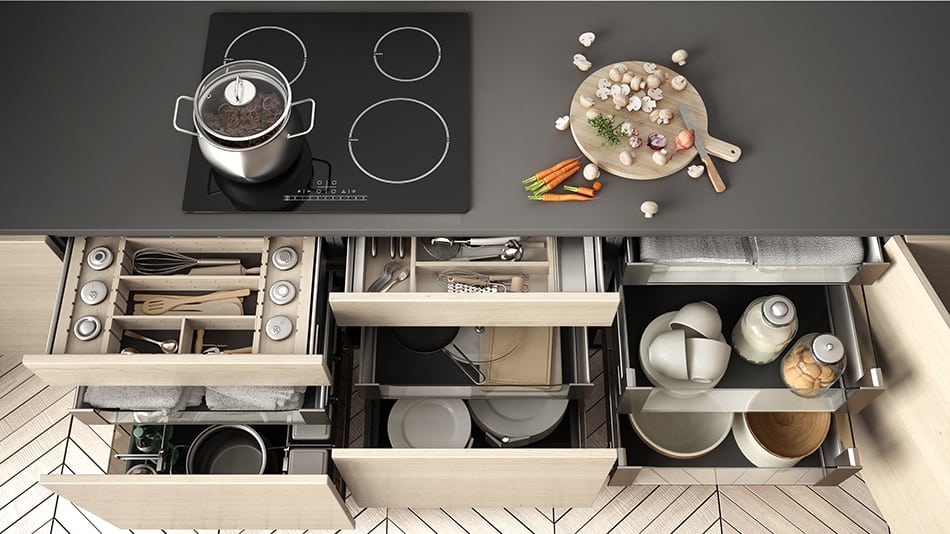 Kitchen drawers usually store silverware and other small size utensils. It is why various dividers, holders, and silverware trays are a good option for establishing order in your kitchen, especially when you need to store objects of different shapes and keep the order while opening and closing the drawer.
Kitchen drawer organizers come in many forms, usually following the shape of the kitchen utensils they are intended to store, depending on your needs. They can also be multi-level. You can buy them in different materials and sizes, adapted to your own space.
For instance, bamboo silverware organizers are especially popular nowadays, making your kitchen stylish, space-efficient, and eco-friendly.
If you have large and deep drawers for storing plates or pots, you can use dividers especially designed for this purpose.
Since many drawer organizers come in various sizes and are not flexible, it depends on the size of your drawer and whether you can use them or not. Luckily, some of them are adjustable and expendable. You can easily install them in your kitchen, without using any tools, and organize your cooking utensils neatly.
However, if you are skilled enough, you can do some experiments. Try to make DIY drawer organizers using different materials, such as cardboard, foam sheets, or balsa wood. A custom project will make sure you have a perfectly fitted drawer divided for your own kitchen needs.
Countertop Storage Ideas
Counter space is among the most important parts of the kitchen. It seems there is never enough room for it. The more we have it, the more we need it while cooking. After choosing the right material for it and the right lighting as well, you can start to plan its organization.
It is very important to keep your kitchen countertop clean and simple, with no spare details that would occupy space. However, some kitchen devices should be always at our fingertips, while the decoration of the overall kitchen space shouldn't be neglected as well.
Kitchen goods that we usually need to have on the countertop are paper towels, knives, mixing spoons, as well as glass, metal, or bamboo containers for frequently used spices and food. There are many types of utensils holders, spoon rests, trays, and other storage units available.
One of the most popular kitchen organization devices is a turntable, the so-called Lazy Susan, named after Thomas Jefferson's daughter. It can be used for storing small kitchen goods, as well as food.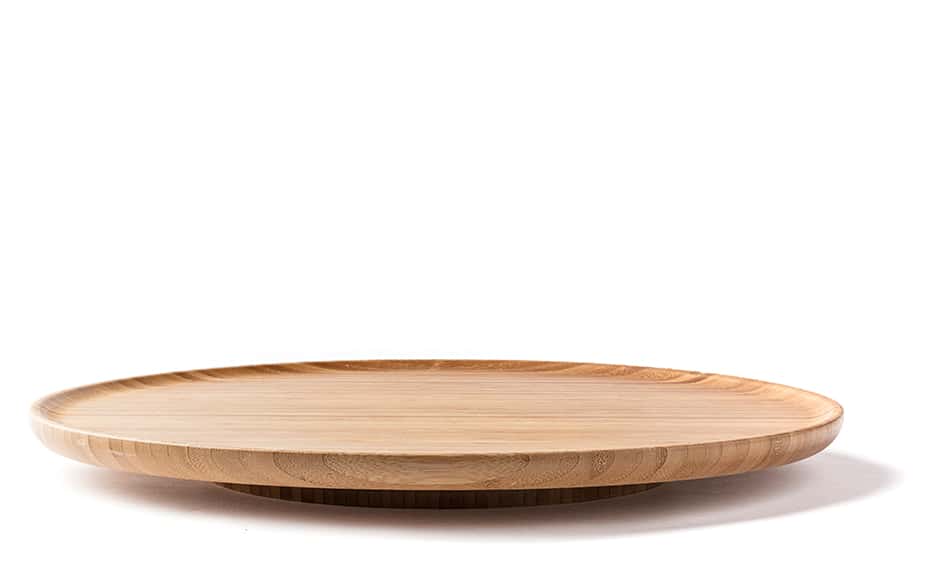 Similarly, microwaves, toasters, electric kettles and food processors usually take place on the countertop of the kitchen. We also need our kitchen cloths and gloves to be disposable, so we generally hang them above the countertop, right to the backsplash.
All of those devices and utensils can follow the overall kitchen style, in color, material, and design. This is not a rule, however, as eclecticism is a fashion desirable in cooking as well as in arranging your kitchen.
Sink and Under Sink Organization Ideas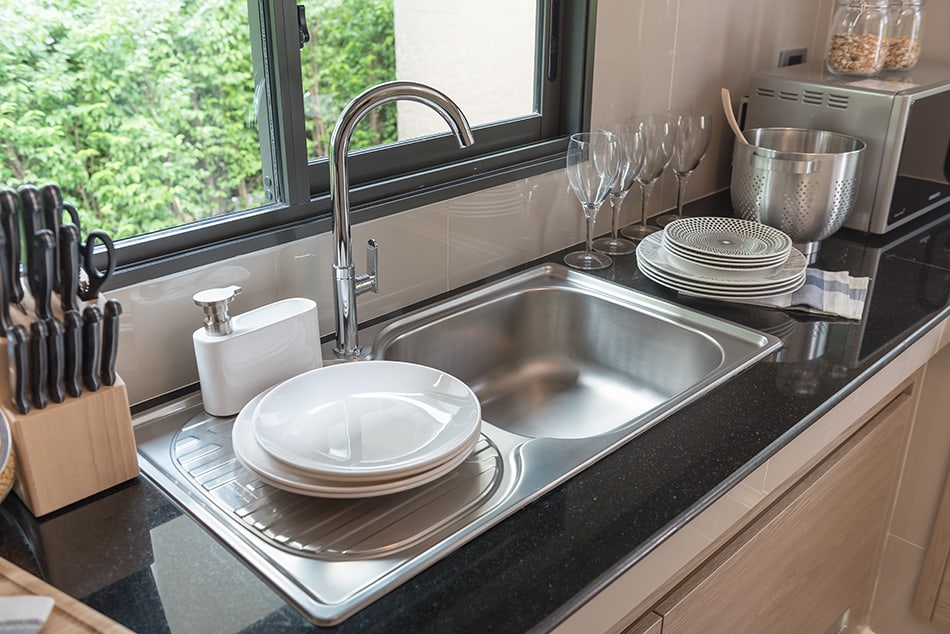 It is always advisable to store different goods in different places. In other words, you should not combine foods with cleaning products. The latter is usually stored in the sink and under the sink area in the kitchen.
This part of the kitchen can be difficult to organize because it is in constant use. Also, the sink area is usually filled with pipes, which makes organizations even more tricky. However, if you want to avoid clutter in the area around and under the kitchen sink, you can arrange it by using one of the many organizers available on the market.
Sponge and other cleaning devices can be stored in a metal or plastic tray, which can be fixed for a sink or simply put behind it. Many of them are constructed so that the sponge can easily dry, avoiding bacteria reproduction. Still, metal is superior when it comes to maintaining hygiene.
Under-the-sink storage can be made out of plastic or metal organizers, either in the form of boxes, small shelves, or drawers. They can be fixed under the sink, rest around the pedestal sink, or hooked to the cabinet door. In any case, you should be able to put all the cleaning utensils in one place.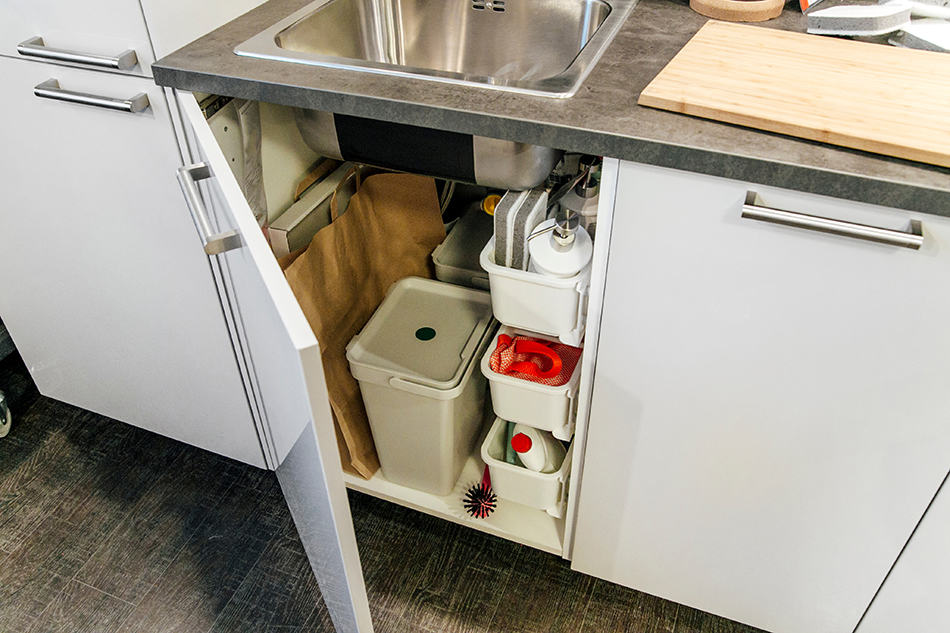 Kitchen Food Storage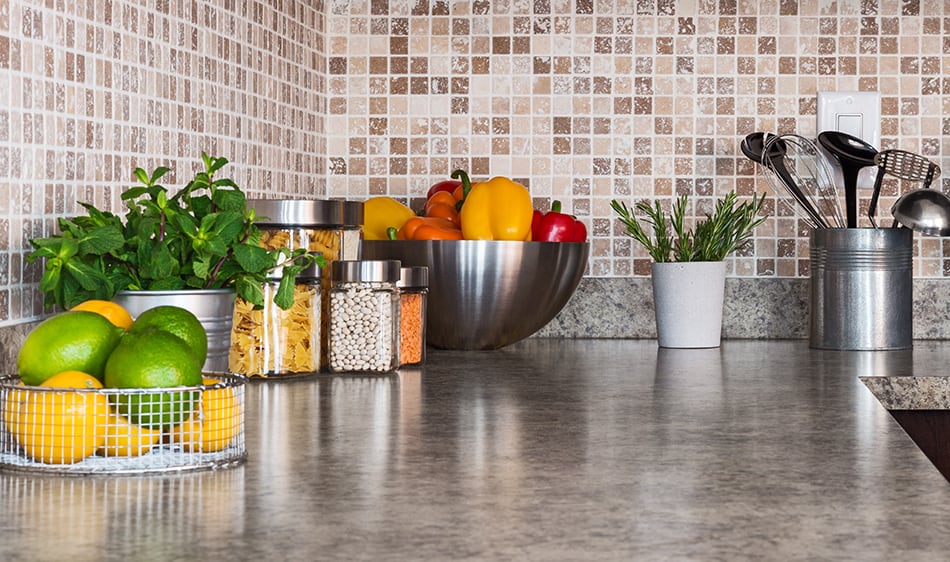 As I have already emphasized, it is quite important to distinctly, for health and safety reasons, separate food from cleaning products. Even if there are no children around, it is always recommended not to store chemical products and foods together, since they can easily mix haphazardly.
If we decide to put all the cleaning products in the sink area, then the rest of the kitchen remains free for storing food. However, kitchen food storage is usually related to the kitchen closet or pantry, and refrigerator.
Kitchen Closet Organization
In the past days, when people used to live in larger homes than today, each house had a pantry.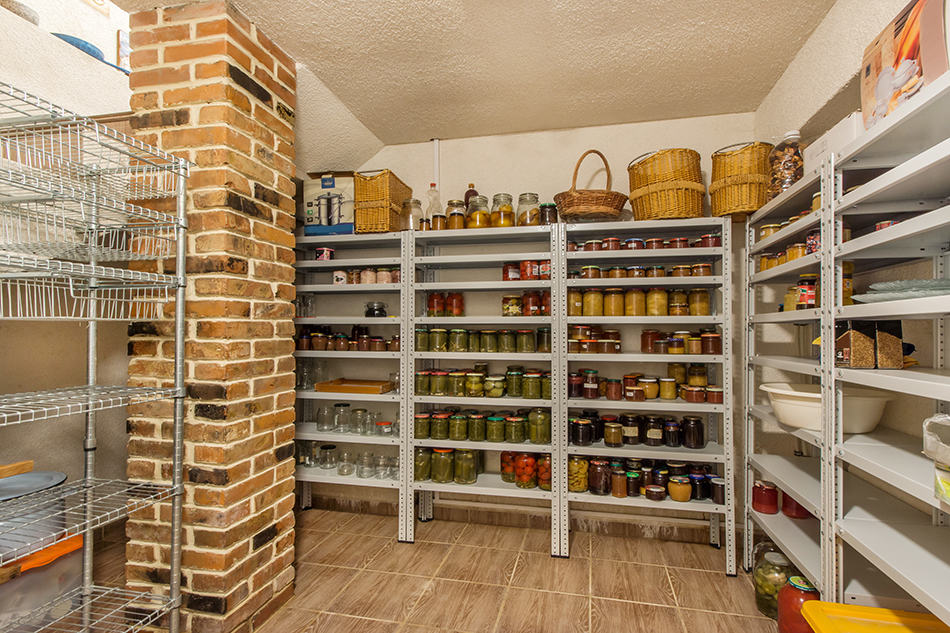 The pantry was a separate room for storing food and beverages. It was dark, cold, and separated from the rest of the kitchen. The pantry was usually big enough to store all the seasonal food storage, as people grew and prepared food in bulk.
Today, as we live from day to day, in large cosmopolitan cities but in small apartments, most of us find the pantry a luxury. We are not able to plan seasonal food storage anymore, nor to prepare it in advance. The modern kitchen closet replaced the pantry, which can be found only in basements of big houses in the suburbia or in the countryside.
The size of the kitchen closet depends not only on the overall kitchen dimension but also on our habits. Unless you're a prepper or survivalist waiting for the zombie apocalypse, the average closet size should fit your food and beverage storage needs.
Several shelves and drawers should be enough to store food for the next couple of days, as well as those goods that we don't use every day.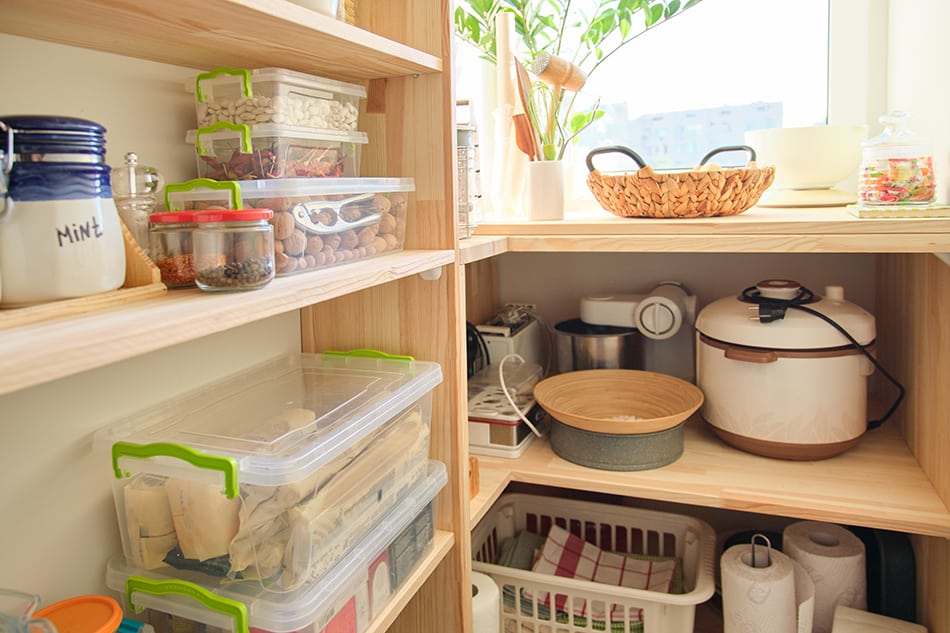 There are many solutions for food and beverage storage. From multi-purpose transparent, either plastic or glass bins and jars, to food canisters in various shapes and sizes, from wooden or stainless steel bread boxes to flour containers with a scoop, from spices boxes with removable labels to spaghetti canisters, all can help store your food safely and to protect it from any moisture.
The modern kitchen accessory goes so far that you can even buy a date tracker dial for your food jar, so you'll always know if the contents are still at their best.
For storing fruit, root vegetables, and other fresh foods, there are stacking, multilevel steel, wooden or hyacinth bins, and baskets with or without handles, which help keep the air flowing.
Refrigerator and Freezer Organization
Although having a big refrigerator certainly has advantages, there is one sad truth about it. The bigger the refrigerator – the bigger the clutter. Food leftovers forgotten deeply in the back of the fridge are not the most hygienic habit.
The best way to declutter it is to divide your fridge into sections:
Upper shelves
Lower shelves
Door
Drawers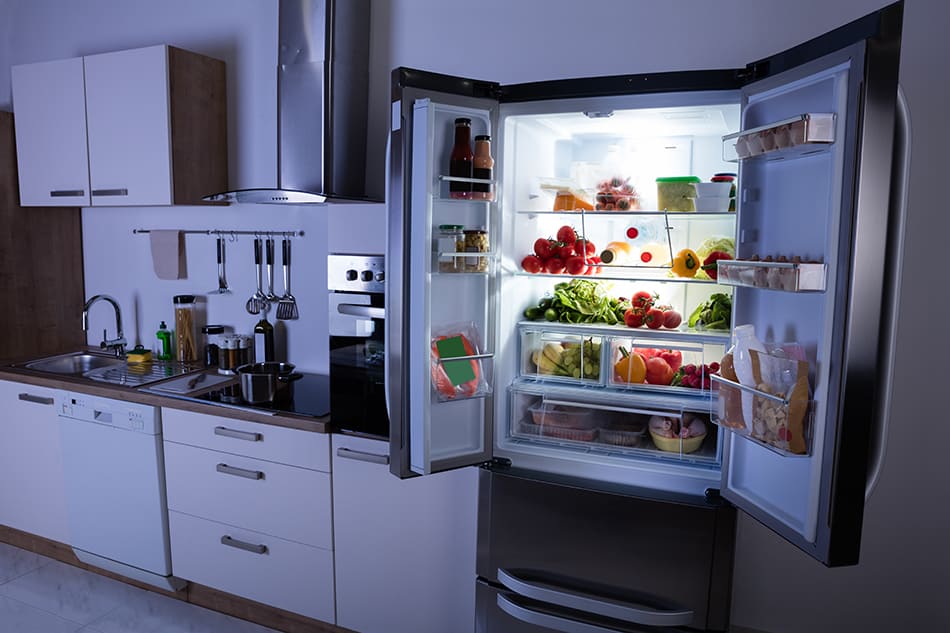 You can buy transparent plastic boxes and put simple labels on them. Upper shelves and doors should be used for storing food that is about to expire or food that we eat mostly. You can choose to group like items together: for example, one shelf on the door can be used for sauces, the other one for dressings, etc.
Some modern refrigerators are already divided into sections, according to the temperature in different parts: for example, in the lowest drawer, you should keep easily perishable food, on the shelf above it fresh vegetables, and so on. However, not every fridge has this function, so in most cases, you can follow your own needs.
There are various file organizers you can use to bring your fridge into order. A turntable is always a smart solution that helps you easily find the food you are looking for. You can put jars with different content on them, and simply rotate them when you need to find the right one.
The small baskets that stick to the fridge walls, on the other hand, are a good option for storing small goods that are easily lost in the depths of your fridge storage, such as snacks or cups of ketchup.
Drawer dividers and egg cartons can be also helpful in arranging food. If your fridge has bars on the edge of the shelves, you can hang some bags on it, using ring curtain clips. Not only it'll make your fridge storage more space-efficient, but also it will make your search for food more fun.
Finally, if you have children, it is always recommended to put their food at the bottom of the fridge and make it easily accessible to them. "Junior shelf" can be a nice label to put on it.
It is much easier when it comes to the freezer. There are several simple rules you should follow when organizing it. Try to freeze individual servings as much as you can, and try to do it flat or use plastic bins, so they don't take up much space.
The final step is probably the most important one: don't forget to label each item, since frozen food is not always recognizable.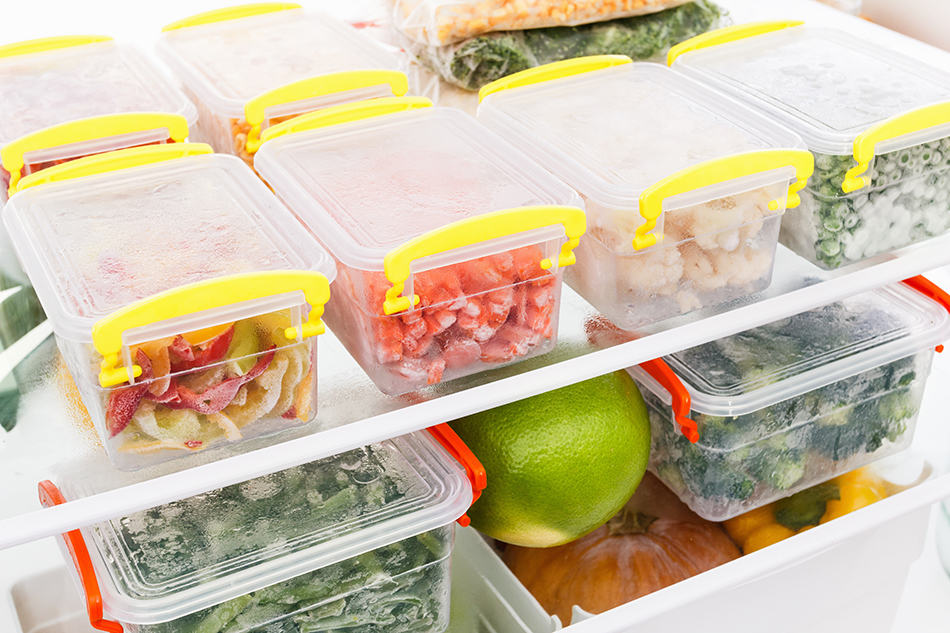 Wall, Backsplash & Other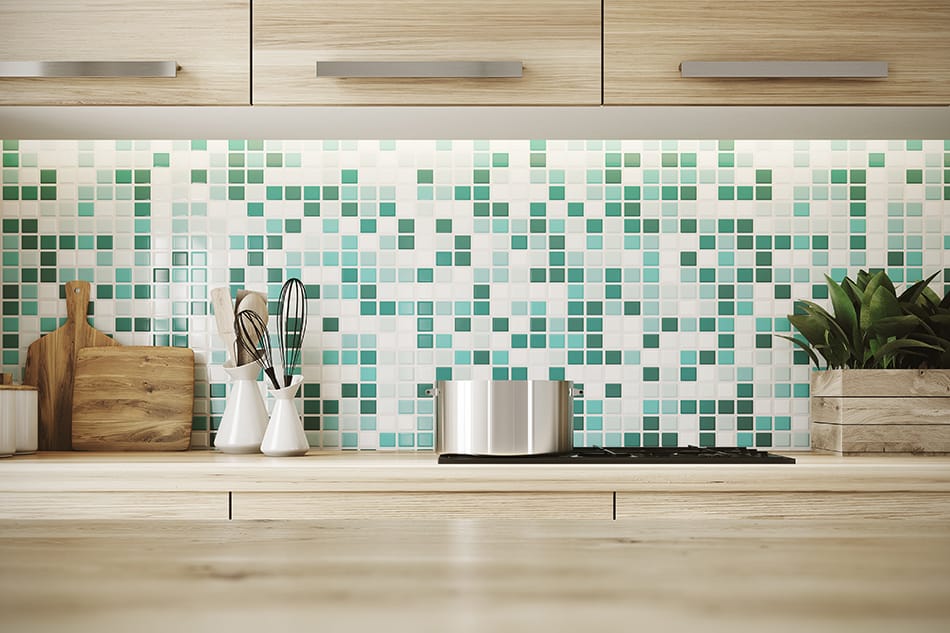 The kitchen wall and backsplash are not only an aesthetic issue. They also play an important protective role. The backsplash is an absolute necessity, because of the moisture, grease, and other kitchen dirt. If you put ceramic tiles on the wall you will be able to clean the dirt easily.
There are many kitchen backsplash trends that you can follow while choosing the right one for your kitchen. The most popular among them nowadays are subway tiles, usually white, but there are many other possibilities. The pattern you'll choose depends solely on your vision for your dream kitchen.
If you want it to be rustic, you can opt for some type of mosaic shape, combining several shades of one color. If you prefer a more slick style, you could decide on stainless steel backsplash. Wooden-like and marble tiles are also quite trendy.
The kitchen backsplash should follow the countertop in design and color, but not unconditionally. It is enough to support its fashion. However, for cleaning it is always advisable to choose a simple texture and avoid shiny and white colors.
Conclusion
We all know that the size of our kitchen doesn't have to correspond to the level of our appetite, but it is always more enjoyable to prepare and eat food in a cozy place.
One thing is for certain, it is possible to create a superb cooking stage out of the tiniest kitchen by following several simple rules. They are all related to cleanliness, storage organization, and efficiency.
Still, adding a pinch of style as a final touch will surely make your living and cooking space warm and comfy. Who knows, maybe it'll result in running a food fashion blog someday.
I hope you have found this article inspiring and helpful. Do you have any kitchen organization tips to share? If the answer is "Yes" please write them down in the comments!