A pedestal sink is a traditional style of sink that works well in a variety of bathrooms, including en-suites, family bathrooms, and powder rooms. The pedestal sink is made up of two components; the pedestal stand and the sink itself.
These will typically both be made of ceramic, and they will be fitted together during the installation process. Pedestal sinks are generally easier to install than wall-hanging sinks, though they lack the storage of vanity unit sinks.
Here we learn more about pedestal sinks and investigate their various sizes.
Pedestal sinks come in a range of sizes that are not standardized. This means that no matter how big or small your bathroom is, you should be able to find a pedestal sink that fits well in the space.
How to Measure a Pedestal Sink
Length
The length measurement of a pedestal sink is taken from one side of the sink to the other, running in a parallel line to the wall where it is fitted. If you are standing directly in front of the sink and facing the wall, you can take a measurement from the upper lip of the sink from left to right or right to left.
Width
The width measurement of a pedestal sink will usually be smaller than the length measurement. It is taken from the front of the sink to the back, or from the lip of the sink where you would stand in front of it, to the back of the sink where it joins to the wall.
Pedestal Sink Dimensions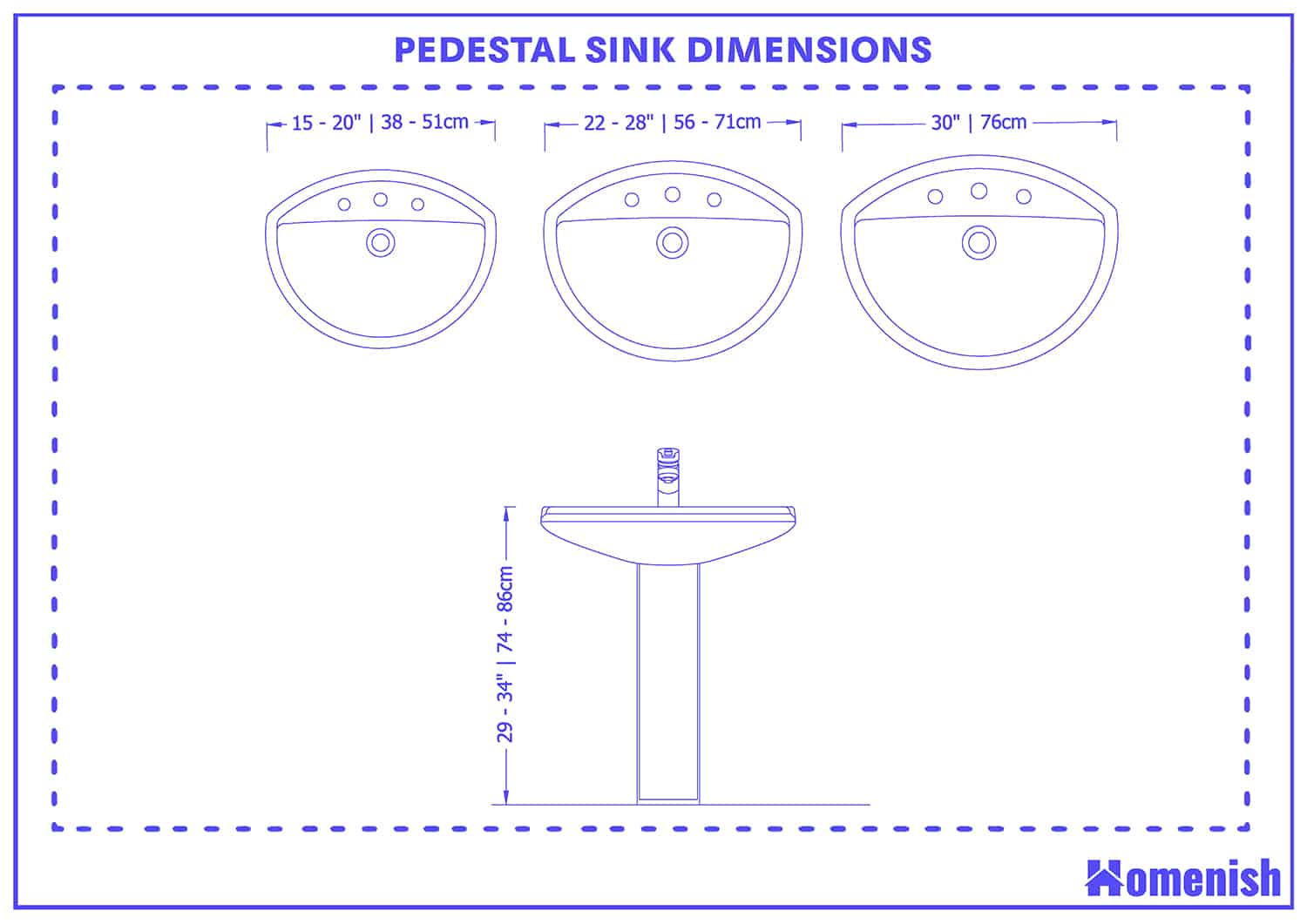 Small Pedestal Sinks – 15 inches to 20 inches
A pedestal sink is considered to be small if it has a length measurement of between 15 and 20 inches. These are ideal for compact spaces such as a powder room or even a laundry room. Pedestal sinks most commonly will have an oval-shaped bowl, but you can find versions that are square, rectangular, or circular.
If you are specifically looking for a small pedestal sink to fit in a small space, then your options are likely to be more limited since these sinks are not thought of as being among the standard sizes.
Pedestal sinks that measure between 15 and 20 inches in length offer minimal space for face washing and instead are better suited to rooms like powder rooms, where they will generally just be used for washing hands.
Average Pedestal Sinks – 22 to 28 inches
Most pedestal sinks fall into the average category with a length measurement of between 22 and 28 inches. This size works well in master bathrooms and family bathrooms since it will offer a generous basin size for washing your face or hands.
If you can accommodate a pedestal sink of this size in your bathroom, then you will have plenty of options to choose from when it comes to style and shape.
Although pedestal sinks are generally thought of as being a traditional style of sink, which was popular in the Victorian era, there are actually many styles of pedestal sink available today which have a sleeker and more modern shape to work in minimalist and contemporary style homes.
Large Pedestal Sinks – 30 inches
Large pedestal sinks will have a length measurement of 30 inches or above. These are great for spacious bathrooms and will give a luxury look.
In order to prevent this size of bathroom sink from looking awkward in a room, ensure that other elements in the bathroom are also oversized, for example, a large walk-in shower cubicle and a wide or extra-deep bath. This will create a sense of balance and harmony in the room.
Standard Pedestal Sink Height – 29 to 34 inches
The height of pedestal sinks will vary between 29 and 34 inches in height. This is slightly lower in height compared with vanity units, which tend to have a height of between 30 and 36 inches.
Most people will get along just fine with any pedestal sink of a standard height, but if you have members of your household who are considered tall or short, then you might want to look specifically for pedestal sinks that are lower or higher in height for more comfortable use.
Choosing a Pedestal Sink
Size
The size of your sink is the most important consideration when choosing a sink because the style and look of the sink will be irrelevant if it doesn't fit properly in the space. A pedestal sink that is too small in a large bathroom will look odd, while a large pedestal sink in a small bathroom will limit the usable space you have to move around.
Measure up your room and figure out the minimum and maximum size that would be appropriate, then base your search for a sink around this. Once you have decided on a size, you can start to narrow down other features you want, such as the shape of the sink bowl and the style.
Code requirements
Code requirements vary from region to region, but the general rule is that the front of a sink must be no less than 21 inches from the wall it is facing. This ensures that there is enough space for people to stand comfortably in front of the sink.
The other rule is that you must allow at least 30 inches from the center of the sink to any other items in the room, such as the toilet or a bath. When choosing a pedestal sink, you should measure up your space to check that it will adhere to the relevant codes.
Style
Pedestal sinks are generally thought of as a traditional style of sink, and they can be great for bathrooms where you want a classic or vintage look. However, there is a huge range of pedestal sinks available, which are made in a modern style to suit contemporary bathrooms.
For the best look, choose a pedestal sink in a style that matches the style of the other elements in the room, such as the bathtub and the toilet.