An L-shaped kitchen layout will feature countertops on top of cupboards along two walls that meet at the adjoining corner to create an L-shape.
This is a very functional layout for a kitchen because it means you are within easy reach of anything inside your cabinets and drawers and so won't need to travel from one end of the kitchen to the other while cooking or preparing meals. This type of layout design has become increasingly desirable due to the rise in popularity of open-plan homes and loft-style living areas.
The L-shaped kitchen plan allows for a generous amount of floor space where you could position a dining table or island, and it also opens outwards into a room, making it ideal for entertaining and open-plan living.
With an L-shaped kitchen, you typically have more floor space than countertop space, making it well suited to families where more than one person might want to work in the kitchen at a time.
Benefits of L-Shaped Kitchens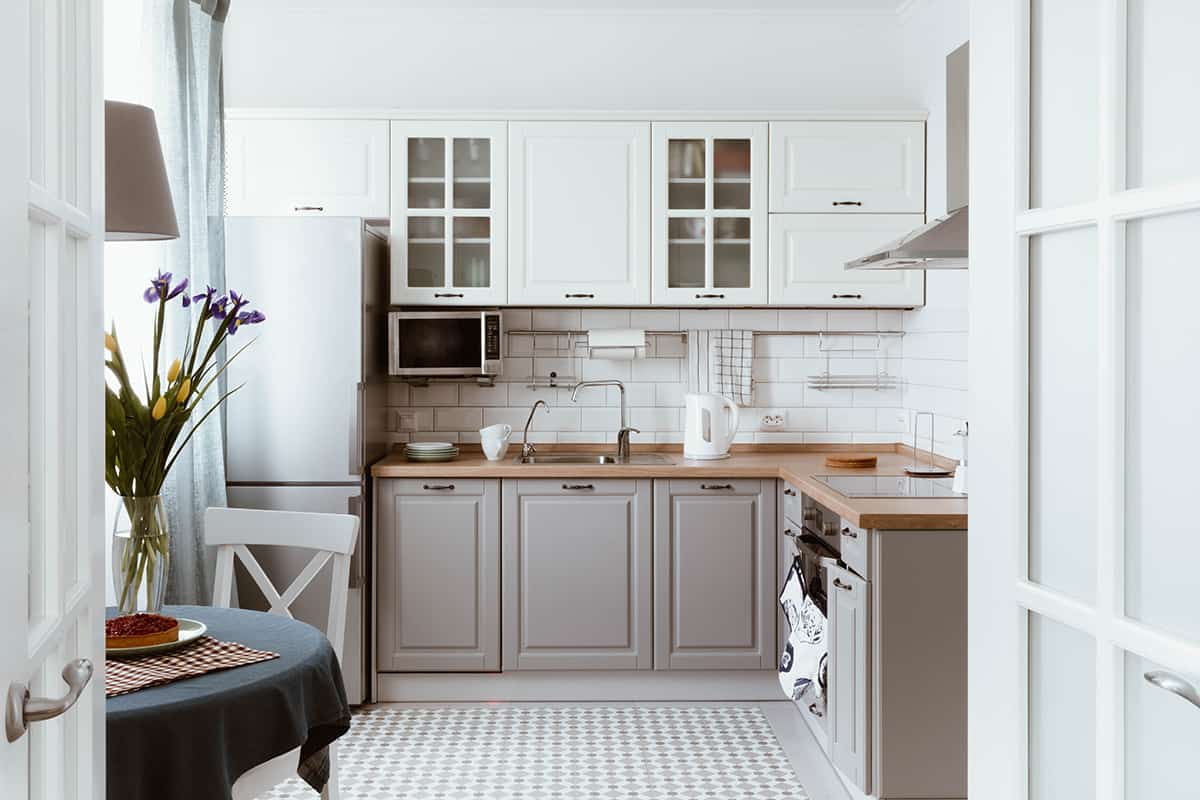 More functional floor space is available
An L-shaped kitchen typically uses two walls of the room, leaving the remaining two walls and the center of the room vacant for other uses. This means you could position a bar or dining table along an unused wall or leave it empty to provide adequate space for movement around the kitchen.
Creates social area
An L-shape is like an open triangle, and it has the advantage of inviting people into the space because it has no walls creating visual or physical barriers. This makes for a much more social space that welcomes guests and encourages people to mingle. It works great as a gathering place for a dinner party, as well as for everyday use by the family.
Ideal for lofts or open-plan living
Another advantage of L-shaped kitchens is that they open out into the space, making them a great choice for loft living or open-plan rooms.
Belongings in close proximity
With an L-shaped layout, the cabinets and storage components of the kitchen are all huddled into one corner, making everything easily accessible and in close proximity for when you are cooking or preparing food. You won't need to continually walk from one end of the kitchen to the other to grab a pan or another utensil because all will be in easy reach.
Maximize small rooms
If you have a small to medium-sized kitchen, then an L-shaped kitchen works to maximize the functionality of the space. The result is plentiful storage and countertop space for preparation, as well as suitable empty floor space for free movement, so you don't feel like you're shuffling around the kitchen.
L-Shaped Kitchen Layouts & Floor Plans
Medium L-Shaped Kitchen Plan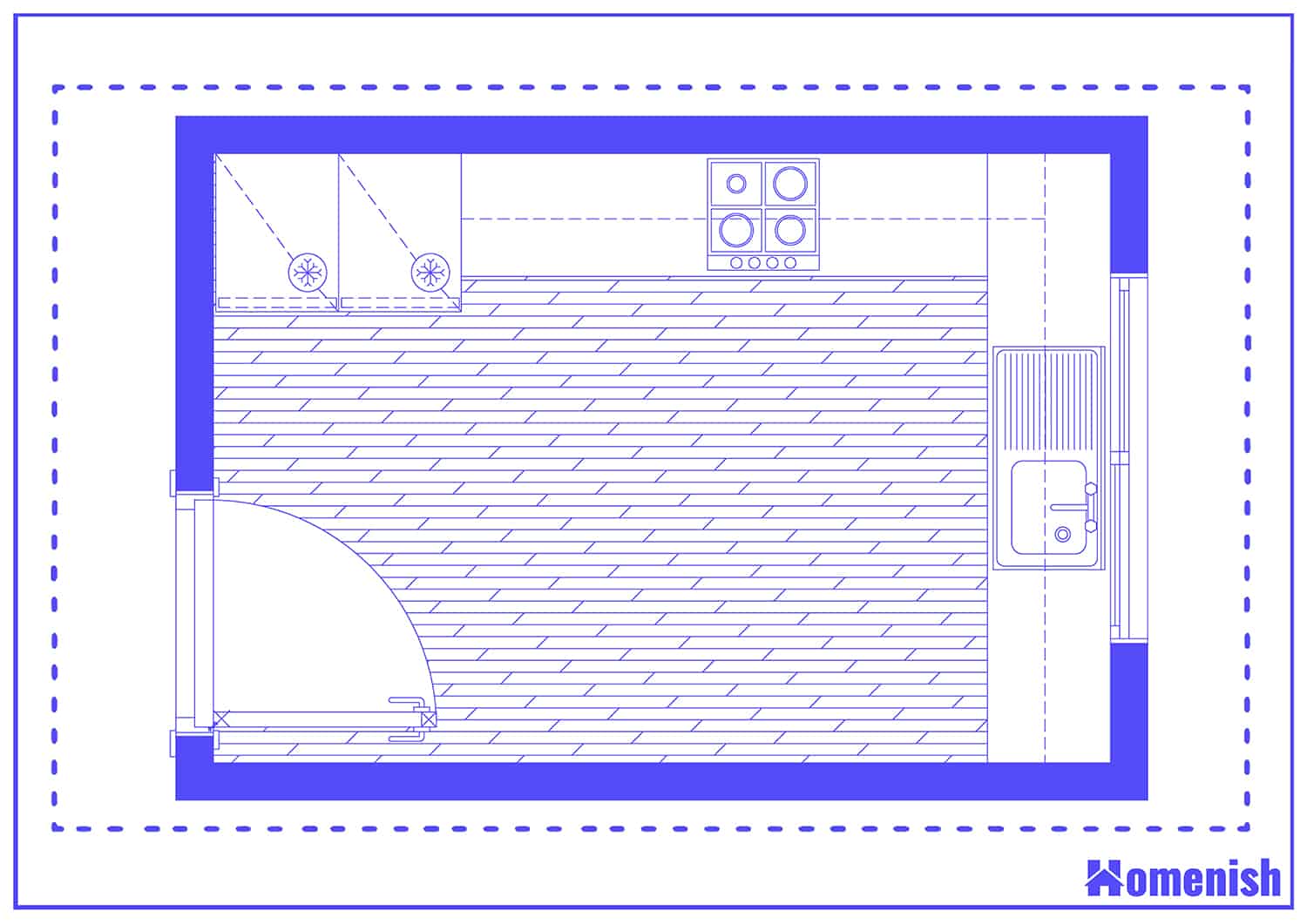 This kitchen layout is a classic L-shape with two lengths of countertop surface meeting in the corner of the room to create an 'L.' The sink is ideally located underneath the window, which makes for a nice view while washing dishes, and there is additional space remaining at one end of the countertops for a freezer and refrigerator.
The door which opens into this room is in the opposite corner of the 'L'-shape, so the kitchen area appears welcoming and invites you into the space.
Compact Kitchen Plan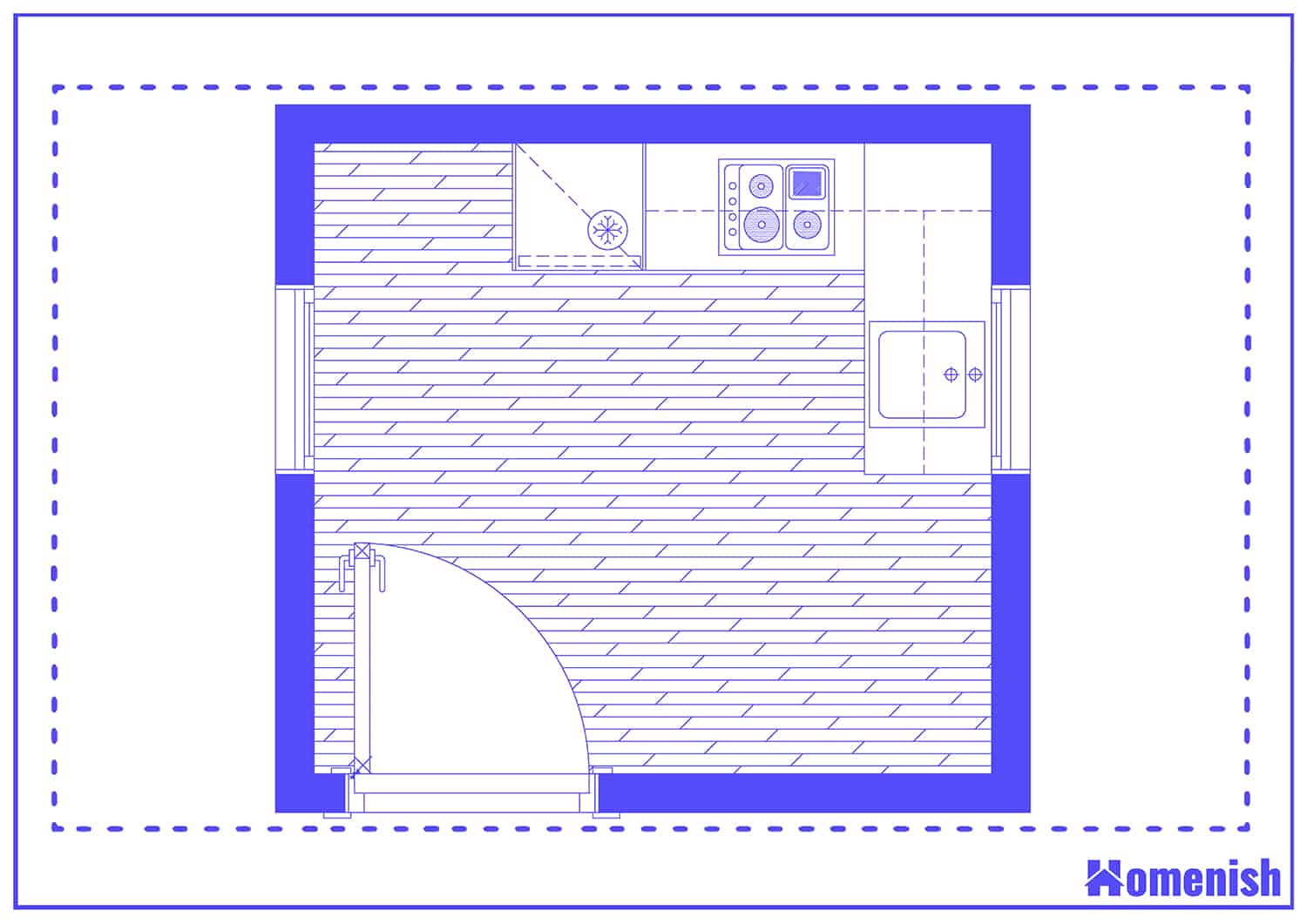 This kitchen layout perfectly depicts why an L-shape plan is ideal for smaller rooms because it creates a functional workspace while still leaving enough floor space that the room doesn't feel cramped.
This room is a square shape, and the L-shaped kitchen has been designed into one of the corners of the space, leaving enough floor area that a dining table or additional storage solutions would also fit.
This type of floor plan would work well for a single person or a couple, with plenty of space for two people to inhabit the kitchen at the same time.
Eat-In L-Shaped Kitchen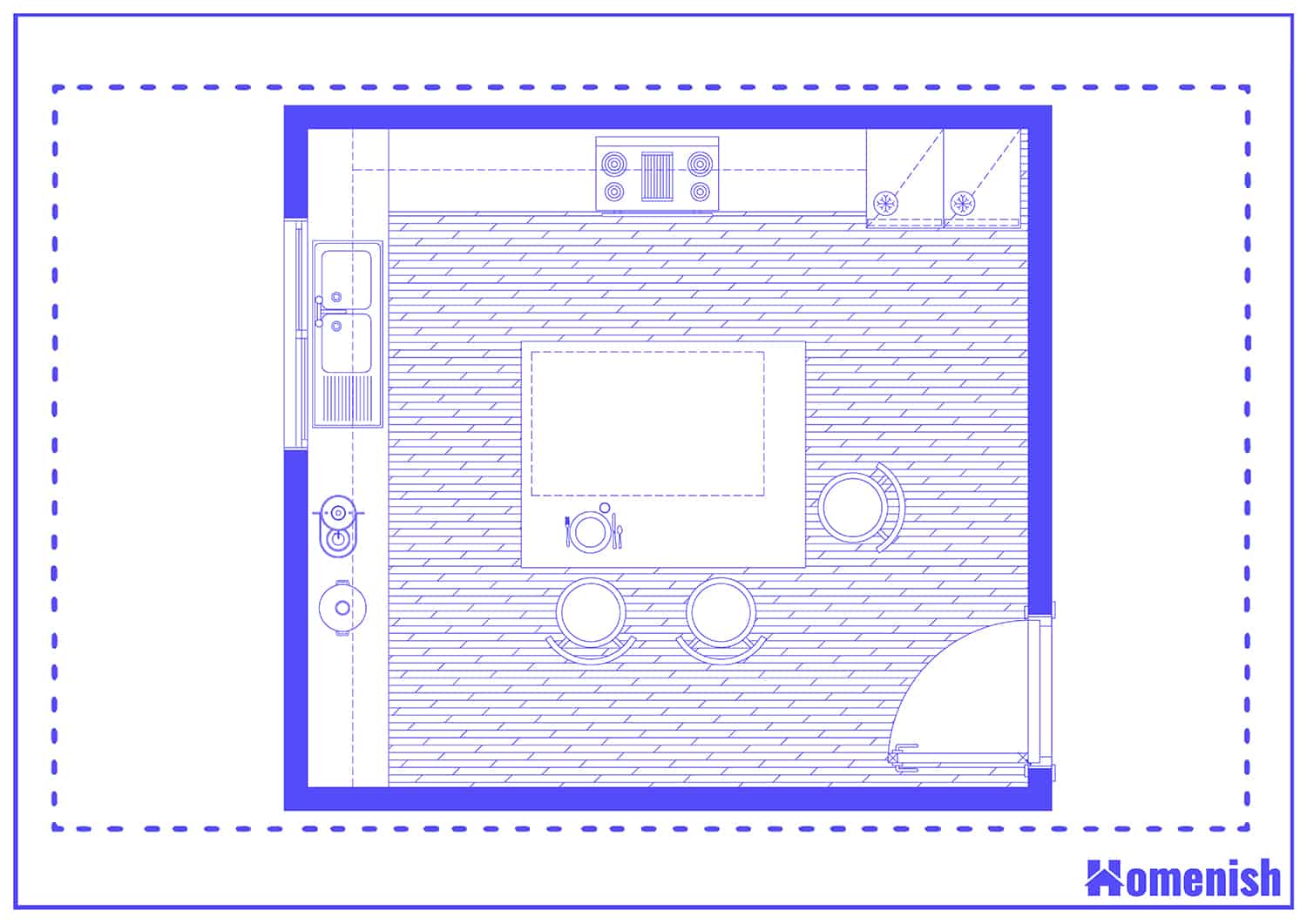 This room has generous dimensions, but the most has been made of the space with an L-shaped kitchen layout featuring an island with a breakfast bar. The L-shaped component of the kitchen benefits from the extensive lengths of the countertop, ensuring that there is plenty of workspaces for several people to be preparing food together.
The addition of the island makes functional use of the vast floor space and creates a social area where the family can congregate. The island is big enough to accommodate three bar stools where users could eat meals or hang out together, but it is also small enough to allow suitable empty floor space in front of the countertops so that people aren't getting in each other's way.
Once again, the corner part of the kitchen L-shape is in the opposite part of the room to the entry doorway so that anyone entering the kitchen is immediately enveloped and welcomed into the space.
L-Shaped Kitchen Diner Plan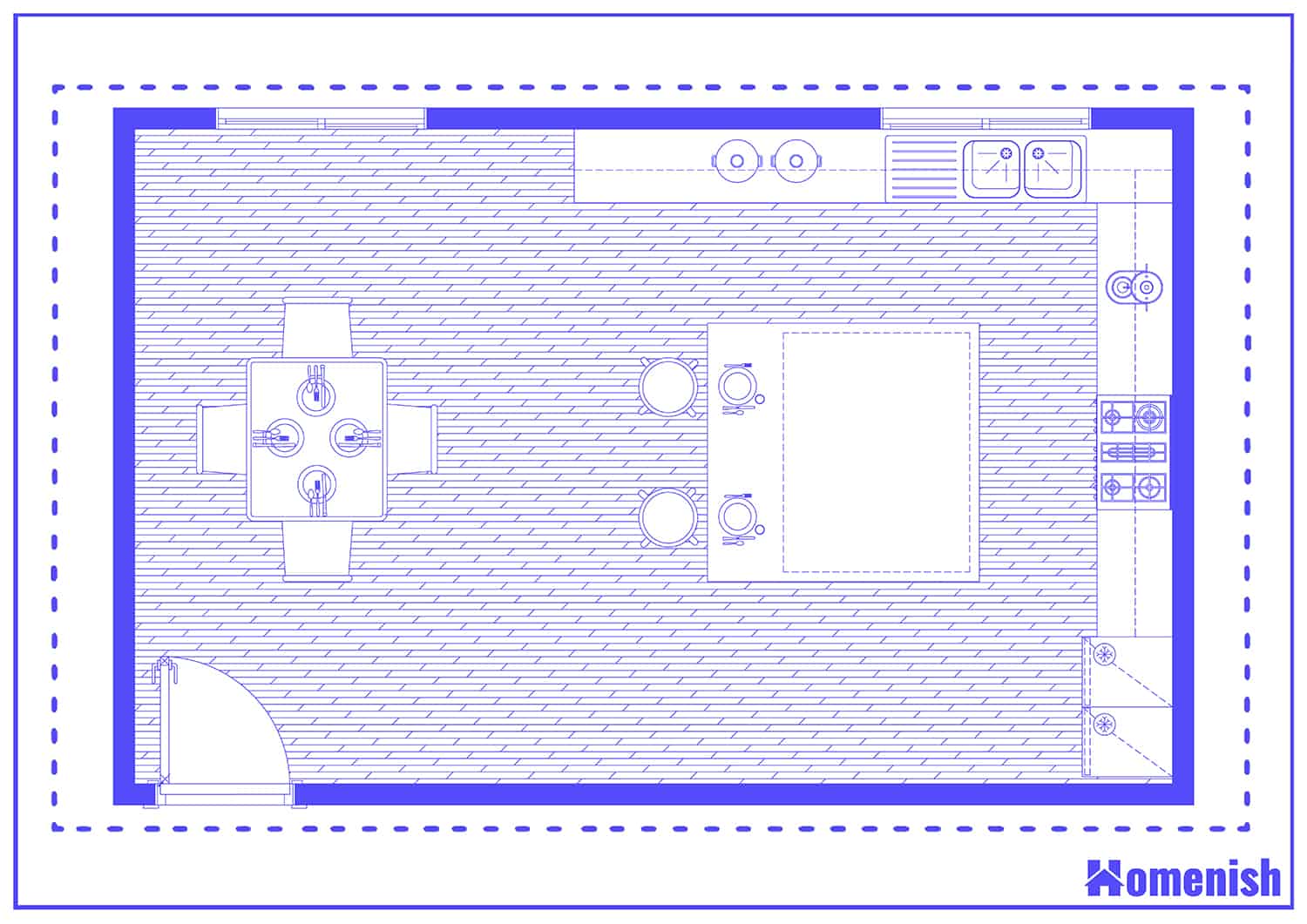 This layout is for an open-plan living space combining both a kitchen and dining area. It features a traditional L-shaped corner space, as well as a kitchen island with a breakfast bar and an additional seating area around the dining table.
Combining the kitchen and dining room in this way will create a much more open and airy atmosphere, as opposed to two much smaller separate rooms. The L-shaped corner kitchen creates a perfect space for the island to nestle in the middle, and the addition of the dining table at one end helps to define the area while maintaining flow.
Large Island L-Shaped Kitchen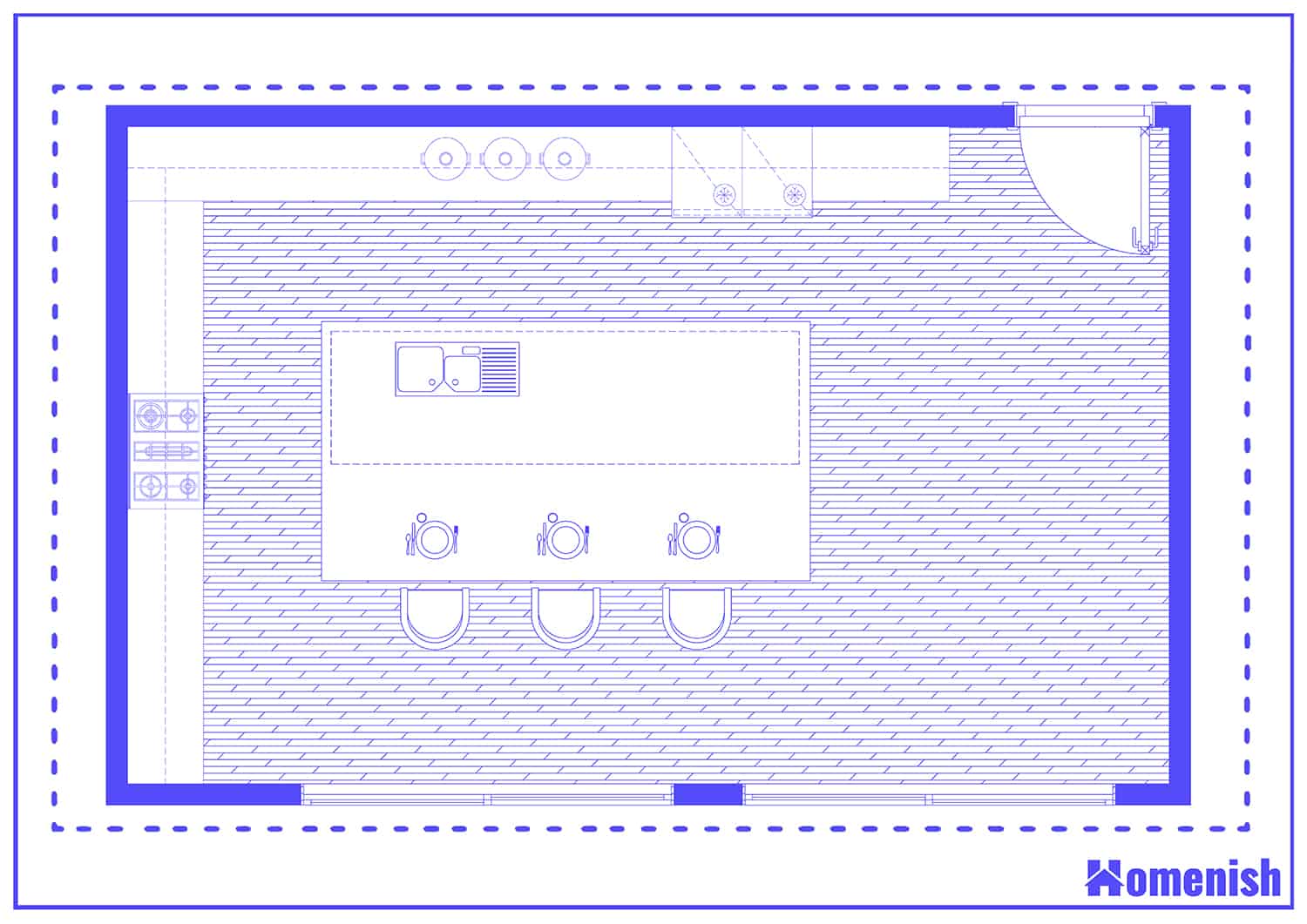 This large room has utilized an L-shape corner kitchen and made the most of the vacant floor space this creates by installing an oversized island in the center of the room.
The rectangular island provides further countertop space for preparing food, as well as an eating area that accommodates three bar stools. It also delivers more storage space with cabinet space underneath the island countertop. The L-shaped corner kitchen has been positioned opposite two large windows so that the room will be flooded with light, ideal for preparing food.
Double L-Shaped Kitchen Layout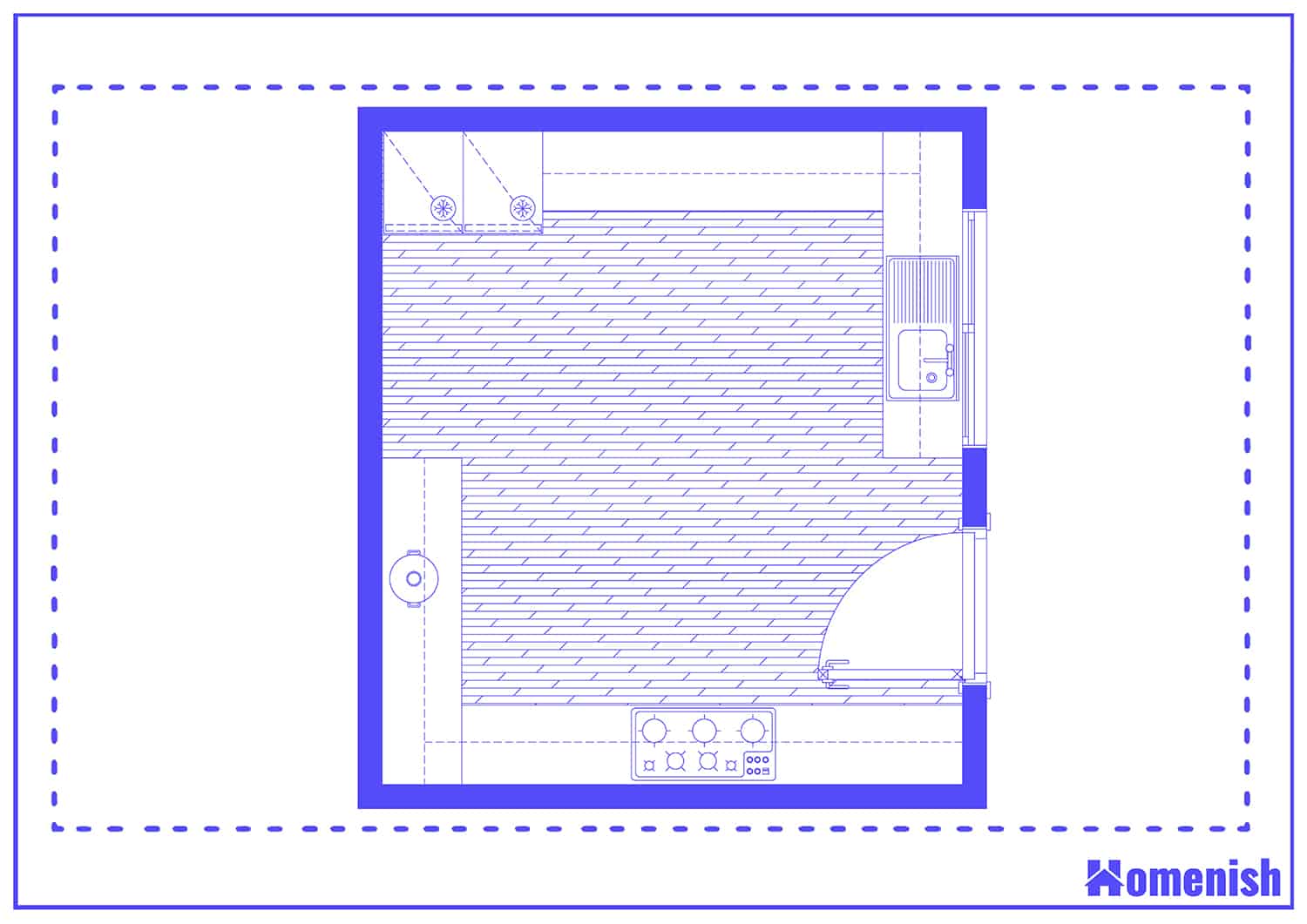 This room has two L-shaped areas of the kitchen at opposing corners of the room. It is a good solution for families who have small or medium-sized kitchens but require enough countertop space for multiple people to be using simultaneously.
This layout creates plenty of storage space as well as work surface space while still leaving adequate empty floor space in the center of the room to accommodate numerous people. The only downside of this layout is that you may find yourself continually walking back and forth across the room to get utensils or other kitchen items while preparing food.
L-Shaped Kitchen Room Divider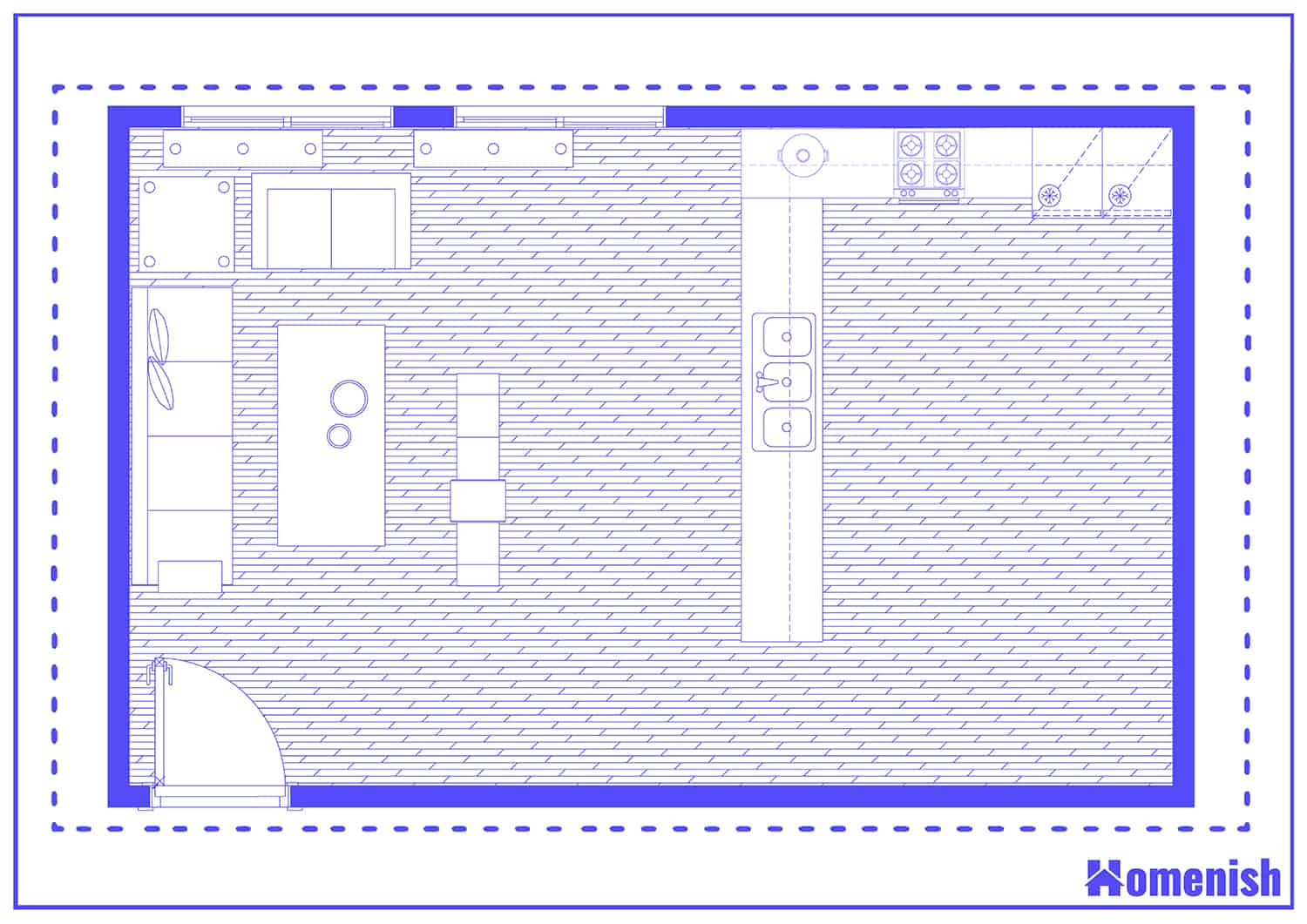 This layout features an L-shaped kitchen area, but instead of being tucked into a corner of the room, the kitchen units have been positioned so that one wall of the 'L' acts as a divider between the kitchen and the living room. This is a layout that is great for loft-style living as it defines the spaces and functions of each area without completely separating them.
The row of units that are coming across the center of the space is known as a peninsula, and it is differentiated from a kitchen island in that one part of it is attached to the wall. This layout would be great for entertaining because you could prepare food on the countertop for dinner guests who are relaxing in the sitting area while still being able to directly face them and maintain a conversation.
Kitchen with Peninsula Plan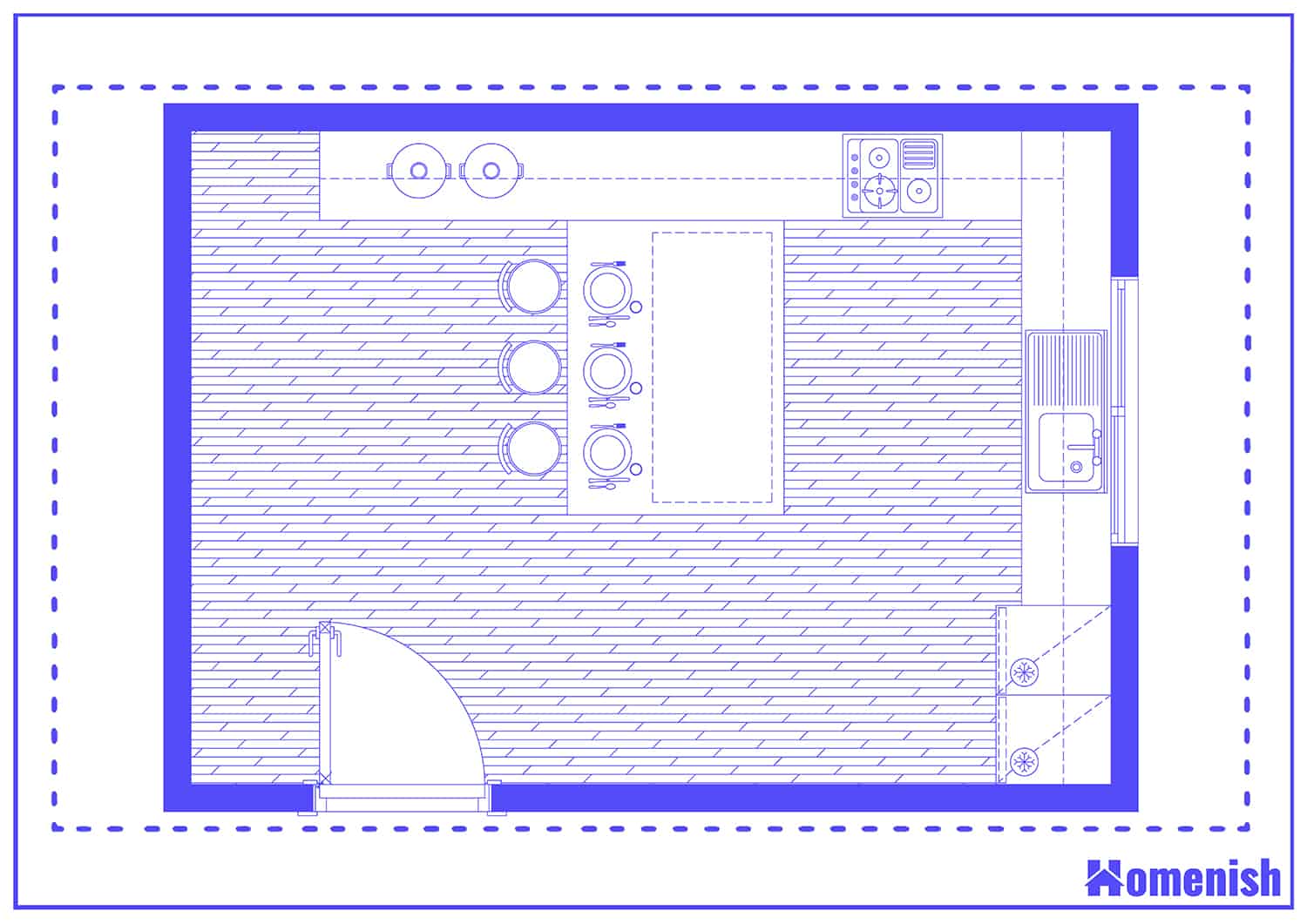 This kitchen features a classic L-shape layout, with the addition of a peninsula. The peninsula essentially performs the same functions as an island, but it is joined to one wall of the kitchen rather than being completely free-standing. The benefit of this is that it creates a much wider walkway at one side of the kitchen, as opposed to a smaller walkway all the way around.
The position of the peninsula creates a U-shape of kitchen countertop space that is very functional for the person preparing food, as they are surrounded by the stove, the sink, and an expanse of preparation or chopping space.
Loft Living Kitchen and Lounge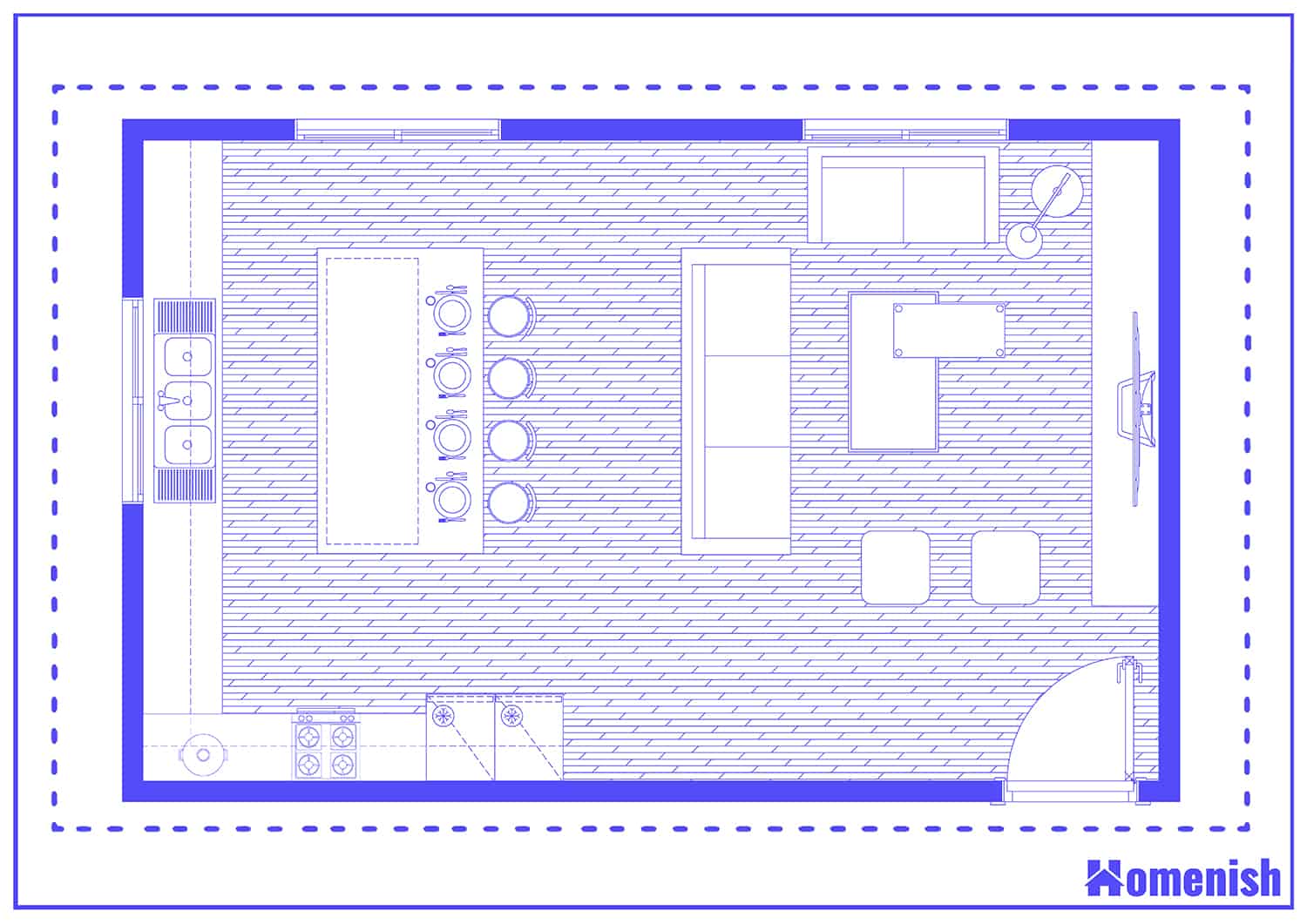 This floor plan accommodates both a kitchen and living area, as well as an island that can be used for dining, making it a multifunctional space. The L-shaped kitchen provides adequate counter space for several users, while the free-standing island creates additional storage and workspace, as well as seating for four diners.
The position of the island helps to define the kitchen area, and this is reinforced by the positioning of the three-seater sofa, which defines the living room as a distinct space.
This is a layout that would work well for loft living or an open plan apartment, as well as a family house with a vast communal area where everyone can enjoy being together while doing different tasks, whether that be preparing dinner in the kitchen, completing homework on the island bar, or reading a book in the living room.