A U-shaped kitchen is defined by three connecting walls of cabinets and countertops, which create a shape like a letter 'U' when viewed from above. These types of kitchen layouts can also go by the name of 'horseshoe' kitchen because of the similar shape.
This is a layout that is very common, especially in older or more traditional style homes, though it is still popularly used in modern homes because it ticks a lot of boxes in terms of storage space, countertop space, and ease of use.
Here we look at the advantages and disadvantages of these types of layouts, along with examples of U-shaped kitchens.
Pros of U-Shaped Kitchens
Impressive Storage
As these types of kitchens cover three walls, they offer a generous amount of storage space. If storage is an important factor in your kitchen, you could look at the possibility of having both base and wall cabinets to maximize cabinet space or consider a wall of floor-to-ceiling tall cabinets in your U-shaped kitchen.
Ample Countertop Space
One reason people love U-shaped kitchens is the amount of countertop space it provides. With three walls of countertop surface, there is sufficient space for baking, food preparation, as well as plenty of room for countertop appliances to be kept, such as a toaster, a coffee machine, a blender, and a kettle.
Functional
In a U-shaped kitchen, you will have everything you need for food preparation within close proximity, as when you are standing in the middle of the 'U,' you will be surrounded on three sides by kitchen storage and countertops.
This makes the room a more functional and efficient space as you won't need to be walking back and forth from one end of the room to the other every time you need to grab something out of a drawer or cabinet.
Versatile
The great thing about U-shaped kitchens is that they can work in open-plan spaces or in single-use rooms. If you like this kind of floor plan, then you will most likely be able to make it work in your home because it will work in so many different types of room shapes.
In an open plan design, for example, in a kitchen diner, you can use one wall of the 'U' as a separation between the kitchen and the dining room area to help define the spaces. In a single-use room, you can fit the U-shape to the size of the room so that three of the four walls are covered with kitchen cabinets.
Cons of a U-Shaped Kitchen
Corner Cabinets Required
Some people like to avoid using corner cabinets in their kitchens because they can be awkward to use, but in a U-shaped kitchen, they are an essential element to complete the connected layout.
Corner cabinets are deep, so they are great for storing large items; however, they can be very difficult to access and so getting anything out of the corner cabinet can be quite a tricky task. This is because the cavity in the cabinet is extensive, but the access door to get into the cabinet is very small by comparison.
These cabinets are so deep that they are actually quite ineffective for storing day-to-day items because you would need to remove all of the front items first to reach the item you want at the back.
Most people with corner kitchen cabinets choose to store lesser-used items at the back of them, such as fancy china or seasonal dinnerware. Another drawback of corner cabinets is that they tend to be more expensive, so they can rack up the cost of a new kitchen.
Minimized Floorspace
Although U-shaped kitchens can work in almost any type of room, they will significantly reduce the floor space available in small or narrow rooms.
If you have a small kitchen, you may find that it is better suited to an L-shaped kitchen or galley kitchen because they occupy less floor space and therefore make it more functional for two people to use at once. If you fit a U-shaped kitchen into your small space, you may find that it feels too cramped, or you struggle with traffic jams when multiple members of the family try to occupy the same area.
Some U-Shaped Kitchen Layouts
The examples below show how versatile U-shaped kitchens can be and how they can be adapted to suit various room sizes and room types. They could work for large social family kitchens just as well as smaller kitchens for people living alone. Use these layouts to spark your own imagination for the layout in your new kitchen.
1.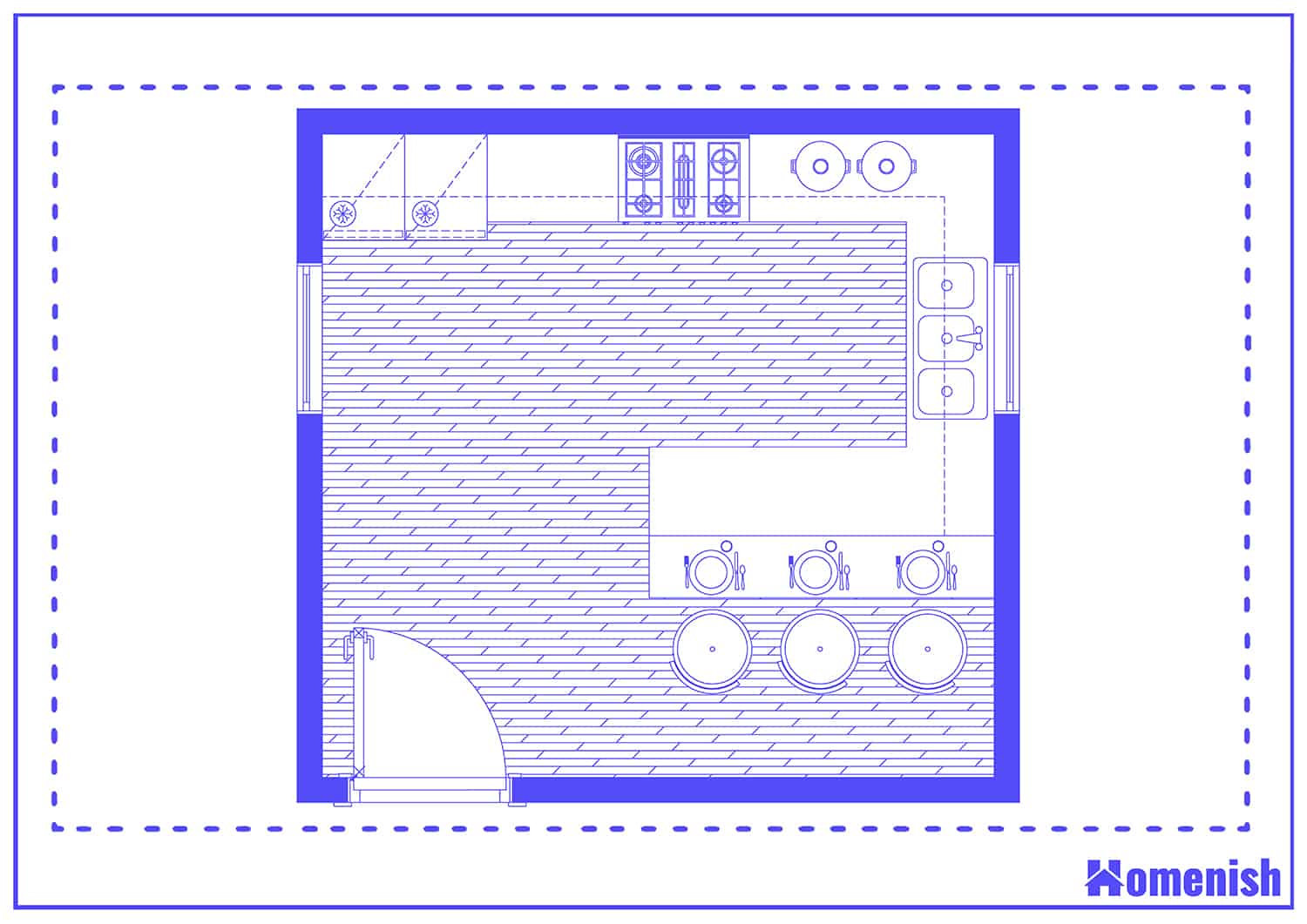 This kitchen layout illustrates how a U-shaped plan could work really well in an open-plan room. Rather than having all three rows of cabinets against the walls of the room, one of the walls of cabinets juts out from the wall like a peninsula.
This means it can work as a room divider to separate and define different parts of the room, and it also means you can use the outer edge of the kitchen as a breakfast bar. This creates an additional seating area and makes for a more social kitchen. This U-shaped layout would also work in a single-use room of a large size, making the room more interesting and usable
2.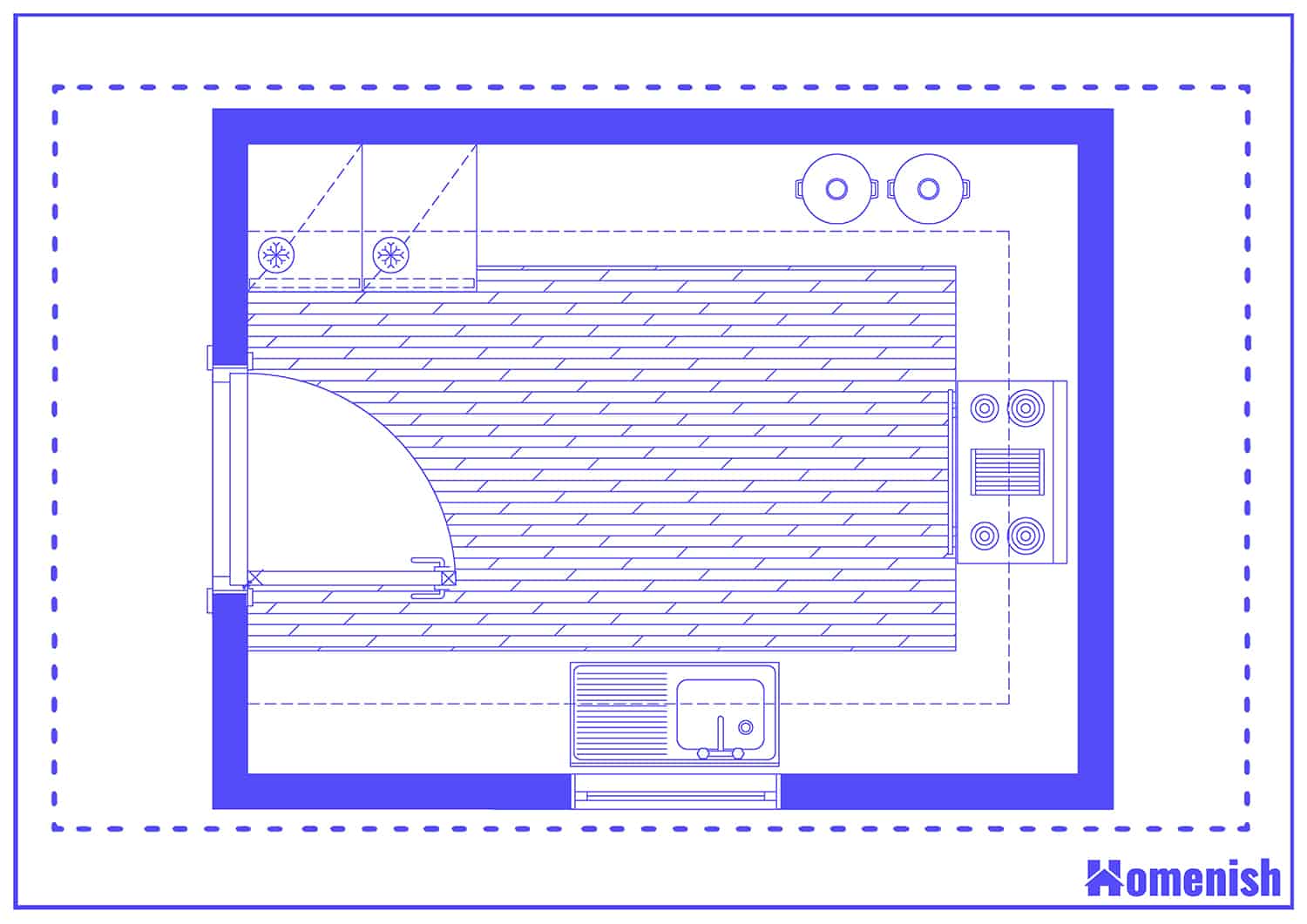 This is the more common, traditional type of U-shaped layout. It features kitchen cabinets and countertops along with three of the walls, with the access door opening right into the gap at the top of the U-shape. If you have an almost square-shaped room or a deep rectangular room, then this is an ideal layout for achieving ultimate storage and countertop space.
The sink has been positioned in front of the window to allow for natural light while washing dishes, as well as a view during chores. The refrigerator and freezer have been installed at the end of the U-shape so that they don't interfere with the flow of the countertop space, leaving one long stretch of surface for food preparation.
3.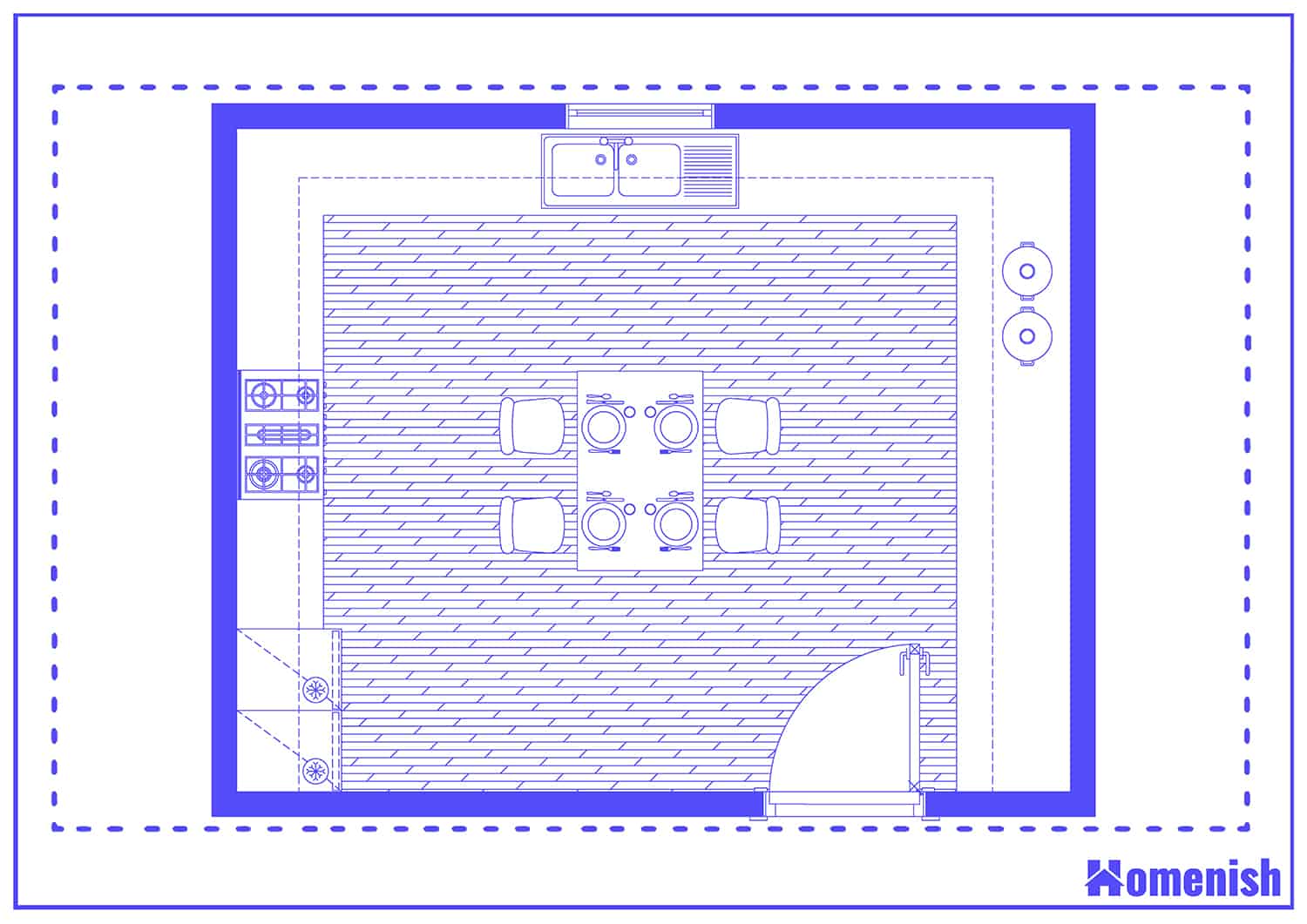 This U-shaped kitchen has been installed in a large room which doubles up as a dining space. The cabinets and countertops create a U-shape by being pushed up against three walls, and the room is so large that enough floor space is left in the middle of the 'U' for a dining table to be added. This layout works really well as a social space and an 'eat in' kitchen where the family can gather for mealtimes.
There is enough remaining floor space that several people could be using the kitchen simultaneously, though you might find that as the two opposing walls of kitchen cabinets are quite far apart, it becomes an effort to be continuously heading from one side of the room to the other, especially as you have to move around the dining table.
If you like this layout but already have a separate dining room, you could switch out the dining table and chairs for a kitchen island, creating even more storage space and a breakfast bar for additional seating. Without an island or furniture in the middle of this room, the layout could make the space look too vacuous.