A G-shaped kitchen has four walls of countertop space, which are all joined together except for one empty area of floor space in one of the corners, which serves as the access point to enter the kitchen. This creates a pattern that, from above, looks like the letter 'G.' This type of layout is most commonly used in open-plan spaces, where the protruding part of the 'G' juts out into the room.
This is known as a 'peninsula' and works much like a kitchen island, except that it is not made from standalone kitchen cabinets and instead is joined to the remainder of the kitchen at one wall. As with most kitchen designs, there are advantages and disadvantages to G-shaped kitchen layouts, which we will explore here.
Pros of G-Shaped Kitchen Layouts
Social Space
G-shaped kitchens work really well as a social space if you use the peninsula as a breakfast bar. With bar stools positioned along the external edge of the kitchen, you can prepare a meal in the kitchen while helping children do their homework at the breakfast bar or chat to guests enjoying a glass of wine while you serve up canapés.
Alternative to Island
Some kitchens simply don't have enough space to accommodate an island, but you can still get the effect and functionality of an island in a small open plan kitchen by using a G-shaped plan.
An island creates a barrier in a kitchen which can be detrimental to functionality if there is not enough remaining floor space around the island to move freely. With a G-shaped kitchen, the peninsula juts out from the wall, leaving a greater amount of floor space in the opening of the 'G' while still utilizing the same counter space area of an island.
Casual Dining Space
If you set up your peninsula as a breakfast bar, then this creates an additional dining space, which is great for eating more casual or hurried meals without having to set up the dining table.
If children in your home have an earlier dinner time than the adults, they can eat at the breakfast bar while you carry out chores in the kitchen and keep watch over them, or it could be a good informal place to quickly eat breakfast before work.
Defines Separate Areas
One benefit of a G-shaped kitchen in an open-plan room is that the peninsula works as a barrier to define separate areas. If you have a kitchen-diner or an open plan living room-kitchen, then a G-shaped kitchen helps to keep the two spaces from melting into one another, ensuring that they are used appropriately.
Additional Storage
One reason many people love G-shaped kitchens is that they provide so much storage. With kitchen cabinets on all four walls, there is an abundance of space for keeping bakeware, small appliances, kitchenware, and food.
You will also have more space for under-counter appliances such as a dishwasher, a wine cooler, and an oven.
Extra Counter Space
A G-shaped kitchen provides an enormous amount of countertop space, which is ideal if you like to cook or have other hobbies which require plenty of counter space, such as making jams and preserves or baking cakes.
Cons of G-Shaped Kitchen Layouts
Not Well Suited to Single-Use Kitchen
G-shaped kitchen layouts are usually used in open-plan rooms which have multiple uses, for example, a kitchen and dining room layout or a kitchen and living room layout. This is because the peninsula works as a barrier between the two areas to define the space.
The layout is less well suited to a single-use room where a kitchen occupies the whole space because the doorway to access the kitchen will need to be accommodated, meaning all remaining walls will be covered by kitchen cabinets.
This can make a small space feel overwhelming and significantly reduce the amount of available floor area in the room, making it difficult for multiple people to use the kitchen.
More Expensive
Though the cost of your kitchen will predominantly be affected by the style and quality of the cabinets and countertops you choose, the amount of these items you need will also drive the cost up or down.
A G-shaped kitchen requires a lot of cabinets and long lengths of countertops, so you can expect this layout of the kitchen to cost more money. It is not the best type of kitchen layout to choose if you are working on a tight budget.
G-Shaped Layouts
Here are some examples of G-shaped kitchen layouts, along with descriptions that detail their uses and what situations they would work well for.
This can serve as a good tool to use as inspiration if you want a G-shaped kitchen in your home or want to consider how this type of layout could benefit your circumstances.
1.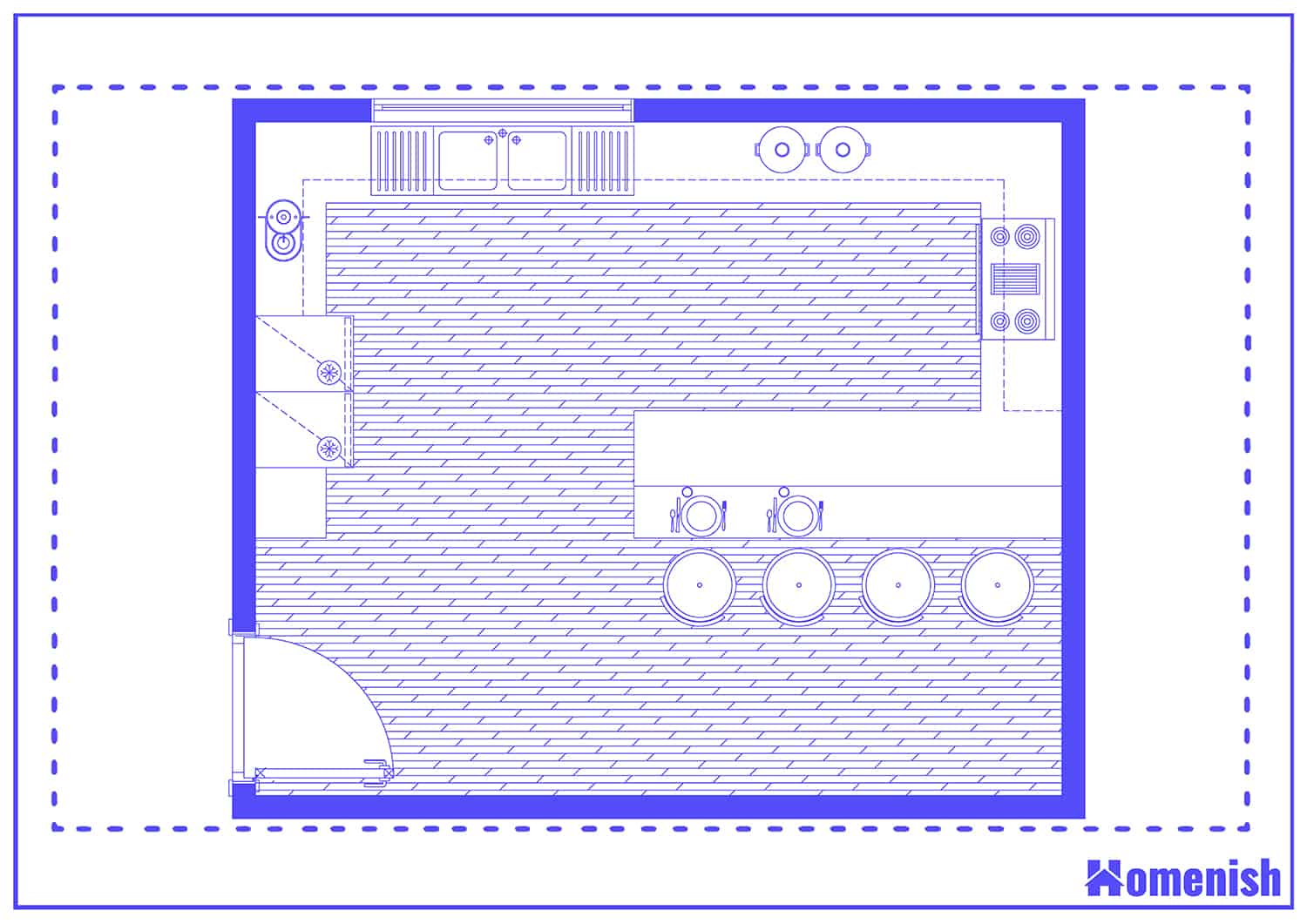 This G-shaped kitchen plan has utilized the peninsula as a breakfast bar, creating an additional casual dining space for four users or a desk-style area for children to color or do homework.
The peninsula space has been left free from appliances, providing one large expanse of countertop ideal for preparing food while talking to those seated at the breakfast bar. There is a double sink positioned underneath the window so that you can wash dishes while benefiting from natural light, enjoy the view, or keep an eye on children playing in the yard.
2.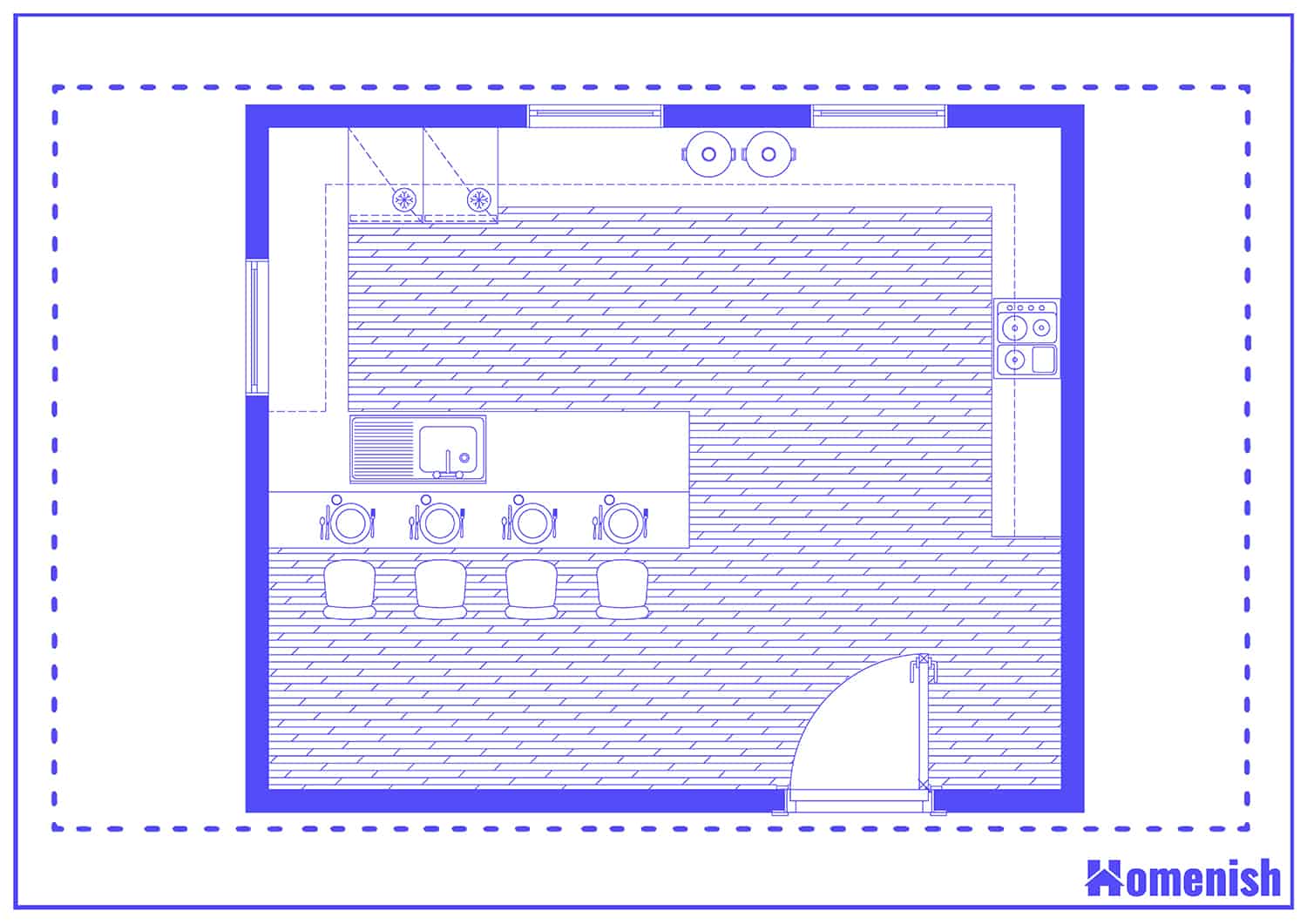 This is a U-shaped kitchen with a peninsula, making it a G-shaped kitchen. There is a kitchen basin in the peninsula, which would be useful if you want to wash dishes while being able to face out towards the breakfast bar and into the opposite room, rather than facing to the exterior of the house as is more common.
There is vacant countertop space on either side of the basin, which makes the preparation of fresh food easier because you can wash produce at the basin and then chop it right beside it.
3.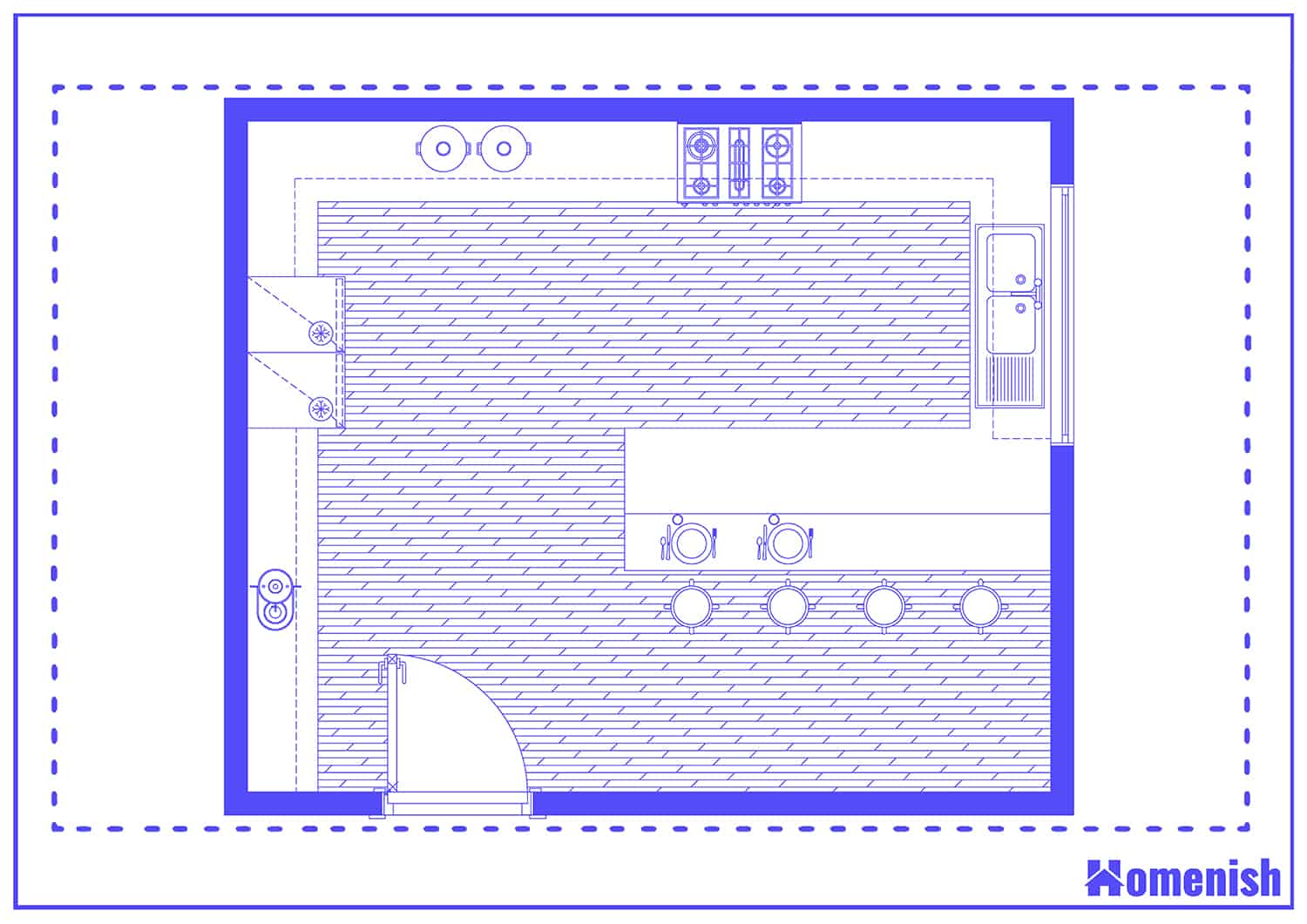 The preparing and cooking areas of this kitchen are all situated at one end, in the 'U'-shaped part of the 'G.' The basin, stovetop, and clear preparation space are all close to each other to make preparing and cooking meals much easier.
The 'G' shape has an extended tail, allowing for more kitchen cabinets and greater storage.
4.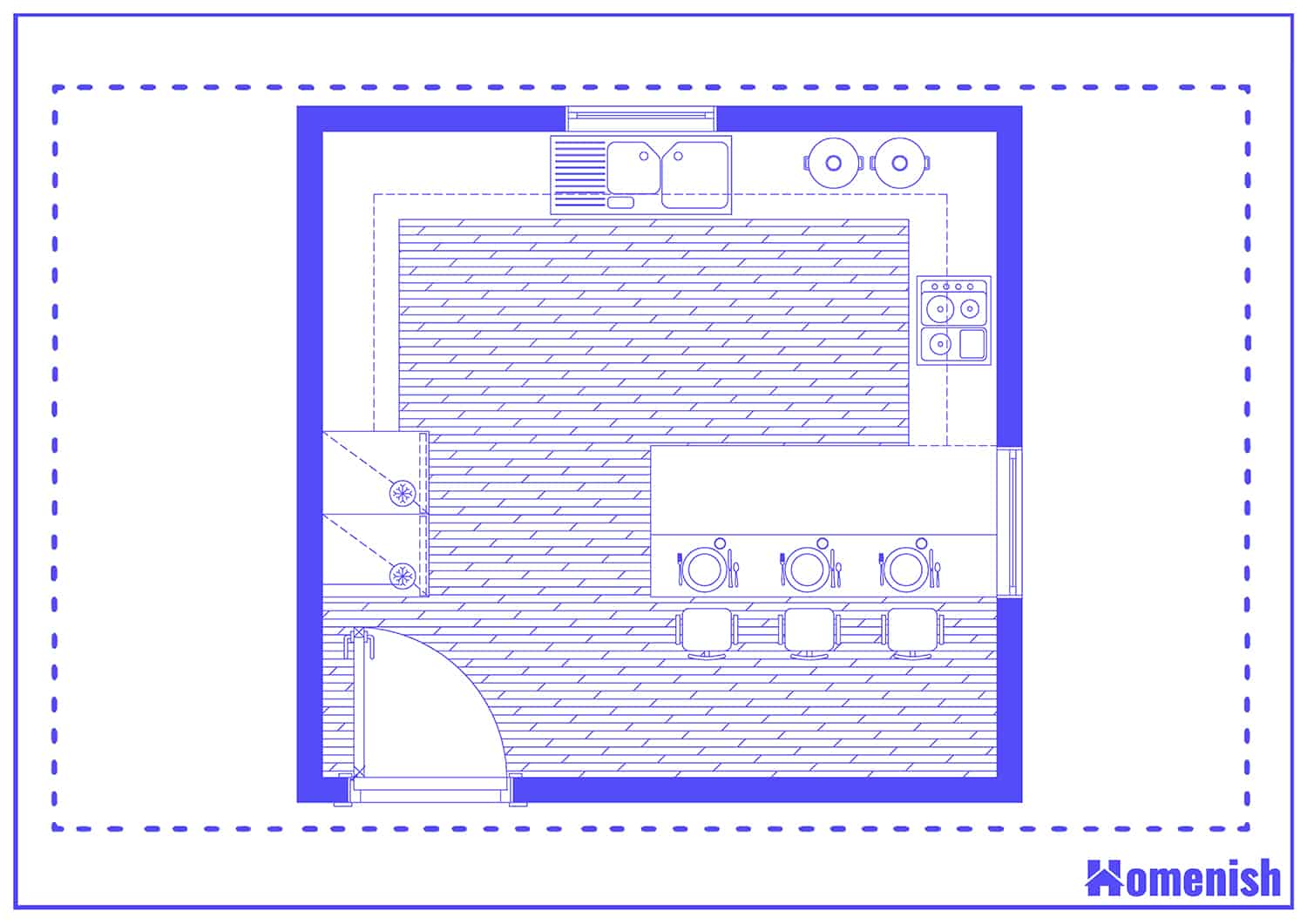 This is a small to medium-sized room which has maximized storage and countertop space by using a G-shaped kitchen layout.
The peninsula is set up as a small breakfast bar area that accommodates three bar stools, and it is positioned underneath a window so the area will benefit from natural light. The G-shape is bookended by a refrigerator and freezer, allowing for the countertop space to be uninterrupted by appliances.
5.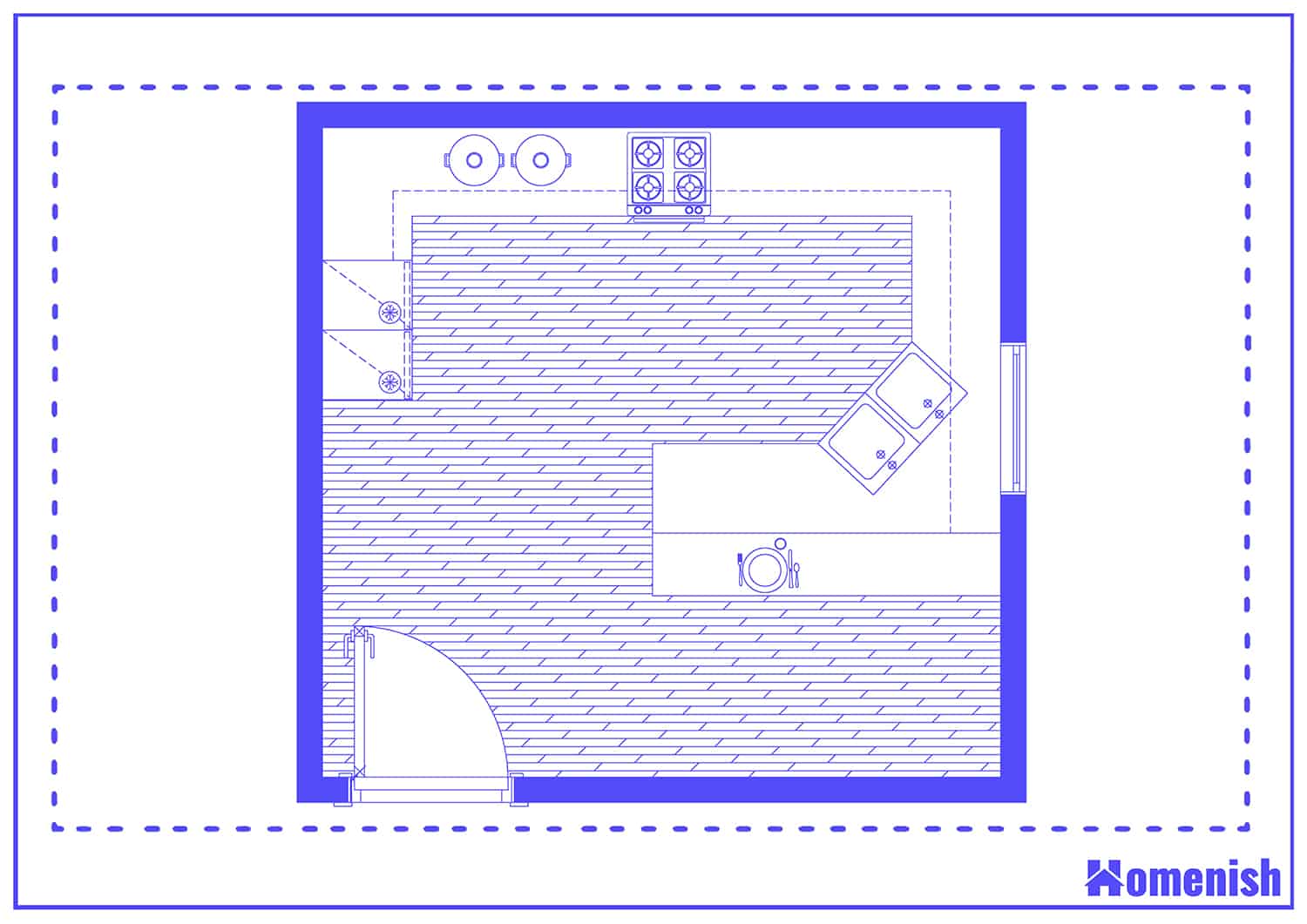 This is a G-shaped layout that would work well for a couple or a person living alone. It has plentiful storage and countertop space but minimal empty floor space. The basin is situated at a corner angle at the end of the peninsula, which reduces the available countertop space for dining.
However, the peninsula is still used as a breakfast bar, with space for two bar stools. The opposing end of the G-shape is prematurely cut off, which is necessary to make the opening of the kitchen area an adequate size.