Are you planning to give your bathroom a new look? Perhaps one of the first things you've looked at is getting rid of old bathroom tiles. You may replace them with new ones, but you may also be thinking of ideas for bathroom walls instead of tiles. Continue reading as this article will explore and discuss different options for the bathroom walls aside from tiles.
There's no denying that tile is the most popular and commonly used material for bathroom walls. And why not? Tiles are water-resistant, which is arguably the most important consideration for any material to be used in the bathroom. It can last for many years even if it is constantly exposed to water. It is also stain and humidity-resistant, which further enhances its durability.
Tiles are also easy to maintain. It can resist dirt, stain, and liquid spills. You can simply wipe or mop stains of dirt that rest on top of tiles. Germs also won't harbor on tiles, whether it's on the floors or on the walls.
But there are also reasons why you'd want to go away with tiles as the primary material for bathroom walls. You also should not fully tile the bathroom. Tiles can be heavy and thus can put your home's integrity in peril, especially if the bathroom is located on the second floor. Tiles can also be costly, which can force you to look for and consider alternative bathroom wall materials.
Shower Wall Panels
Shower wall panels are considered the next best thing to tiles when it comes to bathroom wall materials. These are interlocking waterproof sheets available in various materials and finishes. Shower wall panels or bathroom wall panels can be made of acrylic, PVC-backed composite, high-grade fiber, or high-pressure laminate. These can give your bathroom walls a sophisticated finish.
Moreover, these can be mounted on the old tiles that you want to get rid of as long as the tiles are level. This characteristic or trait of bathroom shower wall panels can also save you extra bucks as you don't have to pay for the process of removing the old tiles.
In terms of looks, shower panels are just like tiles as these can complement any type of bathroom decor. You can buy shower panels in different finishes such as natural stone, glossy, and matte. Shower wall panels are also available in various custom sizes, so you can cover everything on your bathroom wall.
And just like tiles, shower wall panels are easy to maintain. You can easily clean them using a clean cloth and an antiseptic spray.
Finally, shower wall panels are easier to install compared to tiles because they can stick over solid surfaces and, more importantly, won't require grouting. This also means you won't have to worry about applying and maintaining grout when you install shower wall panels.
If shower wall panels don't appeal to you, then why don't you consider using wallpaper for your bathroom walls?
Wallpaper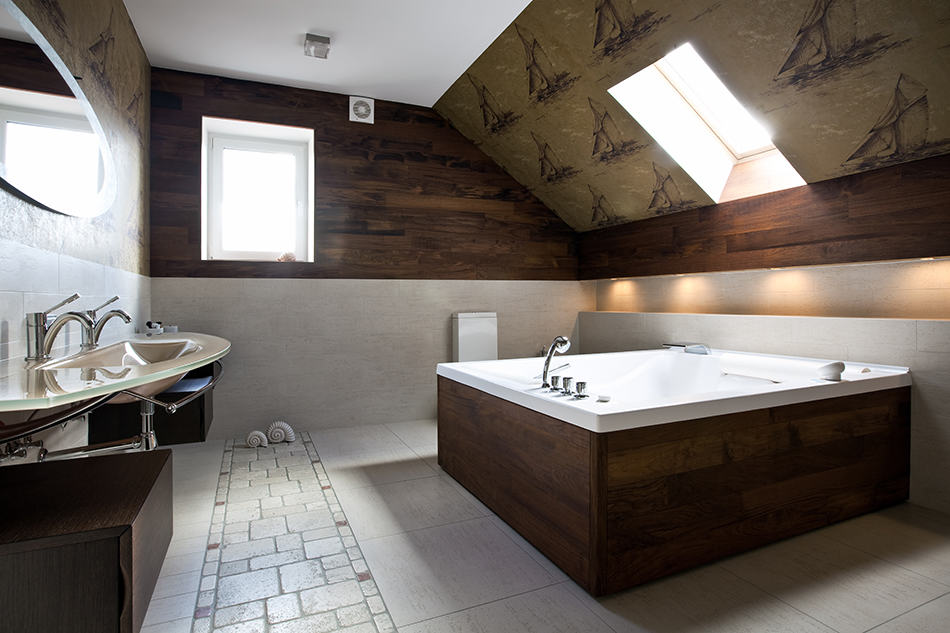 Wallpaper isn't always thought of as an alternative material for bathroom walls. Yet you should consider using it. Not only would wallpaper spruce up your bathroom, but it also gives it a bit of character.
Many home interior designers even argue that wallpaper is the best alternative wall option for the bathroom. The bathroom, after all, is smaller compared to other rooms in the house.
Therefore, it's of the right size to begin experimenting with wallpaper. You should also keep in mind that there aren't a lot of furnishings in a bathroom that would run in contrast with the design or color of the wallpaper. Moreover, you can use removable wallpaper if you're in a rental to save on the installation.
Place a steam-resistant wallpaper in the bathroom as this type of wallpaper would be unlikely to peel. Most of the time, a steam-resistant wallpaper can also resist moisture when covered with a clear acrylic varnish.
Wood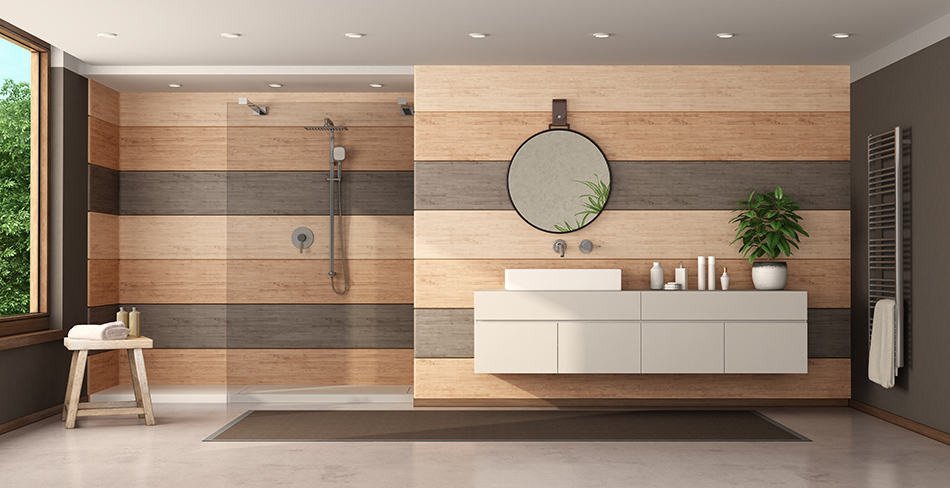 Sure, wood doesn't hold well in moist and humid conditions. But wood can be protected against water by painting it with semi-gloss paint. You can also apply a waterproof varnish on it so that it would hold well for many years. It's also practical to use wood panels in the areas of the bathroom where water isn't splashed on.
Wood panels are also known to resist discoloration over time. Maintenance should also be easier and less complicated compared to tiles, which are notorious for attracting grime build-up.
And installation of wood wall panels is uncomplicated and faster compared to tiling. Wood panels are typically bigger than tiles, meaning installation would be faster. And if you're a handyman, you will find installation easy to accomplish.
Wood is another material that typically doesn't hold well in humid or moist conditions; however, you can explore this as an option for your bathroom walls. It's not as rare as you think, as wood paneling can add an earthy feel and complement your shower wonderfully. To help protect the wood, you can paint it with semi-gloss paint and couple it with an oil-based primer or waterproof varnish.
Brick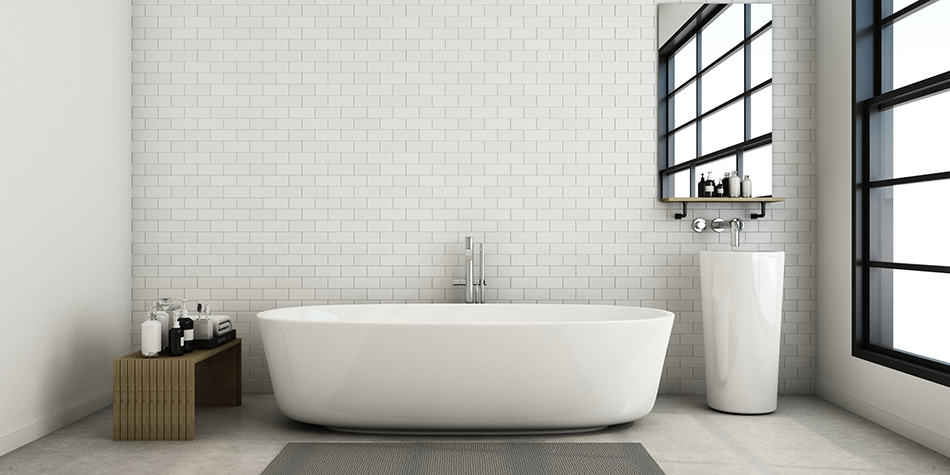 Similar to a wood panel, brick isn't the first material homeowners think of when asked about bathroom walls. But this doesn't mean that you shouldn't give it serious consideration. Brick can give your bathroom wall a minimalist and contemporary look.
Yes, brick can be porous for a humid environment. But you can also make it waterproof by painting it with water-resistant paint. And you may also consider hiring a contractor who specializes in indoor bricklaying to make the brick bathroom wall project a reality.
Laminated Panels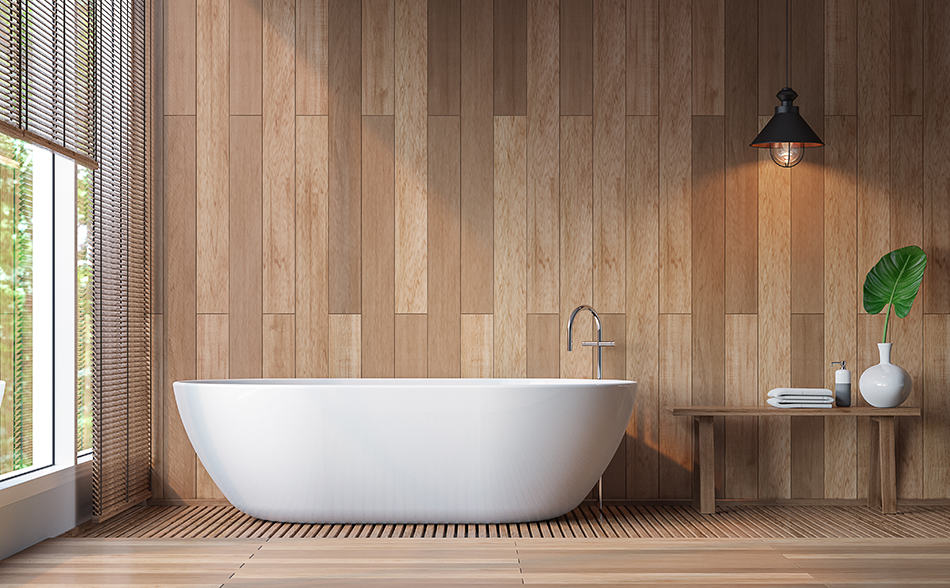 Laminate panels have long been used as tile alternatives for many decades. These are commonly used in commercial settings, often backed with a wood core or waterproof foam. Durable and water-resistant, laminate panels can work well as bathroom wall materials. Moreover, these are available in various designs and colors. Installation is easy, too.
The core of laminate panels has a waterproof plastic core. This is treated with a decorative and waterproof surface as the top layer. It is therefore durable and hygienic. Another benefit of using laminate panels is that you can get substantial savings as the material is cheap. Installation is likewise cheaper compared to tiles.
PVC Wall Panels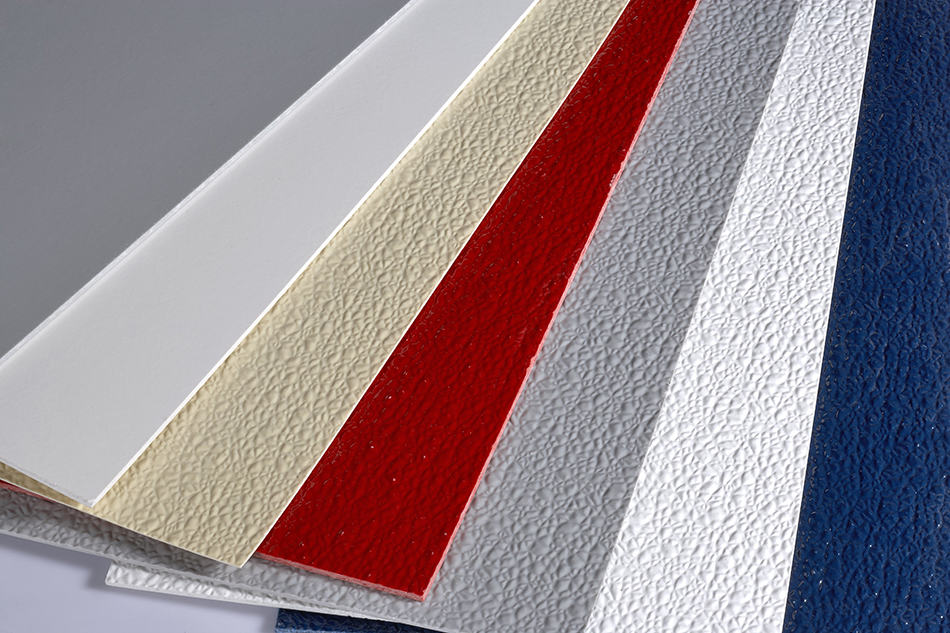 PVC wall panels are easy to install and naturally water-resistant. It can also resist mold, which would make it a healthy and practical choice for bathroom walls. In terms of price, PVC wall panels can be less costly, depending on the design.
PVC wall panels are available in various patterns, colors, and textures. You can even come across those 3D sheets that can make your bathroom walls truly stand out. Unlike tiles, PVC wall panels are lightweight yet strong. Transport, handling, and installation are relatively easy compared to tiles. During installation, PVC wall panels don't create a dusty environment.
Paint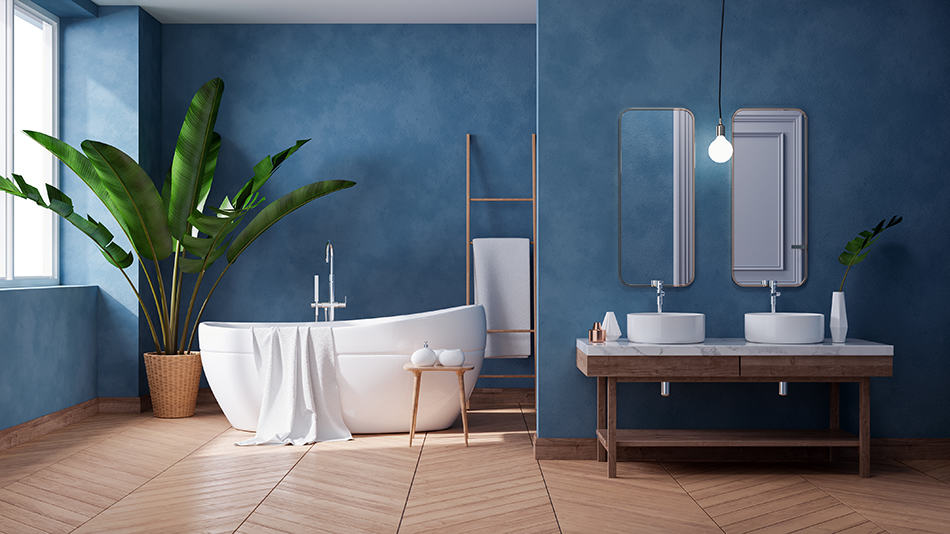 If you're on a budget, then paint may very well be your top alternative to tiles. Painting the bathroom wall is the easiest and cheapest alternative. You can choose a color that would complement the look and feel you want to have in your bathroom. And painting the bathroom walls can be over in a few hours.
There are, however, a few downsides to opting to paint the bathroom walls. The paint is not as durable as tiles. It may not also enhance the look of the bathroom wall in the same way that tiles or bricks can do.
Stainless Steel
Stainless steel isn't the cheapest option but can enhance your bathroom walls much like tiles. Stainless steel is naturally water-resistant and low maintenance. You won't have to worry about installing grout when you opt for this bathroom wall material.
You may contact a contractor who will cut the sheets for you and then install them on your bathroom walls. If you're a handyman, you may purchase stainless steel sheets at a nearby hardware store.
Solid Stone Slabs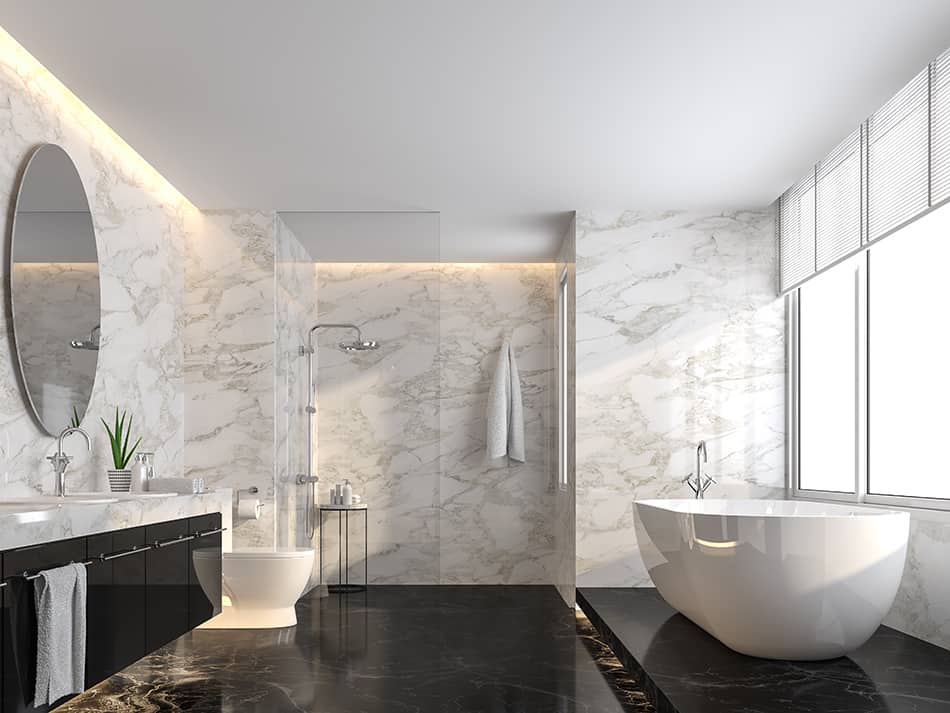 Solid stone slabs are ideal for large bathrooms. You can install it on non-splash areas or in the entire bathroom wall. You will have to shell out a significant amount for this option, though, but rest assured that it's worth every penny.
Solid stone slabs can come in various designs, colors, and textures. You can even mix and match different stones for a mosaic appeal. Installation can be done DIY, although you can also outsource it to a contractor. It shouldn't take more than a day to complete the job.
Acrylic Sheets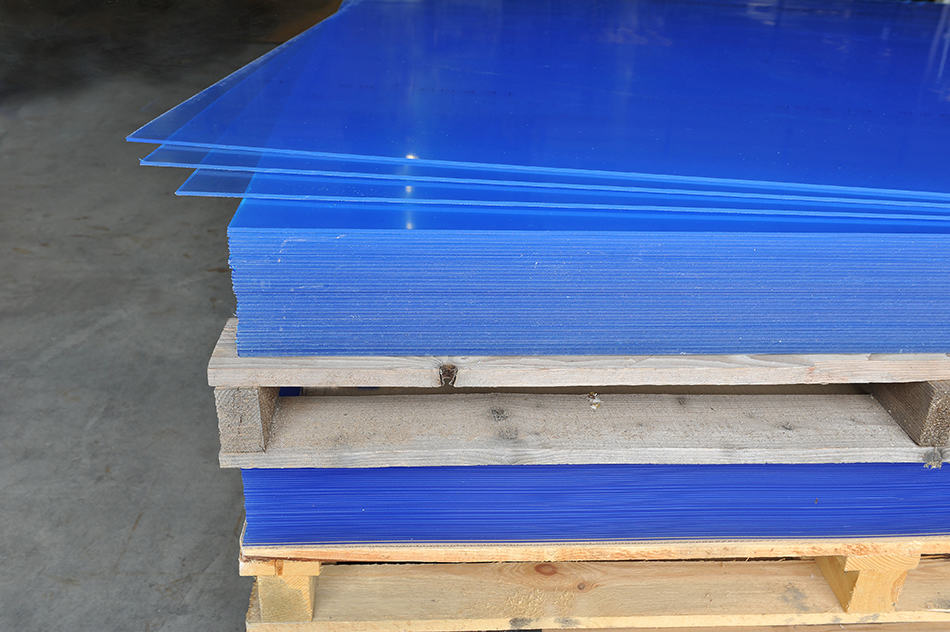 Finally, acrylic sheets are simple to install. This material can also add a contemporary feel to your bathroom. It is durable and water-resistant, commonly sold individually or in sets. Pricing can vary depending on the design and the manufacturer. Acrylic sheets are also easy to clean and maintain.
If there's a disadvantage to using acrylic sheets for bathroom walls, then it would have to be the limited colors. Acrylic sheets are typically white and off-white. But if this doesn't bother you, then you should consider using this as a bathroom wall material instead of tiles.