Powder rooms go way back to the 18th century as rooms servants used to apply fresh talcum powder to the white wigs of wealthy men. Women around that time also used these rooms to powder their noses when they were hosted at estates of the wealthy, but they didn't have toilets or sinks.
From that time on, a half bathroom with typically a sink and toilet is referred to as a powder room.
While powder rooms don't have the space or luxury of full bathrooms, they serve their purpose adequately by providing a space for guests to freshen up when they visit.
As mentioned before, powder rooms are not full bathrooms, and therefore their sizes need to be understood before being incorporated into your house design. These rooms are often found on the first floor of storied houses to enable ease of access for guests instead of them maneuvering to the top floors.
Power Room Dimensions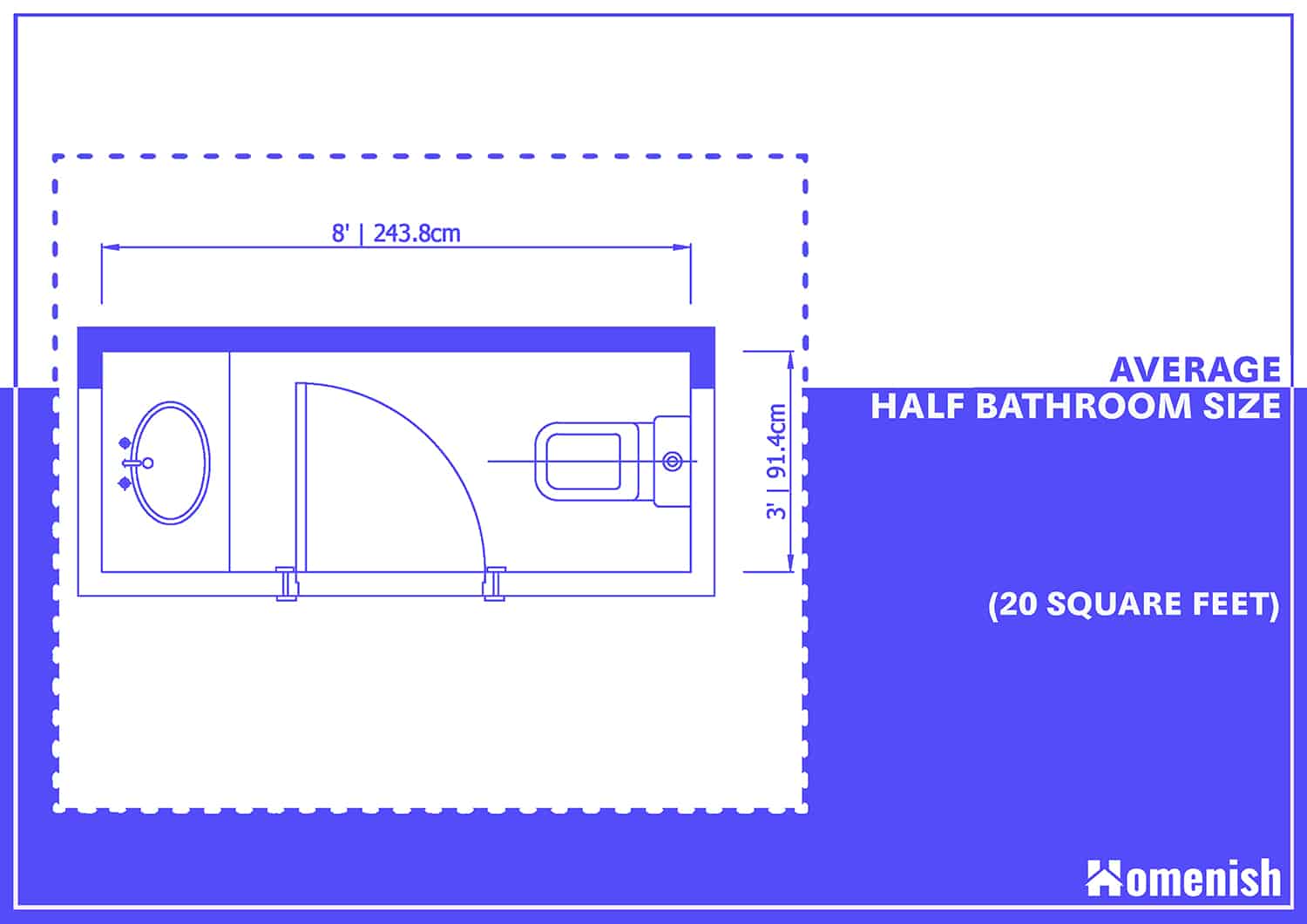 Powder rooms vary and will be built based on your available space and preference. However, the average is about 20 Square feet. With the height, anywhere lower than 4- 4.5 feet is too low, and that room should be relegated to a store that keeps coats, brooms, and other like items.
Whether you're going through your blueprints or looking to renovate with a powder room addition, you should look up your local building codes that often change.
Therefore, going on with this construction without doing so may lead to you dismantling the entire thing. These codes vary from country to country, so consultations should always be made.
How to Place Your Toilet and Sink
To save on plumbing, space, and the overall appearance of the room, the toilet and sink are usually installed on one side of the wall. Nonetheless, if you have more space, or have a narrow powder room where the toilet would need to go to further back of the wall, then you can switch up your design.
Your bathroom sink dimensions can vary, with some as small as 11- 20 inches, to 40 inches plus installed. You, however, need enough clearance with at least 30 inches in front of the sink and the wall or door. The sink also needs 15 inches on either side of its centerline, separated from walls or any other fixtures.
The international residential code stipulates the same 15 inches from the toilet's centerline as it does for sinks. Toilets are usually 20 inches wide which could be too big for your room, in which case, switch up and have the oval-shaped toilets.
Other designs like the wall-hanged toilets and sinks will need deeper walls since they require more strength, and also, the walls need to be resistant to waterlogging from plumbing issues.
Powder Room Recommended Layouts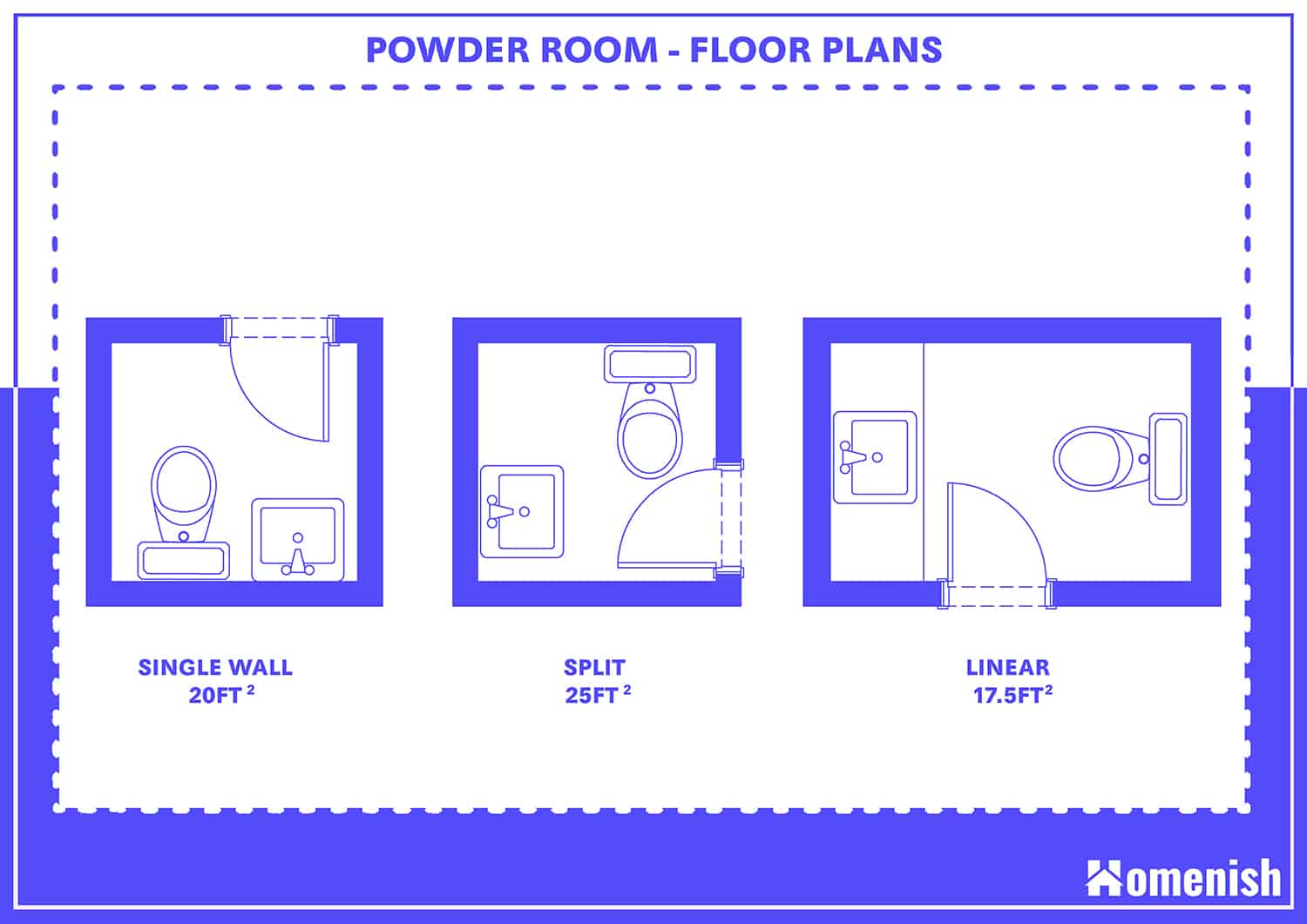 Different homeowners design their powder rooms based on their design preference and availability of space since, at times, these half bathrooms are features being added to an already established home. Here are some layouts to help you consider what your powder room should look like.
Single-Wall Room
This is the most popular type of half bathroom because it's cost and space-efficient. With both your toilet and sink on the same wall, you have nested the plumbing costs into one, and the required front space is assured since they are parallel to one another.
The Split Bathroom
This will require a little more space, perhaps something over 35 Square feet wide, but if it's attainable, then it's a great option since it offers some privacy but also, once painted all white, can make the room appear larger than it is. Furthermore, since this room is relatively larger, you may opt to have a mini shower in the corner that allows your guests to take a quick shower when needed.
Narrow Bathroom
This is very linear, with as little as 17.5 inches wide. Here, your toilet is placed on the furthermost wall, and the sink to the adjacent wall. This, out of all the three, has the most confined space; therefore, it's pertinent to have small toilet and sink fixtures to allow enough legroom.
The Design
Since this room is small, you have more options of being strategic and bold with your designs without them coming off overwhelming, as they would in a full bathroom. Floral wallpaper in a master's bathroom may look out of place, yet in a powder room will bring much more flair and personality to the bathroom and also the overall house's design.
Without the worry of water that comes from the shower or bath, your style options are endless. From vintage styles to art paintings and the like, your powder room can become a beacon to showcase your interior design chops, and what better place than the very place guests are guaranteed to visit?
The Benefits of a Powder Room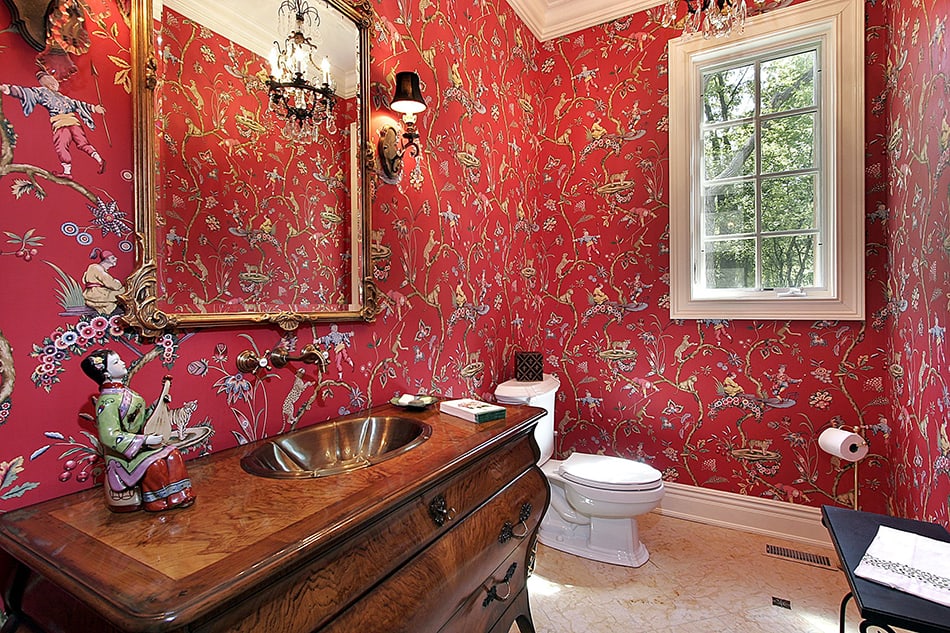 Powder rooms offer great benefits, the most prevalent being ease of entertaining guests.
You may want to seclude your private bathroom from the traffic of guests in your home, and frankly, you might not know half of them, so it's a great idea to have a powder room tucked away somewhere under the staircase that allows your guests to ease themselves and as the name suggests, powder their faces and touch-up their makeup.
Aside from having a space for guests, a powder room racks up the value of your house when listed because multiple home buyers will pay extra cash from the ordinary to have an extra bathroom even though it's a half-one.
Powder rooms are typically designed for ladies; that's why they have feminine designs. While setting up this bathroom, keep in mind that your overall aesthetic should keep this in play.
You'll also need extra towels, tissues, and a flavorsome scent to allow your half bathroom to live up to the standard. If you have a little more space, splurge on a lavish vanity mirror, the ladies will love that, and you could also have a sink with compartments for extra storage.