So you've finally decided to give your dated bathroom a fresh look by installing wall panels. This remodeling project is the easiest way to achieve a sophisticated look and give bathrooms a more traditional feel. Wall paneling is a great addition to existing walls in featureless bathrooms while protecting them from general wear and tear. In addition, it is an ideal solution to covering uneven walls and radiators. This remodeling idea will instantly transform your bathroom without the need to spend a lot of money.
If you're searching for bathroom wall paneling ideas to bring character to your space, then take a look at our examples right here:
Bathroom Wall Paneling Ideas
Go for Beadboard Paneling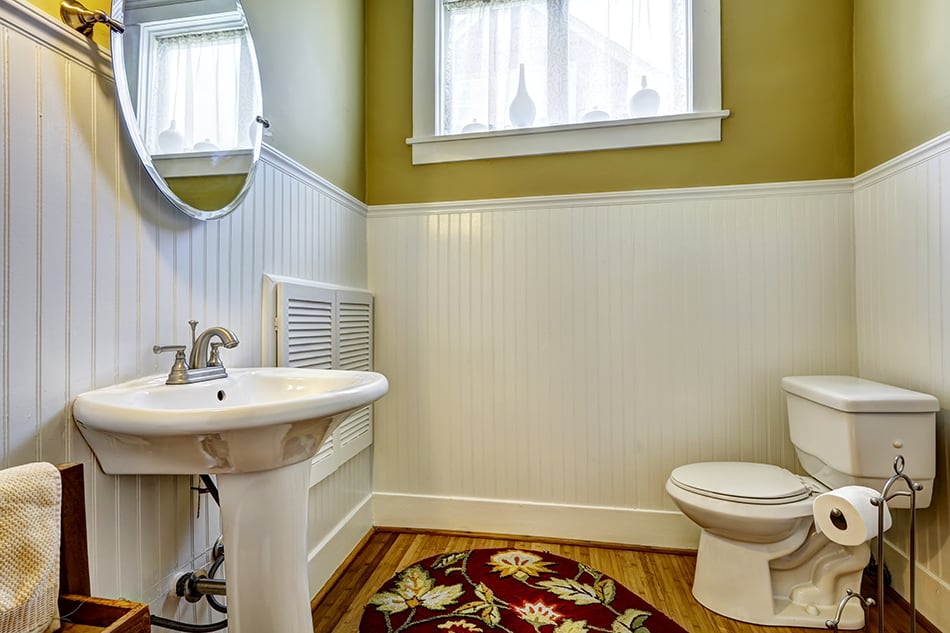 If you're a fan of the farmhouse look, consider installing beadboard wall panels. These planks provide a contrast between the direction of the color lines and the wood, which add interest to a traditional bathroom. The beadboard panels can be made from reclaimed wood to provide a rustic appearance in a simple bathroom design.
Reclaimed wood is one example of how rustic your bathroom can look. One benefit of this material is its ability to hide the marks and signs of wear and tear. This way, you can add richness to the bathroom walls. You may even contrast the beadboard panels with a cool tone color in order to give your traditional bathroom a nice accent. There are in fact countless ways wooden wall panels can make your bathroom look more interesting as beadboard is a versatile way of decorating a wall. Tip: when installing beadboard wall panels, go for 8-feet long by 4-feet long boards. Install the boards lengthwise by laying them by their side. For a more refined look, opt for individual beadboard planks.
In this example, the wall paneling is a white color beadboard combined with yellow upper walls for a traditional and cheery look.
Install Tile Board Panels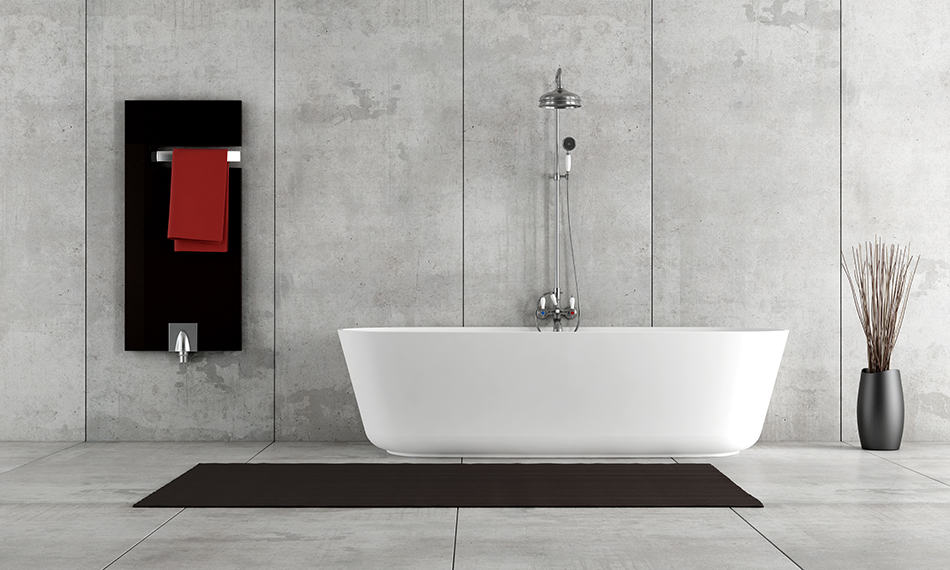 When we mention tileboard, the first image that may pop to mind is a ceramic tile. However, tile boards come in larger panel formats that allow you to cover up to 30 square feet of walls within a few minutes. High-quality tile boards look very identical to real ceramic tiles, with the main difference being the coated surface to repel moisture. Tile board panels are inexpensive and easy to install due to their simple appearance. These bargain materials are best used for guest bathrooms as they won't add to your home's resale value, but are nevertheless a cheaper alternative to wooden panels.
Here is a perfect example of how a minimalist bathroom can benefit from tile board panels. And since they are available in large formats, their installation is super easy.
Dark-Color Panels with a Blend of Concrete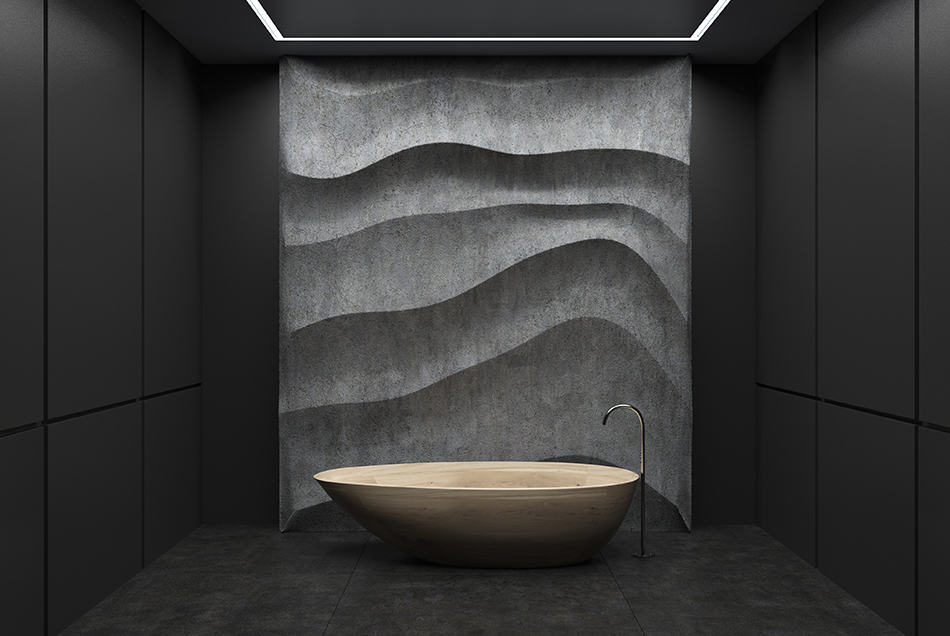 Styling your bathroom using dark panel colors may seem like a daring choice, but did you know it can bring much sophistication to the room as dark wall panels give an opportunity to indulge. When combining black and grey wall panels, for example, your bathroom will look luxurious. Dark wall panels look sleek in both small and large spaces as they can be the perfect backdrop.
Notice how the black wall panels have made the bathtub pop, thus creating a designer look to this bathroom. We love the wavy concrete wall as the main feature of this room.
Vertical Wall Panels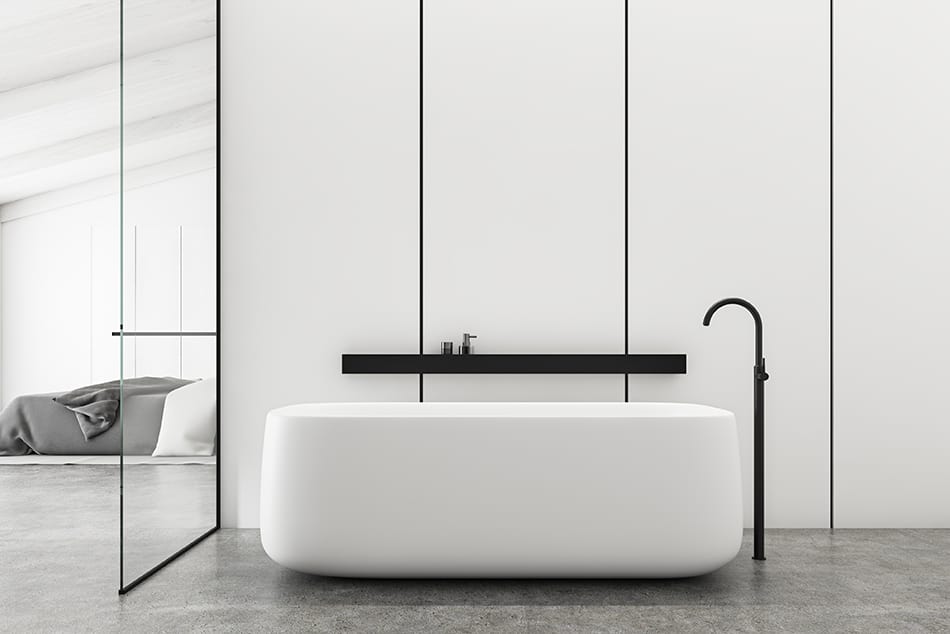 If you love to create a stylish yet minimalist bathroom, think about the direction of your wall panels by installing them vertically. This will showcase the fixtures and achieve a luxurious design. When it comes to the color of the wall panels, white is the safest bet. It may seem a little too simple, but white panels can be enhanced by adding contributing elements such as rustic towel racks or built-in shelves. The idea of less is more can be experimented just like you would with dark color panels.
To make an impact with your vertical wall panels, dress up your bathroom with retro fixtures like uniquely designed faucets and bathtubs in black and white colors. The beauty of white is its flexibility as the color will always remain timeless in any style bathroom.
Contemporary Grey Wall Panels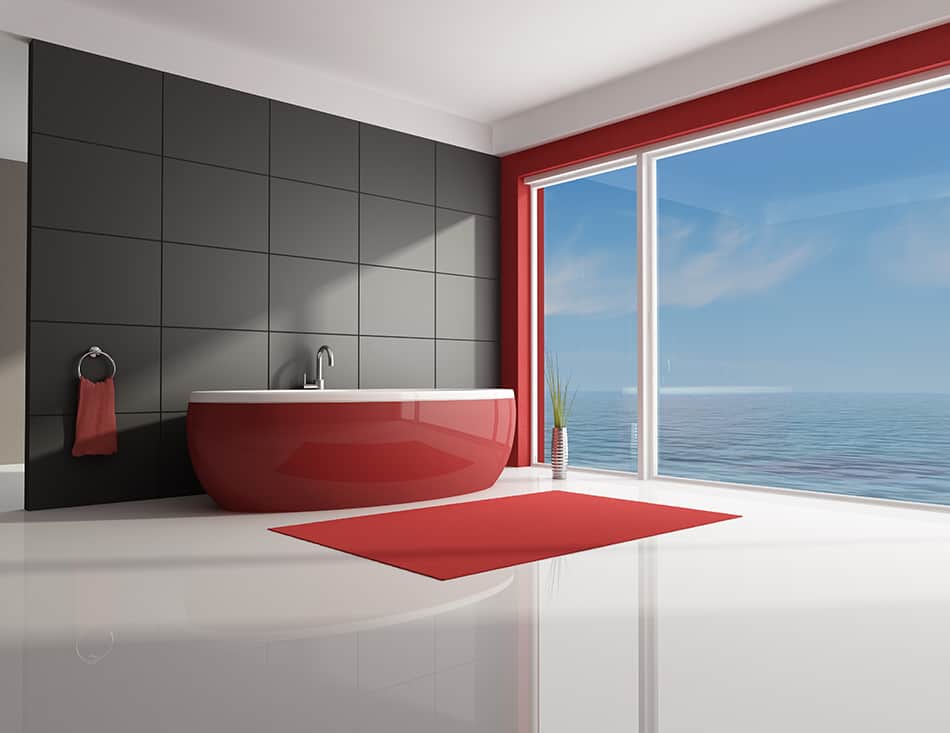 If a simple white panel sounds too simple for you, then consider dark grey panels paired with deep red fixtures. This combination of grey and red will bring a little color to an otherwise bland and minimalist bathroom. In general, greys and whites work well with bold colors so you can experiment by installing grey wall panels to set the tone for the red bathtub like the one shown here. The combination of dark grey as a pastel tone and rich red as a bold tone looks calm and refreshing.
Install Budget-Friendly Fiberglass Panels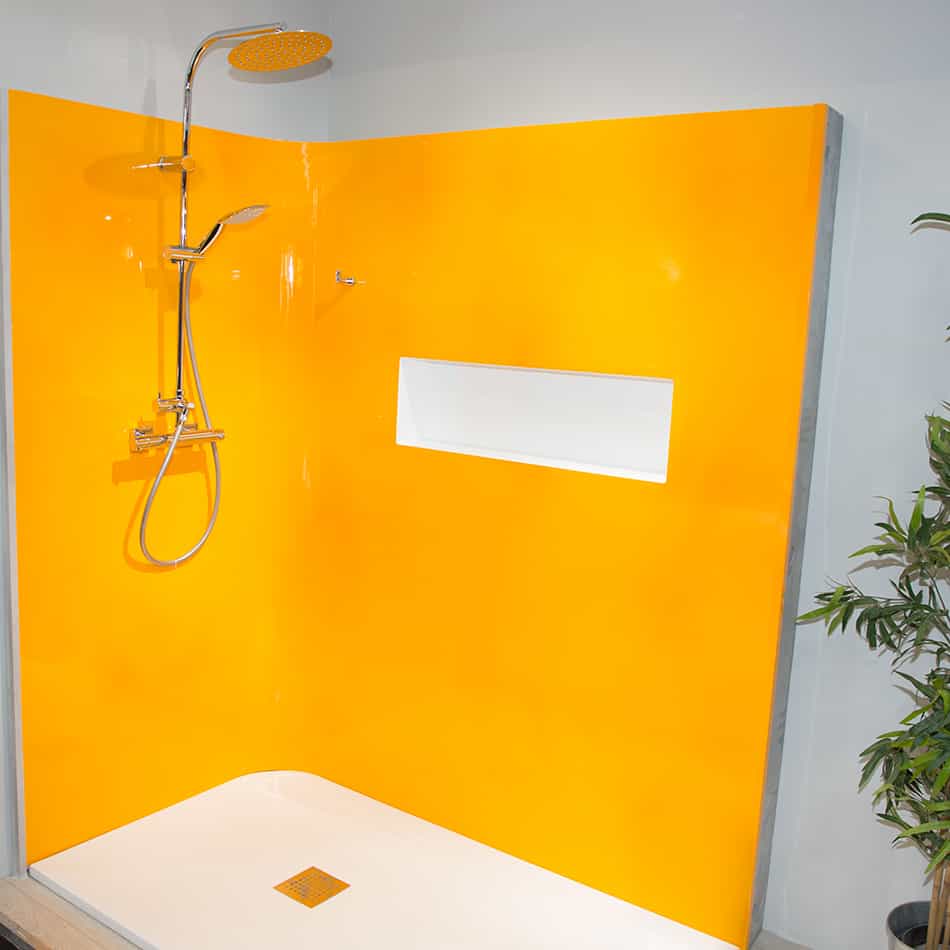 If you have a tight budget and want the cheapest wall panels for your bathroom, consider fiberglass panels. A simple designed fiberglass panel for the shower or bathroom walls will fulfil your needs. Aside from their low cost, the biggest advantage of fiberglass panels is their lightweight nature. This makes them super easy to install. That said, you must take care when installing these panels as they are prone to scratches and can easily get damaged during the installation process.
A bright yellow fiberglass wall for the shower is one way you can introduce pop of color as the most inexpensive option.
For a More Luxurious Alternative, Opt for Laminate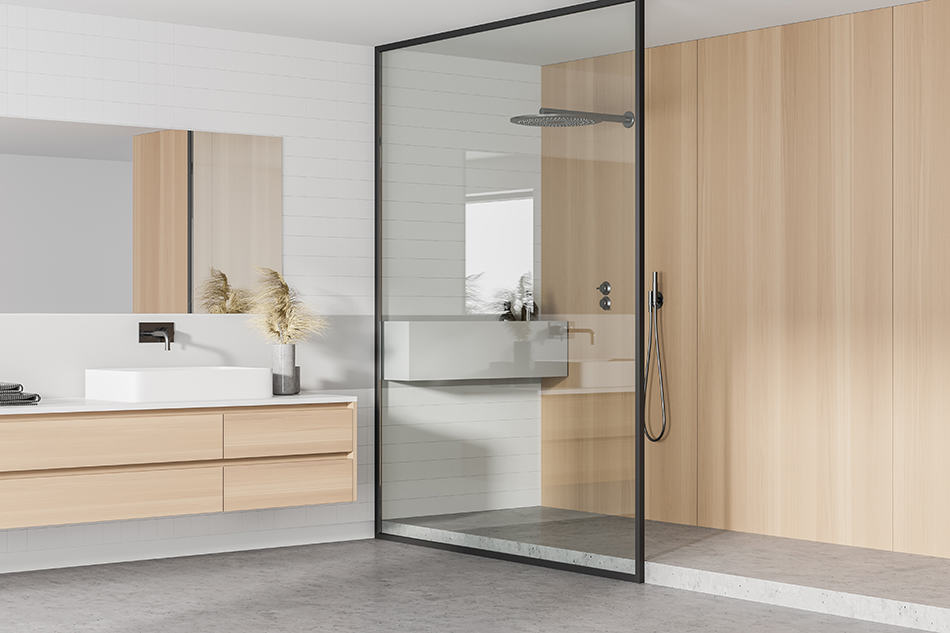 For a high-end alternative to fiberglass, and still a cheaper option than beadboard, go for laminate. These panels are lightweight, which makes them easy to install. Unlike marble or granite panels that are heavy and require two people to install them, laminate panels are the better alternative for DIY enthusiasts. In fact, you will be able to handle the panels from the measuring to cutting trim pieces on your own without the assistance of a professional. There is also no need to worry about scratching or damaging the panels as you would with fiberglass. Furthermore, laminate panels are virtually maintenance-free, which means they can last for up to 15 years.
Combine Wooden Wall Panels, Tiles and Fiberglass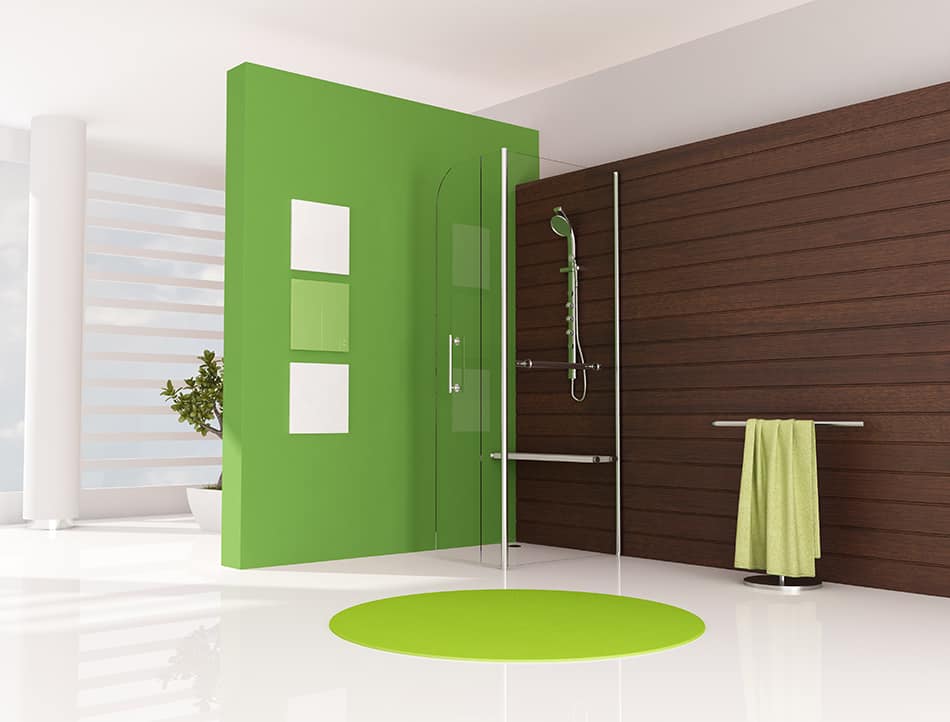 As a unique decorative wall feature, why not combine wooden panels with a line of tiling and fiberglass as a delicate way to bring character to your bathroom. Tiles in dark brown or red give you the flexibility to pair them with a bold fiberglass wall panel in the shower just like the bright green wall panel you can see in this example.
Depending on the look you want to achieve, a combination of tiles, wood, and fiberglass will add a bit of playfulness to the bathroom. The reflective effect of fiberglass walls will catch the light and when paired with a dark color tile or wood paneling, they will create a sense of luxury.
Can bathroom wall panels be installed on any surface?
Bathroom wall panels can be installed on most surfaces including any cladding materials like tiles or laminate. These panels are a little more forgiving on uneven surfaces too as you can install waterproof drywall on the uneven surface before placing the panel on top. With these panels, you'll get the best installation result if you place them directly on sealed or newly plastered walls.
Is bathroom wall paneling better than tiling?
Although tiling is still a popular wall cladding for many homeowners, panels are becoming a favorite, especially in modern bathrooms. There are some good reasons behind this as you'll get high-quality panels that don't discolor over time. Plus unlike grout lines that require maintenance or cleaning, wall panels won't need any maintenance over the long term. Furthermore, tiles attract grime buildup, whereas taking care of your wall panels is much easier.
Other benefits of bathroom wall panels over individual tiling include their ease of installation. Since the panels are much bigger than tiles, installing them on the wall is a much quicker process. In most cases, you won't even need the help of a professional. If you're into DIY, you should be able to get the job done within half a day.
Can I paint my bathroom wall panels?
Some bathroom wall panels can be painted, especially if they are made of wood, marble or fiberglass. But just make sure you use waterproof paint as acrylic paint can ruin the surface of the panel – not to mention the look and feel of the material.
What is the lifespan of bathroom wall panels?
Most quality bathroom wall panels last up to 15 years. If the material is marble, PVC, or granite, it can last even longer. In general, if you maintain your bathroom wall panels, you can extend their lifespan. Clean the panels regularly and avoid mounting items from them by making holes in the panels.