If you're thinking about decorating your bathroom in gray, there are a few things to consider before you settle on a precise shade because the choice when it comes to gray paints is surprisingly extensive.
Gray is a leading color in the interior design world and has seeped into our homes as it gives an elegant and high-end designer feel. However, if you've ever tried to paint a room in gray, then you'll know this is one of the trickiest colors to work with.
This is because different shades of gray have different undertones, but they are so subtle that it's hard to figure out the undertone until you have the whole room covered.
The final color of gray paint will also be heavily dependent on the type of light you have in your room, whether that be artificial light or sunlight, which direction the light is coming from, and what time of day it is.
One gray paint in your living room may look like an entirely different shade of gray in your kitchen if they are on different parts of the house. The colors you use to accent with your gray paint can also draw out or dilute certain tones in it. Here we uncover a selection of tried and tested paints that are hailed as the best gray paint colors for the bathroom.
Dark Gray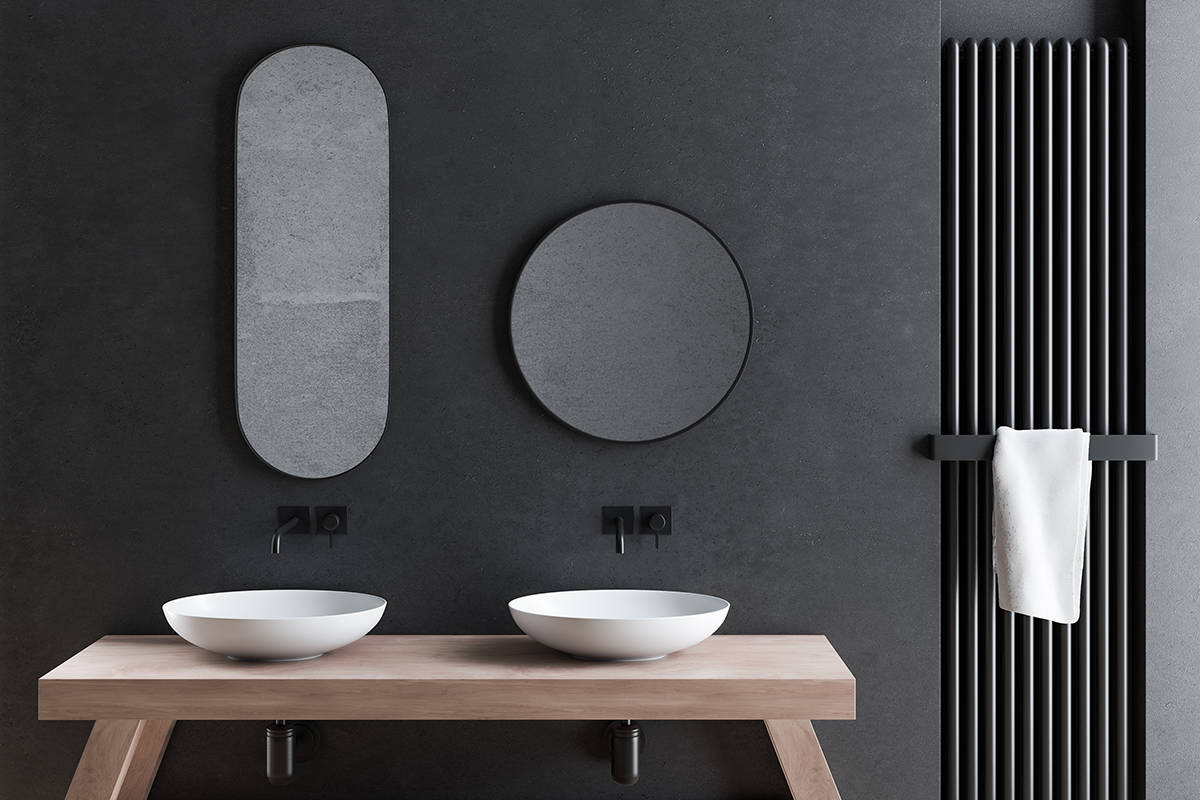 Bathrooms are a good space to choose a paint color you might feel too intimidated to use in a more common living area.
Dark gray may seem too dramatic or intense in a living room, but in a bathroom, it can create an intimate, elegant, calming, and luxurious space. For the biggest impact, paint all of the bathroom walls dark gray and accentuate them with gold or copper metalware. For a hotel vibe, choose fluffy white towels and bath mats to contrast against the dark gray paint.
Down Pipe by Farrow and Ball
This is one of the truest gray shades out there, with a deep silkiness that is rich and bold. This dark gray paint by Farrow and Ball is a good choice if you are worried about a shade of gray looking too brown or too blue, as it has a perfect balance that does not lean towards any obvious undertones.
Cheating Heart by Benjamin Moore
This gray paint has brown undertones, which give it a warm and inviting feel. Don't worry though, the brown is so subtle you wouldn't even notice it was there. This gray would be great for achieving spa vibes in your bathroom. Team it with white and gray marble tiling and white accessories.
Artist Gray by Ralph Lauren

This paint color has blue undertones in it, which make it a cool and refreshing shade. It is deep and dramatic and can work well alongside more vivid blue accents like blue towels or blue candles.
It will work nicely in industrial-style or minimalist-style bathrooms and could be used with either gold or silver metals.
Light Gray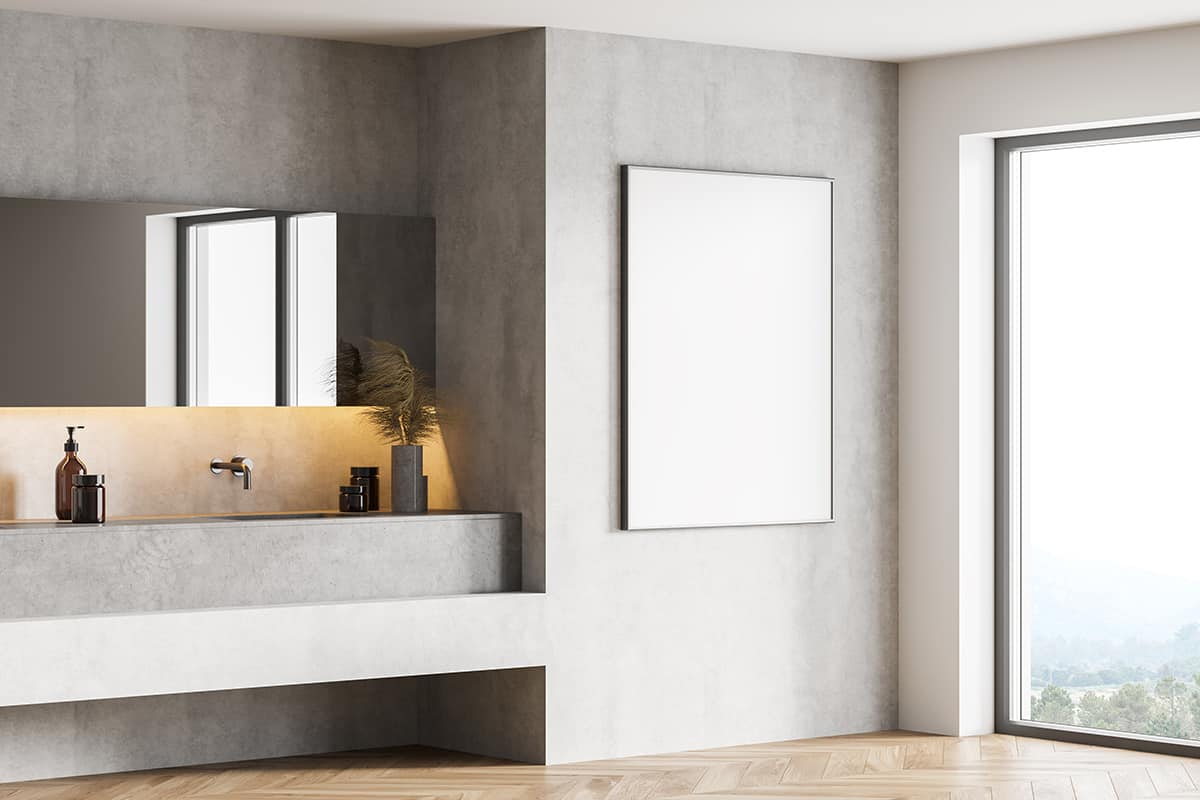 If you want your bathroom to feel light and airy while still being on-trend, opt for a light gray shade of paint. Light gray walls make for an elegant and classic space, and they offer a stylish option for people who shy away from dark color schemes.
Passive by Sherwin Williams
If you want your gray paint to be joyful rather than drab, choose this cheerful shade of pale gray. It has lilac undertones, making it a happy color.
If you want to avoid bringing out the purple aspects of this color, pair it with neutral tones such as beige, and stay away from yellow accents.
Graytint by Benjamin Moore
This is a color that sits somewhere between white and gray. If you want a crisp gray that is a little more than off-white, this is an elegant choice. It will look fresh and modern in a bathroom and can be accented with dark gray touches such as charcoal towels and soap dispensers.
Silver Satin by Benjamin Moore
This is a clean and classic gray that is suitable for both traditional style bathrooms and modern style bathrooms. It has no obvious undertones but has a soft energy that will make a room painted in this color feel gentle and welcoming.
This is a gray that will also work well for wood trim in a bathroom and would offer a subtle contrast against white walls or dark gray walls. Gray and white are among the most popular colors used in every kind of bathroom. See more inspirations in our post on best paint color for small bathroom with no windows.
Warm Gray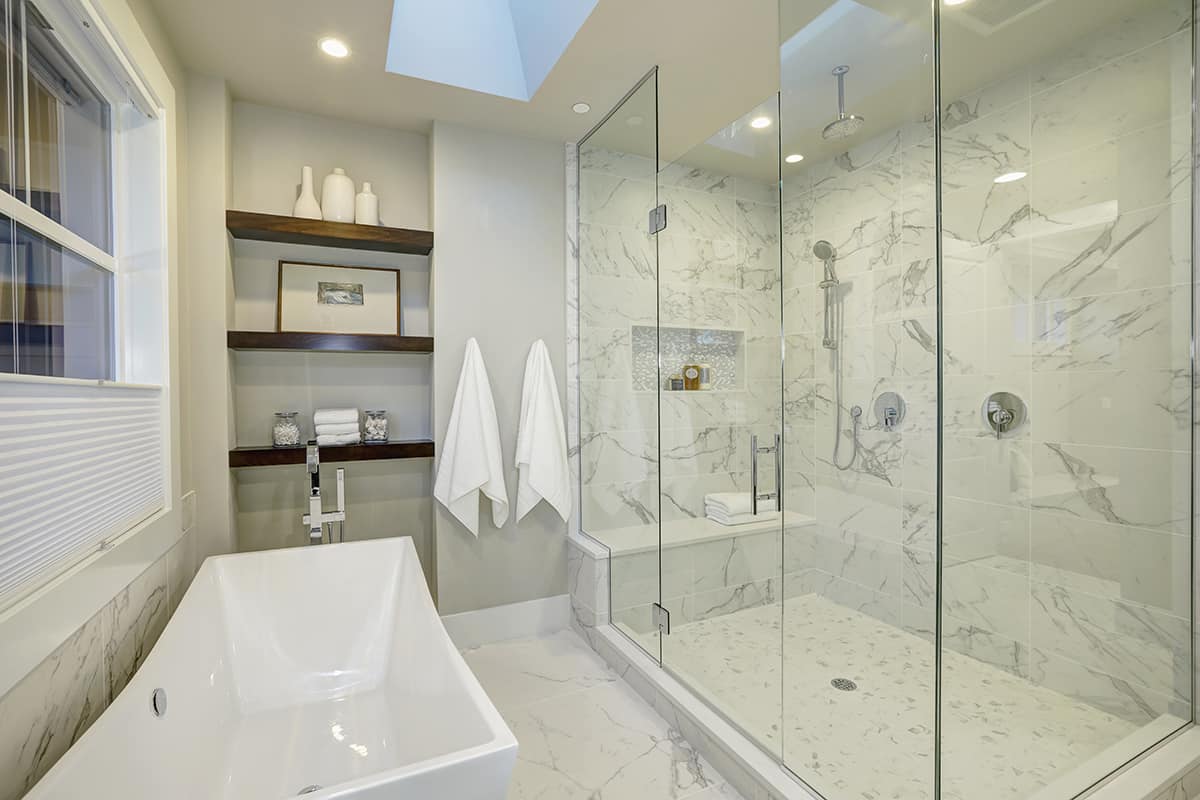 If you're concerned about gray painted walls looking cold and uninviting, then opt for a warm gray. These shades of gray have hints of brown or beige in them, which give them a warm hue.
Choose a warm gray for bathrooms that do not get much natural light, as this will help the room feel cozy and snug rather than bleak and hostile.
Revere Pewter by Benjamin Moore
This is a warm and natural-looking shade of gray that sits halfway between gray and beige, which some people refer to as 'greige.' This is a pale shade that would work well in an earthy color scheme, alongside jute plant pots and wicker laundry baskets.
If you want to paint your bathroom gray but are used to beige shades, then this is a good transitional color that won't be too much of a shock to the system while still offering a style update.
Ammonite by Farrow and Ball

Ammonite is an off-white shade of gray that has creamy undertones, which give it a warm feel. When used on bathroom walls, the result is a sultry space that feels classic and appealing. It is neutral enough that it could be paired with bold accents such as emerald green or burnt orange, or it would work nicely in a monochromatic color scheme.
Elephant's Breath by Farrow and Ball

Elephant's Breath is one of the most popular shades of gray that is well-known among interior designers and frequently used in all areas of the home. It has a soft and luxurious quality that, when used on bathroom walls, makes the room feel like a tranquil and decadent escape.
This color has brown undertones and can be paired with neutral shades or bold pops of color.
Cool Gray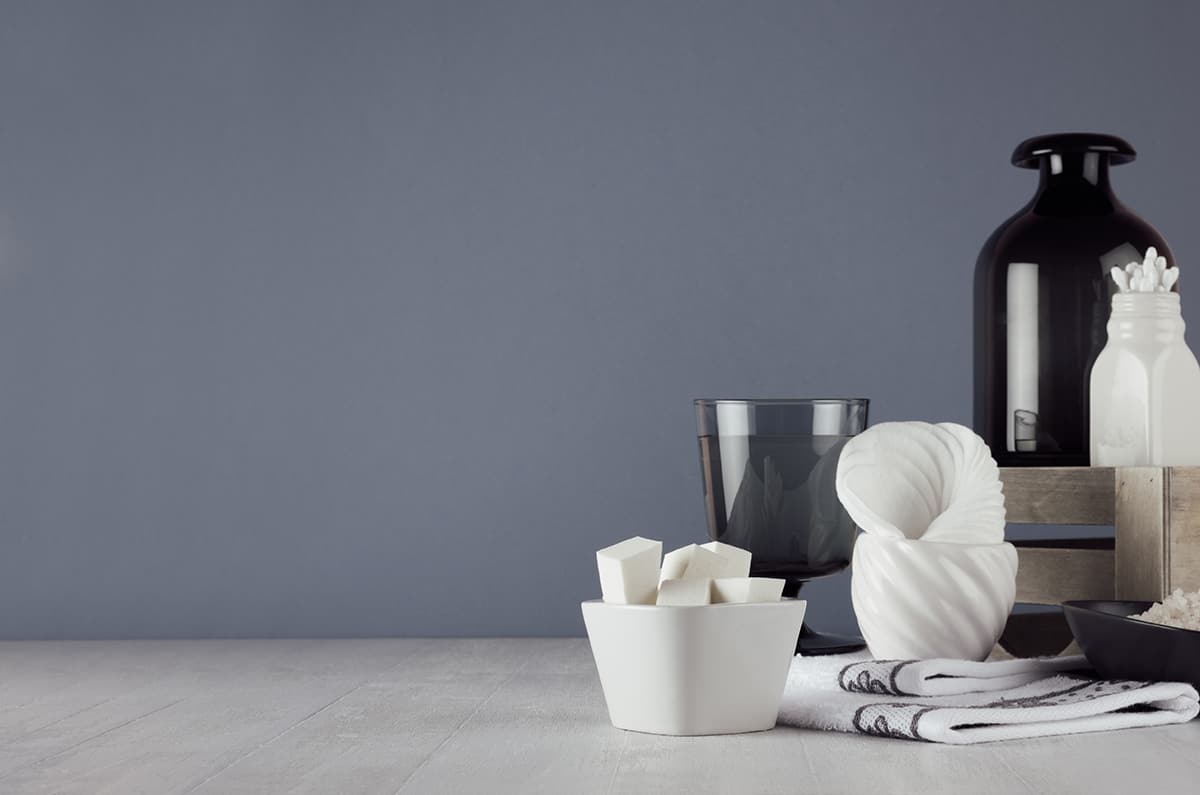 Cool shades of gray are those which have undertones of green, blue, or purple, as these are cold colors. Cool gray paint works well in bathrooms that get plenty of natural light as this will prevent the cool color from giving off an uninviting vibe and instead allow it to look fresh and sophisticated.
The hardest thing about cool gray paints is that they can end up looking more like their undertone than gray. For example, a purple-gray can, in some lights, look like the room has been painted lavender. This is why sampling swatches of paint in the room you plan to use it in is very important because you can see how the light and space affect the final result of the color.
Check the sample paint on different walls in the bathroom and consider it at various points throughout the day to see how the changing daylight can alter the shade of gray you see. If you do end up with a cool gray room that shows more undertones than you would like, there are tricks you can use to downplay certain colors.
Gray Cashmere by Benjamin Moore

This pale shade of gray paint has purple undertones, so in certain lights might look lilac; however, in the right space, Gray Cashmere will provide a crisp and invigorating ambiance, perfect for a family bathroom or en-suite.
If you want to play down the purple tones in this color, pair it with blue or dark charcoal gray accessories, as this will bring out more of the gray hues.
Avoid yellow or orange accessories because, as a complementary color of purple, any yellow accents will make the purple components of the paint appear brighter. Be careful also to steer away from any wooden features which have tones of yellow in the grain.
Gray Owl by Benjamin Moore

This is a cool gray paint with very subtle hints of green. Gray Owl will offer a refreshing feel in a bathroom, especially one filled with natural light in the earlier parts of the day.
To bring out the best of this color, accent it with gold accessories or mustard-colored towels. If you find that this gray looks too green in your space, be sure to avoid any red accents because this will draw out the green even further.
Blue Gray No. 91 by Farrow and Ball

As is clear from the name of this paint, Blue Gray No. 91 by Farrow and Ball sits somewhere between blue and gray, making it great for creating a cool and calming bathroom haven.
It would look gorgeous on bathroom walls alongside dark navy trim to give it a sophisticated edge. To bring out the gray in this color, choose blue or green accessories, and stay away from orange, which would make the blue hues in the paint more vibrant.