Hygge is a cozy, minimalist style decor concept that revolves around bringing your loved ones together and appreciating the good things in your life. This interior design trend is a signature of the Danish lifestyle, which is synonymous with the Scandinavian interiors consisting of neutral colors and natural materials.
If you are curious about this interior design idea, keep reading to learn more about hygge living room ideas.
What is Hygge Decor?
Hygge (pronounced hue-gah) is a Danish word referring to appreciating life's simple pleasures. This lifestyle trend was introduced in the 18th century and is now firmly part of Danish and Scandinavian culture.
Whether you are a fan of rustic, modern farmhouse, bohemian, traditional or French country decor style, hygge has a place in all of them and can easily be incorporated into any interior.
This minimalist, nordic interior design style has evolved and is now seen in many different European and American cultures thanks to its idea of feeling content with your home.
Here we will show you some beautiful and simple hygge living room examples so you can adopt this interior decor style in your own home. Let's get started!
Best Hygge Living Room Ideas
Cozy Up Your Space with Dim Lighting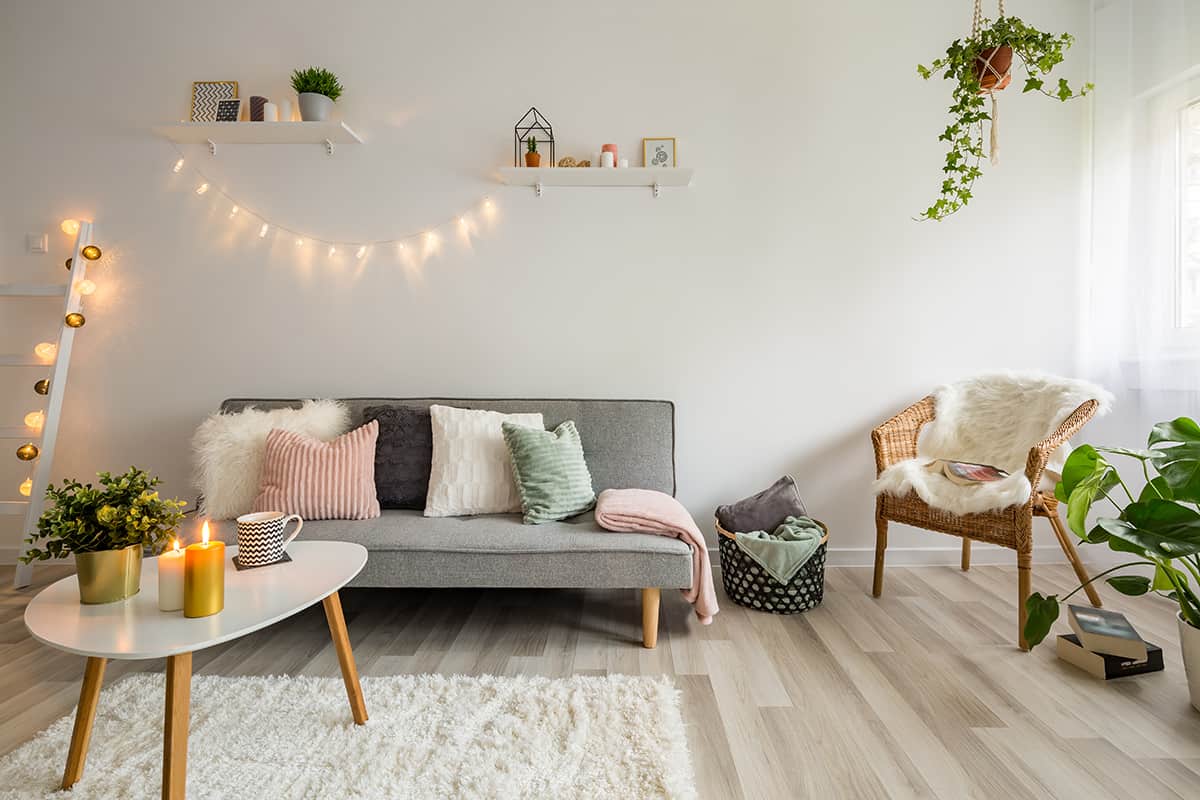 Light pendants, candles and sconces are among the most common lighting found in hygge style homes. Dim lighting can set the mood and add a cozy atmosphere so pick your favorite and scatter them around the room. You can even hang fairy lights on the living room walls or across the mantle.
By adding plenty of candles to your living room, you can create a warm glow, which is a must in a hygge interior. Just be sure to choose mildly scented candles so the fragrance doesn't overwhelm the relaxing space.
And as for artificial lighting, go for specific bulb colors based on your mood. Dim lighting through candles and fairy lights is a sure way of hygge-ifying your living room and cozying up the space!
Invest in a Bookshelf with Lots of Books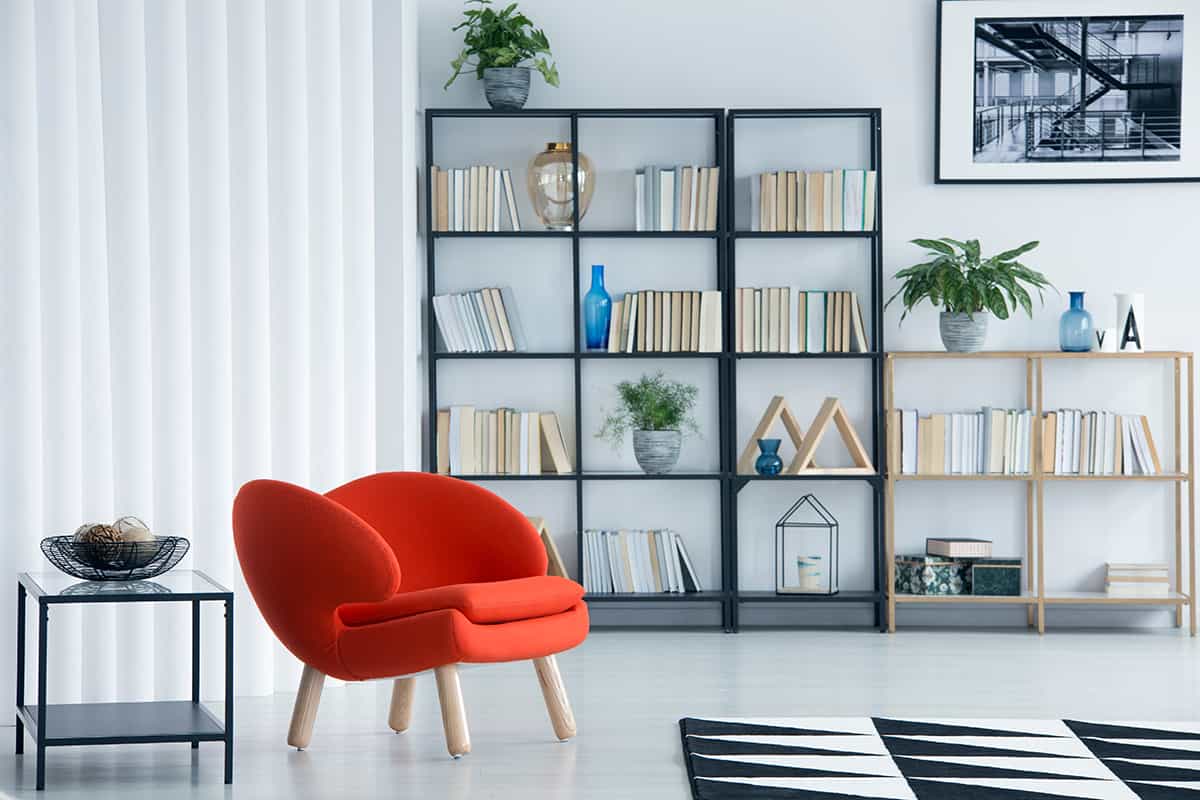 To incorporate the hygge lifestyle into your home, no living room is complete without lots of books on a bookshelf. This is a simple and functional hygge decor idea that creates a lived-in feel in your living space.
Plus filling a bookshelf with lots of books will only encourage you to read more! And to take it one step further, place a small armchair near the window so your reading nook becomes even more enjoyable.
Less is Always More with Hygge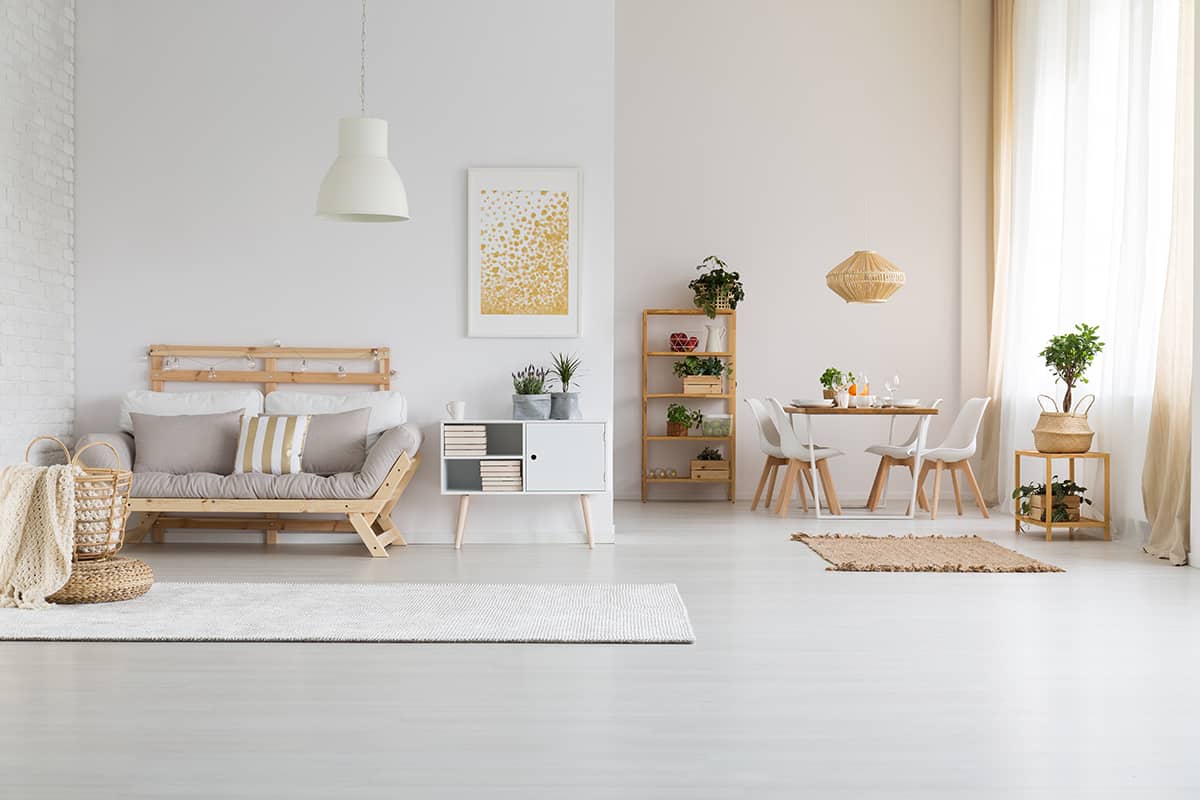 We've mentioned a bookshelf with lots of books, but to keep it simple, perhaps you'll want to add a few small wicker baskets around the room to keep your hygge interior decor as minimal as possible.
In Scandinavian interiors, a simple living room promotes relaxation as it mainly focuses on comfort rather than the decor. But this doesn't mean you can't add vases of flowers or other pieces of furniture to the room.
Just make sure they are comfortable and small in size as simplicity is key to hygge decor. This means you can pick your favorite furniture and decor pieces in functional yet subtle style. Go for soft colors throughout the living room to help create a sense of calm.
Stick to a Neutral Color Scheme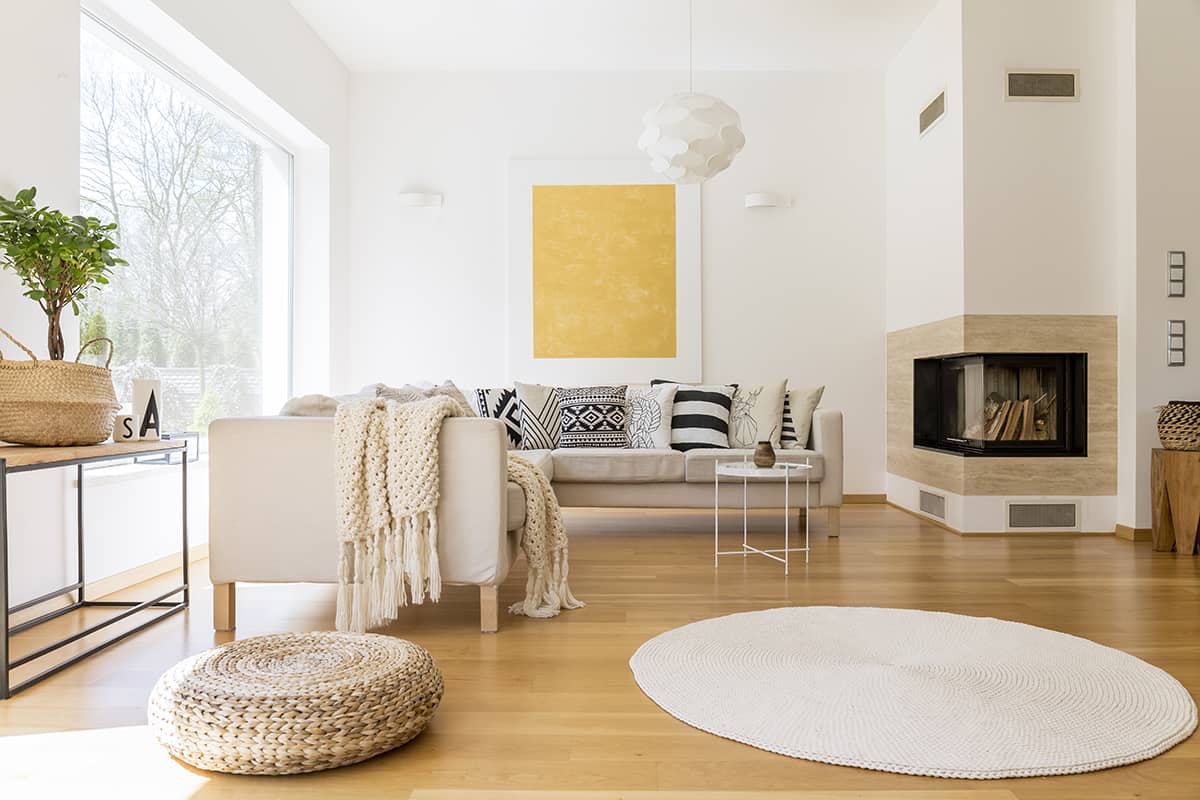 An all white living room with wooden elements is a typical Scandinavian interior. Not only do warm wood tones bring you closer to nature, but they also create the feeling of comfort.
Aside from warm wood tones, you should incorporate neutral color schemes into your hygge living room as the idea is to bring peace and harmony to the space. Colors like light grays, creams and light browns will bring comfort to you and your guests, but you may also want to consider beige or off-white as neutral wall paint colors.
Add Texture with Natural Materials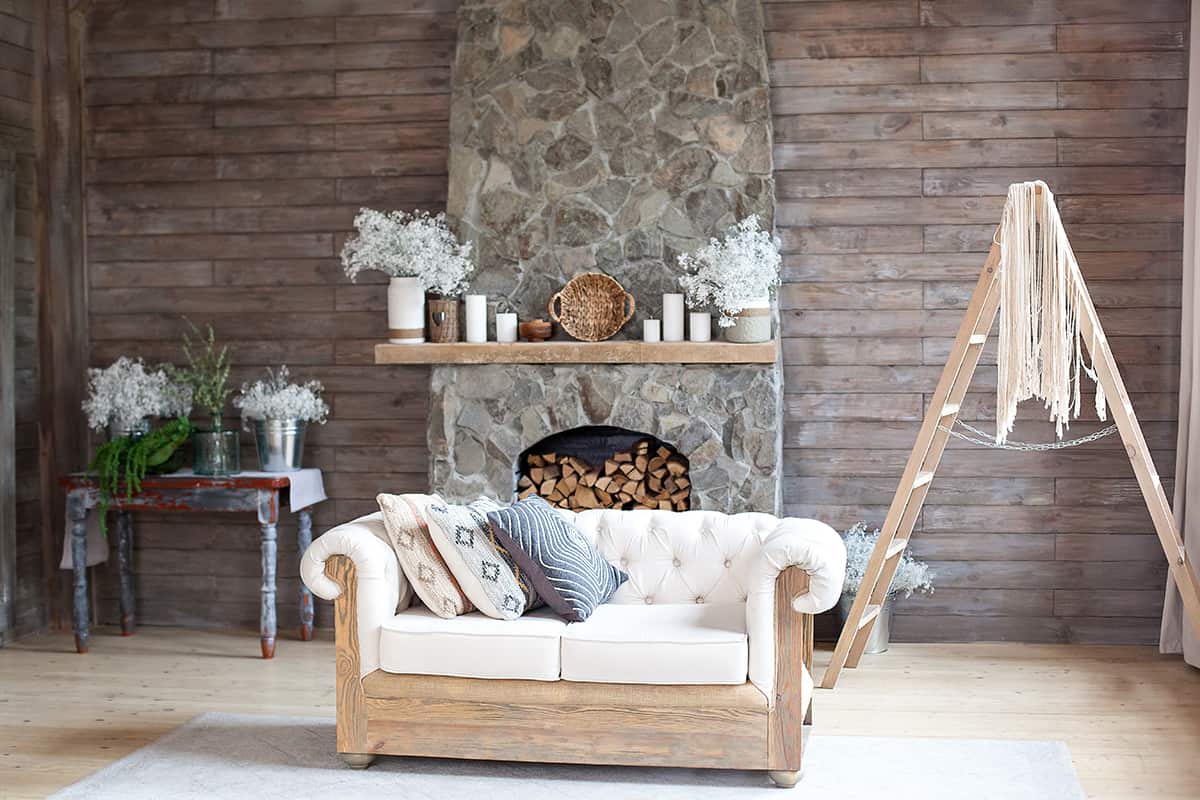 When you think of a cozy hygge living room, texture might not be the first idea you'll think of. But what if you introduced texture to add visual interest in a minimalist interior design like hygge?
This can be done by adding natural materials like stone, wood or both to your decor like a feature stone wall with wooden furniture. For variety and pops of color, add any type of flower you like to the mix.
A rustic hygge living room consisting of natural materials and unique design elements doesn't have to look complicated. In simple forms, natural stone and wood elements can bring a homey flair to the living space.
Just make sure you select clean-lined pieces that are comfortable and practical. For example, textural features like velvet curtains, knitted wall tapestries and sheepskin throws can balance out the wooden furniture and add a warm sense of tranquility. With this idea, you can be as creative as you like when planning your hygge living room decor!
Create a Comfy Vibe with Soft Pillows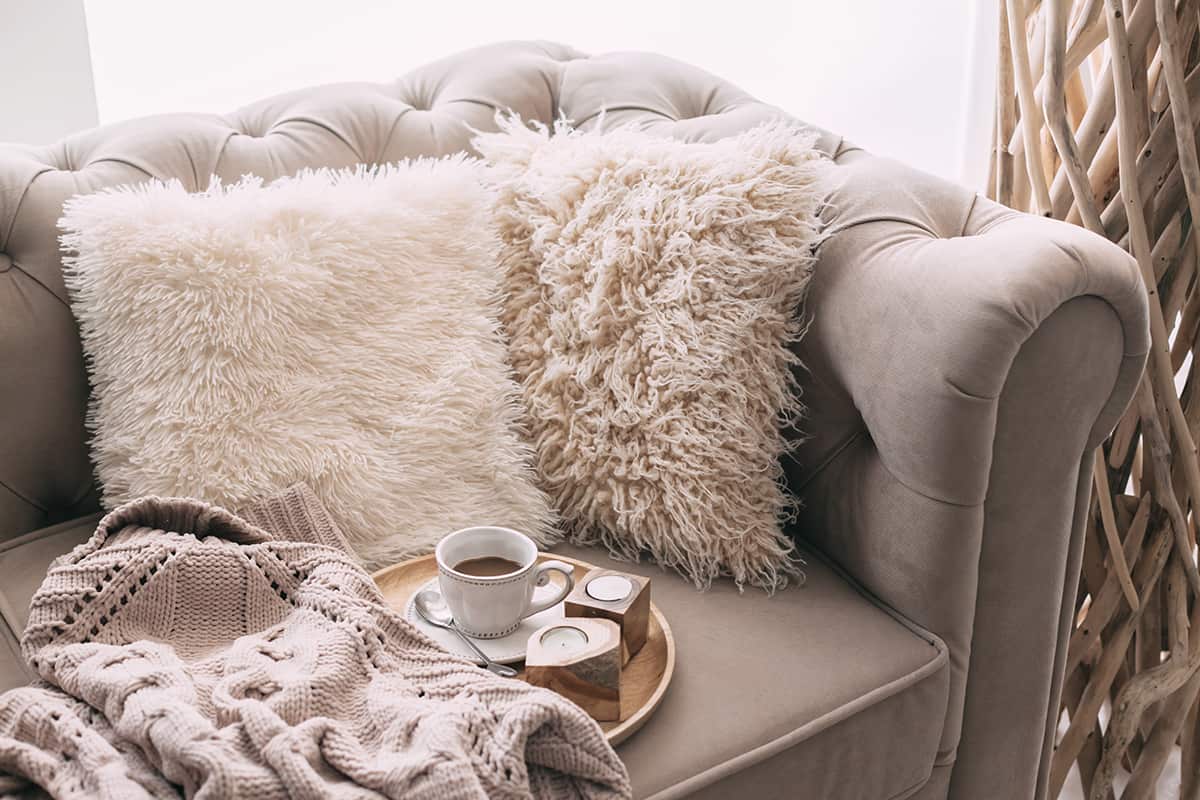 There is something about soft, fluffy pillows that reminds us of snuggling up to the sofa with our pet or loved one. Pillows bring comfort to any living space, but in a hygge living room, we especially love to indulge in fluffy textures.
There is no denying the comforting environment we can create using pillows. You can combine different pillow colors, textures and sizes for a more unique feel. Add cashmere or wool blankets to your sofa to remind you of those cold nordic nights!
A Fireplace is a Must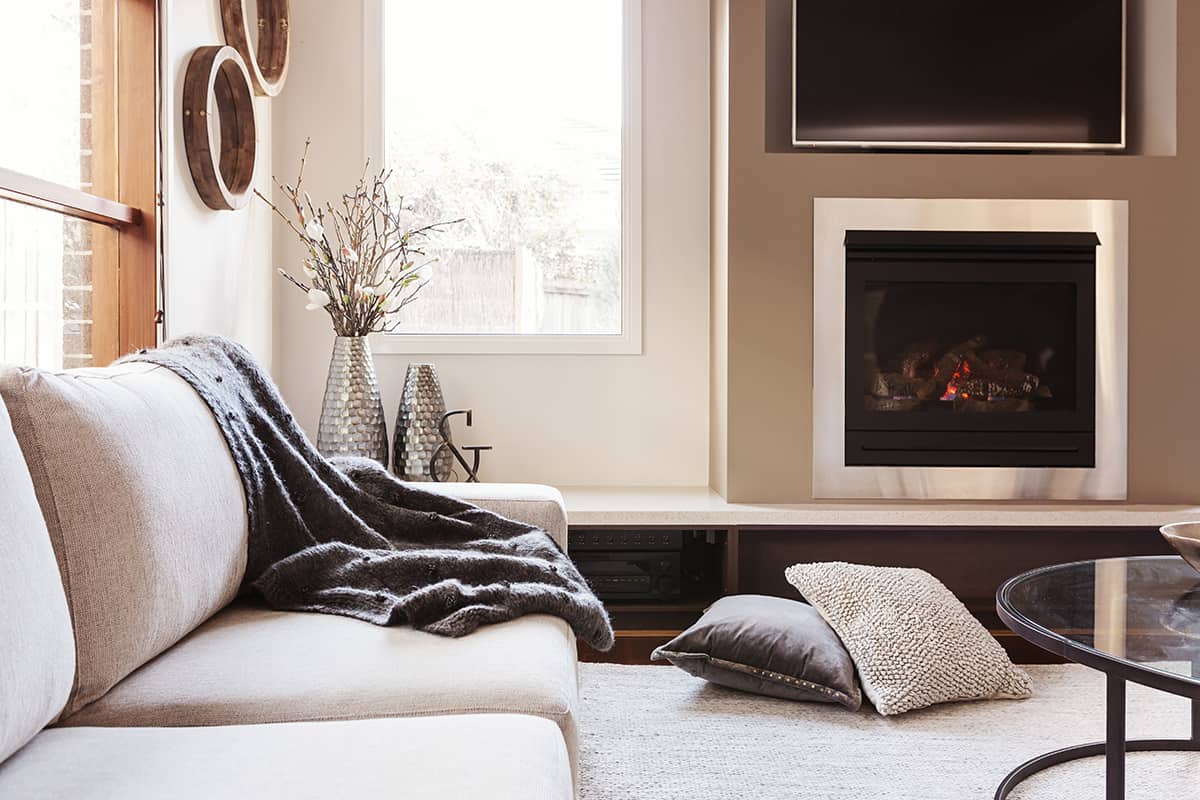 In Scandinavian culture, friends and family gather around in front of a fireplace for an ultimate hygge experience. The fireplace is a symbol of warmth and togetherness that emits a welcoming vibe.
There is nothing more heartwarming than sitting around a fireplace and enjoying a good conversation. This idea ties in with our first suggestion of adding candles to your living room. Just imagine your living room filled with dim lighting, candles and stacked logs next to a cozy fireplace…
Include Comforting Scents for Ambiance
Have you ever walked past a home that smelled of baking cookies or bread? This familiar scent reminds most of us of our childhood homes. In hygge homes, the warm aromas of cinnamon, vanilla or tangerine contribute to a calm and relaxing atmosphere. But rather than baking cookies to achieve these scents, you can try fragrant candles.
Embrace Nature
Embracing nature means bringing the outdoors in by filling your living room with lots of indoor plants. This concept is ideal for plant lovers as hygge isn't just about interior decor; it is a blend of natural elements in earthy, neutral colors.
Whether you add real or artificial plants to your living room, they will be the centerpiece of your living space to increase joy and happiness. What's more, indoor plants – regardless of being real or fake – create a relaxed ambiance, which is key to achieving a hygge-inspired interior. Try plants in hanging pots or wall planters in different shaped containers for an interesting aesthetic.
Choose a Snug Fluffy Rug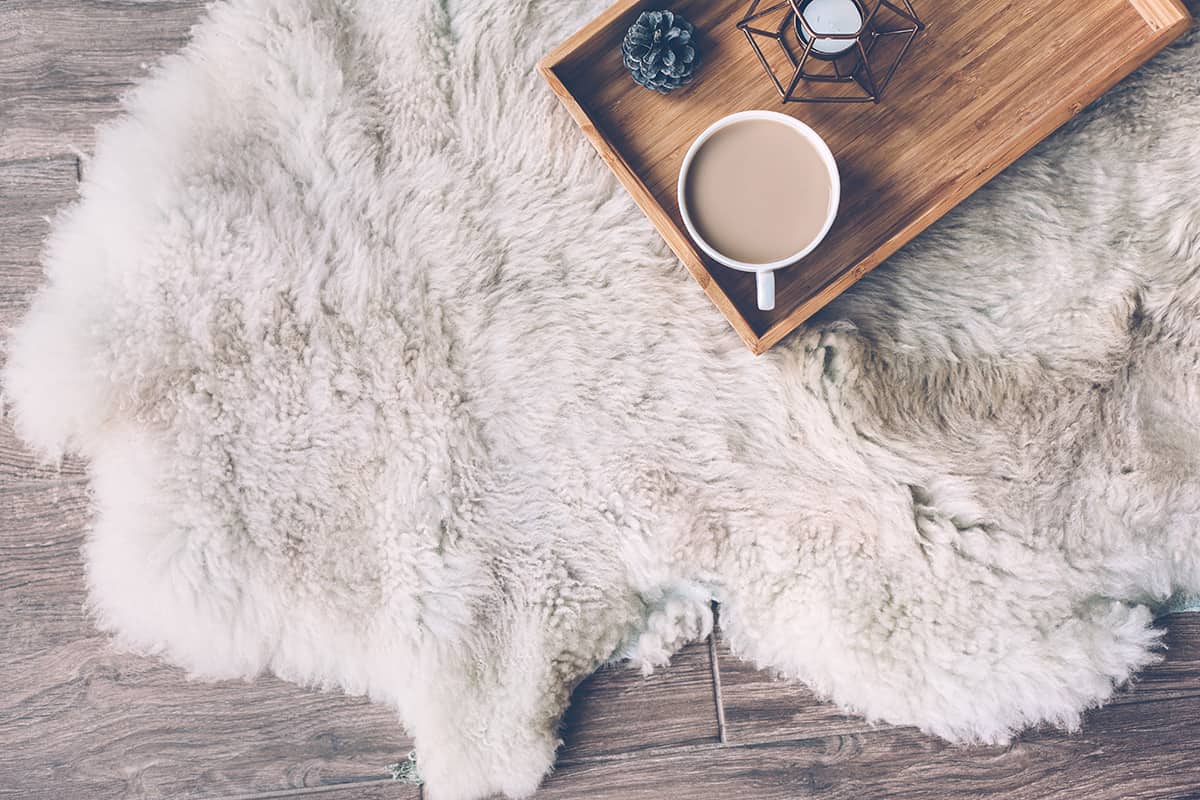 A snug, fluffy sheepskin rug is the perfect floor covering in a hygge living room. It can add some warmth to your tile or wooden floor, plus it's a great way to bring extra foot comfort to your floor.
Fluffy rugs are the ideal floor covering to help you unwind and relax so what better way to enjoy watching TV by snuggling up to your soft pillows and resting your feet on a fluffy sheepskin rug.
No Room for Clutter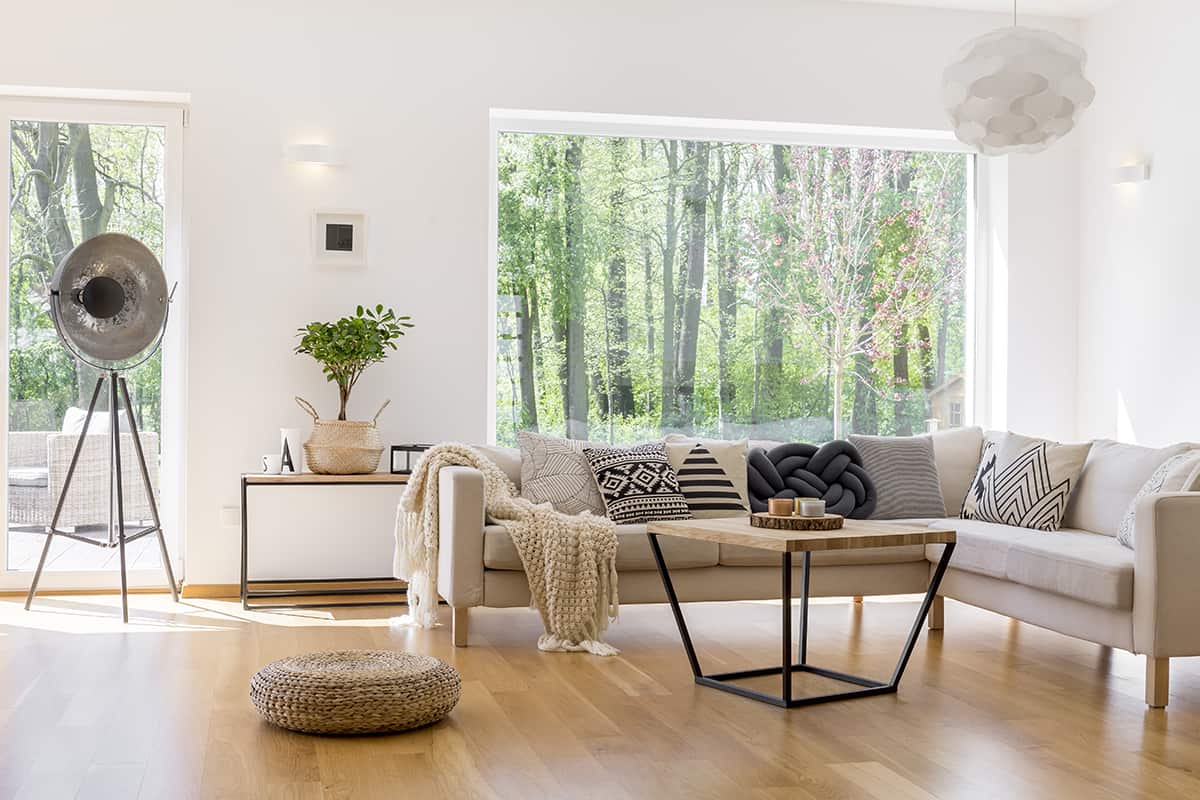 In a hygge living room, there is literally no room for clutter. After all, seeing a messy, unorganized space won't help you relax. Store away any unnecessary items so your living room floor is vacant.
Woven or wicker baskets with a lid are a practical way to store your surplus pillows or other accessories. You can keep these baskets close to your seating furniture so you have easy access to your stored items.
Use Blue Accents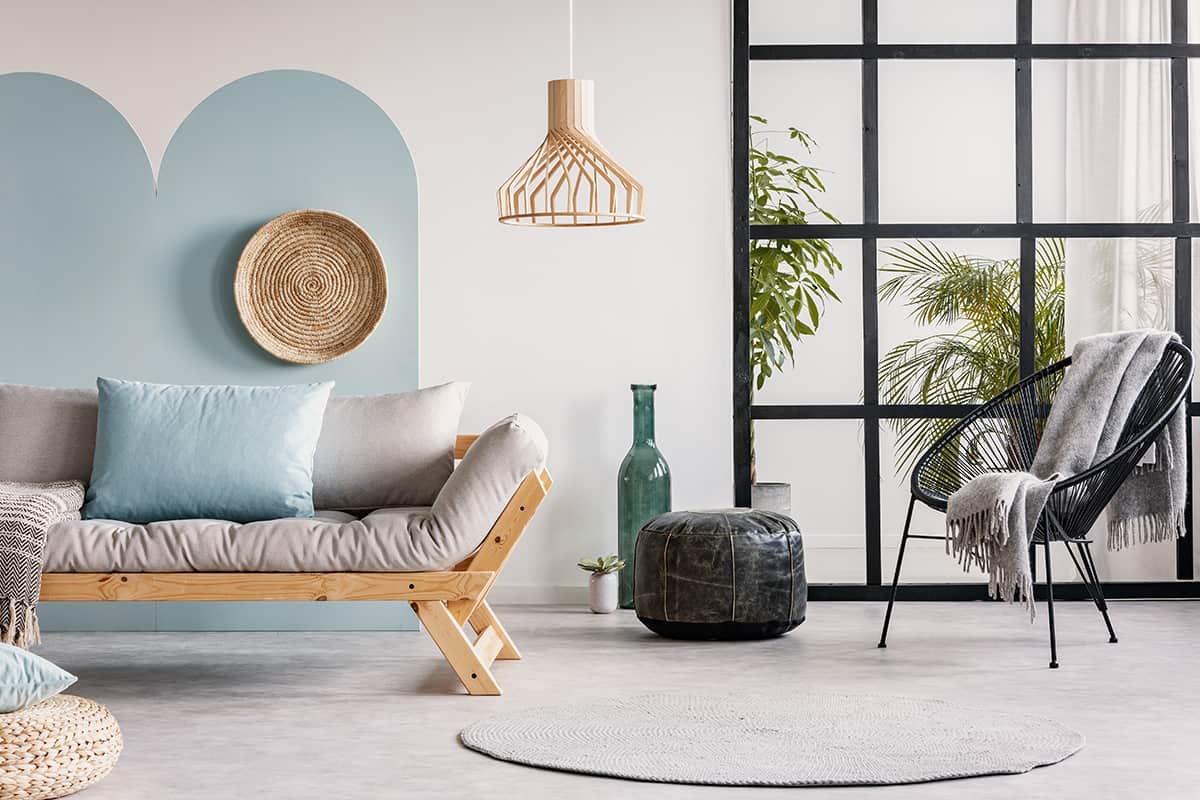 Adopting the hygge decor in your neutral and simple living room doesn't mean you can't use bold colors. Aside from green and orange shades, blue is also a great choice for hygge interiors as it goes perfectly with neutrals like bright white.
Blue is a color associated with a soothing environment so it goes hand in hand with the hygge decor concept. Whether you paint your wall blue or include some blue accessories to your living room, you're sure to create an ultra relaxing atmosphere.