When you're remodeling your interior, selecting stylish and durable flooring tiles can be a challenging task. There are numerous tile options available, depending on your needs and taste.
Tiles have excellent insulative properties that help maintain a cool temperature in the summer months while retaining warmth in the cooler months.
But when you think of flooring tiles, it is usually the kitchen or bathroom that comes to mind. However, tiles will look just as good in the living room as they do in any other room. This low-maintenance flooring option can give your living room a refined style – provided you choose the right kind of tile.
In this post, we'll discuss how to select the best tiles for the living room floor so you can spruce up your interior using this luxurious flooring.
How to Choose Living Room Floor Tiles
Creating a living space with an inviting atmosphere is a top priority when it comes to choosing floor tiles. After all, the living room is a place where you and your loved ones spend the most time.
Choosing the best floor tile for the living room can be quite difficult as you must achieve a seamless design between the furnishings and the flooring.
Durability is one important factor to consider as your living room floor undergoes a lot of foot traffic. Stains and falling objects can cause damage to the floor, so it's important to choose tiles with stain and abrasion-resistant qualities.
Porcelain tiles, for example, are incredibly durable and much tougher than ceramic, with stain-resistant features. This means porcelain tiles are virtually maintenance-free. Having said that, there are many benefits to ceramic tiles, which we will go into a little more detail later.
To give you some ideas on the best tiles for your living room floor, take a look at our examples below:
Tile Ideas for Living Room Floor
Mosaic for Texture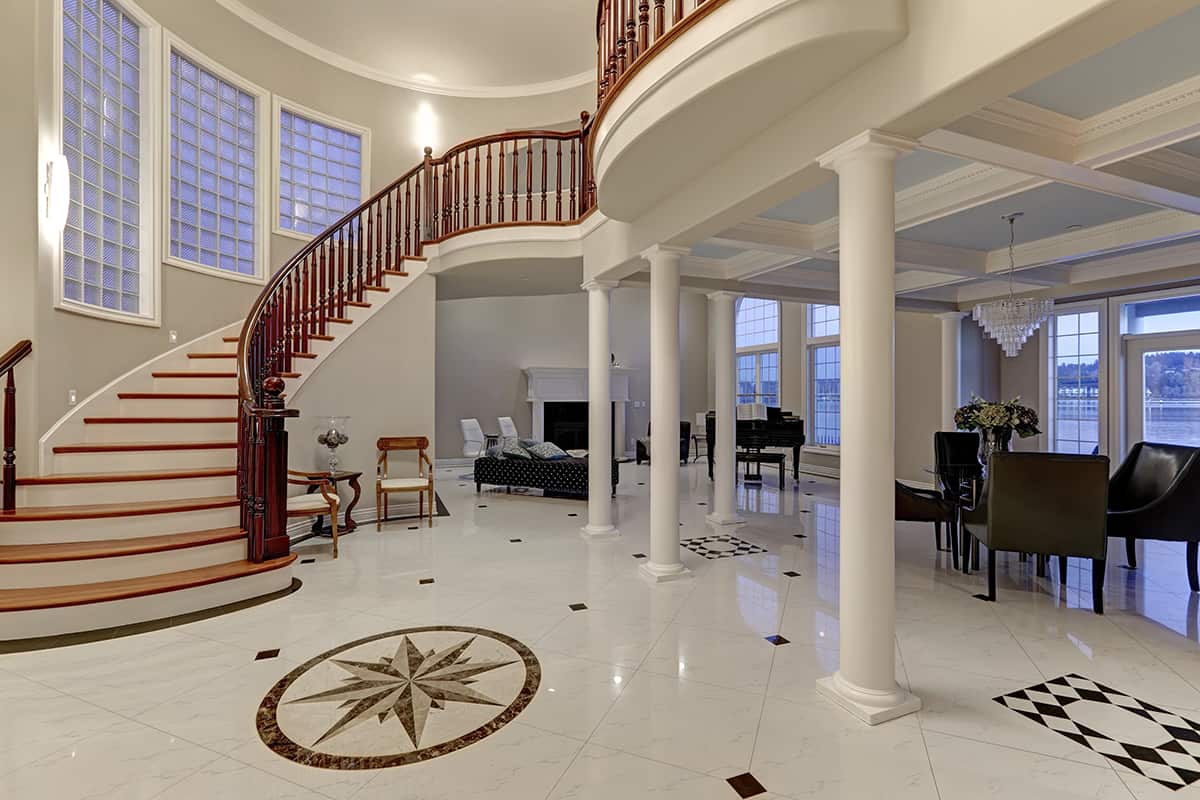 Mosaic tiles let you get creative thanks to their numerous sizes, shapes, styles, and colors. These floor tiles are excellent for both modern and traditional living rooms in which accent is needed.
Since they are non-porous and highly resistant to stains, mosaic tiles make a great choice for high-traffic living rooms. These tiles are very easy to combine with your interior decor, and they work well with almost any furnishing color. Mosaic floor tiles last a long time and are virtually maintenance-free.
If we compare mosaic floor tiles with wood, you'll find that mosaic won't get dents in it after dropping a heavy object on the surface. Moreover, these tiles are considerably cheaper than wood flooring, thus making them a budget-friendly option.
Luxury Vinyl Tiles or LVT
LVT or luxury vinyl tiles are actually tougher than they appear. This tile flooring option for the living room can withstand regular foot traffic as it is made with a protective outer layer. This protective layer is resistant to cracking, chipping, and scratching.
LVT is a low-maintenance flooring option, but despite being called luxury vinyl, it is surprisingly more affordable than mosaic or most other tile options.
But just because LVT is inexpensive, it doesn't make it any less durable. This flooring tile definitely makes an attractive choice for the budget-conscious homeowner!
Sophisticated Marble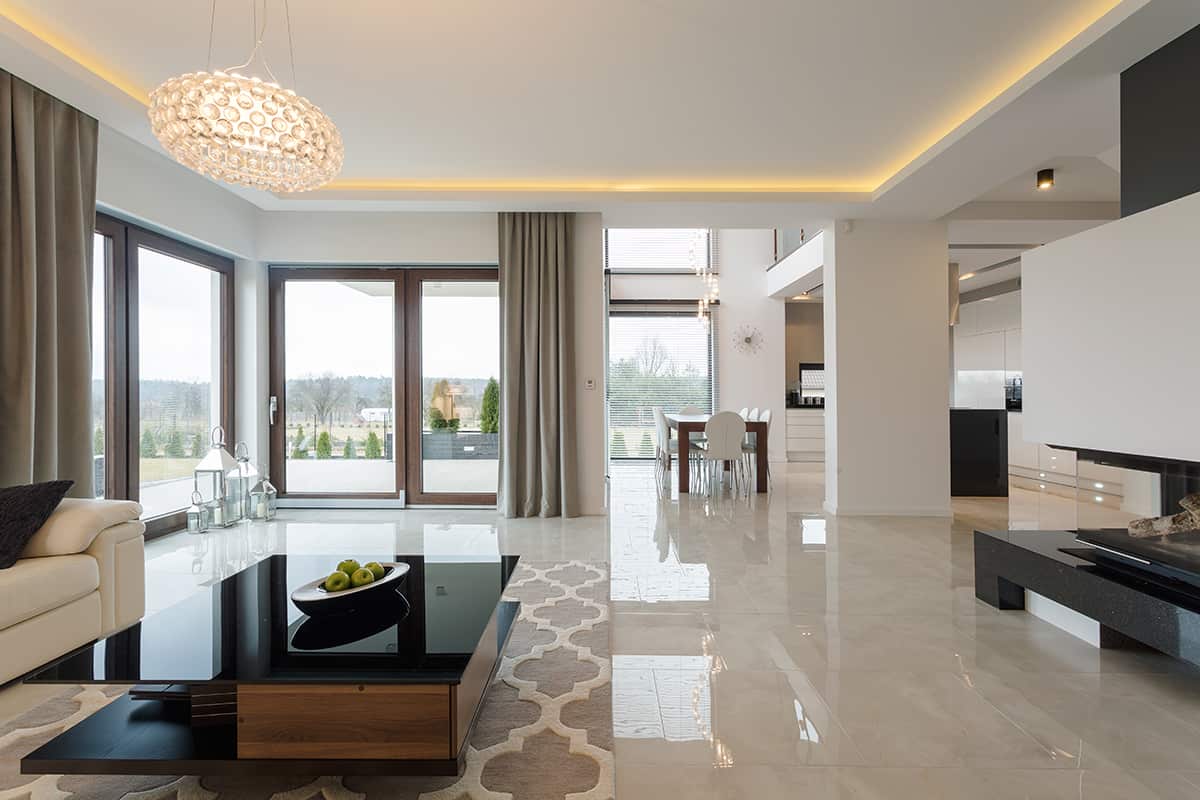 Marble is often considered to be one of the most expensive natural flooring materials on the market. But given its elegant appearance, it's no wonder many homeowners who are after a sophisticated-looking flooring opt for marble.
With its deeply veined mineral lines, this natural stone tile material is made under extreme pressure and heat. This makes the material withstand pressure incredibly well. It is, therefore, safe to say that no other tile flooring material is as chic as marble to elevate your living room.
This super versatile material can withstand stains and spills, thus making it an excellent choice for a living room floor.
Sandstone for a Rustic Feel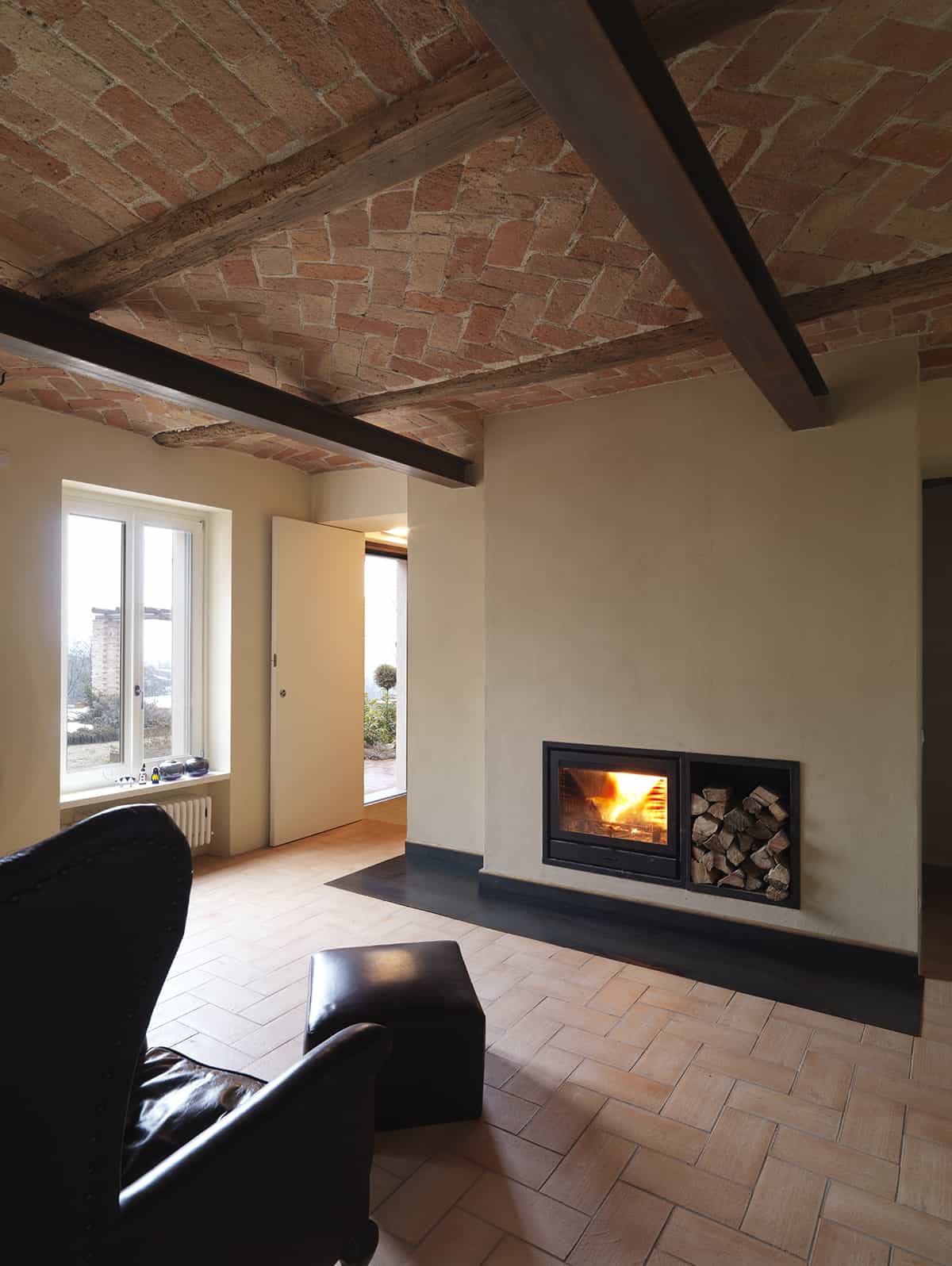 Another natural tile material for the living room floor is sandstone. This distinctive type of tile mimics desert sand because of its brown, gold, red, and tan undertones. The multi-colored stone is a perfect choice as a decorative flooring in eclectic style interiors.
Sandstone flooring isn't as expensive as marble. Plus, it's not as difficult to maintain as other natural stone tiles. Thanks to its multi-colored undertones, sandstone is good at hiding dirt or spills. This is because the stone is naturally formed, so every individual tile has unique patterns and hues.
The quarried giant slabs are cut into smaller pieces, which gives you random colors that are reminiscent of mountainous nature. This floor tile gives a particularly natural, earthy appeal to any rustic-style living room.
Engineered Hardwood Tiles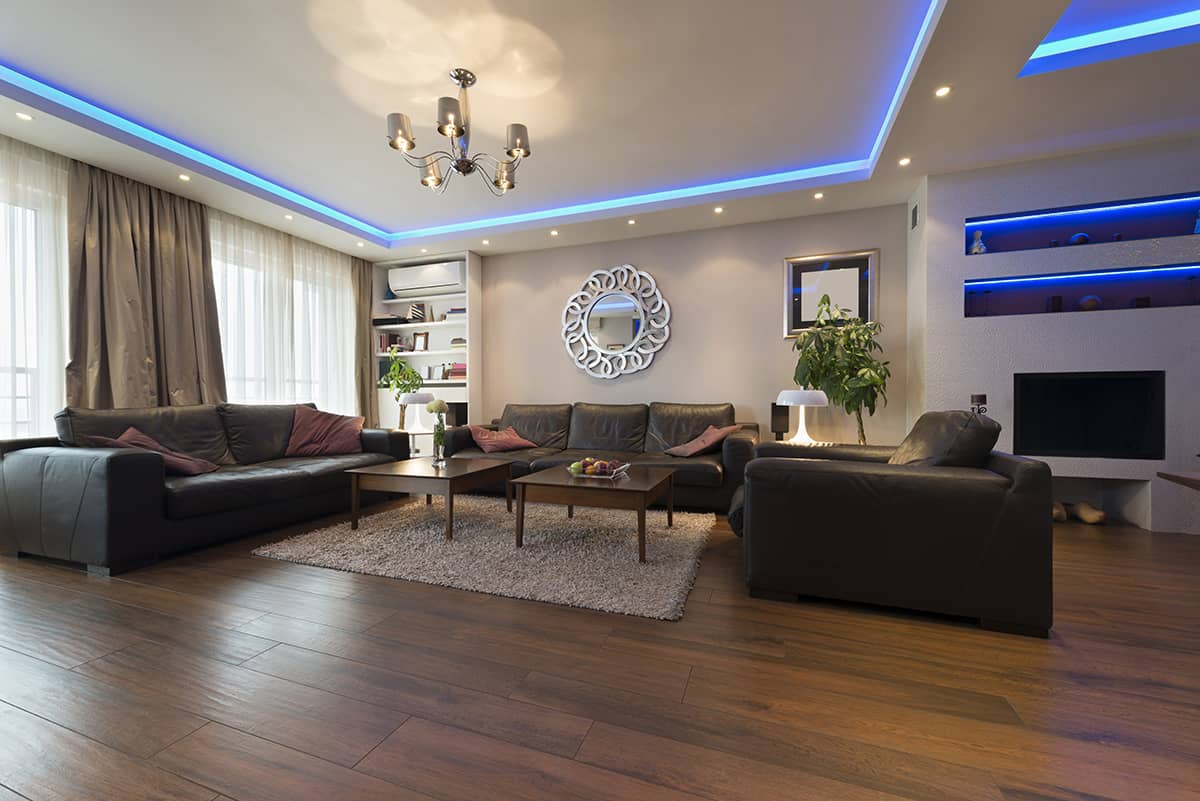 Engineered or manufactured hardwood tiles for living room floors appeal to anyone who likes the aesthetics of real hardwood but without the hassle of maintenance.
However, engineered hardwood tiles aren't scratch resistant like marble or sandstone. That said, they are super durable, which means your living room floors will remain attractive for a long time.
If we compare engineered hardwood tiles to natural wooden flooring, the latter is a more expensive option. Just like laminate tiles, engineered hardwood floors consist of multi-wood veneer layers, which makes them a viable choice for the living room floor with high foot traffic.
Furthermore, you can refinish these highly sustainable tiles just like hardwood flooring by painting them the stain color of your choice.
Perhaps the biggest appeal of engineered hardwood tiles is their timeless look. If you want the same aesthetic of traditional wood but without the maintenance that comes with it, engineered wood tiles make the best option as they come in a wide range of colors and finishes.
Unlike real hardwood flooring, engineered wooden tiles can perfectly withstand high heat and moisture, which makes them suitable for under-floor heating.
Cool Ceramic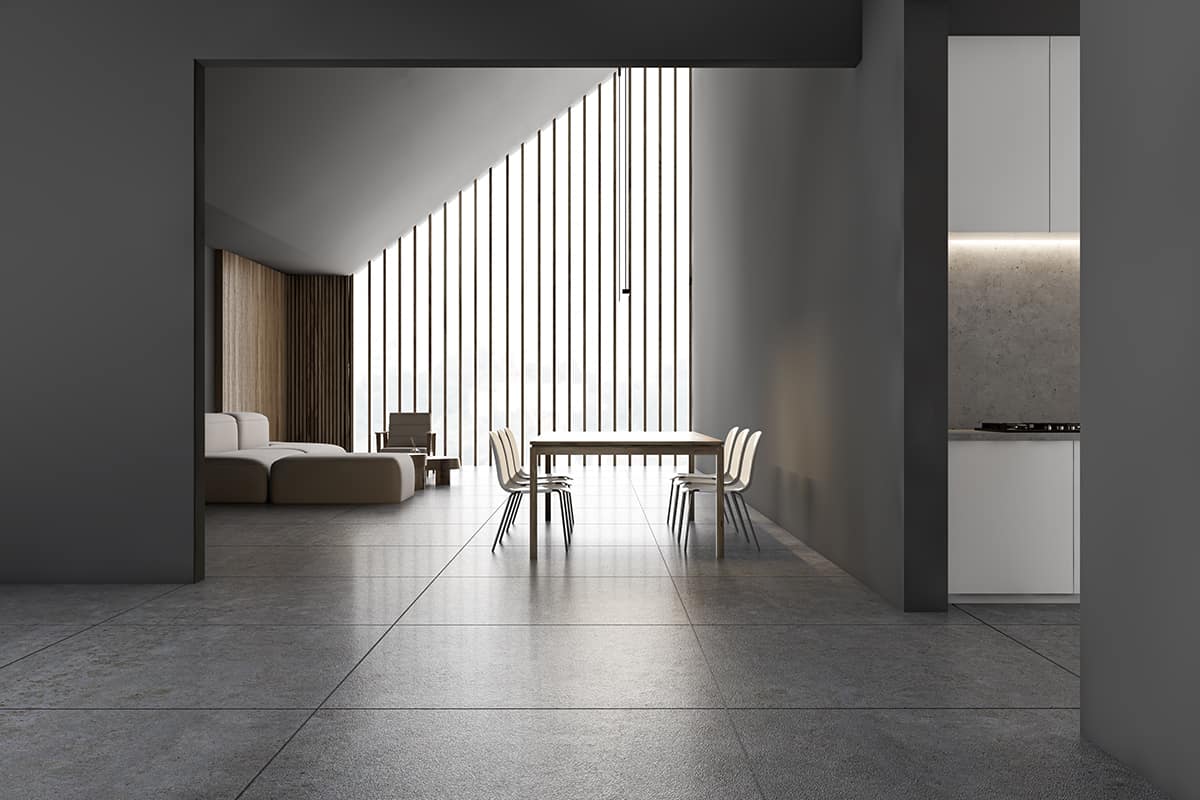 In hot and humid climates, ceramic tile flooring makes a viable option. Ceramic can help keep the living room cool during heat waves, which is the main reason why it's so popular in desert homes.
The tough surface of ceramic tiles prevents pollen and pet dander from sticking to them, thus making them super easy to clean. And since ceramic flooring resists dust and pollen, your living space becomes healthier.
Unlike carpeting types, ceramic minimizes the dust particles in the air, thus being a great choice for people who suffer from allergies or asthma.
What's more, ceramic floor tiles are simple to install and available in hundreds of different styles. Ceramic tiles are an inexpensive and highly durable option for the living room floor.
Porcelain for a Dense Flooring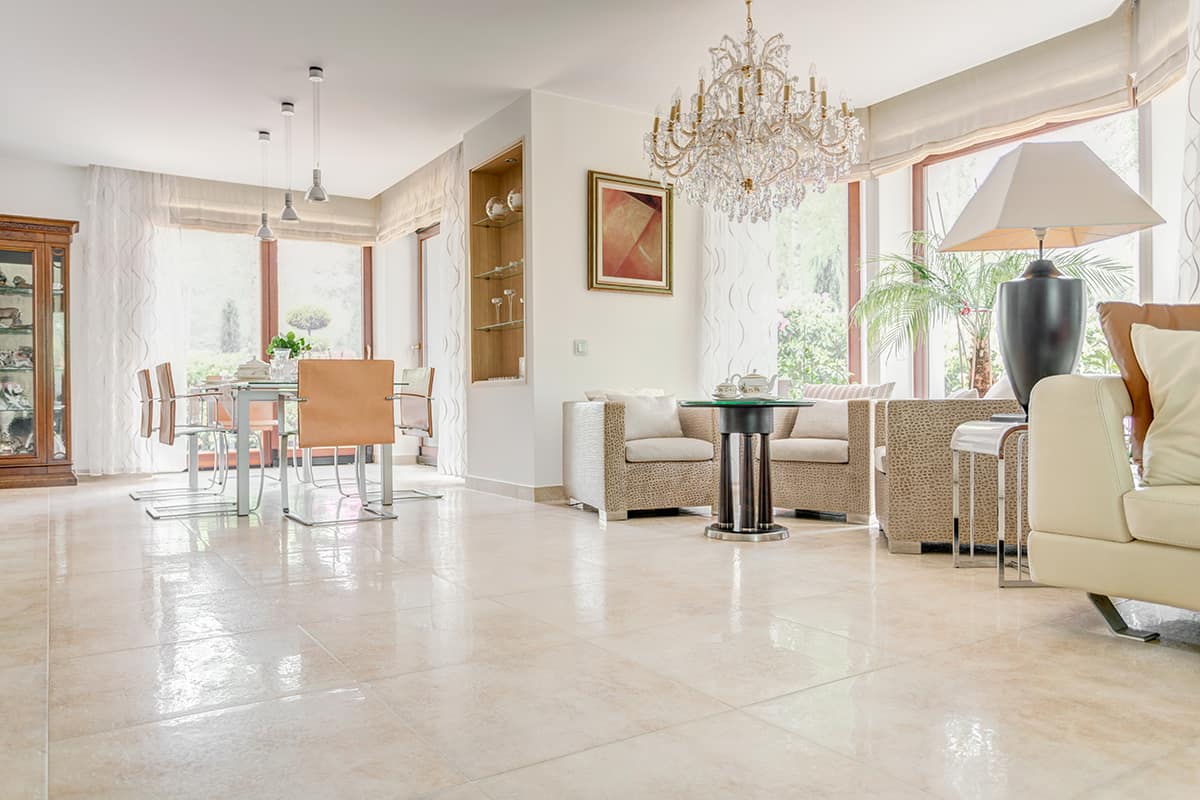 When compared to ceramic, porcelain tiles are slightly less porous and denser. This makes them more resistant to water penetration. Therefore, they make a better option for high-traffic living rooms.
Although porcelain is costlier than ceramic because of its glazed surface, it does benefit from more durability. Porcelain tile flooring is available in a wide range of colors and designs, so you'll be spoilt for choice!
Since porcelain has a tougher surface than ceramic and most natural stone tiles, it can retain its original appearance for many years. This type of flooring tile is stain and dirt-resistant, which means it's almost maintenance-free.
Most porcelain tiles are pre-sealed, so the porosity of their surface remains to a minimum. However, in the event of damage occurring to the tile, it won't be difficult to remove and replace it.
What are the Best Colors for Living Room Floor Tiles?
Aside from the material, the color of your living room floor tiles also matters as it can set the tone of the space. To ensure you create a comfortable space, think carefully about the color of the tiles you choose. Moderate or gentle colors like beige, gray, cream and brown are the most preferred tile colors for the living room, as these neutrals work with any other furnishing color.
That said, bright tile colors like yellow or blue can instantly attract attention. To avoid these colors from clashing with your furniture or wall colors, opt for softer shades for a soothing and relaxing effect.
For example, rather than going with navy tiles, choose sky blue as the idea is to achieve a calming atmosphere.
Also, keep in mind that loud tile colors may look attractive at first, but over time, you might get bored of them and want to replace them with softer shades. To save you the hassle, it's best to choose neutral colors like gray, beige or brown as they are the most commonly used floor tiles for living rooms.