Whether at your balcony, patio, gazebo, porch, deck, pergola, or other outdoor parts of your house, you can add an outdoor curtain to add color and style, beautify, give some privacy. Outdoor curtains become more important during summer as they function as shade from the sun while you sit down outside to enjoy the cool summer breeze.
And when it becomes windy, they can also be used to block the wind. However, during spring, the wind becomes so strong that it can end up blowing off your curtains from the hooks or rod and ultimately result in extra laundry.
Well, you are in luck! In this article, we will be revealing to you the various ways that you can secure your outdoor curtain.
How to Secure Outdoor Curtains
While outdoor curtains can provide privacy, beautify your exterior, enhance the mood of your outdoor space and protect you from sunlight; but you also have to secure these curtains from being blown off by the wind and here are the various practical ways that you can do so:
1. Create Wind Slits for Your Curtain
Have you ever wondered how companies keep their advert banners from being blown off by the wind? Two words: Wind Slit! For companies, the wind slits are half-shaped moon cuts that run through the rod of the banner to reduce the wind load of the banner.
Similarly, for your outdoor curtain, you can make your wind slits by making cuts that will run vertically across the surface of your fabric.
You can make one or two rows of slots to hold your curtain steady, and don't forget to fold and sew the edges of your curtain to ensure they don't wear thin and become ragged.
With the use of wind slits, the wind load on your curtain will reduce, thereby preventing your curtain from being hurled away by the wind.
Here is how to make wind slits for a banner. You can do the same process for an outdoor curtain.
2. Buy Heavy Curtains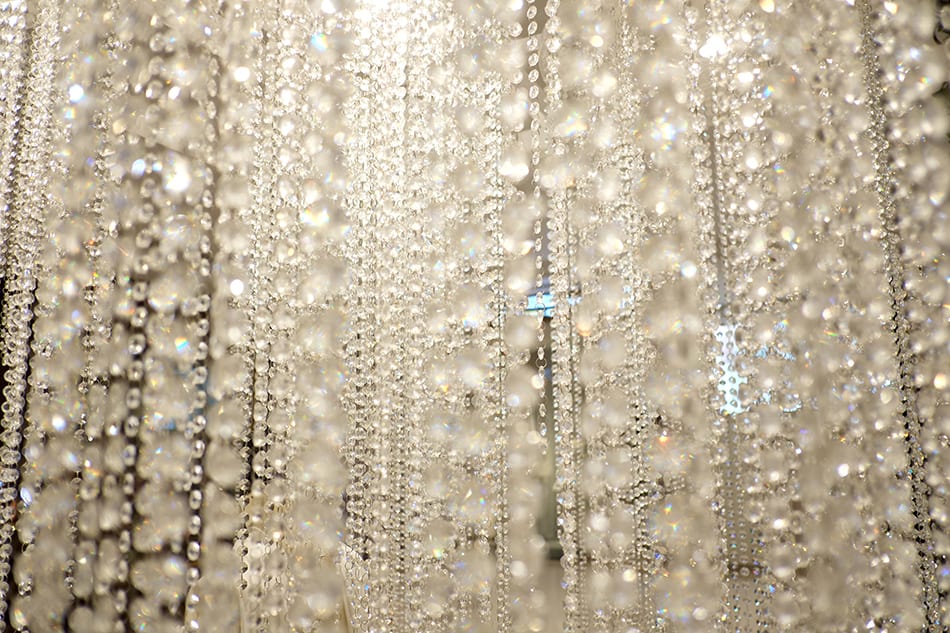 For some curtains, it is possible that you won't be able to make wind slits on them. Instead, you can just buy heavier curtains. The weight of heavy curtains will help withstand the impact of wind.
While some people might be against the idea of buying heavier curtains, these type of curtains performs two functions. They are most likely not to be blown away by the wind, and contrary to lighter curtains, they offer better privacy from strangers as they can not be seen through and better protection from harsh sunlight.
3. Weigh Them Down
To prevent your curtains from being hurled away by the wind, weigh down the curtains. There are various methods and materials that you can use to weigh down your curtain. Some materials that can be used to weigh down your curtain are chain, rod or rail, fishing weight or sinkers, etc.
These materials are to be attached to the bottom or hem of your curtain to hold it in place. Another method is to thread a rope through the hem of your curtain, then tie the rope to a cup hook or tarp grabber that is fixed to your floor.
4. Strap Them to Your Railing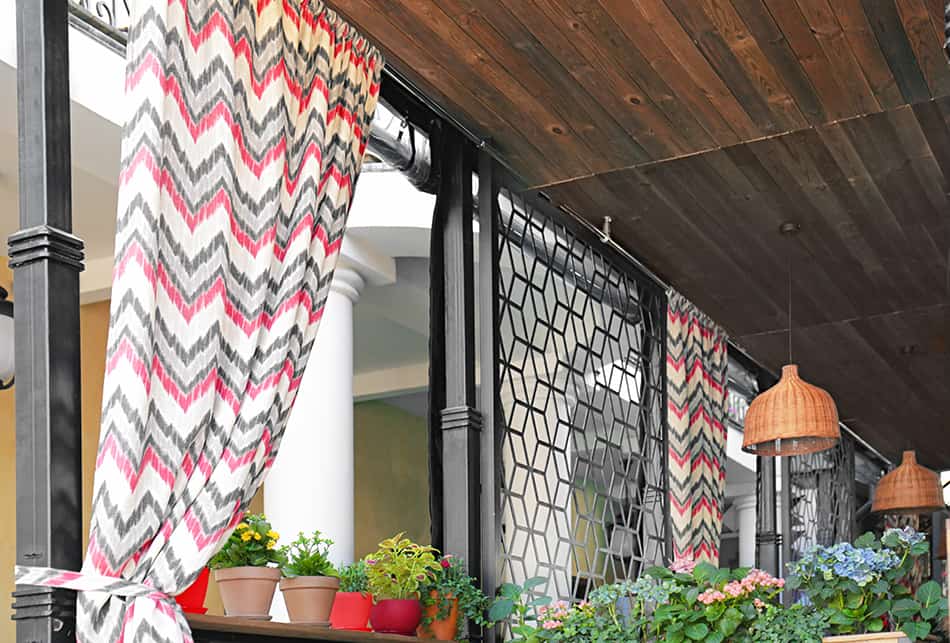 Another way to secure your outdoor curtain is to have it strapped to the railing or post of your outdoor space. With the use of a rope, you can tie your curtain to the rails or post of your porch, patio, etc.
However, if your curtains aren't close to the rails of your outdoor space, you won't be able to employ this cost-effective method.
5. Block the Wind
This method depends on the setup or layout of your deck or porch. You can shift or rearrange the furniture of your outdoor space to block the wind. By placing a heavy piece of furniture in front of your curtain, using an awning, a retractable roof system, you can prevent the wind from blowing off your curtains.
You can also use a decorative item to block the wind and also beautify your outdoor space at the same time.
Before choosing your outdoor curtain, there are some factors that you have to consider. These factors are determined by the reason why you are adding an outdoor curtain, and they also determine the type of outdoor curtain that you buy. Below are the factors to consider when selecting an outdoor curtain:
How to Choose A Secure Outdoor Curtain
Protection from Harsh Sunlight
One of the major reasons why we all buy outdoor curtains is to shield us from sunlight. When the sunlight becomes too hot and unbearable, curtains can serve as a reliable shield.
This is why the type of fabric is one of the factors that you must consider when selecting an outdoor curtain. Some fabrics are good for shielding sunlight, but that also means they won't allow in any natural light.
While other fabrics allow in natural light and won't shield you from the sun. Lighter fabrics won't block out sunlight. On the other hand, heavier fabrics will protect you from sunlight. These types of fabrics can also protect you from ultraviolet rays and protect the wood of your patio. Heavier fabrics are also good insulators.
Privacy
The next factor to consider is the curtain's ability to shield you from any prying eyes. Since you are outdoor, there is the possibility that you might get unwanted attention from strangers who are passing by or even an overzealous neighbor.
Heavier curtains are also the best fit for this purpose. The thickness of the fabric ensures that no one can see through it, and as a result, your space is immune to intrusive stares.
Durability
You must make sure that your curtain is well treated to ensure its durability and allow it to endure all types of weather. The best fabric for your curtain is polypropylene. Polypropylene is easy to clean, cost-effective, resistant to moisture, and also immune to various chemicals.
Consider Elements and Check Care Requirements
When selecting your outdoor curtain, it is important that you factor in the location of your home. If you live in a warm climate, select a UV-resistant curtain because it will be directly exposed to sunlight.
And if you stay in a cold region or where it rains regularly, a mildew and water-resistant curtain is the right option for you. Outdoor curtains are treated for durability and to ensure that they can withstand any type of weather. This is why they have specific care requirements. Check the care requirements of the fabric before purchasing it.
You must deliberate on all these factors when selecting your outdoor curtains. By deliberating on all these factors, the chances of you selecting the wrong outdoor curtain are non-existent.
Now that you know the factors to look out for when selecting your curtain, it is paramount that you know the best materials used for outdoor curtains. Knowing the best materials for outdoor curtains and their features will help you know which outdoor curtain is best suited for your outdoor space. These are the best materials for your outdoor curtains:
Acrylic
One of the best materials for your outdoor curtain is acrylic. Acrylic curtains are curtains made from synthetic fiber. They are easy to wash, dry quickly as they absorb little moisture, resistant to moth, lightweight, chemical resistant, and also resistant to sunlight.
Acrylic outdoor curtains are soft on hand, do not shrink, and are also immune to mildew. Acrylic outdoor curtains also come in various colors and styles, thereby allowing you to select the color and style that matches the style of your decor.
Polyester
Another material that is used for making outdoor curtains is polyester. Just like acrylic, polyester is a synthetic fiber. Polyester is very durable and cheap to produce.
Contrary to acrylic, polyester is coarse and doesn't have the luxurious feel that acrylic has, although some types of polyester are smooth as acrylic. Polyester is moisture-resistant and retains its shape all the time. Acrylic fabrics come in all types of colors, which means you will surely find one that suits your home.
Polypropylene
This is the most popular type of material for making curtains. Polypropylene is partially crystalline and non-polar. Polypropylene is transparent, tough, chemical-resistant, moisture-resistant, and also immune to heat.
However, polypropylene is highly flammable and prone to oxidation. Polypropylene can also function as an insulator. Another name for polypropylene is polypropene.
All materials used to make outdoor curtains are created to defy every type of weather, and they do not get damaged easily. They are all resistant to moisture and don't shrink easily. These three fabrics are guaranteed to last long and also add to the aesthetics of your outdoor space.
Make sure you don't buy and use materials like cotton, canvas, and indoor fabric for your outdoor curtain. These fabrics absorb much water and are at risk of developing mold, mildew, and they are also prone to damage by UV rays. Synthetic fiber is the best option for your outdoor curtain.
Conclusion
Every method of securing your outdoor curtain depends on the setup of your outdoor space.
For example, you can not strap your outdoor curtain to your railings except your curtains are close to them. Make sure you prepare a budget to prevent you from overspending. Ensure that the curtain you buy matches and complements the style of your exterior.