Curtains add a stunning accent to any home interior decor. With so many interesting patterns, designs and colors, you can transform your ordinary room into an attractive interior that instantly grabs the attention of your visitors. However, there are times when your curtains can become heavily creased or wrinkled, especially when they come out of the package. Knowing how to iron curtains the right way, you'll easily be able to remove the wrinkles. All it takes is the correct setup and some tricks that will help you keep your newly ironed curtains in the best condition.
But before we begin, take note of the following pointers:
Are Your Curtains Suitable for Ironing?
Not all curtains can be ironed. If you've just bought new curtains, check the label instructions before attempting any ironing or steaming. The label will tell you if that particular fabric is iron-friendly only suitable for steaming. In the event the curtains aren't good for ironing, take them to a dry cleaner for professional dewrinkling treatment. The dry cleaner will follow the manufacturer's instructions to ensure your curtains aren't damaged during the steaming process.
If you aren't sure whether your new or old curtains can be ironed, ironing them can ruin the fabric. That said, most curtains can be steam ironed without the risk of any damage. A steam iron is handy if you need to straighten your curtains in a hurry, but there are some steps to follow before you get started:
How to Iron Curtains Correctly
Wash Them First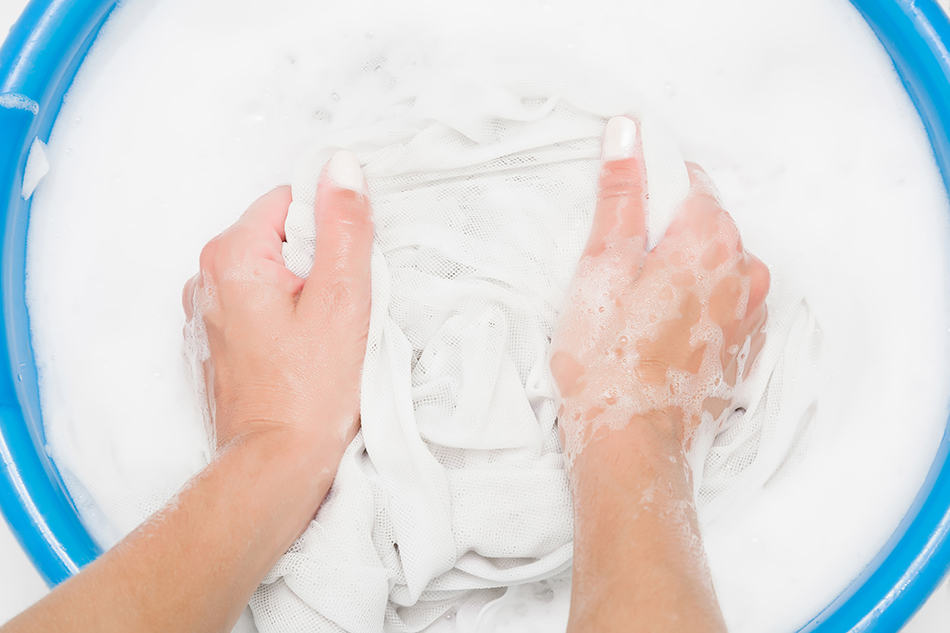 Take the curtains out of their packaging and wash them on a cold water cycle in the machine. To keep them in top shape, don't tumble dry them. Ideally, hang them outside to air dry or use low heat on a gentle cycle.
If your old curtains are especially dirty or you've just taken them out of storage, you will want to wash them in warm water first, as long as the label instructions recommend doing so. 
Most curtains should be washed in cold water in order to prevent shrinkage or fading. You may only wash them in warm water if the instructions on their tag tells you to do so.
For best results, use a mild detergent for delicate fabrics. If your curtains are bright or dark colors, you may want to use a specially formulated type of detergent to prevent the colors from fading.
If there are any instructions included with your curtains, keep them. Some fabrics may require special treatment so it's always best to keep hold of the care instructions that come with your new curtains.
In case there are no care instructions on the curtain or packaging, contact the manufacturer as your last option. Most suppliers may also be able to refer to the manufacturer to find out the washing procedure of the curtain.
Once you've washed and dried your curtains correctly, it is time to move on to the next step.
Set Up Your Iron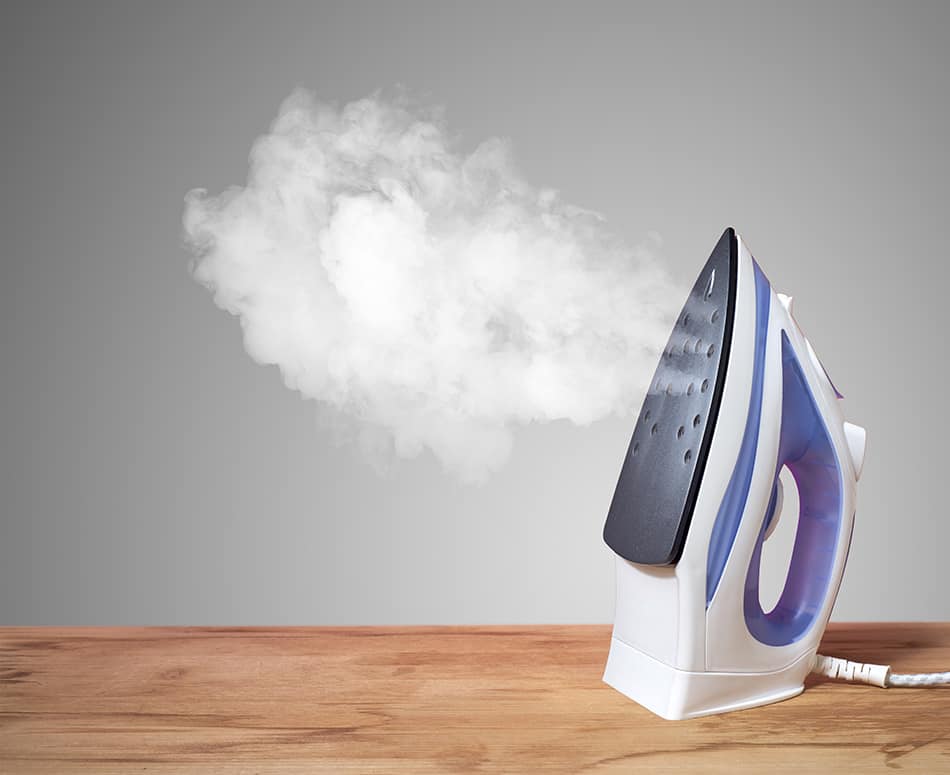 Now comes the important part: ironing the curtain. In many cases, it should take no more than 5 or 10 minutes to heat up your iron depending on its age and brand. Make sure you select the right dial on your iron according to the fabric setting.
Most irons have a dial you can select for the specific type of fabric you want to iron. The most common fabrics that are likely to be listed on the iron include linen, polyester and cotton.
Always check the label on the curtain or its care instructions to set the iron dial on the correct mode. Otherwise you may end up damaging your curtain.
Before you get started with your ironing, be sure not to lay the iron's heated part on the ironing board. This will cause the board to burn!
Aside from a standard iron, you may use a hand-held steamer or garment steamer. If you're going to use a regular steam iron, it should be at least 1400 watts to do the job properly.
Another tool you'll need with your iron is a de-wrinkling spray or even a plant mister. But before using a steam iron, you'll need to wear a long-sleeved top to avoid getting your arms burnt by the device.
Iron Your Curtains on the Rod
Most people turn to an ironing board when they want to iron their curtains. But the problem with using an ironing board is its lack of space for large curtains. Once you start ironing one section, it will get creased again as you move on to the next section.
Follow these steps to iron your curtains on a rod instead of an ironing board:
Hang your curtain on the rod and arrange the gathered fabric equally along the rod so that the curtain is completely closed.
If you're using a steam iron, fill it with enough water and select the maximum temperature. It must be at least 1400 watts in order to produce steam while you hold the device in your hand vertically. If your iron isn't a minimum of 1400 watts, use a handheld clothing steamer instead.
Begin from the top part of the curtain first and steam it by moving your way down. Hold the hot iron away from the fabric's surface, and if you have someone to assist you, get them to hold the bottom hem of the curtain as you spray the entire fabric.
Next, allow the steam to completely cover the entire iron before moving the iron lengthwise down the panel. Always continue steaming as you iron so that the fabric doesn't dry out or burn.
Now move the iron back to the top of the curtain panel and to the right of the steamed section. You'll need to repeat the entire process.
Once you've finished ironing the curtains on the rod, allow them to dry and cool before re-steaming if necessary. 
Tips on Spraying and Straightening Curtain
Use a plant mister to finely mist the curtain fabric. This is an important part of dewrinkling all the sections of the curtains from top to bottom. Smooth out the fabric with your hands but avoid tugging at it heavily. You'll be surprised how just a little spritz of water to moisten the fabric will help dewrinkle your curtain. Tap water will work fine for such purposes, but if you have hard water, consider using bottled water in order to prevent fading or discoloration.
Some irons come with a spray bottle so it's very handy to spot treat creased curtains whilst ironing. Tip: sometimes you don't need to use any special sprayers to relax the wrinkles. Just a quick warm water spritz using your wet fingers will suffice, depending on how creased your curtains are. If they are slightly wrinkled, tug the bottom hem to straighten out the fabric. For heavily wrinkled curtains, however, use clothing sprays or take the fabric to the professional drapery installers. You may also buy a small hand-held clothing steamer. These devices heat up within 2 minutes or less and can be purchased from large retailers.
Iron one Section at a Time
Run the steam iron or steamer from top to bottom of one section after you've sprayed it with warm water or dewrinkling spray. When you finish with one section, move on to the next, but remember to only iron one section at a time whilst the curtain is hanging on the rod.
How to Iron Delicate Curtains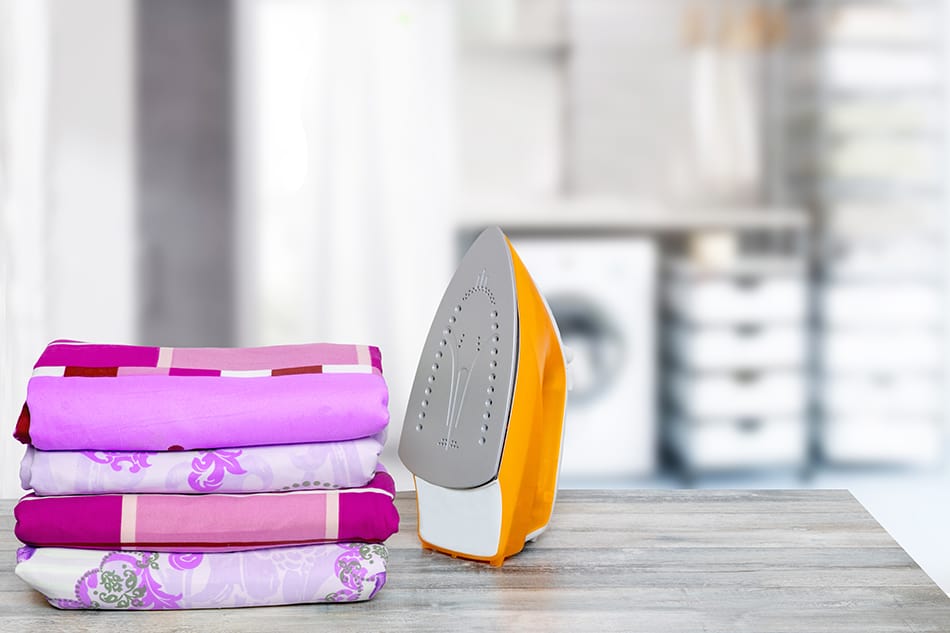 Take a look at your curtain fabric carefully to see if it's made of delicate material. Embellished fabrics can easily get damaged from the high heat of an iron. This is especially true with silk or satin curtains. These kinds of fabric curtains are fragile and susceptible to damage under high heat. When ironing such fabrics, always spray them with water first.
To protect your delicate fabric curtain, place a sheet or pillowcase in between the iron and the curtain during the ironing process. For extreme creases, spray the fabric before putting your pillowcase or sheet in place. You can then iron the delicate curtain. This will ensure your embellished or delicate curtain won't get damaged under direct heat.
Pleated curtains can also be ironed successfully to make them more pronounced. This can be done by gathering the pleats together before ironing them according to the fabric's specific design. Ironing your pleated curtain this way will ensure the pleat remains sharply defined and crisper.
How Often Should You Iron Your Curtains?
Ironing your curtains is only necessary if you notice deep wrinkles in the fabric, otherwise you won't need to iron them at all. Sheer curtains, for example, don't require ironing as they hardly ever wrinkle. However, if you notice deep creases formed in your curtains, it makes sense to iron them while hanging on the rod. To keep your curtains crips and wrinkle free, it is best to iron them once every 6 months or so. For delicate fabrics, you only need to iron them once a year.