If you have some empty space in your bedroom, then this is a great opportunity to create some more usable areas, highlight your style, or put some of your favorite things on display.
Empty Corners
Empty corners happen when the dimensions of your room don't fit perfectly with your furniture. This can leave small corners which don't have a purpose or even larger spaces that can be tricky to fill.
Extra Seating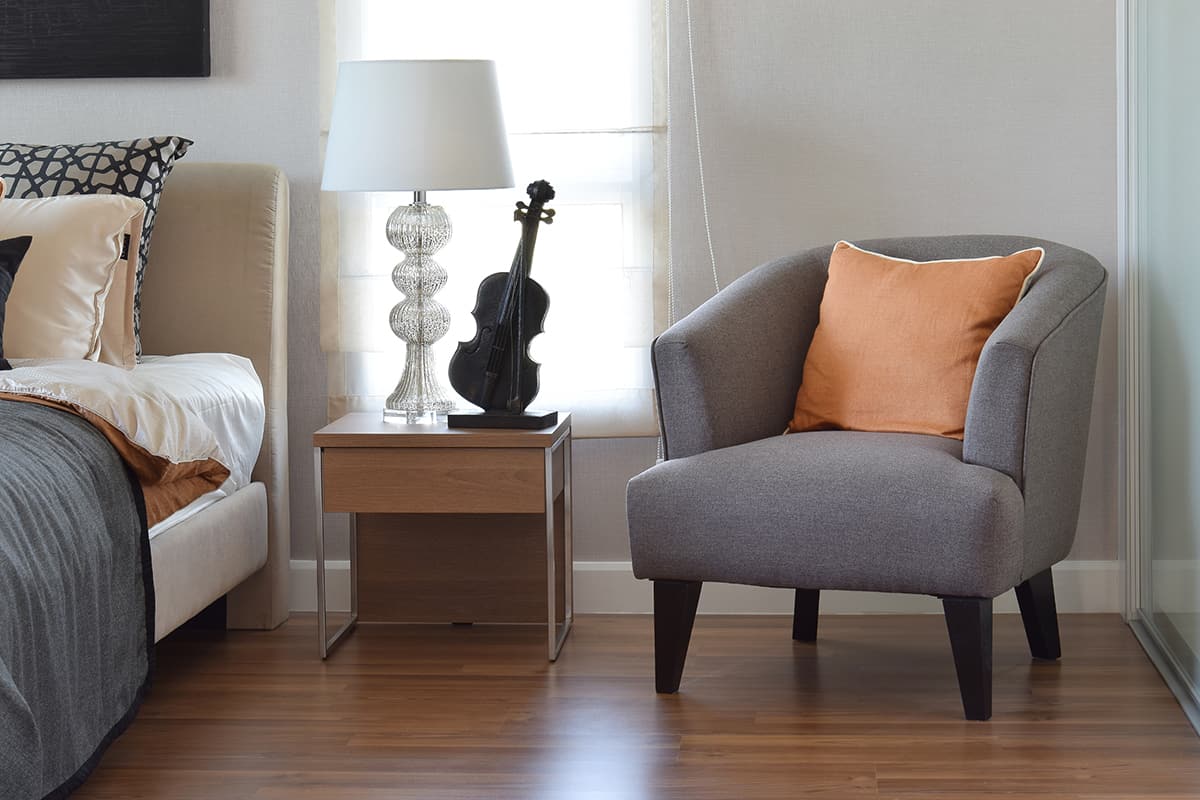 An empty corner is perfect for an occasional chair. Almost any type of chair you can think of will work well in the corner of a bedroom, such as a rocking chair, a spare dining chair, or an armchair.
If you have the space and budget, invest in a comfortable and cozy chair where you can sit and read newspapers or magazines on a weekend or enjoy a cup of coffee.
Having a chair in your bedroom also provides a useful space for a guest to sit if they don't feel comfortable sitting on your bed. Measure your spare corner before buying a chair to ensure it will fit nicely, and make sure the chair is proportional to the size of the room. An oversized chair in a small room could make it look cramped, while a very small chair in a large room will look out of place.
Also, pay attention to the style and color of the chair and make sure it coordinates with the rest of your bedroom. If you have an old chair that will fit in terms of size but not in terms of style, you could have the chair reupholstered to make it match, dye the fabric, or simply cover the chair with a blanket or throw and an accent cushion.
Side Table
It's always handy to have extra surface space in a bedroom to help nightstands from becoming overcrowded. An empty corner can easily be filled with a side table, making the room look more balanced and also offering a practical element for storage. Choose a size of side table that is proportional to the empty corner and the rest of the room, and then decorate it in whichever way you choose.
You could position a speaker on it so that you can listen to music or audiobooks while in your bedroom, or you could use it to hold perfumes and other toiletries. You may use the table as a place to store a collection of books that you intend to read soon or to position a selection of candles. There are numerous possibilities when it comes to what you could use a side table for.
Reading Corner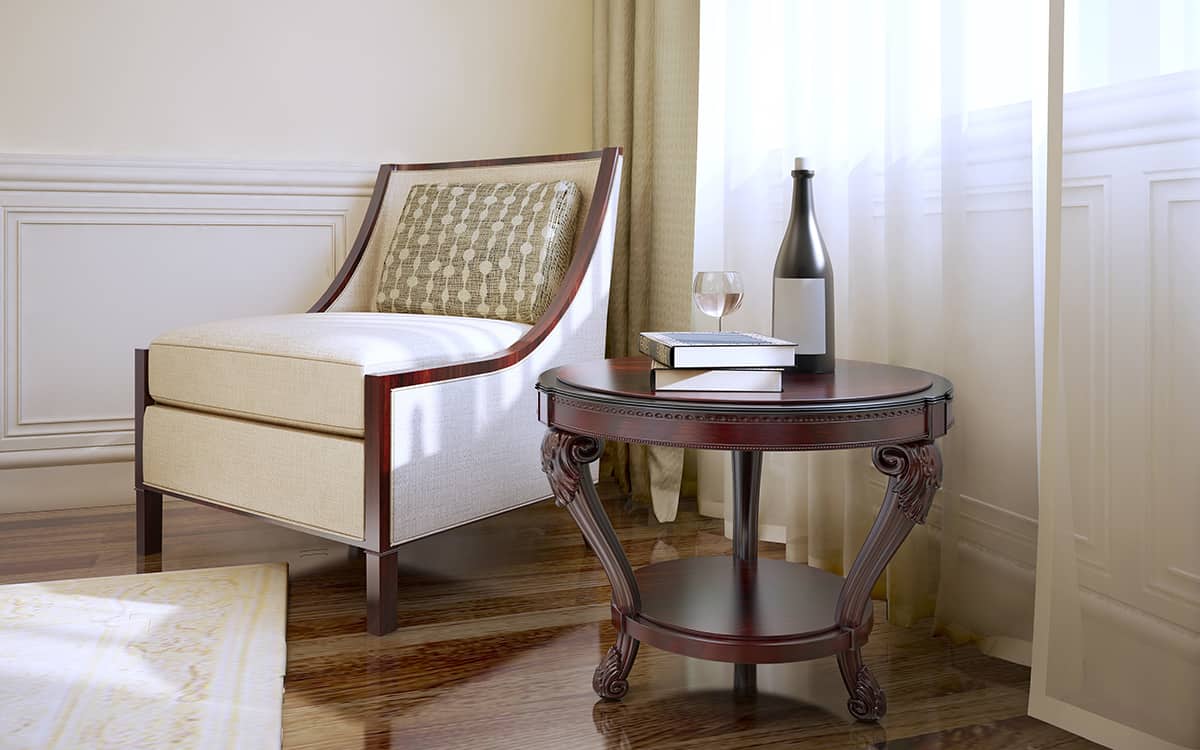 If you have enough space in an empty corner of your bedroom, then you could create a whole new area. This works really well in large bedrooms, which can be defined into separate spaces.
To create a reading corner, all you need is an armchair and a floor lamp, or an armchair with a side table and a lamp. If the space warrants it, you could also incorporate a low-shelf unit filled with books.
Floor Lamp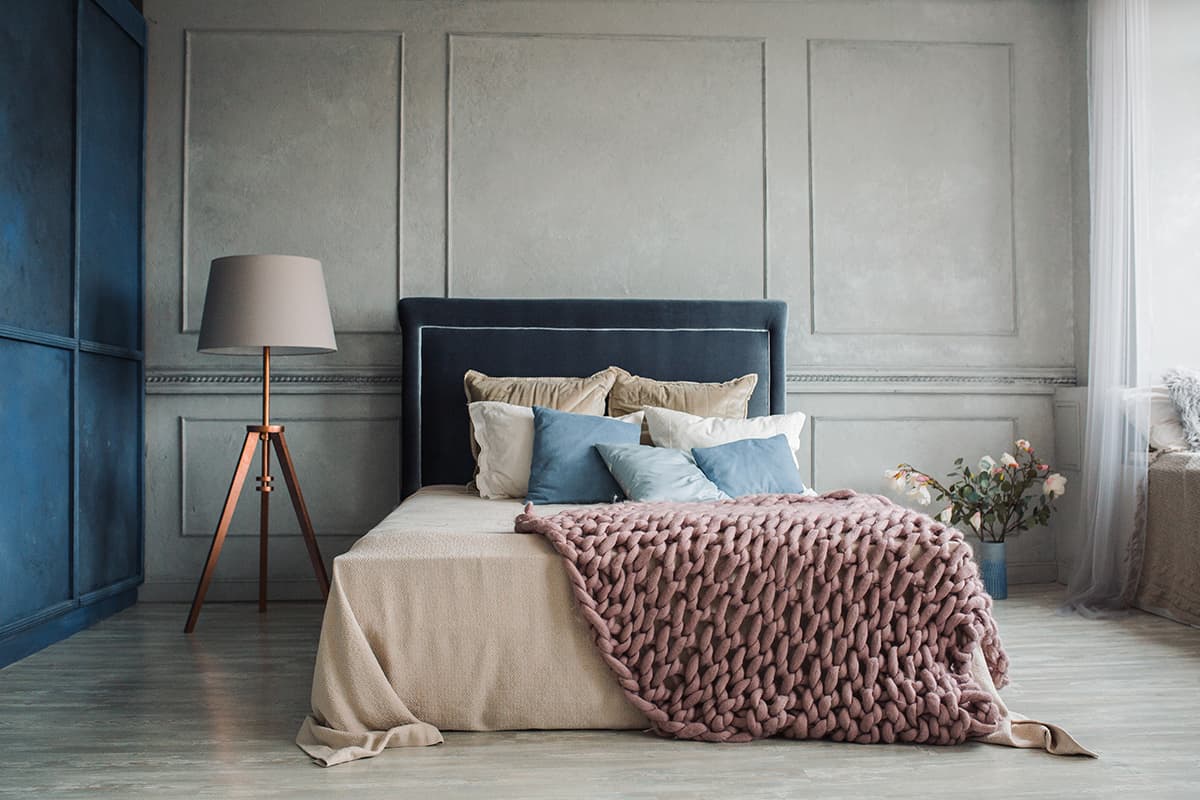 In a smaller empty corner, a floor lamp can work wonders to make it look like the design of all parts of the space has been considered. A floor lamp will help to add personality and style to an otherwise bare corner, and it will also illuminate the corner of the room to draw attention to it when the lamp is turned on.
Having lighting options in different areas of a space also helps to create balance, and they can be great for achieving a subdued or romantic atmosphere.
Extended Window Dressing
If the empty corner of your room is near a window, then you can extend the window dressings to cover more of the space. This will not only fill an empty corner but also create the illusion that your window is bigger than it really is. This is also a great trick to use even when you aren't worried about empty corner space. To achieve this, choose a curtain pole that is significantly longer than the width of your window.
Around two feet extra on either end of the window will work well, but you could go up to three feet extra on each side. For example, if your window is 10 feet wide, you could get a curtain pole up to 16 feet long. You would then need to buy some extra wide curtains and hang these so that they cover the bare wall at either side of the window and only cover the window itself by an inch or two.
This will make the most of the window and ensure that maximum amount of natural light can flood into the room, and it will also make your window appear much bigger. If you have extended the curtain pole into the corner of your bedroom, some of the curtains will hang into the corner, filling the empty space.
Corner Desk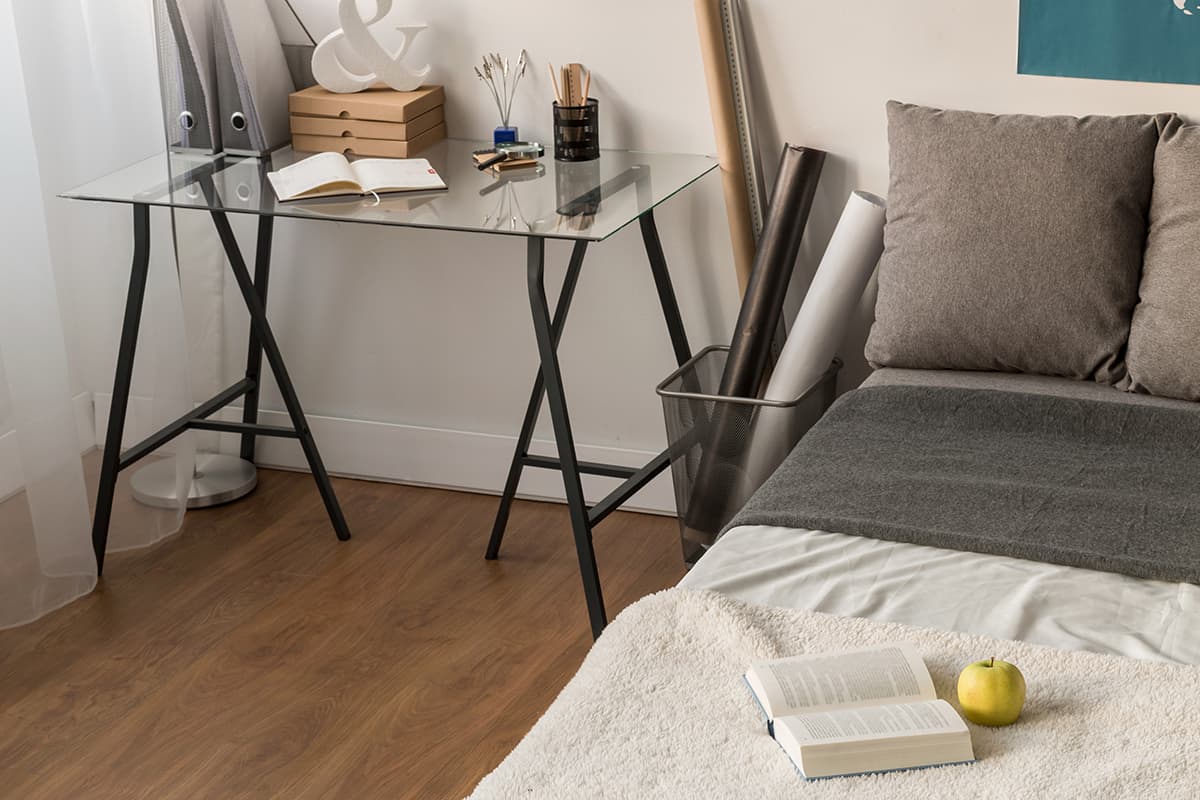 An empty corner in a bedroom could be a convenient space to position a corner desk or a corner dressing table. Corner furniture helps to make better use of awkward corners in a room, and in doing this, you could create a usable area where none existed before.
As many people are now opting to work from home but do not have a home office, you could use a corner of your bedroom as a workspace with the use of a corner desk. Or you could choose a corner dressing table with a stool and use this as a designated place for applying makeup and face creams or styling your hair.
Clothes Stand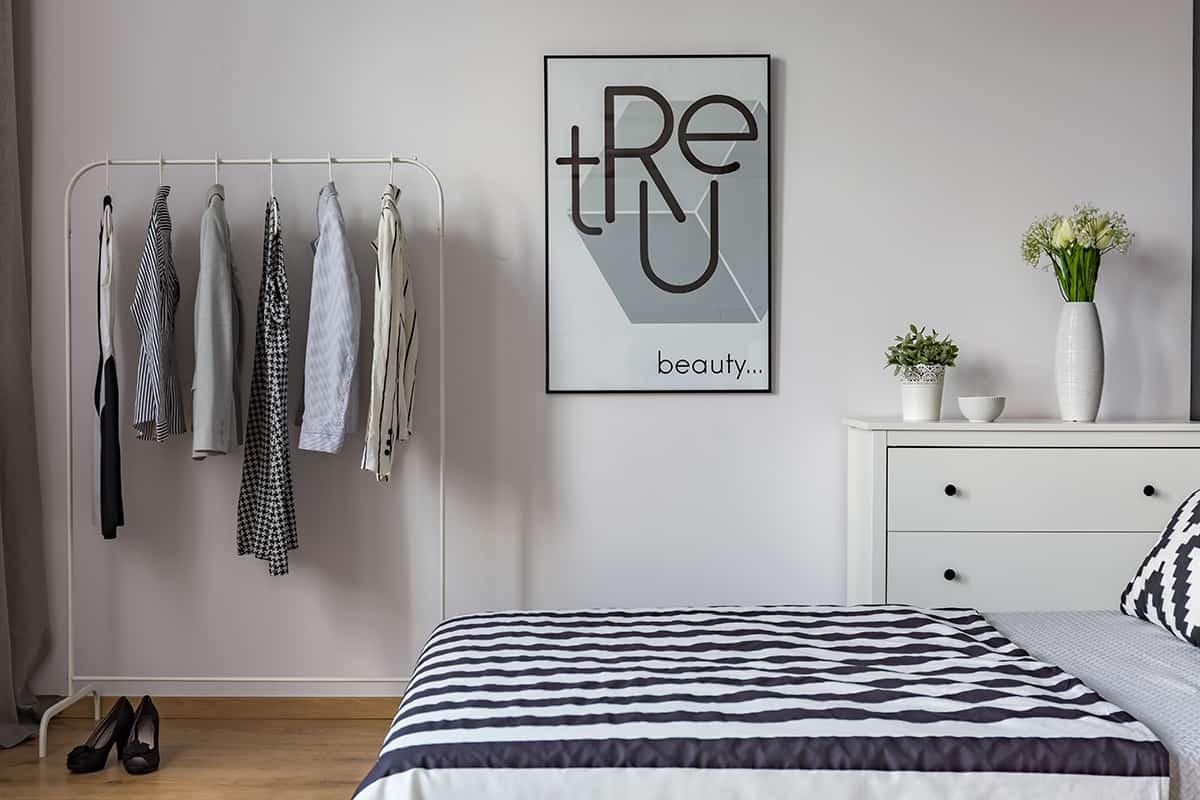 A clothes stand looks much like a coat stand or a hat rack, but it is used to hang daily garments of clothing. Many of us have a chair in the corner of our bedroom, which we never actually sit on but instead drape clothes over it to save for another day.
A clothes stand is a better alternative to this, where you could hang a robe ready for the next morning or an outfit that doesn't need to be washed yet. A clothes stand can look quite elegant and European in a bedroom, and it is ideally suited to a corner of a bedroom. It will also free up your chair for other uses besides storing clothes!
Empty Window Sills
Window sills can look unloved if they aren't decorated, so consider these options for filling empty window space in the bedroom.
Candles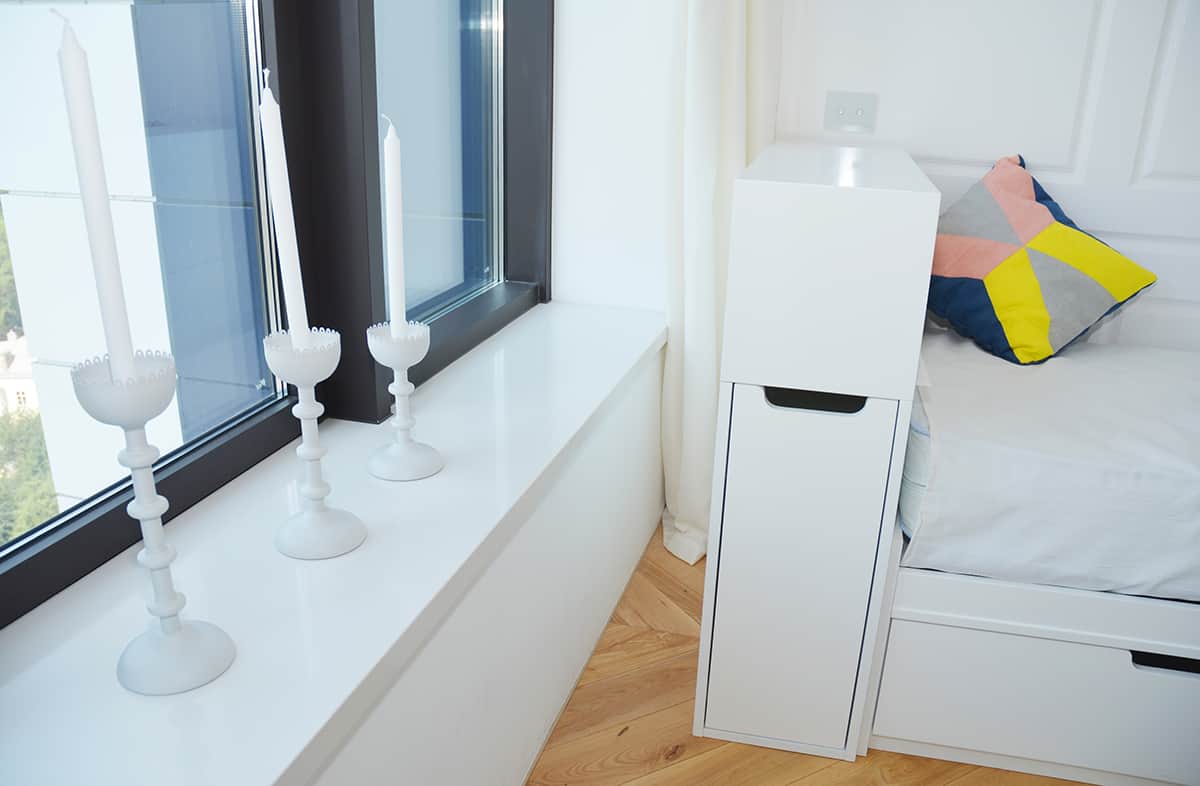 If you enjoy candles, then you can display them on your window sill. Small tea lights will work well on compact window sills, or opt for an elaborate candle holder if you have more space.
Photo Frames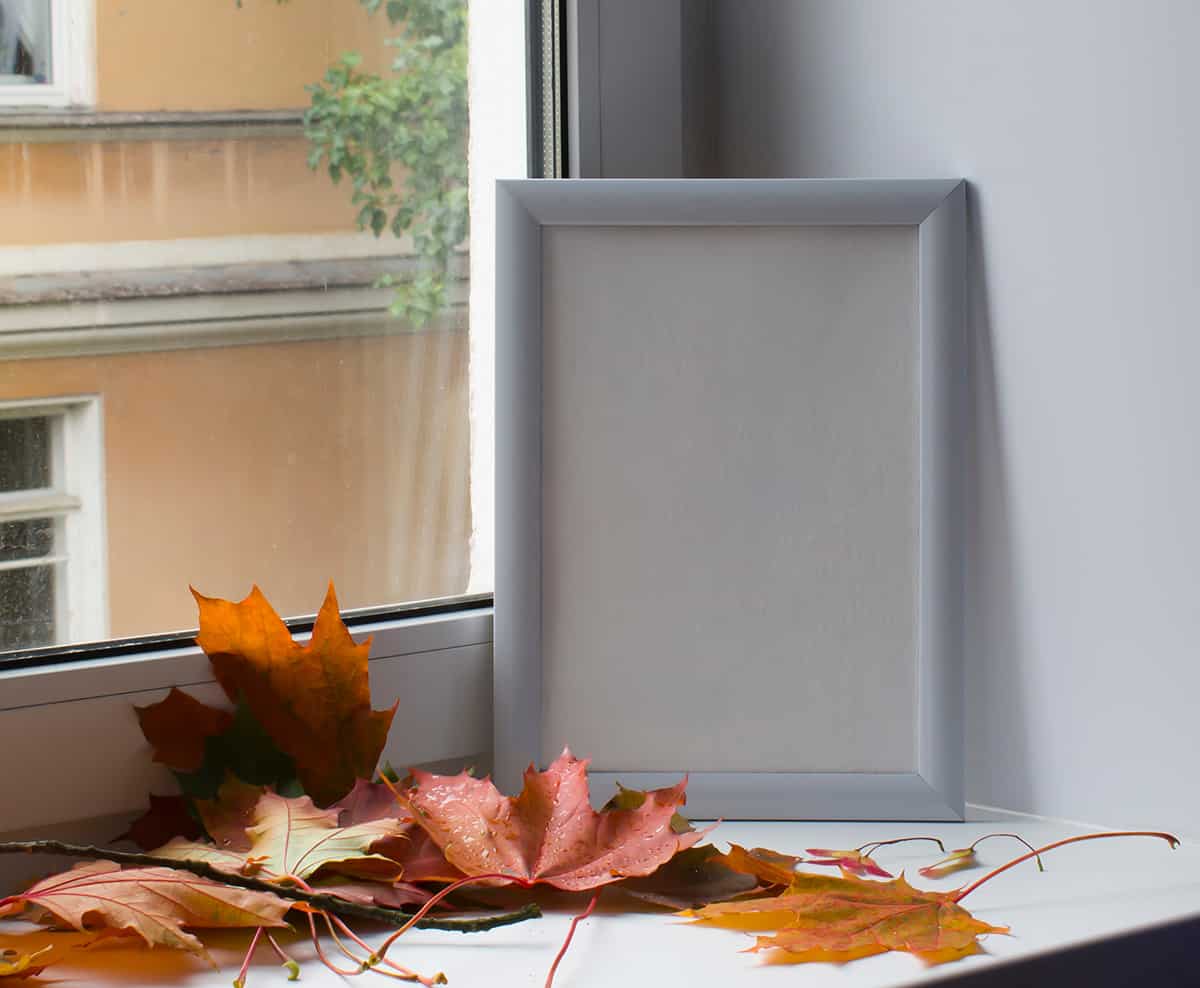 Photo frames featuring happy memories or art prints work well on window sills because they tend to be an ideal size.
However, bear in mind that these can only be enjoyed from within the bedroom. If you want your windows to look attractive to outsiders, then photo frames are not the best option.
Plants
Some plants thrive in windows, such as sun-loving succulents. Position houseplants on your window sill where they will grow happily and make your bedroom look more stylish.
Some plants, such as aloe vera, which loves to grow on window sills, have an air filtering quality that is said to promote better sleep, making them a great addition to a bedroom.
Flowers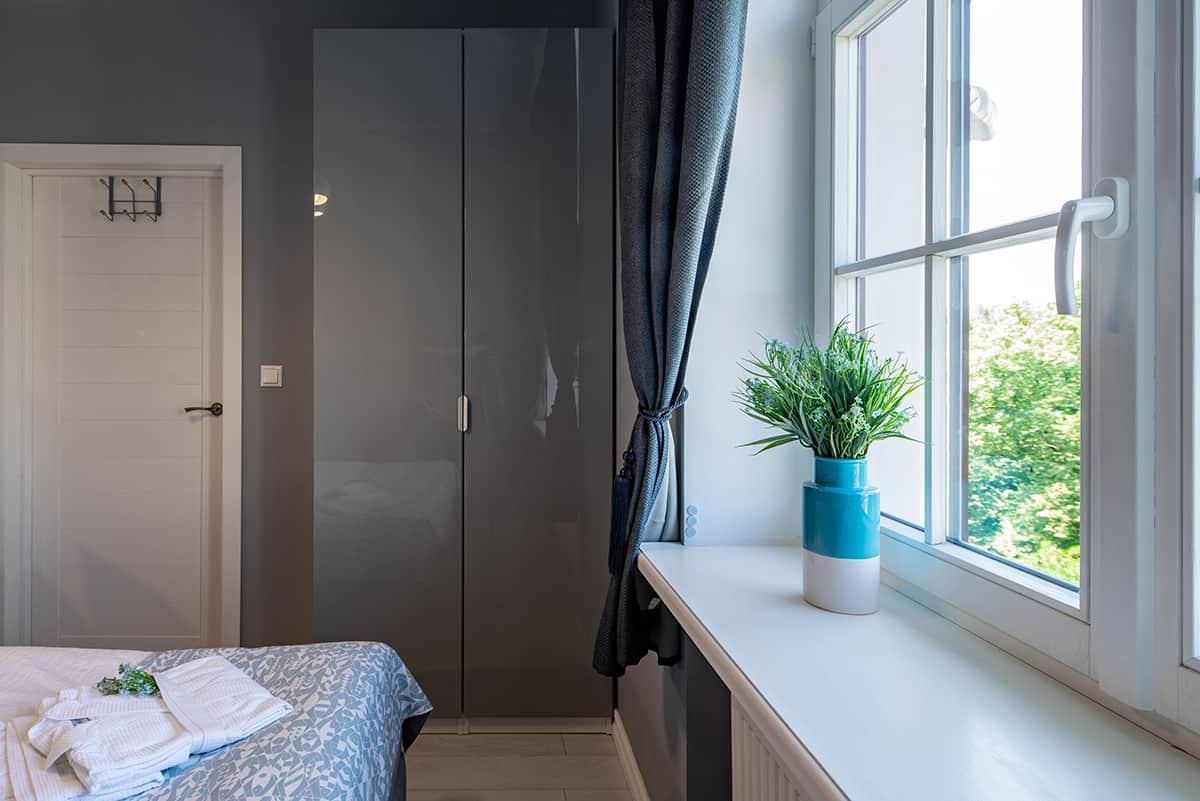 If you want your windows to look attractive from inside and outside the home, you can't go wrong with a bouquet of flowers. This could be a few flowers cut fresh from the garden and simply placed in a glass of water from the kitchen or a more elaborate floral arrangement in a vase.
If you like low-maintenance decor, then faux flowers would also make a nice addition to a window sill to fill empty space in the bedroom.
Empty Wall Space
The wall area above the bed can be a focal point in a room, so it can be a good place to add interest rather than leave it empty.
Wall Art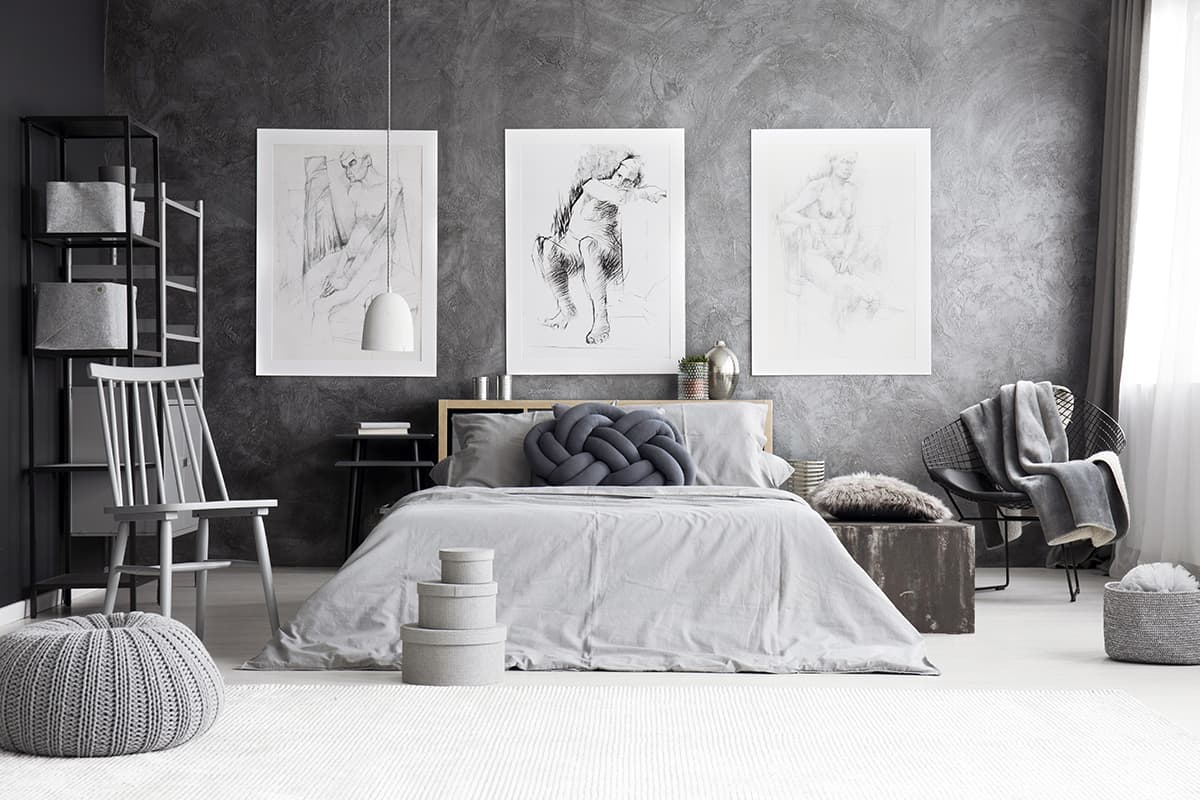 A large piece of art hanging on the wall is a great choice for empty wall space in the bedroom, especially over the bed, where it can take center stage. Art above the bed should be two-thirds of the width of the bed frame to be proportional.
Hanging Plants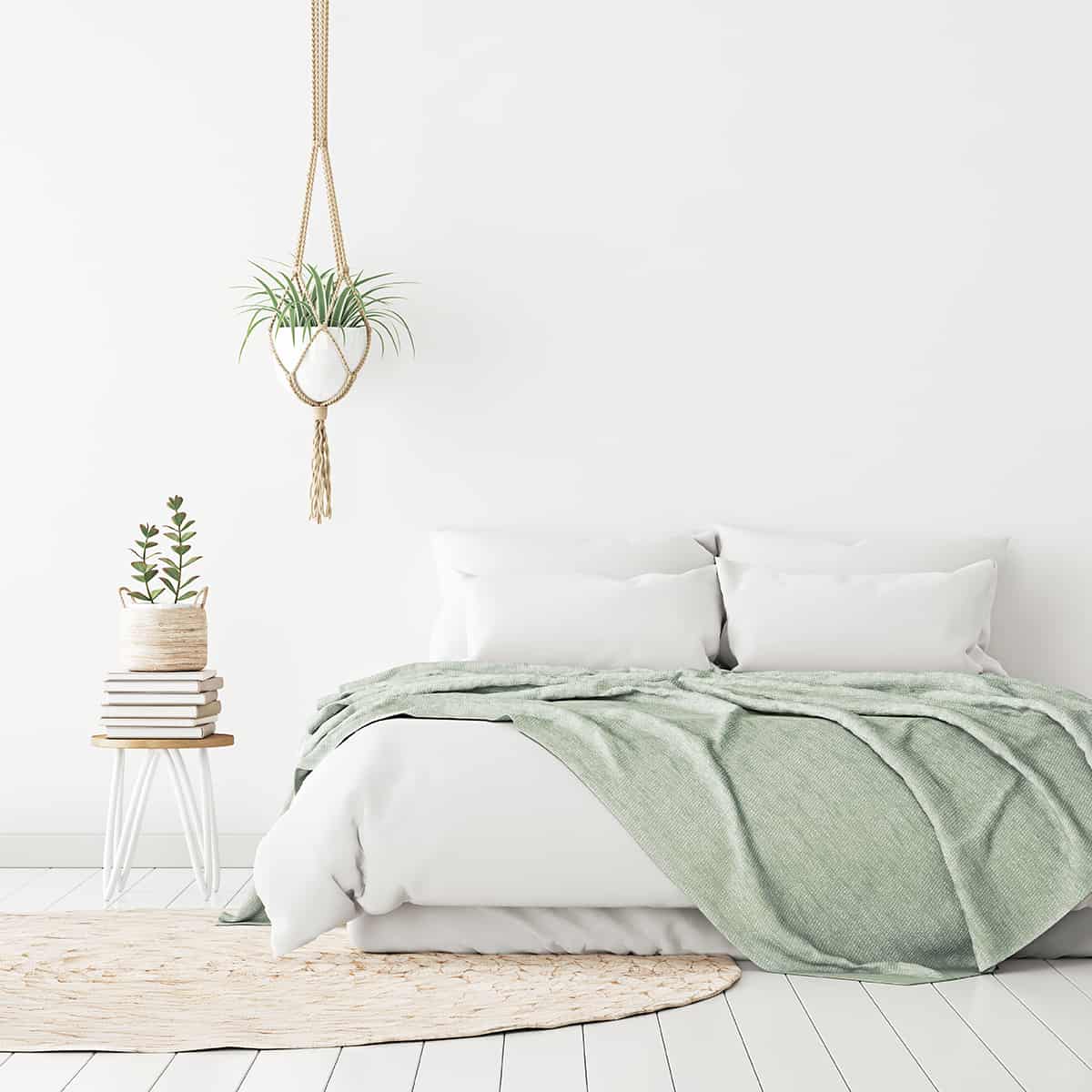 If you want to fill some empty side walls in your bedroom, then find hanging planters and grow houseplants in them. Trailing plants are a good option in hanging planters as they will take up more of the wall space and create a laidback effect that works well in a bedroom.
Hooks for Hanging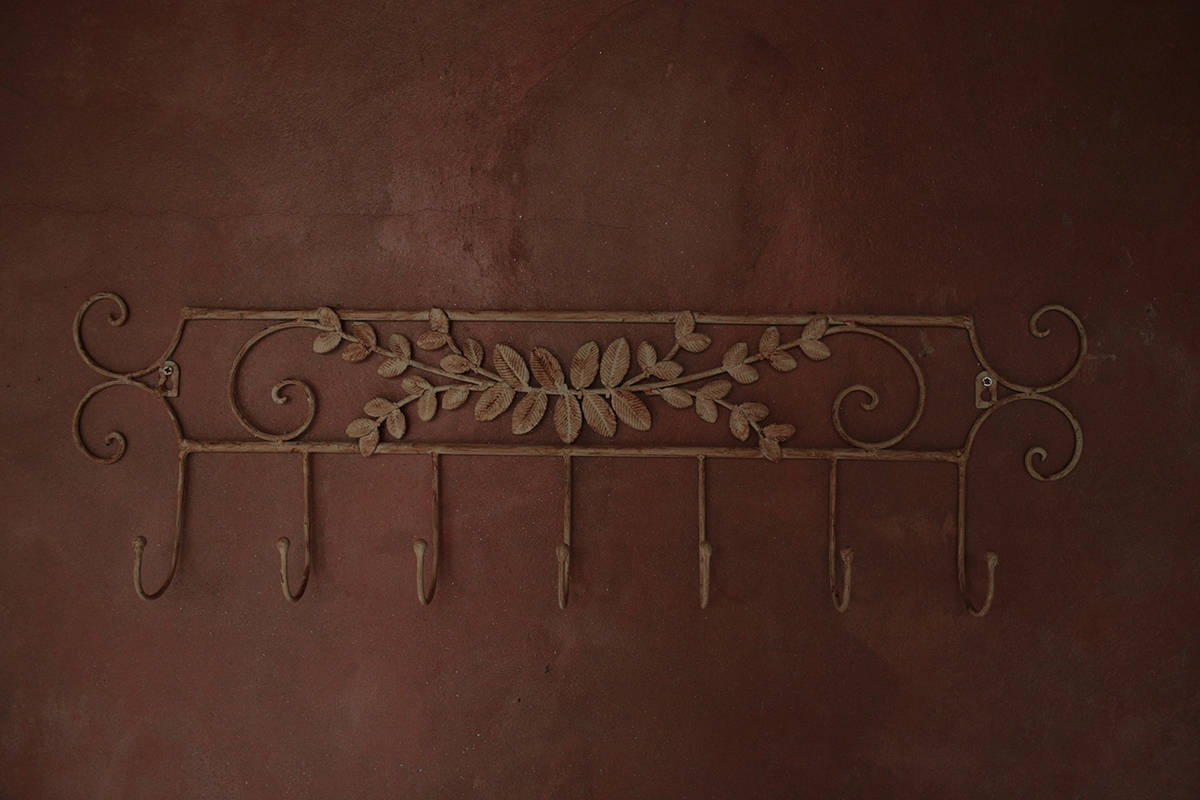 Fixing hooks onto empty wall space can look good and also serve a functional purpose. You can hang bags, robes, jackets, or jewelry on hooks as a way to display some of your favorite items or simply so that you have them to hand when you need them.