Decorating a small bedroom is a task that can be intimidating because the worry is that your color choice will make the room feel smaller or create the effect that the walls are closing in on you. It was once a commonly held belief that small rooms must be painted in pale colors to avoid this situation, and many people still subscribe to this point of view.
However, although pale colors can do wonders for small rooms, you can also use dark colors effectively in small bedrooms, and you can even create the feel of a larger room with darker shades.
Here we look at some on-trend paint colors which will work well on walls in small bedrooms.
Wall Colors for Compact Bedrooms
White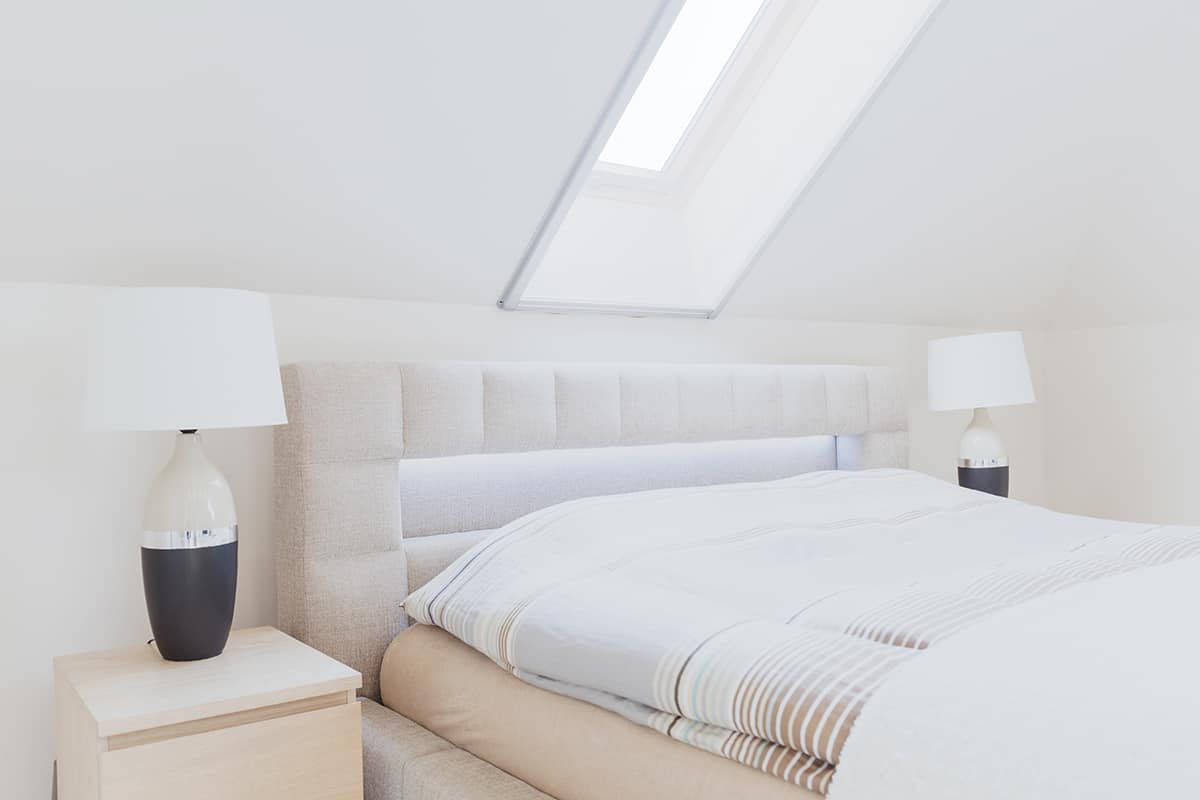 If you have large windows in a small room, then make the most of the natural light by painting the walls in pure white paint. This will help to reflect the light streaming in through the windows and create the illusion of more space.
Be sure to also paint the ceiling white to match, and you will make the white walls appear to be receding, which will make the room feel bigger than it actually is.
Pure white paint can look stark and clinical in low light, which is why it is best reserved for bedrooms that have large windows facing an aspect that receives plenty of sun throughout the day.
Off-white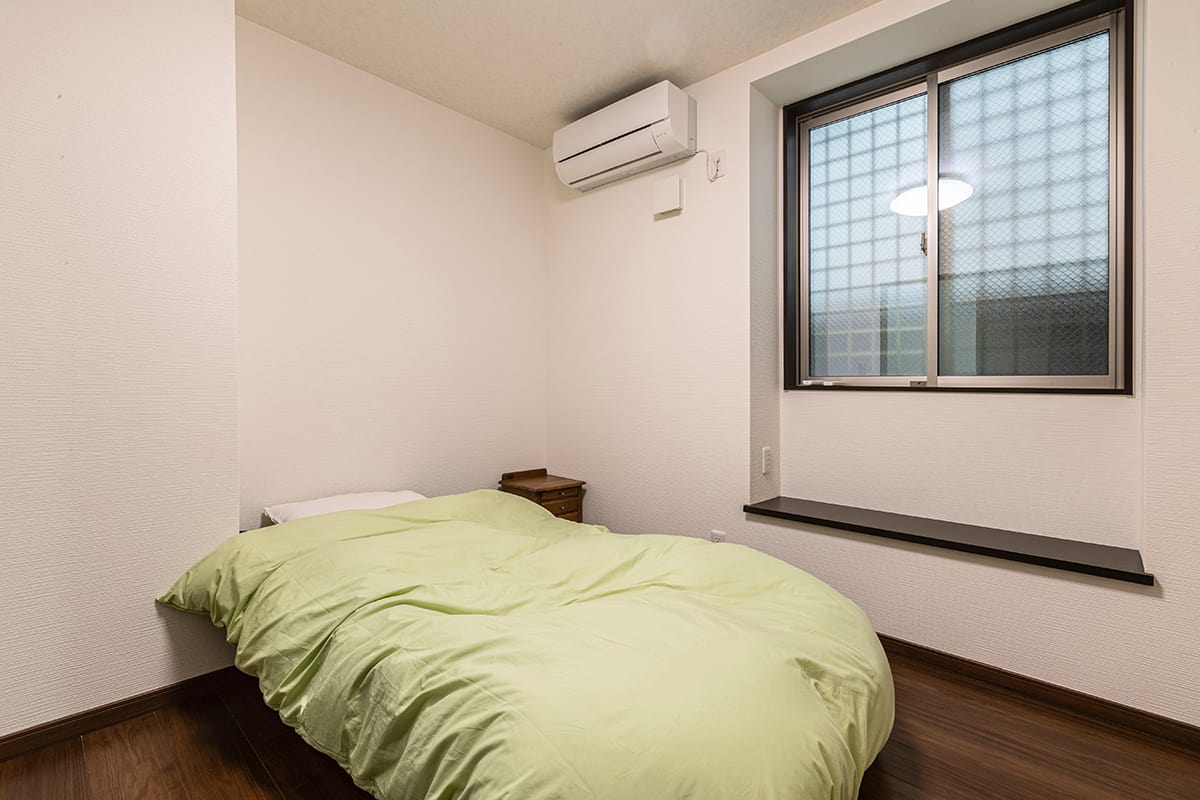 If you like the idea of a white bedroom but have a bedroom that doesn't experience a great deal of natural light, then choose a shade of off-white. Off-white can have different undertones which aren't perceptible but can make a huge difference to the mood of the room.
Choose an off-white with orange or yellow undertones for a warm feel in a small room. Off-white paint with blue, green, or purple undertones will feel cool and fresh as opposed to warm and inviting.
Beige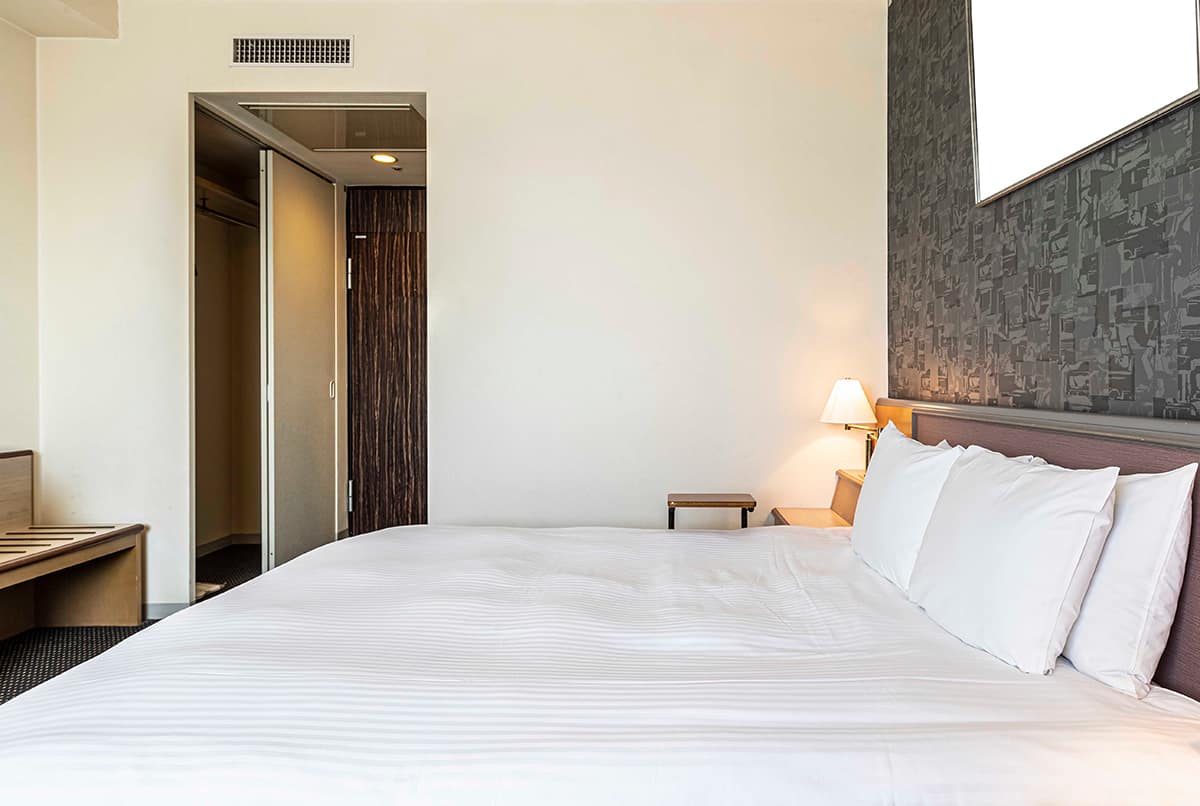 Beige is generally thought of as a bland or boring color, but it serves an important role in interior design, especially when it comes to paint colors.
If you want your small bedroom to feel comfortable and welcoming while also trying to make the room feel larger than it actually is, then beige is a great choice. It is a warming color that comes in various shades, from ivory to butterscotch, and is a safe color for people who want to move away from white but don't want to choose a bolder color.
Beige is a neutral tone that fades into the background, which is why it is great for small bedrooms. It creates a neutral, blank canvas that you can accessorize with almost any other color.
Tan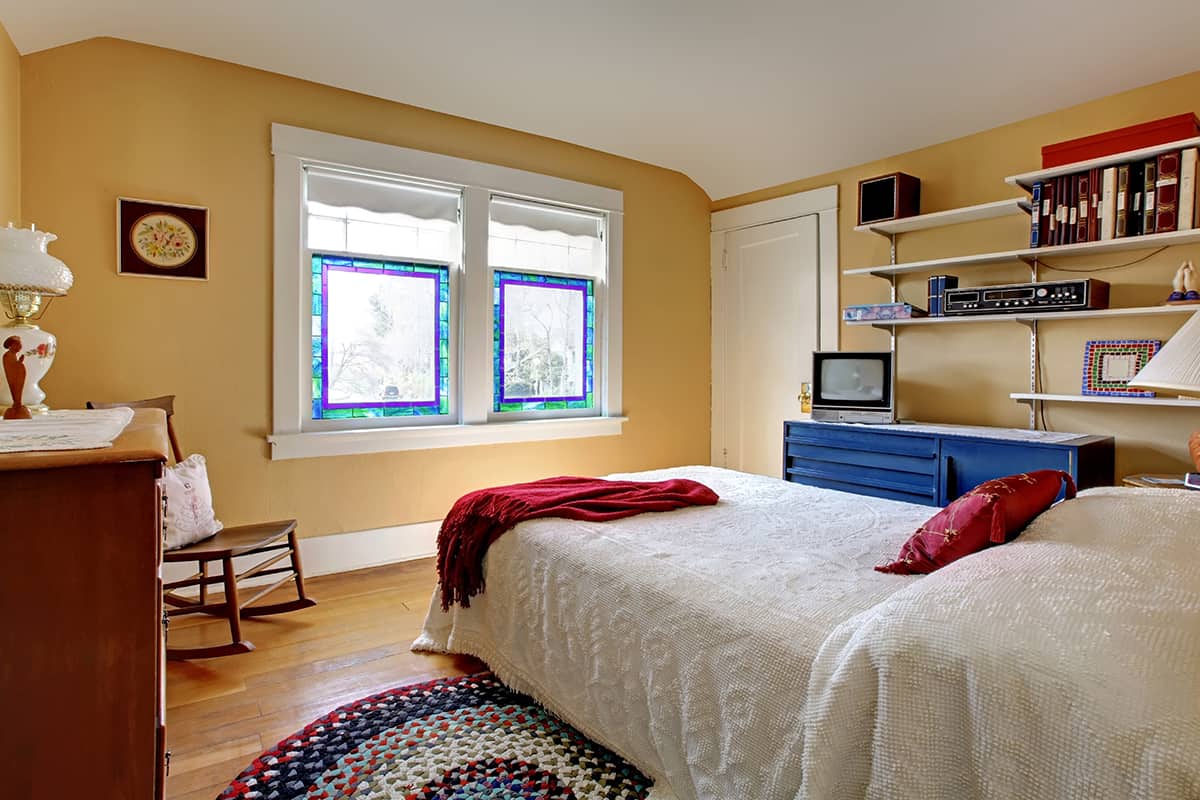 Tan-colored walls in a bedroom make for a cozy and snug space. This is a medium shade of color that is neither light nor dark, but it has the warming effect of making you feel like you're being wrapped up in a soft blanket. This is a good color choice for small bedrooms which receive minimal natural light because the warmth in the tan will balance out the natural coolness of the room.
You can choose dark furniture and accents to capitalize on the cozy factor of tan or choose white-painted furniture and white bedsheets for a high-end hotel vibe.
Charcoal gray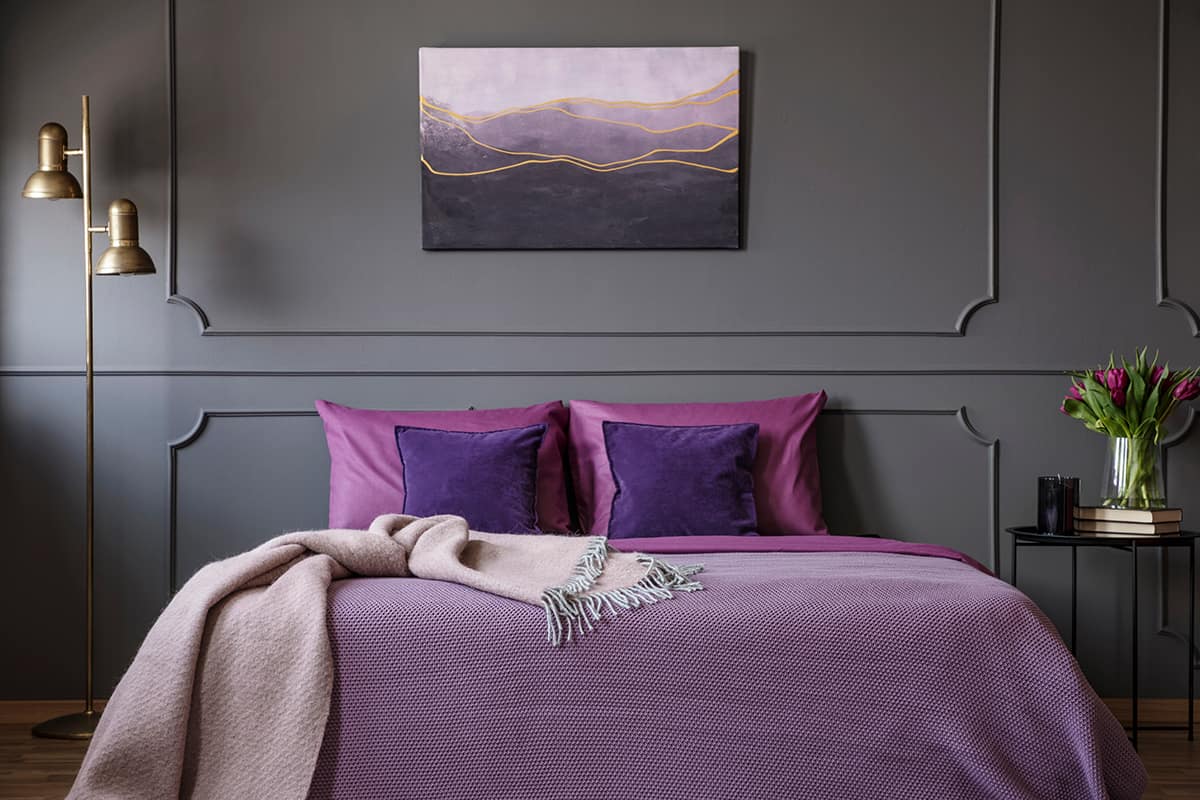 Many people will shy away from dark-colored walls for a small room because they assume this will have the opposite effect of white and make the room feel even smaller. However, this is an outdated idea, and in fact, dark walls can create depth in a small room to make it feel bigger than it actually is.
A deep charcoal gray paint is a perfect example of how this can be achieved. The depth and saturation of the color make the walls seem endless, which is how the room can actually feel bigger when painted in a dark shade.
Peacock blue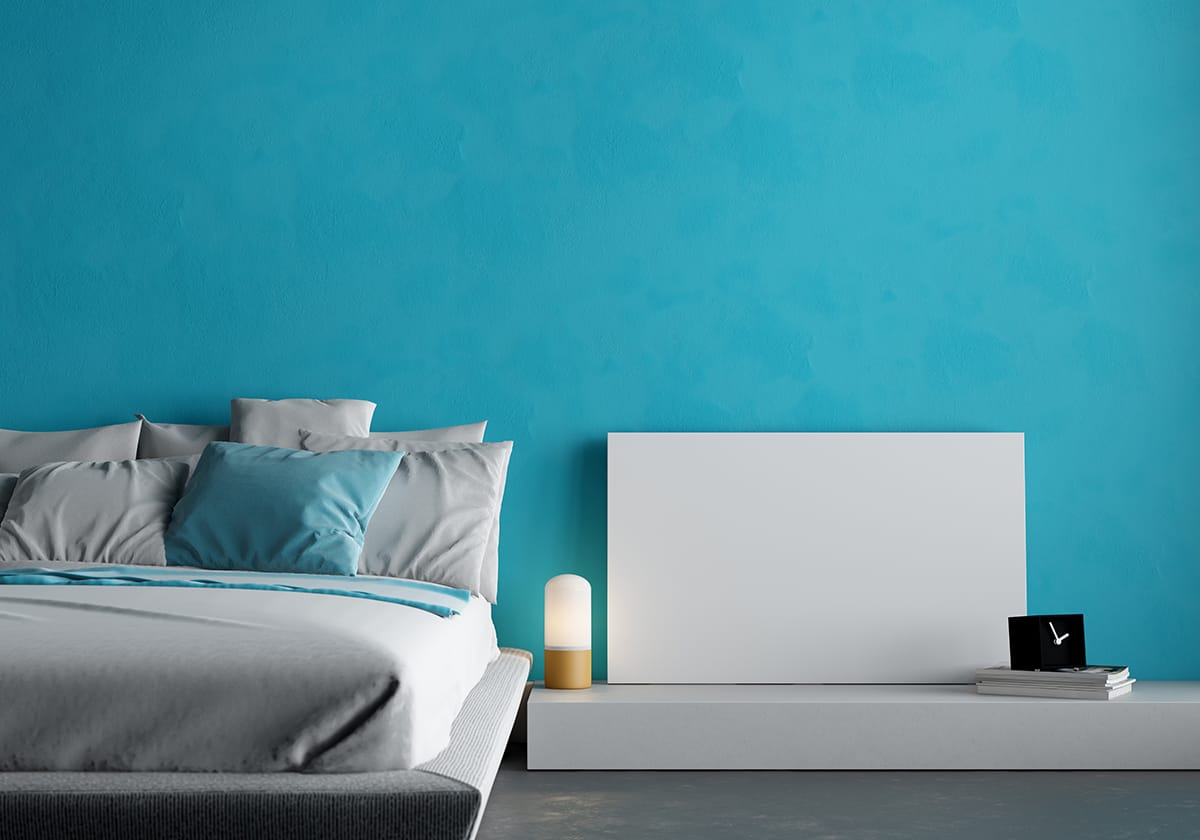 This is a bold and bright color that could look overwhelming in a large room, but in a small room, it creates a feeling of relaxation.
Small bedrooms present a great opportunity to use more vibrant colors that you might be afraid of using in big rooms or more commonly used areas of the home. Pair contrasting jewel tones with peacock blue, such as burnt orange, royal purple, and mustard yellow.
Emerald green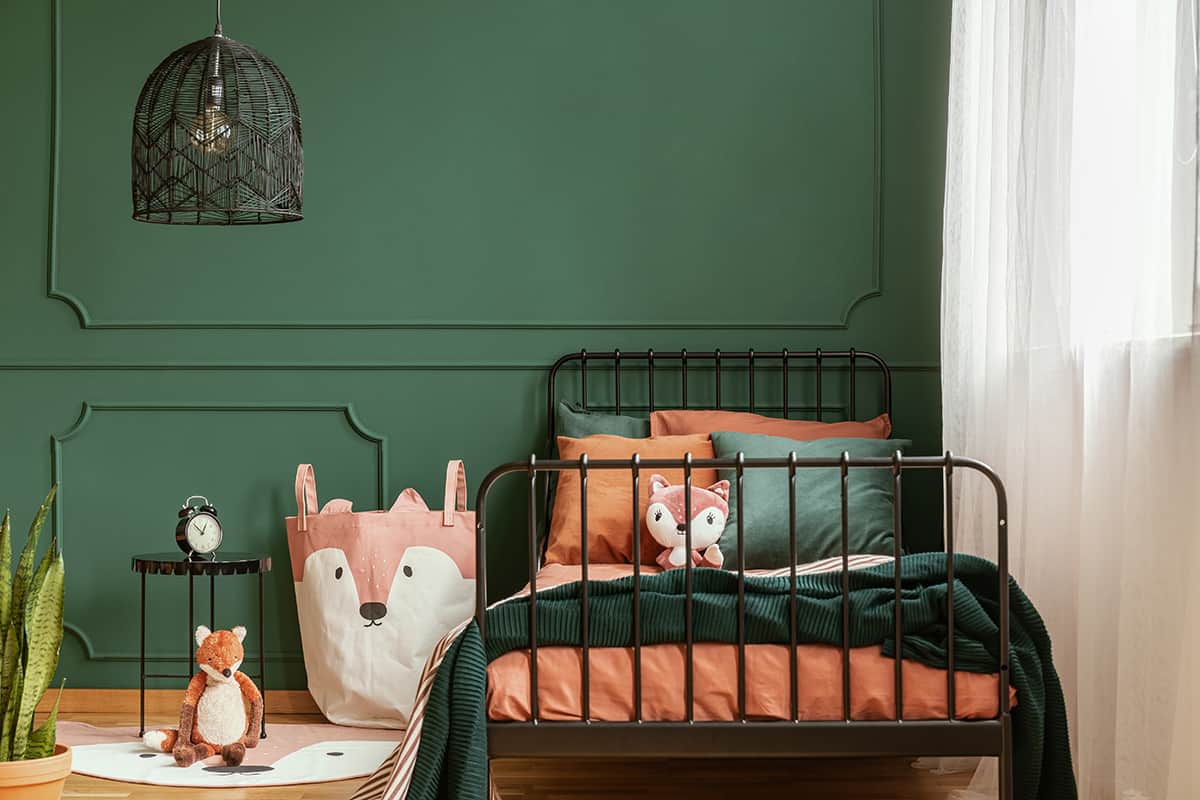 This is a deep jewel tone of green that is very on-trend right now. It works with a wide range of other colors, including blush pink, sapphire blue, burnt orange, tan shades, grays, golds, copper, and black. As a dark color, the prospect of painting an entire large room in emerald green can be intimidating, so a small bedroom provides a good space to introduce this color into your home.
Like other deep colors, it won't make the room feel like it's closing in on you and instead will make for a moody, intimate atmosphere. Or if you are afraid to overwhelm the space, have other walls in light neutral tones such as white or beige and use emerald green as an accent wall for such small bedrooms.
Blush pink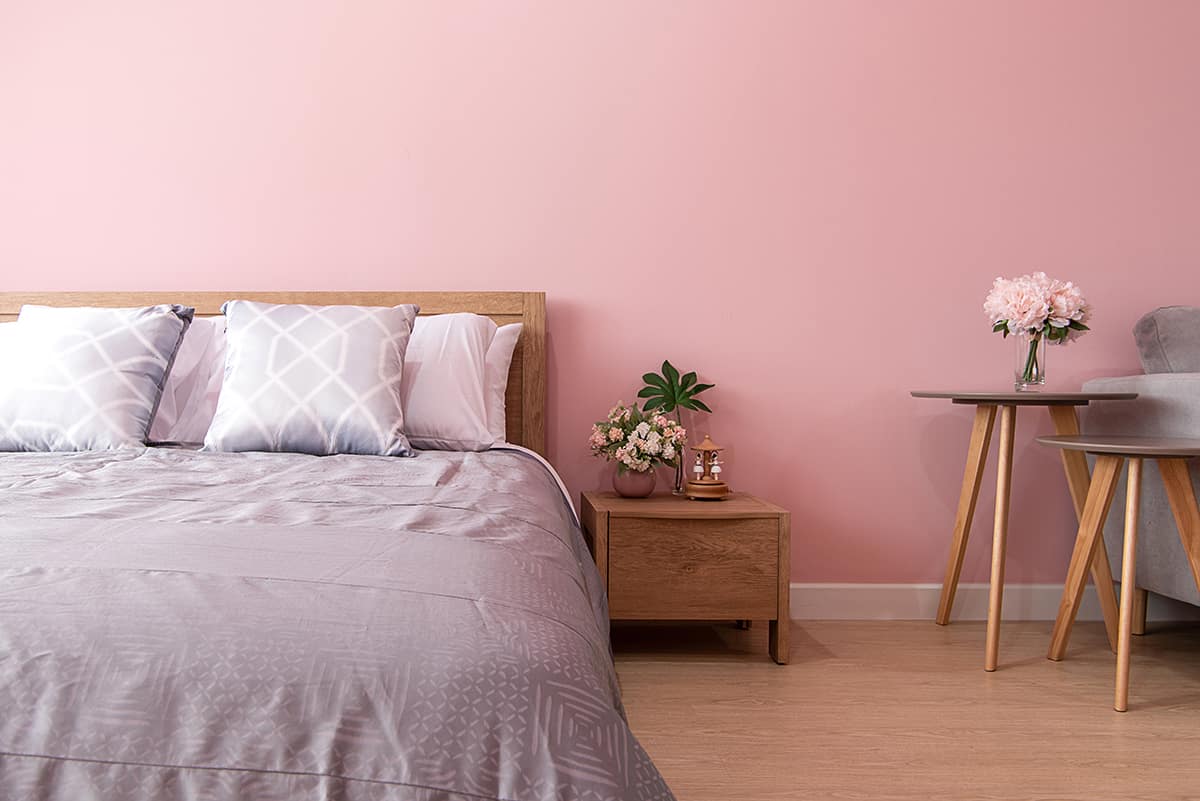 This is a stunning shade of pink that has gray or brown tones in it, which gives it a dusty feel, separating it from the ultra-frilly bubblegum and pastel pinks of previous decades.
This color is lovely in small bedrooms because it is not overpowering and makes for a pretty background color when used on the walls. Accent it with gray accessories to keep it modern. This is a look that can work well in children's and adult bedrooms alike.
Pale yellow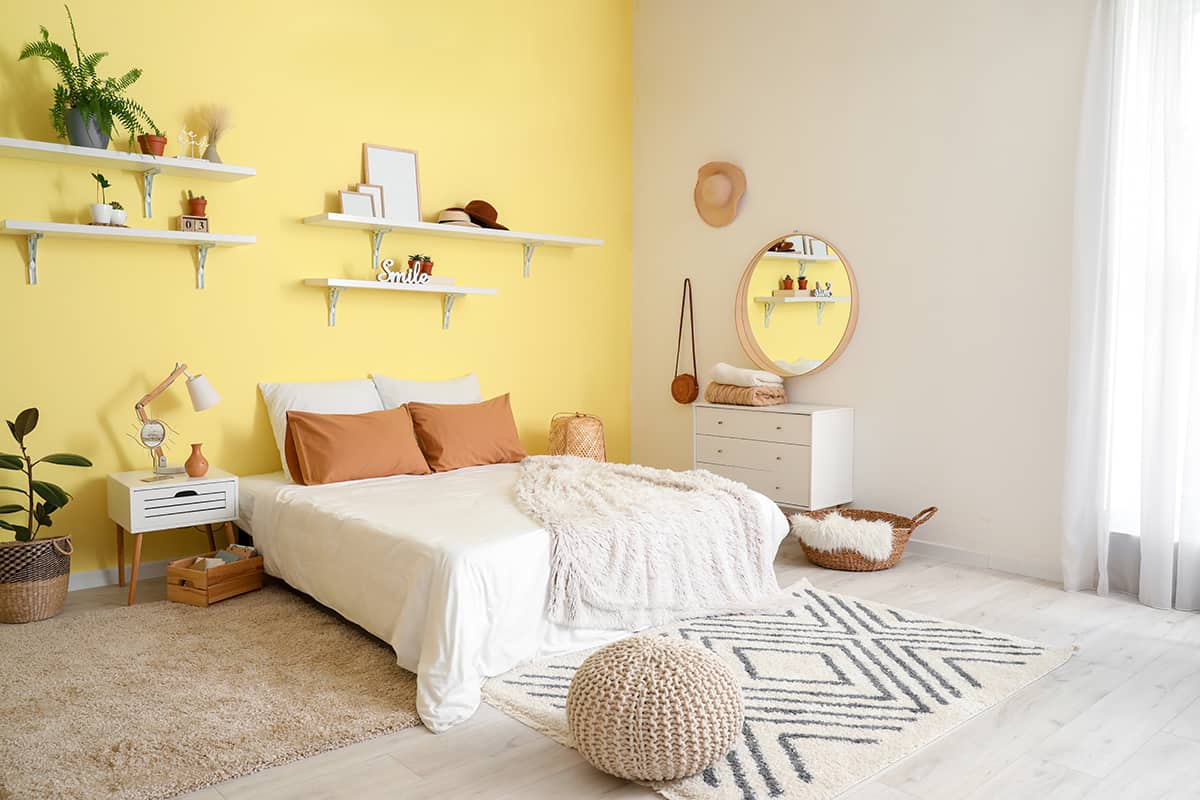 This is a nice color to use in a bedroom if you want to move away from neutrals but still don't feel like you want to make a bold statement. Pale buttermilk yellow is a versatile color that is lovely in children's bedrooms because it can stand the test of time as your child grows.
It isn't an obvious children's color but is subtle enough to work nicely in a nursery as well as for an older child. Pair it with sky blue, sage green, or blush pink accessories.
Pale blue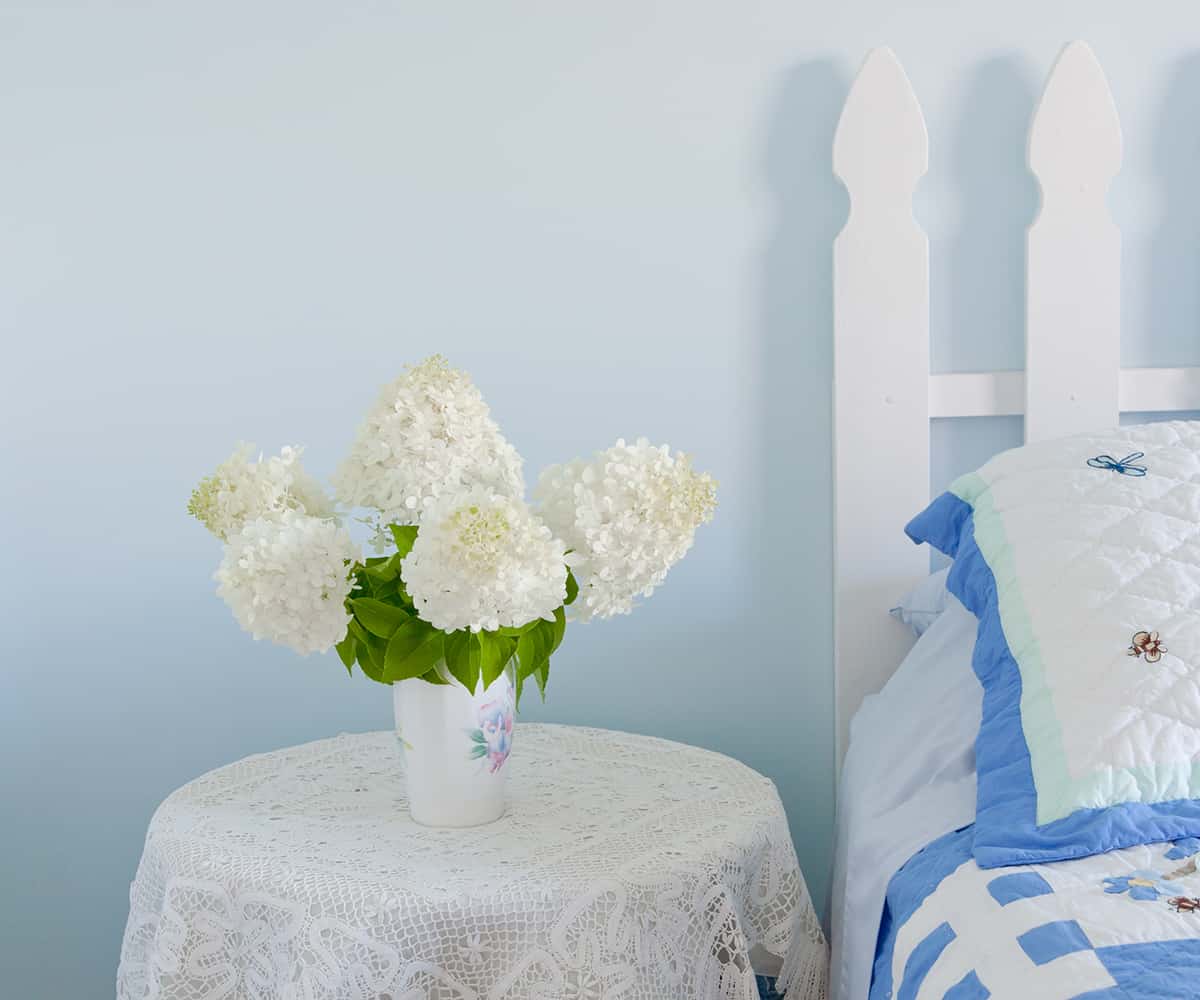 A soft pale shade of blue is a color that can work well in a coastal-style bedroom for a bright and breezy feel or in a children's bedroom. It is a cool and soothing color that is reminiscent of vast summer skies and creates the feeling of a room of open space. This is ideal in smaller bedrooms where you want to achieve the visual effect of extra square footage.
For a beach theme, choose light-colored rustic furniture or white-painted furniture and gray or navy accents.
Black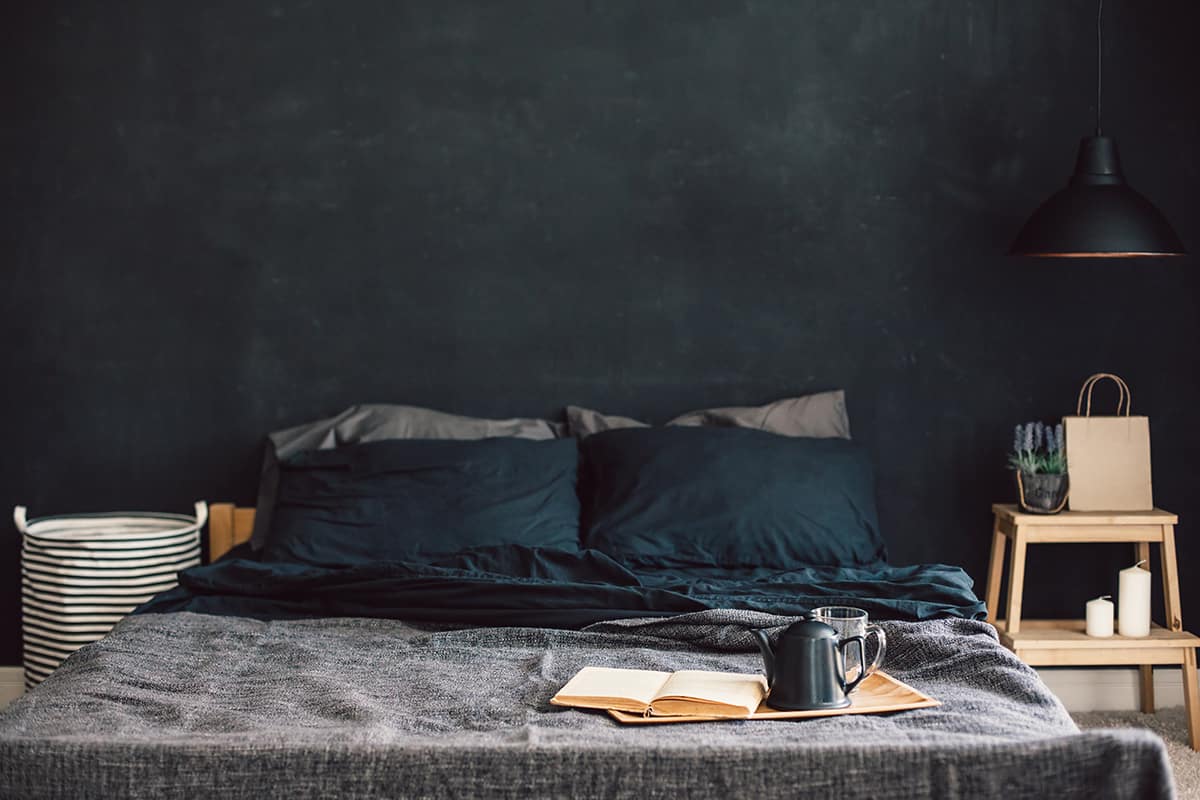 Black is an unusual color choice in a bedroom and may initially make you think of a dark lair or haunted gothic room, but actually, black can be a very stylish wall color. The key to achieving an elegant black room is pairing it with sleek, carefully chosen accessories and accents for a polished look. Gold decor items look stunning alongside black and will add an air of sophistication.
Dusky pink is also a nice choice to add a feminine edge to a black room and get away from any creepy or gothic vibes. Like other colors with depth and high levels of saturation, black is a color that can help a small room seem bigger when used on the walls.
Be sure to use a flat or matte finish so that the walls appear to be deep and never-ending, rather than a satin or gloss finish which would draw attention to the close proximity of the walls.
Wall Colors to Avoid in Small Bedrooms
It may come as a surprise, but there are actually very few colors that should be completely avoided on walls in small bedrooms, and it is more about the tone of color than the actual color itself. What these colors have in common is that they are bright and of a medium shade.
Medium colors, which are not pale or dark, tend to be too vivid in a small space and make the walls appear to be closer. They are also typically intense colors which can make a small room feel overwhelming, making it difficult to relax.
Red
Red is a very intense color that will feel overwhelming in a small bedroom. It isn't dark enough to create the impression of depth and isn't light enough to make the walls feel as though they are receding.
The result of this is that red can make a room feel quite claustrophobic, as if the walls are closing in on you. It is also a very stimulating color which could be hard to live in a small bedroom.
Hot pink
Like red, hot pink is a bright color that will not help to extend the room and will actually have the opposite effect of making it seem smaller. Hot pink is a bold color that can be overstimulating, especially in a compact room where it will feel like you cannot get away from the color.