If you need an elegant and beautiful dining table that lights up the atmosphere but seems not to take much of the space, a glass dining table is one of the best options.
Here we'll cover some of the best ways to decorate your glass dining table.
Tablecloth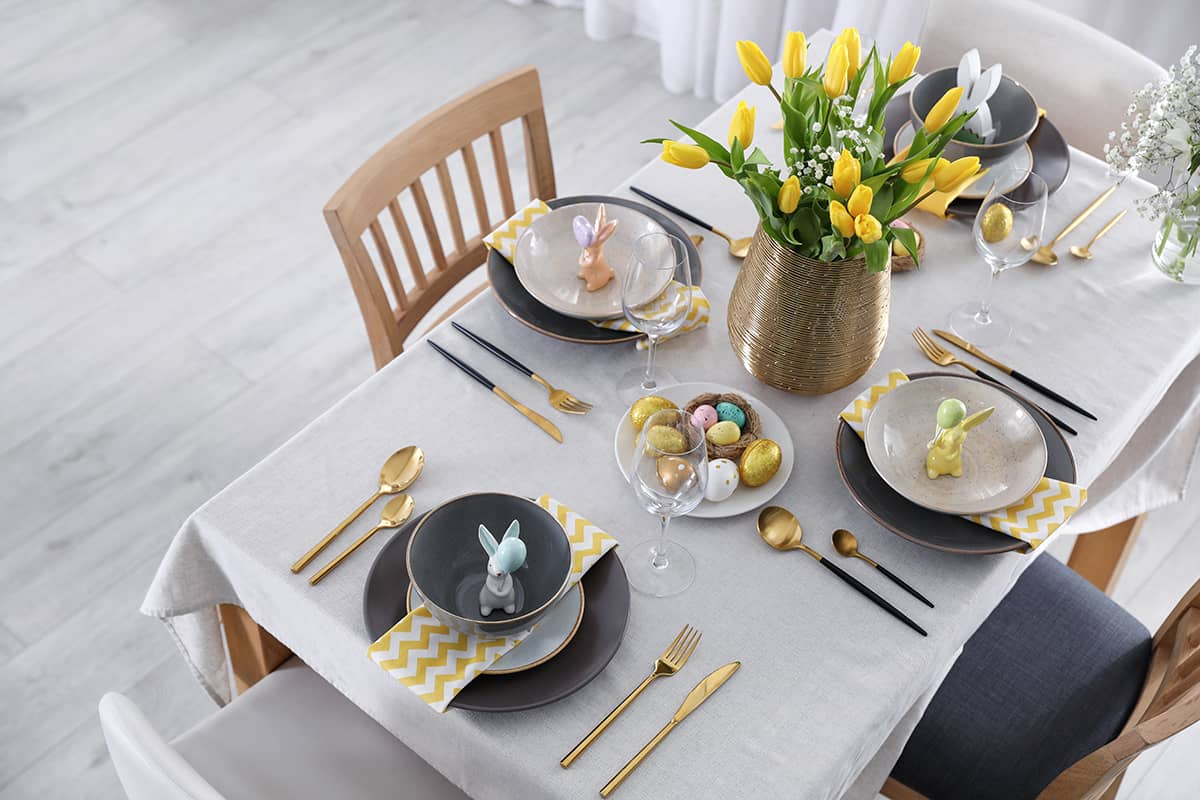 The beauty of a glass table is in the fact that its architectural design can be seen through it, and this feature will be hidden by a tablecloth, so if you don't need one for practical purposes, then it is best to avoid using a tablecloth on a glass table.; however, many people will want a tablecloth to protect the glass table from food and drink spills or even from scratches that might be sustained during use.
If you want to use a tablecloth during meal times, keep it on hand so that you can lay it just before you are going to serve dinner. This will allow you to keep the glass table clear for the remainder of the day, so its beauty can be enjoyed.
In this instance, use something very simple to decorate the dining table during the day so that you can easily lift it at mealtimes to put your tablecloth down. This could include a small houseplant or a simple vase. Once your table cloth has been positioned, lay placemats that work with your decor scheme and a centerpiece.
Runner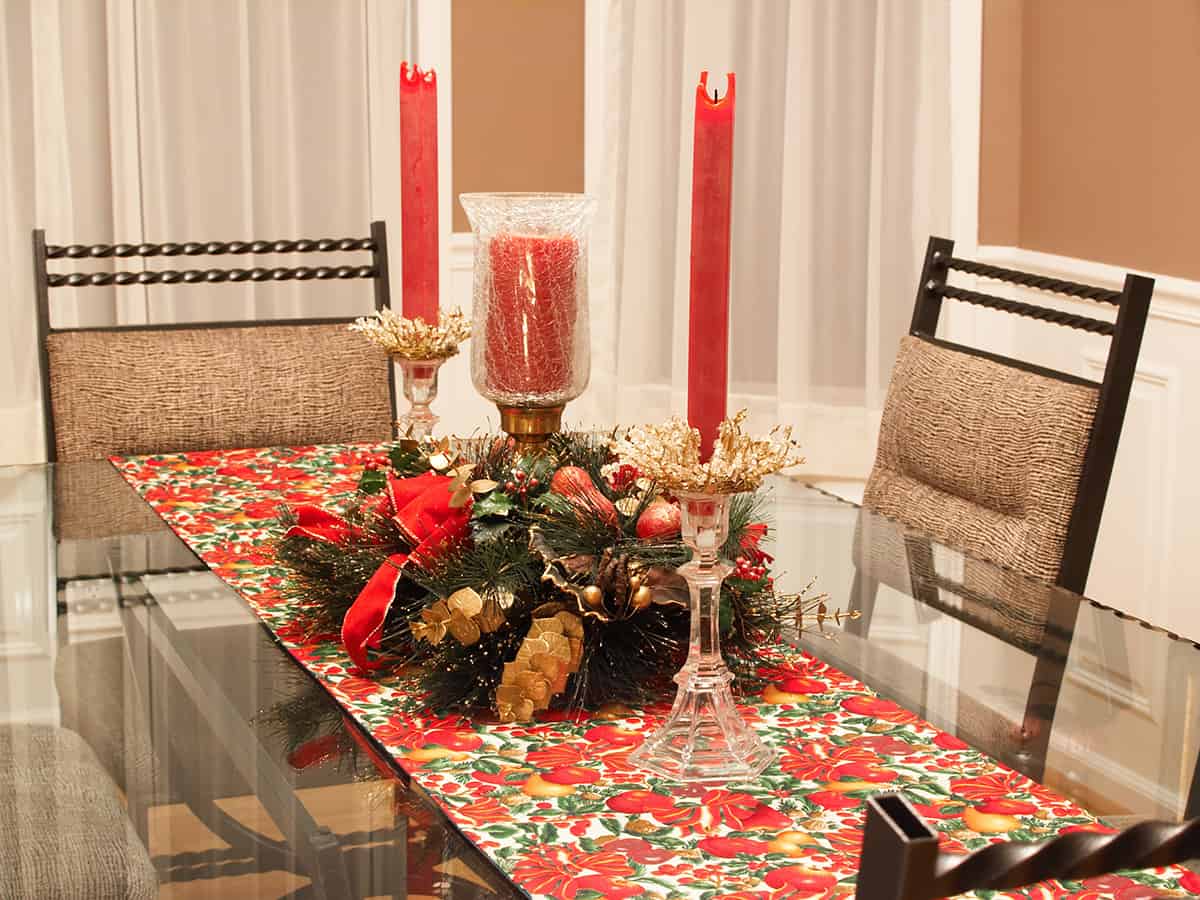 Glass tables can look really classy with a table runner because it highlights the contrast between the solid fabric and the transparency of the glass. A runner also obviously allows much of the glass surface to be seen, so it can be a nice compromise between a tablecloth or having no table protection.
Use a runner to decorate your table by choosing a color or fabric that compliments the decor in your dining room, run it along the center of the table with some fabric draping over the sides at either end, then place a centerpiece on top of it to serve as the main feature. A table runner can help to create a nice layered look which will make the table look more structured.
Houseplant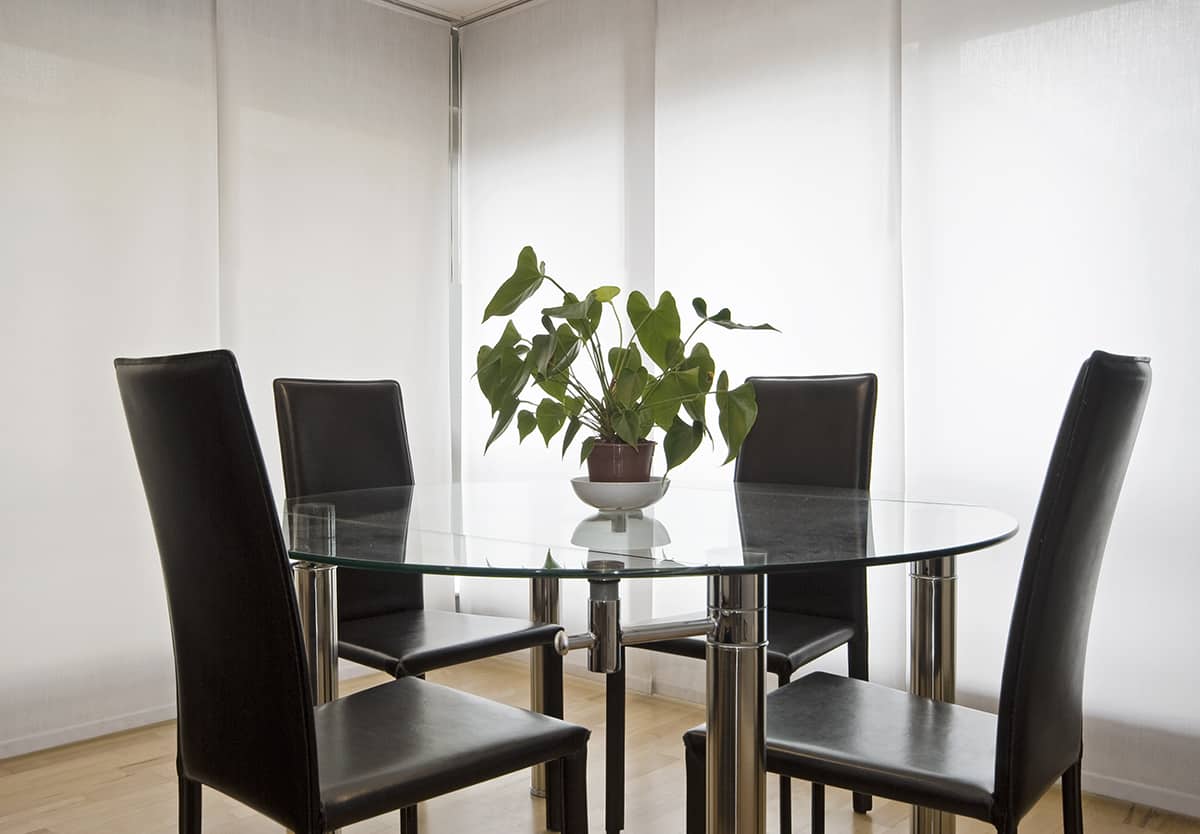 A houseplant makes a nice centerpiece for a glass table, especially in a room with a natural theme. Houseplants help to bring the outdoors in, creating a sense of life and growth in a home that may otherwise feel stagnant. If your dining room feels stale or musty, choose a living houseplant to decorate your glass dining table to help breathe new life into the space.
Houseplants also offer health benefits. For example, they filter toxins from the air and improve the oxygen content of the air. If your dining table is in front of a window, then the dining table could be the perfect place to watch a houseplant thrive.
Flowers
If houseplants aren't your thing, then choose a bouquet of flowers to display in the middle of your dining table to decorate it. You can go big and opt for a large fresh floral centerpiece, or take a few cut blooms from your garden and place them in a simple glass of water.
Faux flowers also work well on glass dining tables because they won't shed their petals when they start to die, which can be an annoyance to clean up, especially on glass which smears easily.
Candles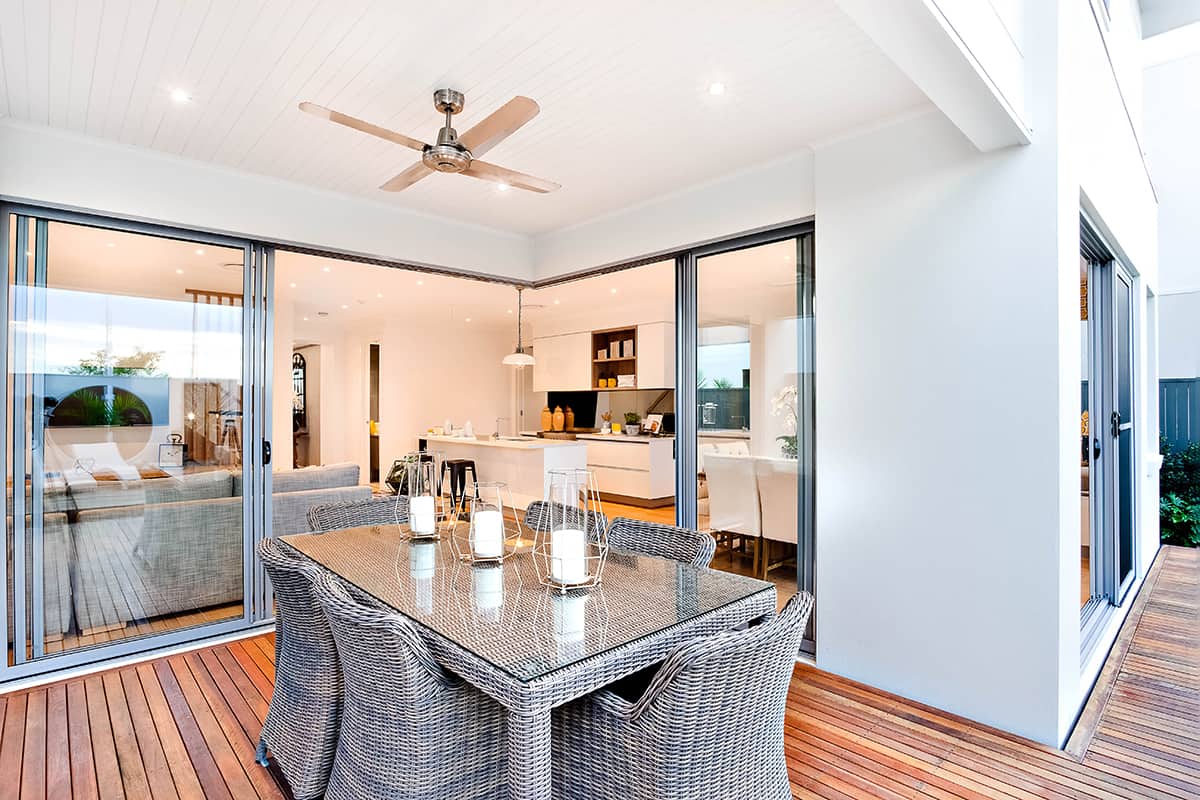 Candles can be a nice way to decorate a glass table if you want to achieve a calming and soothing atmosphere. They look elegant and sophisticated even when they aren't lit, and you can find candles that will match the color of your dining room decor to match them to color scheme.
For casual elegance, bundle up a selection of mismatching candles that are all of a similar style or shade. For example, a variety of candles in different sizes and shapes are all different shades of blue. Gather them together on a collection close to each other in the middle of a table for a homemade centerpiece.
You could place them on a tray and tie them all together with a piece of ribbon around them if you want a more structured look. Candles in candle holders as opposed to in glasses or jars can also create a stylish look on a glass dining table.
If you want a centerpiece to decorate the table, then choose a candelabra with tapered candles. This can also add height if your dining room lacks any tall furniture. On a larger rectangular glass dining table, make the most of the additional surface space and set two smaller candelabras at either end of the table on top of a table runner.
Fruit Bowl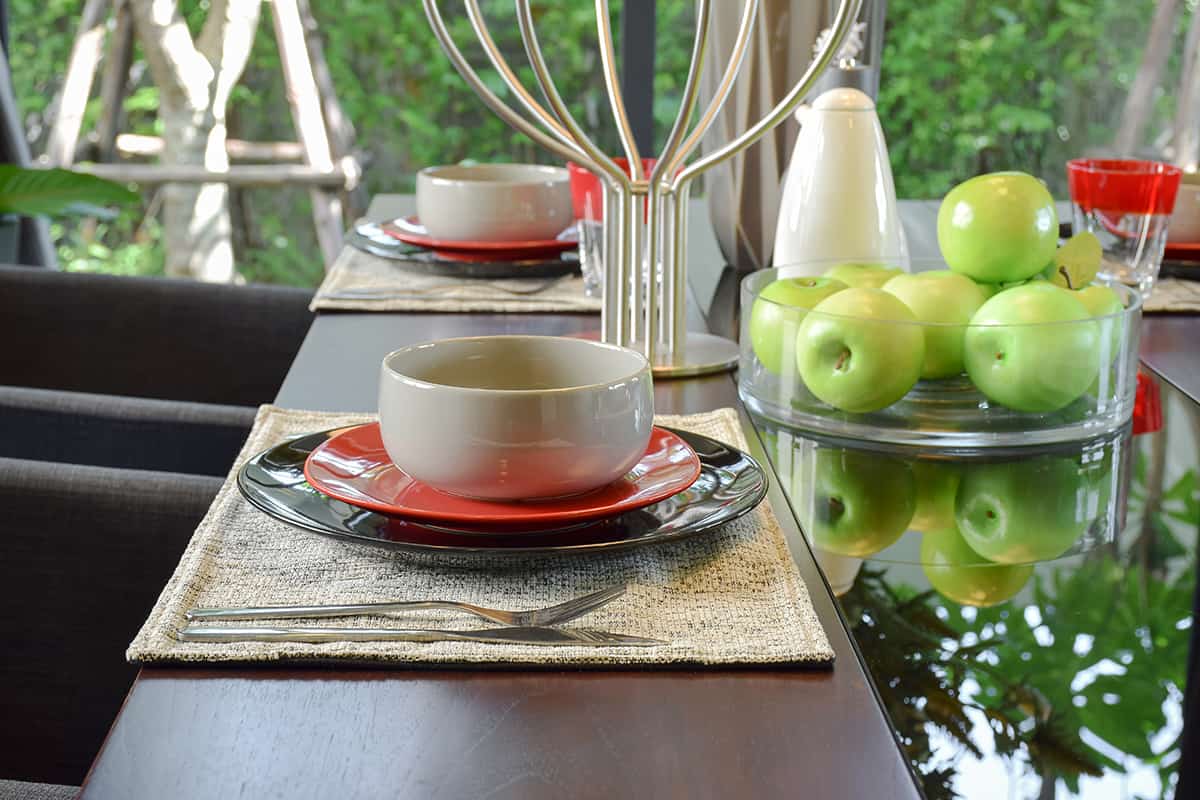 If you use your glass dining table for eating meals every day, then you might not want to invest time or money in decorating it, only to have to remove those decorations at every mealtime; however, there are ways you can make these types of dining tables look less stark when it isn't being used, and one of the best ways to do this is simply by placing a fruit bowl in the middle of the table.
This should be small enough so that it can be left on the table during meal times and therefore, it won't become an inconvenience that needs to constantly be moved back and forth from the dining table.
Having fresh fruit displayed in a fruit bow gives a cheerful and vibrant look, and it also means fruit is always on hand if you or anyone in your family want a snack to eat. Choose a glass fruit bowl to maintain a continuation of design with your glass dining table and to make the most of being able to see the fruit through the sides of the bowl.
Placemats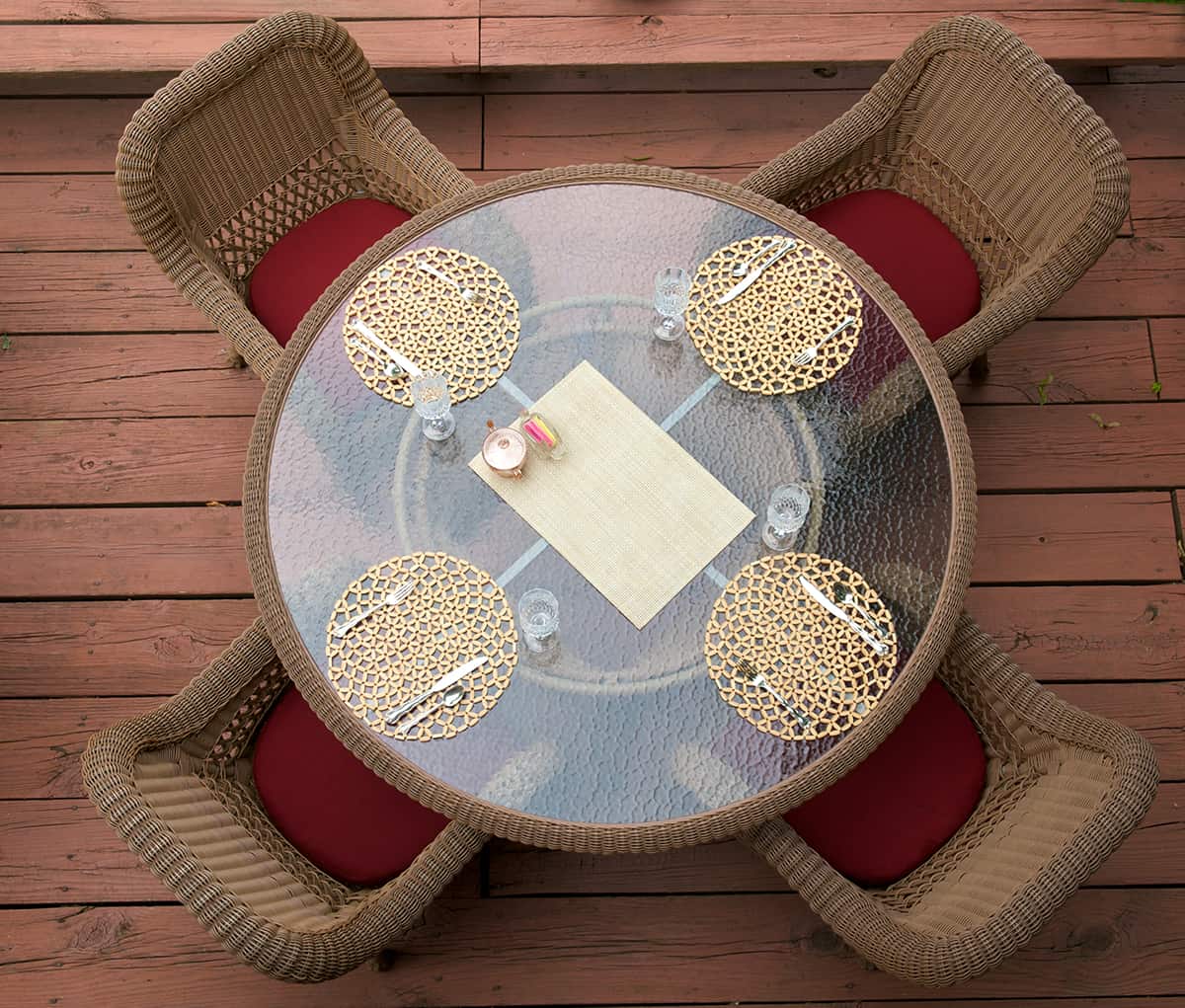 Most types of placemats can be used to decorate your table by adding color and texture to the glass. You could set placemats around the table and leave them there throughout the day to decorate the room, and then they will be ready to go at mealtime when you want to serve food.
Placemats also serve the function of protecting the glass table from spills or scratches; however, some people prefer not to use them on glass tables because it blocks the possibility of seeing through the glass, which is a feature that many people enjoy about their glass dining tables.
If you do decide to decorate with placemats, choose a color that compliments your decor and a texture in keeping with your style. For example, woven or bamboo placemats work well in a natural style dining room or marble placemats would look chic in a glamorous style dining space.
Bar Tray
A tray is a really useful piece of equipment to use on your dining table, both for aesthetics and practicality. Set a tray in the middle of your glass dining table and create a minibar.
You could display a decanter of liquor, along with a few crystal cut whisky glasses, or a bottle of wine with some wine glasses. The fact that these are on a tray will make the decoration look more finished, and it will also mean they are easier to move elsewhere if you want to use the table.
Vase
A glass dining table will look stunning with a glass vase, creating further reflections and a continuation of design. You can fill the vase with flowers if you wish, but an empty vase can also make a really nice decoration.
If you want to create a juxtaposition of materials, choose a vase made of a texture that contrasts the glass table, such as a rustic clay vase or a painted china vase.
Ensure the vase is proportional to the size of the table. If it is too small, it will look awkward, while an oversized vase on a compact table will be overpowering. Ideally, the diameter of the vase should be around a 5th of the diameter or total length of the dining table.