Whether you are looking to replace your existing garage door, or you want to freshen up your home's exterior, when it comes to garage door inspiration, nothing is off limits. From rustic wooden doors to contemporary glass designs, a garage door is a direct reflection of your home's architecture, hence it shouldn't interrupt your gaze by any inconsistent elements.
If you're seeking some great garage door ideas for your next home, you've come to the right place. Here I will give you a few pointers on how to choose the right door and show you 11 practical examples that you'll find inspiring.
Tips to Remember When Choosing a Garage Door
Color coordinate the door with your home's exterior:

selecting a garage door shouldn't be just based on its overall design. You need to pay attention to the color as the door must match your home's exterior, such as the windows and roof shingles. If you have your heart set on a particular door, find out from the manufacturer whether it can be custom painted before buying it.

Choose a material that's suitable for your climate:

while all garage doors provide a functional shelter for storage and vehicles, they need to be suitable for your climate. Fiberglass and metal are more durable than wood, but if you're after a traditional look, cedar is the material that creates a beautiful aesthetic for your home's exterior.

Select a style that complements your home's architecture:

once you've decided on the color and material of your garage door, it's time to consider the style. For example, do you want the door to have windows? If the answer is yes, then take a look at the style of your home's windows as the garage door you choose should have similar window styles.

Is your home traditional or modern?

Remember that the door you choose must mimic the architectural details of your home, otherwise it will stand out – and not in a good way!

Your garage door must have all the necessary safety requirements:

just like the front door of your house, your garage door must have all the safety requirements in order to protect your belongings and vehicle. Look for side-hinged, sectional, or roller doors as they are arguably the most secure types of garage doors.

Think practical:

a garage door should last for many years so it may be worth looking beyond the aesthetic beauty of the door and opting for a low-maintenance model that requires minimal upkeep.
There is no doubt that garage doors improve curb appeal and enhance your home's exterior, but they don't need to be flashy and expensive. To help you select the right design for your home, here are 12 examples of practical garage door ideas with pictures that will inspire you.
1. Mediterranean Style Door for Added Appeal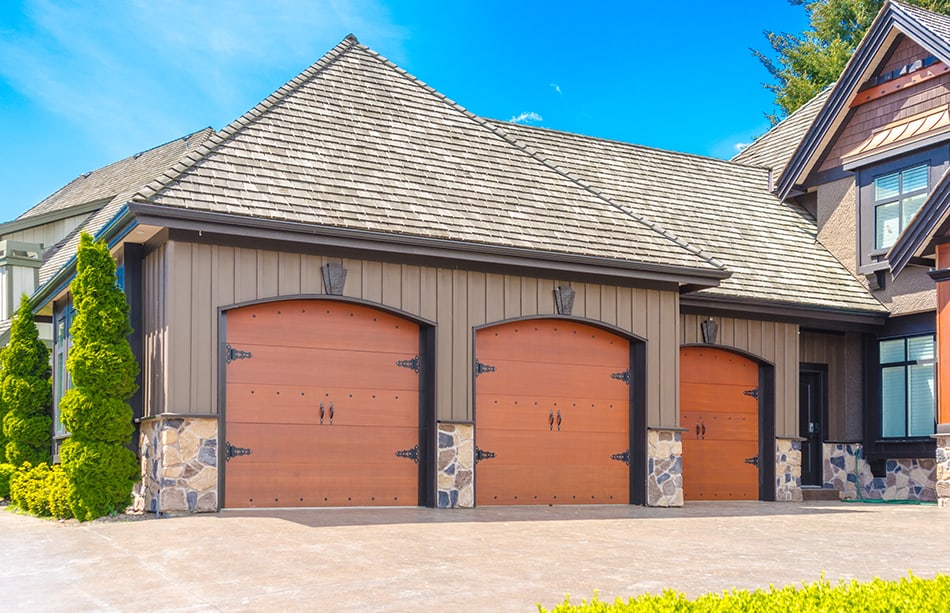 To complement the surrounding environment of a traditional home, an Iberian or Mediterrean style garage door is the perfect way to achieve this. Think soft, wooden tones with Spanish-style arches, rustic metal hinges and handles. This type of design enhances the overall features of the home and completes the look as you can see in this image. 
2. Door with Windows for a Sense of Welcome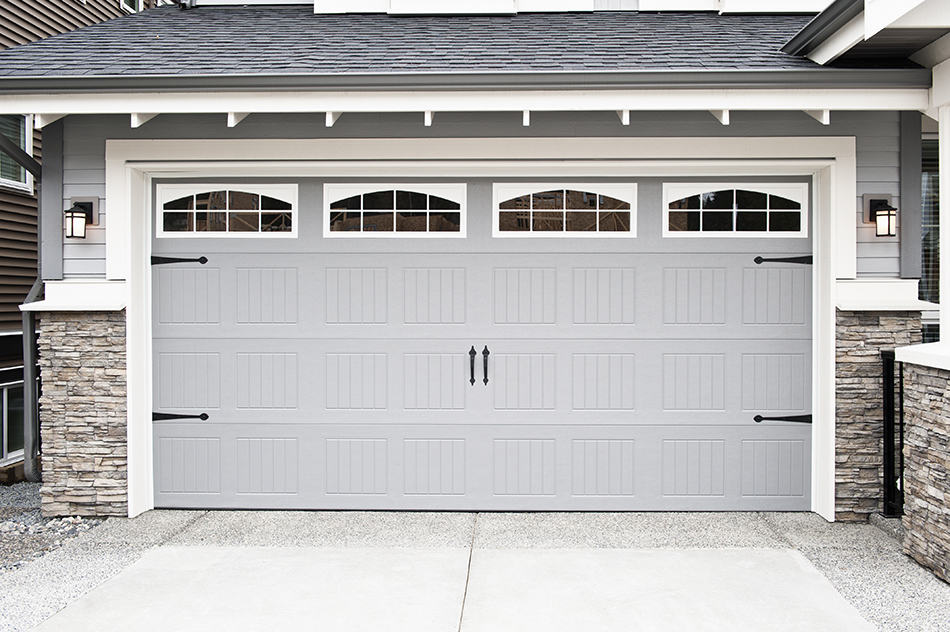 A garage door with windows adds a sense of warmth and welcome to a home. Windows make the door look unique and enhance the home's visual appeal. But they also serve another functional purpose; they allow natural light to enter the garage so you'll no longer need to look for your car keys in the dark. Since there is an array of door designs available, you can choose windows that will match your home style as well as the climate you live in. For example, the impact resistant windows are ideal for those who live in hurricane-prone areas. No matter whether you live in a modern or traditional house, investing in a garage door with high-quality and attractive windows can benefit you in many ways. 
3. Translucent Panels for Extra Lighting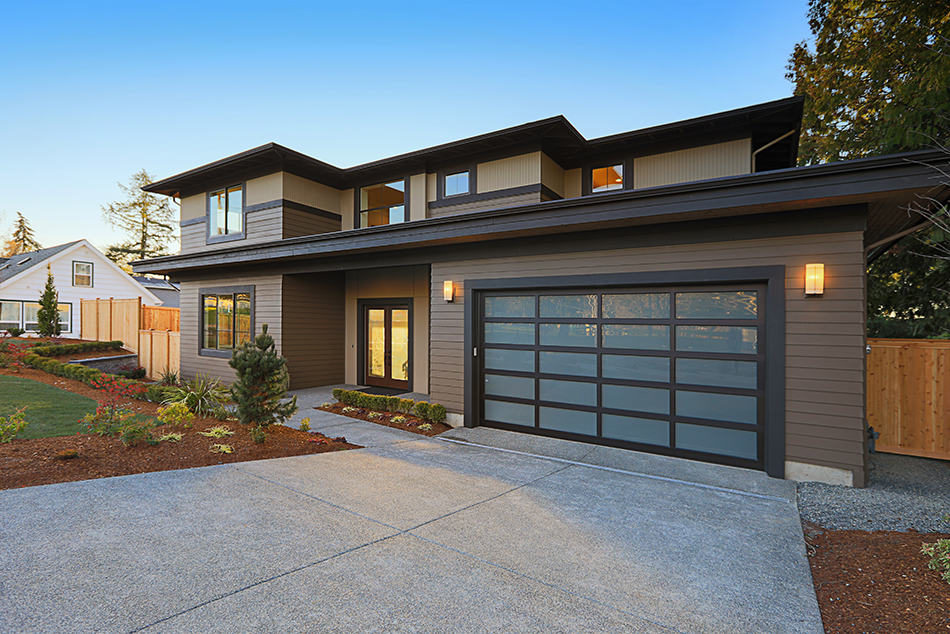 Most contemporary homes have large windows that allow plenty of natural light to enter the rooms. If you live in a modern home that's bright and airy, your garage should not be left out in the dark. Consider natural lighting for the garage area as you may want to use this space for storage or work not just for your car. The solution is to opt for translucent glass panels that are built into the door. These types of panels not only give the space the extra lighting it needs, but they also create a modern and unique touch. For added security and privacy, choose frosted panels that are non-transparent. 
4. Carriage Style Barn Door for a Traditional Touch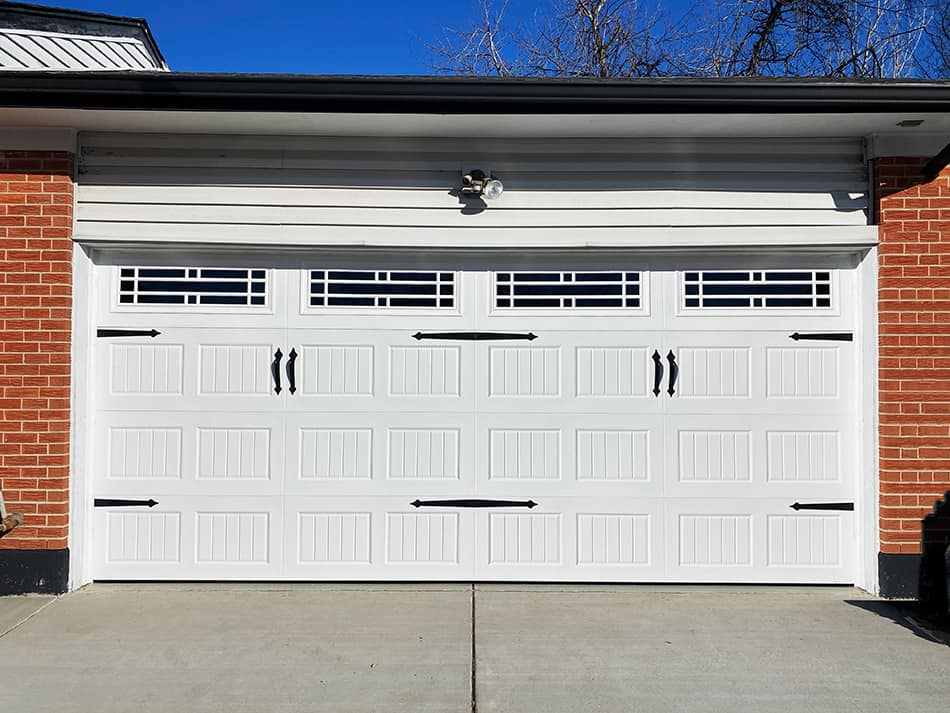 The earliest garage doors were made of stained wood in horse stable style that were designed to shelter means of transportation and tools. Carriage-style doors have evolved over the years, with better quality materials and a stylish appearance. In this example, you can see a modern version of a carriage-style garage door with metal hinges and handles. But if you're looking for something more traditional for your country farmhouse, barn doors will be the perfect option. Just like this paneled garage door that features small windows above it, the barnlike look can easily be achieved with any color that goes with your home. 
5. Fiberglass for Modern Exteriors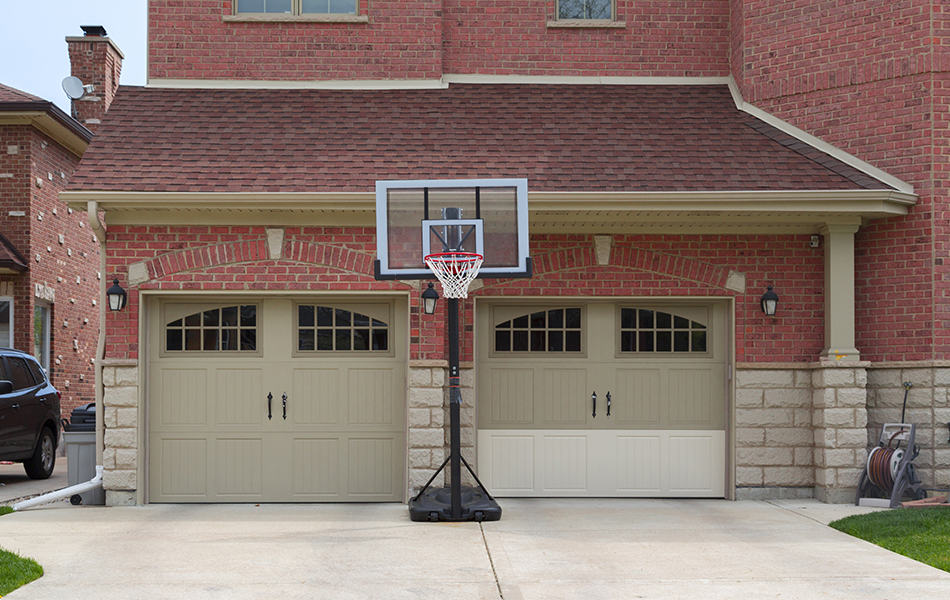 Fiberglass garage doors are perfect for any modern home. This tough and versatile material comes in various sleek finishes to complement your home's exterior. Fiberglass is super easy to clean and maintain, thus making it an ideal option. Here, the brown fiberglass garage doors with upper windows match the red brick exterior of this modern home beautifully. This is a great example of how you can incorporate this type of garage door into a twenty-first century property. 
6. High-Quality Cedar for Curb Appeal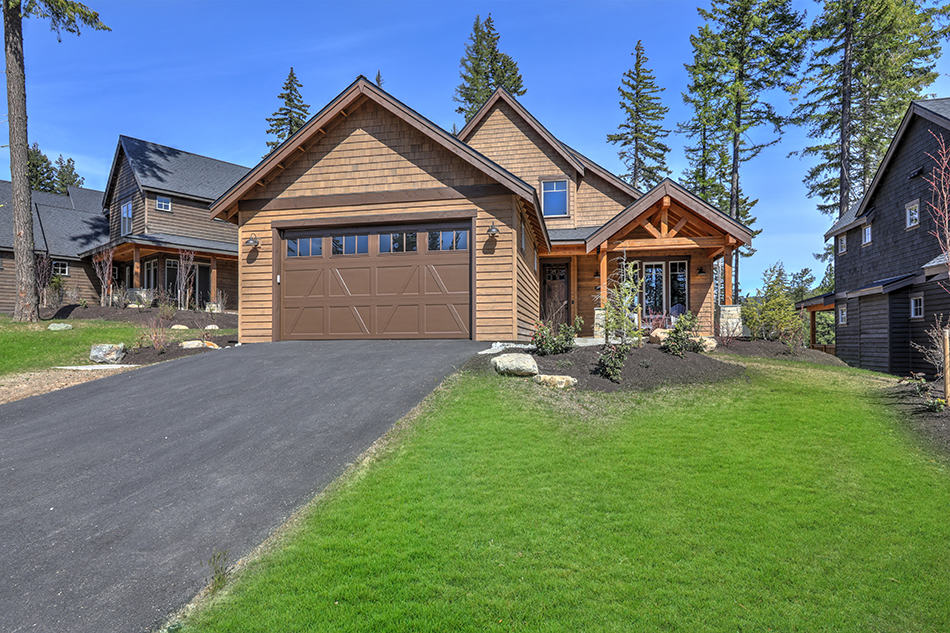 Who doesn't love wood! Whether you choose this material just for the door frame or the entire door itself, there is no denying its unmatched inherent. For rustic exteriors, consider cedar garage doors as this type of wood is highly durable and aesthetically beautiful. Be sure to add some metal hardware to enhance the look. Keep in mind that high-quality wood is more expensive than metal, but the character it gives to your home is priceless. Another alternative to cedar is oak, which is just as long-lasting and appealing. No matter which type of wood you choose for your garage door, it is sure to bring some curb appeal to your home. 
7. Metal Door to Last a Lifetime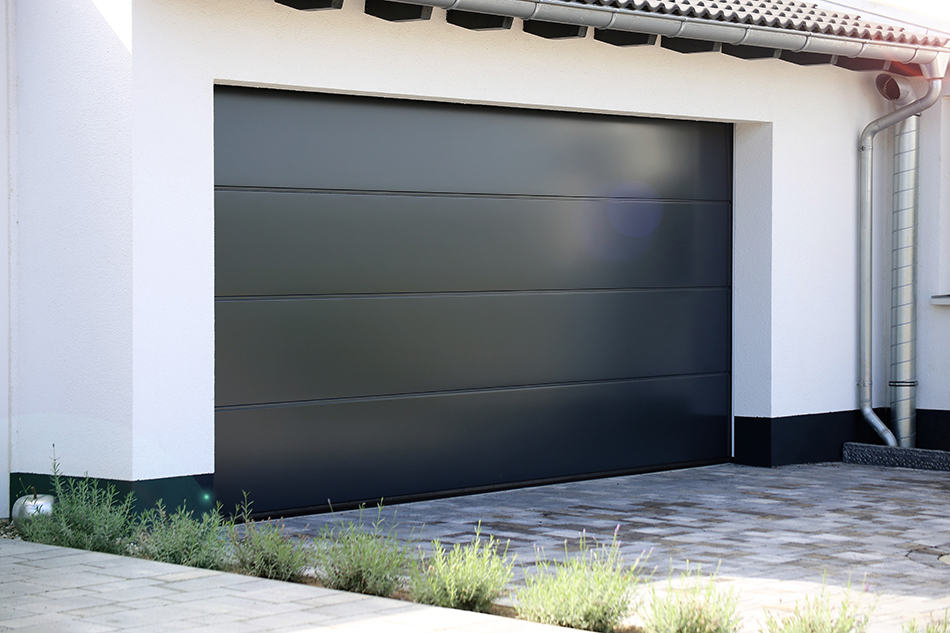 Depending on your property's location, a lightweight metal garage door can be an ideal choice. For homes that are prone to hurricanes or tornadoes, steel is the best option as it's highly resistant against high winds. Older properties can especially benefit from metal garage doors because of their longevity. Metal doors, such as aluminum are lightweight and durable. The modern versions come in a variety of different colors and styles to match your exterior. In this example, the dark-color sectional door works very well with the black and white exterior of this property. 
8. Decorative Door Features for Traditional Exteriors
Traditional homes need distinctive features to make them stand out. When you have double or triple garages, why not frame the walls around them in ivy or hanging plants for added elegance. A pair of sophisticated metal lights on either side of the garage doors will complete the look as shown here.  
9. Arched Garage Door and Matching Window for Uniqueness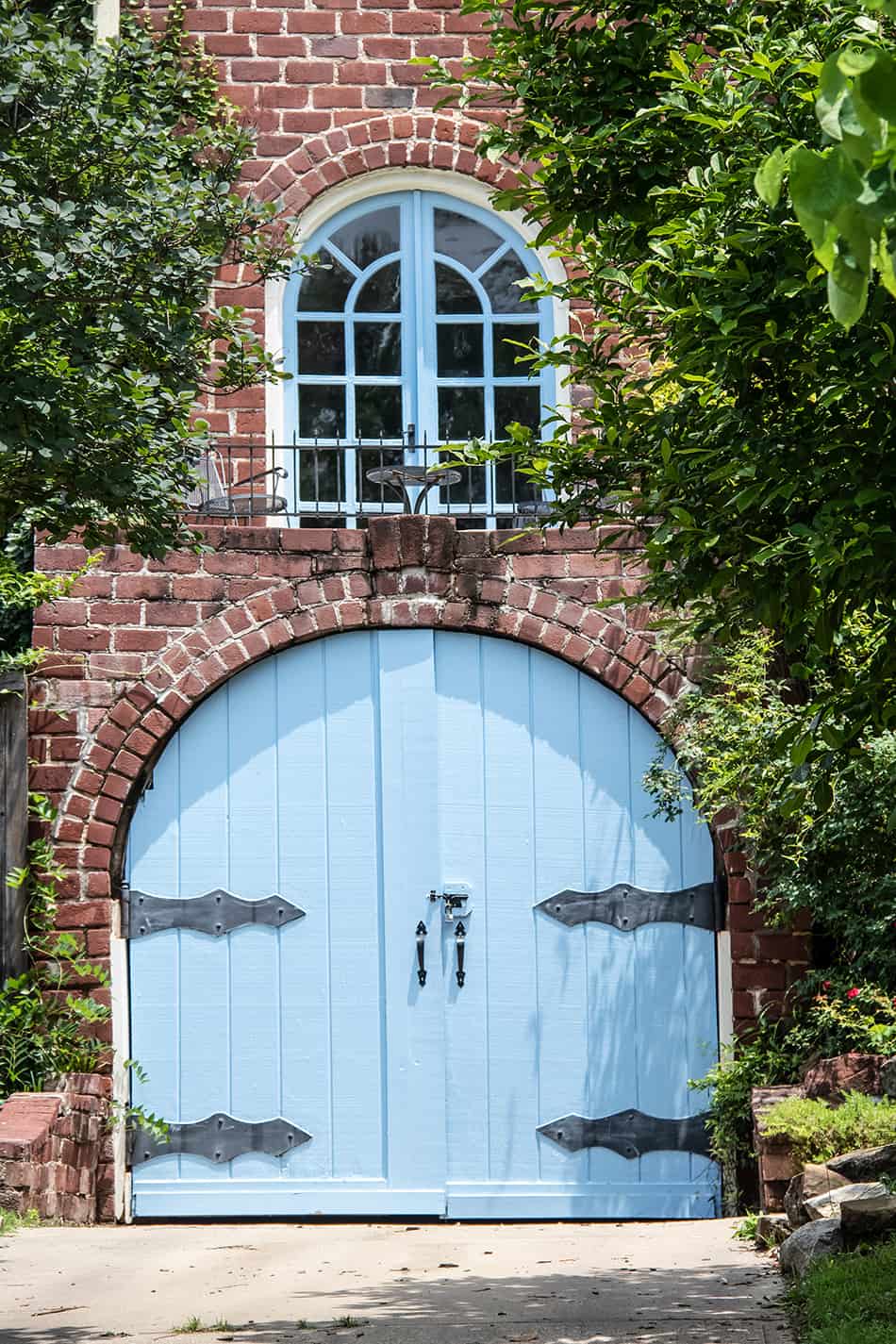 Arched garage doors are simply stunning. Just as shown here, the arched blue garage door with its huge ornate hinges has created a unique look, which complements the matching arched blue window.The stunning character of this door stands out against the red brick exterior.  
10. Custom-Designed Garage Door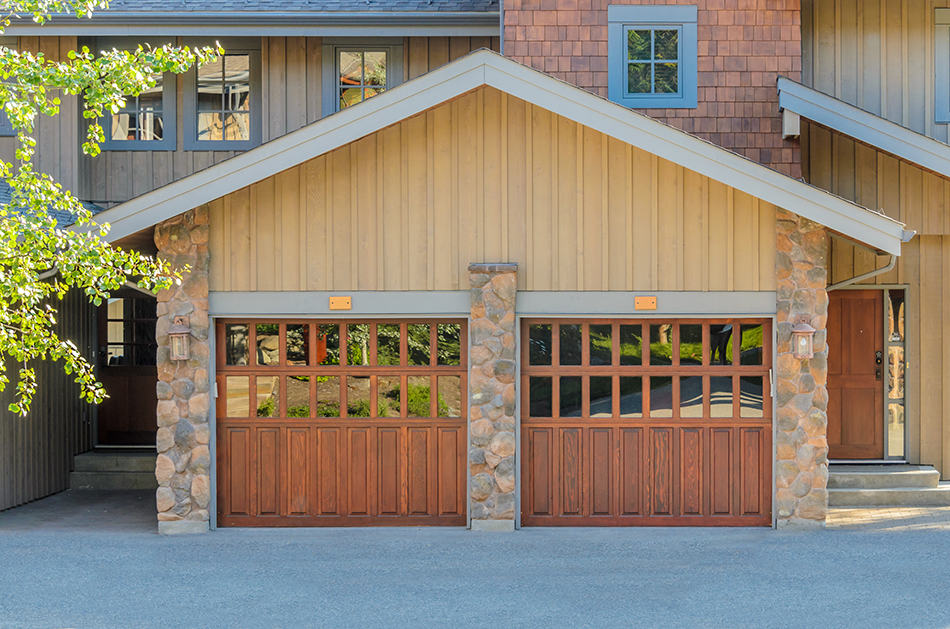 Custom garage doors have a stunning effect on a property's exterior, especially when they're accented with wrought-iron hardware or large French-style windows. In this image, the custom-designed garage doors are made of wood in the color brown to reflect this luxury property's exterior. As an alternative (and cheaper) option, you can have your custom-designed doors in metal. 
11. Dazzle with Matching Details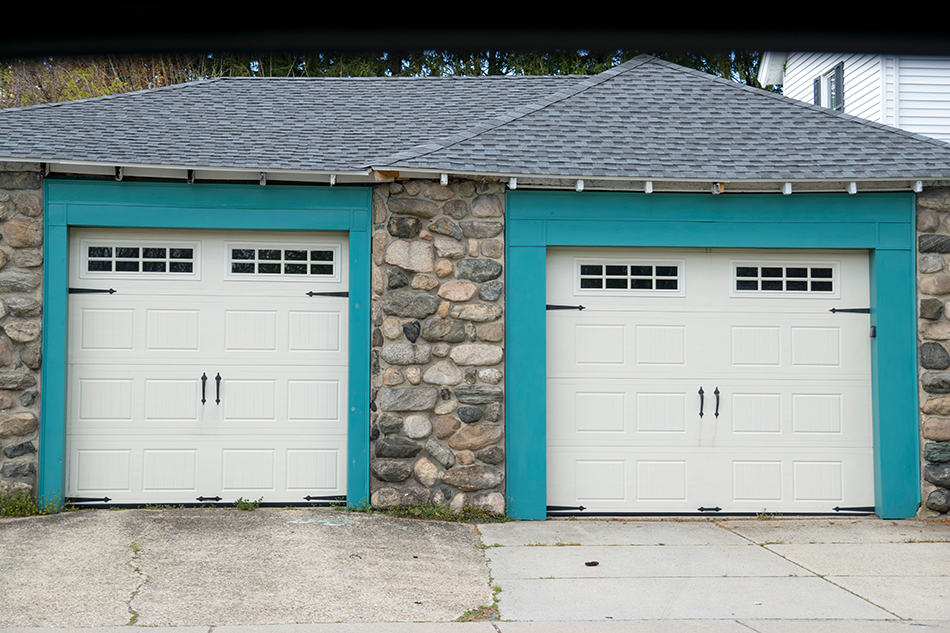 When you have a double garage, make them stand out by using bold color framing to echo your home's beachy exterior. In this example, the stone exterior of the property perfectly matches the blue framed white garage doors with paned windows. Doesn't it look as though you're right on the beach!