A well-positioned end table keeps a delicious snack, refreshing beverage, TV remote, or favorite book within arms reach. But we don't only buy end tables for their practical use.
We love how they beautify and decorate our homes and contribute to the enjoyment of our sitting rooms. If you're looking for a new side table, read on to learn more about the different types you can find.
Types of End Table Design Styles
Nesting End Table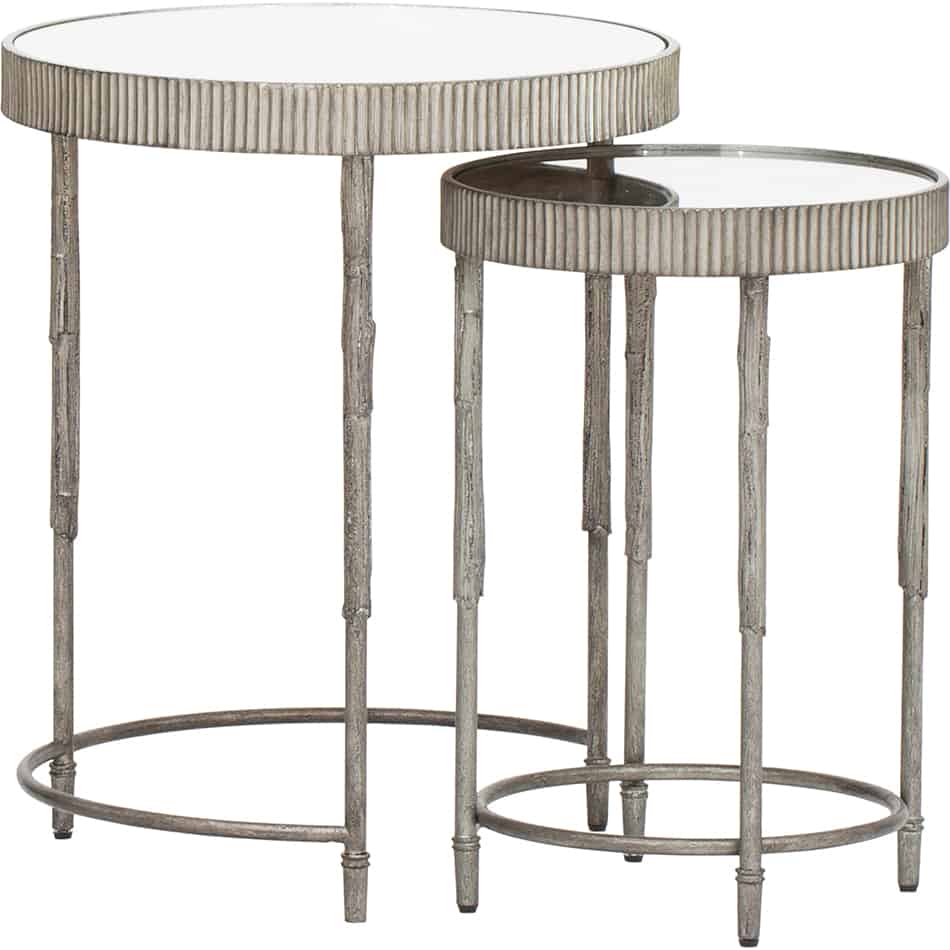 Nesting tables can be found in many shapes and sizes but tend to be mainly square or rectangular because these shapes stack easily and neatly. Using nesting tables as your coffee table or end table has two main advantages.
Firstly, they are incredibly versatile. You get two (or three) tables in one, and you can increase or decrease your table space according to your needs. Second, because the tables sit neatly one under the other, you don't need double the space to store them when they're not in use.
Nesting tables are a great end table solution for modern homes, but they're not just about functionality. Each table can be styled and decorated with a lamp, a few books, or others to create a beautiful focal point in your room. Each table can be styled and decorated with a light, a few books, or other ornamental trinkets to create an attractive focal point in your room.
Drum End Table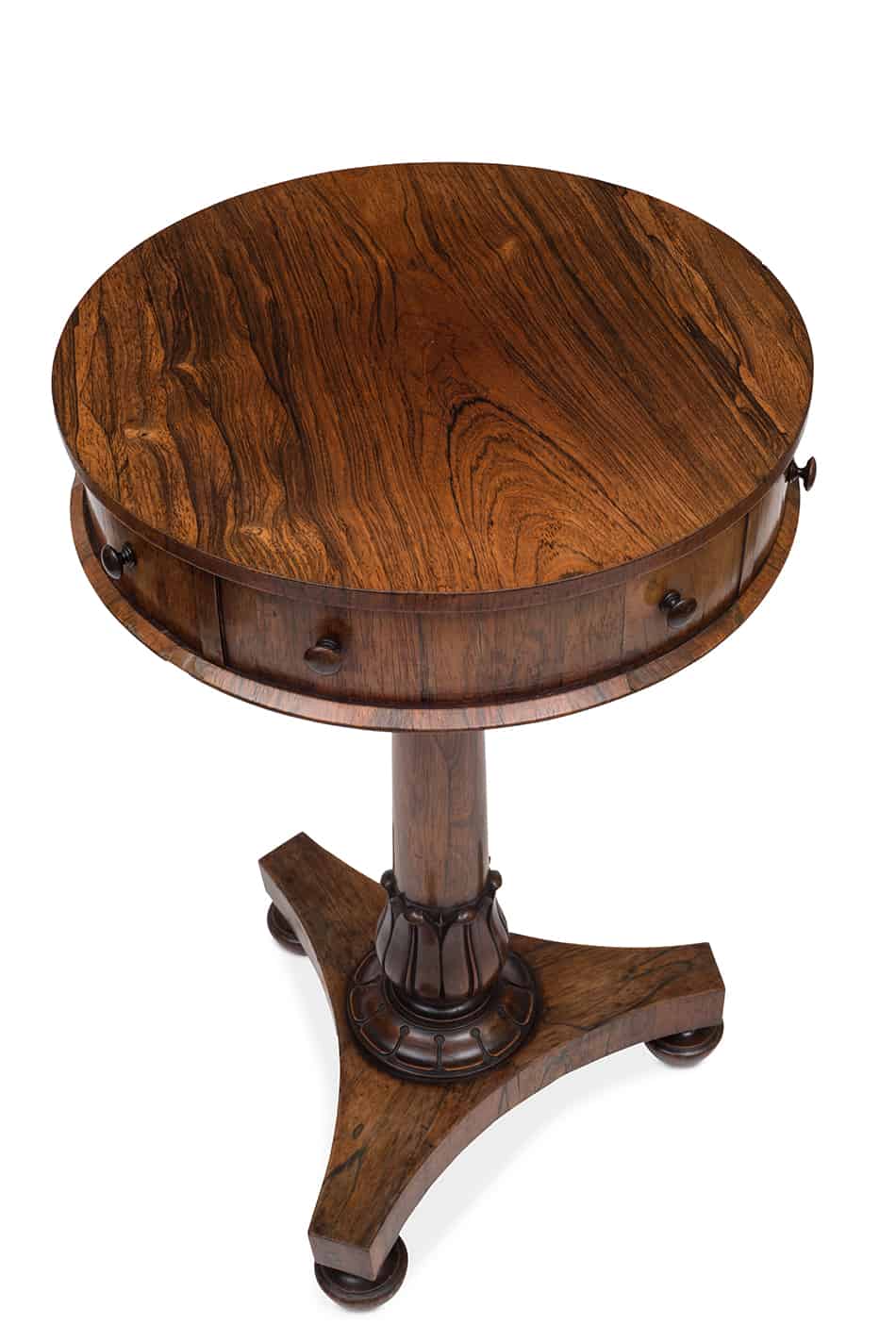 Drum side tables are modern, solid, and sturdy. They're also compact, thanks to a cylindrical silhouette that makes them ideal for small spaces. Drum end tables are usually solid wood or metal, but this doesn't mean they have to feel heavy or look plain. Traditional wooden drum tables are given a contemporary twist when decorated with intricate designs and carvings.
While metal tables with hammered markings can be a great industrial accent piece. A decorated drum side table is just the thing to add texture and style in a minimalistic room or one that has simple, pared-down furniture.
Drum side tables are modern, solid, and sturdy. They're also compact, thanks to a cylindrical silhouette that makes them ideal for small spaces. Drum end tables are usually solid wood or metal, but this doesn't mean they have to feel heavy or look plain. Traditional wooden drum tables are given a contemporary twist when decorated with intricate designs and carvings.
While metal tables with hammered markings can be a great industrial accent piece. A decorated drum side table is just the thing to add texture and style in a minimalistic room or one that has simple, pared-down furniture.
C-Style End Table

C-tables are a relatively recent addition to the array of side tables you can choose. Their innovative and simple design features a cantilever base, usually made from metal, supporting a tabletop that can also be made from metal or other materials like wood. The table base forms a "C" shape, so the table is aptly named.
C-tables are right at home in contemporary settings, and their function is ideally suited to our modern lifestyles. If you're like me, you probably also enjoy relaxing or working on your laptop while seated on your couch but find it uncomfortable having it on your lap.
A c-table is an excellent resting place for your device since the bottom of the base can slide under your couch, and the tabletop comes up and over it. Alternatively, you can rest your plate or beverage on the table, leaving your hands free to hold a book or magazine or to tap away on your smartphone.
Trunk End Table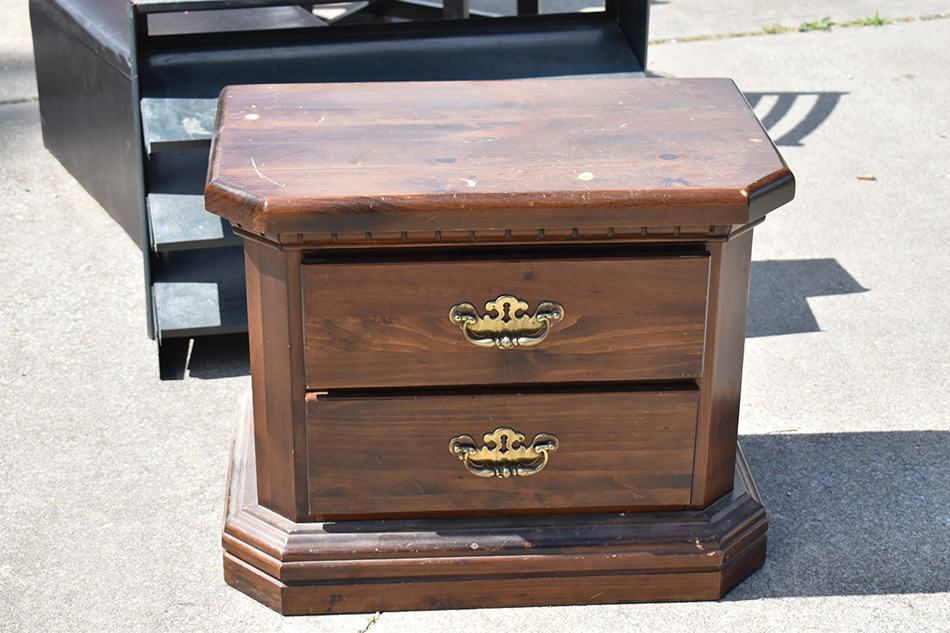 Are you the kind of person who likes trawling garage sales and antique markets for that perfect find? Then you're also probably the type of person who'd love the vintage charm of a trunk side table.
Trunk end tables are ideal if your decor aesthetic is a little offbeat and also a great furniture piece with storage. For lovers of craft or DIY projects, they're a fantastic way to upcycle or repurpose old trunks and large suitcases while creating a personal, unique, and money-saving furniture item. Of course, you can also find many trunk side table styles online or in stores.
In addition to its standout appeal, using a trunk as an end table has other benefits, too. The inside of the trunk can be used as storage for blankets, books, or documents, so you can keep your sitting room free from clutter.
Tray-Top End Table

If the first picture that comes to your mind when you think of a tray-top side table is a cheap plastic tray resting on spindly foldable metal legs, you're due for an update. Tray-top side tables have moved on from the 50s TV dinner table. They're now not only modern but are stylish enough to want to have as a permanent feature in your sitting room, and one you'll be happy to show off to your friends when they visit.
Today's tray-top tables are made from high-quality materials. They are available in different shapes and countless traditional and contemporary designs. You can find models that feature table legs or pedestal stands in elegant brushed metals with round wood or metal trays. Others combine a C-style base topped with a square or rectangular table.
Clearly, tray-top tables are a favorite among homeowners because of their versatility. Some side tables feature table trays that can be fixed or removable. With the removable tray, you have even more convenience because you can take them off the base, sit them on your couch or move them for use in another room.
Types of End Table By Shape
Square End Table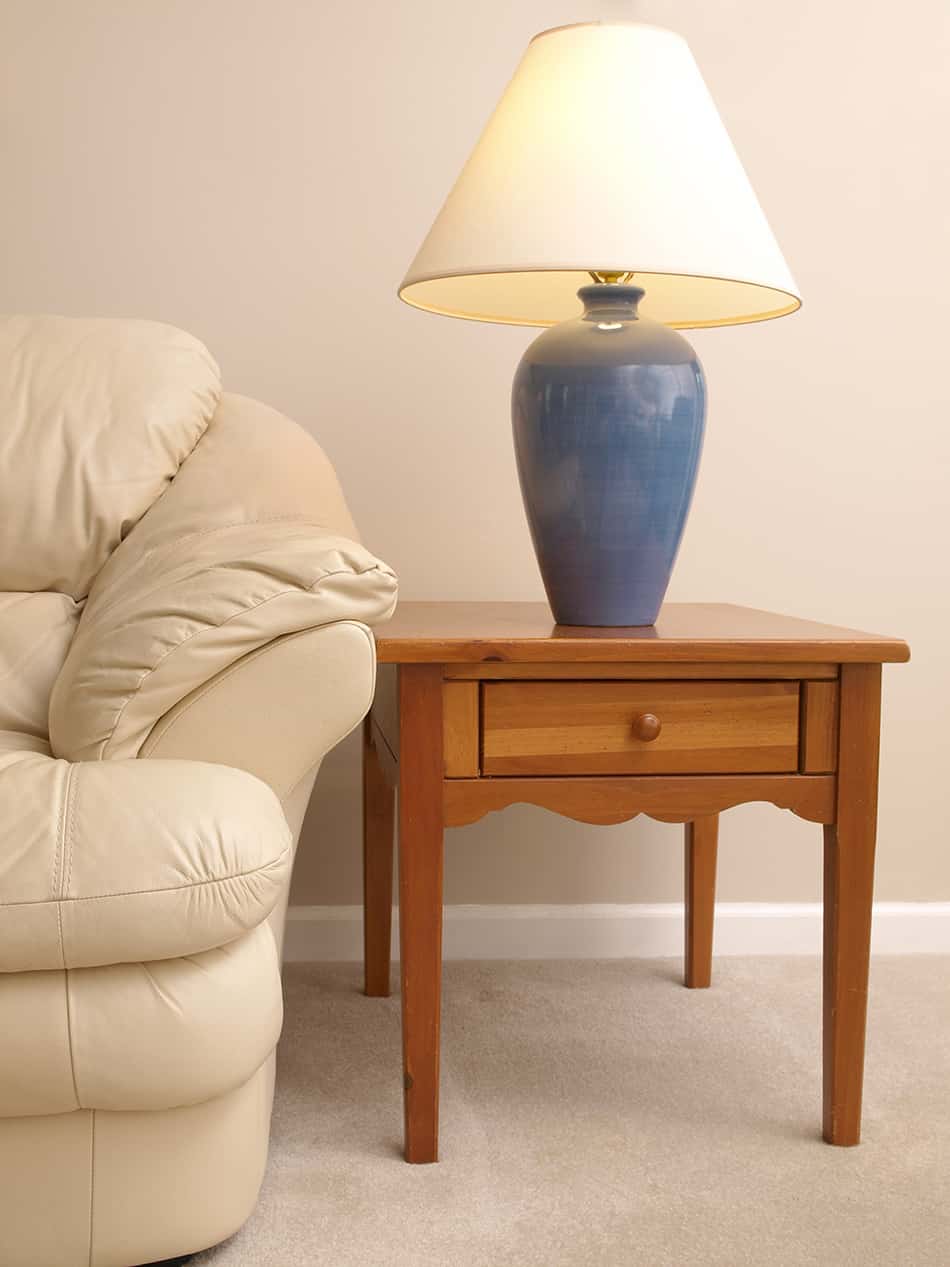 The square is perhaps the most common style for an end table. It's a classic shape and is popular because it uses space efficiently. A square-shaped table can easily fit between furniture items and can sit flush against a sofa or chair.
So, if you're tight on space and think you can't have an end table, you might be surprised to find that you can slot a small square table in that bit of space, and you'll still have enough room to walk around it. A square table can be a solid cube or open under the tabletop to store items like books or a TV remote.
Rectangle End Table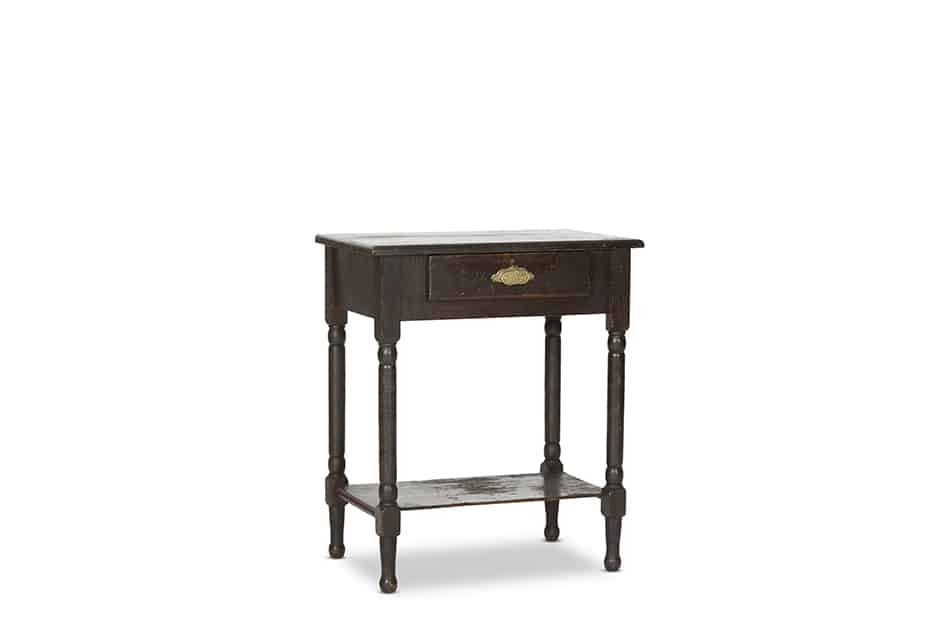 Like a square end table, a rectangular one works well in a room where space is an issue. However, rectangular end tables have one significant advantage over square tables – they can be designed to be slim. So, they can fit into narrow nooks, and you'll still have just enough tabletop space to put a cup of tea or a small decorative potted plant.
Due to its slim design, it may be ideal to pair the table with one chair or place it along with one armrest of a couch, as the table can quickly get crowded when shared. Some rectangular side tables have extra storage in the form of a drawer or multi-level shelves.
Triangle End Table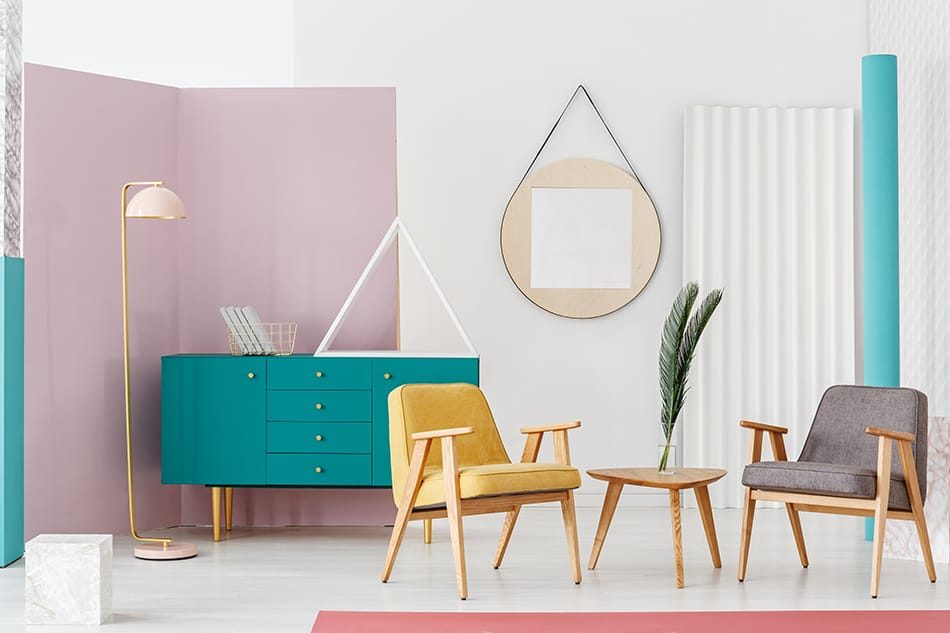 Thanks to their unusual shape, triangular-shaped tables are eye-catching and add a modern touch to your sitting room. You'd think a triangle end table would be all sharp corners and straight lines. But in many designs, the table's appearance is softened with rounded corners and curvier lines.
A triangular-shaped table won't fit neatly between furniture or against a wall as a rectangle or square. But that's ok because this table is meant to stand out! A triangle end table looks great between two armchairs placed in an L-formation or placed in the corner of a room.
Oval or Round End Table
Similar to a triangular-shaped table, an oval or round end table draws the eye. It can break the monotony or add softness to a room dominated by furniture with straight lines and edges, like many contemporary-style couches.
Unfortunately, a downside of having a round table is it can leave gaps between your furniture that you feel may be put to better use. If all you have is a corner space for an end table, a circular one may not be ideal. However, you can find designs where one or two curved sides can conveniently be folded down so the table can be pushed flush against a couch.
Freeform End Table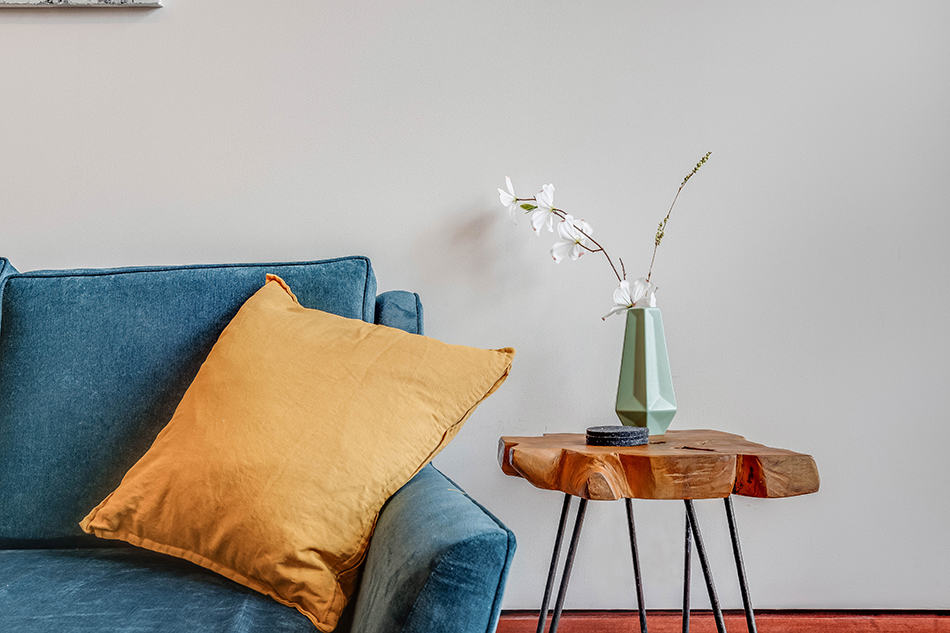 If you're looking for an end table with an out-of-the-ordinary design, one with a freeform shape ticks the box. Wood is one of the best materials to make a freeform end table. Instead of cutting and shaping the timber into neat blocks for a tabletop or using it to build a traditional table, the natural shape of the wood is used to create a rustic and striking design.
Some wood freeform end tables are made from a section of a tree trunk that's been cut horizontally. The cut edge is then sanded and varnished to form a tabletop.
The beauty of this type of end table lies in its uniqueness. It's just the thing you need if you want to bring a bit of the outside into your home. Other natural and synthetic materials, like stone, steel, or plastic polymers, are also used to make freeform end tables.
Half-Moon End Table
Half-moon end tables comprise a tabletop shaped in a half-circle, resting on three or four legs. Modern variations of the table's design can also feature a metal frame support that mirrors the tabletop's half-moon shape. In contrast to fully round-end tables, the half-moon side table is useful because it can be placed flush against the wall or along the straight edge of your sofa.
They're a great option if you don't want to compromise on the softness of a curved silhouette by opting for a more angular shape. They're also ideal as nesting tables. They look arty and chic when two halves are placed with the straight edges facing each other, forming an asymmetric full circle.
Types of End Table Materials
Wood End Table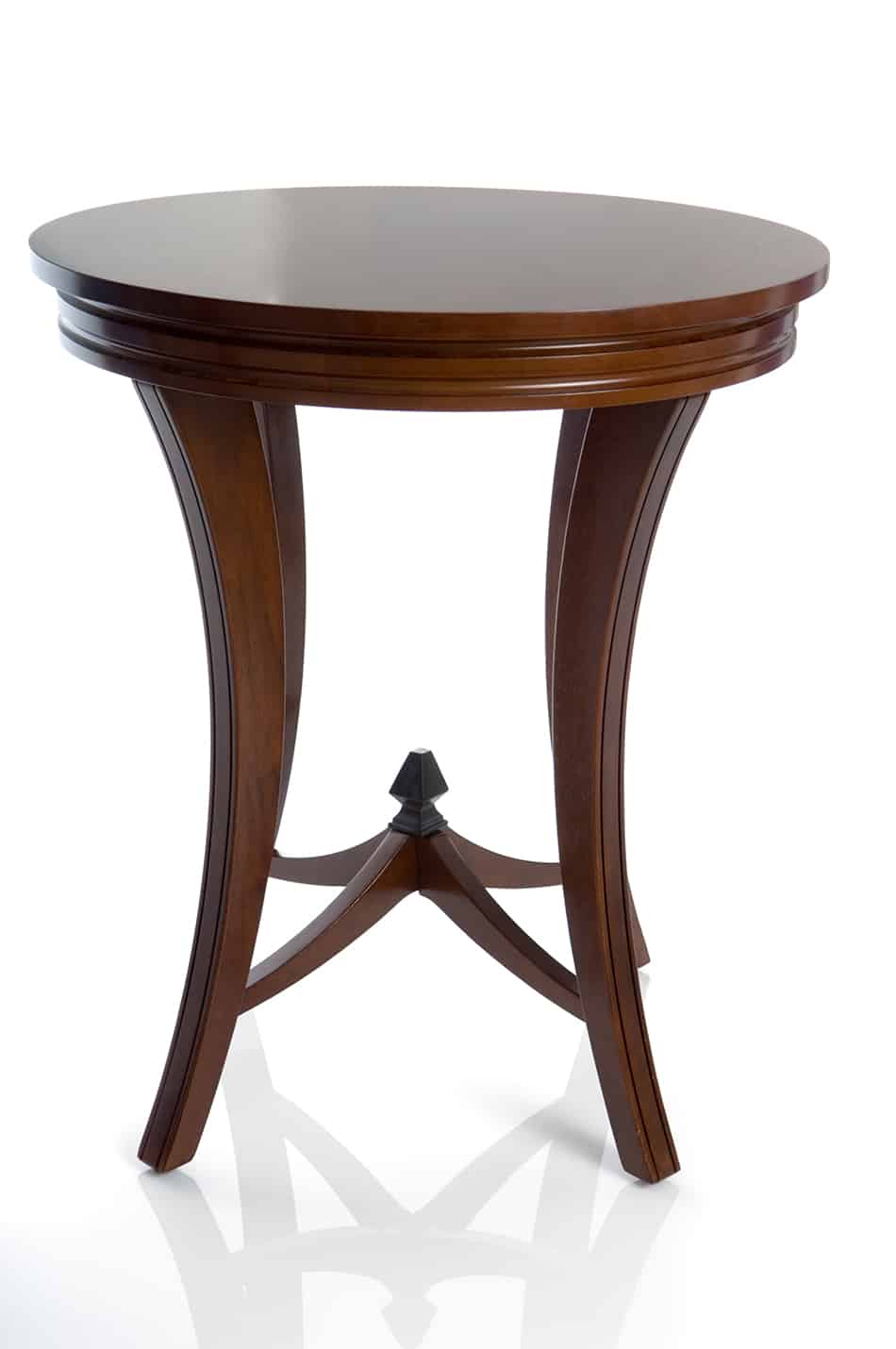 Durability, strength, and natural beauty are some of the reasons why wood is an excellent material for manufacturing end tables. Traditional choices are hardwoods like maple, oak, and mahogany and softwoods like pine.
However, much of today's mass-produced side tables are made from engineered plywood and wood board. In addition to being used indoors, wood side tables are also a suitable option for outdoor use, provided it's treated with a sealant to protect it from the elements. A wooden end table adds warmth and comfort to your sitting room and is an enduring classic that works with home décor of any style.
Glass End Table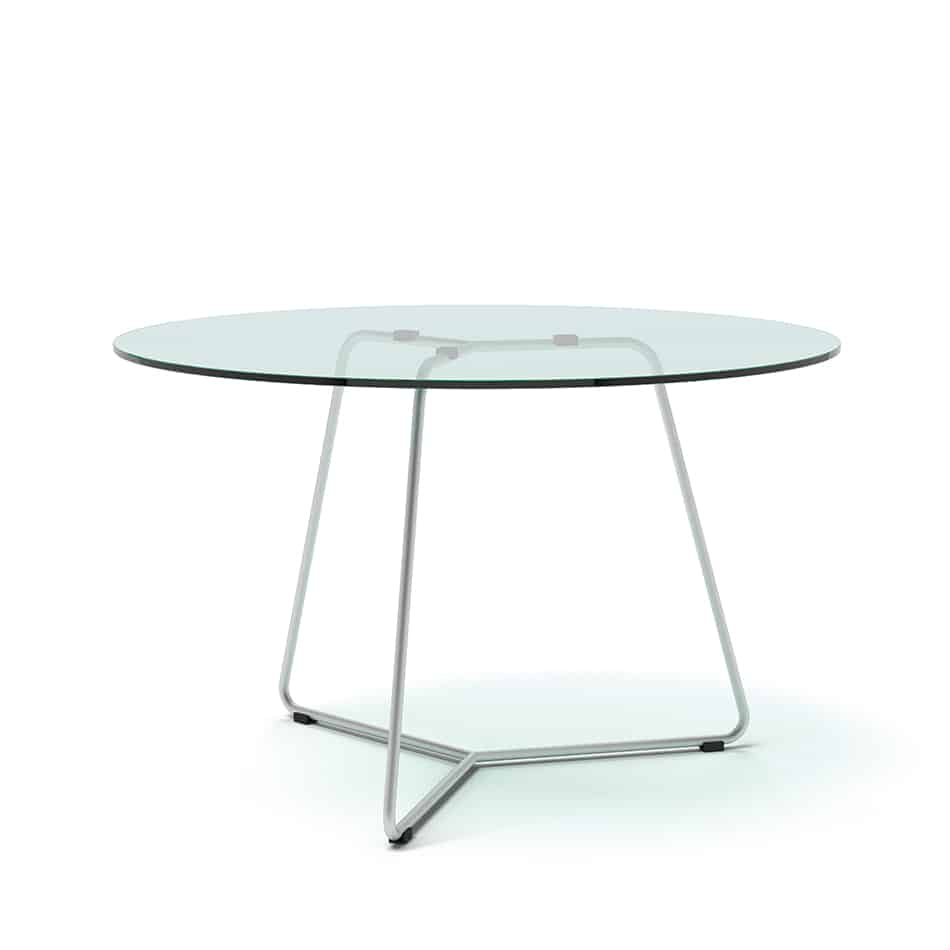 Glass lends an air of class and elegance when used in home decor. Glass end tables are a stunning accent. They are noticeable in sitting rooms with a modern aesthetic and trendy furniture, such as low modular couches. While clear glass is timeless, colored glass can be unexpected and striking.
A colored glass side table can add a spot of brightness in a dull room or draw the eye to a favorite section of the room. For an even more luxurious and attention-grabbing look, the reflective surface of mirrored glass does the job. When paired together, glass and wood create a traditional-meets-modern contrast that works well in transitional-style side table designs.
Metal End Table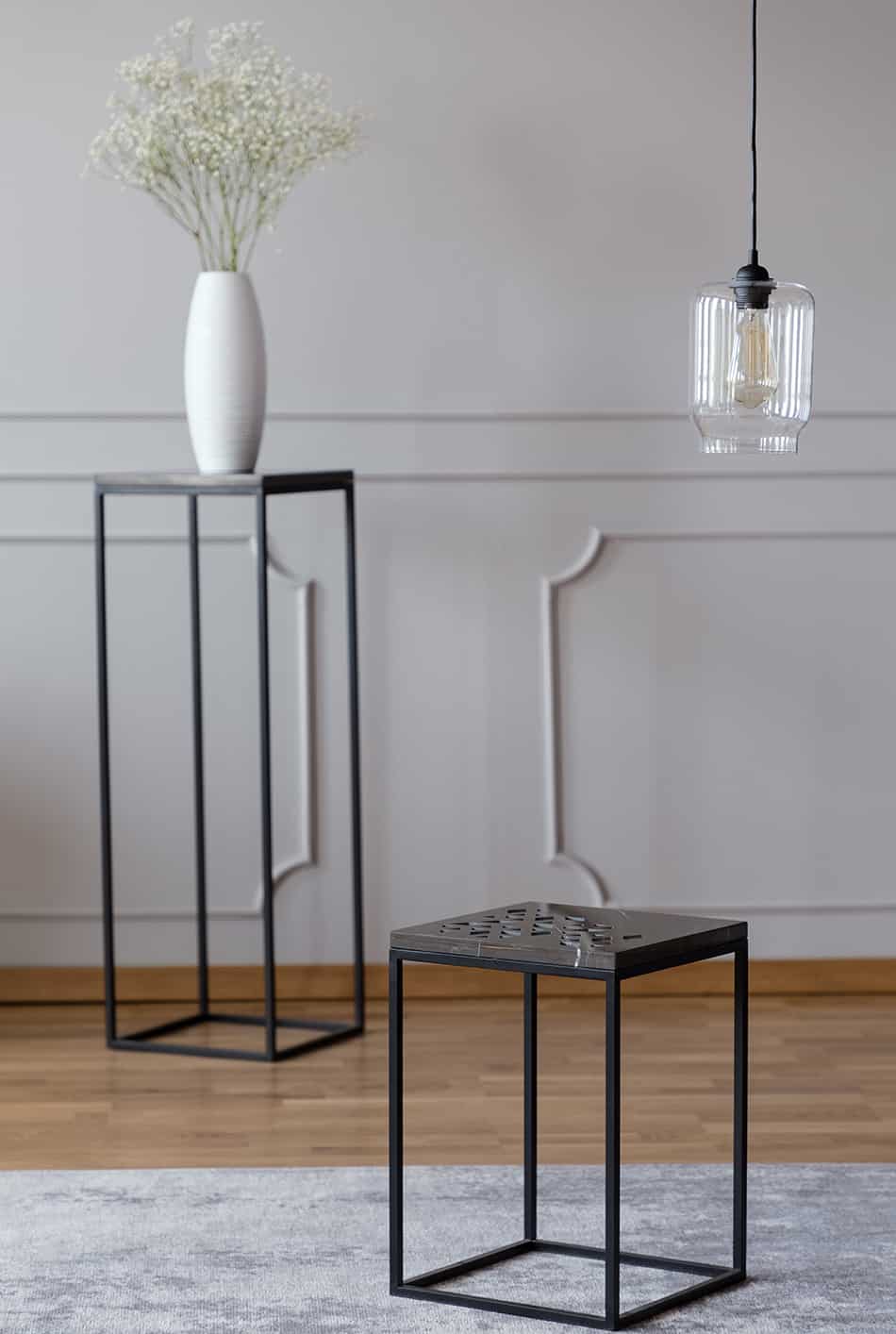 Metal isn't only good for making the legs or support structure of an end table. It can be equally as good as the main design feature of the table. When used in home décor, many people consider metal too cold and dull on the one hand or way too flashy on the other.
However, when it's coated in high-end matte or sheen finishes and muted color palettes, metal can look elegant and ultra-modern. Metal is wonderful when it's designed as the flat or tray tabletop on a side table or when it's been decorated or formed into a cage on a drum-style end table.
Stone End Table
At first, the idea of having a stone end table may be a bit intimidating. Good quality stone like granite and marble is expensive after all. Plus, the table may be pretty heavy, even if it's small. However, a stone table doesn't have to be a solid and massive lump.
You can go for a side table that cleverly includes stone elements instead. This way, you get the look without making a big dent in your pocket. A small square or round table with metal legs and a thin polished granite tabletop is a good option that's chic and utilitarian. Or be inspired by the aesthetic of Scandinavian design with a minimalist white marble top table on simple wooden legs.
Wicker End Table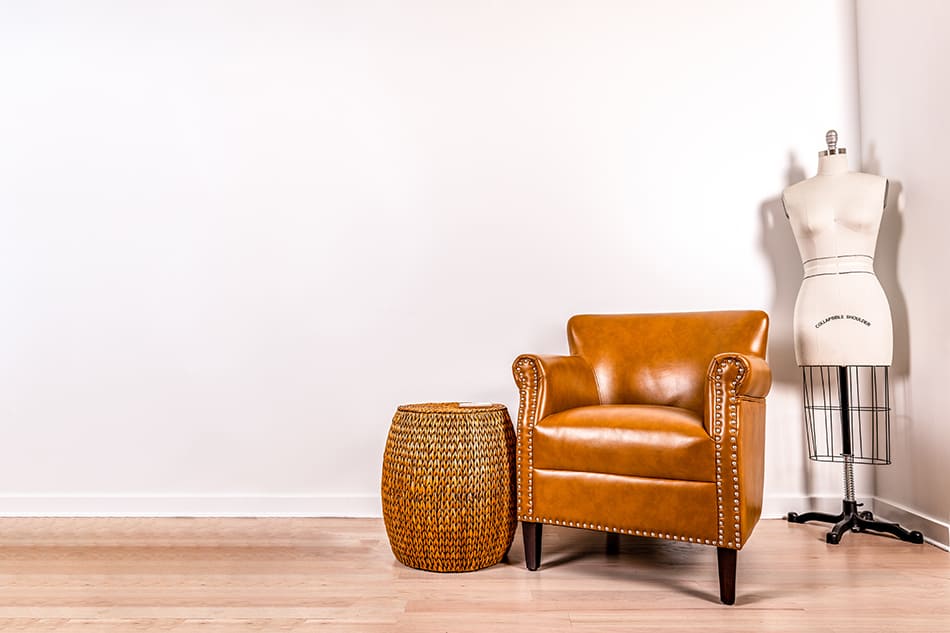 Wicker end tables are made from natural grasses like bamboo, rattan, weed, or reed. You'll love these if you want eco-friendly furniture or want to give your rustic touch. One of the best things about wicker is how lightweight it is. You can simply pick up a small table and move it to another part of your lounge or to another room entirely.
A wicker side table can also be used outdoor as part of your patio furniture. Since it's made from naturally moisture-resistant and durable material, you'll find that it holds out well outside. However, take care to choose a wicker side table that's constructed for outdoor use as it will usually be reinforced with an aluminum frame.
Type of End Table Legs
Four-Leg End Table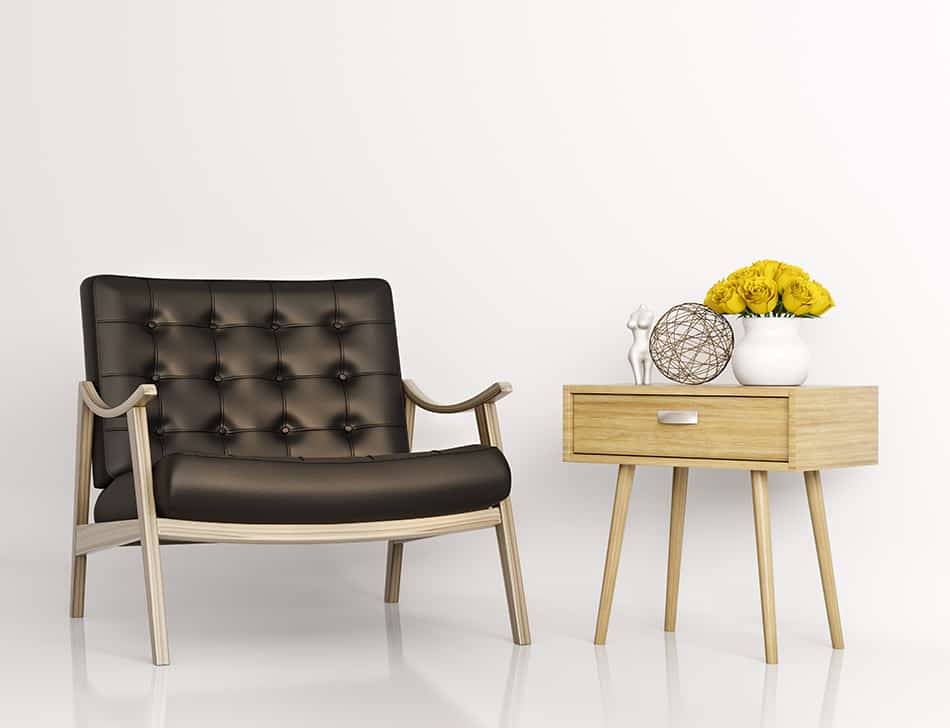 The four-legged end table is the most basic style you'll find. There's a simple reason it continues to be the standard – tables with four legs are very stable. And since side tables are usually placed next to couches and in the path of passing feet, you'll want a table that won't topple easily.
Tripod End Table
Three legs can give stability to small tables. On round side tables, the legs are designed to meet in the middle under the tabletop and spread out toward the floor.
The great thing about tripod legs is that they don't extend further than the tabletop, so they can't easily be kicked or tripped over.
Pedestal End Table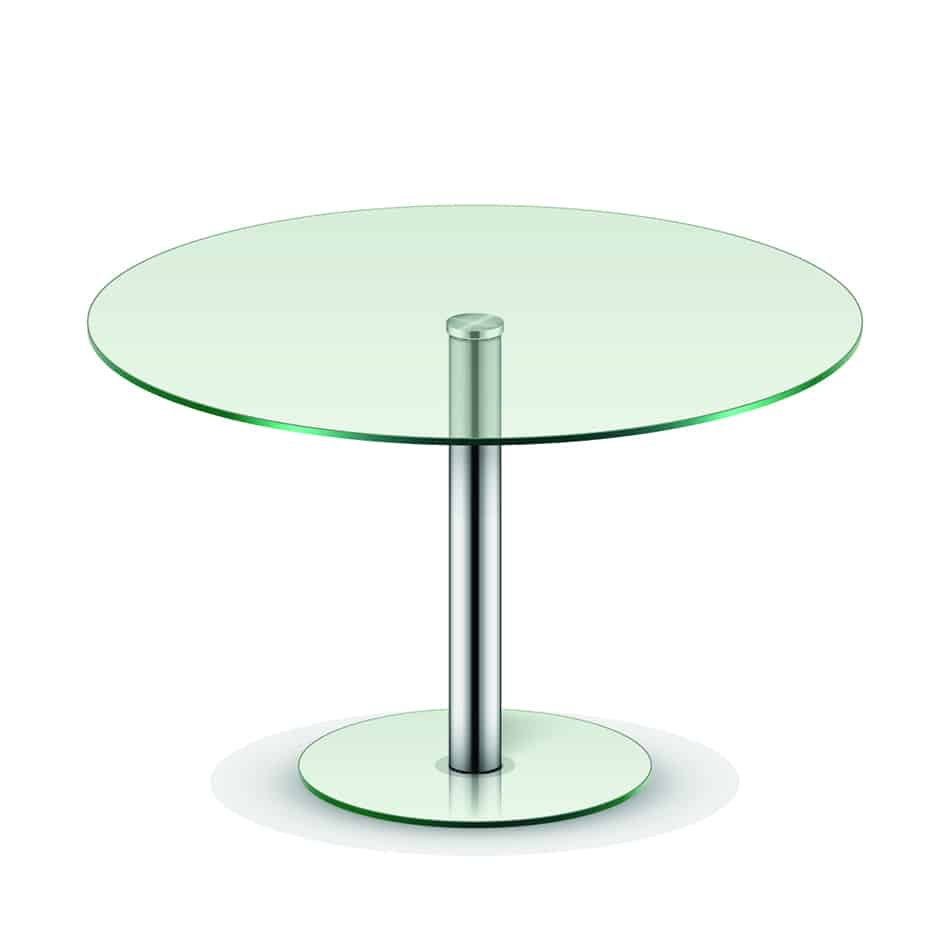 End tables typically have one pedestal leg positioned in the center of the table. If you like the look of a one-legged side table, look for one that has a pedestal made from a thick wood beam or metal pole so you can be assured it has adequate support.
Pedestals can be fairly classy and are often the design highlight of the table. A traditional side table with a Cambriole pedestal leg is one such example.
Flat Base End Table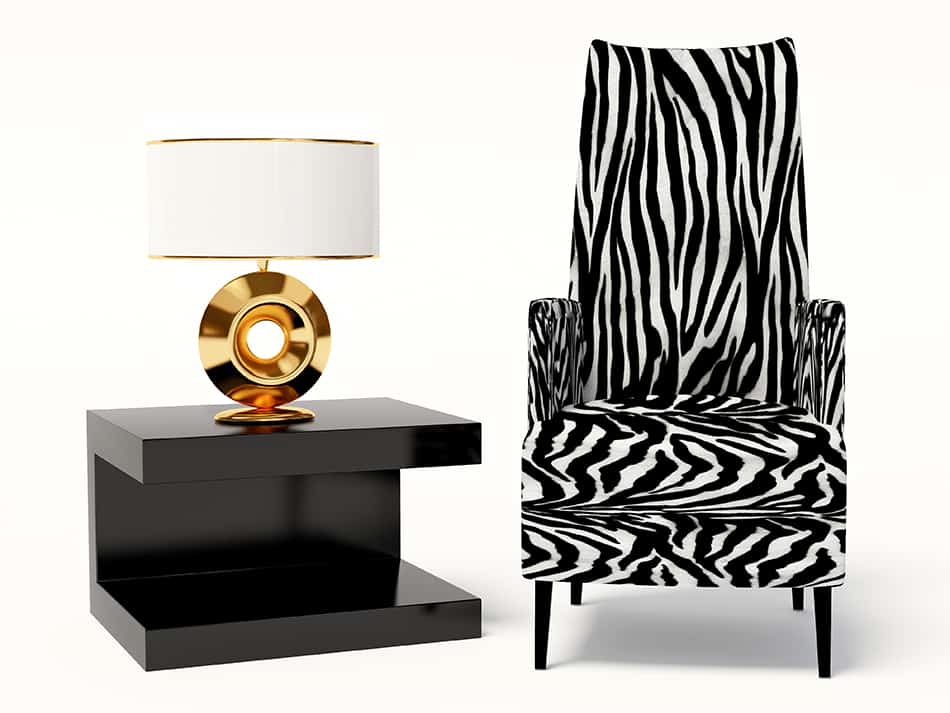 A flat base is ideal if your end table has built-in storage or shelving. Since side tables like this hold books or other decorative items whose weight can quickly add up, they need to be extra stable.
Flat bases are common on drum-style and square or rectangular cubed tables. Some side tables with thin metal frames also sit flat on the floor, although the priority here is the aesthetic appeal.
Cross-Leg End Table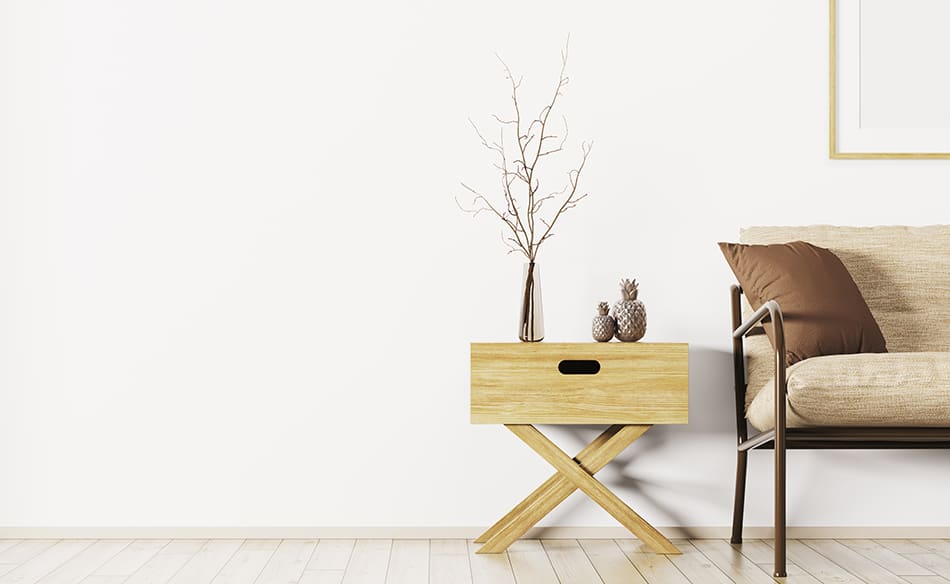 When you see a table with cross legs, you probably can't help thinking of a picnic table. They just have that casual, relaxed look. This is precisely the looks and feels you can bring into your sitting room with an end table that has cross legs. You can find the cross-leg design in the typical "X" shape commonly seen on square or rectangular tables.
If you prefer a round table, the "double-X" positioned in the center of the table not only makes the table steady, but it looks sophisticated too.