Hanging clothes is one of those mundane tasks that we tend to overlook. And consequently, we don't pay enough attention to the hanger, which is the accessory needed for hanging clothes and fashion accessories.
Most people don't even have an idea of hanger dimensions, which can be a problem when shopping for one. You'd think that all hangers have the same size, but this isn't really the case.
Getting the wrong size of a hanger can bite you later on. Imagine that you bought a cheap wire hanger and used it to hang your $1000 suit jacket. But the hanger proved to be an ill-fit for the suit jacket, in the process deforming its shoulders. Over time, the suit jacket is no longer wearable for you.
This scenario shows that your hanger truly matters.
Without ado, here are the straightforward answers. Read till the end to get full details.
Standard Clothes Hanger. A clothes hanger for adults has a standard width of about 17 inches. The standard height is around 9 inches. Children's hangers are between 12 to 14 inches wide.
A coat rack or plain pole hanger in public buildings (ADA-compliant standards) is 4 feet (48 inches) for a front reach and 54 inches for a side reach. Meanwhile, for normal household use, you'll find many coat rack dimensions at 5 – 6 feet in height with a diameter of between 10 – 25 inches.
Standard Dimensions of Clothes Hanger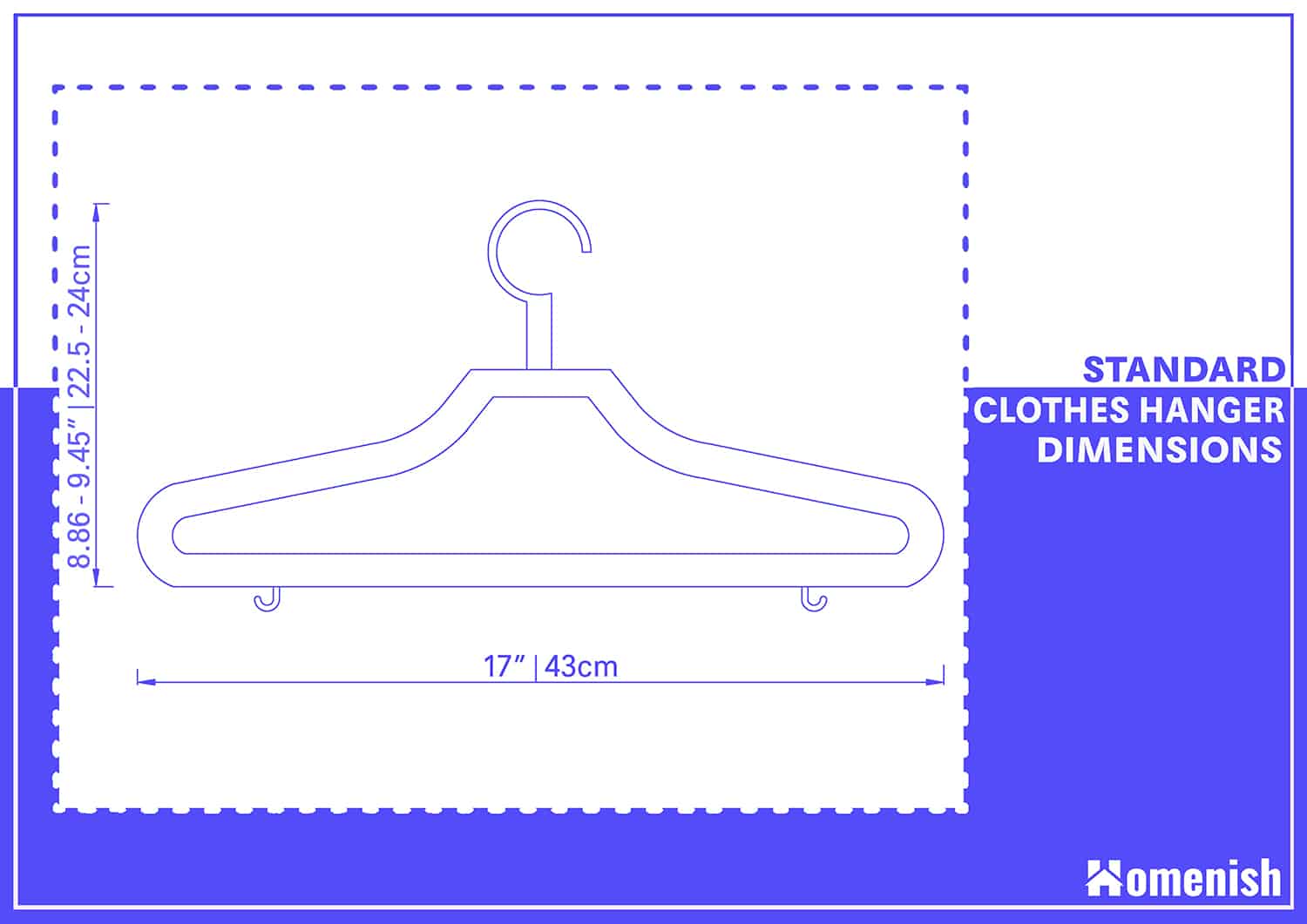 A clothing hanger is a type of clothes hanger that takes the shape or contour of the human shoulders to hang a coat, jacket, shirt, sweater, dress, or blouse. It helps prevent wrinkles and keeps the clothes looking presentable. It often has a lower bar designed for the hanging of skirts and trousers.
Clothe hangers are available in various sizes. The standard width of a hanger for adults is usually 17 inches or 43 cm. Meanwhile, children's hangers are around 12 to 14 inches wide. On the other hand, an average coat hanger is about 16 to 21 inches in length. The average height is 9 inches, and many clothes hanger heights range from 22.5 cm to 24 cm or 8.86 inches to 9.45 inches.
But you may wonder—how do you measure a hanger? The sizing principle is simple and straightforward—the hanger must extend all the way to the point or area where the shoulder meets the sleeve.
Remember those digits because you don't want to use an ill-fitting hanger for your clothes. If you use a hanger that's narrower than your shoulders, then your shirts and suits will eventually lose their natural shoulder line. A good rule of thumb to follow is to choose a hanger sized closest to the width of your shoulders.
Standard Dimensions of Coat Rack
The plain pole hanger is also known as the coat rack. It consists of a centerpiece with six angled hooks. It is usually made of metal. It should be low enough for users to reach it but not to the point that the coat would touch the ground.
ADA-compliant Coat Rack Dimensions
To comply with the ADA standards, the maximum height for a plain pole hanger or coat rack in public buildings is 4 feet (48 inches) for a front reach and 54 inches for a side reach.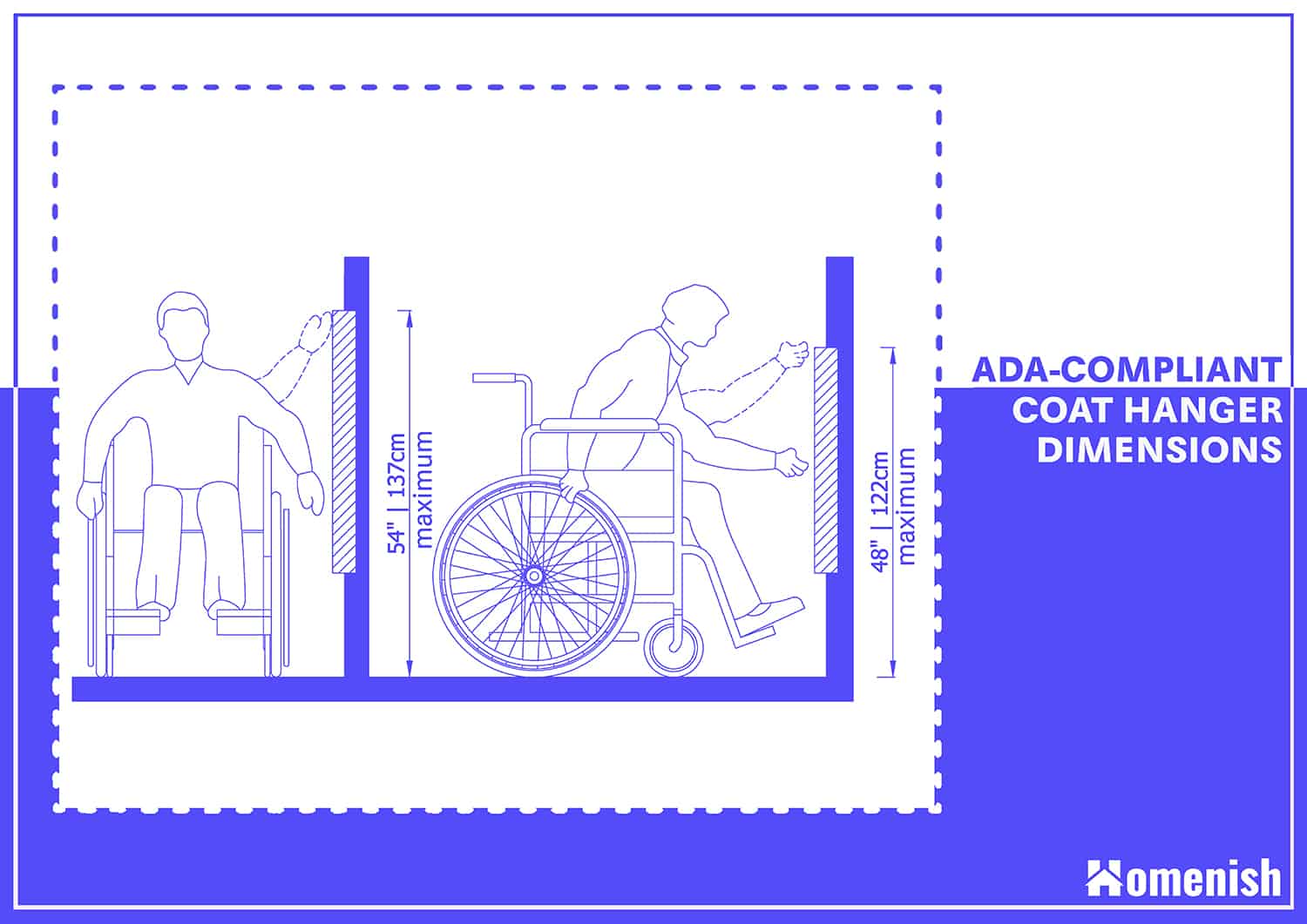 Household Use Coat Rack Dimensions
However, you'll find most pole hangers for normal household use are from 5 – 6 feet in height with a diameter of between 10 – 25 inches.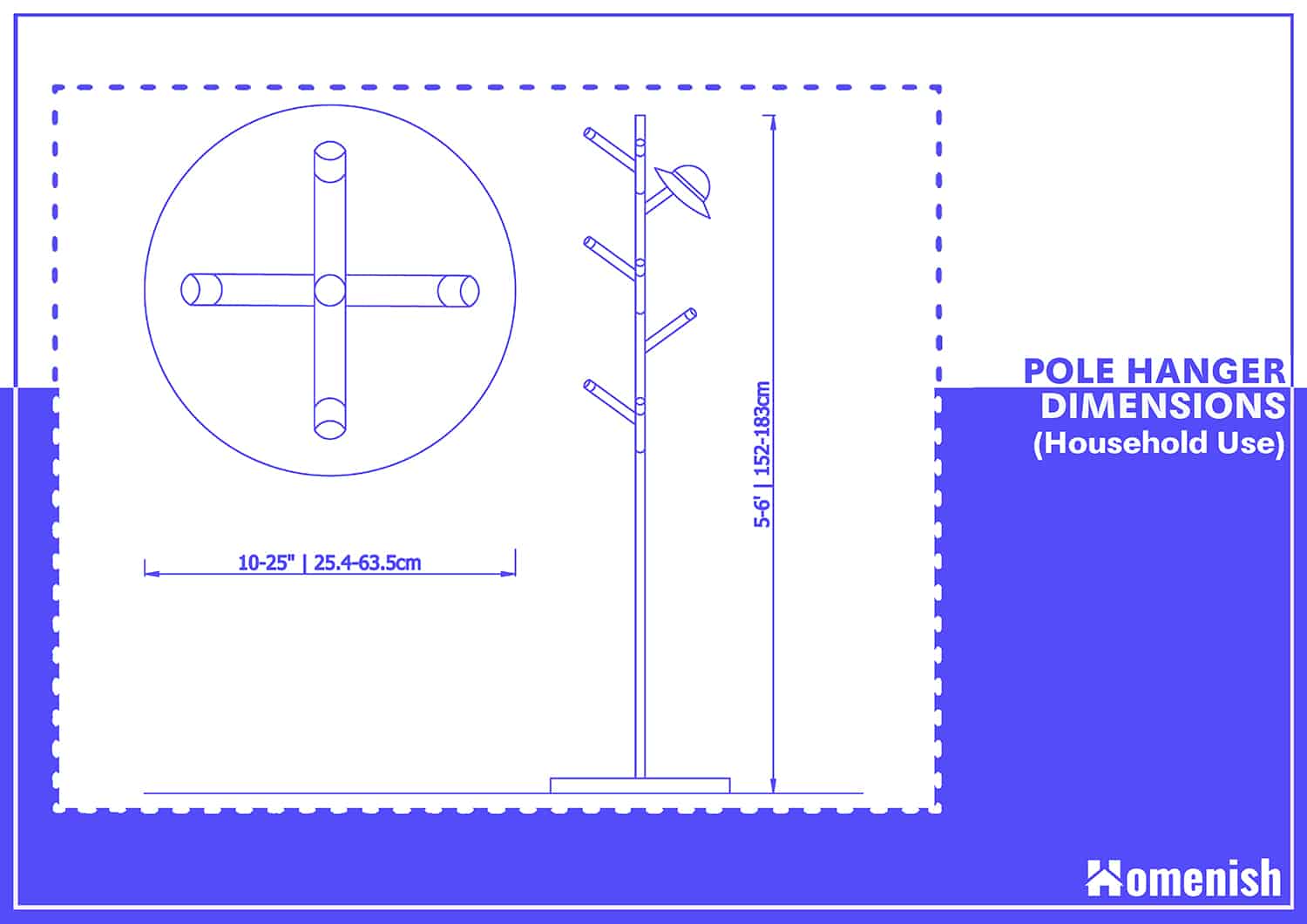 Choosing Hangers – Some Best Tips
Now that you have an idea of hanger dimensions, let us help you in choosing the right hangers for you.
Hangers For Suits and Sports Coats
When shopping for hangers for suits and sports coats, your best choice is a contoured or wishbone hanger. This is usually a thick and sturdy hanger that can support the heft of a suit coat. The contours can rightfully sustain the mold of the shoulders.
Hangers for Waistcoats or Odd Vests
A contoured or wishbone hanger is the wise choice for a waistcoat or odd vest. Keep in mind that this type of hanger comes in wood and plastic varieties. Avoid getting a wire hanger, as it would not be enough to support heavy fabrics. Over time, it would only distort the shape of your clothes.
Use Wood Hangers
Hangers made of wood are quite expensive, but if you can afford it, then invest in a good number of wood hangers. You may be paying, say, $20 for a contoured wood hanger but think of it as a wise investment. After all, a wood hanger can provide lifetime protection on an expensive sports jacket.
Prepare Your Suit for Hanging
Before you hang your suit, remember that you should empty your pockets first. Items like a set of keys can create an ugly bulge on your suit. You should also make it a habit to brush off the debris and check for stains before storing or hanging the suit.
When shopping for hangers for trousers and pants, consider getting one with a wood dowel or pants bar. This type of hanger allows a pair of pants to be folded in half before being hung.
Hangers for Trousers and Pants
You can also use contour hangers for pants and trousers. Some contour hangers come with a thin metal rod and pincers or a set of clips. You can attach the cuffs of your trousers to these clips if you have closet space. The weight of the fabric and gravity will draw the trousers taut and consequently remove the wrinkles.
Also, remember to fold trousers first in half at the crease when folding. This way, you can reinforce the permanent crease and minimize the risk of wrinkles forming.
Hangers for Button-Down Shirts
You can also settle for a tubular plastic hanger for hanging button-down shirts. Again, you don't want to use wire hangers for this purpose because these are not sturdy enough. Moreover, the thin metal rod may create ugly shapes in the shoulder area. Likewise, rough edges can snag the fabric. There is also the risk of uncoated metal rusting and destroying the appearance of your shirt in the process.
Hangers for Knits and Delicate Items
How about hangers for knits and delicate items? How do you choose one? If you have knit shirts and delicate fabrics like linen or shirt, you'd want to have padded hangers. This type of hanger has fabrics integrated into the shoulders area to protect the material. It distributes the weight of the garment across a wider area, in the process minimizing stretching as well as wear and tear.
Conclusion
We often take hangers for granted, but maybe we shouldn't. A hanger, after all, protects our clothes. If you get the wrong size of the hanger, then there's a chance that your clothes will have wrinkles or creases. Worse, your expensive suits would be distorted or deformed if you keep on using the wrong hanger.
Whether you're buying a clothes hanger or a plain pole hanger, remember their standard dimensions so that you can get the right ones for your clothes!