The dishwasher is an essential home appliance for many households in the United States. After all, following a hearty and filling meal is the inglorious task of cleaning the dishes. Good thing there's a dishwasher to save everyone from having to go through this task.
You're likely planning to get a dishwasher for your home; that's why you're reading this article. Before buying one, you should consider the dimensions of the dishwasher and the space you have at home. You can choose from various options or types of dishwashers, such as standard, compact, portable, and convertible. Continue reading to know which type of dishwasher fits your kitchen.
Standard Sizes of Dishwasher
Unlike other home appliances like refrigerators and stoves, the dishwasher has one standard size category. The standard built-in dishwasher size is 24 inches wide, 24 inches deep, and 35 inches tall. This means that most dishwasher models are available in these standard measurements. To fully open the door, you'll need to have a clearance of 27.75 inches from the front of the dishwasher. However, some come with adjustable-height legs designed to accommodate various cabinets and countertops.
This standard dishwasher size should fit in the space of most newer homes. Dishwashers of this size should also be enough to handle the needs of an average family. If you're the type of owner who would regularly wash large loads of dishes, then this is the right size dishwasher for you.
The standard size dishwasher also comes with standard features like a drop-down door. Its front is typically made of stainless steel. You may also opt to have a leaf of your cabinetry attached to the dishwasher front so that it would blend well with your kitchen.
Generally speaking, the standard-sized dishwasher would need around 2.4 gallons of water for every load. It's also highly recommended if you are concerned about your electric bills as it is the most energy-efficient among the three dishwasher options.
It's also a common practice for retailers to list their dishwasher dimensions by the cabinet opening required for installation. For instance, a dishwasher that's 23.5 inches wide may be advertised as 24-inches because of the size opening it needs. Therefore, it's recommended that you check the product details section, especially if you are shopping online.
Compact Sized Dishwasher
Also known as space-saving dishwashers, compact-sized dishwashers are ideal for smaller kitchens. A compact dishwasher measures 18 inches wide, or six inches less the width of a standard-sized dishwasher. The typical height of a compact dishwasher is 32.5 inches, and the typical depth is 22.5 inches.
Although smaller than its standard-sized counterparts, a compact dishwasher operates in the same manner as other dishwashers. Of course, given its size, a compact dishwasher can hold slightly fewer dishes compared to standard dishwashers.
As mentioned earlier, a compact dishwasher is ideal for small kitchens as well as those who live in condominiums and apartments. Some people even get one for their secondary kitchens placed in their pool areas. Some brands offer compact dishwashers with premium features.
Like their 24-inch counterparts, compact dishwashers are available in different styles. Some have visible controls, while others have hidden panels. Other models have towel bar fronts, while many have seamless profiles. Most models come in stainless steel finish, although you can also get black and white finishes.
While compact and functional, small dishwashers also have their weaknesses. Compact dishwashers usually remain with the house; therefore, this may not be the best option if you're just renting your apartment or house.
Convertible Built-In Dishwasher
If you're looking for a compact dishwasher that you can still use if you move into another house, then the convertible built-in dishwasher is your best option. It's the dishwasher size that gives you the best of both worlds, so to speak. It is freestanding and portable. It's space-saving, too. And you can convert it to a built-in dishwasher in the future should you move to another house or remodel your kitchen.
The width of the convertible built-in dishwasher is 24 inches, with its height around 34 inches and depth at 23.75 inches. For the door clearance, you'll need to have a space of 24.75 inches.
Portable Dishwasher
If you're on a tight budget or you have a small family, then a portable dishwasher is the most practical option for you.
There are two variations of portable dishwashers– wheeled and countertop. A portable wheeled dishwasher can be positioned in a dishwasher opening much like a built-in dishwasher, as long as you have enough clearance for it. You will also need to have a permanent water source if you are to have a wheeled portable dishwasher. The dimension of this type of portable dishwasher is around 24 inches wide, 20.75 inches deep, and around 34 inches tall.
On the other hand, a portable countertop dishwasher is positioned on the countertop. While it is small, it will take up significant space on your counter. You can also move it when not in use.
For it to work, you should have an outlet. The dishwasher, meanwhile, should be hooked up to the sink faucet. As such, you can't use water from the sink when the dishwasher is operating.
This type of dishwasher can also be considered a space-saving option because you can move it out of the way when it is not in operation. However, compared to the standard-sized dishwasher, it has less capacity. Still, it is a good option for small families or those who have limited space. It is also ideal if you are on a tight budget as this is relatively cheaper compared to the standard-sized dishwasher.
The portable countertop dishwasher has dimensions of 20 to 25 inches in width, depth of 22 inches, and height of 25 to 28 inches in height. To open the door, you will need 45.5 inches of clearance.
How to Measure Your Kitchen for a Dishwasher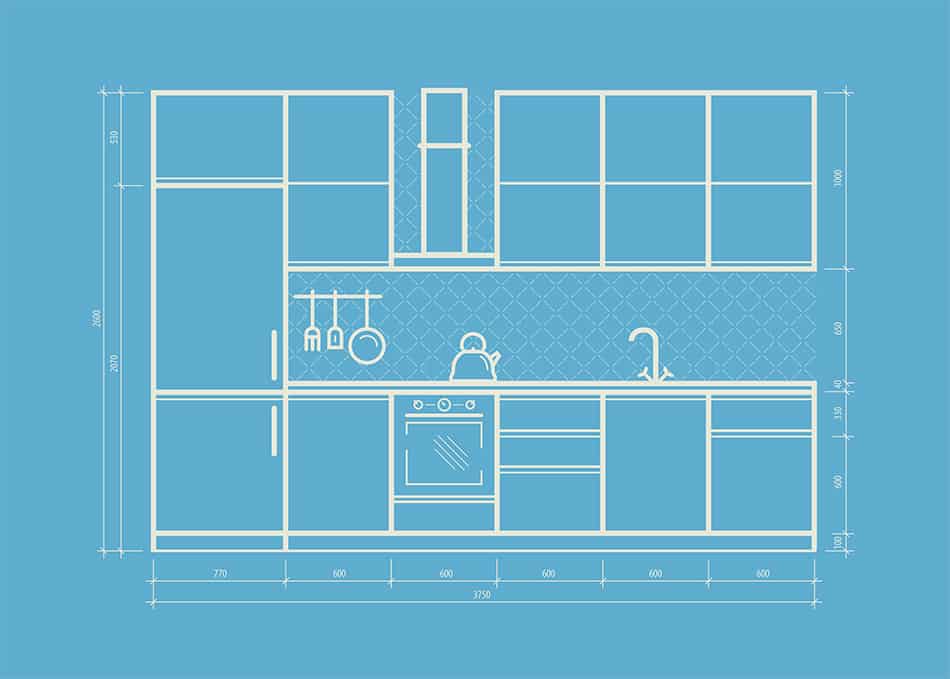 Now that you have an idea of the dimensions of dishwashers, it's time to learn how to measure your kitchen for a dishwasher.
You'll need a tape measure, preferably a contractor's tape, to measure a dishwasher. Also, get a notebook and pen to record your measurements. You may even take a photo of the measurements so that you won't forget the dimensions of your kitchen when it's time to purchase a dishwasher. Don't worry, as measuring the kitchen space for your dishwasher is relatively easy.
First, you'll need to measure the space for the dishwasher width. You can do this by measuring from cabinet to cabinet, ensuring that the sides of the dishwasher will be enclosed completely once installed. It's better than you have breathing space on each side than to have the dishwasher in a tight fit or space. You may install a close-to-wall dishwasher on one side as long as you allow a minimum of two inches between it and the side of the door.
Next up is to measure the dishwasher depth. Start by measuring from the back of the opening up to the front of the dishwasher. Make sure that there are at least 27 inches in front of the dishwasher so you can comfortably load and unload dishes. Also, enough room means you can move around between the opening of the door and any islands and counters you may have in the kitchen.
Finally, you'll measure the dishwasher height. To do so, place the tape measure on the floor of the opening in which the dishwasher will be placed to the bottom point of the countertop.
Remember that a standard-sized dishwasher has a height of 35 inches, so you'll need at least 36 inches of space to accommodate a dishwasher. Also, keep in mind that extra layers of flooring in the kitchen will impact the installation of the dishwasher.
Other Considerations in Buying a Dishwasher
Aside from ensuring that you have enough space in the kitchen for the dishwasher type you're interested in, there are other things or factors to consider in buying a dishwasher.
One important factor to consider is the features or functions offered by the dishwasher. And one function you may want to have is the hard food disposal function. With this feature, you won't have to scrape, pre-wash and rinse the dishes before loading them into the appliance. This function also eliminates food grime and residue during the rinse cycle.
You should also take a look at the wash cycles available in the dishwasher. The most important cycles are a light wash, regular wash, and economy settings. You'll also want a dishwasher with a heavy wash for washing pots and pans. Enhanced cycles like quick wash and sanitize wash are nice to have, but you'll likely shell out more bucks in the process.
Keep these things in mind, along with the dishwasher dimensions and space in your kitchen, the next time you shop for a dishwasher.