It's hard not to find an oven in any modern kitchen nowadays. But do you know what size stove you'll need for your home? What size space do you need to create? Find out the standard stove sizes here.
Standard Stoves: 30-Inches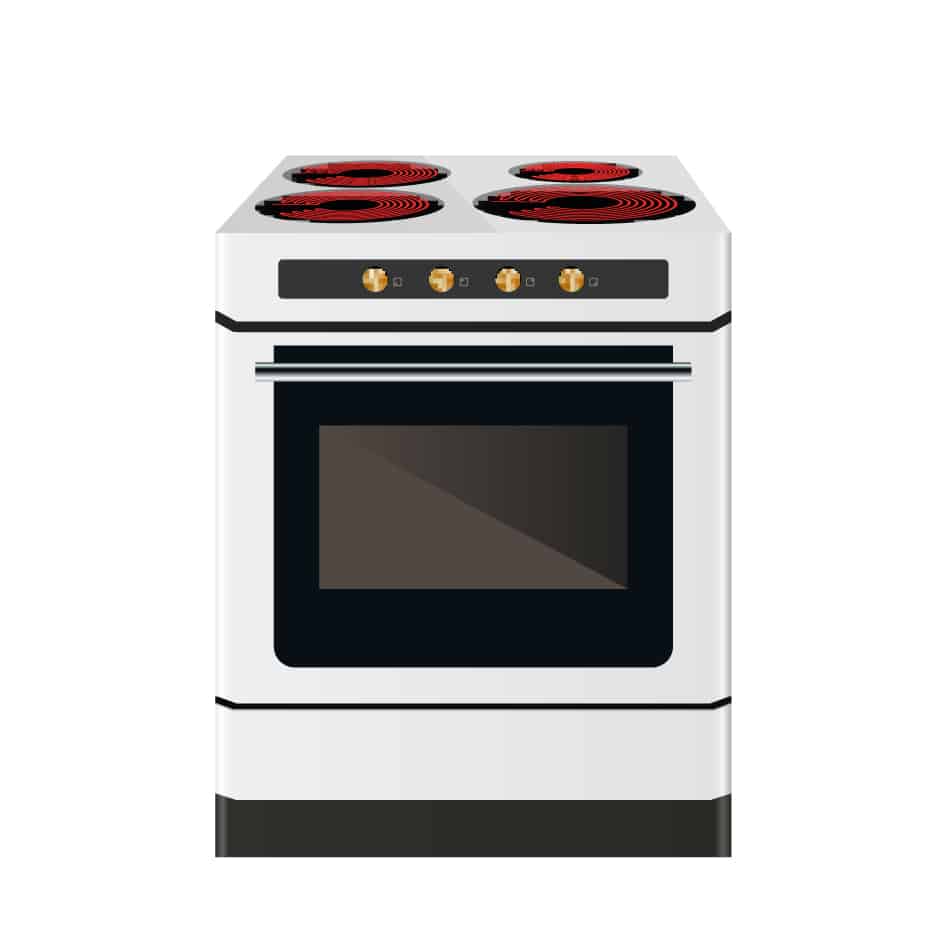 If you live in a house, this is probably what you have. And if you go to an appliance store, despite all the different models they have in stock in terms of what a stove is made of, using gas or electric, how many burners they have, whether the range is coil or flat-top, the majority of what you see measures 30 inches across. They'll also be about the same height at 30 inches or higher to 36 inches.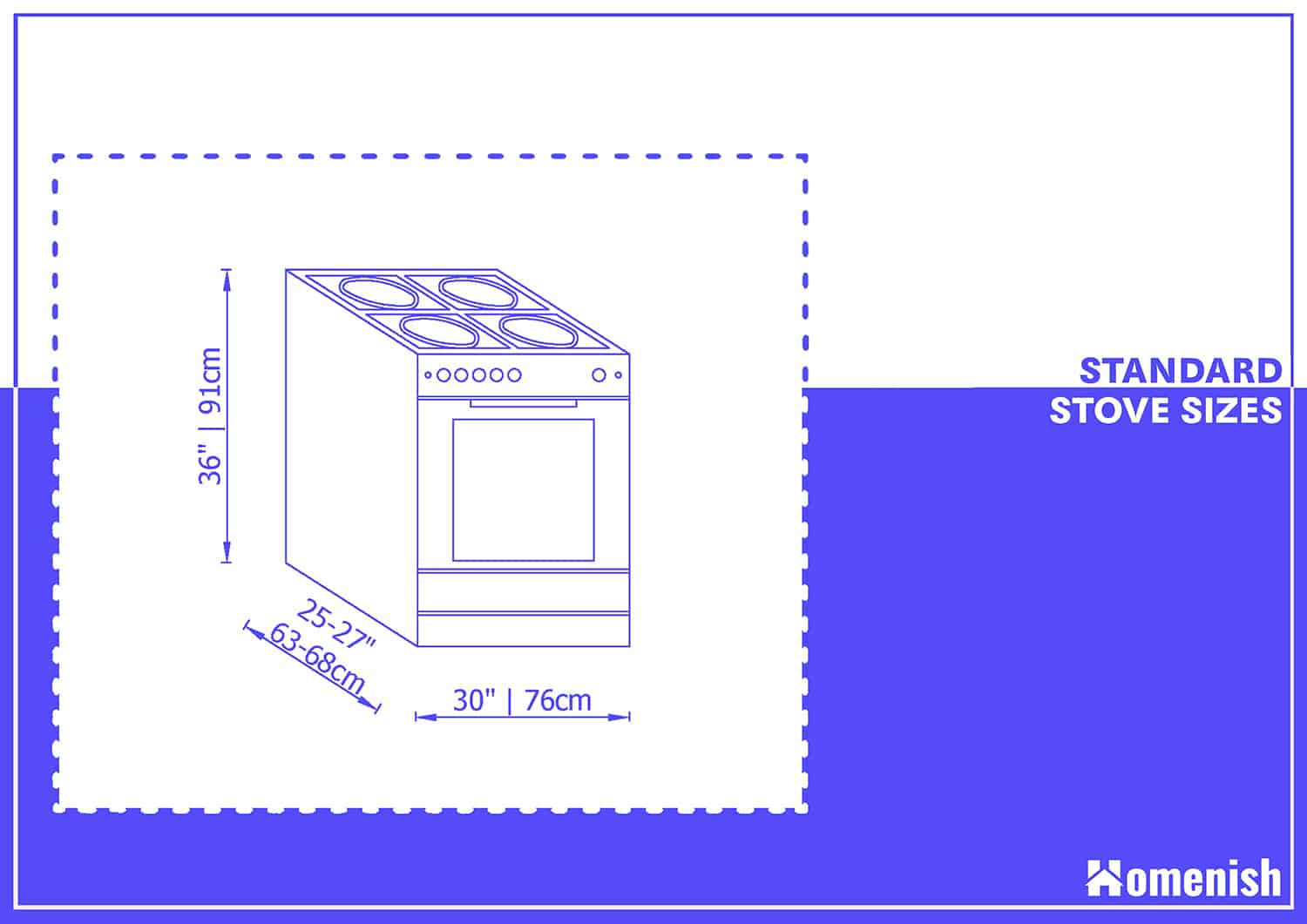 The similarity in sizing is due to the fact that the oven needs to fit in predefined spaces. They have to go between your cabinets or other furnishings on either side and should meet up to be about level with your countertops.
And if you have an oven that's 30 inches across and meets up to the counter, you'll have room inside for most larger pans. An alternative is an oven with two compartments so that you can cook two dishes at different temperatures.
This width also gives you room on top for five burners. Older models featured four burners with a large area in the middle for prep work or cooling, but if you get a ceramic stovetop, it will most likely have five cooking areas, which you can control separately if you do want to leave the middle open.
Compact Stoves: 24-25 Inches and 18-20 Inches
But not all ovens are 30 inches. You may have a smaller kitchen, such as in an apartment, RV, or tiny house. In that case, you need a smaller oven to fit in your area. You may also not be doing as much cooking in the oven, or cooking smaller portions, so you don't your area being dominated by an appliance you don't need as much.
In this case, the oven will 24-25 inches across, though you can also find them even smaller in the 18-20-inch range. You may still have 5 burners, though they'll be closer together.
They can still use all the different fuel options and cooktop styles, though the small stove or oven will be much narrower and possibly not accommodate more than one rack. People downgrading to these smaller ovens often need to change their bakeware as what they have won't fit.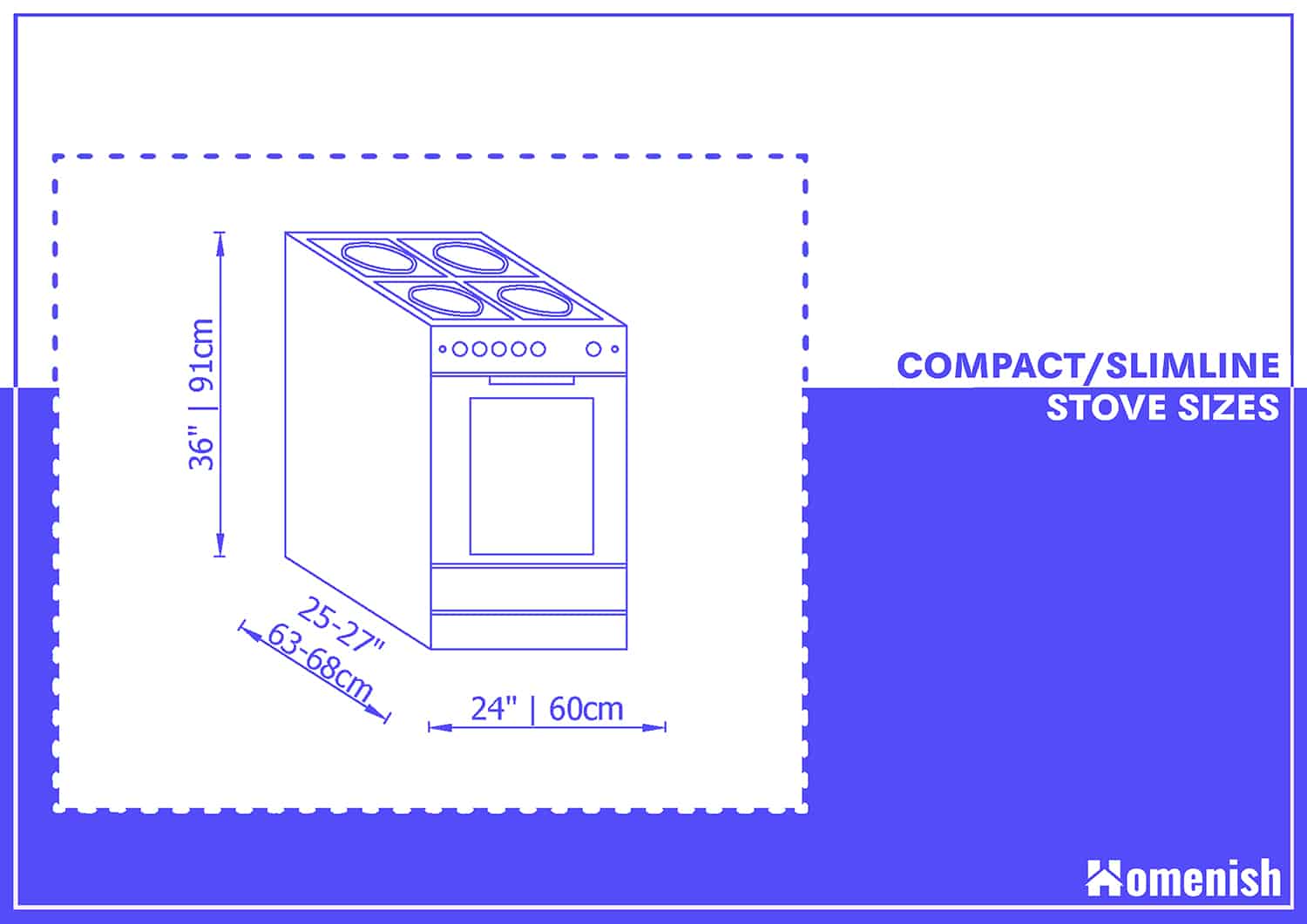 If the upside is saving space, the downside is cost. You'd think that being smaller would make these ovens more affordable, but that's often not the case. Not being as the standard of a size means they're a specialty item, raising the price for less space.
Large Stoves: 36-Inches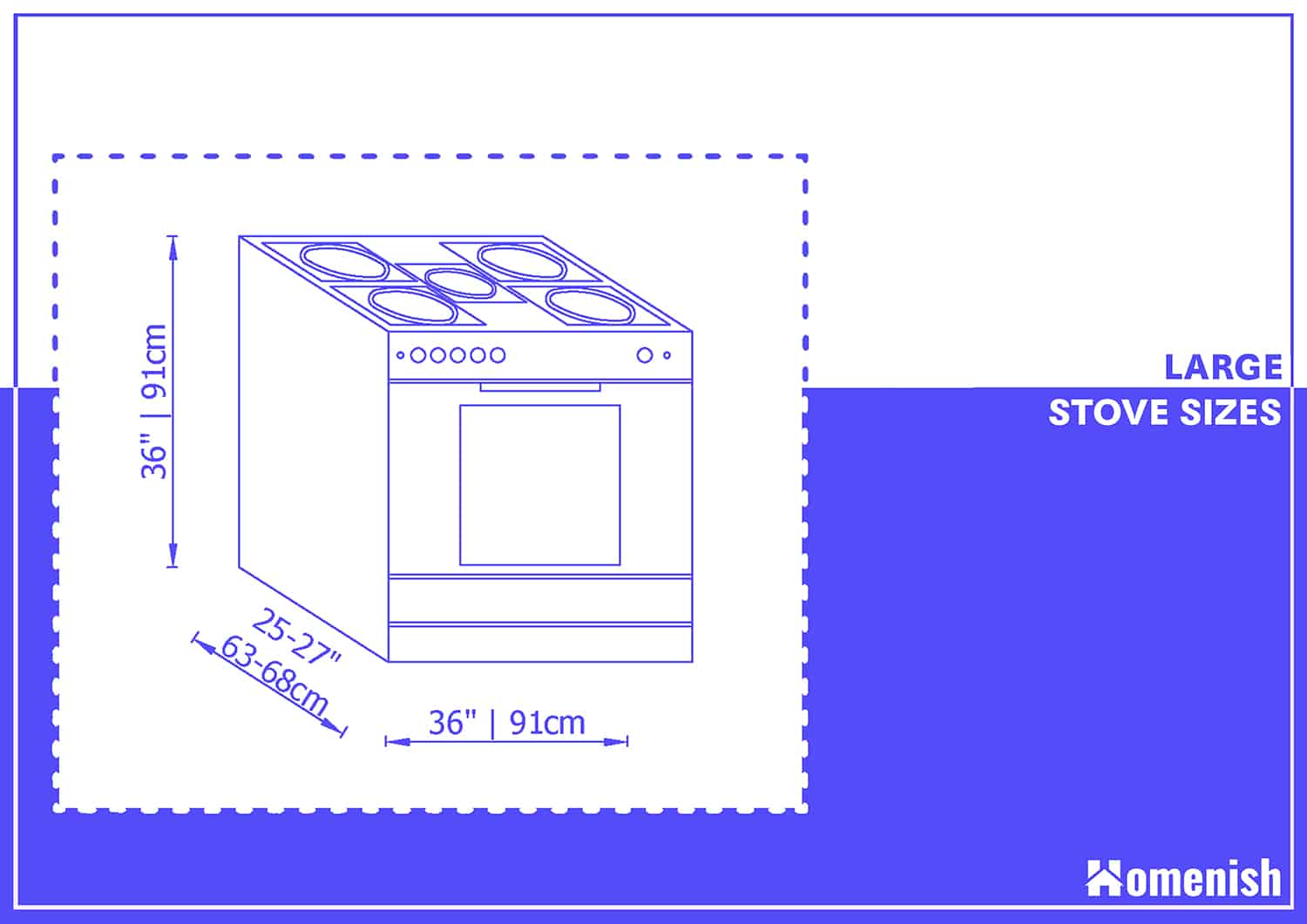 If you do a lot of cooking for your household or run a small business, getting a larger oven make your cooking time much more efficient. On top, you can have up to 6 burners, or 5 burners, and an open grilling area. You can also have a huge oven compartment that can fit two baking trays side by side, or divide that baking area into two, three, or four smaller compartments. These smaller sizes can be all the same size, or have one or two larger compartments for standard cooking, and one or two side ovens for smaller dishes.
The convenience of the larger space does not come with an equivalent price tag; again, because these sizes are rarer, they also cost more than it seems like they should be based on the additional square footage alone.
Extra-Large and Specialty Sizes: 48-60 Inches
For extra-large families or businesses, you can purchase a truly commercial standalone oven. The most popular sizes in this range are 42 inches, 46 inches, and 58 inches. With each selection, you'll have at least two large oven compartments and variable cooktop styles.
You can also recondition an old-fashioned coal or wood stove with modern heating elements or buy new models meant to look like the antique designs. Either way, your cooking area will be larger than the standard stove of 30 inches.
If you do want to complete your décor with one of these retro pieces, keep in mind that they may not match the depth or height of your cabinets and counter. These were originally designed to have the kitchen built around them, not to fit into a pre-defined space.
Any size stove can work with gas, electric, or dual fuel sources. But keep in mind that just like the stoves themselves, non-standard components will cost more, regardless of the size.
Range Dimensions According to Type
While a freestanding kitchen stove, the most common type of oven, fits into the standard size measurements, not all ranges or stoves are the same. The measurements vary for other ranges and cooktops (slide-in, drop-in, and apartment-sized).
Slide-In Stoves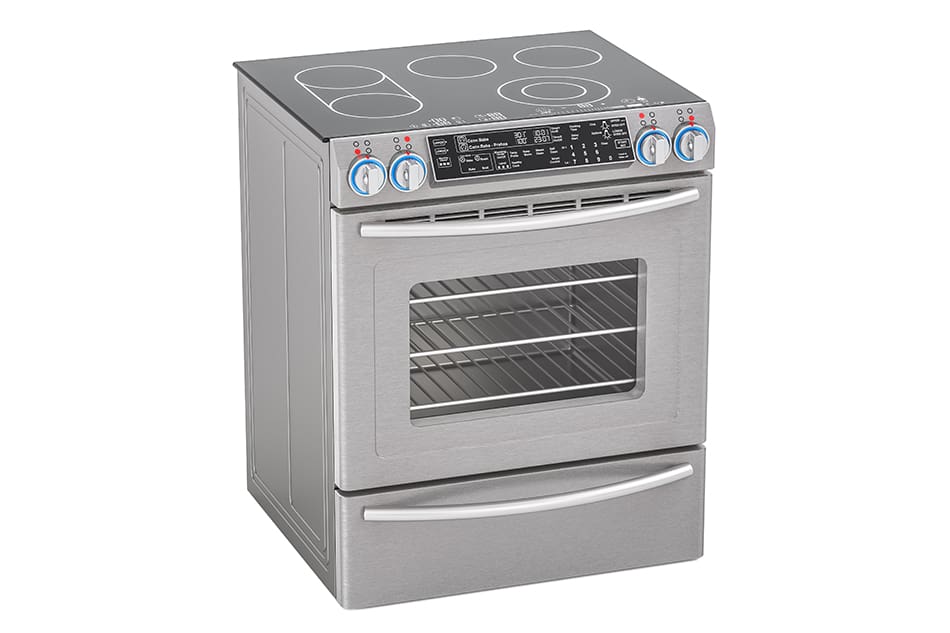 The typical slide-in range size is 36" high, 30" large, and 26" to 29" deep. They have a typical oven area of about 4-6 cubic feet.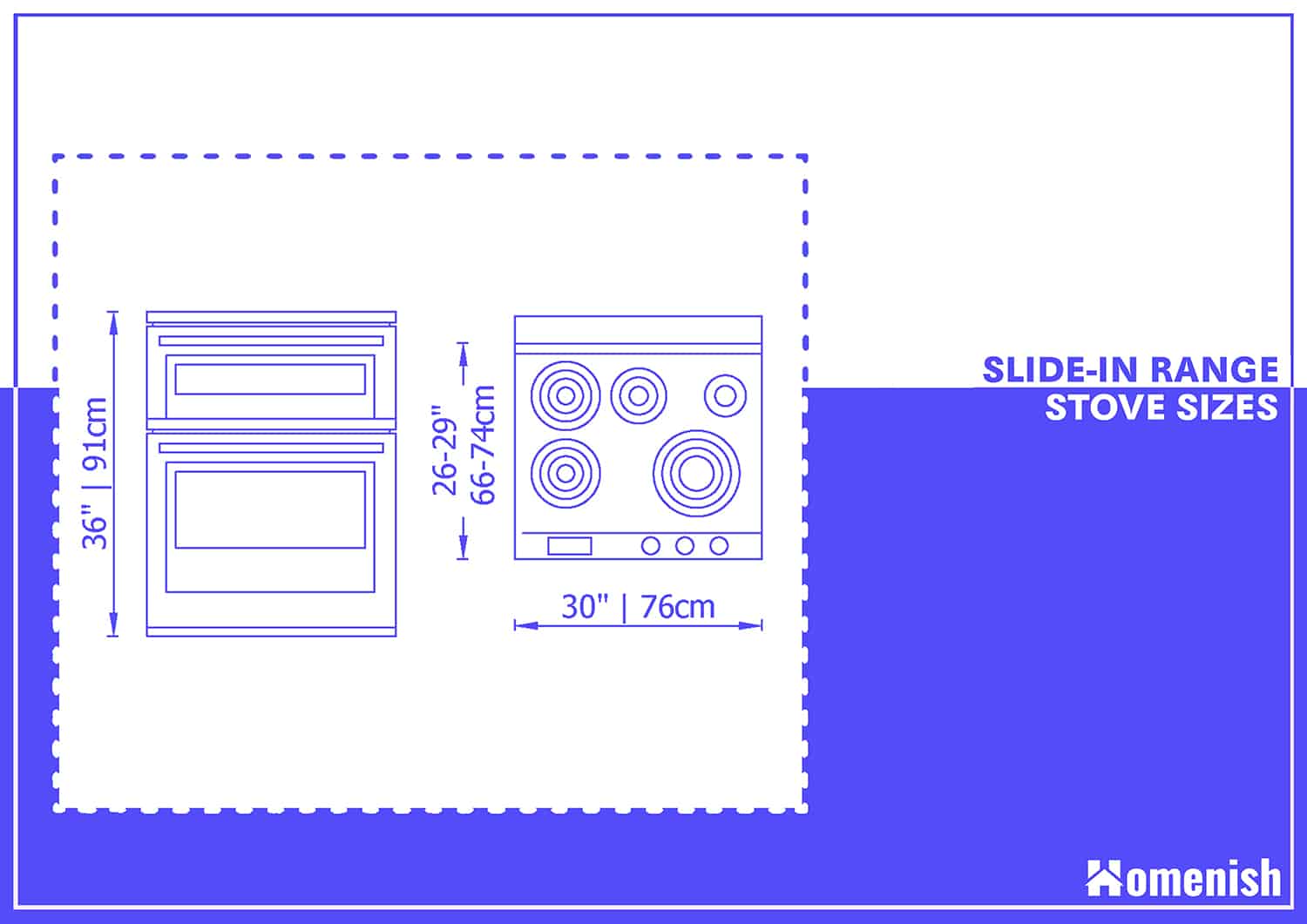 As soon as set up, slide-in ranges really move in between 2 cabinet areas and appear to be integrated. Instead of little spaces on the sides of the cooktop, slide-in ranges are constructed to overlap the edges of the countertop a little and give a smooth appearance.
Rather than having a rear control board that sticks up, slide-in designs feature controls in the front. They can be gas stoves, induction stoves, electric stoves, etc. Color alternatives are generally black, white, or stainless steel, though some makers offer limited quantities of retro colors.
Slide-in ranges are usually more pricey than freestanding ranges due to the method by which they're crafted. Since they should come flush with your cabinets on both sides, they can be more tiresome to set up. Slide-in ranges are worth thinking about as they provide a higher-end appearance than the freestanding range designs if you're developing a customized or renovating a cooking area.
Apartment-Sized Stoves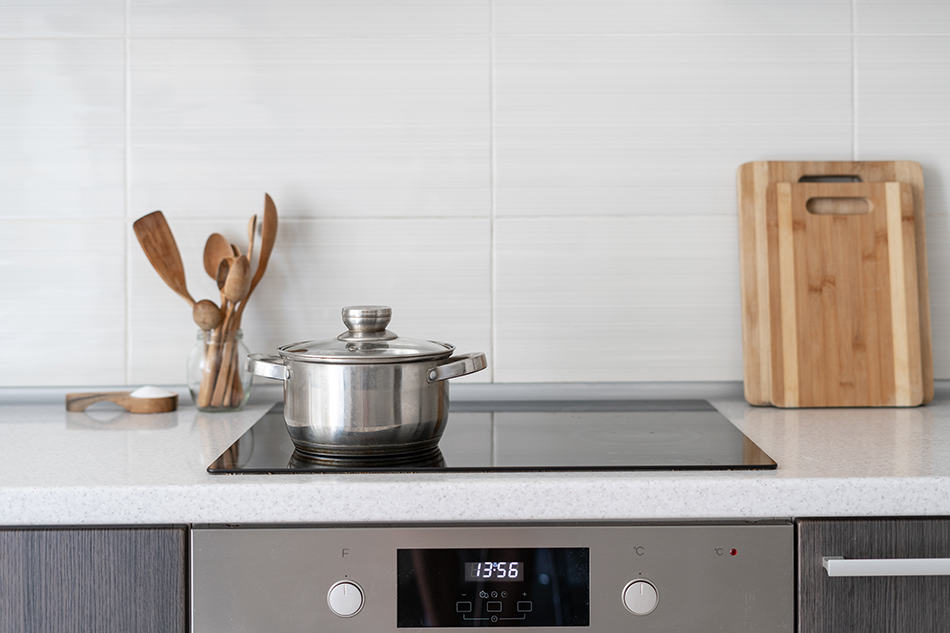 The common apartment or condo sized range size is 36" high, 20" to 24″ broad, and 24-26″ deep.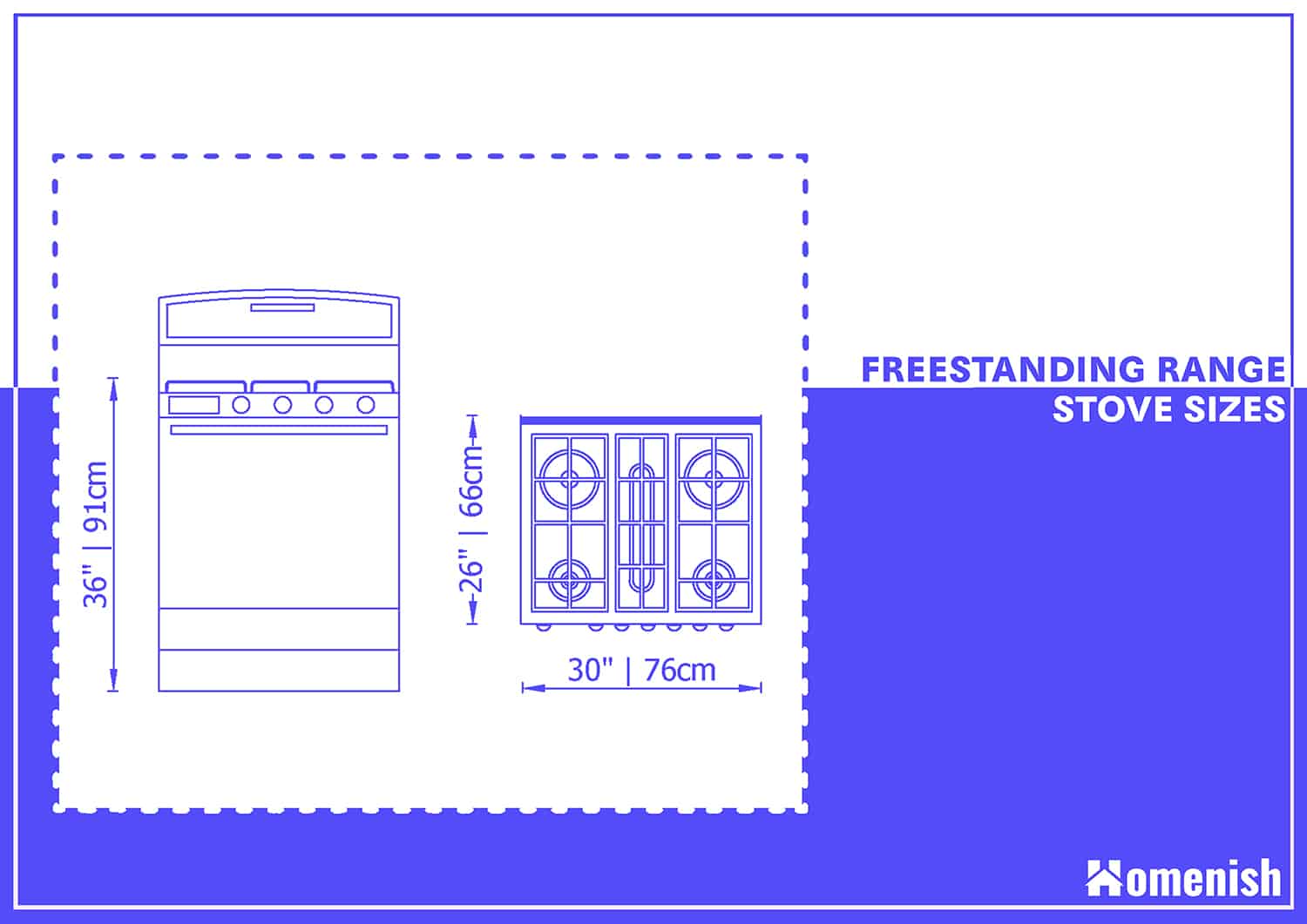 With their narrower width, oven size in apartment-size ranges is restricted. These are generally 2-3 cubic feet.
Little spaces like mobile homes and tiny homes need smaller-sized cooking area devices, in some cases called slim-fitting home appliances or microdevices. A condo-sized or apartment stove is usually about the same depth and height as full-size ranges.
The primary distinction remains their width, which has to be around 10 inches skinnier than a standard range. If the control panel is situated on the back of the range, apartment or condo-sized ranges can be taller than the standard 36 inches (possibly 44 inches high).
Drop-In Stoves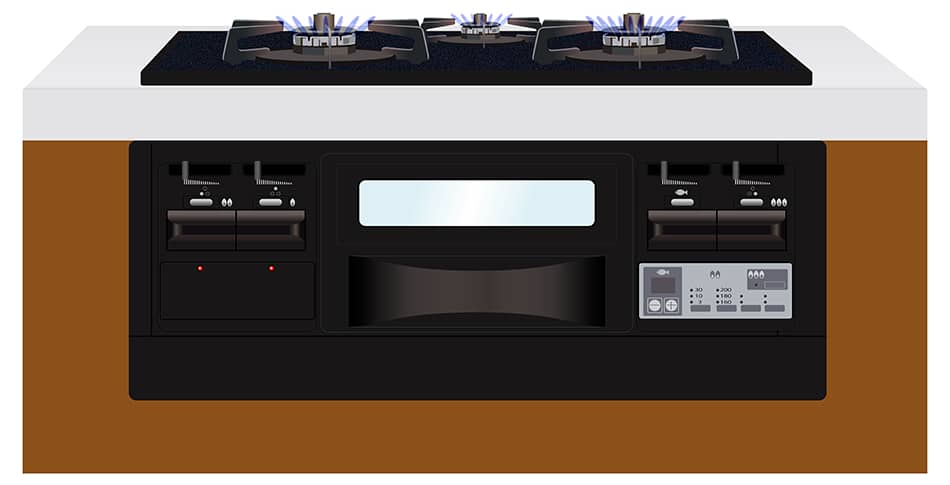 A standard drop-in range size is 26-28″ high, 30″ broad, and 26″ deep. They have lower oven capacity compared to slide-in or freestanding ranges, generally 3-4 cubic feet. These ranges are less typical than slide-in, freestanding, and apartment-sized ranges. They are little ranges set up on a base cabinet to bring them up to around 36 inches, the common countertop height.
Rather than having a storage or warming drawer below the oven, these designs merely rest on the cabinet. Drop-in ranges are different from drop-in cooktops, which do not have an oven under the cooktop variety. A drop-in stove is usually seen in kitchen areas with a wall oven.
Suggestion: When renovating a cooking area with a drop-in range, get rid of the base kitchen cabinets and set up a freestanding or slide-in range because of the restricted capacity of drop-in designs.
Freestanding Ranges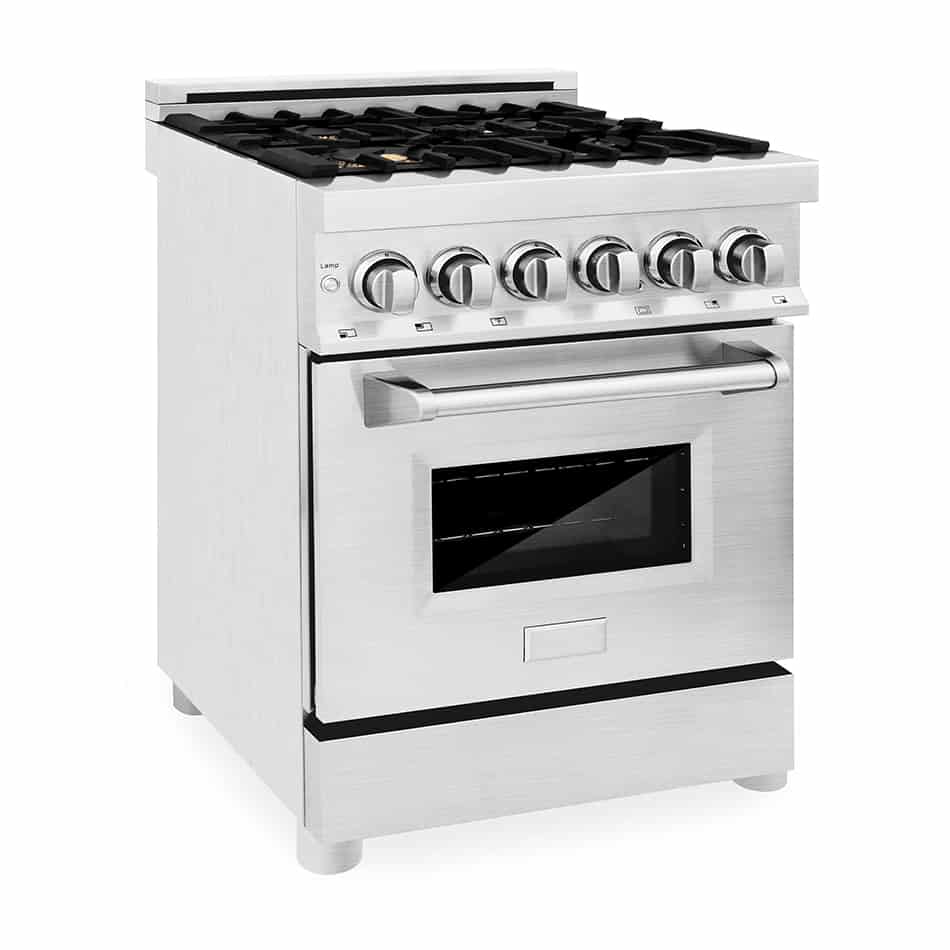 These stoves are typically 36″ high by 30″ large by 26″ deep. They have a typical oven area of 4-6 cubic feet.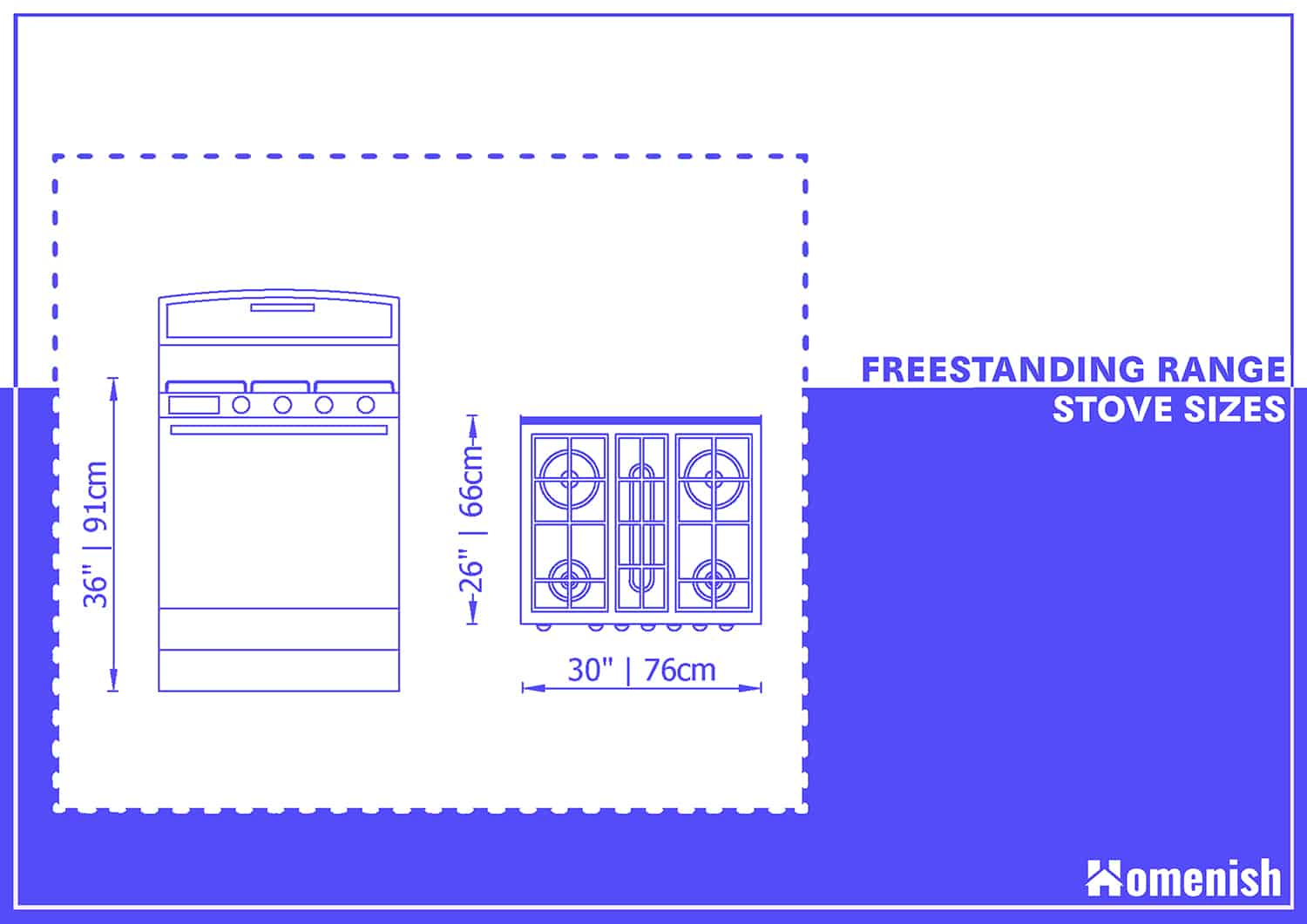 They are created to fit in between 2 cabinets with a percentage of clearance on both sides and behind. This is the most typical kind of range in the US, and if you have not renovated, this is most likely what is in your cooking area today.
Standard Stove Sizes According to Type
Here's a fast referral guide for the common height, width, and depth of each kind of range.
Freestanding range size: 36″ high by 30″ wide by 26″ deep
Slide-in range size: 36″ high by 30″ wide by 26-29″ deep
Apartment-sized range size: 36″ high by 18-25″ wide by 24-26″ deep
Drop-in range size: 26-28″ high by 30″ wide by 26″ deep
Frequently Asked Questions
What Size is a Small Range?
The typical size of a range is 30 inches across, though some electric and gas range stove designs can be approximately 36 inches. Typically seen in apartments or condos, little stoves vary from 18-25 inches.
What Sizes Are Gas Ranges Available In?
A freestanding stove is typically 30 inches wide; dual-fuel and commercial ranges are typically 36 inches, though they can go up to 60 inches.
How Large is a Five-Burner Range?
4 and 5 burner ranges with cooktops are normally 30 inches across, though dual-fuel and professional designs are typically 36 inches.
Is There a Standard Oven Size?
Yes, there is a standard oven size. The most common width is 30 inches, but the size varies based on design. Studio apartment ranges are 24-25 inches broad, while commercial designs may go up to 36 inches.