If you are looking for a new outdoor grill, you might have considered the iconic Big Green Egg, which has been storming the cookout market for several decades thanks to its ability to maintain high temperatures for sustained periods of time, its low fuel usage, and the restaurant-quality food it produces even by newcomers to cooking.
It is more expensive than many of its competitors, but it is made from NASA-grade materials for an unrivaled quality that will last a lifetime.
It can bake, smoke, roast, slow cook, and do anything you would want a regular kitchen oven to do. You can also buy accessories such as baking plates so that you can make cakes or pizzas. A green egg comes in many different sizes, which we will go into detail about in this article.
What is a Big Green Egg?
A Big Green Egg is a brand of ceramic outdoor grill cooker made based on the Japanese kamado-style method of cooking. It is an iconic piece of equipment that was invented in the 1970s by Ed Fisher. The Big Green Egg Company is based in Atlanta, Georgia, and the grills themselves are made in Mexico.
The Big Green Egg is aptly named since the grill has an egg-like oval shape, and it is finished in a dark green coating. It comes in various sizes and designs to suit a wide range of home chefs.
Big Green Egg Sizes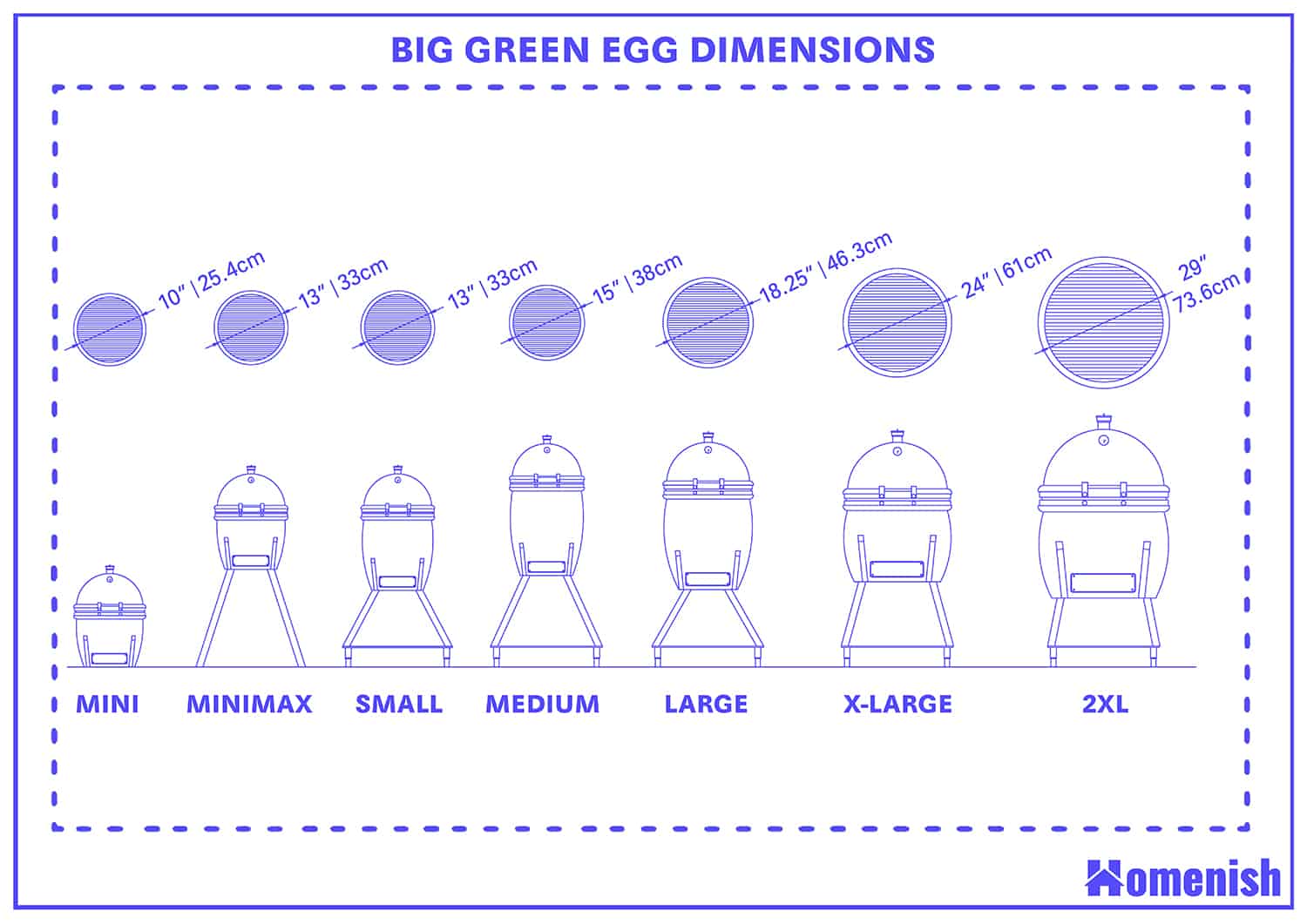 Mini
This is a compact Big Green Egg that is ideal for taking on camping trips or out for a picnic. Since it uses charcoal to cook, it means you won't have to take propane canisters camping with you, and you can enjoy an authentic campfire taste.
This size of grill is also ideal for smaller spaces, such as grilling on a balcony or on a boat. The grilling area of this model is 79 square inches, and the grid diameter is 10 inches. It weighs 39lbs and is able to cook 2 chicken breasts at once or one steak.
Minimax
This is another compact Big Green Egg which is intended to be portable since it features its own handy carrier. It is able to cook more at one time than the Mini but is still lightweight and small enough to be conveniently transported with you on camping trips or tailgating parties.
The cooking area on this model is 133 square inches, which means that 4 burgers, 1 rack of ribs, or one 12-pound turkey can be cooked on it at any one time.
The grid is 13 inches in diameter, and the grill overall weighs 76lbs. From the base to the top of the Big Green Egg, the height measurement is 19.5 inches.
Small
This model of Big Green Egg is able to cook the same amount of food at one time as the Minimax, but it is intended for smaller areas as opposed to being designed with portability and travel in mind. Like the Minimax, it has 133 square inches of cooking space and a 13-inch diameter grid.
It weighs 80 pounds and is ideal for use on small patios or balconies to feed a small family or group of friends. You can fit one 12-pound turkey in this model, 2 steaks, or 1 rack of ribs.
Medium
If you want a Big Green Egg that accommodates popular accessories such as the 'Pizza and Baking Stone,' then this is the minimum sized model you can get. This model, along with the larger models, is all compatible with a variety of Big Green Egg accessories.
This size of grill is ideal for small families and gatherings, as it has a fairly compact size but is able to cook a decent amount of food at one time. On this model, you can cook two chickens at a time, 4 steaks, 4 racks of ribs, or 6 burgers. It has a 15-inch grid, a 177 square inch cooking area, and a weight of 144 pounds.
Large
This is the most popular model of Big Green Egg because it can handle almost any task that a family or large party would need at a cookout. It is great for roasting or smoking meat for special occasions or is ideal for a pizza night with friends.
This model has a generous cooking area of 262 square inches, which means it can cook a 20-pound turkey, or 7 racks of ribs, or 6 chickens at one time. It could also hold 8 steaks or 10 burgers. The grid diameter of this grill is 18.25 inches, and the total weight is 162 pounds.
X-Large
This is a very generously proportioned Big Green Egg which is perfect for those who regularly hold large-scale cookouts and parties for big groups of family and friends. The cooking area on this grill is 452 square inches, and the grid size is 24 inches in diameter.
You could prepare large feasts on this Big Green Egg all at the same time since it has the capacity to cook 11 whole chickens, 12 racks of ribs, or 24 burgers all at once.
It is also a great addition to festive celebrations since it can cook two whole 20 pound turkeys at the same time. The weight of this model is 219 pounds, and since it has a substantial size, it is best suited to large decks and backyards with plenty of space.
2XL
This enormous Big Green Egg is the largest on the market. It is ideal for family reunion cookouts and big garden parties. It is also large enough to be suitable for commercial use in restaurants or catering trucks.
The cooking possibilities you can explore with this Big Green Egg are never-ending. It is able to roast an entire suckling pig or 20 racks of ribs.
You could alternatively cook 16 whole chickens at one time or 40 burgers. The cooking space on this model is an enormous 672 square inches, and the grid is 29 inches in diameter. It weighs 375 pounds.