Convection microwaves and toasters have many similarities. They are both small modern kitchen appliances that can be used to cook food, heat up leftovers, and even warm up cold plates. However, there is an important distinction between these two appliances, which is how they work.
The heating methods they use are different, and this will impact the results achieved, as well as cost and convenience. Here we assess the pros and cons and the differences between the convection microwave and the toaster oven to find out which appliance is best in any given situation.
Convection Microwave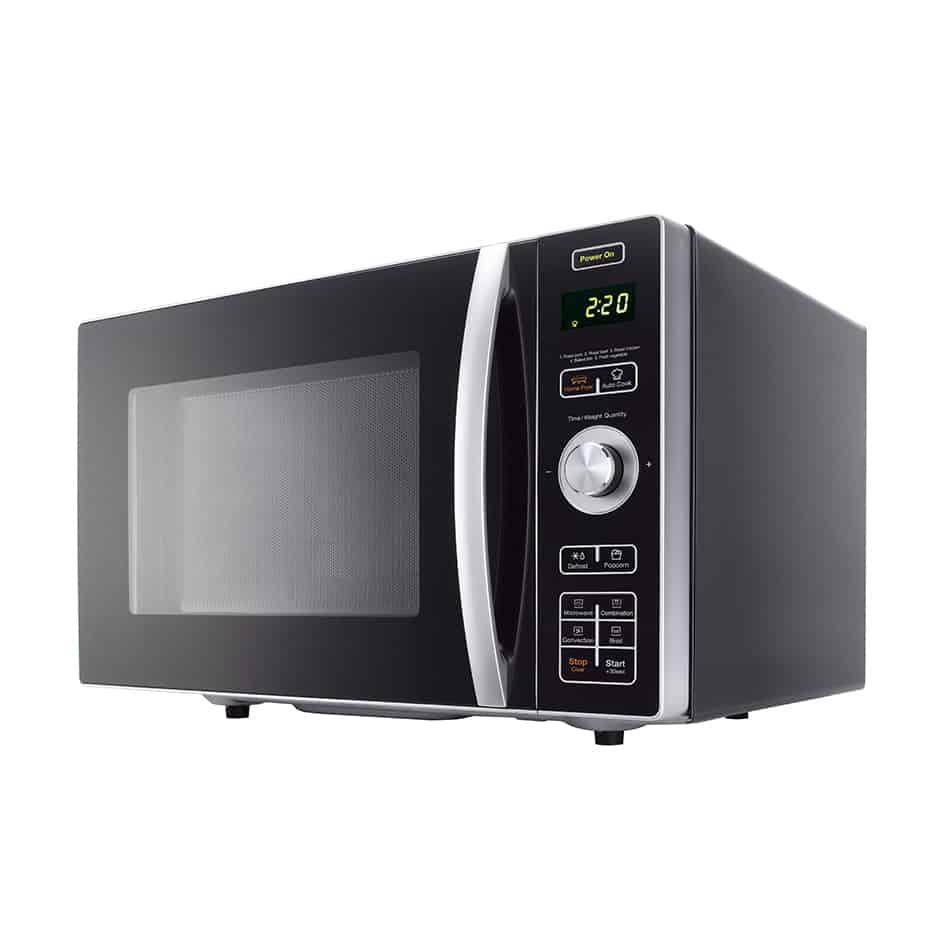 Convection microwaves are essentially a cross between the convection oven and the standard microwave.
They offer a range of benefits compared to the toaster oven but also come with some drawbacks. To understand the components of a microwave and how it works, see our guide,' The Main Parts of a Microwave.'
Pros:
Versatile
Convection ovens utilize warm air, which is pushed around the interior of the oven to warm food up from the outside, whereas a standard microwave uses radiation to cook food from the inside out.
Many people favor the crispness of food achieved when using a convection oven over a microwave which can leave some food, like pizzas, feeling a little soggy. However, most will agree that the convenience of a microwave is far better than the convection oven because it cooks food much more quickly.
With the convection microwave, you have the best of both worlds. This appliance can cook food quickly on the microwave setting and also use its convection technology to evenly warm up the outside of food to give a toasted finish.
Depending on what you are cooking and the type of finish you want to achieve, you can use different settings on the convection microwave. These appliances can typically be used in three different ways; as a microwave, as a convection oven, or as a combination of the two.
When used as a microwave alone, you can defrost frozen food, which is a feature not offered by toaster ovens.
Easy Cleaning
Convection microwaves are very easy to clean. The element in this appliance is concealed, and therefore you can simply spray down the interior of the microwave with a cleaning fluid and wipe it down without fear of harming the heating element.
Alternatively, you could wipe down the walls of the convection microwave using a cloth dipped in soapy water. There are no racks in a convection microwave that can accumulate food debris, so there is very little cleaning to do. The glass plate can usually be removed and wiped down or put through the dishwasher.
Cons:
Size
Convection ovens contain more technology and more parts than a toaster oven and therefore tend to be quite large. Their considerable size might make them inconvenient to set up on a countertop, whereas a toaster oven is generally small enough to be stored in a cupboard and brought out only during use.
Cost
Convection microwaves cost more than toaster ovens, but this is because they have more to offer than a toaster oven and are essentially two cooking appliances in one.
Limited Cooking Space
Convection microwaves have limited cooking space which can make them inconvenient if you are cooking for a family or dinner guests. There are no racks in a convection microwave as you would find in a convection oven or toaster oven, which are able to increase cooking space.
Instead, a convection microwave will have a glass plate at the base like a regular microwave. This could mean you need to cook one dish at a time as opposed to being able to fit several dishes over a number of racks.
Toaster Oven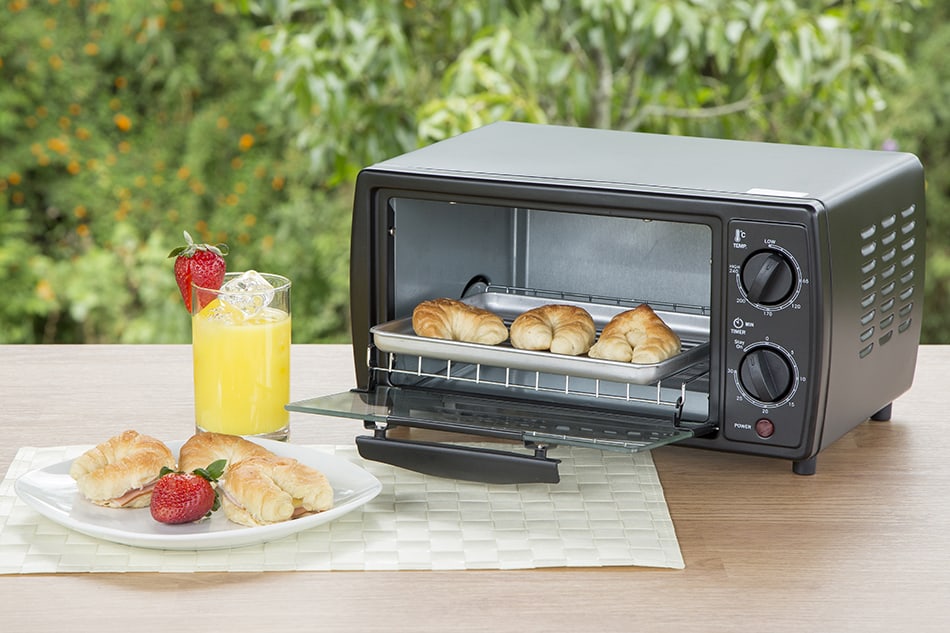 A toaster oven uses a heating element that cooks food from the outside, much like a smaller version of a conventional oven.
Pros:
Cost
Toaster ovens are more affordable than convection microwaves. Considering the low price of toaster ovens, they are very useful as they combine the technology used in both toasters and ovens. This means they can toast food to give it a crispy texture or caramelize food.
Size
Toaster ovens are smaller than convection ovens and can be left on the countertop permanently without taking up much space or getting in the way. If you prefer to keep your countertop clear or have minimal chopping space, the toaster oven is small enough to be stored inside a cupboard and brought out when you want to use it.
Save Energy
Toaster ovens are not particularly energy-efficient, but the fact that they are small means they use less energy compared with conventional ovens, which are considerably bigger. This makes them a good choice if you are cooking for just one or two people, and therefore don't need to heat up a whole big oven.
Cooking Space
Toaster ovens, despite their small stature, actually contain a fair amount of cooking space. This is because they utilize racks so that you can cook several things at once by placing them on different layers of racks.
You might expect that a convection microwave would fit more food in at once because it is much larger from the outside; however, a toaster oven is actually capable of cooking more food at once.
Cons:
Cannot Defrost
Unlike a convection microwave, a toaster oven cannot be used to defrost frozen food. This makes it less versatile than a convection microwave and means that if you do want an appliance that will defrost food, then you'll also have to invest in a microwave.
Hard to Clean
The heating elements in a toaster oven are exposed, which makes the appliance tricky to clean. Toaster ovens also have metal racks that can become coated in dripped bits of food, such as cheese or oil, and these can be tough to clean.
Conclusion:
Depending on how you like your food cooked and the size of your household, you might find either the toaster oven or convection microwave more suitable.
If you don't need the microwave function, then a toaster oven is best due to being smaller and less expensive; however, the convection microwave provides more options in terms of cooking styles and is, therefore, more versatile.