Concrete floors have become increasingly popular in residential homes not just in commercial premises as they look sleek and smart. These types of floors are extremely durable and easy to clean, hence the reason they are mostly preferred for the bathroom area.  
Every modern bathroom will benefit from one of the most versatile options in the form of concrete flooring. But if you're not yet convinced, simply take a look at the top advantages of concrete as a bathroom flooring option and my 6 ideas for the most stylish concrete bathroom floors.
Why choose concrete flooring for the bathroom?
As I mentioned earlier, concrete is one of the most versatile flooring options as it can easily be customized to your liking. For example, you can apply coloring, staining, or engraving to an exposed concrete floor to make it look unique. This type of flooring is not only stylish and long-lasting, but it also withstands the elements in the bathroom including mold, condensation, spills, etc. 
In comparison to the cost of customizing other materials, such as costly tiles or marble, it makes sense to opt for concrete as a more viable option that suits any budget. After all, this is an environmentally-friendly material that provides you with the freedom to design your bathroom floor exactly the way you like.   
Advantages of concrete in a nutshell:
One of the biggest advantages to concrete is that small spaces can appear larger since there are no tile grout lines or floorboard seams. What you get is a polished and smooth floor that looks modern and current.
Another great benefit of concrete is that due to recent technological advancements, it has become easy to personalize. You can add your favorite color and texture not just to the floor, but also to the concrete walls and ceiling. 
Concrete is very easy to clean and maintain since there are no cracks for the dirt or grime to hide in. It especially makes a great choice for those who don't like to spend hours cleaning their bathroom floor.
No need to worry about allergens, such as pollen, dust, and pet dander with concrete floors. These types of flooring consist of a smooth texture so allergens have a hard time sticking to the floor.
List of concrete bathroom floor ideas:
1.  Polished concrete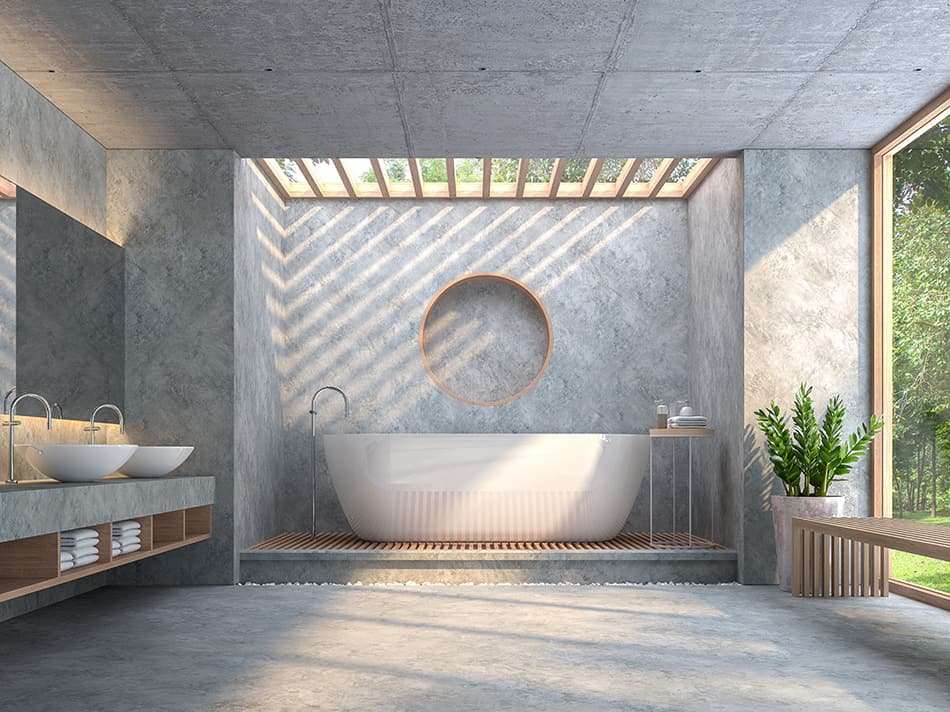 Polished concrete surfaces require less maintenance since they are tightly compacted. The surface won't require any waxing or stripping, which is beneficial to the environment and provides a nicer appearance.
Polished concrete isn't slippery even though it has a shiny appearance. This is because the polished floor is mechanically grinded and flattened in order to increase its friction. This feature makes polished concrete an ideal flooring for a modern bathroom.
2.  Stained concrete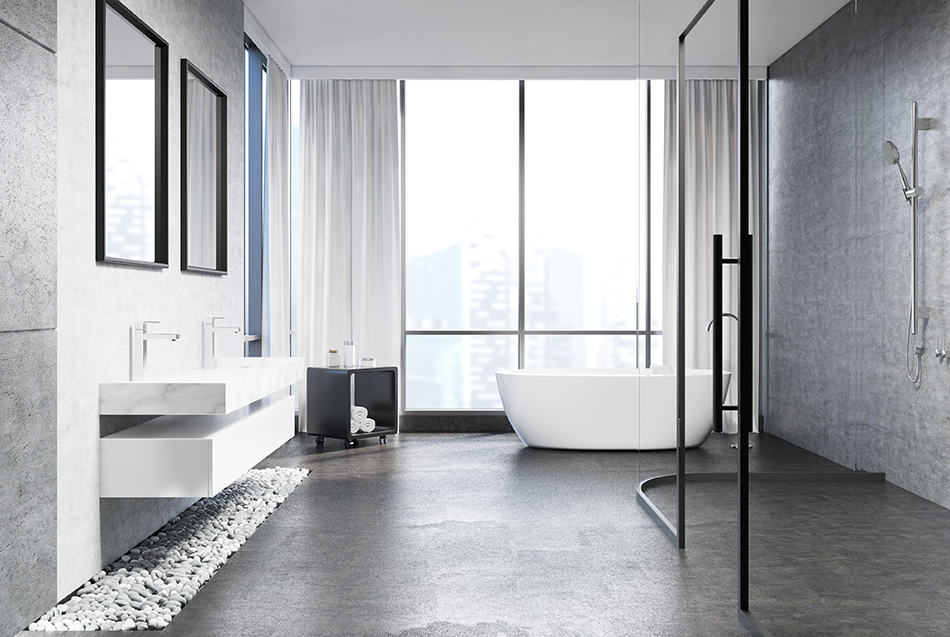 The staining process gives concrete floors an aesthetically appealing look. There are many benefits to a stained concrete floor, some of which include:
Durable: stained concrete floors are incredibly durable as they don't peel, fade, or crack. To further preserve their finish,  they can be sealed with urethane or epoxy coating.
Cost-effective: staining the concrete floor is an affordable solution that's especially advantageous for larger bathrooms.
Low maintenance: stained concrete floors provide a smooth surface that's easy to clean with just a damp mop.
3.   Stamped concrete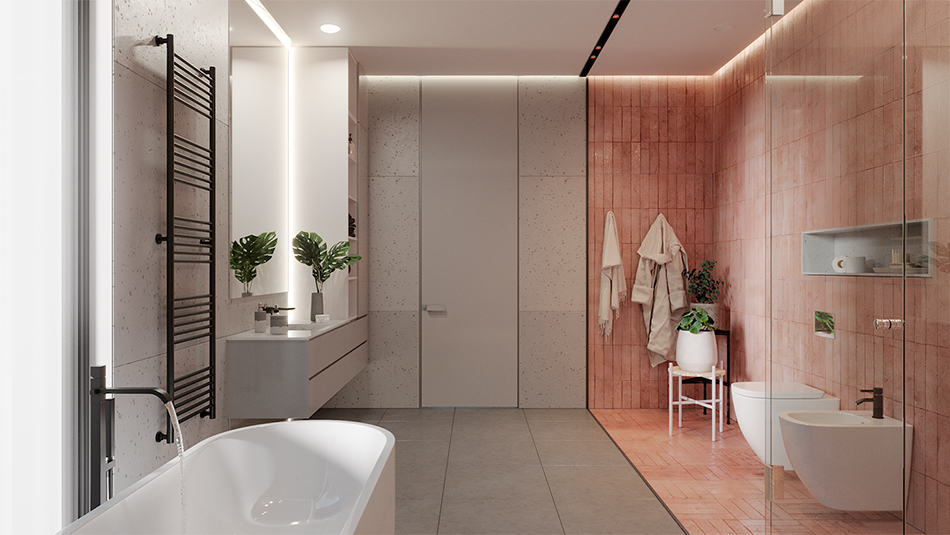 When it comes to choosing a finished surface for the bathroom, you'll want something that's pleasing to the eye and durable. This is where stamped concrete comes into the picture as an ever-growing popular choice. By choosing this surface for your bathroom, you'll not only enhance the aesthetic character of the room, but it will also add value to your property.  
Stamped concrete is available in many different textures, patterns, and colors. It can mimic the look of stone or tiles and will nicely complement marble or tiled bathroom walls. 
4.  Decorative concrete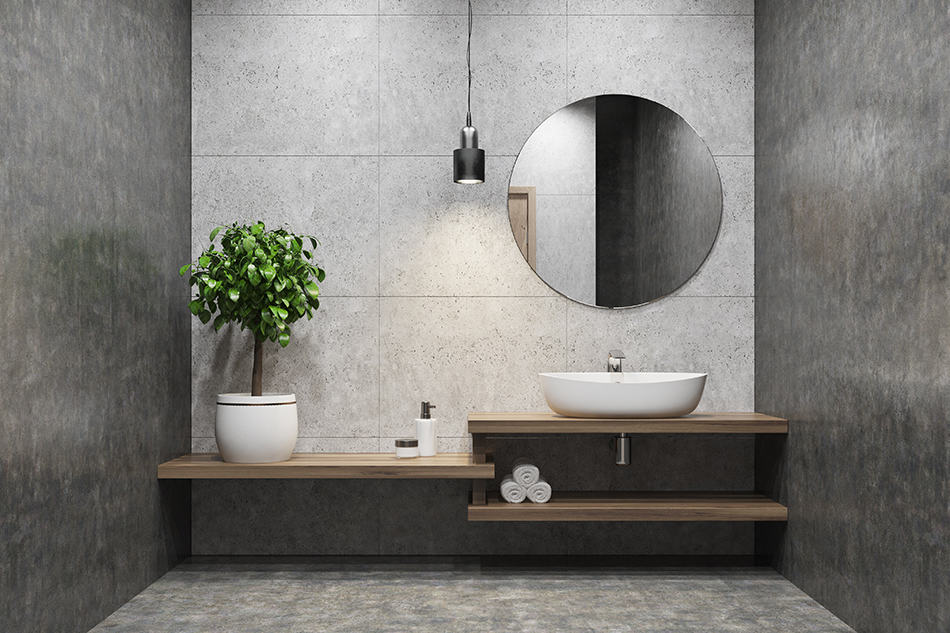 By choosing a decorative concrete floor for your bathroom, you are in fact saving valuable money and time since this type of flooring will last for many years. A high-quality decorative concrete floor is scratch-resistant and easily withstands high-traffic spaces like the bathroom. By investing in this flooring, you'll save yourself from carrying out any further repairs, replacements or maintenance a few years down the line.
There are lots of epoxy or acrylic coatings to seal your decorative concrete floor. This is the best way to waterproof the bathroom floor and you can choose from many colors, textures, and patterns for the coating. Tip: pick an epoxy coating that matches your bathroom's overall décor.
Since concrete is moisture proof, you won't have to worry about any stains or mold appearing on the surface.
5.  Concrete tiles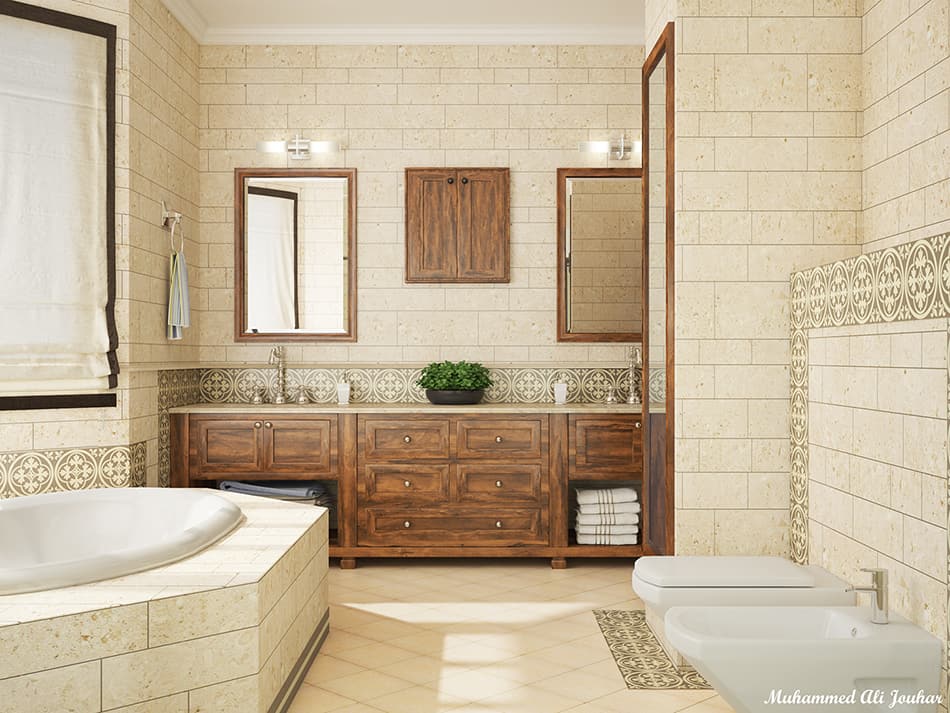 Concrete tiles have been popular for centuries now and all for good reason; these types of tiles are practical and beautiful. Concrete tiles offer a huge range of advantages that make them the ideal choice for a bathroom.  They can endure heavy wear and tear plus mold or mildew won't get accumulated on the tiles' surface.
Since the surface of the concrete tiles is very hard wearing, you won't need to apply any stains as long as the tiles are properly installed.
6.  Polymer concrete overlays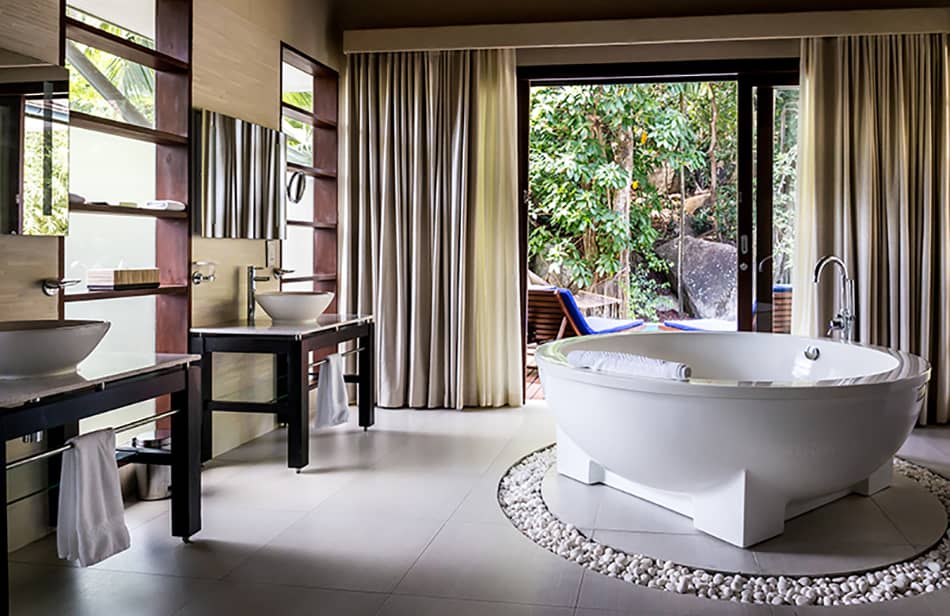 Polymer concrete overlays have been used on concrete floors for many decades. These coatings require very little maintenance and are easy to clean. By choosing this type of floor, you'll help keep your bathroom floor intact and prevent it from damage. In case any damage does occur, the repair cost will be quick and small compared to other types of floor materials.
Polymer concrete overlays are very easy to install. There is no floor digging involved and they can simply be placed on top of your existing bathroom floor, thus saving you time and money.