Sparkling and glamorous, silver is a color associated with luxury. It is no wonder we tend to see silver mostly in the kitchen, where stainless steel appliances take center stage to draw attention. In modern kitchen designs, silver is a must-have color that takes this room to a whole new level.
Whether you like stylish silver fixtures or appliances for your kitchen, you can certainly dress your cooking space with bold and beautiful decorations.
The following silver kitchen ideas with pictures will inspire you to capture this modern tone in your home:
Silver Kitchen Ideas
Stylish Stainless Steel Appliances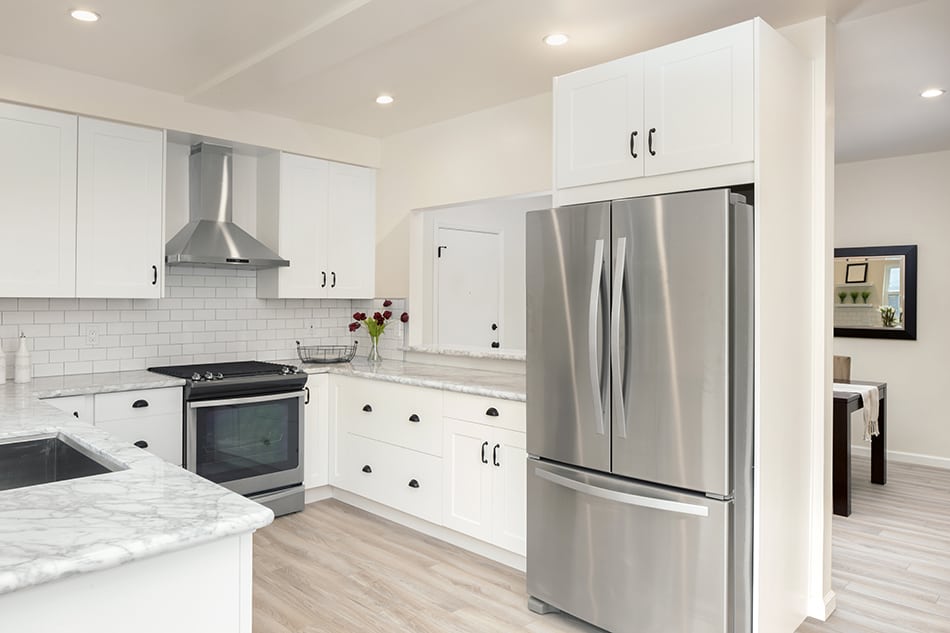 Accentuating your silver kitchen with stainless steel appliances will provide a glistening effect to your cooking space. Any kitchen style with silvery accents will look beautiful, thanks to a blend of white and bright cabinets.
In this modern silver kitchen, the stainless steel appliances work very well with the white cabinetry and laminate flooring. The kitchen looks bright enough without the need for windows since there are plenty of spotlights, and the use of light colors has also helped.
Two-Tone Silver and Red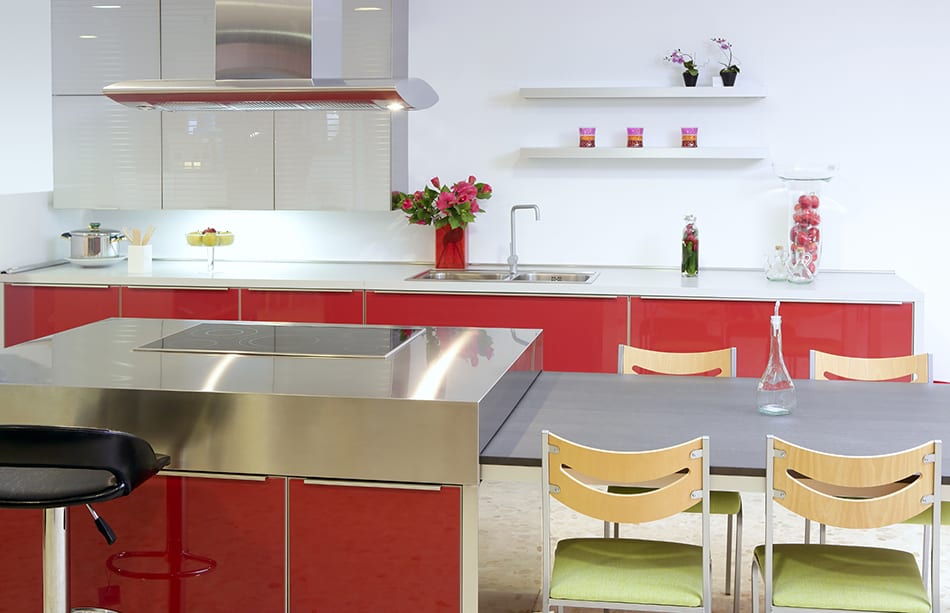 Using two-toned decor will provide a smooth and sultry feel in a contemporary silver kitchen.
For a sexy and stylish kitchen, why not add cranberry red throughout the room by incorporating silver and red into the island, cabinets, and decorative pieces, as shown here? The two-tone idea could be just what you need to entertain your guests.
Soft Silver With Gray Walls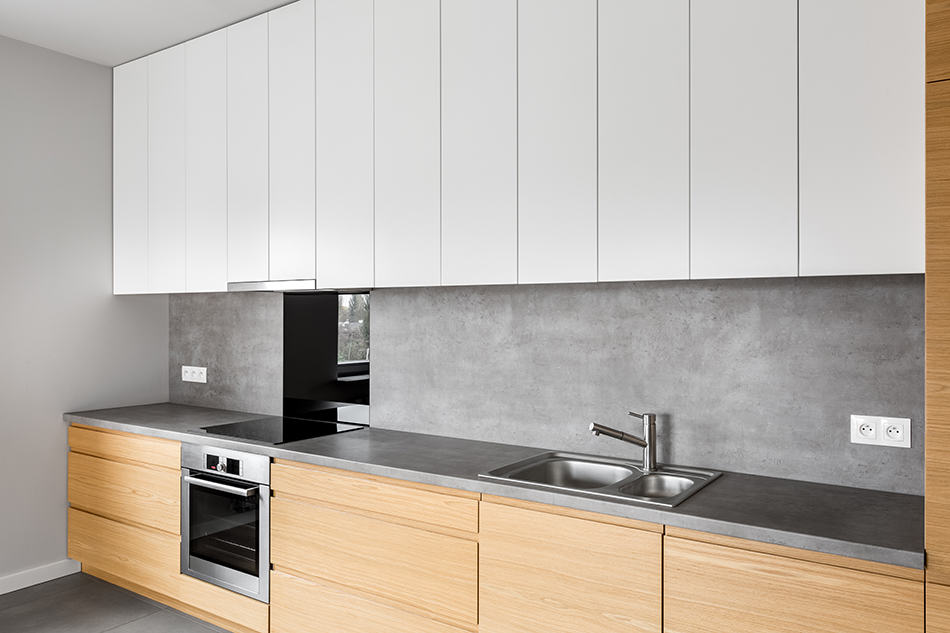 If you're after a more subdued and relaxing silver kitchen design, opt for a muted gray tone. Gray and silver complement each other and go hand in hand in any modern, smart kitchen. Add in some stainless steel appliances with gray undertones, and your silver kitchen design will be complete.
Here the silver and gray kitchen looks uniform in a simple way thanks to its wood and gray colors that emit a cosmopolitan appeal. The silvery sheen of the appliances stands out beautifully against the soft gray tones of the backsplashes.
Pink and Silver Combos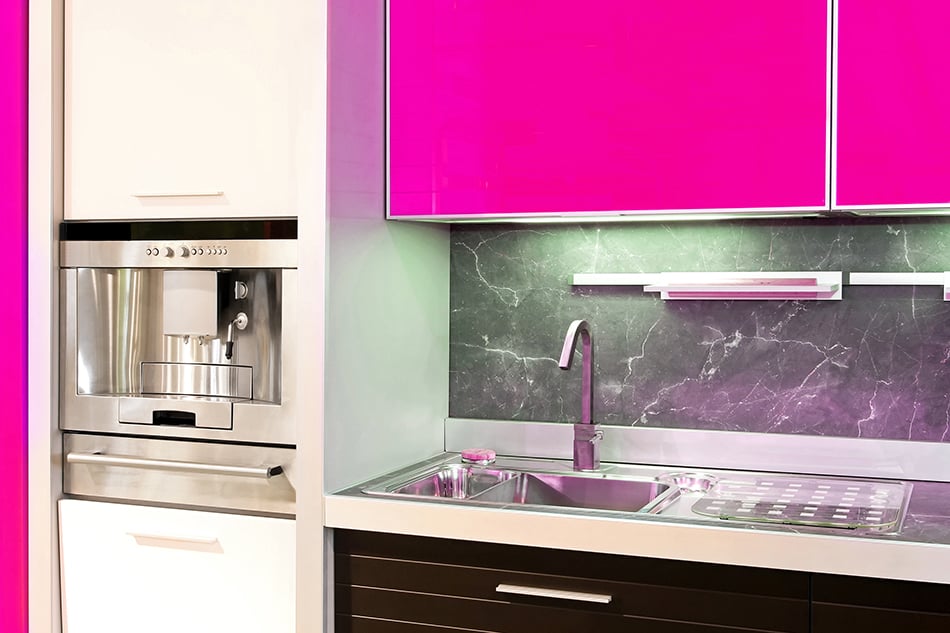 For small kitchens, a bold shade of pink accented with silver is sure to brighten up the space instantly. Pink and silver aren't the first color match that pops to mind, but they create an illusion of space with a touch of elegance. You can even use a patterned gray backsplash to make the pink cabinets stand out.
A hot shade of pink can make a style statement next to silver appliances and liven up your gray walls. Whether you like patterned gray countertops to go with pink and silver, your kitchen is sure to look versatile in a retro way. For maximum impact, choose the same shade of pink for the extractor and island to coordinate with the stainless steel appliances and gray backsplashes.
Combine Wood with Stainless Steel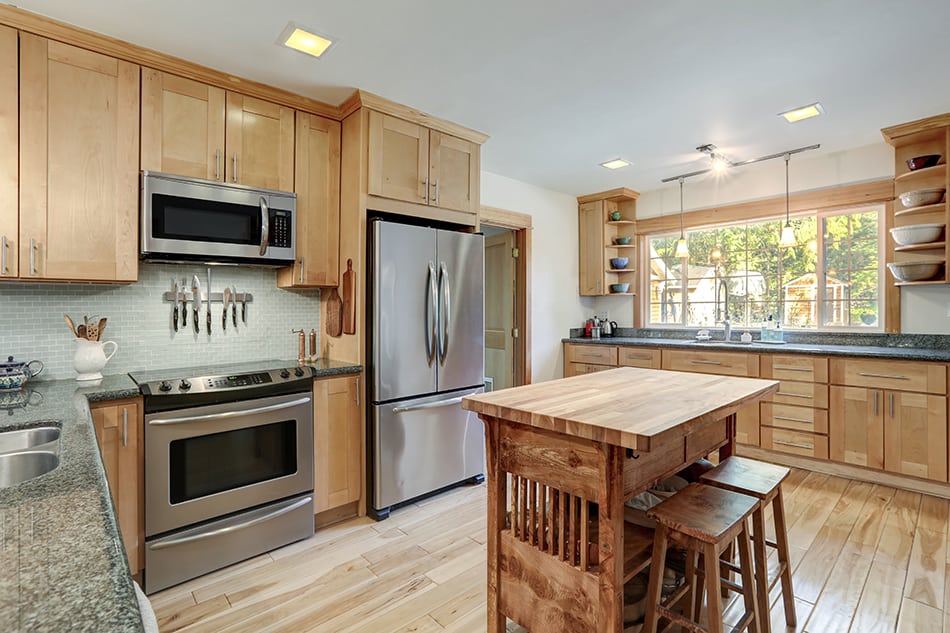 The combination of stainless steel appliances with wood truly makes a rustic mix. By mixing the opposites of the spectrum in the right way, your silver kitchen will look unique and inviting.
This country-style kitchen looks eclectic thanks to its wooden flooring with matching islands and cabinets blending beautifully with the silver appliances and gray granite countertops. As you can see, no other color or material is needed to complete the rustic look of this kitchen.
Go Ultra Modern with Silver and Blue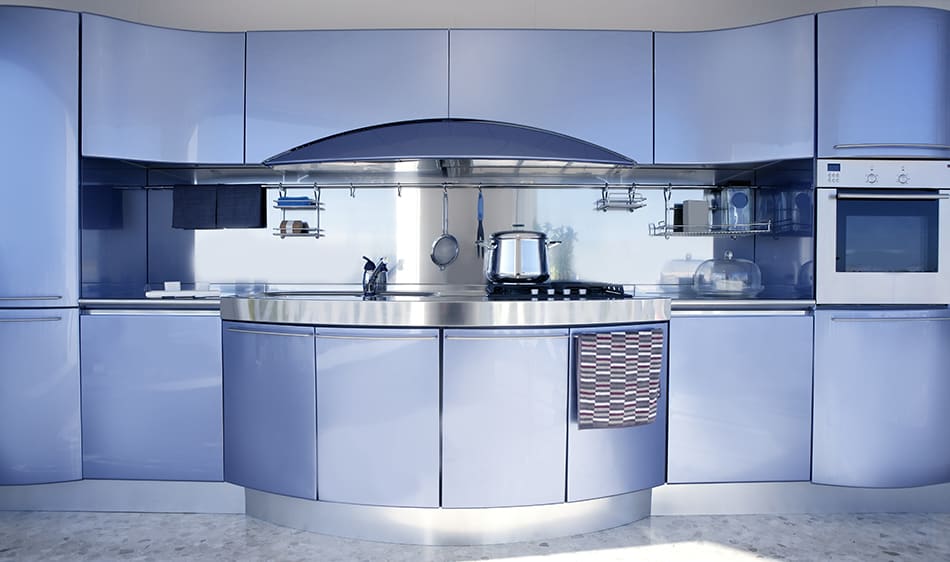 For those who are drawn towards brighter shades, a light hint of blue for their silver kitchen is a great way to introduce a pop of color. Blue and silver don't look dated together and will, in fact, enhance the appeal of the kitchen interior. Match these two colors with a light tiled flooring to bring the whole look together.
This contemporary silver and blue kitchen is the perfect example of how the interior design of the room can accentuate the rest of the decor while adding depth. Blue and silver are especially ideal for large kitchen areas, even if you don't have an island or separate dining area to extend the colors. See other color combinations with blue in our article ' 7 Brown Blue Kitchen Ideas for Inspiration'
Add Shine With Retro Silver Lighting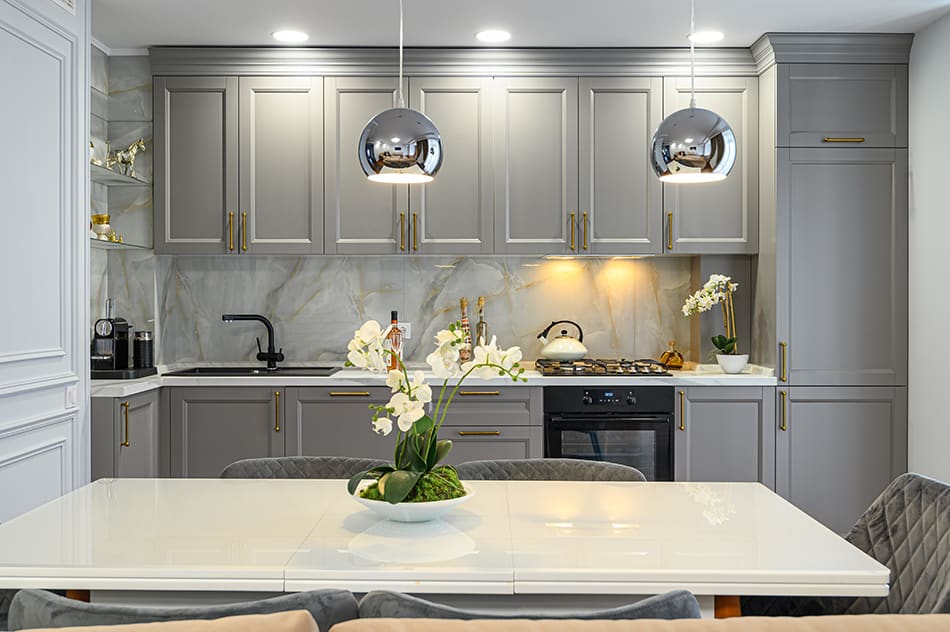 If your kitchen has limited room to work with or lacks natural light, consider adding some contemporary silver hanging lights as well as spotlights to create a spacious feel. This reflective finish will bring out your small kitchen and give the space an airy ambiance.
This small white and gray kitchen benefits from stunning silver lights that have added an air of welcoming and warm feel to the space. It goes to show that you don't have to include silver throughout your kitchen to give it a contemporary feel. A simple silver lighting will do the trick nicely!
Soften the Silver With Super Matt Tones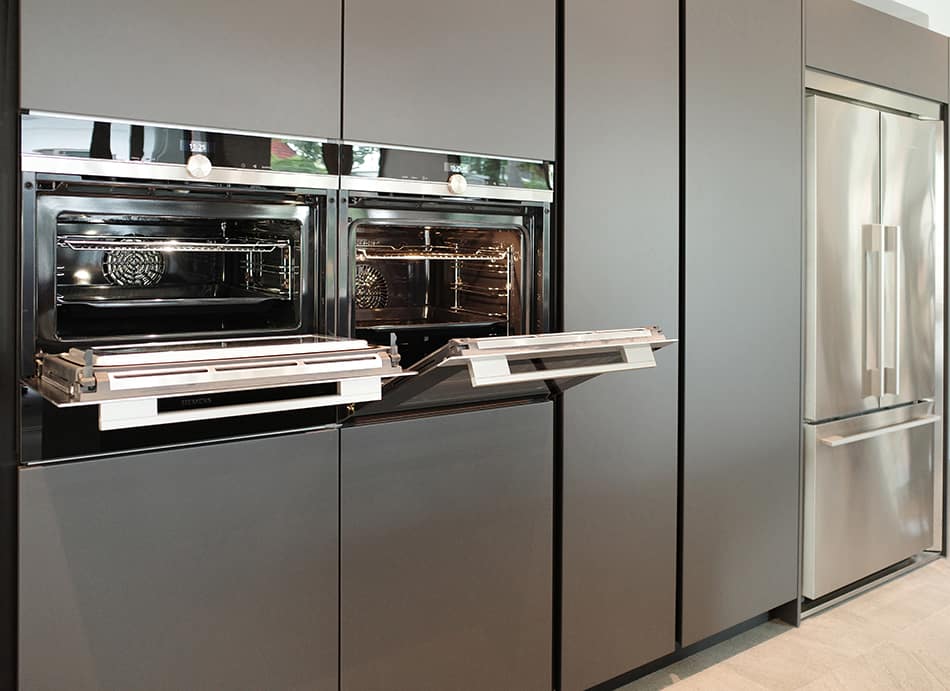 Silver can feel a little too overwhelming, so why not soften your silver kitchen by adding super matt finishes? This will help keep the focus on the silver appliances.
The soft texture of matt cabinets feels luxurious next to silver, as shown in this example. When silver is paired with darker hues, it is an easy way to make a bold impact as a refined interior design element.
Mix Stainless Steel With Dark Gray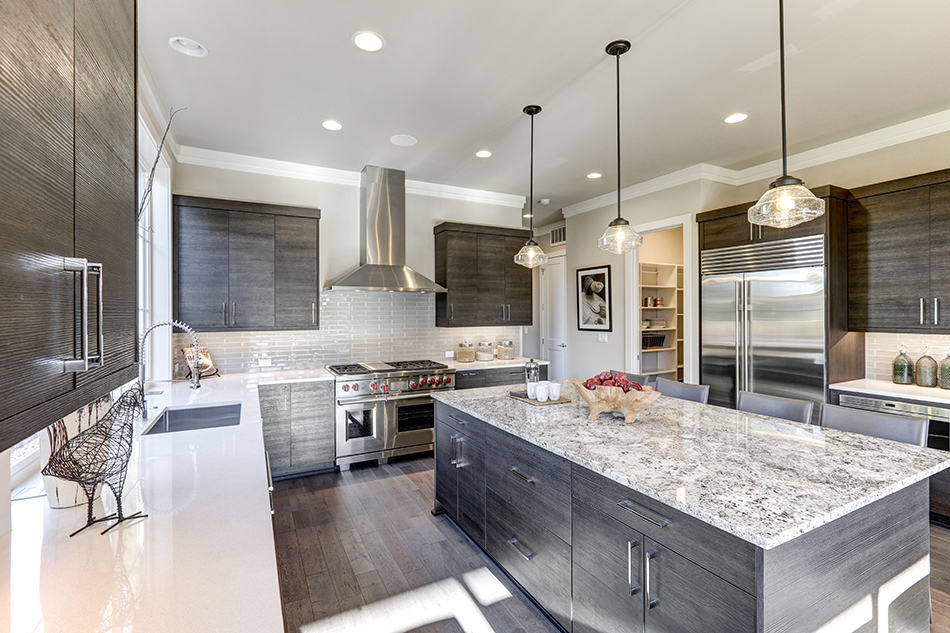 For a more dramatic impact, introduce dark grey to your silver kitchen. A metallic shine is all that's needed to create a modern, clean aesthetic.
In this modern kitchen, the combination of stainless silver, dark grey backsplashes, and retro lighting looks chic and sophisticated. One such shade of grey that will make the most impact in a silver kitchen is charcoal.
Wood Paneling for Silver Kitchen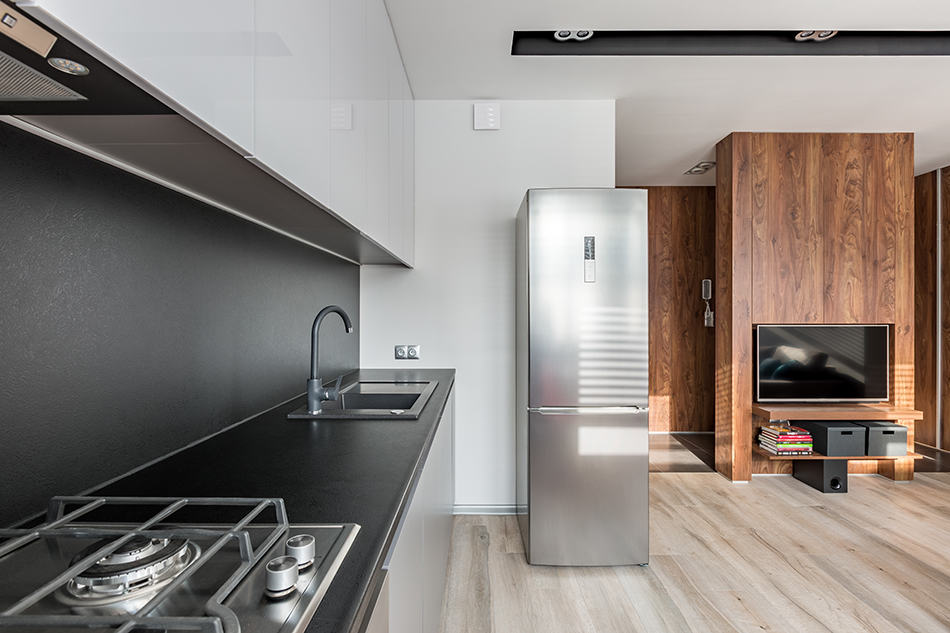 For an open-plan silver design-inspired kitchen, pair your cooking space with wood paneling for an ultra-inviting feel. This idea helps unite the modern with the old by coordinating your silver kitchen with the wood-paneled living room.
Introduce Pops of Color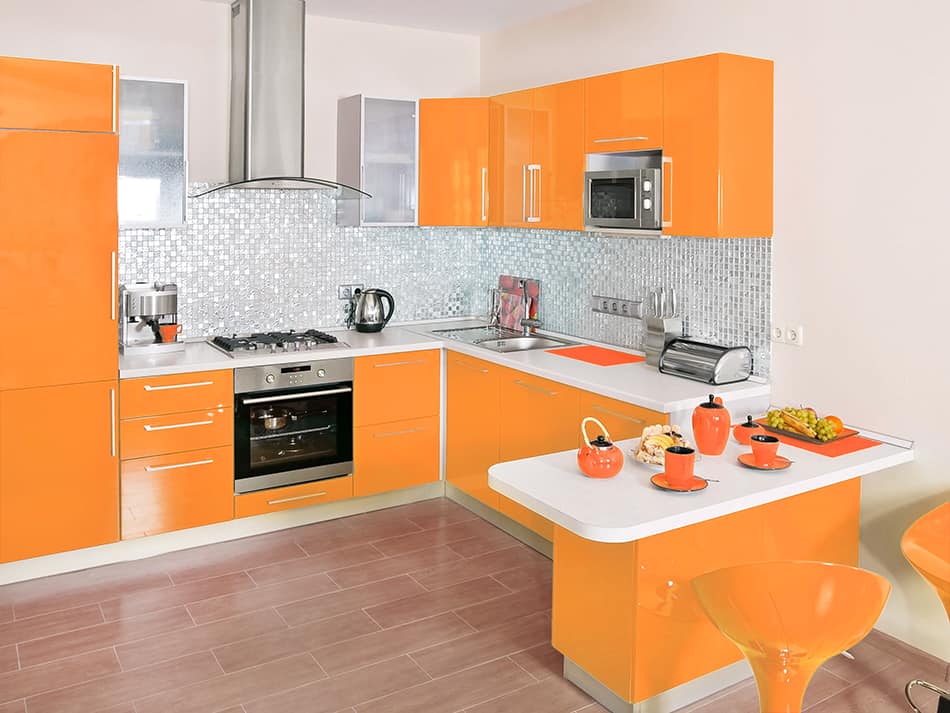 If you're looking to add interest to your silver kitchen, incorporate a bold color to bring a new dynamic to your cooking space. Since stainless steel suits warm and cool colors, opt for a bold shade like pumpkin orange.
This bright hue will coordinate well with stainless steel appliances, but you may also choose lime green and aqua to blend with your silver kitchen units. Alternatively, you could go with warm reds or yellows to incorporate with your silver-tone accessories.
Whichever color you choose for your overall design, it is sure to harmonize with your stainless steel kitchen units. The end result is an energetic and cheerful feel, as shown here. We love the bold orange hue throughout this kitchen. You can safely say this silver and orange kitchen is anything but bland!
Punctuate Silver With Black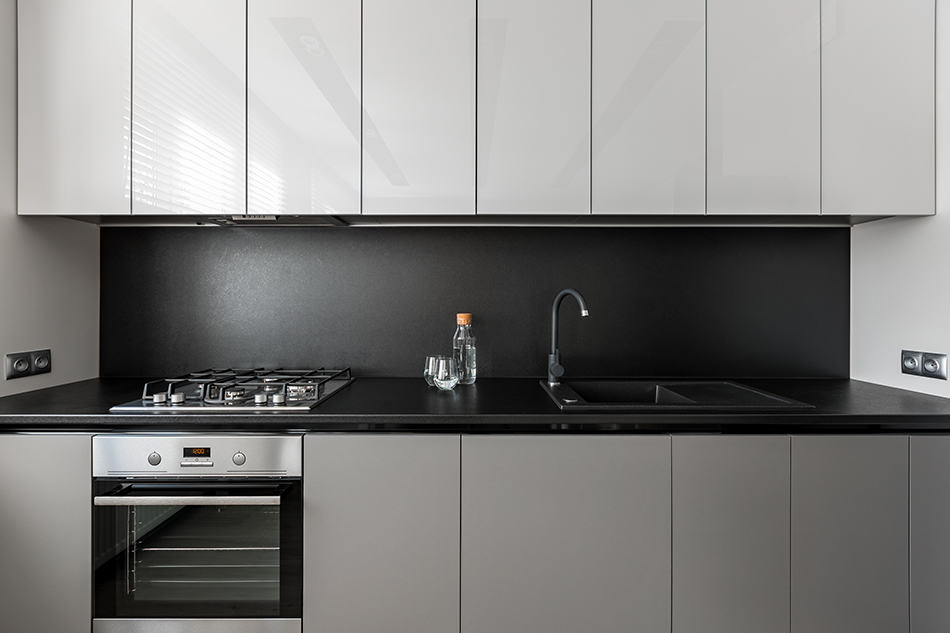 Now some people just aren't keen on a bold and bright color scheme. But that's perfectly OK as you can always contrast your silver kitchen with black features to add a new dimension to your interior design.
In modern open-plan kitchens where space is limited, follow the trend by opting for silverish-white cabinets paired with black countertops and backsplashes, as shown here. This idea makes your kitchen space feel less crowded.
Go With Luxurious White Cabinets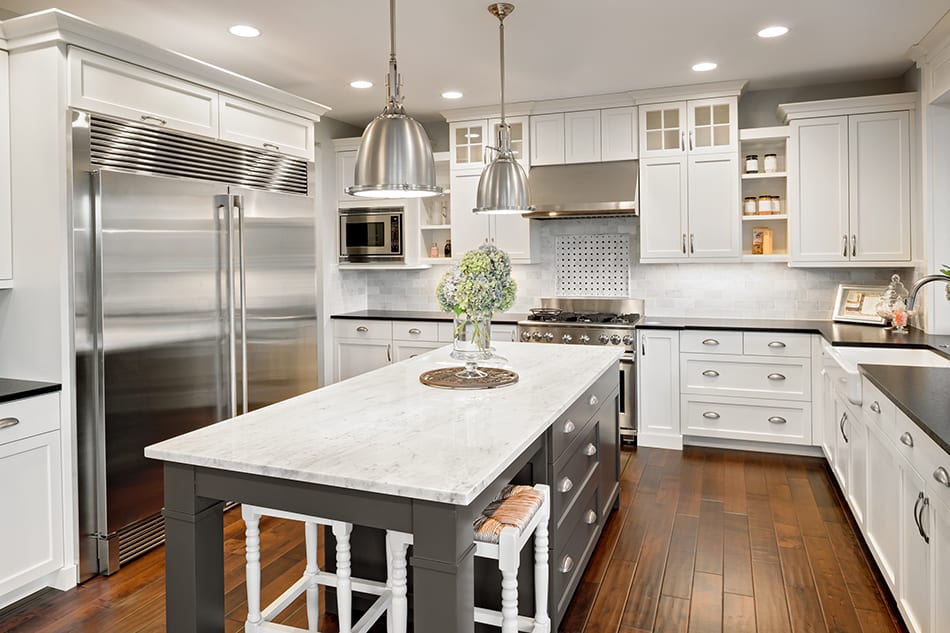 White is an elegant color to use in any room, especially the kitchen. When paired with stainless steel appliances, it provides a powerful contrast against the silver hue. This simple color helps your appliances stand out and looks especially stunning in country-style or rustic kitchens. The benefits of white next to silver are its vibrant features that give the kitchen a bright and fresh appeal.
White coordinates well with silver, as it makes the room feel open and airy. When you add an industrial vibe in the form of stainless steel, you are creating an eclectic feel that's bound to appeal to all your guests.
In this luxurious kitchen, the white cabinets and island countertop blend beautifully with the silver units. This kitchen interior is a dream design that oozes elegance.
Bring Brown Hues to Silver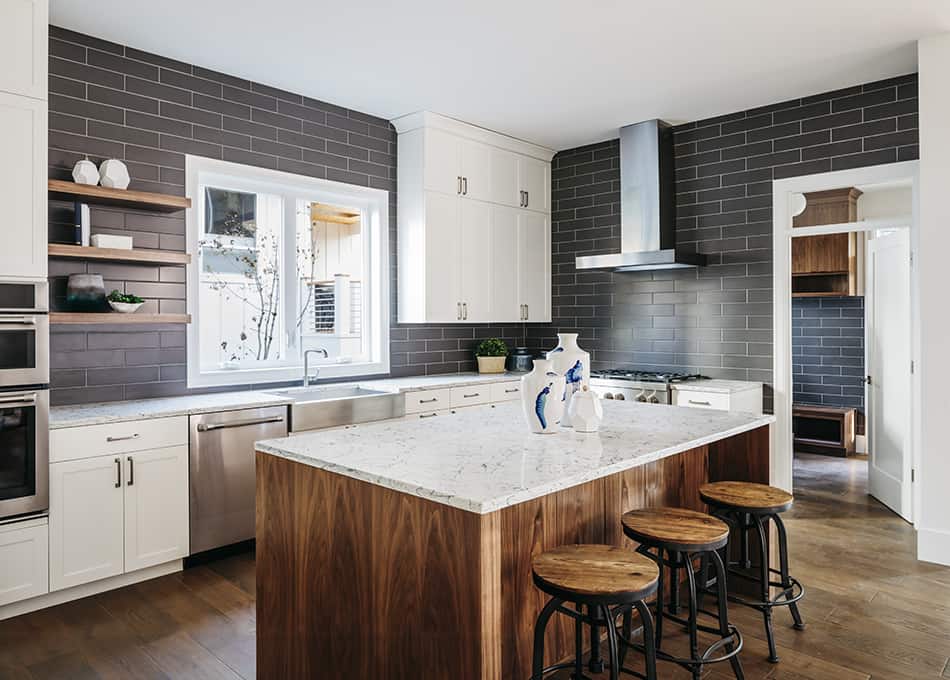 There is nothing warmer and more natural-looking than shades of brown. When combined with silver, dark brown hues create a cozy, warm vibe.
Whether you incorporate brown into your cabinetry, island, or flooring, your silver kitchen will look complete. Here, the modern kitchen has a combination of stainless steel, a brown wooden island with matching stools as well as dark gray brick walls that accentuate the overall design. Although silver isn't dominating this kitchen, it is the combination of natural elements used to enhance its appeal.