Bricks are a common type of material to use on the exterior of a property, and the color of bricks you will most frequently see is varying shades of brown.
If you want to add curb appeal to your home and make it as appealing from the outside as possible, then you'll want to create a color scheme around the exterior of your house that incorporates the brown bricks.
Whether you're interested in painting your front door, having new window shutters fitted, or thinking about putting new plant pots on your front steps, then you'll need to know which colors go well with brown bricks. In some interior design styles, brown bricks are used as an internal property feature, so you might also be curious to find out how you can complement an indoor brown brick wall.
Bare brick walls have recently become popular in industrial-style interiors, so much so that you can easily find wallpaper that has been designed to look like a brick wall when it is hung up. Country cottage-style homes might also make a feature of a bare brown brick wall to focus on the rustic elements of the property.
When it comes to interior design using brown bricks, you'll need to think about what color paint to use on other walls in the room, what type of flooring to use, and what colors you want to bring in for furniture, soft furnishings, and accessories.
Here we take a closer look at the colors that go with brown brick.
White + Brown Brick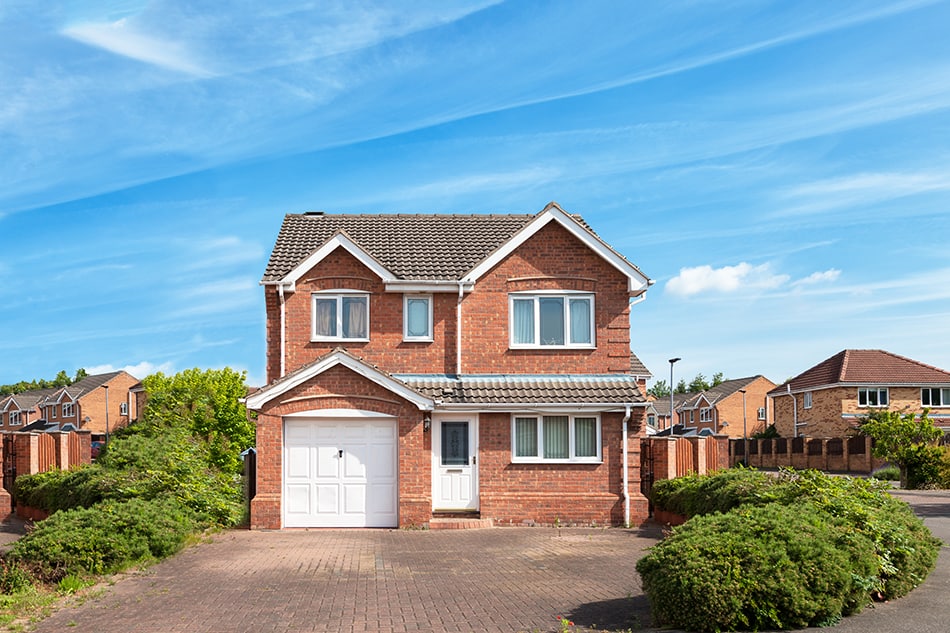 White is a very safe color to pair with brown, as no matter the tone of your brown bricks, white will work nicely with it. From an exterior perspective, if you have a brown brick property, you can have windows, doors, and garages in a white finish to give the home a clean, fresh look.
The white components of the property will stand out against the brown of the bricks and create a modern style. As seen in the photo below, the white color from the wall, furniture comprehends very well with the brown brick and flooring, creating a luxurious yet comfortable feel.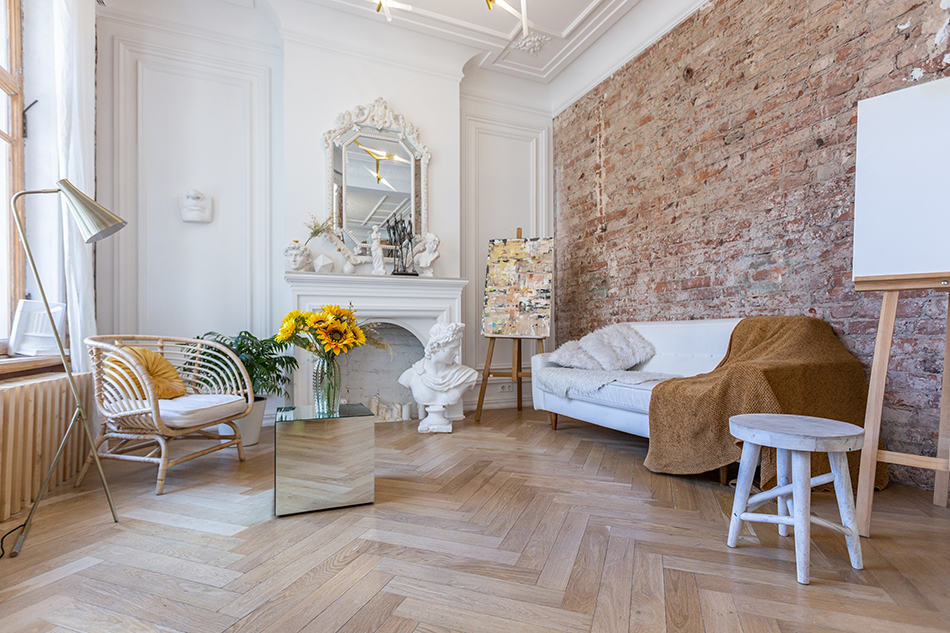 If you have an older home with brown brick, then white windows may contrast too heavily and ruin the historic look of the building, and in this case, you could instead opt for a shade of off-white for a more natural look.
When it comes to interior design, white is an ideal color choice for the remaining walls in a room when you just have one brown brick feature wall. This helps the feature wall to be the focus of the space because it will contrast against the white, and it also creates a minimalist vibe that works well with industrial-style interiors.
Gold + Brown Brick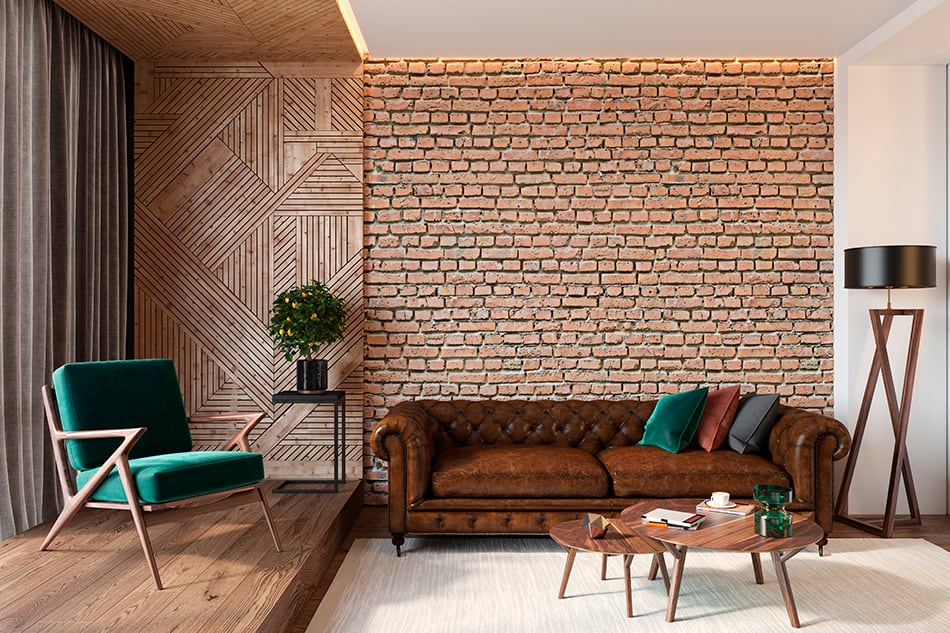 Gold is a color that can make brown bricks have a more luxurious look to them. If you have brown brick walls on the inside of your home and they make the rooms feel drab or oppressive, then use touches of gold to brighten up the space and alter the mood. As gold is yellow-based, it is a warm color that is associated with happiness and riches.
Using gold as an accent color in the form of home decor items, such as mirror frames and light fixtures, will instantly lift the room and make it feel more elegant. You could also use gold on the exterior of a brown brick home to add a more upmarket vibe, for example, a gold door knocker, gold house numbers, or gold railings.
Black + Brown Brick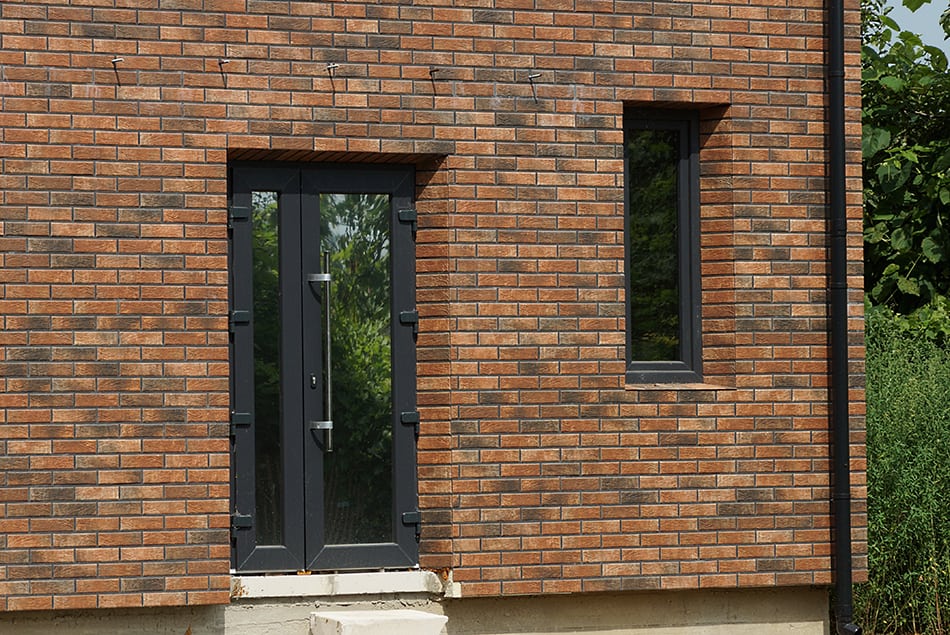 A light-brown brick will work nicely alongside black; however, if your bricks are a dark shade of brown, then use black sparingly to avoid making the space feel too heavy and oppressive.
Black looks great with any shade of brown brick when it is used as an accent color alongside white. Use white and brown as the main colors in a room, and then add touches of black, for example, black cushions or black photo frames, to create a truly sleek and urban style.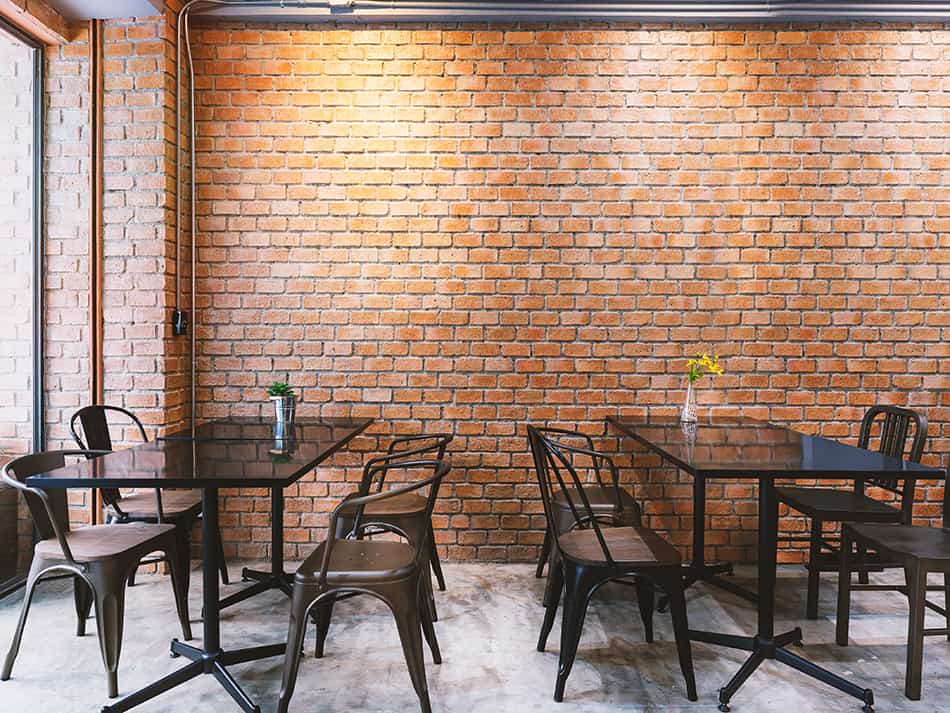 If you have pale brown bricks, then you could be bolder and introduce black more heavily into the color scheme. A black front door and garage door will look elegant on a pale brick home, and you could tie these elements in further by fixing black planters to the front walls of your home or using black pebbles around plants in the front yard.
Gray + Brown Brick
If you are working towards a modern, contemporary, or industrial style interior decor, then gray is a good color choice to use with brown brick. On the exterior of a property, gray touches will instantly make a brown brick home take a step into the future. You can achieve this by painting a front deck in gray, installing gray uPVC windows and doors, or adding gray touches such as plant pots and garden ornaments.
Gray is also a very popular choice to use in interior design alongside brown bricks. If you have a room with an exposed brown brick wall, you can use gray to paint the remaining regular walls, or if all of your walls are brown brick, then use gray as an accent color in the form of furniture and decor items.
You can create a nice layered look with various shades of gray, for example, a dark gray sofa, a mid-gray throw, and pale gray cushions.
If the brown bricks have a red undertone to them, then using gray will help to add a coolness to the space and tone down the warmth of the bricks. Gray is a popular color for use in modern or loft-style decor, so it goes hand in hand with brown bricks, which are also a common feature in these styles.
Navy Blue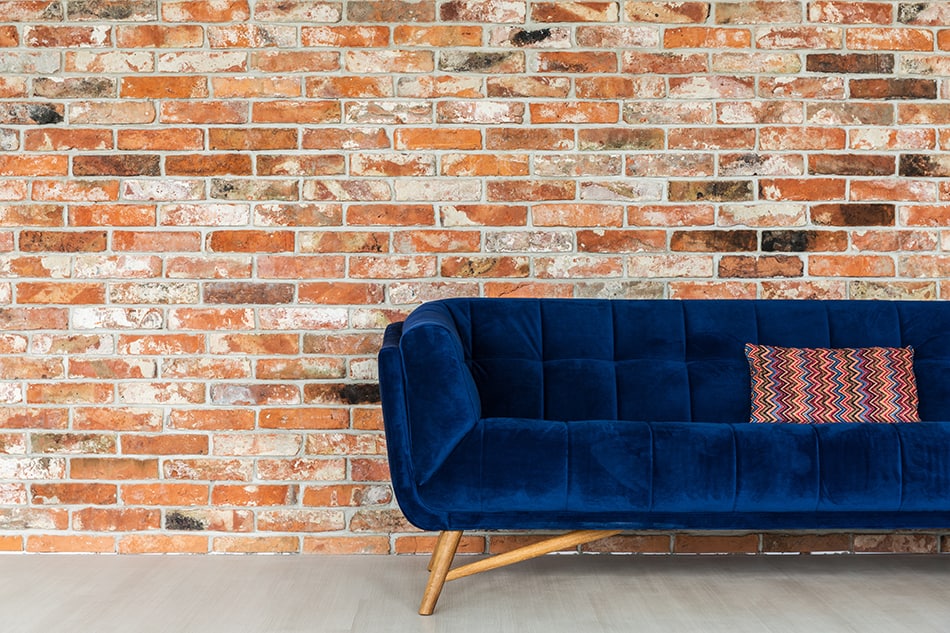 Blue is a cold color, which can work well alongside brown brick if you want to tone down the warmth of the brown. If the brown bricks have an orange undertone, then navy blue will work especially well because blue and orange are complementary colors, sitting opposite each other on the color wheel.
In an industrial-style interior decor, where exposed bricks are a popular feature, navy blue will work well to both contrasts the brown bricks and balance out the space.
If you want the room to feel serious and masculine, then use navy blue in large amounts; this will work especially well in a home office, study, or dining room. For a more minimalist vibe, paint the walls white and then use navy blue to add splashes of color to the room, for example, with a navy blue sofa or navy blue ornaments.
Paler shades of blue can also work well with brown brick, most notably on the exterior of buildings where a cornflower blue shade will look calming when used on a front door or garage door.
Planting flowers in a specific color scheme to match the outside of your property is also a fun and attractive way to improve the look of your home. Highlight your blue exterior features by choosing plants that will bloom in various shades of blue.
Green + Brown Brick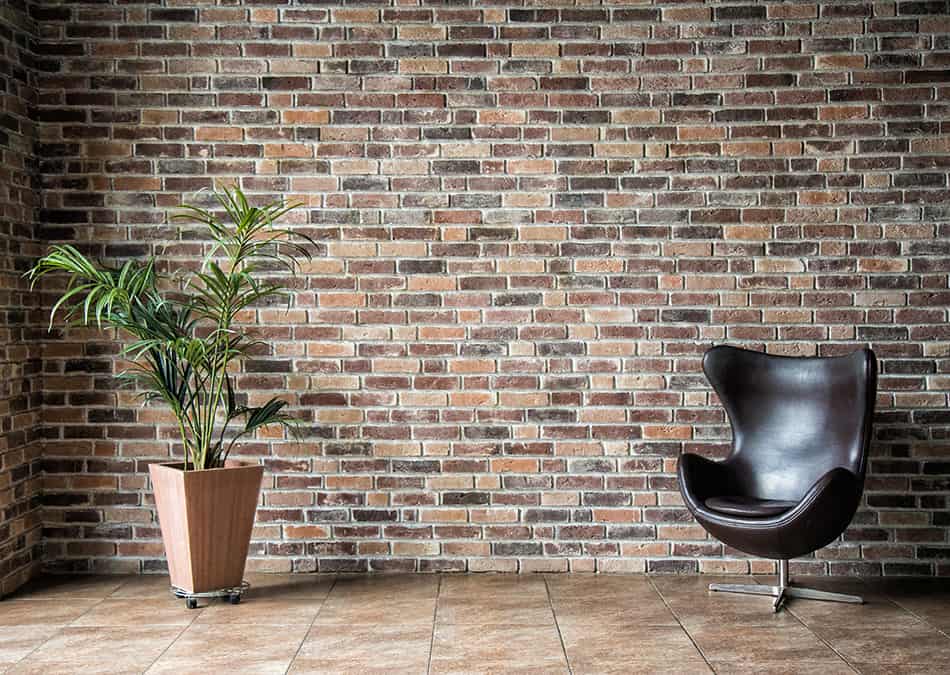 Green is a natural color choice to use with brown brick because green is so often found alongside brown in nature, for example, on trees and plants.
You could safely pair any shade of green with brown brick, but colors that work particularly well in interior design are emerald green and forest green. These darker shades of green are very popular generally in interior design right now, but they pair beautifully with brown brick.
The rich tones in both the green and brown complement each other nicely, while the cold element of the green helps to balance out the warmth of the brown.
For a sophisticated and lavish style, place velvet emerald green chairs or a sofa in front of a brown brick feature wall. The luxurious texture of the fabric will also contrast against the rough surface of the bricks and make the space feel more comfortable.
For exterior color schemes, pistachio green or mint green shades look classy and smart against the brown brick. These colors together look very earthy and natural and work well for both modern or traditional-style homes.
Mustard Yellow + Brown Brick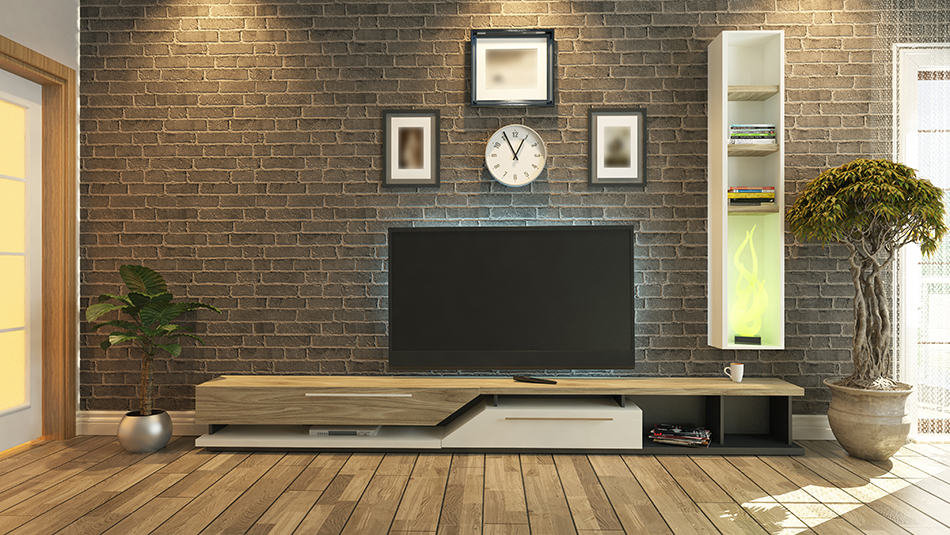 Mustard yellow has a depth and warmth to it that complements the warmth of brown bricks. Using the brown and mustard yellow color palettes is ideal for a room you want to feel cozy and comfortable, but you should also use a neutral base to prevent the warm shades from becoming too intense and overwhelming.
For a room with a brown brick feature wall, paint the remaining walls in white or off-white, and use mustard yellow for furnishings and accessories such as curtains, table lamps, or chairs.
Opt for wooden furniture in a similar shade of brown to the brown brick to help tie the wall into the room, such as mahogany or teak. Alternatively, you could help to ground the room by selecting a brown shade of hardwood flooring and then use white furniture to keep the space light and airy.
Brown + Brown Brick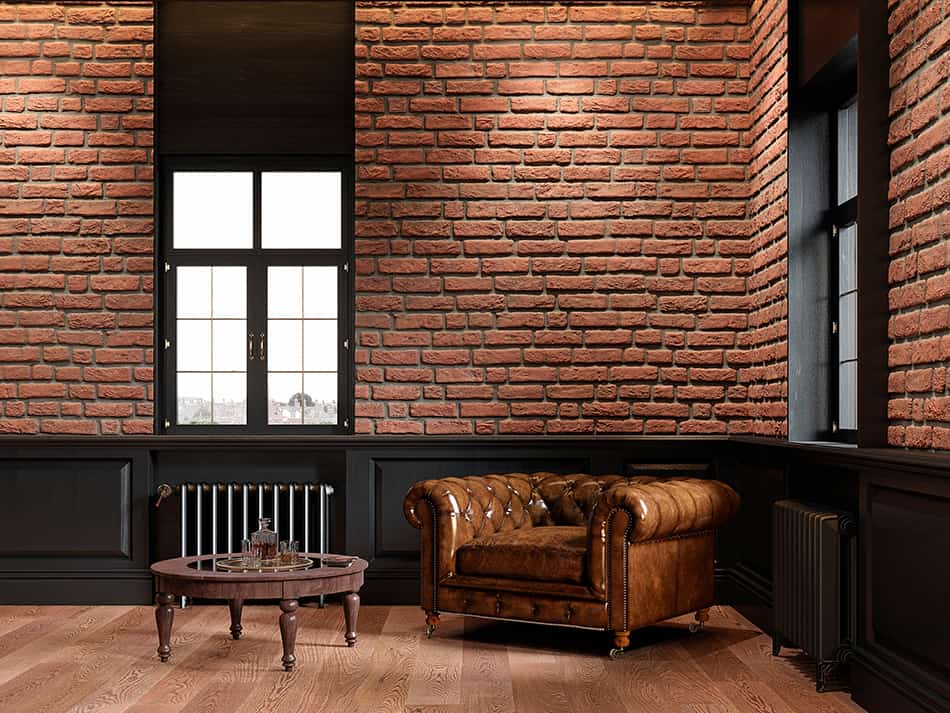 One of the easiest and safest choices is to use the same color as brown. As brown is a not-so-bold color, you can use some items as brown in the room with no issues.
Place one set of brown couch, accessories, or items near the brown bricks, then you can decide either to have a warmer tone or a contrasting lighter tone for the space.
In the first case, having another warm color shade like black, red, or gray will make the room feel cozy. Alternatively, you can use light tones like white to bring down the intensity of the warm brown color.
Red + Brown Brick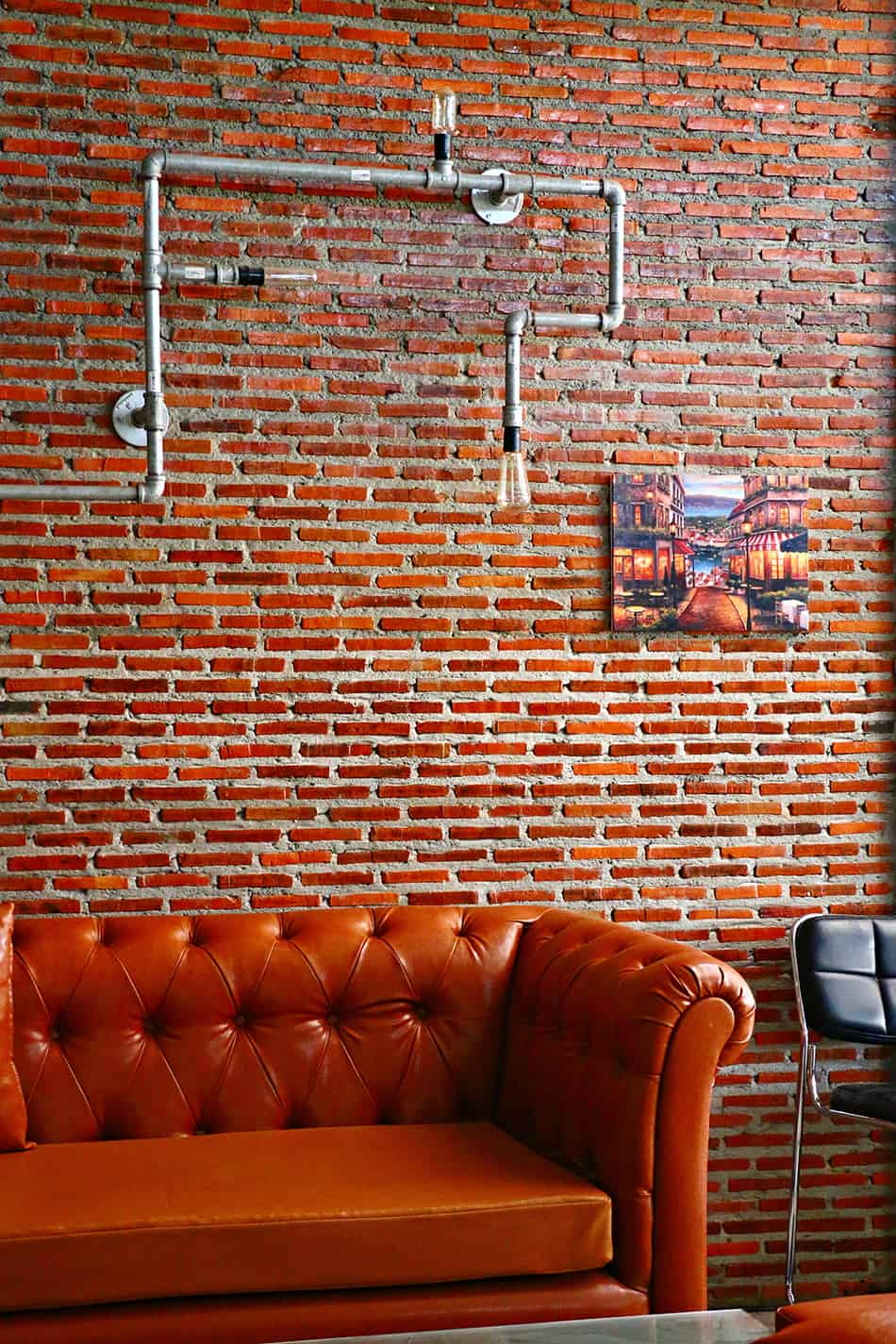 To be in hot color shades like brown, red pairs fairly well with brown bricks. Place a red couch by a brown brick, and you'll see your mood rise. You may also like to put some contrasting colors like white or gold to calm these warm tones.