A coffee table is one of the most common furniture items in a living room. It is, after all, somewhere you can put your cup or magazine on.
But why should you settle for a standard square or round table in front of your sofa when there are plenty of other multi-functional coffee table alternatives. Here are 18 ideas to help you decide:
1. Ottoman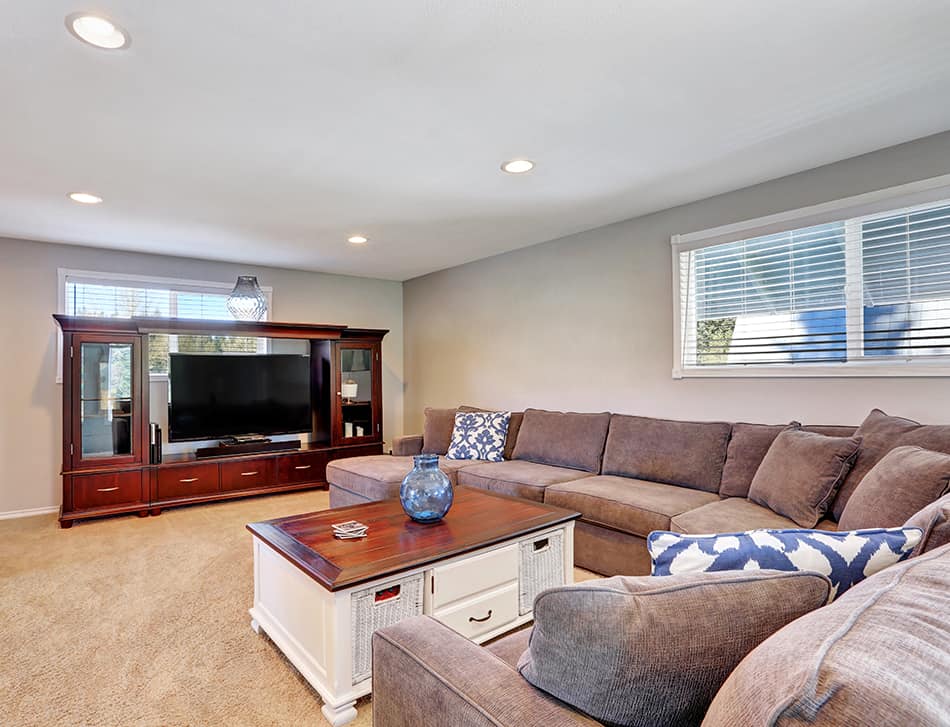 Ottoman furniture has long been used as a coffee table alternative because of its elegance and versatility. Whether you choose a lidded ottoman for storage or a tufted one, there are plenty of styles and sizes to go for.
An ottoman can also act as a seating option as well as for storing magazines or some types of blankets.
2. Poufs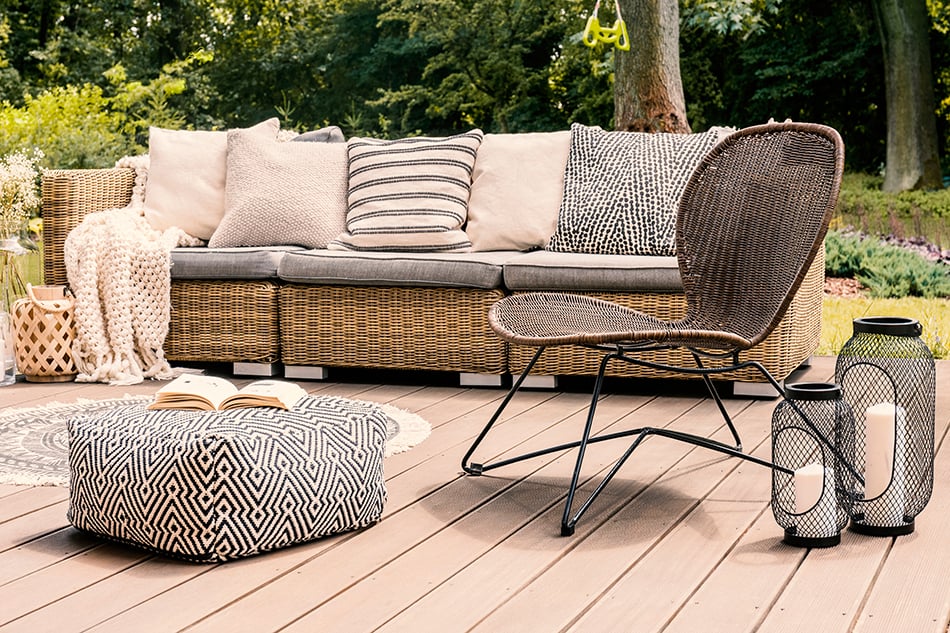 Poufs are similar to ottomans. They have the same soft and cushion-like body but with a smaller footprint. For compact living rooms, a pouf makes a great coffee table alternative and serves as additional seating.
Two poufs are an even better replacement and fit perfectly in small spaces. They can double as an extra seat, side table, or footrest.
3. Stacking Boxes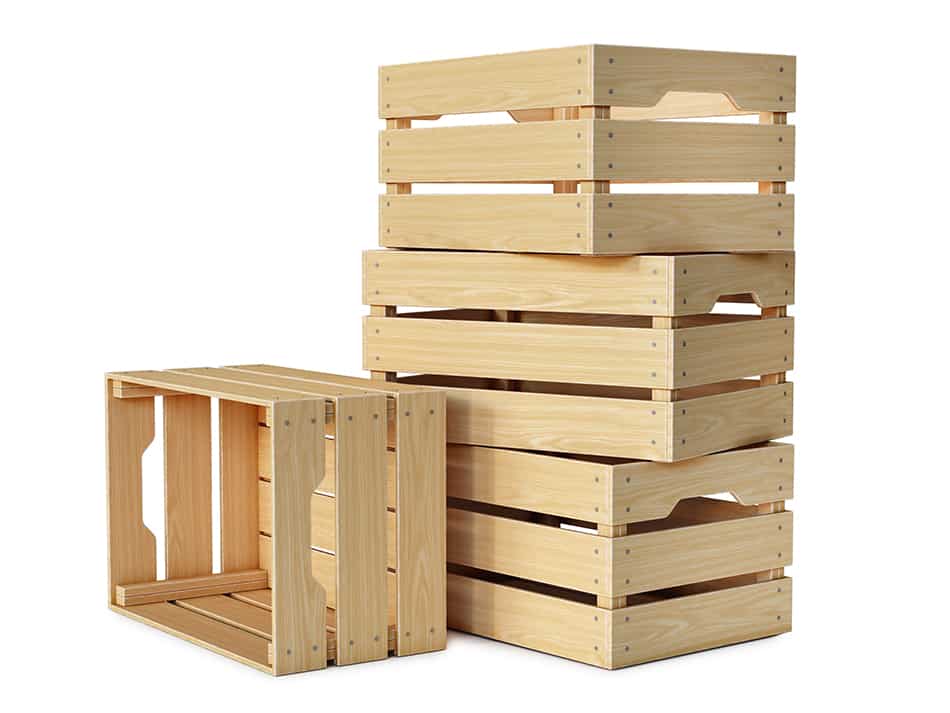 Stacking boxes are another minimalist idea for a coffee table substitute. Whether you choose plastic, wood, or metal boxes, you can use them as both a table and storage. Since these boxes are modular, you can add to them or subtract them whenever needed.
4. Antique Trunk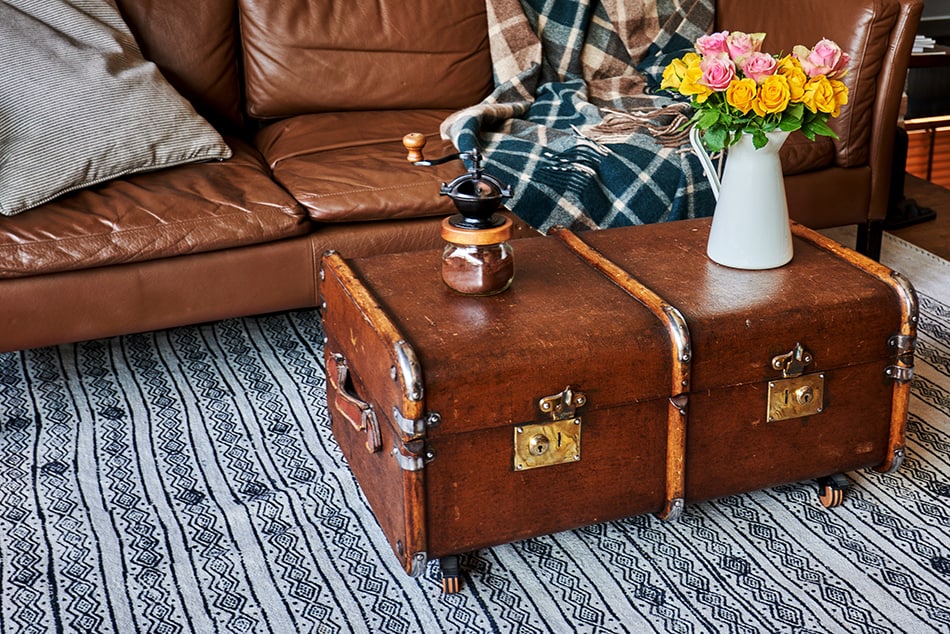 Antique trunks have always been popular storage options. These charming items never go out of style and are large enough to serve as a table.
Not only can you store your extra blankets in these trunks, but you'll also be able to use the top surface of the trunk as a table. Just make sure you get a flat top trunk. To add even more visual interest, stack two trunks by offsetting the angles for a unique look.
While antique trunks are great as a footrest, some designs can have curved lids so you may want to supplement them with a side table.
5. Drum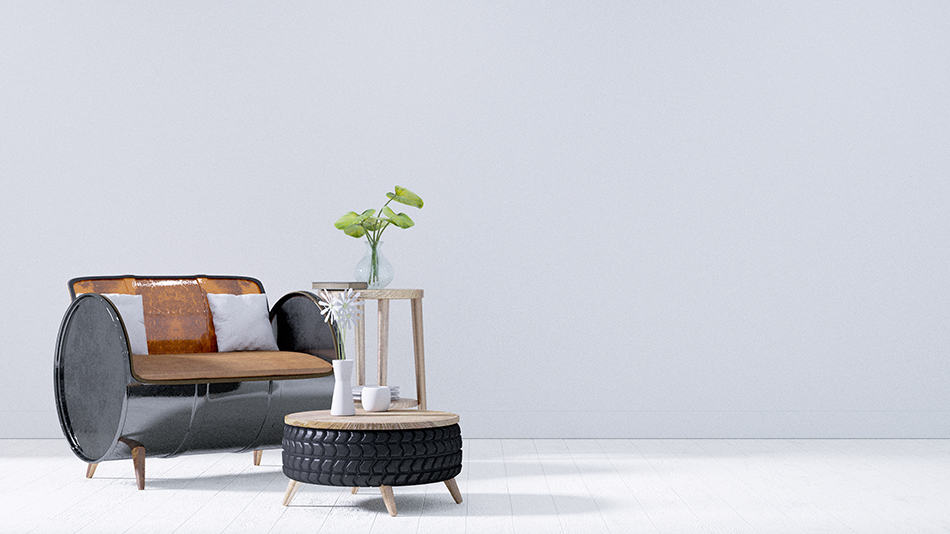 A drum isn't just a musical instrument. Its round, flat shape means the surface can be used as an interesting coffee table alternative. Not sure where to find one?
Head to your local thrift stores or keep an eye out at garage sales. Failing that, check the online vintage instrument retailers. Tip: place a round glass on top of the drum to make it look more functional.
6. Side Tables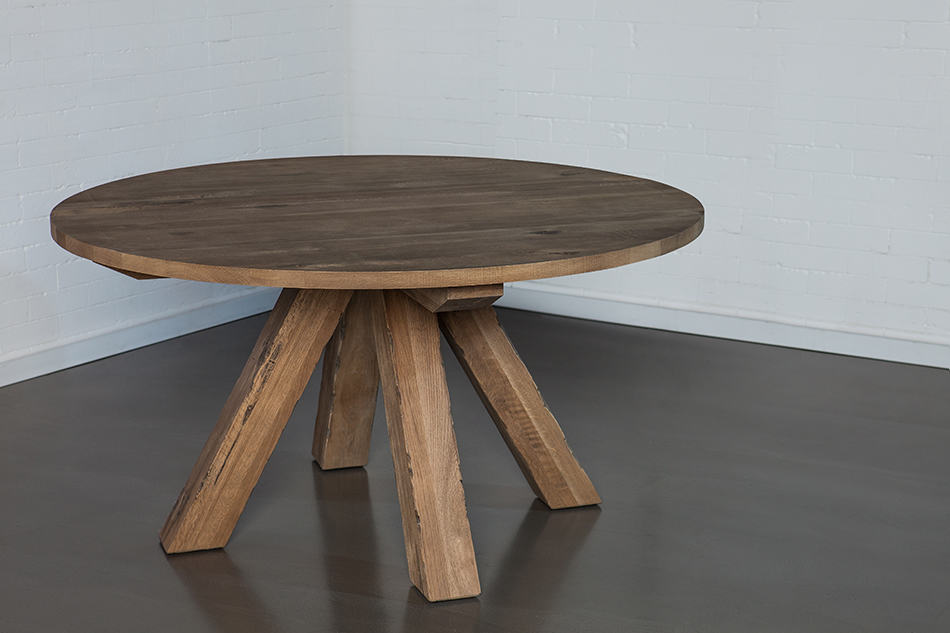 While side tables may be the most obvious coffee table alternatives, they can be used in a variety of ways – without taking up as much space as an actual coffee table.
You can either group them together, on top of each other or use them separately. One huge benefit of using side tables is that you can choose from a variety of sizes, styles, and colors to match your living room decor.
7. Nesting Tables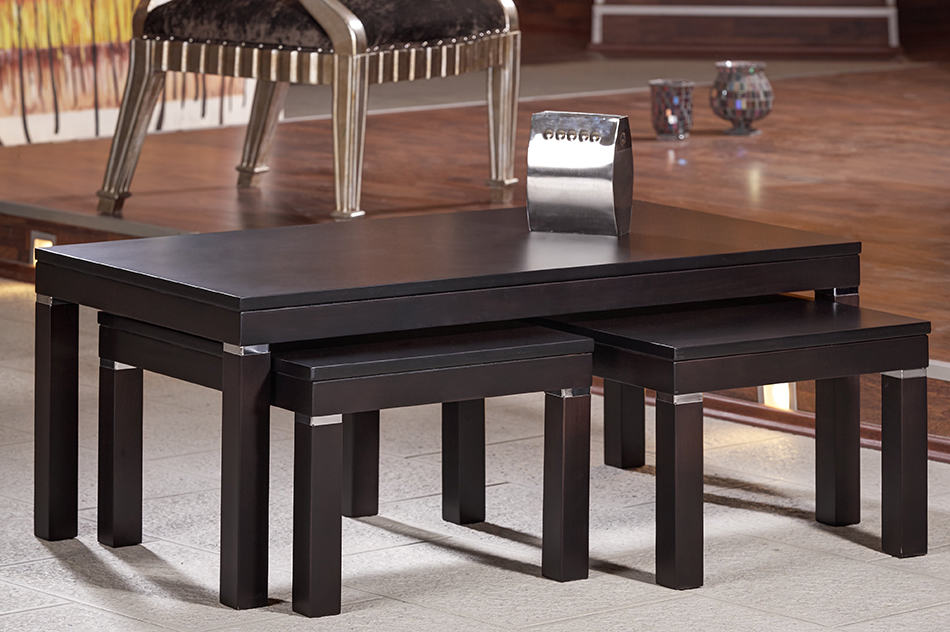 Just like side tables, nesting tables are another great option for small living rooms, especially for people who need more space to put their drinks, snacks, and books without committing to one large table.
Nesting tables also come in a variety of sizes and styles, so you can mix and match them to your living room's interior.
8. Tray Tables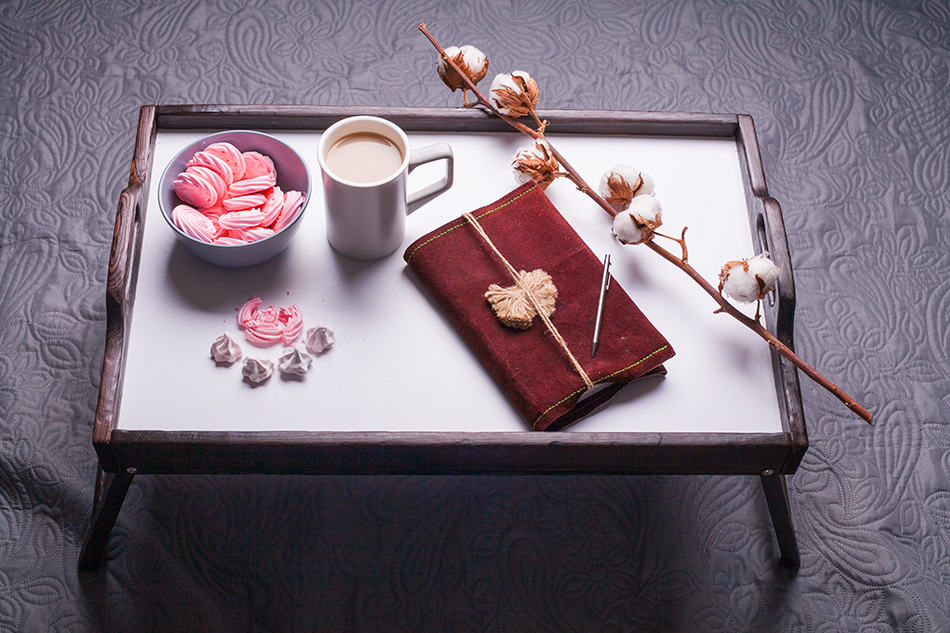 If you are extremely short on space and can't fit nesting tables or multiple side tables in your living room, consider a tray table instead. Since this type of table can easily be folded and stored away, it makes an excellent coffee table alternative for small spaces. A tray table is either square or round in a minimalist design for a modern look.
Depending on your choice of size and color, this piece of furniture may hardly get noticed in the living room. With its convenient C shape that allows you to push it into the sofa, a tray table takes up a fraction of the space a coffee table occupies.
9. Accent Table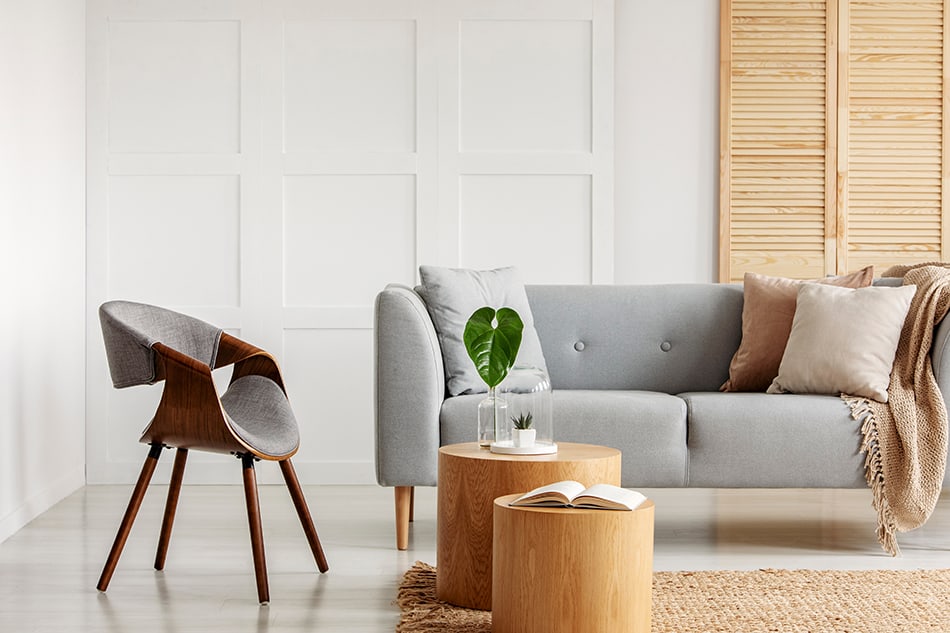 Since we're on the subject of tables, I couldn't leave out an accent table as a stunning focal point. This table is especially ideal for those who aren't interested in a large coffee table.
A small, wooden accent table, for example, offers plenty of space for placing accessories, books, or drinks. These types of tables are light enough to move around as needed and can be a wise purchase. They come in a variety of patterns and colors to provide a unique decorating opportunity.
10. Vintage Suitcase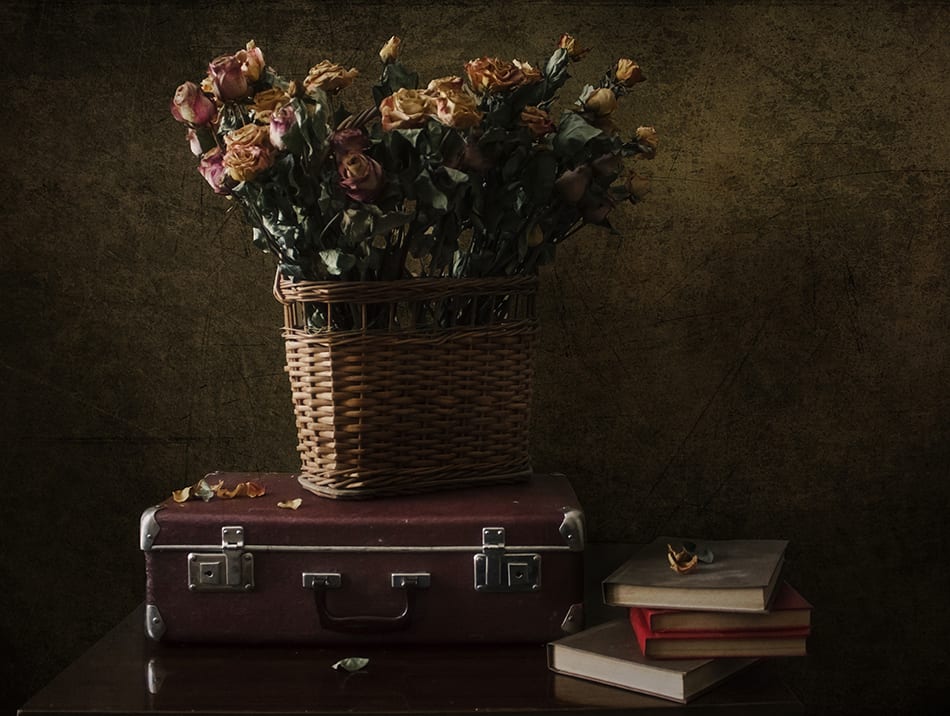 For a classic coffee table alternative, opt for a vintage suitcase. Look for an old suitcase in your cellar, give it a wipe down, and even paint it any color you like. If you find more than one, great! You can stack two and use the surface as a table. Tip: add legs to your vintage suitcase, so it resembles a table. It'll look beautiful in a rustic-style living room.
If you don't have any old suitcases lying about in your basement, go to your local antique store or look online.
11. Garden Stools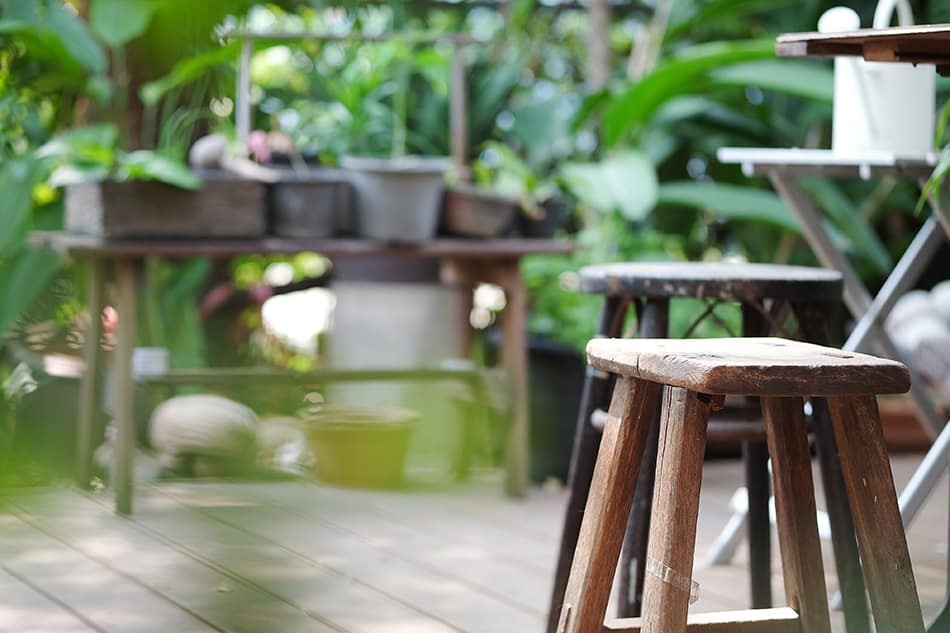 Stools come in various heights and take up a lot less space than tables. They are usually round and fit any living room's interior design element.
Garden stools are especially good alternatives to your regular coffee table. During the summer months, you can easily take your stool outside and enjoy the sunshine with a drink in your hand. What more could you ask for!
12. Wooden Crate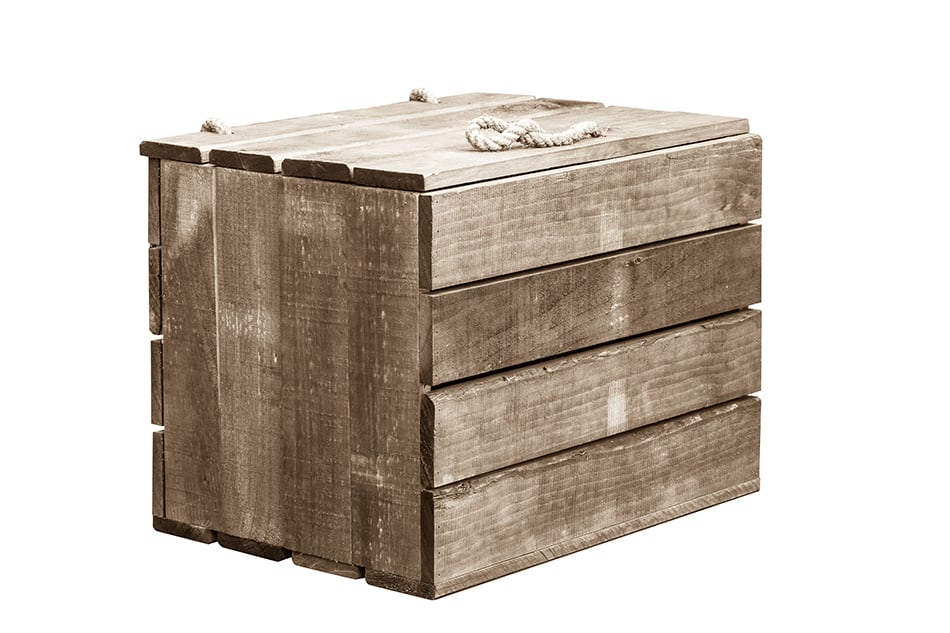 Wooden crates or pallets are popular DIY projects that usually appear as a washer pedestal alternative. But did you know they can also be used as coffee table alternatives?
This idea shouldn't come as a surprise as wooden crates can be found in a range of sizes and depths. You may need to buy more than one crate to either stack them for added height, or screw them together for more space. Tip: sand down the crate for a smoother finish and give it a coat of glossy lacquer.
13. Bench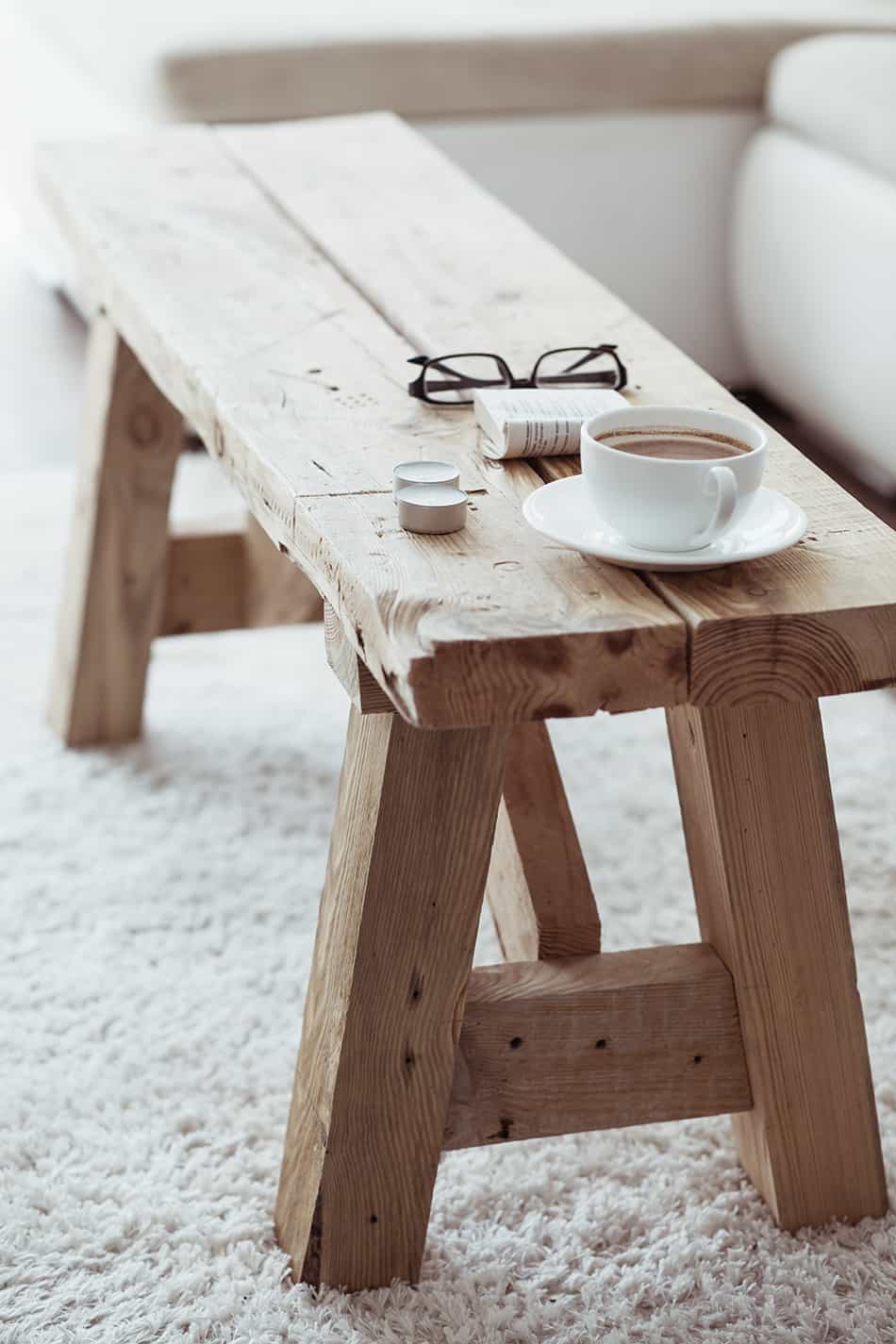 Not keen on using a crate as your living room's centerpiece? One of my favorite coffee table substitutes is the classic bench. A wooden bench can act as additional seating, storage, and table. This idea works best for small living rooms where there isn't much space between the TV and the sofa.
By placing a small bench in the middle of the room, you can easily place your drinks and magazines on it, or even prop your legs up. A bench doesn't take up nearly as much space as the traditional coffee table, thus making it an excellent square table alternative.
14. Wicker Basket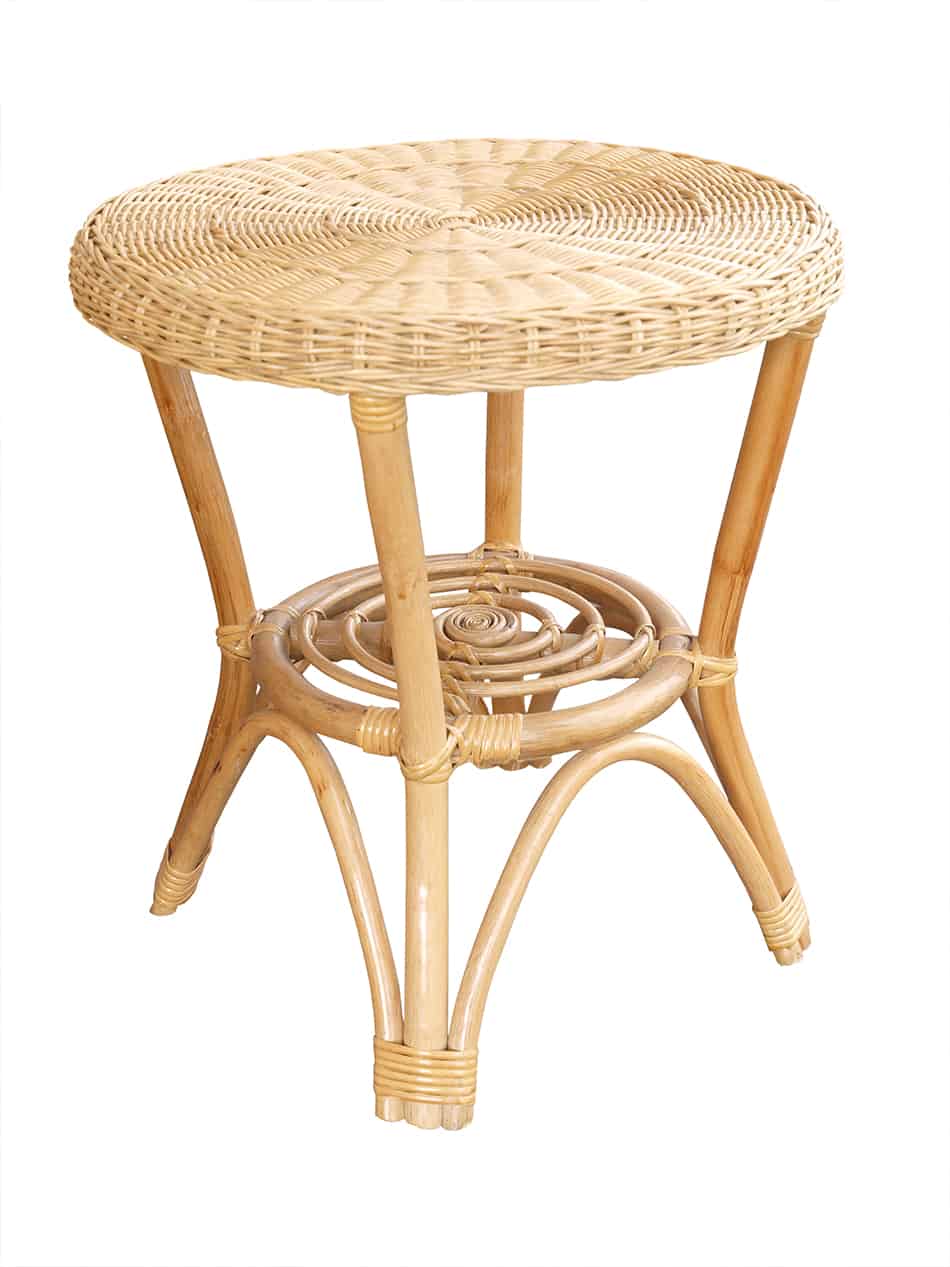 Who says you can't place a wicker basket on top of a side table? Wicker or rattan baskets are excellent storage options for magazines, accessories, and just about anything else you want to put in them. This rather uncommon coffee table alternative can be enhanced by mounting the basket on short legs. It will go perfectly with a rustic living room design.
15. Bar Cart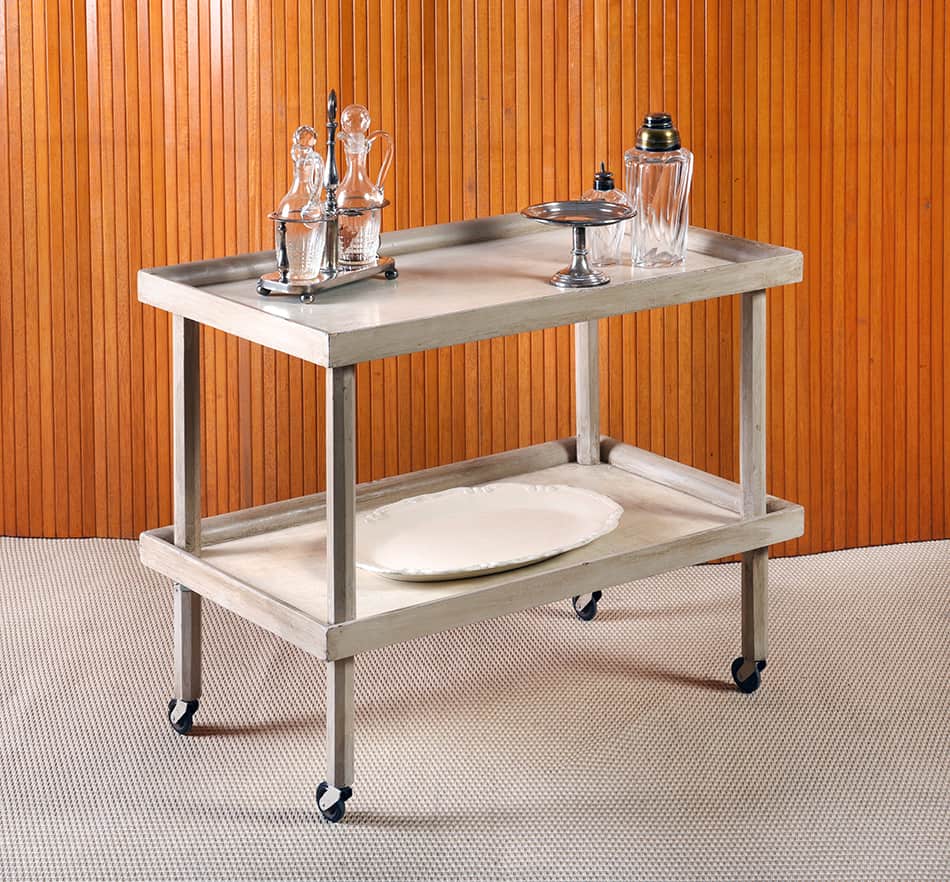 A rather stylish and practical alternative to a standard coffee table is the bar cart with wheels. Wind down with a glass of wine or whiskey from your very own drink cart. And you don't even need to get up for a refill!
Bar carts are made from various materials in different shapes and sizes so it's highly likely that you'll find the perfect one for your living room.
16. Tree Trunk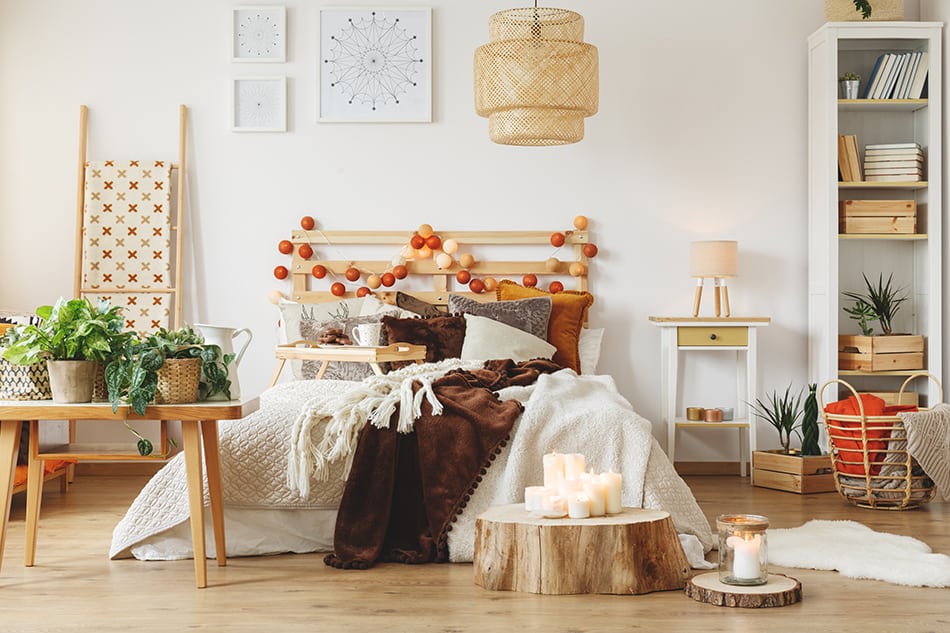 Now for something completely different: a tree trunk from your own garden. You can easily use the trunk of an old tree you've cut as a repurposed coffee table alternative. Simply sand the surface or all of the trunk before applying lacquer. For a more sophisticated look, you could mount a round glass on the top.
In case you can't get hold of an old tree trunk from your garden, pay a visit to lumber yards. A group of three stumps in front of the sofa will make a great conversation starter.
17. Wine Barrel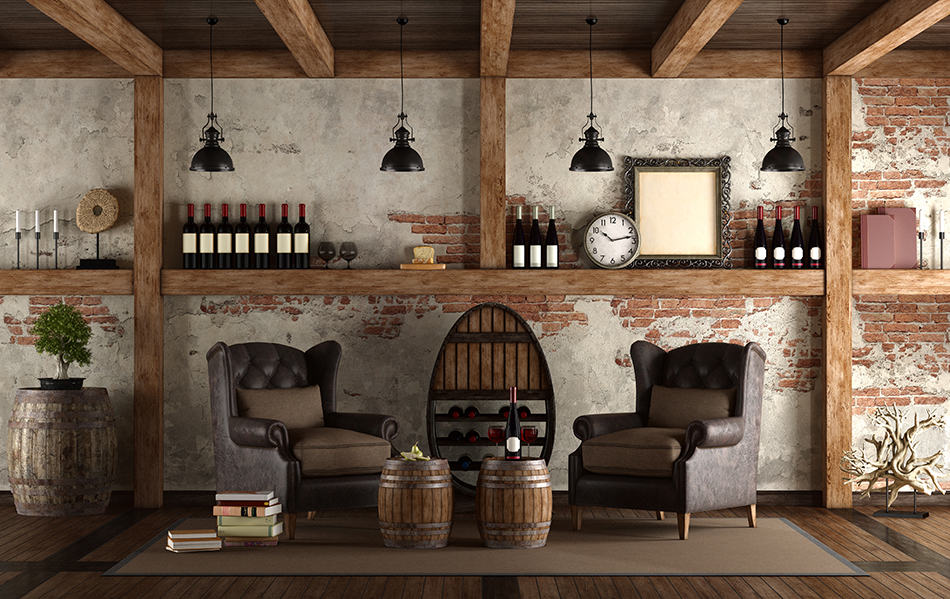 Wine barrels, without a doubt, make unique tables. They can be kept whole and placed upright, or you can always half them and mount a wooden board on top. Barrels can even be used as table legs, depending on how high you want your table. I'm sure you'll agree that wine barrels used as coffee table alternatives are certainly a fun conversation starter.
18. Stacks of Books
If you're strapped for cash and unable to buy any of the above suggestions from online suppliers or thrift stores, why not use your old books as coffee table alternatives. All you have to do is simply stack a few books to make them as high or low as you want. Arrange the books into any shape that works for your living room space. When it comes to using books as a table, there are endless possibilities in terms of the size, color, and shape. And the best thing is, it won't cost you anything!