Circular driveways are so functional and elegant that they have become a popular choice for driveways around the world. These driveways are round-shaped and sometimes have joint entrances. They have an entrance for when you're coming off the road, then gets round in front of the house, with an exit leading back out to the road.
Circular driveways are mostly loved because, with them, the driver does not have to drive the car backward when they want to leave the driveway to join the road. These driveways can be configured in several ways, whether teardrop, horseshoe, or a half-circle design. To create a great view in your front yard, use a circular driveway to encircle shrubs, sculptures, or fountains.
Circular Highway Width and Depth
Typically, circular highways measure about 10 ft in width and 12-14 ft in depth. However, occasionally you'll find highways with varying dimensions. With circular highways, what's most important is that the size of the driveway is proportionate to the size of the house. Really big houses have really big circular driveways. For instance, in a house that's 120 feet long, the outer diameter of the circle in the center would be about 90 feet to ensure a proportionate look.
Though the size of circular driveways could vary in width, their width is never more than 20 feet. Some driveways widen at certain spots to allow passage beside parked cars. Additionally, people that drive really large vehicles, such as RVs, tend to go for circular driveways wider than the typical 12-14 feet depth.
Best Landscaping Options for Circular Highways
It's almost impossible to maintain the open space inside a circular driveway without having to do some sort of landscaping. Safety experts suggest keeping the landscaping inside this circle as close to the ground as possible so that drivers can have a clear view of the entire road at all times while going around a circular driveway. For the best looks, create landscaping the suits the general theme of the house so that there's some sort of symmetry.
Some of the options that could keep the landscaping closest to the ground include: laying down stones, building a fountain, installing some accent lighting, or planting some annual and perennial shrubs.
Benefits of Circular Driveways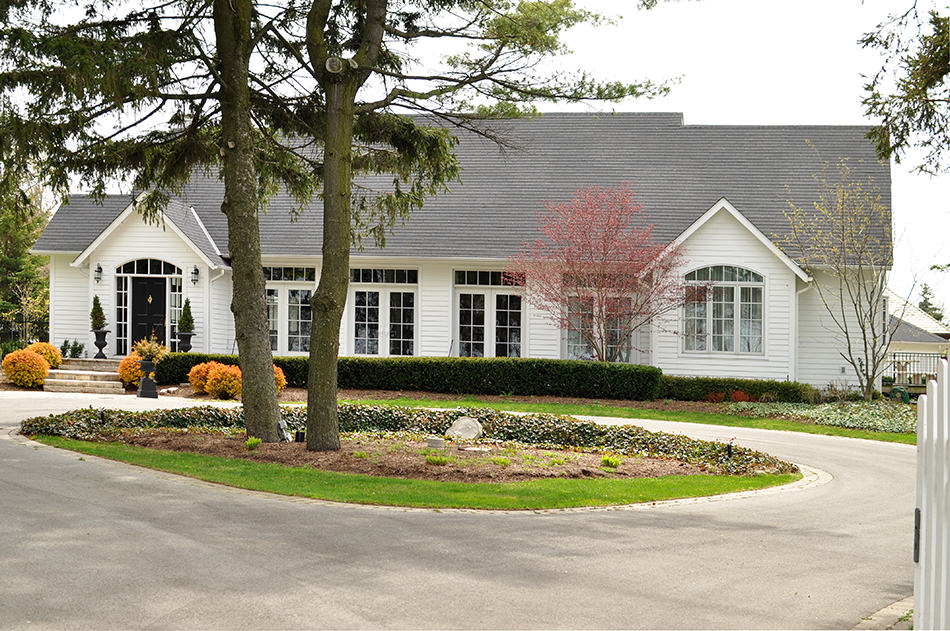 Even though circular driveways have a single entry, most times, their entry points are broad enough for more than one car to pass through at the same time. Experienced landscape architects create an endless number of designs for circular driveways, and the fun part is, you won't ever have issues with people bashing objects around your home while backing up from your driveway, as there would be a whole lane dedicated to cars exiting into the main road. Also, it's almost impossible for people to double park on a circular driveway.
A circular highway may also improve the appearance of a tiny front yard. It provides a bit more flexibility than a regular driveway. A circle's geometry has the potential to make a small grass space appear bigger. It also generates a new circular area within the driveway, which may be used for landscape design or as a decorative focal point.
Many want to design unique gardens for the inside of their circular driveways. Some people like to have fountains constructed here. Others would go so far as to create a tiny bespoke patio with ornate wrought iron furnishings in this space. Long story short, at the end of the circular driveway, there would always be some type of landmark upon which the ring will be created.
Swimming pools, trees or plant life, and statues or sculptures are used most of the time. It's entirely up to you to decide what would adorn your circular highway, and this aspect will certainly add to the property's worth. If you have space and financial means, a circular driveway is a great option. However, if you don't, there are still a few more effective methods of building driveways.
Comparing the Benefits of Circular Driveways to Other Driveways
If you're wondering about getting a circular driveway, you may find it easier to make up your mind if you compare the benefits of a circular driveway with that of other types of driveways.
Straight Driveways– The simplest type of driveway is the straight one, which provides the clearest line up to the house. It is relatively easy to develop, plan out, and build from a technical and practical standpoint. It has a highly geometric, sleek, and modern shape that blends in nicely with modern homes. Straight driveways are ideal for homes with limited space, and they are especially useful to smaller structures.
L-Shaped Driveways– The best thing about L-shaped highways is that the bottom part of the L can be used as a road that conveys vehicles straight off the driveway and into a garage or a parking area. This implies that cars won't be parked right in front of residents' windows and doors, and they won't take up precious space that could be used for soft landscaping or a leisure area. L-shaped driveways are particularly beneficial if your home has a long, thin entry with parking off to any side.
S-shaped Driveways– These are both convenient and secure. It enables you to build a driveway on a moderate elevation or a downward slope. This will slow down the car's approach, keeping nearby lives and properties safe while having an interesting design. It also creates a beautiful entrance to the estate. If your property has a sloppy entrance, you should seriously consider this kind of approach for cars and pedestrians. S-shaped driveways are most suited to houses with bigger lots, but keep in mind that the measurements must be exact while building them.
Semicircular Driveways– Driveways that are semicircular take up less area than circular driveways. However, they are still extremely beautiful. Semicircular driveways also offer the advantage of preventing cars from backing out into a busy road and allowing them to maintain a good view of the road at all times while joining the traffic. Semicircular driveways are best suited to bigger houses as well as those located on heavily used highways.
Circular Driveways– Because circular driveways cover up more room, you'll want to be sure your calculations are accurate, and the measurements are correct. Because of its form, there may be a continual flow of cars, guaranteeing that there will be no double parking at your home's entrance. A circular driveway's middle section may be used in a variety of ways. In terms of design, the circular driveway is the most beautiful alternative for bigger houses.
Do Circular Driveways Add Value to your Property?
Circular driveways are often large, elegant, and lavish additions to a home. In reality, every driveway increases the value of a home, and a circular driveway would be no exception. They're more remarkable than a standard, short, straight driveway, therefore considered valuable. Your return on investment is expected to be at least equivalent to the cost of the driveway.
How Do Circular Driveways Add Value to Your Property?
It's no mystery that we reside in an increasingly urbanized era. There are hundreds and thousands of vehicles on the road, and they all need a place to park at some point. So when people go looking for houses, they have a preference for homes with driveways or garages, somewhere to park their cars at night without having to be worried about parking tickets or, worse, car burglars. You have various alternatives for parking your vehicle, including leaving it on the side of the road or using a designated parking place outside your home. However, if you have a good driveway on which you can park your cars, you wouldn't have to be worried about all that.
Having a circular driveway on your property not only ensures that your car is off the road but that it is also somewhat safe and visible to all of your neighbors. For this reason, the presence of a driveway in a home, especially one as sophisticated as a circular highway, would drive up its value. A driveway's return on equity is expected to be at least the amount you paid for it. Using a realistic example, let's suppose your home is worth $500,000. If you add a driveway, the price of the house may rise from $525,000 to $550,000, which is a significant gain.
Sadly, driveways don't fit into just any kind of space. You need a lot of space on your property to be able to construct one, and it also might not be cheap to build. A new concrete driveway might cost anywhere from two to £ 50 per square foot, according to estimates. This value is very dependent on the company building the driveway, the renovated space, and the kinds of materials used. Of course, because the working surface is considerably larger, a circular driveway would cost much more than a regular driveway.