The bonnet roofing style is the opposite of the basic mansard roofing system. This is due to the upper slope inclining far more steeply than the corresponding bottom slope. This type of roofing system is likewise called:
Kicked-eaves roofing system
Belcote design
Customized gable roofing
Customized hip roofing
The idea is that all of these roofing designs give the home a "visor" look. It's good for shading a walk-around or porch area.
The idea for the design seems to have begun in Germany, when plant growers created the open structure with a bonnet roof for a year-round growing area. These early greenhouses were so successful and stylish that Eastern Europeans began using them for their homes. They were simple to erect and added visual appeal.
Other styles replaced the fad in large part, but you can still see quite stylish homes and public building built with a recognizable bonnet roof.
The bonnet roofing system style is big in French architecture. That's why you'll most typically see this design in Louisiana, where the French impact has historically been strong. This roofing system design works anywhere, though, and looks great with all sorts of architectural styles.
Durability of Bonnet Roofs
How long a bonnet roof lasts depends on the materials you build it from. As with most other designs, you can use shingles, wood shake, metal, or even stone. In general, metal lasts the longest and requires maintenance than the other types, but it all comes down to your style preference.
A metal roof doesn't always match well with a home, just as asphalt shingles look too casual on a business or public building. If you live in an area with lots of natural landscaping, wood shake may the be the way to go. If the landscape is more open, metal is generally the best option. Shingles, though needing the most maintenance, blend well in highly residential areas. They're also the most cost-effective and easiest to replace.
Benefits of a Bonnet Roof
Why install a bonnet roof? Let's take a look at the pros, and then cons, of the bonnet roofing design.
Shade and Weather Protection
Since the top of the roofing system is pitched so dramatically, you'll wind up with a high roofing system. Because of how the lower part of the bonnet roofing extends out far from your house, you wind up with all sorts of functional area right outside. This makes the bonnet roofing system is your best choice for covering deck and outdoor patio locations. Whatever you place beneath the bonnet will be protected from both the sun and rain. You could even screen the overhang area in for more protection. It can be an outside play area without the need for constant supervision.
Bonus Storage or Lighting
The higher slope of the bonnet roofing system provides an extra area that you can convert into a little attic. Another idea is to leave the ceiling area open at the highest point and install a window or skylight instead. The additional natural light shining into your great room can really brighten the area up. Or imagine the peaceful sound of the rain tapping the glass high overhead. Either way, the high roof enhances the functionality or ambiance of your space.
Wind-Resistance
Besides the overhang, a bonnet roof offers you other advantages in terms of weather protection. Locations and landscapes susceptible to strong winds are good candidates to benefit from the steep profile of a bonnet. The wind doesn't grab it as much, so they're less likely to suffer damage than flatter roof styles.
Cons of a Bonnet Roof
Despite all the benefits you get with a bonnet roof, it may not be the right design for everyone. See below for important initial and continued cost information.
Higher Material and Installation Costs
Bonnet roofing needs extra structural helps, such as trusses, to hold it up. This extra material and structural requirement add to both the labor and material expenses. Whereas this isn't the most expensive roof to build, more common gable and hip designs will be more cost-effective.
Upkeep Issues
You need to form a valley at the crossway of the opposing slopes so that water has somewhere to run. This isn't a huge issue, but keep in mind that you will need to clear this area out, just as you do with gutters.
Unique Design Can be a Pro or Con
Bonnet roofing has a unique appearance that isn't for everybody. Modern architecture lovers might consider the style of bonnet roofing to be a bit out-of-date. Of course, if the nostalgic style appeals to you, this will be a benefit rather than a drawback.
Is the Bonnet Roof Style the Right Choice for You?
Is your house right for a bonnet roofing system? Thanks to the slope, snow and rain do not generally stack up on bonnet roofing system designs– in contrast to much flatter roofing styles. That means you're less likely to incur damage if you live in area with a lot snowfall.
You'll also benefit from better wind-resistance, the shade of the overhang, and bonus attic or increase in natural light inside. The real drawback is cost. Get a couple quotes for a bonnet roof as well as other designs and determine if the cost is worth the look and benefits a bonnet roof gives you.
Due to the fact that the design is now thought to be old-fashioned, you do not see bonnet roofing styles frequently. You might put a bonnet roofing system on your house and begin an entirely new trend in your area.
Pricing a Bonnet Roof
The cost of bonnet roofing depends largely on your size of building and the materials you choose to finish it with. A roofing contractor can work up quotes with a number of variables to help you decide. Of course, the price of the contractor is the biggest expense of all. If you have the know-how to install a bonnet roof yourself, you'll be able to complete the project for at least half the cost.
Building a Bonnet Roof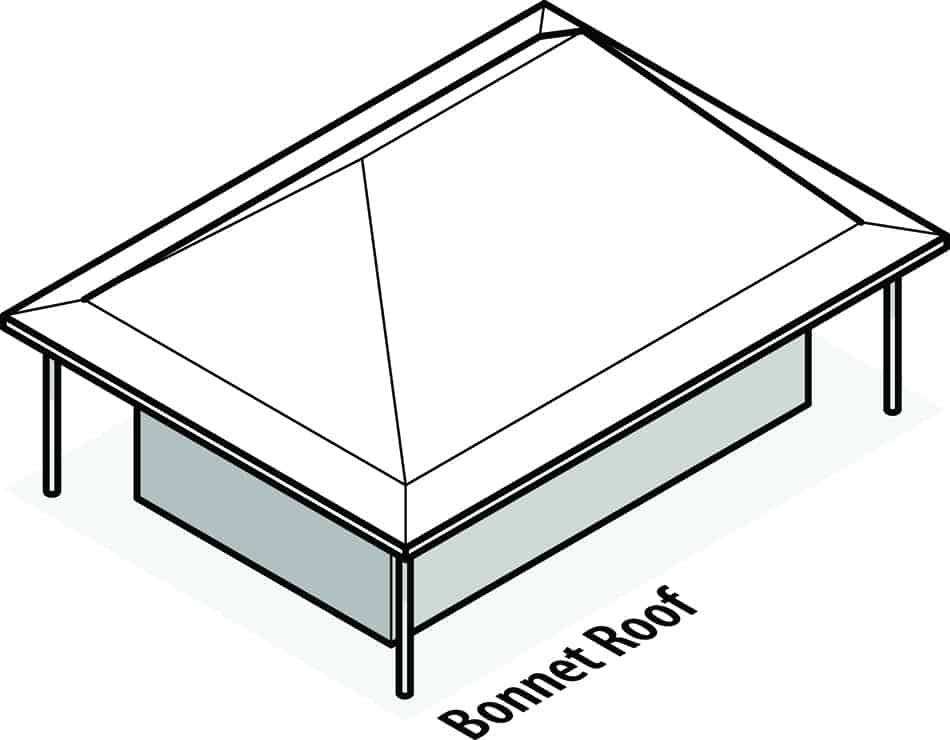 Building a bonnet roofing system is relatively tough as compared to other roofing system designs. Varying from a conventional hip roofing system, the bonnet roofing system has a vertical triangle above the hipped end. In some bonnet roofing systems, the roofing system is supported by adding lumber on the gable end of the roofing.
DIY vs. Hiring a Professional Contractor for Your Bonnet Roof
Can you install a bonnet roof yourself?
DIY Considerations
House owners can conserve a lot of cash by investing in some tools, rolling up their sleeves, and simply going at it. You can do the work yourself at your own pace, make your own enhancements, and laugh at individuals who employ others to do their home enhancements for them.
Bonnet roofing systems do not have a lot of dips and curves and turns to work around, though that does not imply that simply anybody can install this type of roofing. Since the pitch has to be incredibly exact and all the parts have to match up completely, bonnet roofing system styles are really one of the more difficult options amongst roofing choices.
Hiring a Contractor
If you choose not to do it yourself, you do not need just a professional roofing contractor to set up a bonnet roofing system; you need one who has particular experience with bonnet roofing system designs.
You might pay a little bit more to have a bonnet roofing system set up over other choices due to the fact that this is a rather tough style. There are, however, some additional rewards to setting up a bonnet roofing system that does make up for the expense.
The bonnet roofing style has actually been around for a while, though that does not imply it will be simple to hire a roofing contractor with experience with the bonnet roofing system design. This style is beginning to be a bit unusual, as lots of more recent houses are developed with updated roofing designs. You might have to call around to discover the ideal roofer; the effort, however, will pay off when you get a company that can perform this task well and offers you an ideal roofing system.
Additional Considerations
Do not forget the structural assistances. Depending upon how far the lower part of your bonnet roofing system extends and the basic style of your home, you might have to include beams or columns to provide structural assistance to the total design. If this is required, seek advice from your roofing contractor to recommend the best plan.
Including these structural assistances in your house can alter the appearance of your house, which can be a big perk of having a bonnet roofing system. Beams and columns are likewise a more traditional features for a house, and you've heard the saying: something that's timeless never ever goes completely out of style.