As a short person, you probably spend much of your time trying to get comfortable on sofas and couches designed for people who are taller than you.
If you want to invest in some items perfectly suited to your stature, check out these pieces of furniture for short adults.
Janni Twin 66" Wide Faux Leather Biscuit Back Convertible Sofa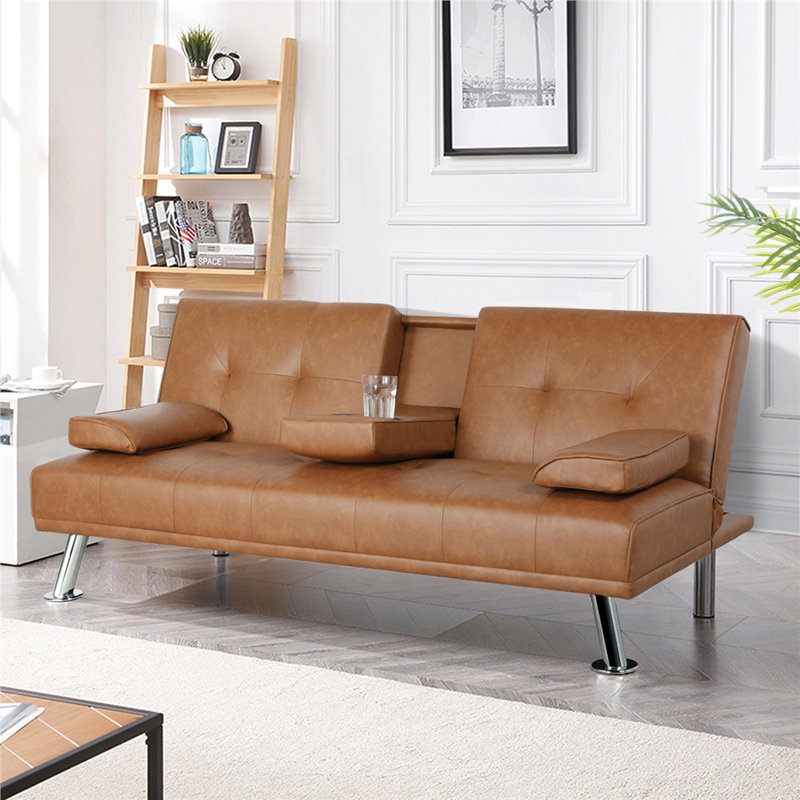 This sofa converts to a bed in a matter of seconds to make it multifunctional and save on space. The frame is made from metal and engineered wood, with glossy legs made from premium iron.
When used as a sofa, there is a fold-down armrest in the center of the seat that also features two cup holders. It also has cushions at either end that can be used as armrests or double up as pillows when the sofa is in the bed position.
The sofa bed has a mattress thickness of 7.5 inches and is filled with high-density foam. It is covered in scratch-resistant tan faux leather and also comes in black, brown, gray, and white. The seat height of the sofa is 15 inches from the floor to the surface of the seat, making it ideal for people with shorter legs.
Buyers of this sofa found it to be most suitable for short adults and children because it is small in size. The seat height lends itself to use with short people, and when used as a bed, it is too short in length to accommodate taller users.
Buyers agree that the sofa looks more expensive in real life and love the look of it, though note that the seat is quite firm and not great for lounging.
The faux leather on this sofa was found to be soft, and the furniture was easy to assemble. Some people were disappointed that the sofa was much smaller in real life than they expected, though this was a benefit for those who were looking for a small sofa.
Pros:
Looks more expensive than it is
Soft fabric
Easy assembly
Wipe clean
Suited to small people and small spaces
Cons:
Firm seat
Smaller than expected by some
Ahsaad 65.8" Pillow Top Arm Sofa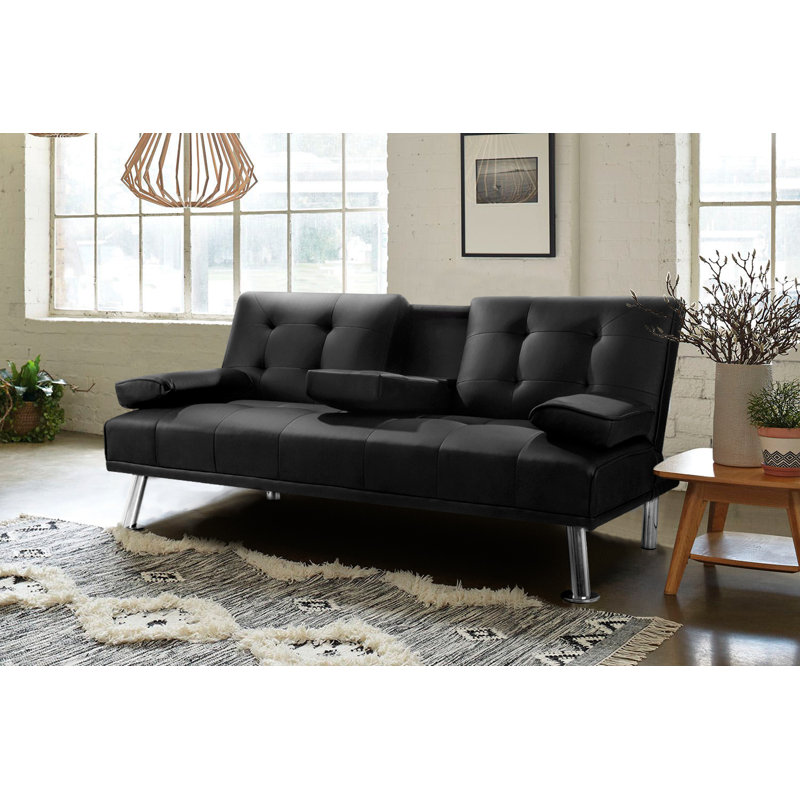 This convertible sofa has three reclining positions allowing you to lower the backrest halfway down to relax or fully flat for use as a bed. It features a fold-down armrest with cup holders and detachable legs that make for easy assembly and mean you can take it apart to get it in and out of apartments easily. The seat height of this sofa is very low at 13 inches, making it best suited to short adults so that their knees bend at a comfortable angle and their feet are able to reach the floor.
The mattress thickness measures 6 inches, and the sofa has an overall height of 29 inches from the floor to the top of the backrest. It is upholstered in faux black leather, which makes it easy to wipe clean. The style of this sofa is sleek and modern, with a weight capacity of 600 lbs.
Buyers of this sofa were pleased with how easy it was to assemble and how good it looked in their space. Most users agreed that this sofa was more comfortable to sit or sleep on than they were expecting and were pleasantly surprised at the quality of the artificial leather.
Some buyers were disappointed with the size of the sofa, noting that it would be best used for children. Buyers also found that the 'armrests' could not be attached to the sofa in any way, which meant they were annoyingly continuously slipping off.
Pros:
Stylish
Small size
Comfortable
Easy assembly
Wipe clean
Multifunctional
Cons:
Novogratz Brittany Sofa Futon
This futon has a classic stylish appeal with a ribbed and tufted backrest and sleek angled legs. The frame of this futon is wooden, and the cushioning is filled with foam and polyester. The legs are wooden and stained in oak color.
The upholstery is modern yet neutral navy linen, though it is available in a range of other colorways, including orange, mustard, green, and camel. The seat height of the futon is 16 inches making it suitable for people who are short or of average height.
Buyers of this futon were thrilled with its style, noting that it looks like a proper sofa and not a futon. Buyers agree that the fabric of the sofa feels cheap and that pet hair is attracted to it; however, considering the low price, most people didn't find this to be a dealbreaker. Users were pleased that the futon is child and pet-friendly, as it wipes clean and is hard-wearing.
The futon was easy to assemble, and the instructions were clear. Users agree that the dimensions of this futon work best for short people and small spaces. Most people found the futon to be very comfortable in both a seated or sleeping position, though some felt it was too firm.
Pros:
Value for money
Stylish
Wipe clean
Easy assembly
Comfortable
Cons:
Too firm for some
Low-quality material
ZINUS Josh Sofa Couch
This is a traditional-style sofa with a simple design that will work in a variety of spaces. It has a seat height of 16 inches and a seat depth of 26 inches, making it best suited for short adults. People with longer legs may struggle to get comfortable on this sofa due to the smaller dimensions.
This sofa comes in pieces, which makes it a breeze to get through doors or upstairs. It is also easy to put together, requiring no tools at all and taking just 20 minutes.
The back cushions are removable, while the seat cushions are permanently attached. The fabric is woven and can be wiped clean with a damp cloth and mild detergent. The plump cushions are stuffed with dense foam, and the frame is sturdy yet lightweight.
Buyers of this sofa are overwhelmingly pleased with it, noting that it is very comfortable with cushions that bounce back when you sit on them. Buyers agree that the sofa is small in size, with dimensions that make it more like a loveseat than a sofa. It is well-suited to being positioned in small spaces and is ideal for teenagers or short adults to use.
Taller users found that they couldn't sit with their feet placed on the floor as their knees would be pointing up at an awkward angle. The fabric of the sofa does not feel natural, but instead more like polyester, but users believe this makes it easier to keep clean.
The sofa was found by buyers to be very easy to assemble, with each piece being well packaged. Despite being lightweight, users agree that the sofa feels sturdy and well-made.
Pros:
Easy assembly
Lightweight and sturdy
Comfortable
Small size
Value for money
Cons:
DHP Dillan Convertible Futon
This futon has a minimalist style that will work well with modern interior decor. It has a seat depth of 14.5 inches, making it well-suited to short people or anyone who likes sleeping low to the ground. The backrest has a height of 29 inches, which is lower than average. The futon has a multi-position recline, so you can switch from sofa to bed in a matter of seconds.
The fabric upholstery is microfibre, which is soft to the touch and easy to keep clean. It features horizontal stitching, detailing, and tapered wooden legs at the base. The sofa is 69 inches wide, making it suitable to be used as a bed for anyone measuring around 5 foot 4 inches or less.
Anyone taller than this can expect their feet to dangle off the end. The sofa will need to be assembled at home, though this is very simple and takes a matter of minutes.
Buyers who are short are incredibly happy with this sofa. After adapting to large furniture for a long time, many short users are thrilled to finally feel like they have some furniture that works for them.
The small size of this futon makes it suitable for short adults and also means that it frees up valuable floor space to make rooms feel bigger and more functional. Buyers agreed that the futon was good value for money and that it was easy to assemble with just one person.
Users found the cushions to be firm and comfortable, with the expectation that they should stand up to several years of use. Some buyers were disappointed to find that the legs of the futon were plastic, despite looking like wood from afar.
Pros:
Comfortable
Easy to assemble
Value for money
Small size
Stylish
Cons:
Plastic feet
Unsuited to tall users
DHP Dillan Convertible Futon Couch Bed with Microfiber Upholstery
This futon converts easily from a sofa to a bed, making it a versatile piece of furniture well-suited to use in a range of rooms. It is covered in a tan microfiber that is known for being comfortable with a feel similar to suede, but it is much easier to keep clean than natural materials as it can be wiped clean with a damp cloth.
The dimensions of this sofa make it most suitable for children or short adults because it has a shorter-than-average seat height and a small length when used as a bed.
Buyers of this futon were very pleased with it, especially considering the low price. Short adults felt it was well-suited to their size, while teenagers found it was a welcome addition to their bedrooms where they could hang out during the day or use it for sleepovers at night. Some people who had not noted the dimensions before ordering were disappointed to find how small it is.
So be warned that this is a futon designed for people who are not very tall. Buyers agree that this is a very simple piece of furniture to assemble, with little more involved than screwing on the legs.
Some buyers felt that the quality of the futon was lower than they expected, while others believe it to be good for the money. The seat of the futon is quite firm, which some users enjoyed and others felt was too stiff.
Pros:
Value for money
Easy assembly
Comfortable
Wipe clean
Small size
Cons:
Not for tall users
Not the best quality
Firm seating uncomfortable for some
Milliard Tri-Fold Foam Folding Mattress and Sofa Bed
This is a folding mattress that can be used as an occasional bed when laid out flat, or it doubles up as a casual sofa when in the folded position. The mattress is 4.5 inches thick and is made from foam that is resistant to sagging.
As a sofa, the seat height is 9 inches, which is very low to the ground and so best suited to children or short adults. It would be ideal as a gaming chair or for additional seating in a loft space and could also be used for camping. The fold-up nature of this product means it can be easily stored away when not in use. The cover of the mattress is removable and machine washable, and, therefore, easy to keep clean.
Buyers of this sofa bed have varying reviews when it comes to the comfort of the mattress. Some users found it so comfortable that they used it every night instead of buying a proper bed, while others felt it was too thin to be comfortable. Buyers agreed that it was versatile and could be used in a child's room, as a spare bed in the nursery, or for occasional guests.
Pros:
Inexpensive
Comfortable for some
Washable
Space-saving
Cons:
Thin mattresses uncomfortable for some