If you live in a small apartment, or your bedroom is so tiny you can hardly fit a bed in it, there are plenty of bed alternatives that are not just comfortable, but they will also save space.
In this article, find out why it's a good idea to trade your traditional bed for an alternative, and check out my top 11 list of suggestions to help you make an informed decision.
Disadvantages of Traditional Beds
One of the biggest downsides to traditional beds is the amount of space they take up, especially if the bedroom already lacks space. If you live in a studio apartment, a traditional bed can take up most of the room's space, thus leaving you with little or no seating options or other activities.
Traditional bed frames are heavy and bulky, especially when a mattress is added on top. They are extremely difficult to move from one room or home to another. Every time you want to move to a new property, you'll need to hire at least two people to move your bed.
However, by opting for better sleeping alternatives, you will not need to go through such hassles plus you'll have more space in the bedroom to play with. Here are the 11 alternative bed options for you to consider:
1. Futons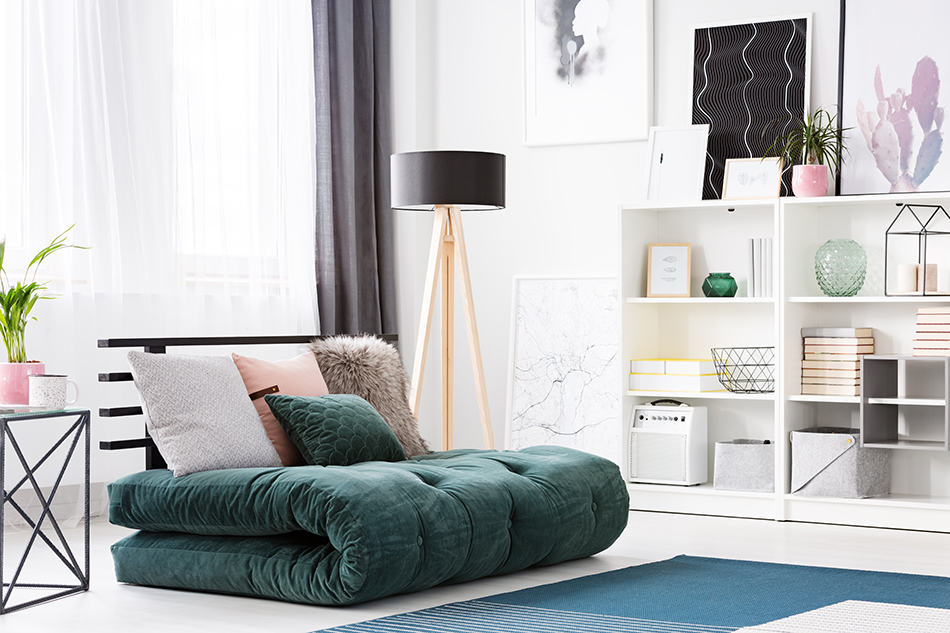 Futons (or Japanese futons) are special mattresses that easily fold into sofas and hence can be called sofa sleepers. The futon can be used for seating during the day and sleeping at night. This bed alternative is ideal for tight spaces and makes a popular choice for studios and small apartments.
There are many different types of futons that come with different mattress thicknesses. They are commonly found in living rooms, dorms, or just about any space that needs additional sleeping options.
Advantages:
Unlike a soft mattress that can give you backache and cause joint stretching, the futon mattress is firmer so sleeping on a Japanese futon is good for your joints, neck, and spine.
To get the most benefit out of a Japanese futon, consider placing it on a wooden slab for better air circulation of the mattress, moisture prevention, and minimizing body sweat.
2. Tatami mats
If you prefer not to sleep on a Japanese futon, then consider a Tatami or Japanese mat without the mattress. Tatami mats were traditionally used as flooring in Japan, but over the years, they gained popularity as modern-style beds.
These mats are usually filled with multiple fibers, but their design is always the same. They are low profile and can be placed directly on the floor or wooden frame. You can even place your futon mattress on a tatami mat. But for the ultimate experience, why not cover your entire bedroom's floor with tatami mats. They are not just comfortable to sleep on, but also act as flooring.
3. Murphy bed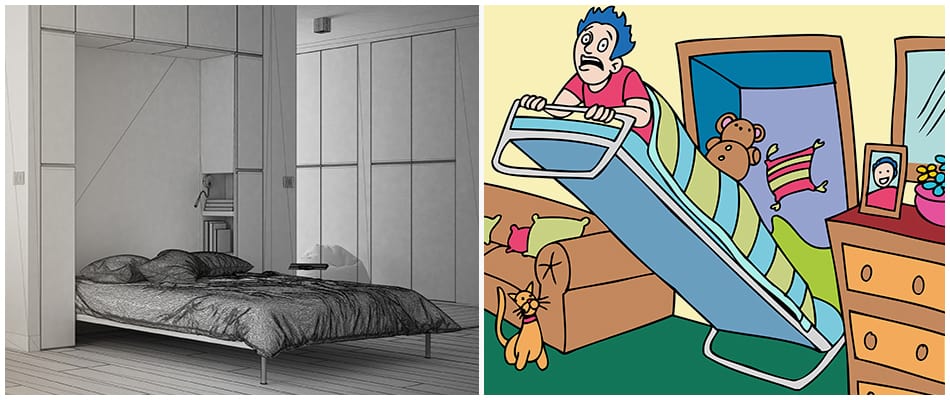 A murphy bed is an innovative alternative to a traditional bed. You will get all the comforts of a bed but without sacrificing any of your bedroom's floor space.
The main feature of a murphy bed is its versatility. It can easily fold down from inside of a wall or cabinet at night and then back again for storage during the day. So when you wake up in the morning, simply fold the bed back up to save space.
Murphy beds are a cheaper alternative to traditional beds, plus their assembly is often easier than most beds. They make a great option for small apartments and dorm rooms.
4. Loft bed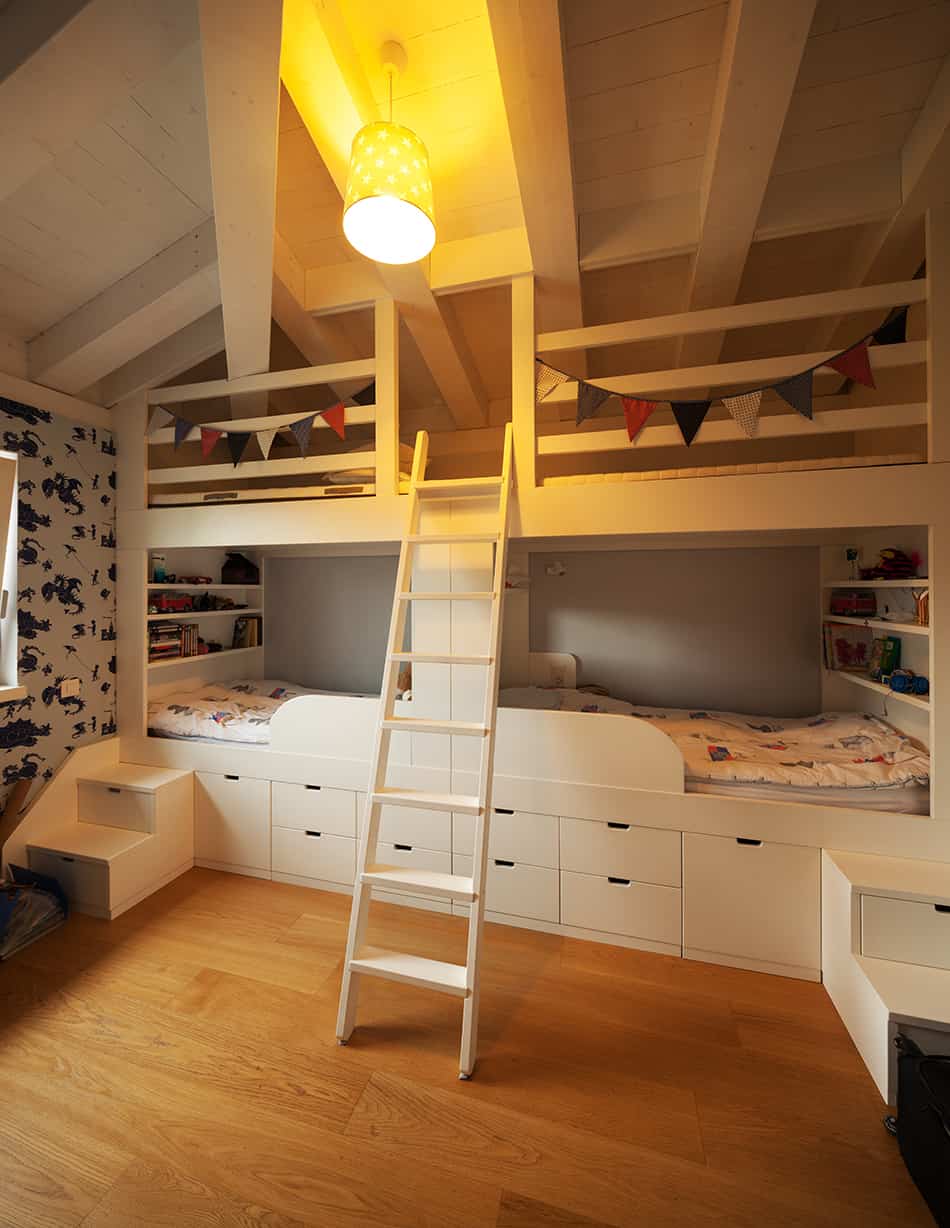 Similar to bunk beds but without the bottom bunk, loft beds are another great bed alternative option that saves space. A loft bed is elevated from the ground so a lot of floor space is freed for other uses. As such, they can be used in a guest bedroom to offer many sleeping beds in a tight space. Children also especially enjoy climbing up the bed and sleeping on a height.
These trendy beds come in a wide variety of designs and can easily fit the interior look of any home. They are suitable for all budgets and can fit greatly into any homes with small spaces.
Advantages:
You get extra storage space: you can always put the extra square footage you gain from a loft bed to good use by storing your clothes, shoes, and much more underneath the bed.
Extra play and workspace: loft beds are ideal for small bedrooms as they open up the floor space. What're more, children love loft beds as they can climb up to the bed and sleep on a height.
5. Trundle Bed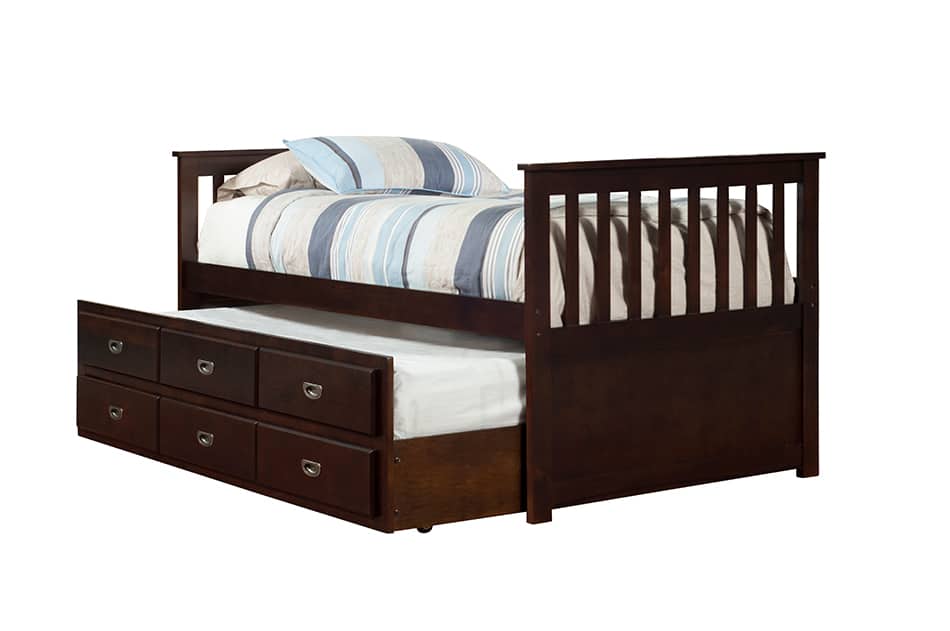 Another good variety of loft beds is a trundle bed. This bed type, which has 2-in-1 bed design, can accommodate and sleep 2 people. The primary top bed has a traditional bed frame while the second lower bed has a thin mattress on wheels, which can be rolled under the higher bed without taking any extra floor space.
These traditional bed alternatives are another great sleeping options if you need extra sleep space but don't want to accommodate more space in the room.
6. Sofa bed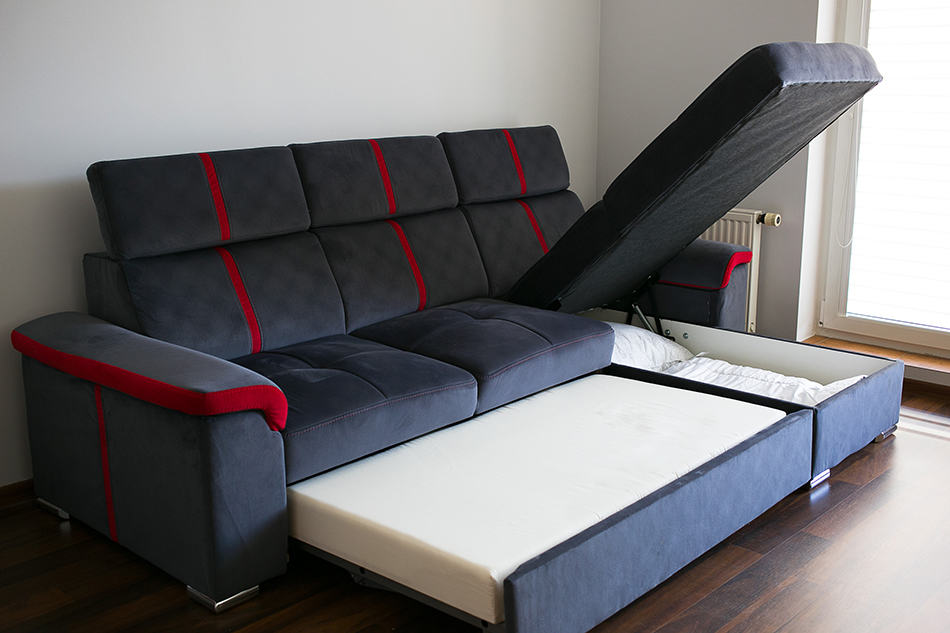 A sofa bed is one of the most popular and common space-saving furniture found in small apartments or rooms with restricted space. Just as the name suggests, the pullout couch or sofa bed is a multi-functional piece of furniture that acts as a chair, bed, and sofa.
While a sofa and a bed in one will still take up some of your floor space, it is not nearly as bulky as a traditional bed. You can fold the bed away when not in use during the day in order to save space.
If your living room has adequate space, you can opt for bigger sofa beds that are often L-shaped. This layout allows you to make use of the part that doesn't get pulled out as an extra seating or sleeping option.
A sofa bed is an elegant way of sprucing up your living room space without it taking up too much space. It's the ideal bed alternative for small apartments and whenever you have an overnight guest.
7. Inflatable mattress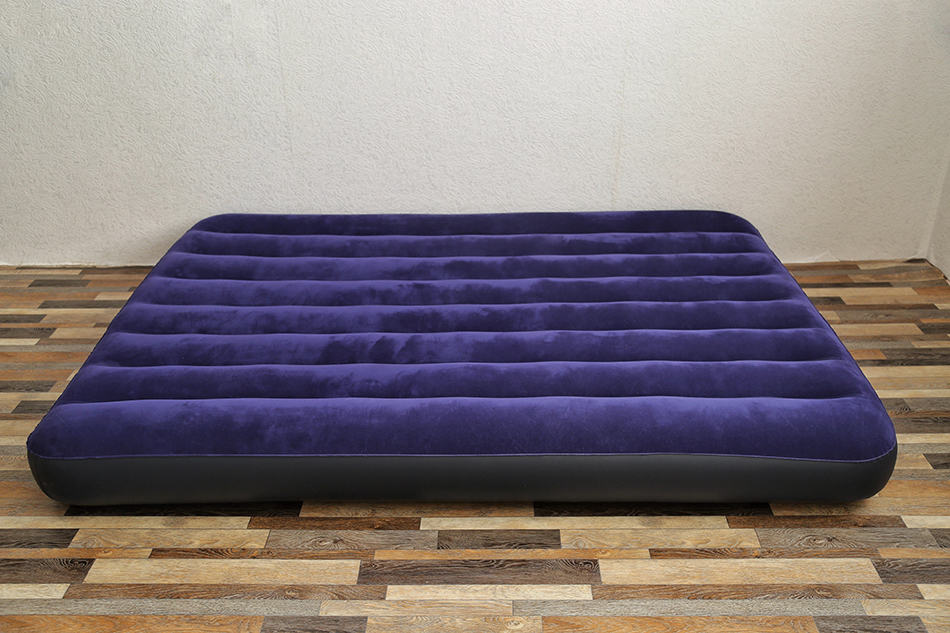 Inflatable mattresses are an air mattress furniture type. They are a great alternative to sleeping on a traditional bed or on the floor as you get to experience both. The best thing about air mattresses is that they conform to your body for maximum comfort. As you lie on th mattress, your pressure points (upper back and head) sink deeper into the mattress while the neck and lower back get slightly cradled.
You can easily adjust the air pad of the inflatable mattress according to your liking. For example, if you prefer a firmer mattress, you must fully inflate it using the integrated pump. When not in use, simply deflate it with ease and store it away. You can even deflate the mattress halfway and place it in your closet for storage.
Another great feature of inflatable mattresses is that you can take them with you on camping trips or even use them as a guest bed. They can easily fit into backpacks once fully deflated.
However, there are also some drawbacks to air beds. These include:
Inflatable mattresses are prone to puncturing, especially if they are placed on uneven surfaces.
Pump can be too loud: some integrated pumps are designed to add extra air when there is a slight deflation. If this happens in the middle of the night, it can certainly disturb the sleeper.
8. Recliner chair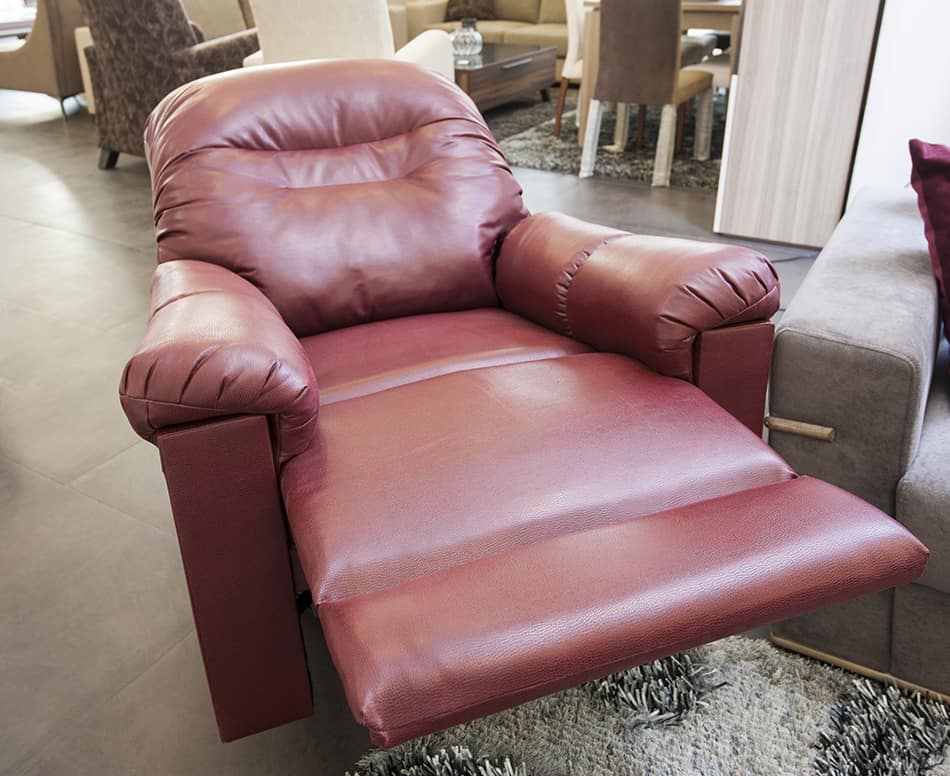 Another bed alternative for those relaxing afternoon naps is a recliner chair. Simply recline the chair by pushing the button on remote control or manually pulling the lever on the actual chair.
Although this bed alternative is a temporary sleeping option, you'll be surprised to know that it can actually turn into a comfortable mattress when fully reclined. It also makes an ideal sleeping option in a small apartment.
Advantages:
Eliminate back pain: when you recline your upper body on the chair, you transfer the load from your lower back so it doesn't get strained. In the event of an injury to your back, you can recover faster by lying on a recliner.
Reduce the symptoms of sleep apnea: according to experts from the National Heart, Lung, and Blood Institute, sleep apnea is a serious health issue that will increase the risk of heart failure by 140%. This is extremely concerning for anyone who already suffers from the symptoms of sleep apnea. But the good news is that you can reduce the symptoms by sleeping on this type of chair as it allows your upper airways to remain unobstructed and prevent apnea episodes.
Improve circulation: as well as protecting you from symptoms of sleep apnea, a recliner chair can also improve circulation from your legs to the heart. Healthy blood circulation means less swelling and pain in the legs.
Ease gastric problems: if you suffer from heartburn, you'll definitely benefit from sleeping on a recliner. This is because your upper body gets elevated, thus preventing the stomach acids from coming back up during your sleep.
9. Hammock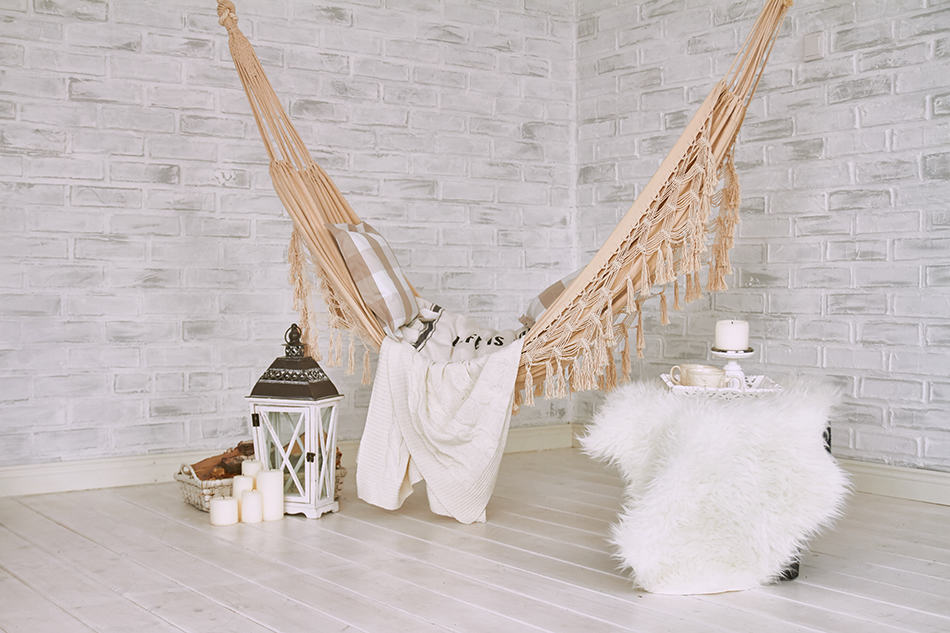 A hammock is another beneficial and soothing bed alternative that you can sleep on without touching the floor. But contrary to popular belief, you don't need to hang a hammock from a tree in the garden in order to get some sleep. There are also mountable indoor hammocks that come in a variety of sizes.
Sleeping on a hammock allows you to gently rock yourself to sleep. You can even mount a double-size hammock for more space to lie next to your partner. As a great design feature, opt for a frame hammock with high posts stretched out at four corners. This makes the hammock look like a traditional four poster bed but without the bulkiness.
Advantages:
By lying on a hammock, you'll feel the coziness of being enveloped while keeping your upper body fully inclined. This is possibly the most relaxing way of sleeping.
In terms of breathability, hammocks make a better alternative to mattresses. They don't require airing and can be mounted almost anywhere.
The swaying movements of a hammock rock you to sleep and soothes your nerves. This bed alternative is especially beneficial for people who suffer from insomnia.
If you suffer from chronic back pain, you can relieve your sore muscles by lying on a hammock. Once you find your most comfortable position, you'll sleep like a baby for hours.
10. Water bed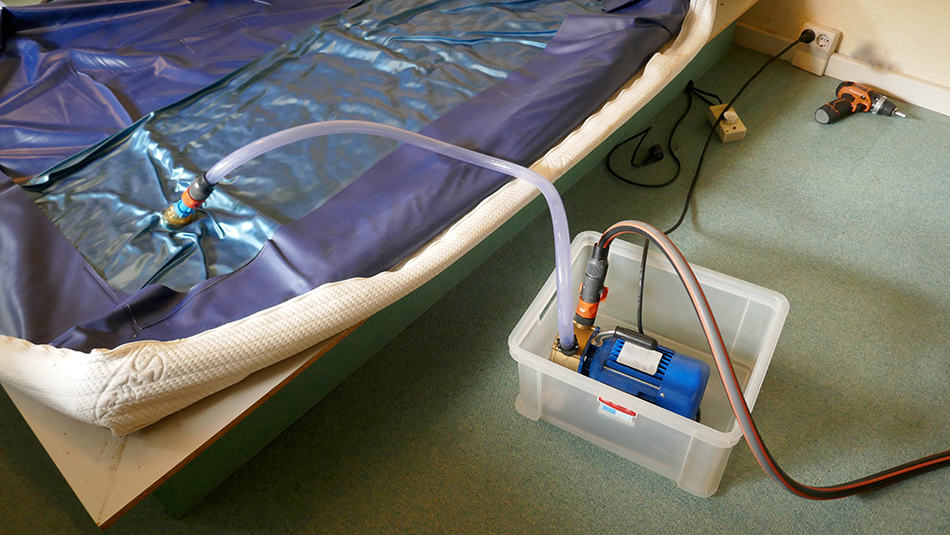 Water beds have always been very popular bed alternatives for comfort seekers. They come in all shapes and sizes. Some water beds even have extra layers to limit their wave effect.
Just as the name suggests, water beds are water-filled mattresses that are mainly used by people who have mobility problems or are undergoing medical treatments. The water inside the bed helps increase blood flow and loosen the stiff muscles while you sleep. In fact, you'll feel like floating on water.
There are some water beds that are heated so you can control the temperature based on your preference.
Advantages:
Water beds can be cleaned easily as dirt will not penetrate into the mattress. Simply wipe the mattress surface using a cloth and vinyl cleaner. You can also wash the mattress cover regularly in the washing machine in order to get rid of dust mites.
A water bed's life span is up to 15 years, which is much longer than a traditional mattress.
The bed conforms to the body shape, thus reducing the pressure points.
Heated water beds are especially beneficial for people with chronic backaches.
11. Sleep on the floor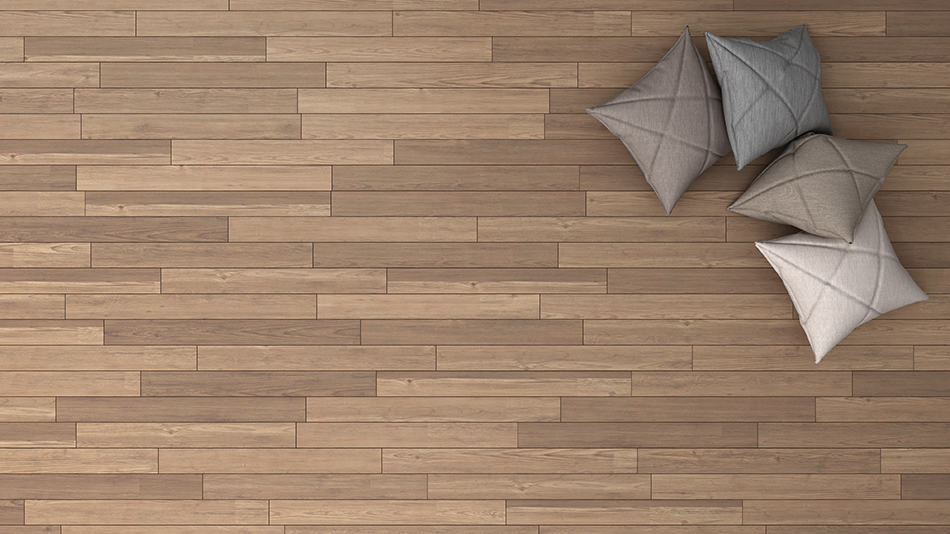 If you want to ditch the traditional bed for the floor, you should know that there are many benefits to sleeping on the floor. But that's not to say that you can't use a mattress or a mat on the floor. However, if you experience back problems often, or you want to sleep on a firm surface, there is nothing better than the floor.
Advantages:
No need to rearrange your furniture: if you sleep on the floor, you'll only need a pillow and duvet.
No risk of falling: people who toss and turn a lot during sleep should consider sleeping on the floor instead. Active sleepers can hurt themselves by falling from a loft bed or even a traditional bed. But there is no chance of injury when you sleep on the floor.
Prevents overheating: sleeping on the floor helps keep you cool and prevents you from overheating. This sleeping option is especially beneficial in hot climates.
No more back pain: a hard floor surface is beneficial for people suffering from back problems. It may even improve their posture.