When it comes to a good night's sleep, most of us are used to lying on a box spring and mattress. However, there are better bed foundation alternatives that offer more support, comfort, and health benefits. It's all about trying out the other options to see which one feels best for you.
In this article, learn more about what a box spring is, its downsides, and the best alternatives on the market.
What is a Box Spring?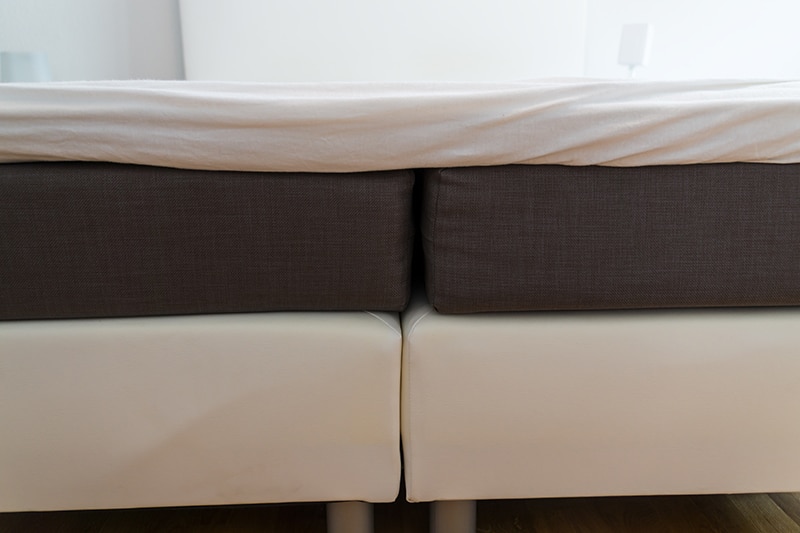 A box spring is a bed base that provides mattress support. It typically lies over a wooden or metal bed frame, but some box springs don't even require a bed frame as they can stand on the ground via casters.
Box springs are available in various heights. The most common size measures 9 inches in height, while the low-profile type measures 5 inches in height.
The inside of a box spring consists of a series of metal springs or coils that are built within a metal or wood frame. The structure of the box spring is covered with a mattress-like fabric. You can either buy a box spring on its own or as part of a mattress set.
Benefits of a Box Spring
There are primarily 5 reasons why people opt for a box spring. These are:
It elevates the height of the mattress, thus making it easier to get in and out of bed.
It lowers the risk of insect and dirt exposure as the height of the bed is higher.
It provides better ventilation around the mattress and minimizes mold buildup.
It effectively absorbs body weight, which as a result extends the life of the mattress.
The support provided by the box spring prevents the mattress from sagging.
Downsides of a Box Spring
While the added weight is good for preventing mattress sagging, the large-sized box springs are too heavy to move. This can be problematic for the elderly or those who move around a lot.
Box springs can feel too firm for sensitive sleepers. This is due to their foundation layers for added durability.
The springs can weaken over time and sag.
Box springs take up a lot of space and restrict storage space.
Box springs need to be turned often as they lose support.
7 Alternatives to Box Springs
1. Hybrid mattress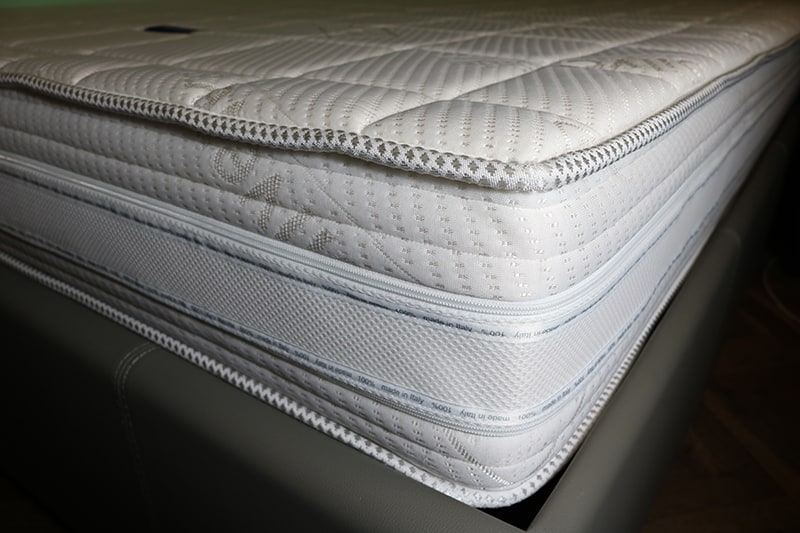 A hybrid mattress comprises two or more support frames that feature foam as the top layers, an innerspring system, and separate pocket coils.
These types of mattresses come in a variety of comfort levels, from soft to very firm. And for added convenience, you can find hybrid mattresses that come in a box.
When looking for the most durable hybrid mattress, pay attention to the mattress foundation, the manufacturing quality, and the mattress warranty period – a longer warranty time by the mattress manufacturer tends to assure more quality. Modern hybrid mattresses don't need box springs as they come with all the necessary components for comfort.
2. Platform beds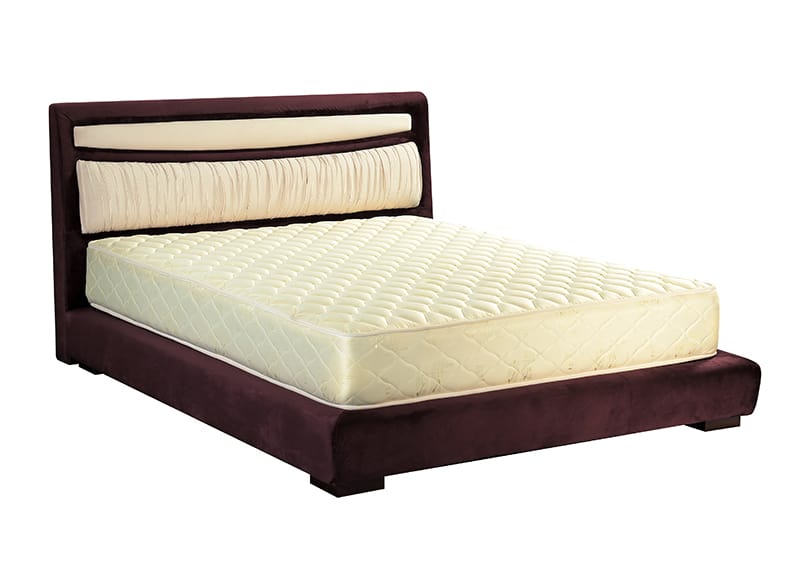 Platform beds are the main support frame for mattresses. They use foam construction for a more affordable and sleek option than hybrid and box springs. The design of platform beds suits more traditional bed frames.
A platform bed can save you money because you don't need to buy a traditional box spring as its support. You can use the money you save towards a higher quality mattress instead. Since any type of mattress can be used on platform beds, your options will be wide and varied. To give you an idea, memory foam mattresses are the perfect choice for platform beds as these beds provide the solid and flat surface that memory foam needs.
The modern design of platform beds means they can easily fit in most contemporary decors. Platform beds have evolved over the last few years, and with the increase in foam mattress fabrics, these types of bed supports are the answer to any interior design.
3. Memory foam mattress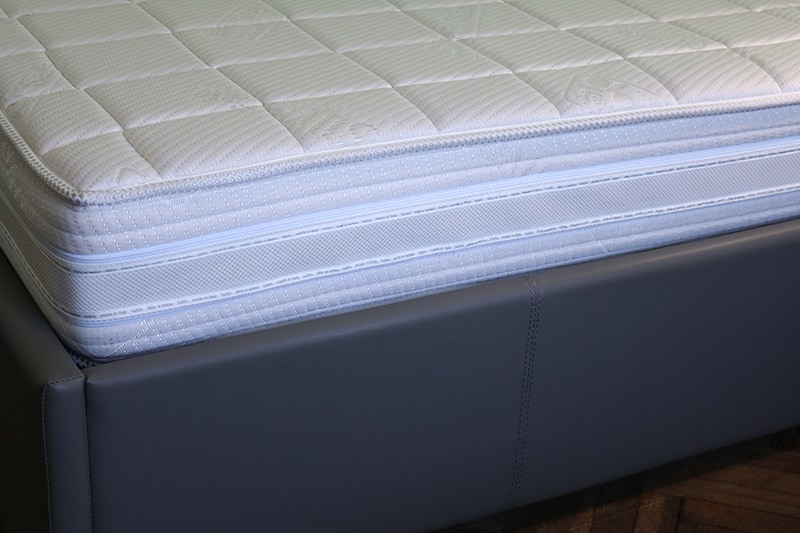 Just as the name suggests, memory foam mattresses are made up of a foam material that perfectly shapes to the body and provides it with adequate support in all the right places.
These hypoallergenic mattresses are incredibly comfortable and make the perfect choice for people suffering from chronic backache. They can be used in combination with a box spring, however, it's completely unnecessary as the memory foam provides adequate support.
Memory foam mattresses are a little more costly than other options, but you save money on not having to buy a bed base. Even if you prefer to place your mattress on a bed base, you can always buy a cheap plywood slat for your memory foam mattress.
This mattress type is highly durable with enough density to provide excellent support and pressure relief. These types of beds usually have the advantage of a longer lifespan than box springs.
4. Adjustable bed frames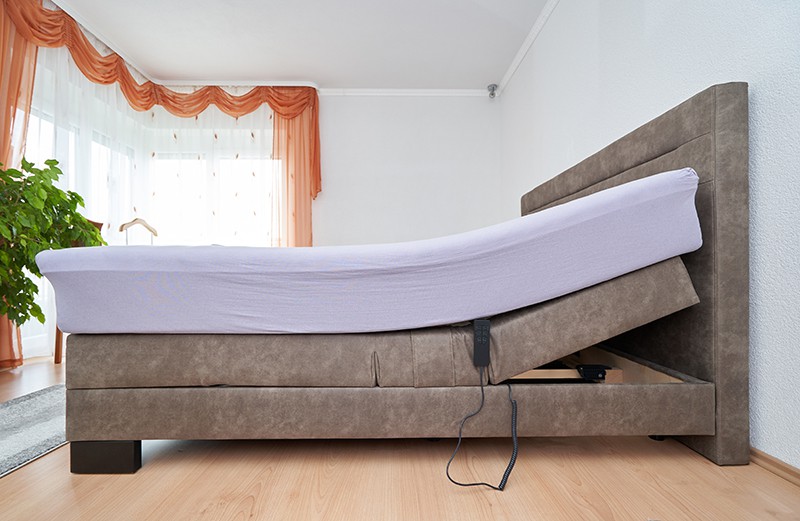 An adjustable bed frame is considered to be one of the most comfortable bed bases for a comfortable night's sleep. These bed frames with an adjustable base provide maximum comfort for reading, sitting upright, watching TV, or just lounging around in your bed. Whatever position you feel most comfortable with, an adjustable bed would be the ideal choice.
Adjustable beds can be found in hospitals and care homes as they are used for chronic pain patients. These types of bed frames have incredible health benefits and provide excellent support for the legs and head. But that's not all.
One of the most common health benefits of adjustable beds is reducing back pain. These beds prevent the spine from misalignment, which can result in lower back pain. By reducing the pressure on your back, and allowing you to sleep comfortably in any position you like, adjustable beds are the right solution for improving your health.
5. Coil spring or Innerspring mattress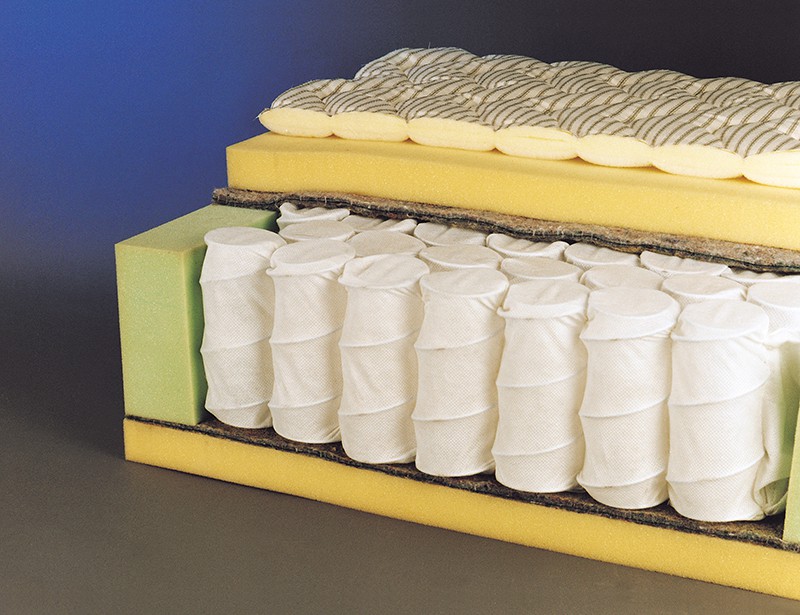 A coil spring mattress is made up of three components: the foundation, the core, and the layer. The mattress base in the lower part is the foundation and usually made from pure wool. This part of the mattress is the main structure of the bed and provides maximum support for the coils that are located at the core and make up the springs. The top layer of the mattress is usually 1.5 inches thick and made of latex or foam.
This type of mattress offers great versatility and is available in many different sizes, materials, and springs. Thanks to the combination of various mattress materials, you get all the benefits in one single mattress. This is why innerspring mattresses are so popular as they provide a firm base using innovative innerspring technology.
6. Wooden slats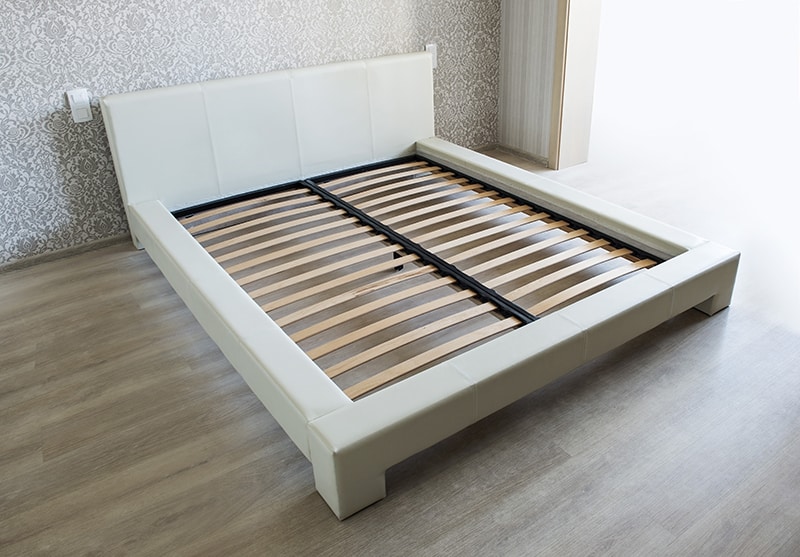 Wooden slats are simply planks of wood that make the mattress sturdier. These slats are thin, yet durable in order to securely hold the weight of both the sleeper and the mattress. Wooden slats come in a variety of sizes. The boards are typically fastened to the frame using straps.
The bed slats lay across the bed frame easily to prevent the mattress from sagging or moving. The balanced weight distribution helps keep the sleeper and the mattress in a comfortable position, thus preventing sinking into the mattress. There are two types of wooden slats to choose from:
Plain wooden slats: these slats support the mattress on the frame and are the most basic (and popular) option. They are best suited for memory foam mattresses, hybrid mattresses, and coil spring mattresses as they don't require any additional absorption.
Spring slats: this type of slat rests on springs. They can be individually adjusted to your needs whenever you require extra support plus they are suitable with any type of mattress. These spring slats offer adequate shock absorption without the need to use box springs or other alternatives.
7. Futons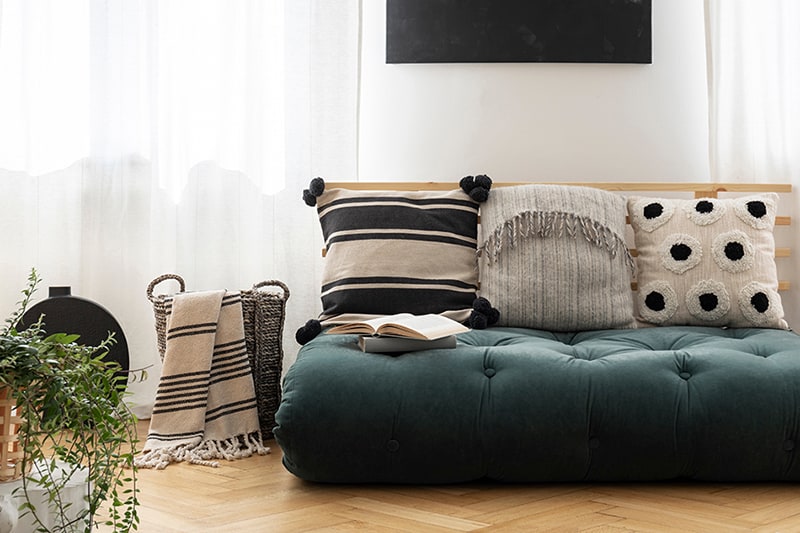 Futon, the traditional Japanese style of bedding, is another great alternative to a box spring. Most types of futons, regardless of whether it's Japanese style or Western style, consist of a foldable mattress. You can fold it and store it away in a closet during the day to save space. Futons are a great option for overnight guests and small apartments.
The other advantage of futons is their versatility. You can use them as a floor cushion, fold them against the wall, or use them as a sofa during the day. Most futons are made of pure cotton and are more comfortable than vinyl or other manmade materials. Since cotton is a breathable material, it can easily be cleaned. What's more, futons are lightweight and easy to move around in any room of the house. They provide adequate cushioning for a good night's sleep without having to buy a separate mattress.
When we compare futons to box springs, futons come on top as they are thinner and more flexible. Futons are primarily designed for sleeping on the floor without needing any bed frames while mattresses are made to be placed on box springs or other foundations. The raised elevation of box springs can be risky for restless sleepers as they may fall off the bed and get injured. Sleeping on a futon, on the other hand, eliminates the risk of falling and makes a great choice for restless sleepers and children.