If you love roses, you might have been dazzled by the Azalea plant. Their pink shade brings a romantic and powerful feminine vibe to the atmosphere.
If you like to learn more about Azalea pink, what it represents, some similar colors, and colors to pair with this color, read on.
What Color is Azalea?

Azalea is a bright, vibrant shade of pink named after the pink flowers of the azalea plant. Azalea plants can also produce yellow, red, orange, and white flowers, but when you hear the term 'azalea' being used as a color, it is referencing a pink shade.
Azalea pink is a fun and fresh color that has some deep magenta undertones to give it a more sophisticated look than other similar shades of bright pink.
The depth of azalea means that in some lights, it can look like a cross between pink and dark purple, but in its purest form, it is distinctly pink.
What does Azalea Color Mean?
Pink is associated with femininity, but while light shades of pink can be seen as dainty and delicate, azalea pink has associations with bold and powerful femininity. Pink is also linked to fun and mischief, so it can add a much-needed playful feel to a room that feels too stuffy.
However, you'll need to avoid using it in formal settings as it can appear like you don't take your profession seriously. For example, you might be slightly distrusting of your lawyer if you walked into their office to find it was painted in azalea pink!
Dark pink shades like azalea can also represent love. Since pink is created by mixing red, a fiery and passionate color, with white, a pure and innocent color, the result is a shade that meets in the middle to create feelings of romance and tenderness. Azalea pink is also associated with youth and frivolity, so it works well in teenager's bedrooms or to bring a quirky vibe to a space.
Similar Colors to Azalea
Fuchsia

Fuchsia is a bright shade of pink, which is also named after a flower, like azalea pink. Fuchsia lacks the depth of azalea and is not as dark, so it has a fresher and summerier feel compared with azalea pink.
Fuchsia can feel too overwhelming when used in large amounts, for example, on a wall, whereas azalea is deep enough that it works well across a big surface area. If you want a bright shade of pink to use as a wall paint in a room, opt for azalea over fuchsia.
Magenta

Magenta is a deep shade of pink-purple, which is extremely similar to azalea pink since azalea also contains purple tones. The difference between these two colors is that magenta has a heavier purple presence, while azalea falls definitively into the pink color group.
If you want a shade that is on the fence between pink and purple, then choose magenta; however, for a color that is pink with a slight hint of purple, opt for azalea.
Hot pink

Hot pink is a bright shade of pink that is even brighter than fuchsia. It has an almost neon glow to it that is reminiscent of 1980s fashion and disco vibes.
Compared to azalea, hot pink is more vivid and vibrant, and it lacks the depth and purple tones of azalea. Hot pink has a young and slightly tropical feel, while azalea is a more mature shade of pink.
Barbie pink

Barbie pink is named after the popular doll who famously loves all things pink. Barbie pink can be described as a cross between pink and magenta, which makes it extremely similar to azalea pink, which is also composed of pink and magenta.
Barbie pink and azalea are so similar they can be difficult to tell apart from each other. The key difference to distinguish the two is that azalea is a slightly darker shade, while barbie pink has a brighter appearance.
How to Use Azalea in Home Decor
Feature wall
Azalea is a strong shade of pink that can look quirky and playful or sophisticated and bold when applied as a wall color. The colors you pair it with and the style you embrace are going to play a big part in the resulting effect of this striking shade.
Using azalea pink as a paint color for a feature wall is a smart move because it will make a bold impact without taking over the space or making the color feel too intense. For a modern and edgy feminine style, paint a feature wall in azalea pink and the remaining walls in white.
Paint trim in charcoal gray and choose dark gray or black furniture pieces, such as a wrought iron metal bed frame, with white soft furnishings like white bedsheets and blankets. Punctuate the space with black accessories like black cushions and black candles to ensure an edgy atmosphere is created.
Alternatively, go for a mature tropical feel with a feature wall painted in azalea pink and the remaining walls painted in a soft aqua blue. Choose an aqua and white zigzag rug with a white sofa and some lime green and aqua cushions.
Textile prints
To avoid allowing azalea pink to overrun a room, choose textile prints that feature the color to introduce it to the color scheme in a classy way. One example of this could be a mint green-colored room with a white sofa and mint green cushions which are edged with azalea-colored tassels or pom-poms. Or, in a gray monochrome room, choose curtains made from a fabric that is predominantly black with an azalea pink floral print on it.
Upholstery
Using accent pieces of furniture upholstered in azalea pink is one of the most stylish ways you can use this color. Choosing a single azalea pink armchair to go in a room that doesn't have any other pink in it will create a bright pop of color and make it the star of the show. This is one example of where less is more, as your eye will be drawn to the bold azalea pink chair because it will stand out in the space.
Conversely, if you used lots of this color, then it would make less of an impact. For a quirky glamorous style, choose an elegant chair upholstered in azalea pink velvet. In a dining room, create a fun and flirtatious atmosphere with dining chairs upholstered in azalea pink suede.
Furniture paint
Furniture paint is a really great way to upcycle items you already have and give them an entirely new look. Azalea pink works really well as a furniture paint because it has a strong personality. Since azalea pink is modern, fun, and feminine, use it to paint old pieces of furniture which have a dull, antique, or serious look.
This will create a really striking juxtaposition that will make your furniture feel quirky and contemporary. For example, paint some sturdy farmhouse-style wooden dining chairs in glossy azalea pink to give them a fresh and playful style.
Colors that Go with Azalea
Charcoal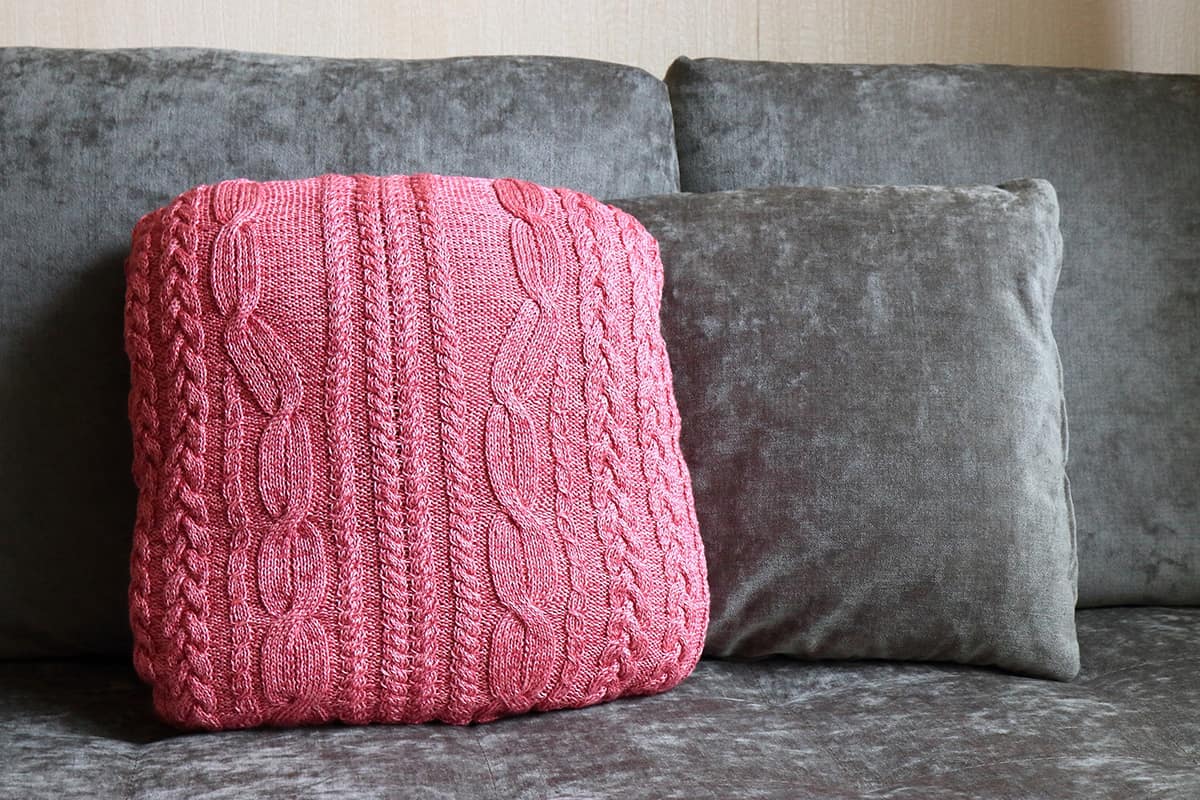 | | | | | |
| --- | --- | --- | --- | --- |
| Shade | Hex Code | CMYK Color Code (%) | RGB Color Code | Color |
| Azalea | #cf2c59 | cmyk(0%, 79%, 57%, 19%) | rgb(207, 44, 89) | |
| Charcoal | #6e6e6e | cmyk(0%, 0%, 0%, 57%) | rgb(110, 110, 110) | |
If you want to make azalea feel contemporary and sophisticated, then pair it with charcoal gray. This is a color that is so dark that it borders on black, and it has a strong modern and sleek style. In a bedroom, paint wooden wall paneling in charcoal and the remaining surfaces of the wall in azalea pink.
In a room that is predominantly charcoal gray, add azalea pink lampshades and cushions to liven it up and create strong pops of color.
Emerald green

| | | | | |
| --- | --- | --- | --- | --- |
| Shade | Hex Code | CMYK Color Code (%) | RGB Color Code | Color |
| Azalea | #cf2c59 | cmyk(0%, 79%, 57%, 19%) | rgb(207, 44, 89) | |
| Emerald Green | #009673 | cmyk(100%, 0%, 23%, 41%) | rgb(0, 150, 115) | |
Emerald green is a rich and dark shade of green that provides a muted contrast against azalea pink while also helping to tone it down.
As a color that is verging on neutral, there is a wide range of green shades that will look beautiful with azalea pink. Set emerald green cushions on an azalea pink couch, or choose emerald green mosaic tiles in an azalea-painted bathroom.
Teal

| | | | | |
| --- | --- | --- | --- | --- |
| Shade | Hex Code | CMYK Color Code (%) | RGB Color Code | Color |
| Azalea | #cf2c59 | cmyk(0%, 79%, 57%, 19%) | rgb(207, 44, 89) | |
| Teal | #006b5b | cmyk(100%, 0%, 15%, 58%) | rgb(0, 107, 91) | |
Teal is a shade of blue-green that is vibrant and heavily saturated. This means it stands up well against the intensity of azalea pink.
Use azalea pink cushions on a teal bedspread to create a jewel-toned contrast, or use a wallpaper that incorporates both of these colors for an exotic style.
Orange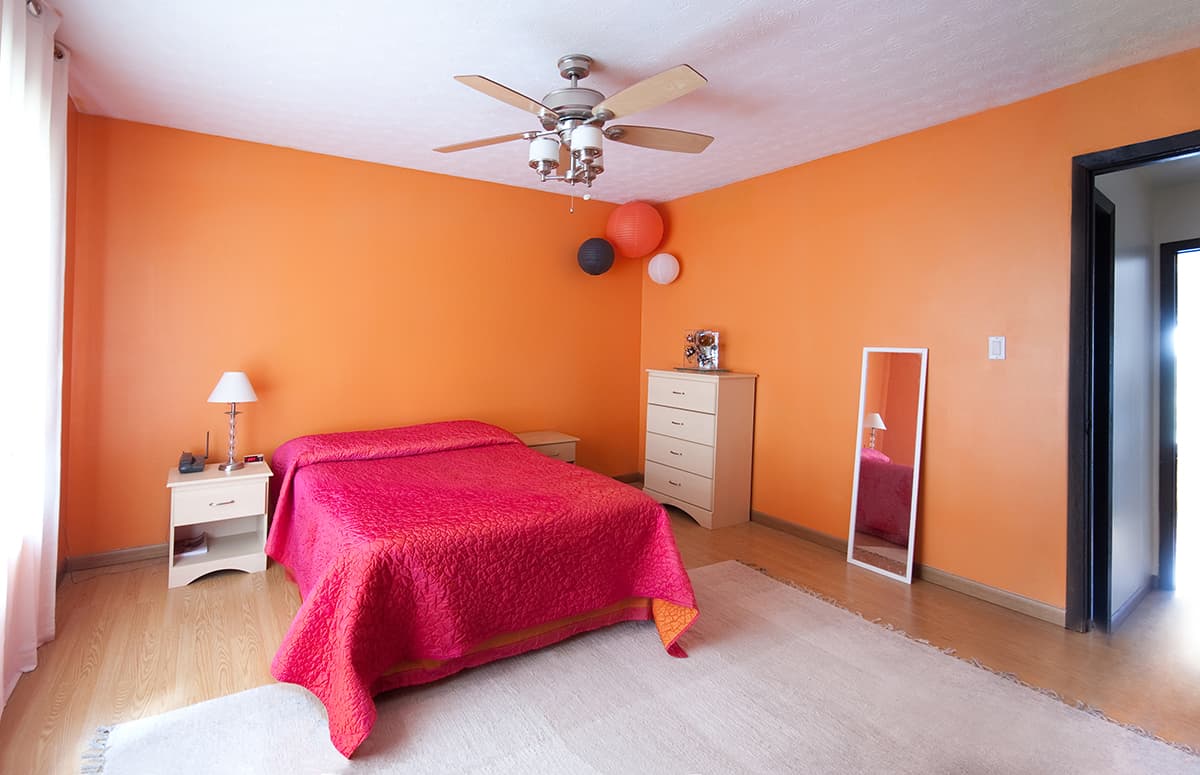 | | | | | |
| --- | --- | --- | --- | --- |
| Shade | Hex Code | CMYK Color Code (%) | RGB Color Code | Color |
| Azalea | #cf2c59 | cmyk(0%, 79%, 57%, 19%) | rgb(207, 44, 89) | |
| Orange | #dd7035 | cmyk(0%, 49%, 76%, 13%) | rgb(221, 112, 53) | |
In a teenager's bedroom, paint the walls in azalea pink and use a bright shade of orange for accessories. To prevent this color scheme from being overstimulating, you'll want to add a third color that is neutral, such as white or gray.
Consider a white and orange striped rug in a pink room or a white bedspread with orange polka dots.
Mustard yellow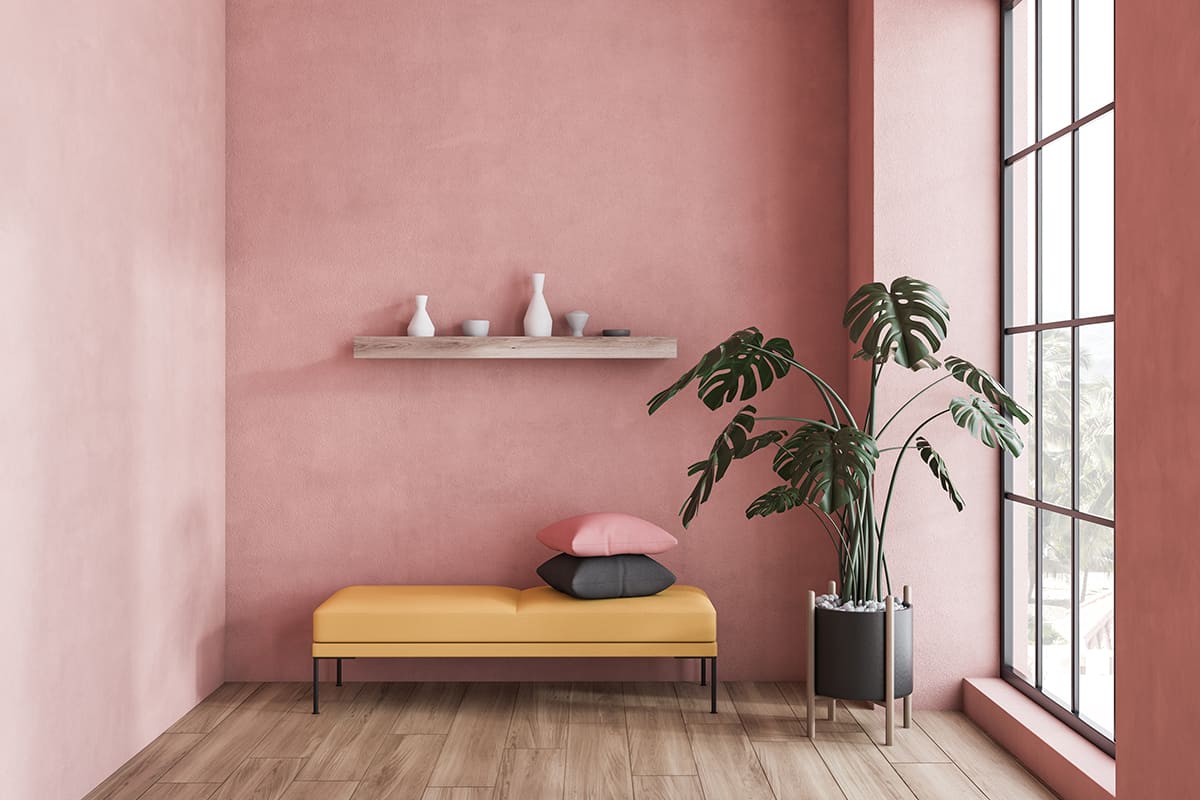 | | | | | |
| --- | --- | --- | --- | --- |
| Shade | Hex Code | CMYK Color Code (%) | RGB Color Code | Color |
| Azalea | #cf2c59 | cmyk(0%, 79%, 57%, 19%) | rgb(207, 44, 89) | |
| Mustard Yellow | #d6a465 | cmyk(0%, 23%, 53%, 16%) | rgb(214, 164, 101) | |
Mustard yellow is a dark and muted shade of yellow that pairs really nicely with azalea pink since this is also a dark shade. When these two colors are used together, they can create a style that looks boho chic or young and playful.
Find azalea pink lampshades with a mustard yellow tassel trim or artwork that features both of these shades. Incorporate white into the color scheme to break up the intensity of the colors, for example, with a white sofa or white frames on the walls.