Compared to other rooms of the house, the bedroom is the place where we spend most of our time. After all, our day begins in this room and ends there. If you are about to build or buy your dream home, taking into account the average bedroom dimensions will ensure you can organize your space.
When figuring out the average bedroom size, you must first assess the total square footage of the house. There are larger homes that have bigger bedrooms, while cottages and condos have smaller bedrooms. But in order to determine the most common bedroom sizes, we will go by the average size of a house, which is 2,000 square feet. With that in mind, let's take a look at the standard dimensions of bedrooms right here.
We also include 9-bedroom layout plans with dimensions for different types of bedrooms below.
Why Should We Know the Average Bedroom Size?
We all know master bedrooms are one of the most important rooms in the house as we spend more time in this room than in any other room.
To keep your space organized and avoid cluttering it with too much furniture, you need to know the right size for a bedroom. By knowing this, you will feel more comfortable and have a better sleep.
In addition, by determining the dimensions, you can easily plan your bedroom and decide on where you want your bed, chairs, dressers, and other furnishings in your bedroom.
Standard Bedroom Size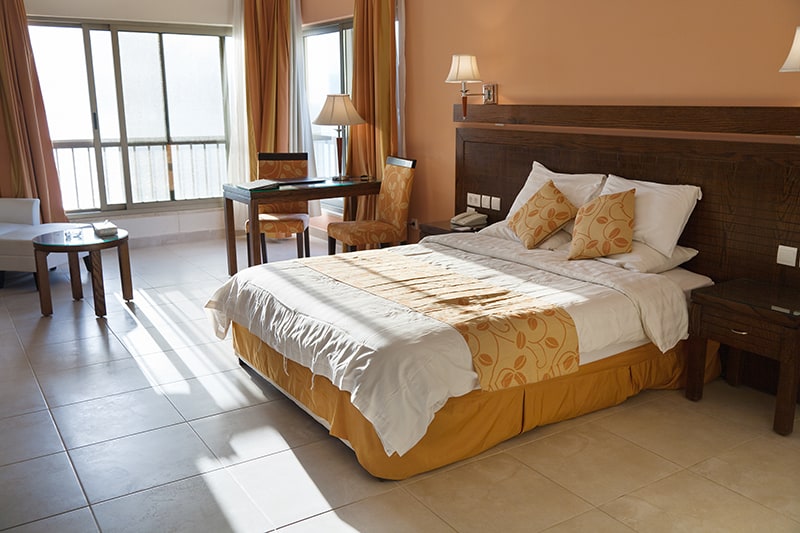 A standard bedroom is usually used as a gym, office, games room, home theater, or study room. This room normally has one window and a closet. On average, a standard bedroom measures around 202 square feet but it can range from 109 to 299 square feet depending on whether you live in an apartment or a house.
According to the IRC, for habitable rooms like a bedroom, the standard ceiling height should be at least 7 inches. Of course, you can have a much higher ceiling than that. For width and length of a bedroom, it will differ much, which we will discuss below.
Standard Bed Room Size with a Twin Bed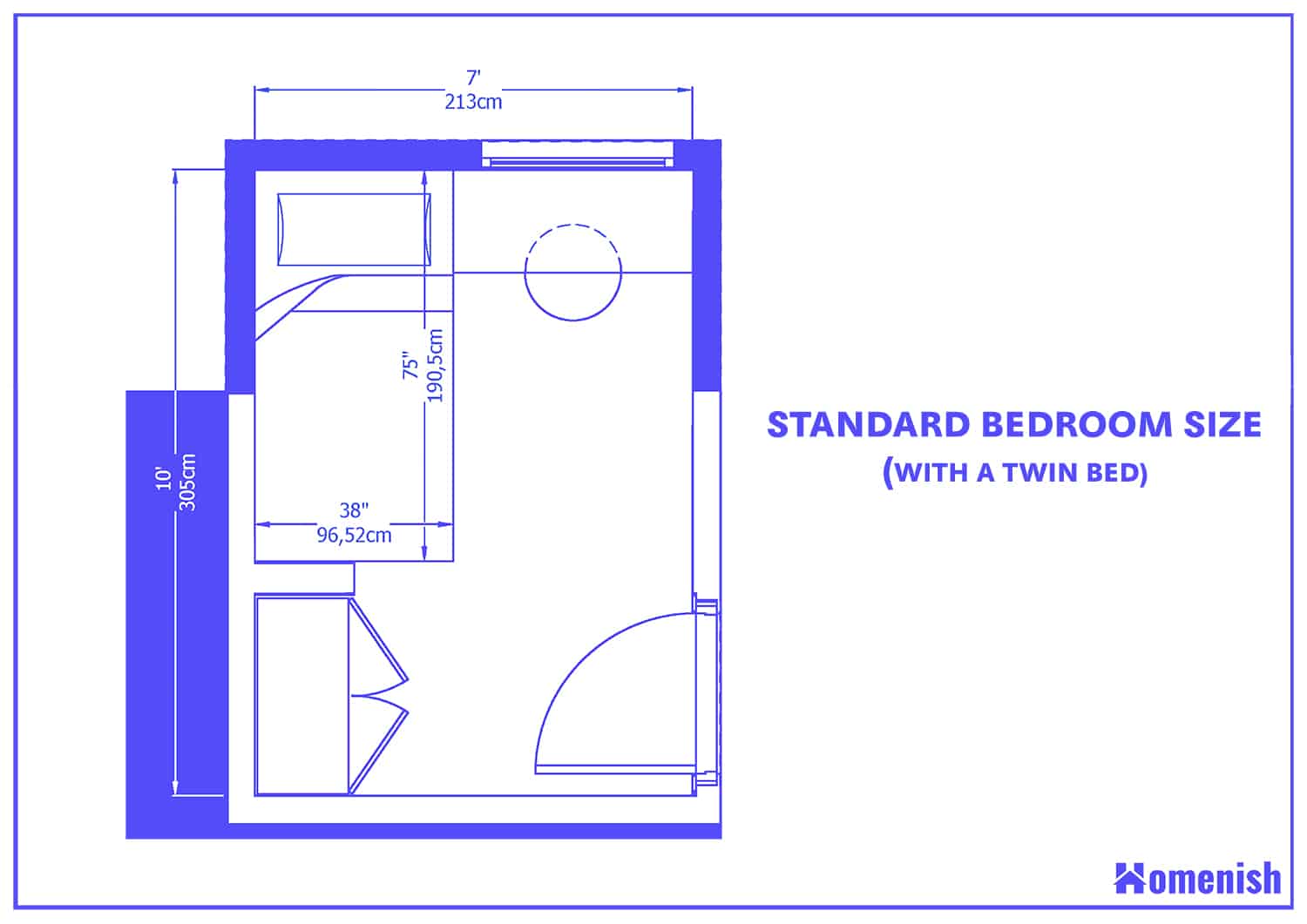 Here are the dimensions and floor plans for a bedroom with a single twin bed.
The standard twin bed size is 38" x 75". So for a bedroom with a single twin bed or bunk bed, in order to fit a dresser as well as a bed with adequate walking space, you will need at least 70 square feet.
Standard Bed Room Size with Two Twin Beds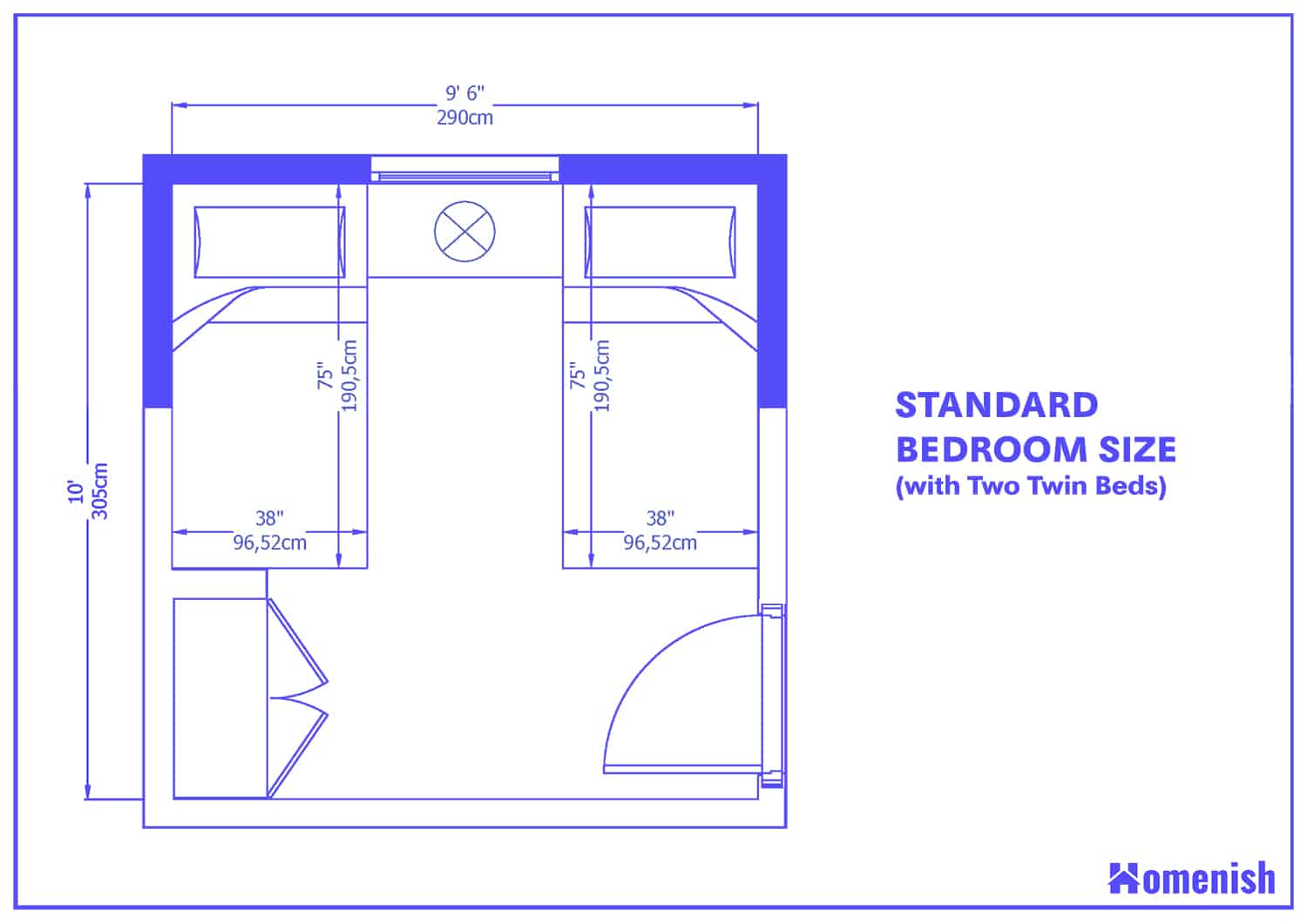 In a bedroom or guest room with two twin beds, the area should be at least 96 square feet to accommodate a closet and comfortable walkway.
Standard Bed Room Size with a Queen Bed
A Queen bed is measured at 60 inches by 80 inches. Depending on the clearances and furniture in the bedroom, the bedroom sizes can vary. With clearance, a standard bedroom size with a queen bed is 106ft2 – here is a floor plan example measured at 10ft x 10ft 6 inches or 305cm width x 323 cm height.
There are 30 inches clearances on both sides of the bed, where you can place two nightstands.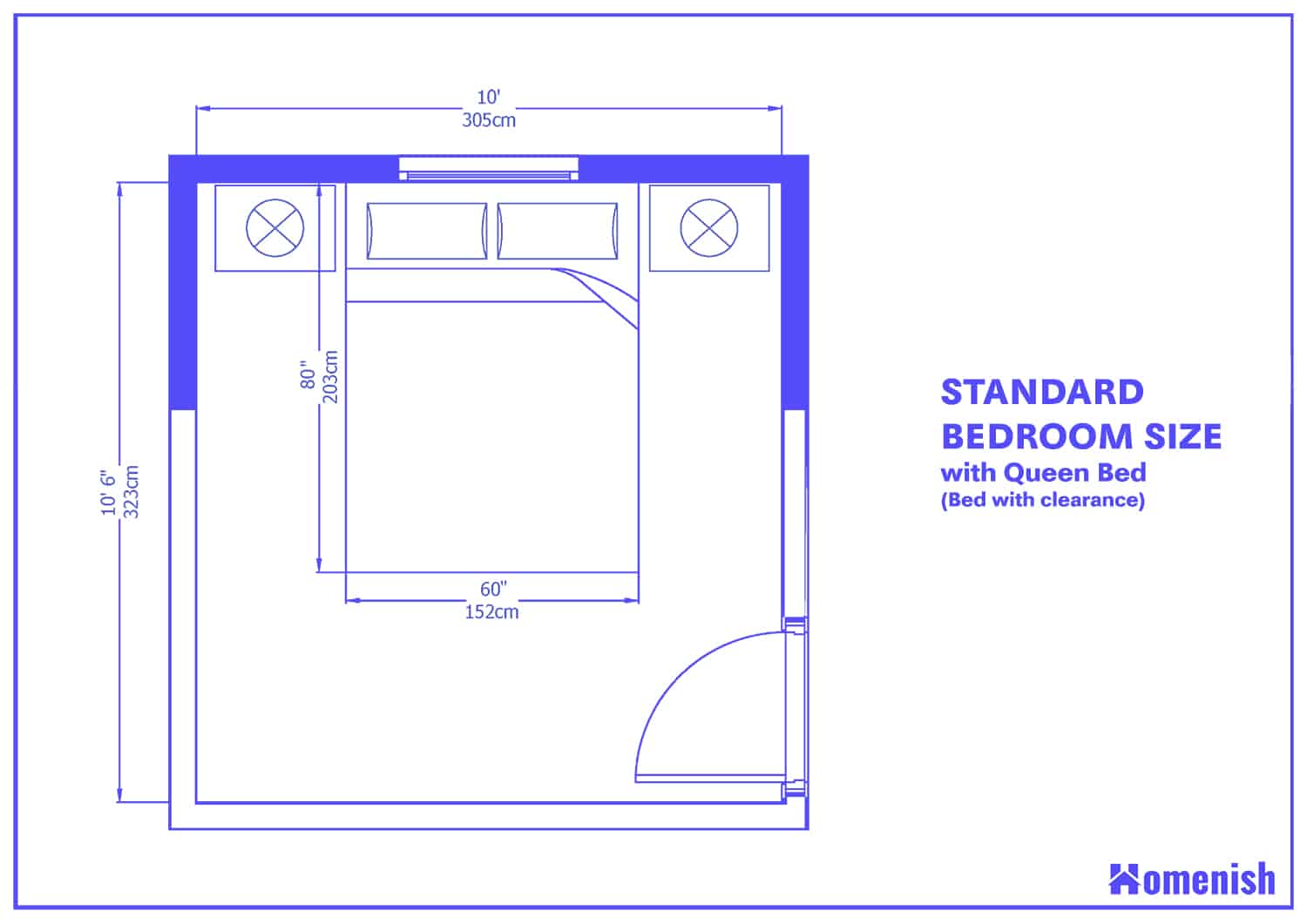 Filled with clearance, closets, and a desk, the bedroom dimension should comfortably have an area of 132ft. See below our diagram for a bedroom with 11′ x 12′ or 335cm x 365cm.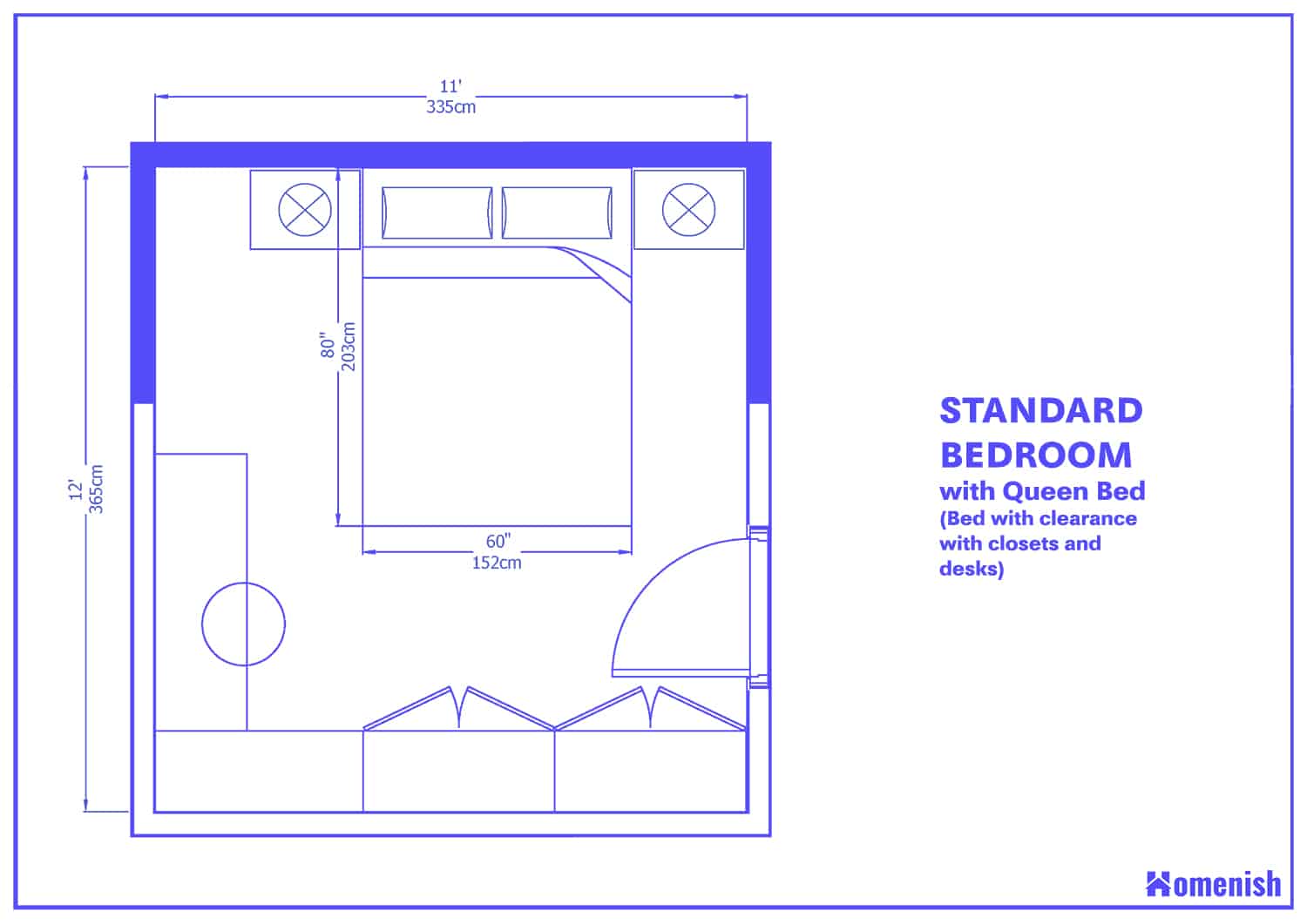 Standard Bedroom Size with King Bed
A King bed size is roughly 80 inches x 80 inches, however, the normal size of the bedroom should be around 145 square feet, depending on how much clearance, how many closets, and other furniture you want to have.
With clearance, a bedroom with King Bed should have a minimum area of 118 ft2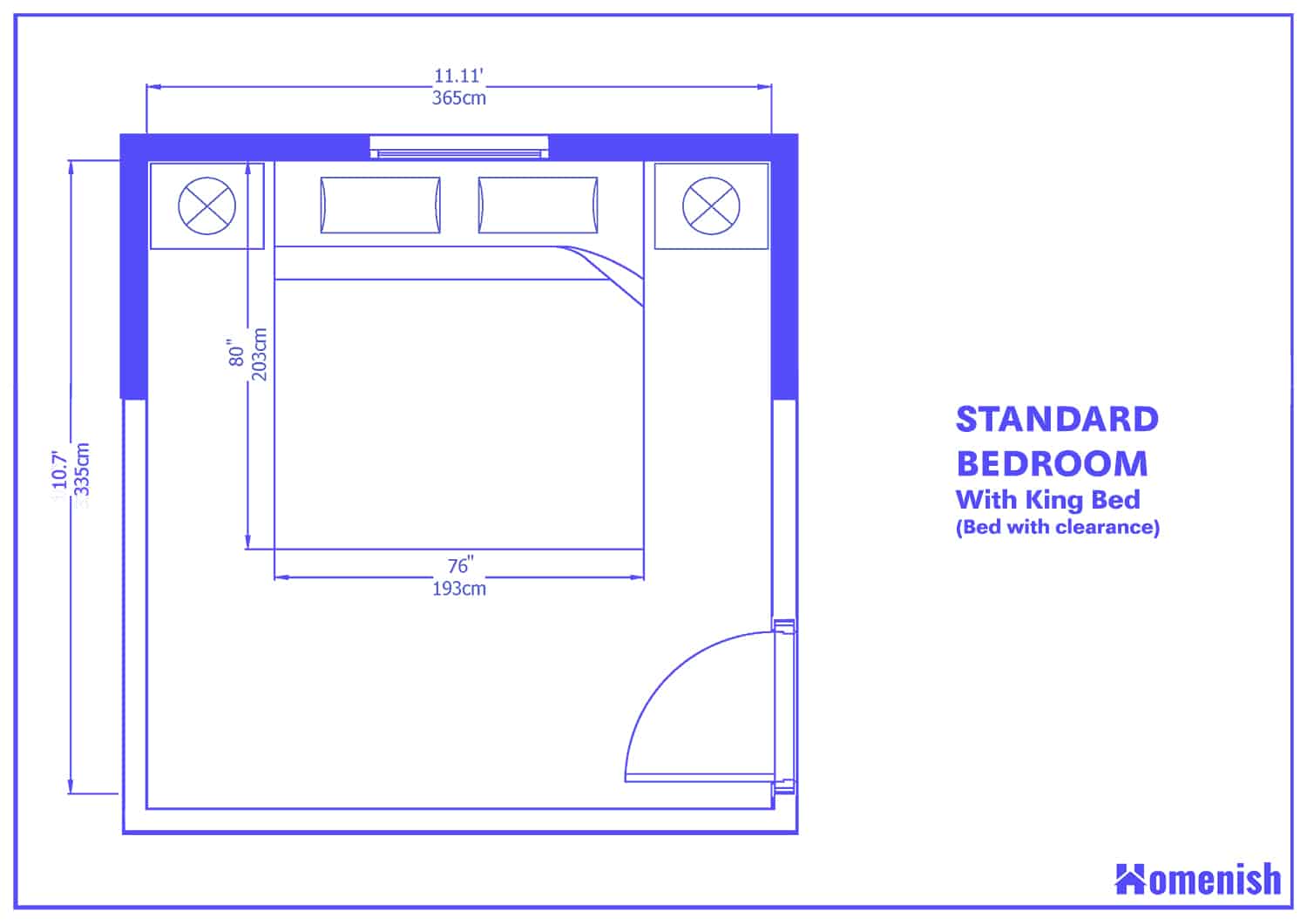 When having closets and clearances, a bedroom size with a King bed should go up to 147 ft2. For these dimensions, we can include one standard King bed or a California King bed (72 inches x 84 inches), and two nightstands beside the beds. There is a wall-to-wall closet that is placed in front of the bed.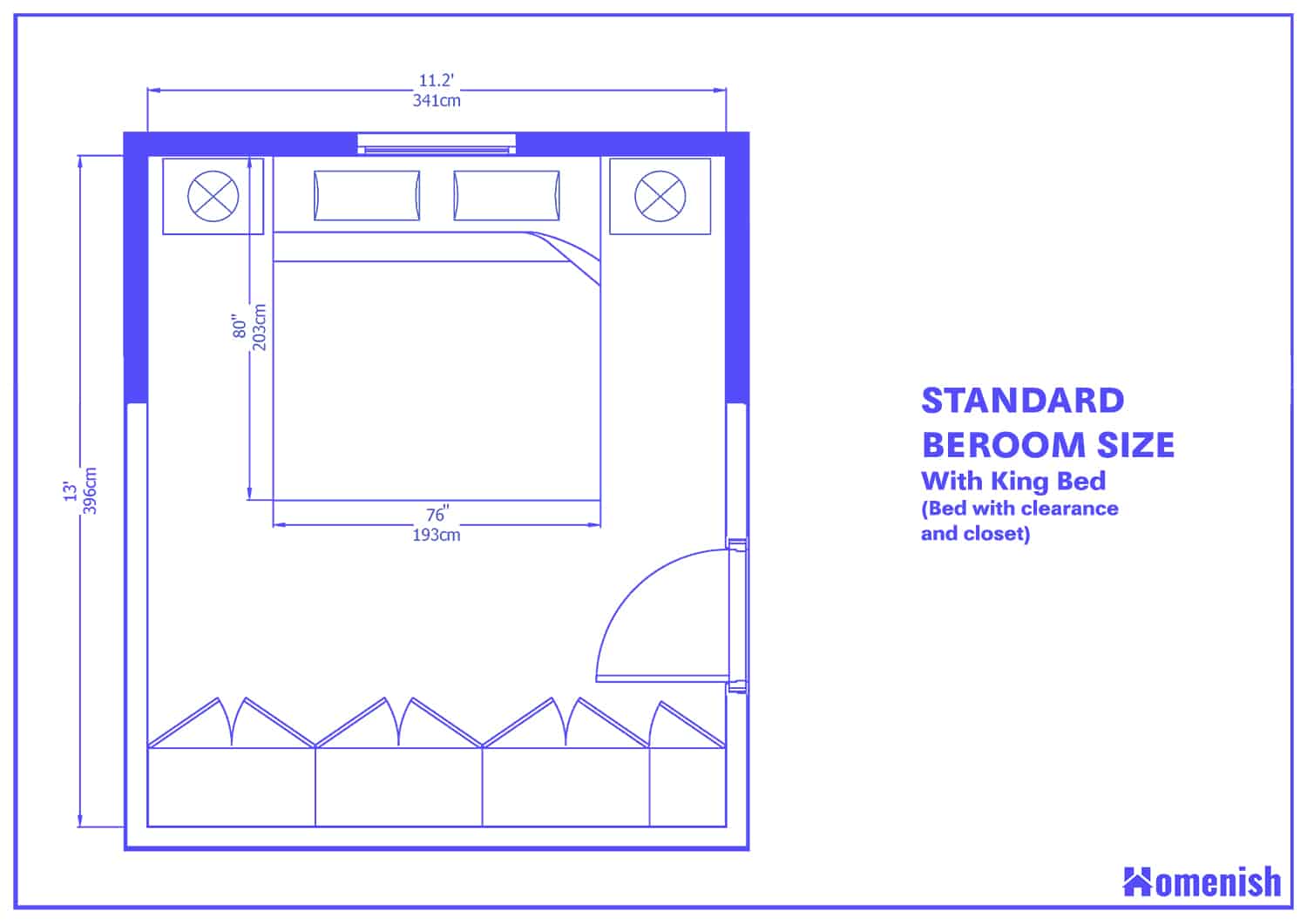 Master Bedroom Size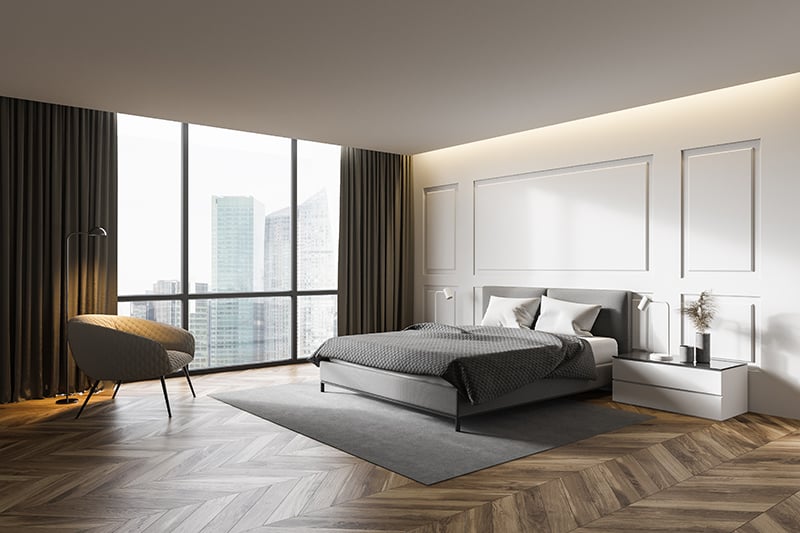 The master bedroom is the largest bedroom and can be as big as 370 square feet. This is considered a luxury size that's usually found in homes measuring over 3,500 square feet.
In all other average size and modern homes, a master bedroom tends to measure around 200 to 300 square feet.
A master bedroom tends to take up about 11 percent of the space in a typical house. If you are looking to build a new home, the master bedroom's dimensions should be about 14 by 16 feet or 20 square meters.
A master bedroom needs to be large enough to accommodate a king-size bed. This bed is usually 10 feet by 12 feet. In addition to a bed, you will likely have other furniture items in your bedroom, so the space needs to be large enough to hold a large bed as well as other items. The typical shape of a master bedroom is square or rectangle, but it can be other shapes.
In a house measuring less than 2,000 square feet, the average size of a master bedroom should be around 230 square feet. In a house measuring between 2,000 to 3,000 square feet, the size of a master bedroom should be around 15% bigger, measuring an average of 270 square feet.
In homes larger than 3,000 square feet, the average master bedroom size increases to 40% at around 400 square feet. This is nearly the same size as an average kitchen.
Regarding ceiling, the minimum size for a bedroom and habitable spaces should be at least 7 feet in height. But for a master bedroom, to have a comfortable, spacious room, we should have at least 7 feet 6 inches in height.
The design plan below is for a master bedroom with a queen bed, nightstands, TVs, and desks. You can have a master suite with a spacious bathroom inside the room, but to have it, the spaces should be larger. There are more designs in our articles on the master bedroom floor plans and layouts.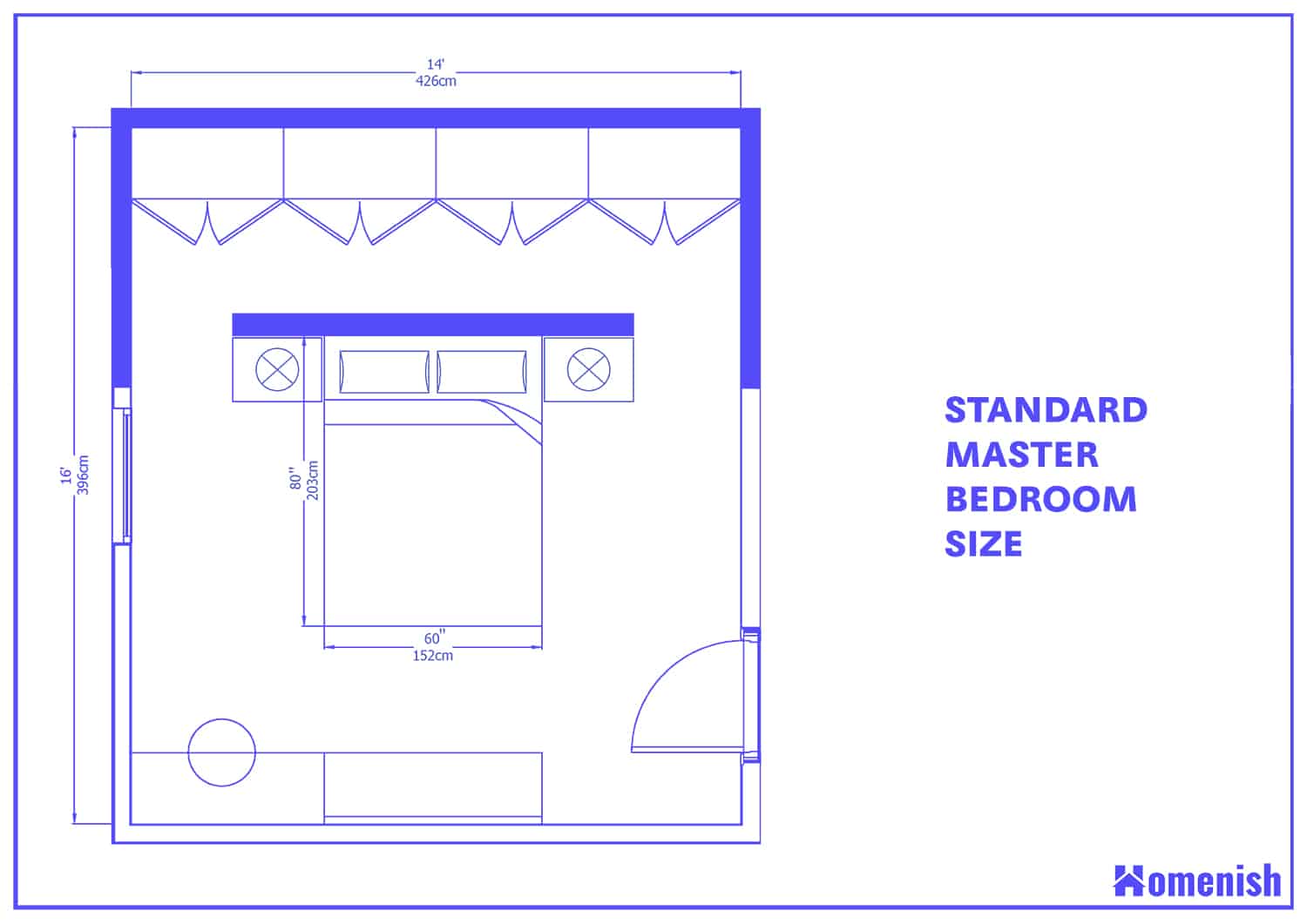 Children's Bedroom Size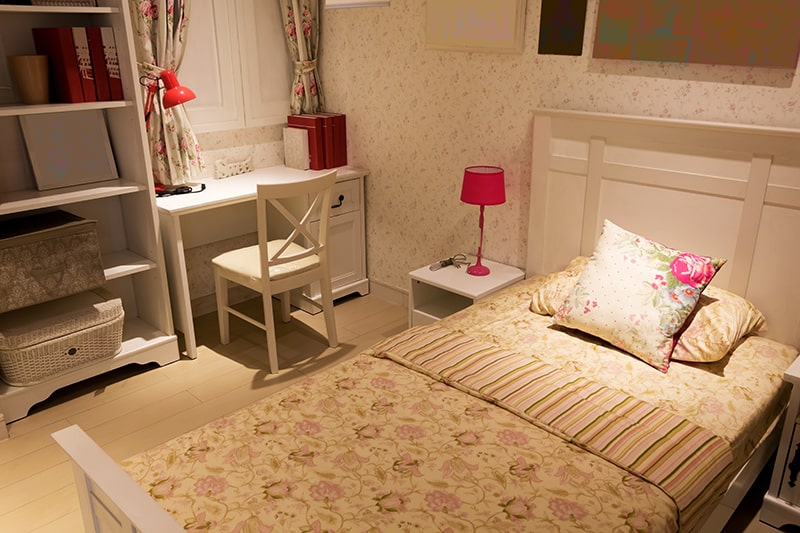 Children's bedrooms don't need to be as spacious as adult bedrooms. They usually have one window with a small closet. It is common to see such bedrooms converted into study or gyms. These rooms take up around 17% of the total house size.
The standard size of a child's bedroom is 11 by 12 feet. However, there are smaller toddler rooms that measure 10 feet by 10 feet.
When organizing the space of a child's bedroom, one key factor is to determine what size you want the bed to be.
For example, if you have a double-size bed, you'll want the child's bedroom to be at least 11 feet by 11 feet in order to ensure the bed fits comfortably with a little walking space.
You should also keep in mind that the furniture you want to place in this bedroom should fit well. So if you are planning on putting a double-size bed as well as some furniture like a bedside table and closet, allow 12 feet by 12 feet.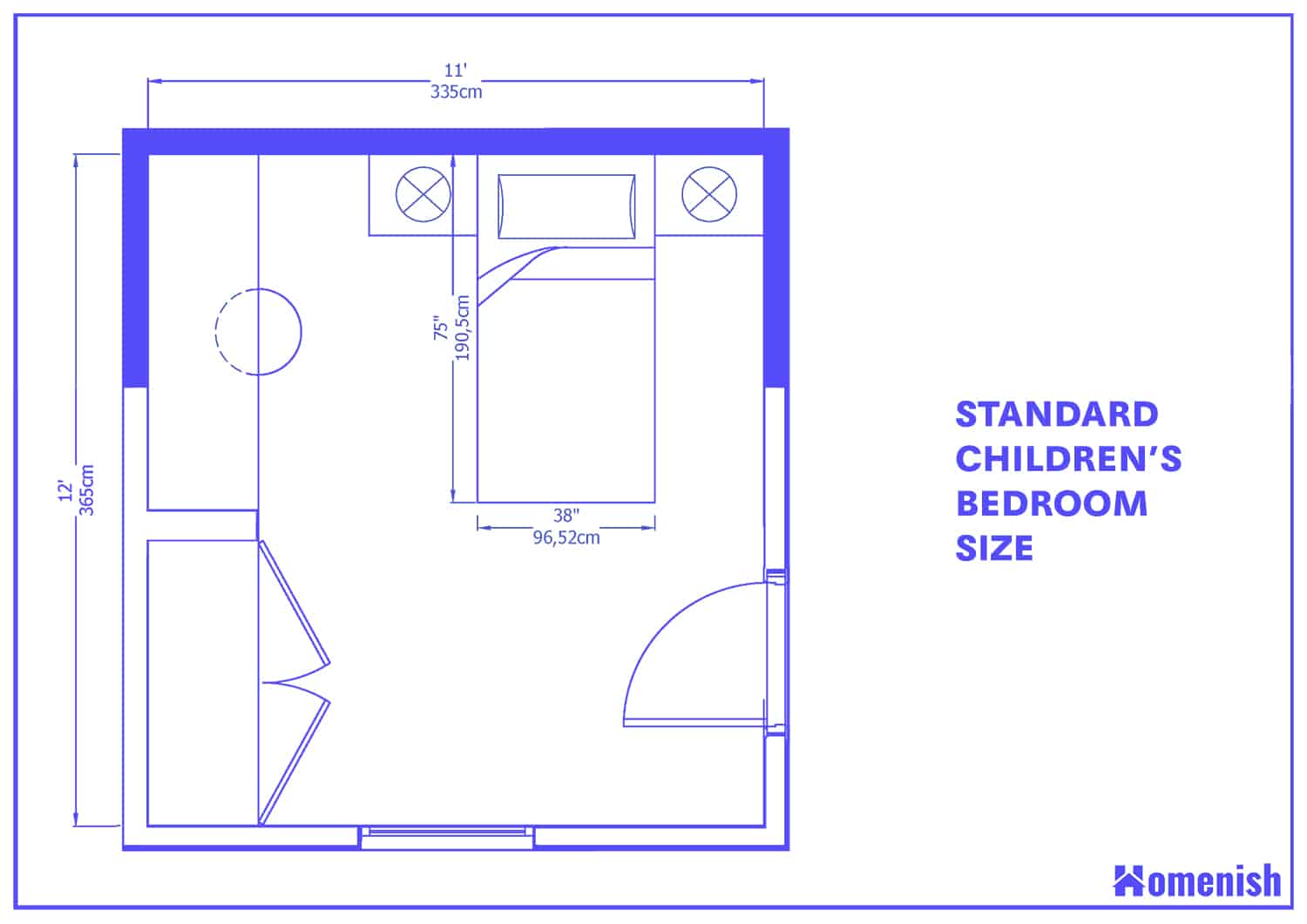 Guest Bedrooms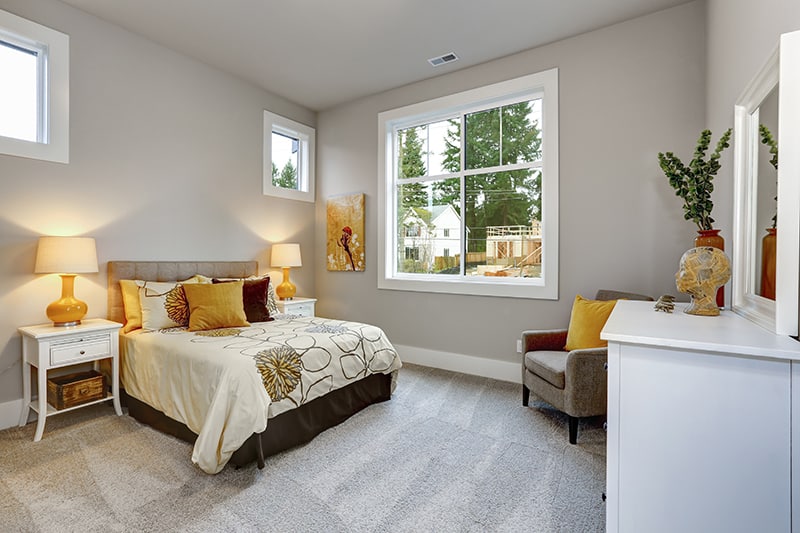 Guest bedrooms should also be taken into consideration when planning a home size. The average size for guest bedrooms should be around 450 square feet, but smaller homes only dedicate 250 square feet to these rooms, while for larger homes, the guest bedrooms can be as large as 700 square feet!
Standard Bedroom Size in an Apartment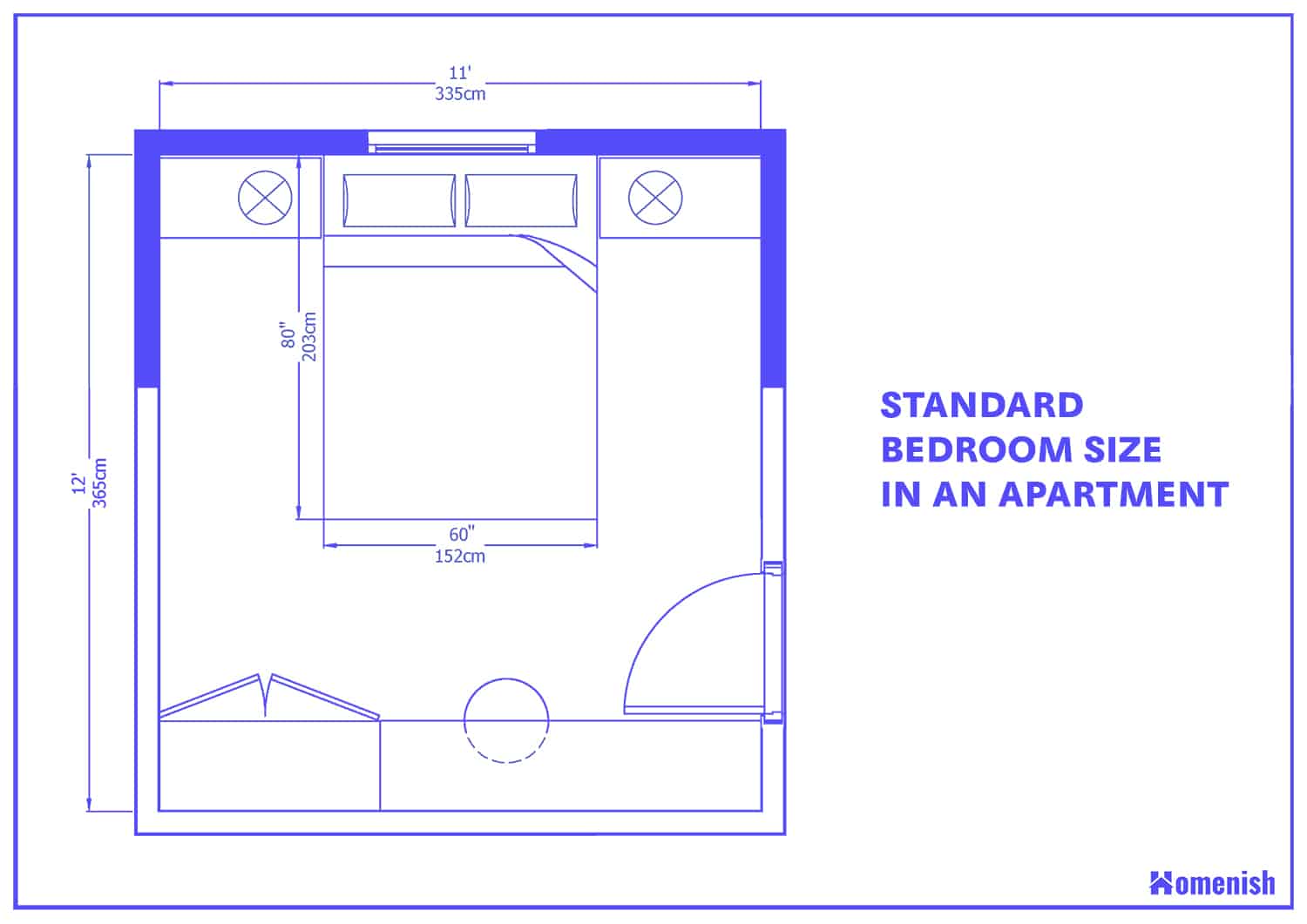 The standard bedroom size in an apartment can differ in cities and other areas. It also depends on whether you want to buy a penthouse or an average size apartment. In populated cities, for example, bedroom sizes are much smaller than in less populated areas. This is due to the lack of square footage in cities, but on average, bedrooms measure 11 feet by 12 feet.
Does Bedroom Shape Influence the Size?
While most basic homes have a rectangle or square bedroom, it is not unusual to find other shapes. A square-shaped bedroom is by far the easiest space to furnish and organize, but if you have any other shaped bedroom, placing your furniture in this space will be a little more difficult.
The Bottom Line
Since a bedroom is where you start and end your day, it shouldn't feel cramped or cluttered. Before building or buying a home, give the bedroom size a thought so you can comfortably fit your furniture in this space.