A bedroom needs to have at least one window in order to be considered as an actual bedroom. But this doesn't mean there are no properties without windowless bedrooms. People are often given the option to buy or rent a home with a windowless bedroom as this can be due to the room having been converted into a bedroom. In industrial style apartments, for example, you will often find windowless bedrooms that are mostly used as rental accommodation.
If you're considering buying or renting a home with a windowless bedroom, you should read this article first to get a sense of how you'll feel about this particular feature.   
Is it Legal to Have a Windowless Bedroom?
In simple words, no. A room has to meet certain criteria in order to be legally considered a bedroom. Contrary to popular belief, a room doesn't necessarily have to have a bed in order for it to be considered a bedroom. Rather, for a room to be considered a habitable space, the bedroom has to fulfil the guidelines of IRC (the International Residential Code) which is a building regulation that governs residential dwellings.
Here are the guidelines outlined by the IRC:
Adequate space: in order for a room to be classed as a bedroom, it should consist of at least 70 square feet and measure a minimum of 7 feet in any given direction. The ceiling must be at least 7 feet high, with enough head height for people to stand up straight.
Ingress and egress: a bedroom must have entry and exit points. If not, it must have access to the outdoors in case of a fire. One of these means of egress must be a window.
Indoor temperature control: a window will satisfy the cooling needs of a room, but the International Residential Code only specifies that a bedroom needs to have a dedicated heat source installed in the room. This doesn't include an air conditioner. Keep in mind that you should always refer to your local state's building code as they may have further requirements with regards to your room's temperature control.
Why Do Windowless Bedrooms Exist?
While it is illegal to use a room without a window, you will often find windowless bedrooms in cities, such as New York. This is because landlords who want to maximize the rent add more rooms to their 2 or 3 bedroom properties in order to get more sleeping space. This is done by adding partition walls between two rooms, thus one of the rooms ends up without a window. 
Ways to Work With a Windowless Bedroom
When working with a windowless bedroom, you can't overlook the lack of natural light and the openness it brings to the room. However, there are some small quick-fix solutions to get around this problem. These are: 
Add Large Mirrors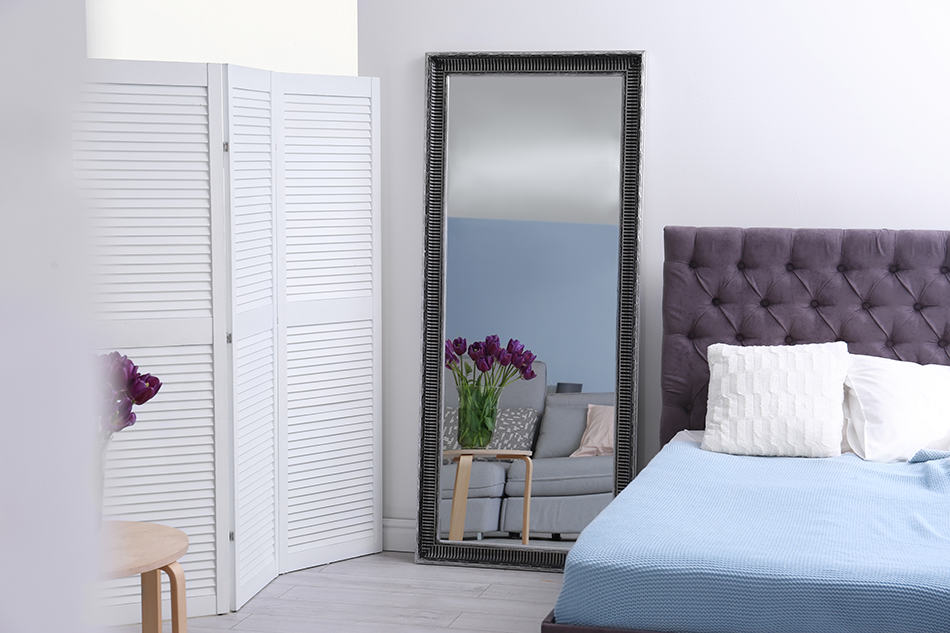 Adding large mirrors to your walls is one of the best ways to create depth and bounce some light. Large mirrors are especially ideal for spaces with low ceilings as they distract from the ceiling line and make space appear bigger. 
Paint the Walls White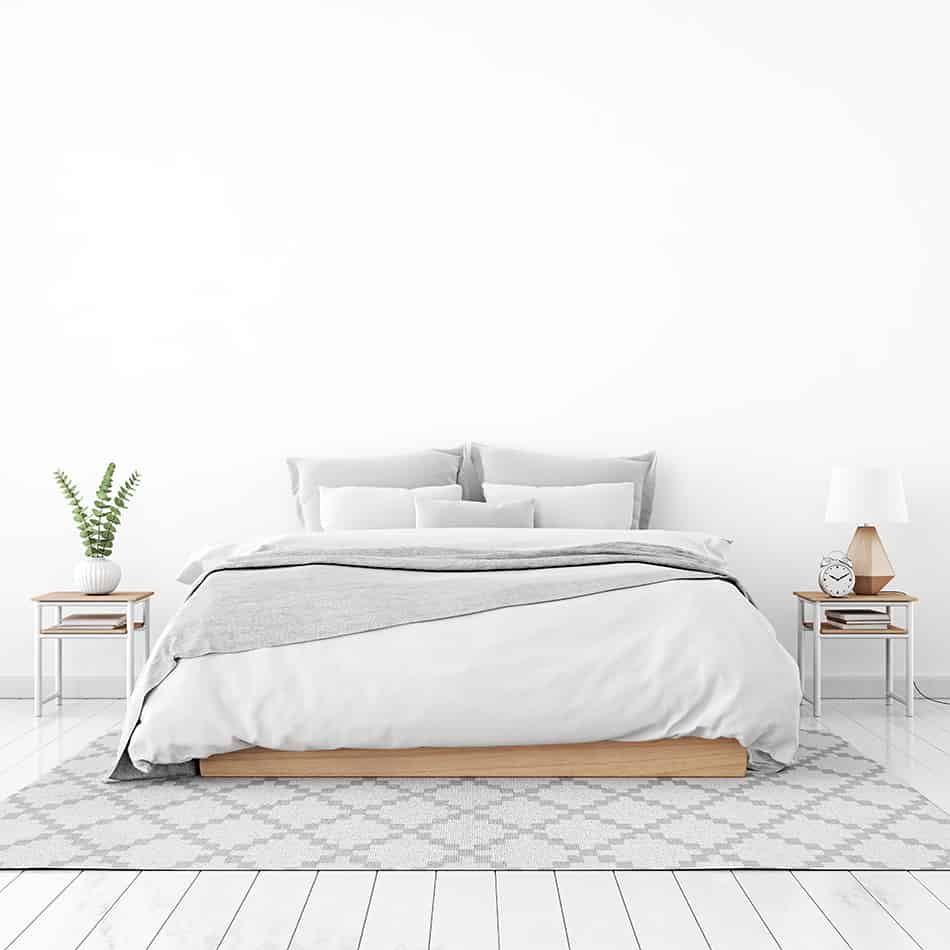 White walls help stimulate natural sunlight while subtly reflecting light. Paint all your four walls in white to help the corner spaces float away. This way, you'll make the accessories within the room the center of the attention rather than the white walls as the focal point. 
Install Lots of Lights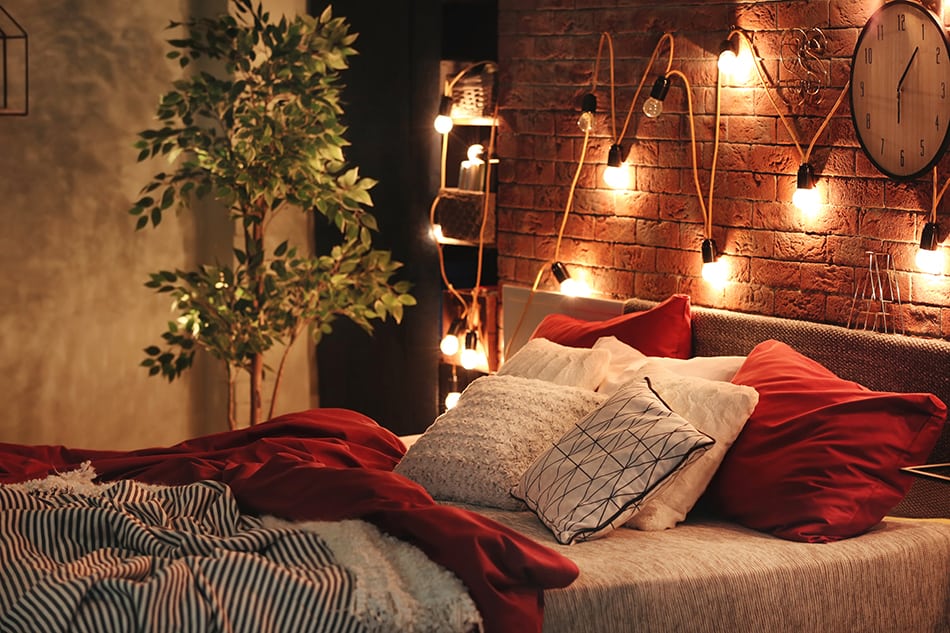 Installing a few recessed lights where they can't be seen will give your room a sense of subtle glow that mimics natural light. You may also include lamps between the wooden beams, the shelves or behind the headboard.
Add a Faux Window
A window decal is an excellent way of creating a false window in a windowless bedroom. Faux window decals come in a variety of sceneries: from city skyline to landscaped gardens.
Hang Full-Wall Drapery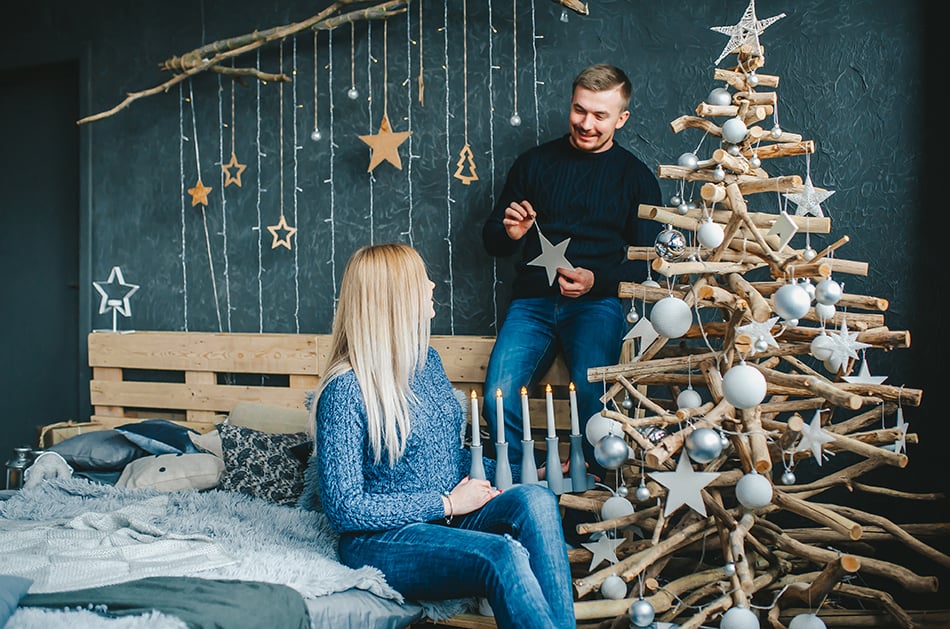 Now how about enhancing the look of your faux window by hanging a full-wall drapery to make it look even more real! A full-wall drapery will create a stunning backdrop to a bedroom and provides a sense of depth. With this idea, you can pull back the curtain whenever you want to show off your faux window views!
Use Light Colors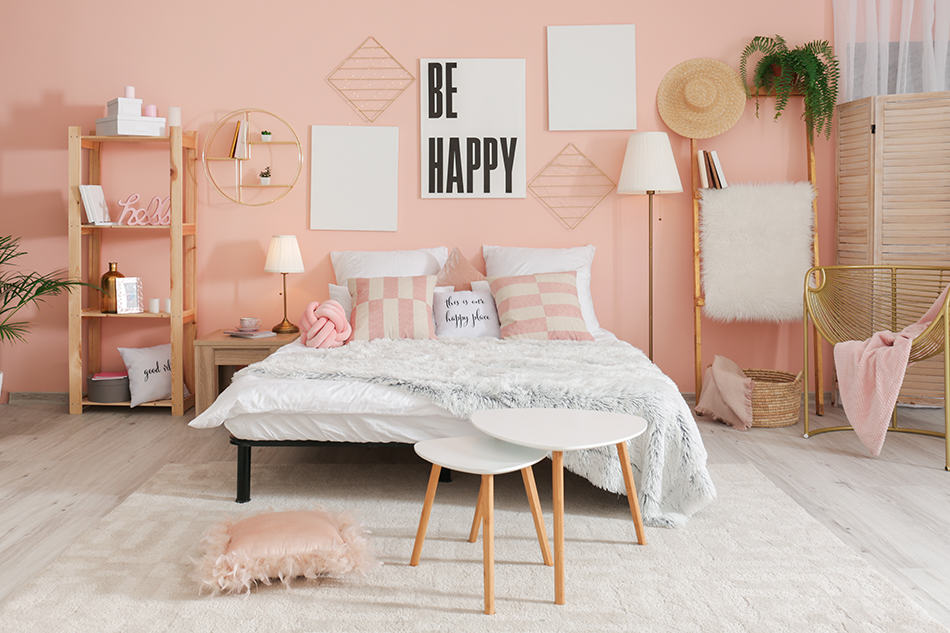 A windowless bedroom will always feel smaller so why not use lighter colors to overcome this problem. We have already mentioned painting the walls white, but have you considered going for light colors on the ceiling and floors. You can add darker elements for your bedding as long as you don't overdo it. Another idea is to choose a dark wooden bed frame or headboard with lightly colored bedding.
Include Metallic Accents
Just like mirrors, metallic accents are another excellent way of brightening up a windowless bedroom. You can incorporate metallic elements into a variety of items, such as metallic picture frames, candleholders, hardware on furniture and lighting for a brighter room. As an alternative to dark metallic accents, you may choose gold accents like gold mirror frames, wall art or gold sculptures.
If Possible, Add a Skylight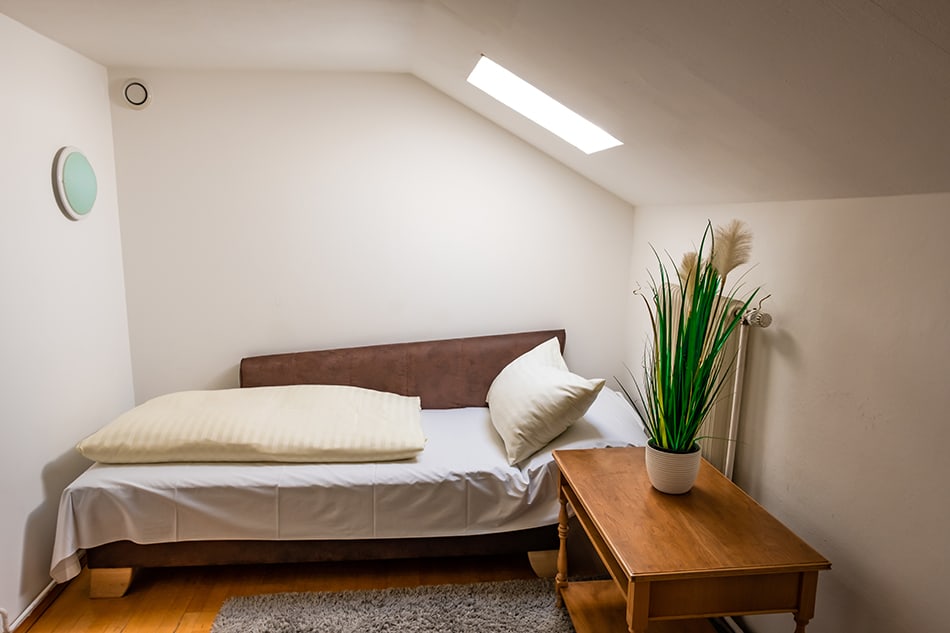 Skylights are a popular choice for windowless bedrooms. They bring natural light and provide a great view of the sky. In rooms where you can't add windows to the wall, a skylight makes a good alternative. However, this is only possible if your bedroom is on the upper floor of the house or apartment. A skylight is a big project so if you're not into DIY, it's best to hire a professional to do the installation for you.
The Bottom Line
In truth, windowless bedrooms aren't considered as bedrooms at all. While these rooms can technically be used as habitable spaces, the lack of natural light may be a dampening factor. If you're thinking of renting a windowless bedroom or converting your large bedroom into two rooms, there are some great ways to create a comfortable sleeping space and brighten up the room using our recommended solutions.