The classic combination of black and white is seen in both the interior and exterior of every modern or traditional home. This timeless color pairing became a hot trend many decades ago and is still popular to this day. To help define the exterior of your home, why not paint it white and add black trim to enhance the visual interest?
By combining other colors and accents to your white house with black trim, you'll no doubt take your home's curb appeal to another level. Take some inspiration from our following ideas to create the perfect exterior design for your home:
White House and Black Trim Color Ideas
White Brick with Black Trim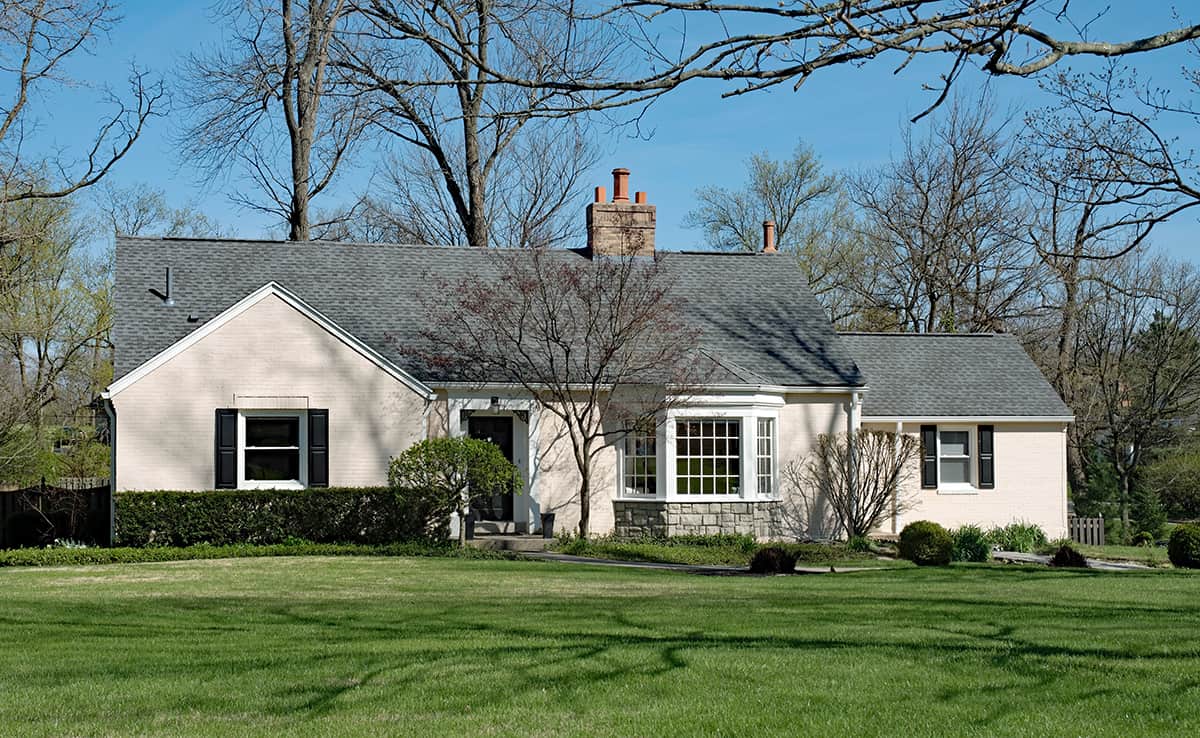 The easiest way to modernize your brick home's exterior is to paint it white. A white facade can be further beautified by adding black trim. This can be as black window frames, shutters, or columns. The combination of a white brick exterior with black trim can add boldness to the overall design.
Why not enhance your exterior's aesthetics by adding black shutters and a wooden front door, as shown here? The white painted brick is bright enough to overtake the rest of the shades, and the boldness of black trim (shutters) stands out in a stylish manner.
White Exterior with Black Front Door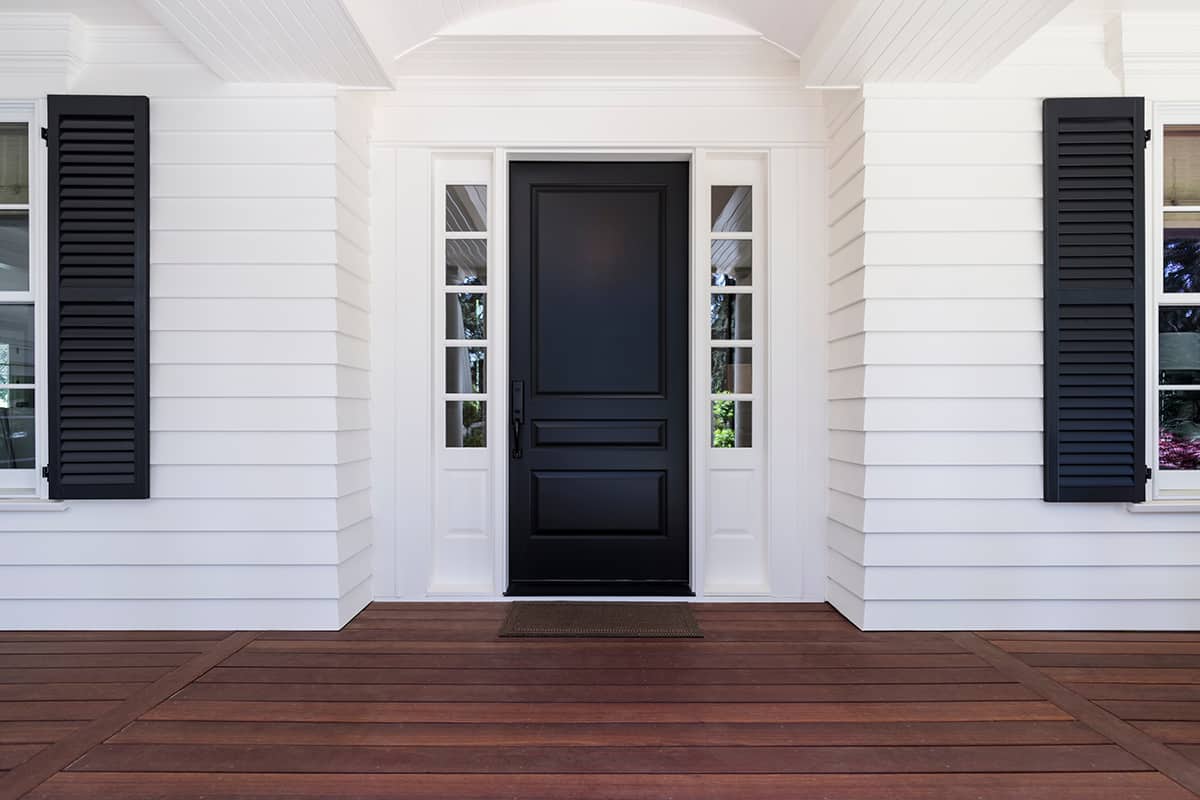 A pop of black color is just what your white house needs to make a dramatic statement. When your home's siding is pure white, it can serve as a classic backdrop to a black front door.
When you use black as your front door, this dark color will complement the neutral surroundings and bring sophistication to the structure. After all, no other color makes a plain white elevation stand out quite as much as black.
In this example, the black front door and the matching shutters have provided a strong contrast to the white siding. Just imagine if the entire exterior of this house was in plain white – it would have looked rather bland, don't you think? The black-with-white combo merges together beautifully and adds a sense of luxury to the exterior.
White House with Black Trim and White Garage Door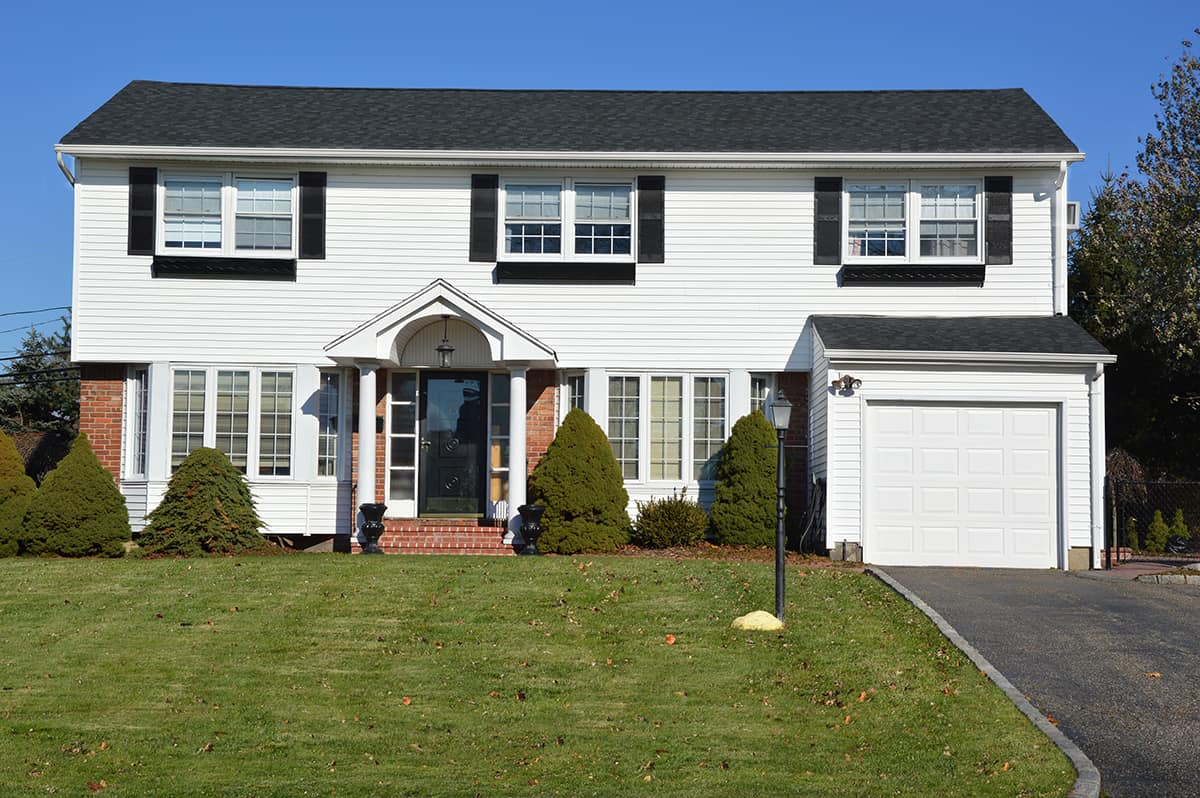 A house painted white is a popular and timeless style. Whether your facade is brick, stone, vinyl, or wooden shingles, white is the most trendy color to paint it. But in order to add vibrance to a white exterior, it is important to think about the rest of the features. For example, a white garage door with black shutters will bring a luxurious feel to a home.
Just take a look at this beautiful structure surrounded by a lush green landscape. The white house with black trim stands out amongst the greenery, and the combination of black with white is visually interesting.
White Clapboard Siding with Black Shingles and Trim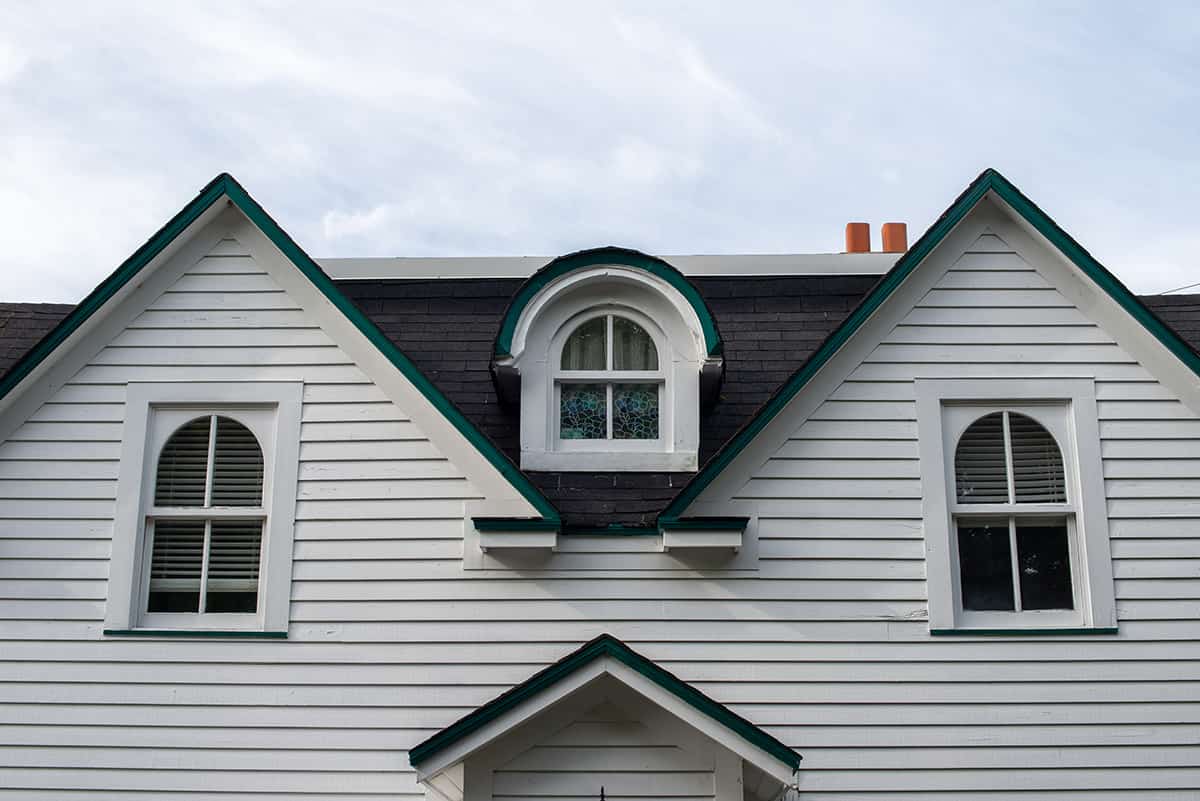 A white house with black trim creates a uniquely outstanding look. On a wooden clapboard siding, the combination of white and black works as a stunning highlight on a vintage-style house.
You can even bring out the boldness of white by adding other black accents such as window frames and black roof shingles. The contrast between white and black is our favorite in terms of how stylish the two colors look next to one another.
On a traditional black and white exterior, the best idea is to combine the white wooden clapboard siding with black trim and a black roof. This palette design adds consistency, and thanks to the black trim, it makes the house look prominent. The addition of black roof shingles will further enhance the visual appeal.
White House With Black Gutters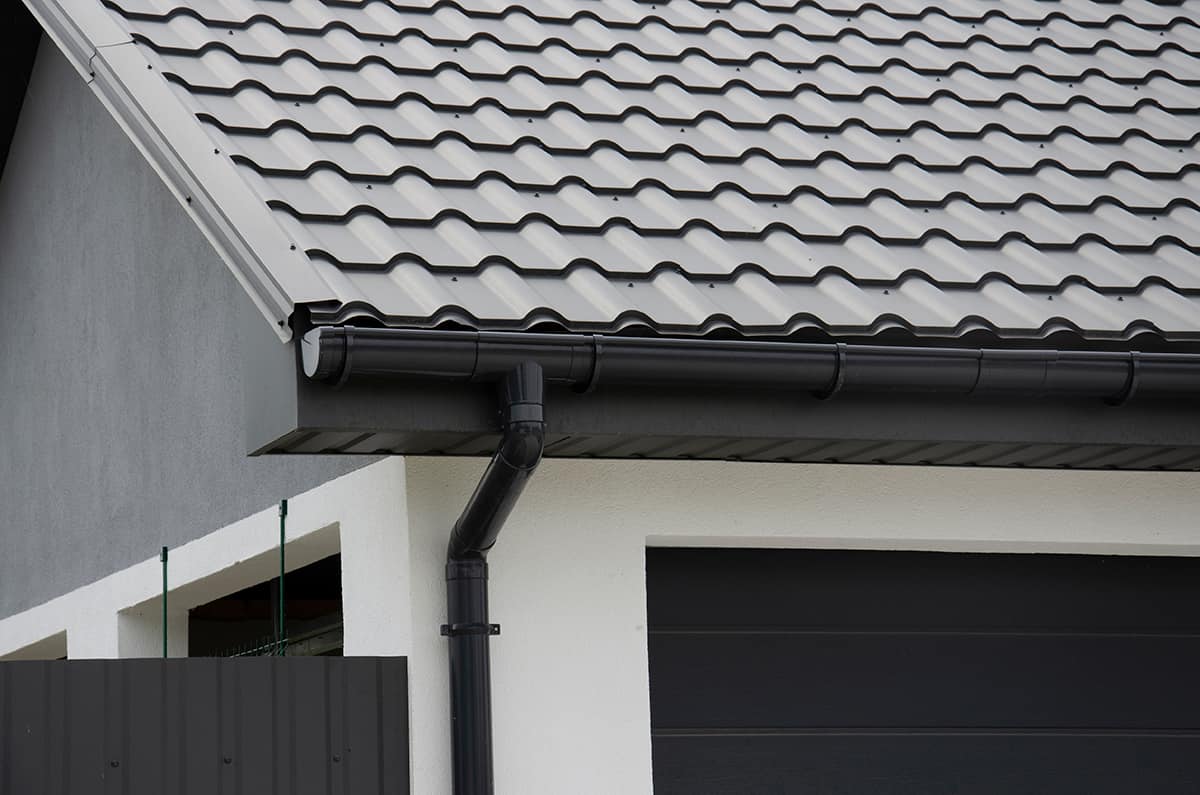 When we talk about using black trim, did you know the gutters are just as important as the rest of your home's exterior design? The idea is to match the color of the gutters to the rest of the trim of your white house.
A bold black color will stand out and provide additional elevation to the house. Black UPVC gutters paired with black roof shingles will look dazzling next to the white background of your home's facade, just like the one shown here.
White House Black Trim and Grey Shingles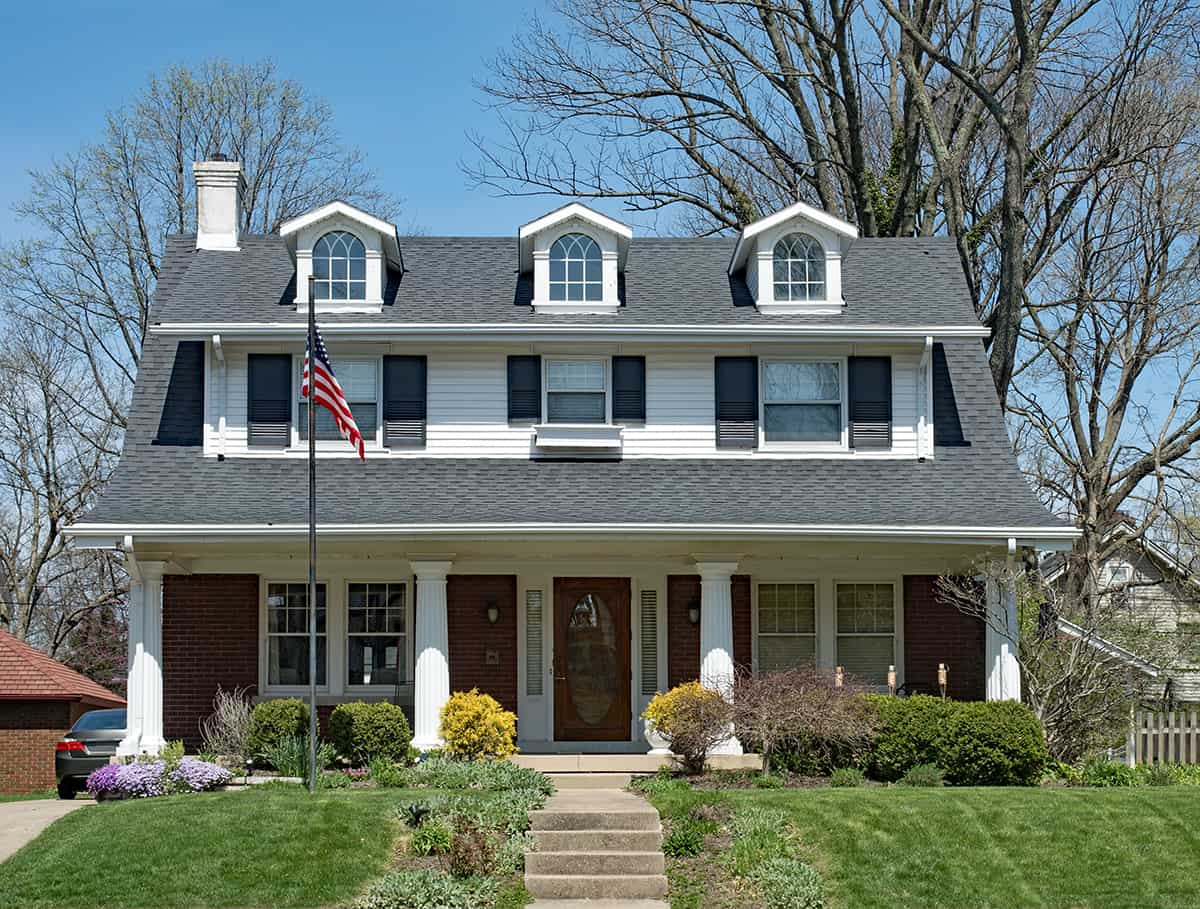 If you want to spruce up your white house with black trim, consider grey roof shingles instead of black. This idea will enhance the view of your home from the street. Grey is the ideal color to contrast white and black, thus resulting in an interesting visual impact that makes the house look unique and cozy.
Upon choosing grey roof shingles for your white house with black trim, consider brown for your front door to create a relaxing appearance. As you can see here, the combination of black, white, grey, and brown emit a welcoming vibe and enhance curb appeal.
White House With Black Trim and Red Front Door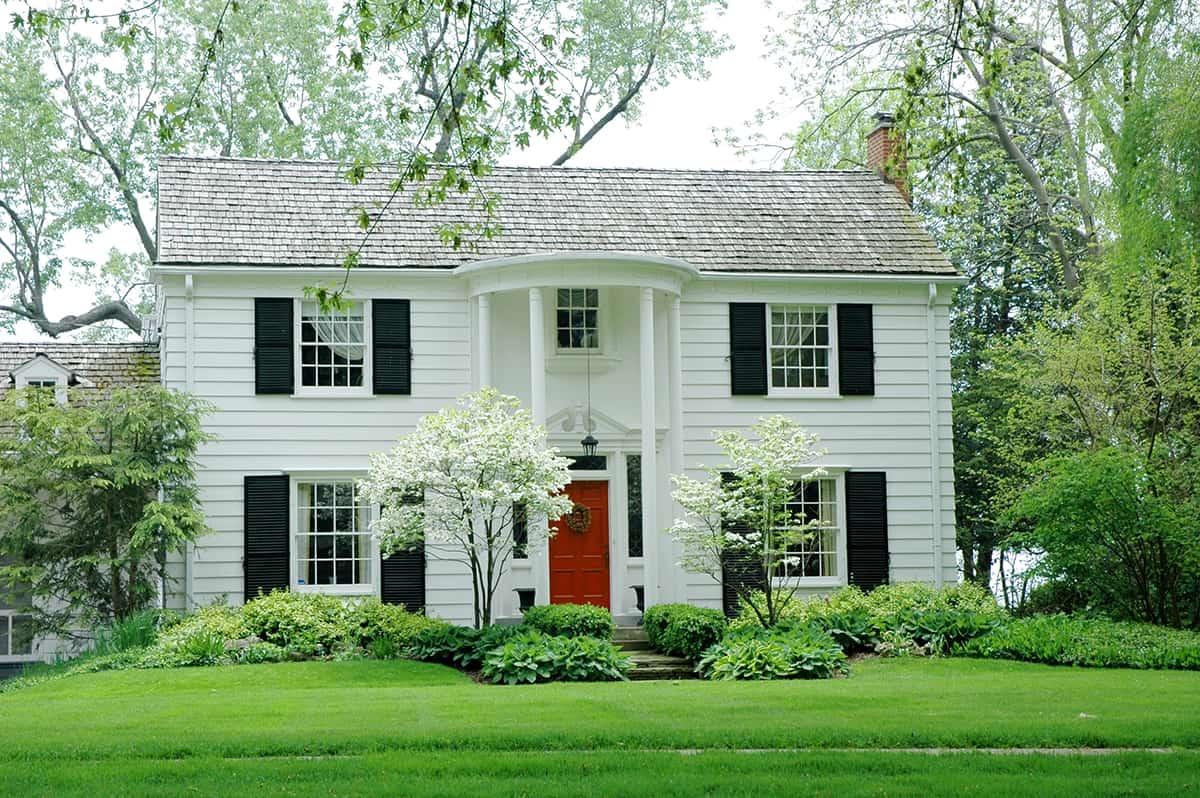 Since black and white can be paired with just about any other color, why not add a bright red front door to this combination to bring some liveliness to the exterior design.
A bright shade of red adds an interesting focal point and signals the homeowner's elegant taste. On a white house with black trim, a red front door is a compatible choice, as you can see in this example.
The bright red door here adds a sense of sophistication to the entire structure. In fact, it makes this stately house look more welcoming. We also love the black shutters and bright white siding that catches attention and makes the whole design come together beautifully.
Best Accent Colors for a White House With Black Trim
Grey
Grey is the new white as an ultimate neutral. This is a great choice for pairing with the main colors of black and white. As a solid accent hue for the background of your exterior, grey is an eye-catching color when used on shutters or other details.
If you love the nautical design, opt for a bluish-grey hue that works well with bright white siding. Even greys with taupe undertones work well with black and white combinations and provide a beautiful accent to the exterior of your home.
Navy Blue
Navy blue is a strikingly rich color that makes a powerful statement when used as an accent hue. Since your home's exterior is painted white with black trim, adding decorative details in navy blue helps make a strong impact.
This color is another classic addition to the black and white pairing, which makes a dramatic choice. Navy blue works with many colors, such as charcoal and off-white. Use it for your shutters or as a decorative accent color to create an interesting visual impact. There are also some inspiring blue houses with white trims that you want to see.
Beige
If you love the look of your black trim but want to tone down the stark white exterior, then consider adding beige as an accent color. This hue is anything but bland or boring.
Beiges with pink or peach undertones bring warmth and color to a neutral exterior. Even pale beige with a hint of pink undertone will look great next to white.
Alternatively, you may opt for taupe as a darker version of beige. This is an excellent color pairing with warm white and stark black.
Brown
There are plenty of brown shades to pair with white siding and black trim. Brown as the window frames or decorative details will flatter many textures and exterior styles just as its neutral cousins would, but with more warmth.
Brown is a rich, earthy hue that works very well with other neutrals like black and white. It goes especially well with traditional exteriors, so you can use it for your exterior's wooden accents as the best stain color that adds character.
Green
Green is such a calming, refreshing hue that goes hand in hand with black and white exteriors. As an accent color, it's best to opt for a lighter shade like apple green or lime.
When paired with black trim and white siding, green will stand out beautifully as a soothing nature-inspired color against deep neutrals.
Is a White House with Black Trim Combination Still Popular?
The combination of white siding with black trim has gained much popularity over the last few years, and it's hardly surprising! This classic and timeless color pairing has become a huge trend that looks fresh and sophisticated in both modern and traditional homes.
In other words, a white house with black trim will never go out of style. By opting for black trim against white exterior walls, you can create a contrast that adds depth to your modern or traditional home.