If you're looking to paint your home exterior, consider blue with white trim combination to give your home a classic and elegant style. This idea is especially appealing for those who want to create a beachy or nautical feel.
A blue house with white trim is a beautiful combination you can use to increase your home's curb appeal. Blue and white are the perfect pairing to tie the whole exterior design of a traditional-style house. Imagine a Cape Cod or Colonial home featuring blue siding and white trim.
And to inspire you even more, here we have some great ideas of how blue next to white and other exterior color combinations works. So let's get started!
Navy Blue Siding with White Trim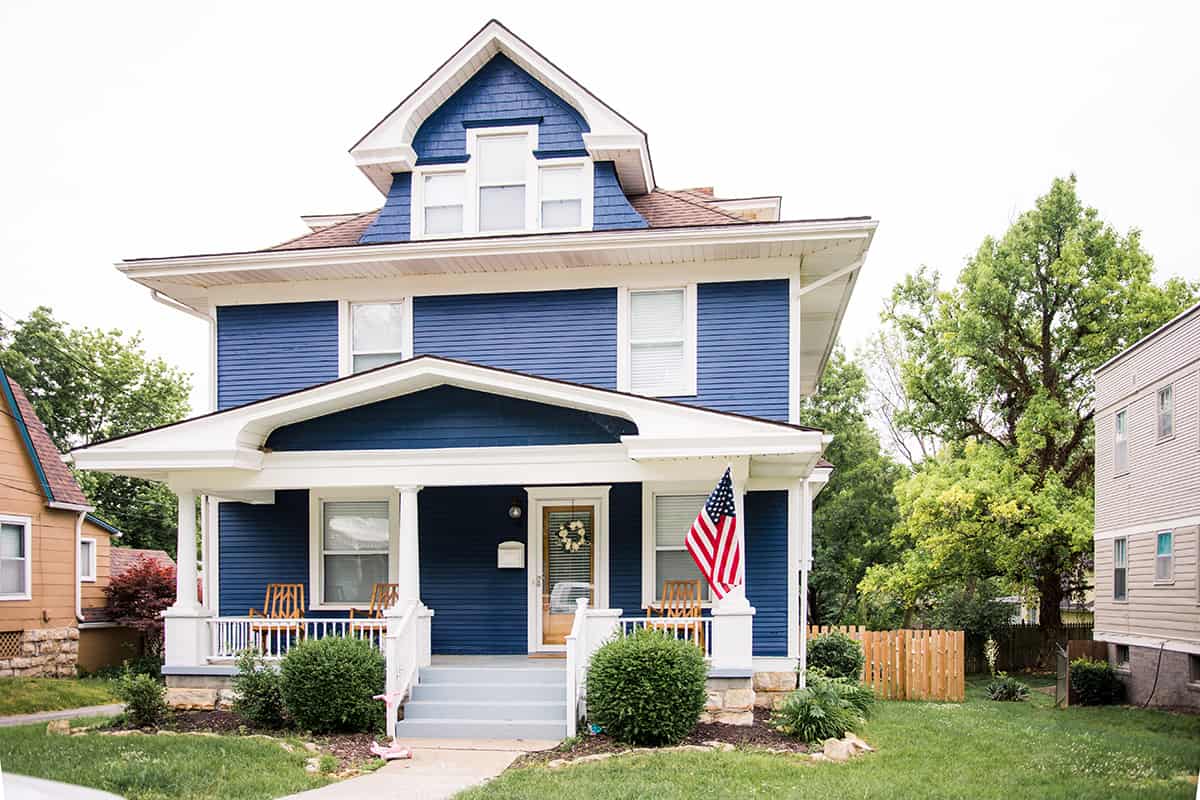 Navy blue is one of the most preferred exterior colors for a home. But due to this color's high popularity, we must emphasize the importance of pairing it with a light shade to make the bold blue stand out even more.
A white trim is a crisp design that goes well with navy blue. Just like you can see in this example, the Colonial-style house boasts navy blue siding and white trim, which both stand out without competing with one another.
Light Blue Siding and White Trim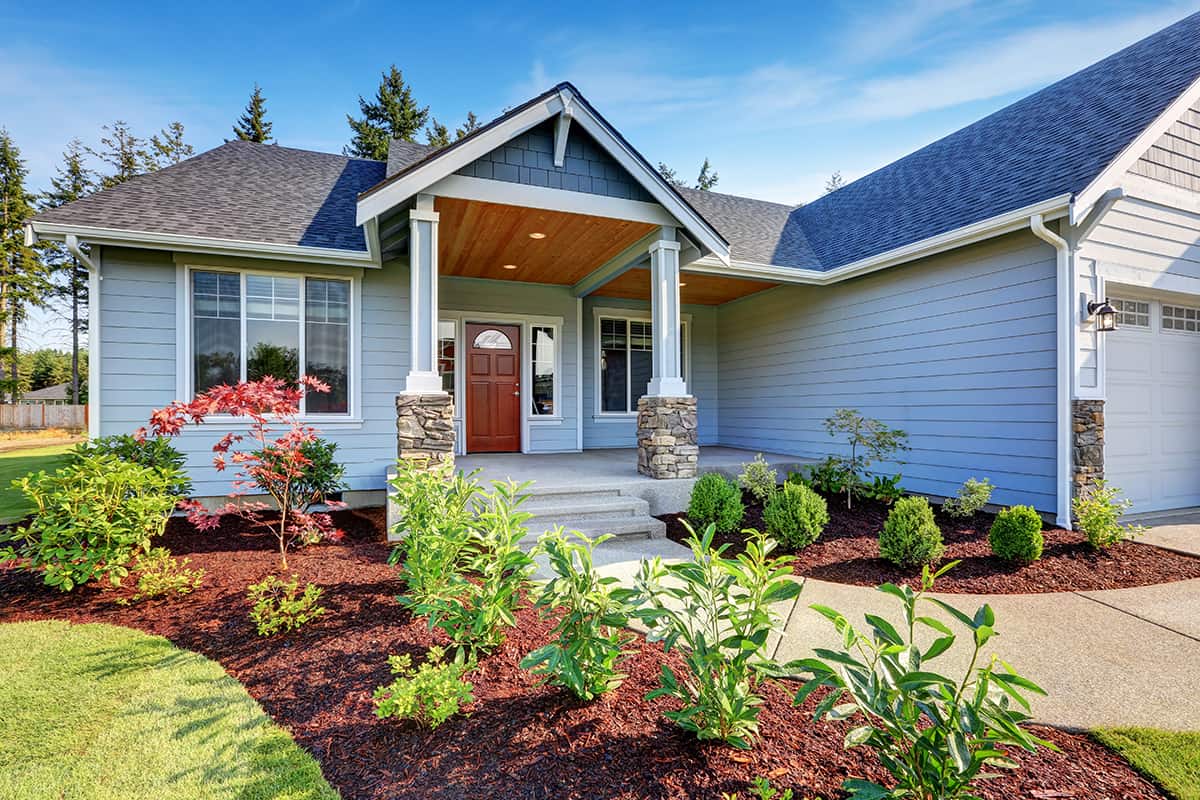 If you prefer a more toned-down or subtle look, go with a light blue paint color to pair with white trim. This is an extra special color combo that gives the exterior a refreshed look. Both light blue and white reminds us of clear blue waters of the sea and clouds, thus an excellent pairing for beach-inspired homes.
Here the lightness of the blue siding with white trim has created a nautical look, with the greenery as the contrasting color to the blue. All that's missing in this image are some palm trees for a tropical theme.
Light Blue House with White Trim and Black Shutters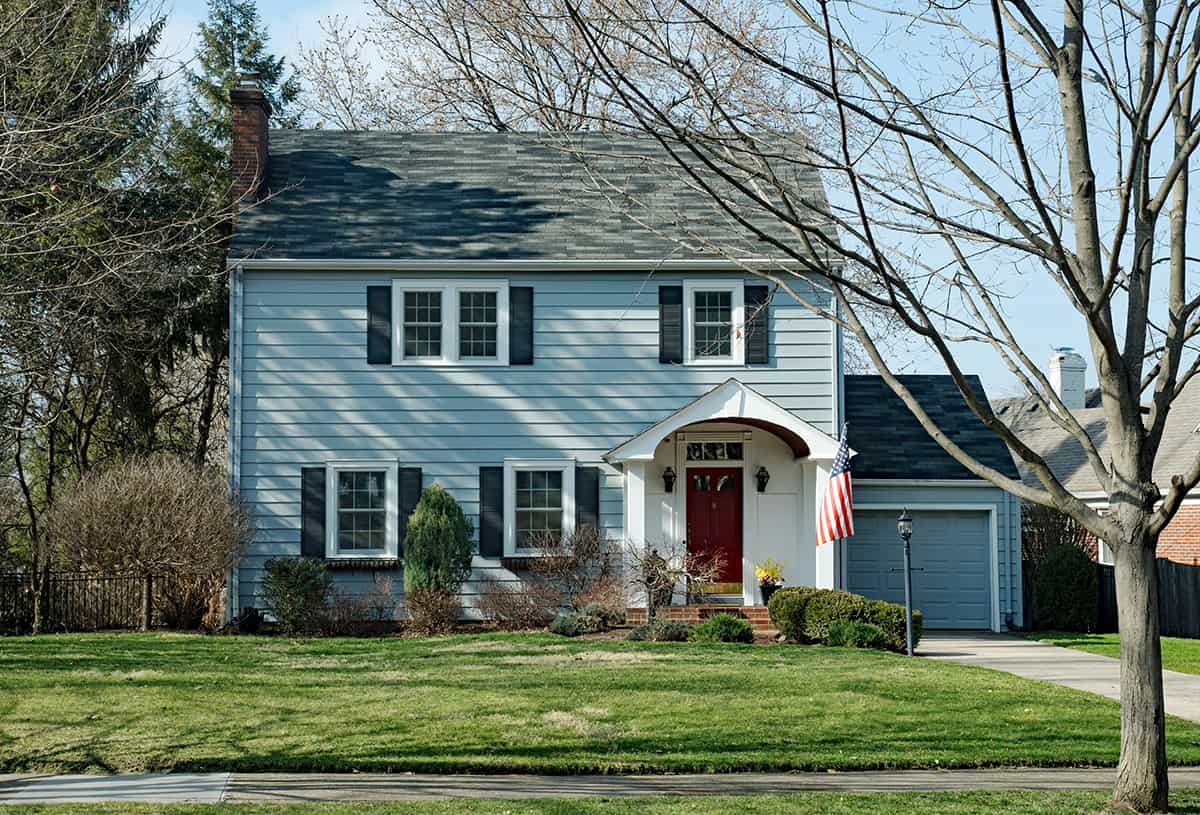 Another excellent addition to a blue house with white trim are black shutters. This combination tends to create a strikingly bold appearance to the exterior.
As you can see in this example, the black shutters don't overwhelm the blue siding, but rather, they showcase the light blue color and white trim. Although some people think black isn't compatible with light blue, this classic color pairing is perfect for homes with grey roofing.
Since black, grey and blue all have similar undertones, you can break the light appearance of your home by blending these colors. Feel free to add any other bright or bold accent color to the mix in order to make your exterior pop.
Rich Blue Siding with Red Shingles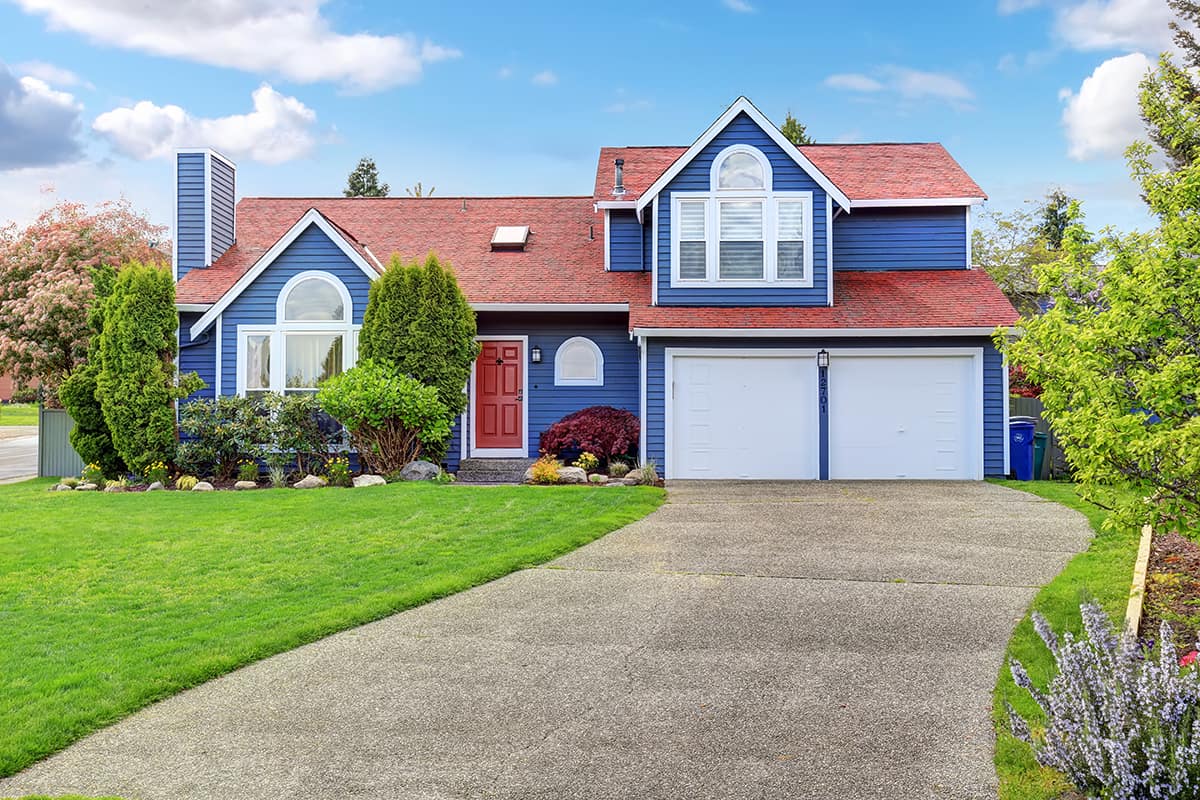 A rich blue color next to white trim may not stand out as much unless you add more color to the combination. Red roof shingles draw the eye directly to the bold blue siding. This cool hue stands out when paired with red shingles and other red accents.
Red is after all a warm color that contrasts blue. When a bright white trim is added to the mix, it adds even more contrast to show off the unique characteristics of your home.
Here, the deep blue siding is paired with white and red colors to make a beautiful statement. Blue is such a versatile color that can turn heads instantly just like in this example.
Greyish Blue with Burgundy Front Door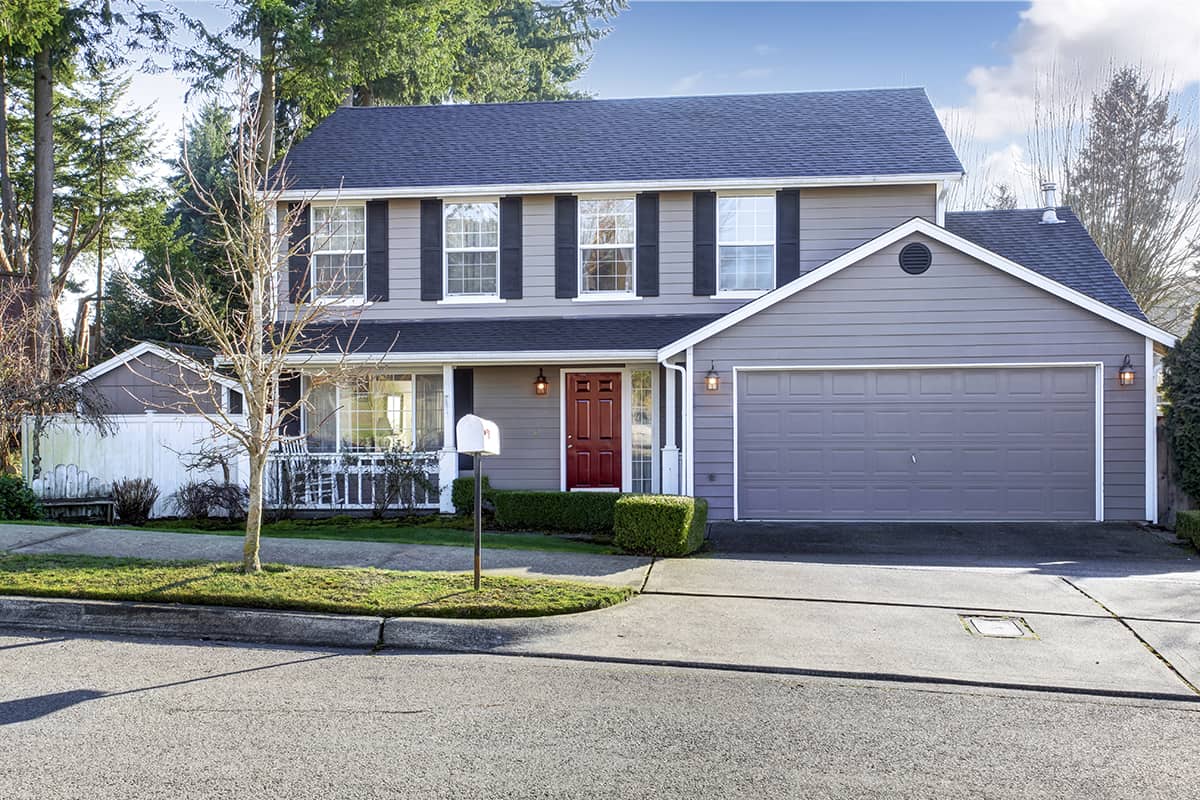 We love red so much that we just had to recommend it as the front door color of a blue house with white trim. This time, you may use a blue shade with a shade of grey as its undertone.
And as for the front door, go with a popular shade of red like burgundy. This color combo will create a more somber look that highlights the architectural elements of your home.
In this image, the greyish blue exterior stands out next to the shutters and burgundy front door. The white trim is the main feature that prevents the exterior from appearing too dark. The burgundy front door has provided a little extra contrast to make this house even more appealing.
What Color Roof Shingles Go with a Blue House?
For light blue exteriors, opt for roof shingles that are in dark shades. For dark blue, lighter roof shingles will be your best option. The following roof shingle colors are generally the best ones that complement this cool shade:
For light blue:
Dark brown
Red
Black
Charcoal grey
For dark blue:
Slate grey
Greyish blue
Red
What Accent Colors Go with a Blue House?
Since blue is a cool color, it can be paired with virtually every other accent color including red, orange, or muted neutral shades such as grey or beige.
If your exterior is dark blue, you can create a beachy vibe by adding some vibrant accent colors. With navy, for example, you can use muted grey tones or charcoal grey, which looks almost black. This color combination is sure to enhance your blue home's curb appeal and turn heads in your neighborhood.
If, on the other hand, your home's exterior is in pale or dusty blue, you may pair it with light grey accents as it's hard to distinguish between these two colors.
As a popular paint trend, dusty blue siding and light grey accents subtly add personality, especially when they are accompanied by white trim and beige shutters. Crisp white or charcoal grey are the other most recommended accent colors to pair with pale blue.
Aside from accent colors to pair with your blue house, you should revamp your home's exterior by adding attractive light fixtures, window frames and decorative door handles to put the finishing touches to your exterior design.
What Front Door Colors Work with a Blue House?
Any color front door goes well with a blue house. But there are some shades that look better than others, depending on the shade of blue you've chosen.
Our favorites are red, pale yellow, black, and green. You may even opt for warm wood stains. Even a soft pink front door can bring a pop of color without being too overwhelming. Generally, any front door color will look great next to blue siding and white trim.
Is Blue a Good Exterior Color?
Blue has been a popular exterior paint color for the last decade. Nowadays, more and more homeowners are favoring blue over grey as it emits a welcoming vibe to the exteriors. Blue is a beautiful complement to both wood and stone trim. This is the perfect color that evokes a sense of calmness. In fact, a blue exterior can make your home appear larger than it really is.
If you take a look at beach-front homes, you'll see that most are painted in blue. Cape Cod style houses are almost always painted in blue and white. Blue is a color that's associated with the sky and the sea, so any shade you choose for your exterior will work great.
In the US, blue siding is the color of choice as it's mainly paired with white, light or dark grey trim. If you drive through different states from the Midwest to the Southern regions, you'll come across blue homes with white trim and all kinds of roof shingle colors.
For anyone who feels daring enough to try this color for their home's exterior, our recommendation is to go for dark blue (navy) white trim and grey roof for an unparalleled look.
In Closing
A blue house while trim combination is a classic pairing that can bring a timeless look to your exterior design. Different shades of blue work with different accent colors so it's important to determine which works best for your particular home.
For example, when you pair a lighter blue siding with white trim, you'll make a subtle yet sophisticated statement. But for something more daring, you can opt for navy with white trim.
Blue is such a versatile color that never fails to impress next to any other color. From faded blues to muted greyish blue tones, there is something to please everyone.
If you want to make your home stand out and turn heads, painting your exterior an attractive shade of blue with white trim can do the trick. This color combination works especially well for homes in cooler climates as blue and white are both cool colors that retain more of the sun's heat and radiate it inwards.
This makes blue exteriors not only fashionable, but also useful for cutting down on heating costs. We hope you've found our list of blue house white trim combinations inspiring enough to implement any of the ideas for your own home.