Black is a dramatic color that has long been used in interior design and furnishings. When combined with wall colors, black furniture makes a powerful statement.
While it's true that coordinating your wall colors to complement your black furniture isn't an easy task, it doesn't have to be impossible. You just have to select the rest of the colors in your room carefully.
If, however, you're stuck on deciding what wall color goes with black furniture, we suggest you read this article.
How to Create Balance in Living Room Using Black Furniture
Black furniture is easier to maintain as it has the ability to conceal blemishes and stains. What's more, it provides a sleek and contemporary look in any style interior.
But creating balance is necessary in order to ensure your black furniture complements your wall colors. To establish harmony in the living room, you must match your furniture with other decorations for a striking look. Here are some tips on how to create balance with black furniture:
Black leather is an attractive option as it softens the sharpness of black. Likewise, it gives warmth to the living room's ambiance.
When deciding on the best wall colors that work with black furniture, go for lighter colors. You can paint your walls pale yellow, light blue or green but avoid cream as it will look too monotonous.
Once you've chosen the best wall color to coordinate with your black furniture, the third color you should think about is the accessories in the living room.
For example, for black, light green or blue works best so include some accessories in these colors. Whether you opt for lighter or bold rugs, photos or sculptures, make sure you incorporate some colorful accessories next to the black furniture and the wall color of your choice.
Best Wall Colors that Go with Black Furniture
Beige Walls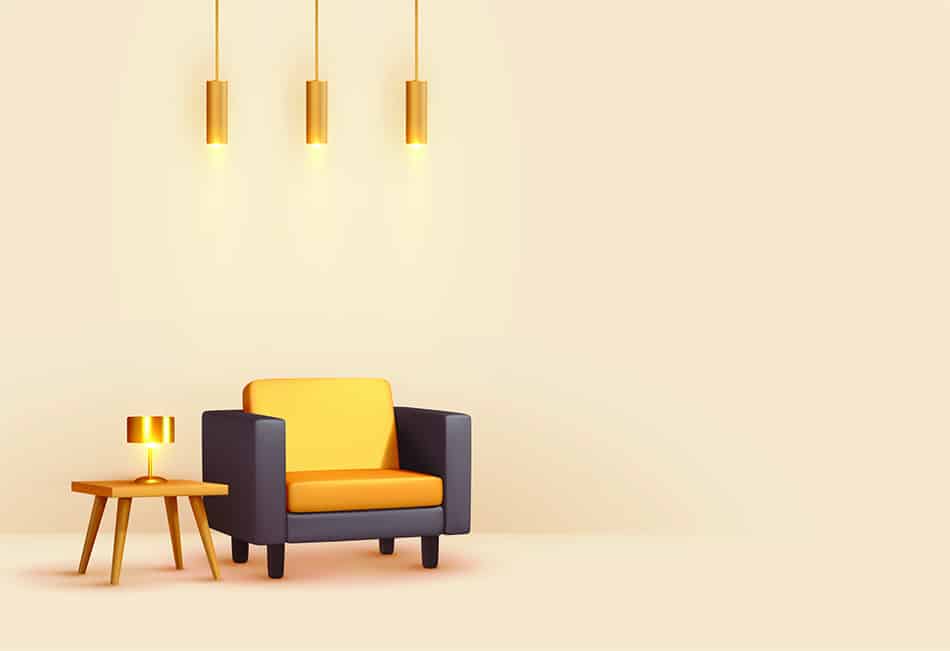 Neutral colors like ivory or beige work very well with black leather or upholstered furniture. You can even get creative with the beige and black combo by adding interesting features or bold patterns to your living room design.
If you do decide to paint your walls beige, it is best to stick to one tone and incorporate some textures or patterns to break the monotony of black and beige.
This minimalist living room features a combination of gold fixtures with yellow and black furniture that stand out next to the beige wall. We particularly love the hanging golden lamps, which showcase the sofa.
Red Walls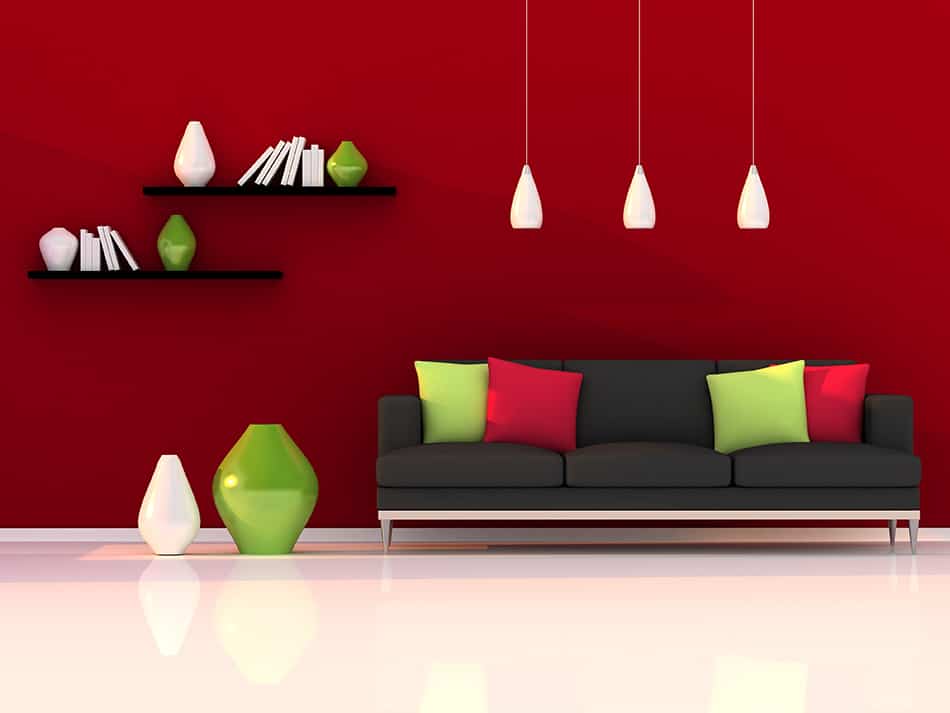 If you want a bolder color for your walls and neutral colors aren't to your taste, consider adding a burst of energy to your interiors by combining your sleek black furniture with vibrant red. The brightness of red is a nice contrast to black but the trick is not to go too far. Try including some neutral color accessories to tone down the stark black and red colors.
Since red is a bold color, you should tone it down by including some accent colors. After all, a living room with dark-colored furniture could definitely use pops of color.
For example, a red-painted wall next to black furniture will benefit from bold throw pillows and curtains. To keep the color palette simple, use textures or patterns to make your decor stand out.
In this modern living room, the red wall makes a strong statement without looking too stark thanks to the green and white accessories along with the black sofa.
White Walls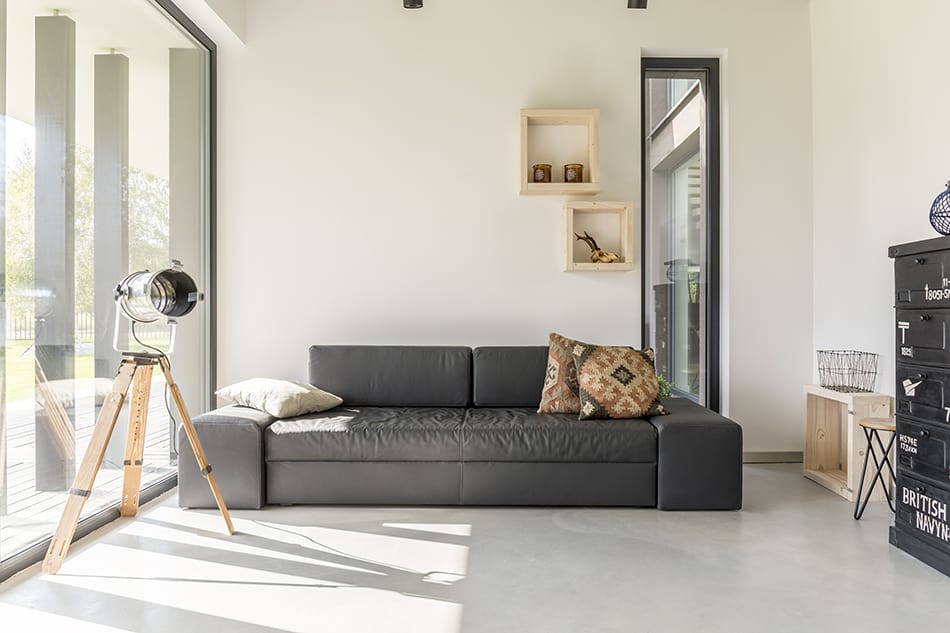 White is another neutral color like beige, which can easily blend with any other color, including black. Painting your walls white and furnishing your living room with black furniture is one of the easiest and best solutions to make a statement.
Aside from using black furniture in the living room, the hallway can also benefit with white walls and black furniture. Here, the dark furniture next to white walls will create impact and ensure the small space feels brighter and lighter.
White is a good contrast when combined with darker colors as it produces a warming ambiance. White is still the most popular paint color for walls and a top favorite to use with black furniture.
See how bright and airy this living room feels thanks to the bright white walls and large window. The black sofa and other matching accessories have created a sleek and elegant look in this modern living room.
Gray Walls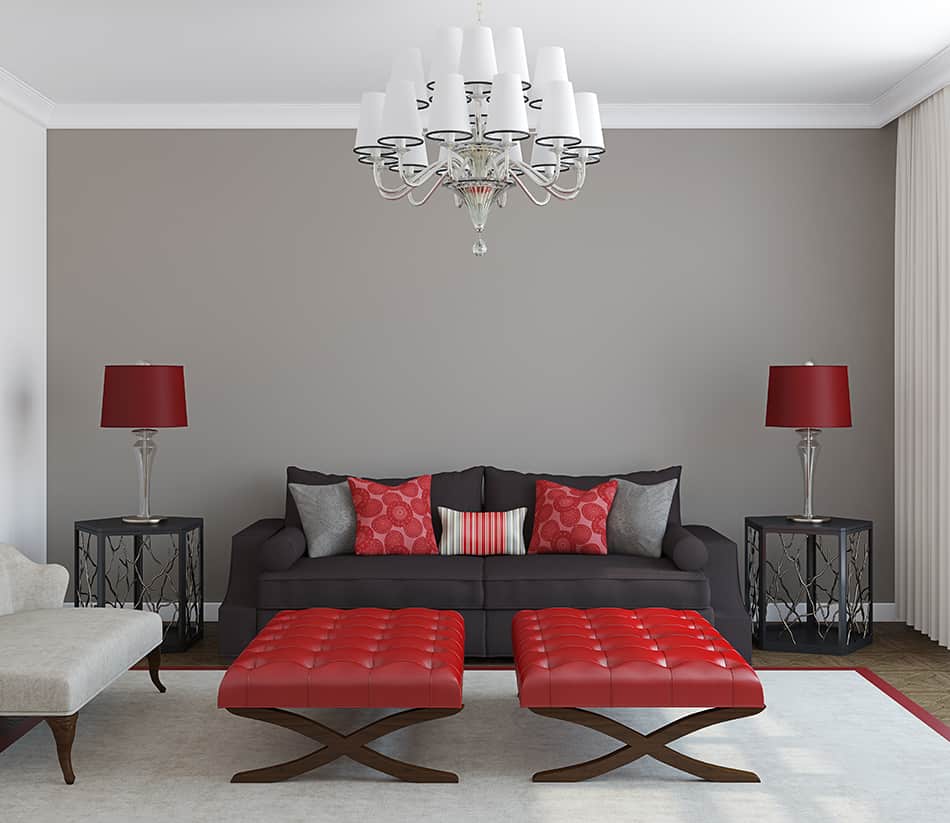 Whilst we're on the subject of neutral colors, it is worth considering painting your walls gray for a softer edge.
Gray and black are a good combination but to avoid monotony, add some indoor plants and position your furniture towards natural sunlight for warmth. Pairing dark color furniture with gray walls and soft furnishing works very well in a modern living room.
This idea is perfect for small to medium-sized rooms where you want to balance the space with some impact. Gray and black are formal colors that emphasize the elegance of a dining or living room. Unlike darker wall colors, gray makes the small room feel larger and helps bring focus to the black furniture.
In this example, the gray walls and black sofa are far from monotony thanks to the bold red pillows, matching lamps and tables. The combination of red, black and gray come beautifully together in this contemporary design living room.
Blue Walls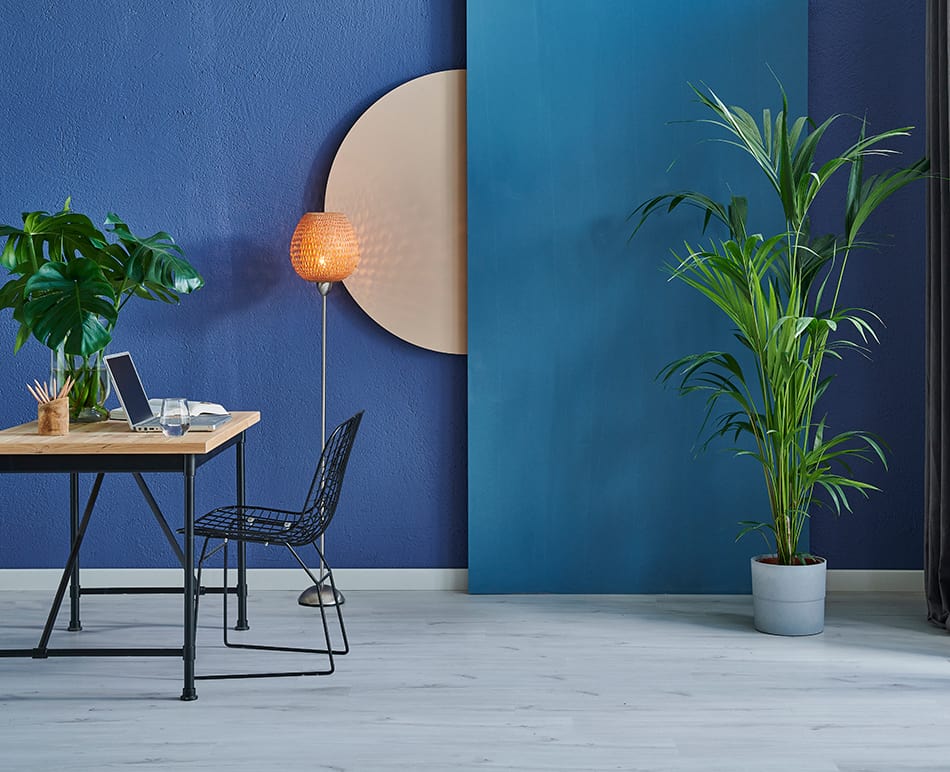 Black and blue are the two color combos that go hand in hand just like black and white. In fact, most interior designers recommend pairing dark shades of blue with black. This classic color combination can emit a nautical feel but why stop there? Include some indoor plants for a touch of nature.
Fans of coastal colors will love this choice as the simple black furniture will show off the dark blue walls beautifully. The pastel wall color allows the other furniture pieces to shine while contributing to a relaxed ambiance. A mix of simple throw pillows and a geometric rug will harmonize the look and keep it tranquil.
Brown Walls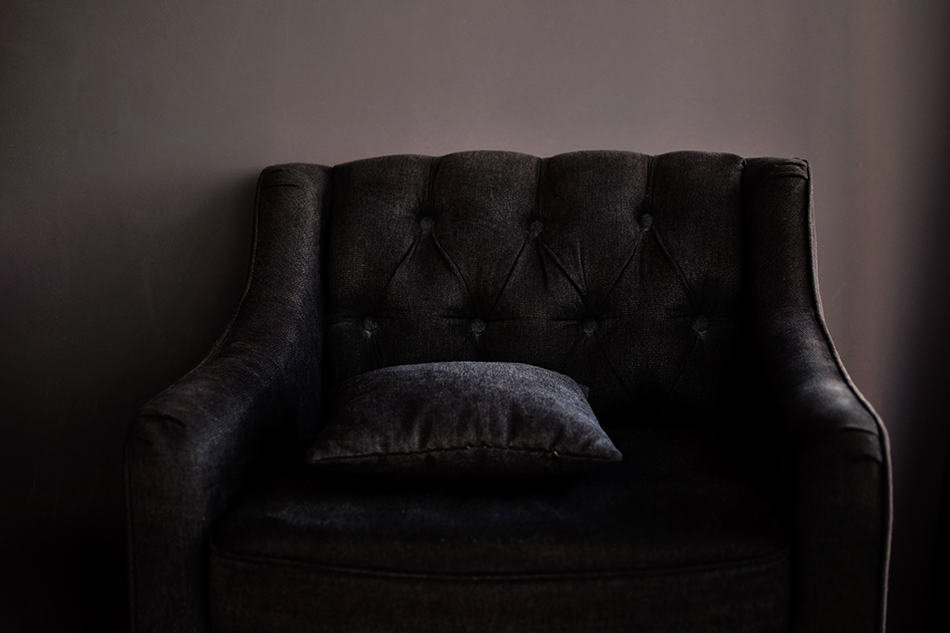 Dark brown walls create a monochromatic effect in a room with black furniture. The combination looks flawless and well balanced in both a small and large living room.
If you opt for brown paint to complement your black seating, make sure you use some brighter colors to help create contrast. Brown and black will make the room look monotonous – unless you add some plants or gold wall decor.
Black Walls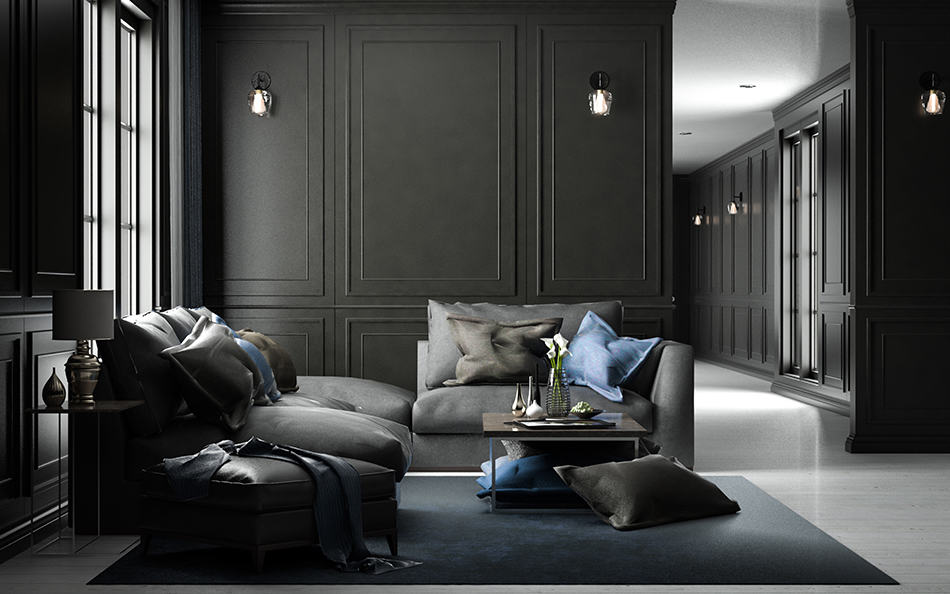 For a truly indulgent look, why not pair your black furniture with black walls? This is an intriguing and rather daring move, but it does work!
Black walls and furniture work well in formal living rooms or dining rooms for a touch of sophistication. You may balance the stark color by injecting some white or neutral tones to soften the look. Add gold-framed mirrors and lamps to lift the heaviness of black.
In this sophisticated living room, the black panel walls have created an air of mystery next to the black sofas. This is the perfect proof of how black walls can actually work with black furniture.
Is Black Furniture Still in Style?
While certain furniture colors may not be as trendy as they used to be, black is still the color of choice for formal living spaces. Whether you choose black sofas, tables or dressers, there is no other color quite as chic and modern as black.
Although black may not be to everyone's taste, with the right wall color, your dark color furniture won't feel overpowering or cold. Combining the black furniture with some complementary accessories in bold colors can help create a sophisticated and warm interior. So the answer to the question is black furniture still in style has to be a big YES!
Conclusion
When it comes to deciding which wall colors work best with black furniture, you can either go light or bold. Light walls do a great job of showcasing your dark furniture in the dining room or living room as the seating stands out and provides a contrast to the wall color.
By combining dark furniture with neutral walls, you can create a sophisticated and modern design. But if you choose a bold color for your walls to complement your dark-colored furniture, you may want to stay away from contrasting colors. Select a tone that's medium-range rather than dark.
Since your black furniture stands out on its own, it doesn't need a dark shade of a contrasting color. That said, by cleverly positioning the overhead lights, your black furniture won't feel overwhelming next to bold wall colors. But for a truly elegant look, style your lighting in gold or silver to soften the stark black, and be sure to add some silky fabrics for a gentler feel.