Just like white, cream is an elegant color that can be paired with many different colors for a traditional or modern look. A kitchen with cream cabinets is an inviting place to enjoy dinner with family or friends. But what wall colors go with cream cabinets?
When you're working with cream cabinets, you can paint your walls a soft or bold color to achieve the final look. However, it is the shade you choose that matters as you must ensure the color scheme works with cream cabinets.
The following wall colors work well with cream kitchen cabinets:
Light and dark blue
Brown
Gray
Soft purple
Burnt orange
And of course, white!
Here we have compiled a list of wall color ideas for cream kitchen cabinets:
Best Color Walls for Cream Cabinets
Gray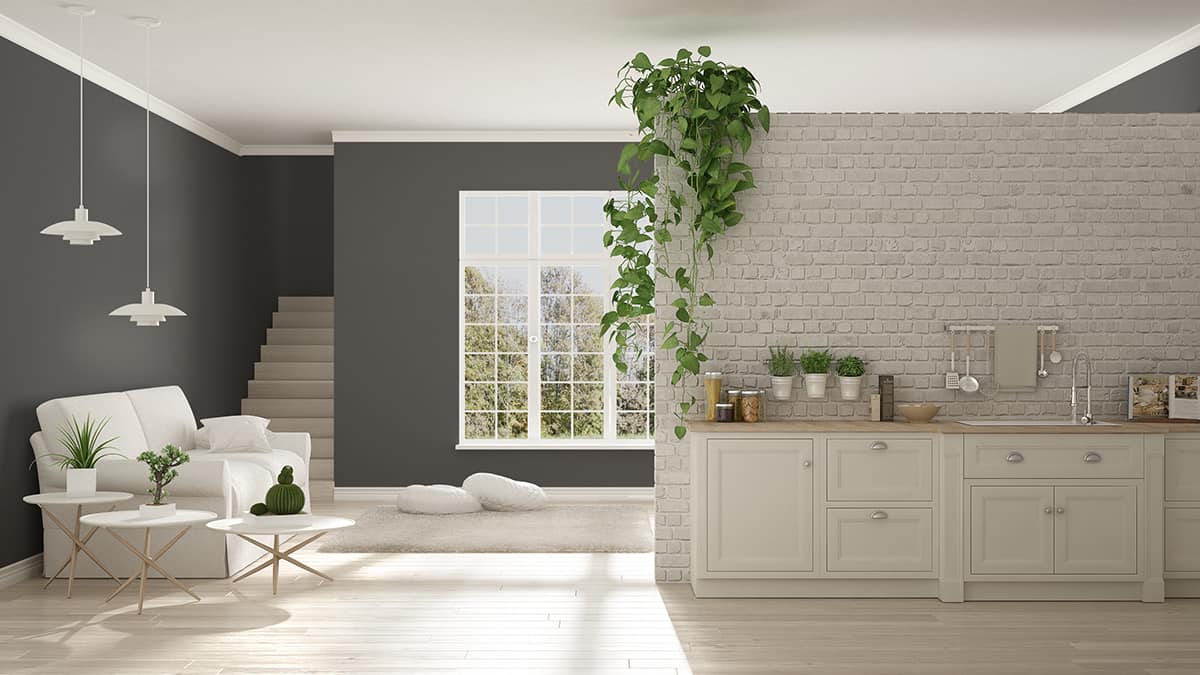 Gray wall paint is an excellent color to pair with cream cabinets. In minimalist-style kitchens, you can achieve a classic and trendy look with this neutral color combo. For anyone who is a fan of gray, a visually pleasing shade like charcoal or steel is sure to stand out next to cream.
Here is an example of dark gray walls paired with cream cabinets. The result is a soft and calming effect, don't you think?
White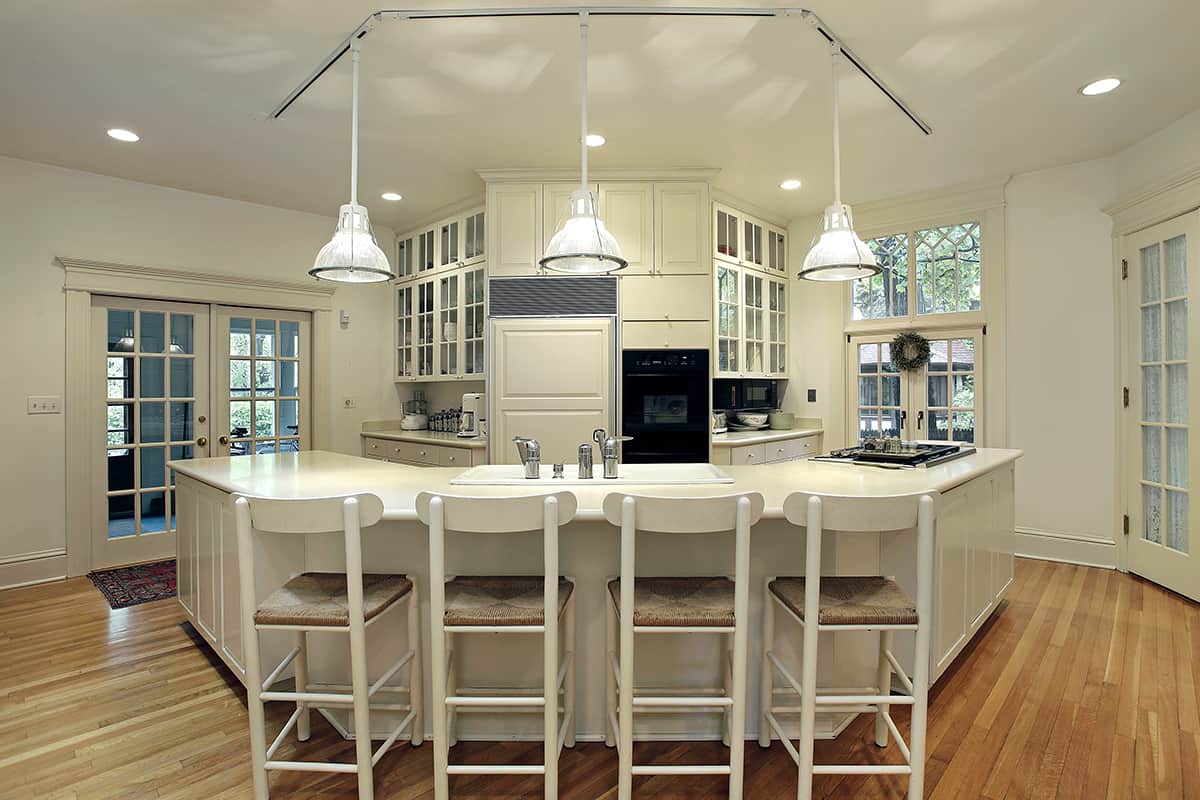 Whilst we're on the subject of neutral wall paint, we can't leave out pure white. This color is the closest to cream, with some subtle differences. When you want to paint your walls white, make sure it is the brightest shade as it must stand out next to cream.
White and cream are almost a monochromatic design, but with a brighter and airier vibe. Although the difference between white and cream is too subtle to notice, there is still some contrast between these two colors, especially when your white wall is located right next to the cream cabinets.
Cream is in fact a warmer version of white just as you can see in this example. The appealing cream cabinets in this modern, white kitchen emit a muted warmth.
To add some character to this neutral color palette, you may inject bold colors, such as black countertops or colorful backsplashes for a stark, clean look. A sprinkle of the bold and neutral color scheme of stainless steel appliances can pair well with the cream cabinet color and keep the white walls in the background.
Brown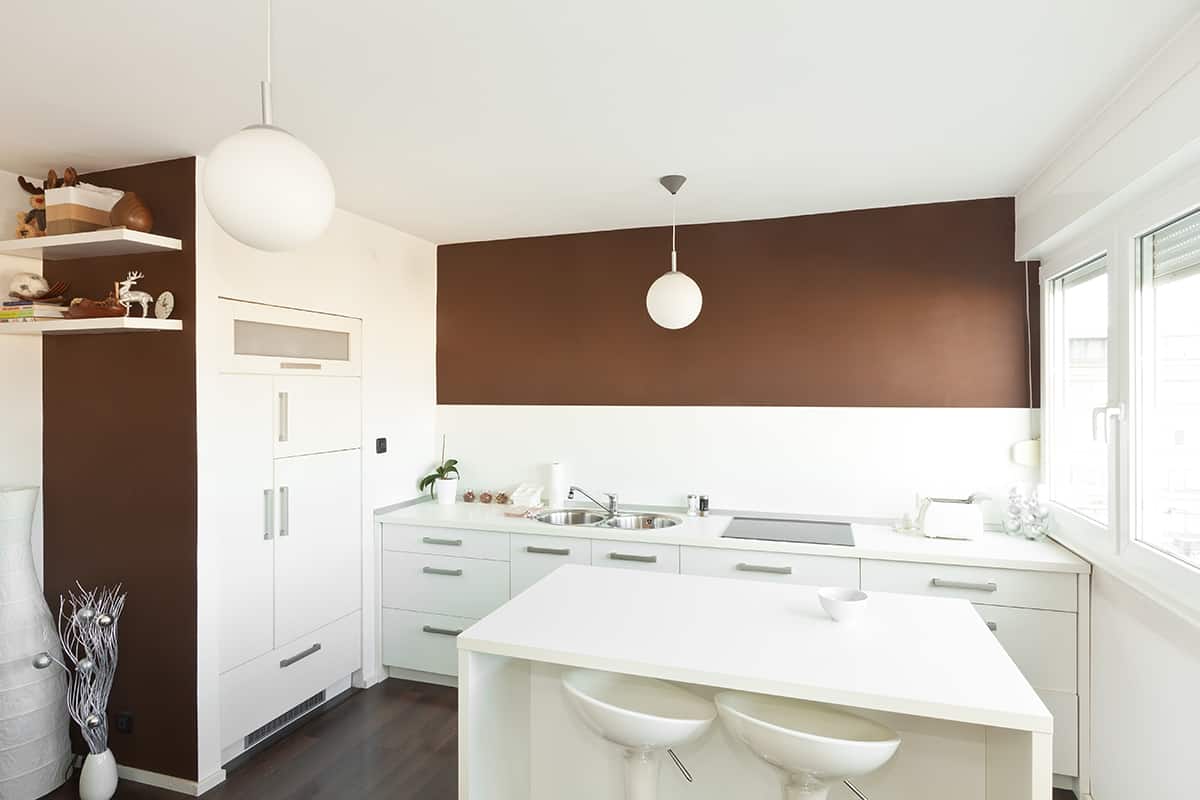 Since cream shade has a slight brown undertone, why not paint your kitchen walls an earthy shade of brown! Any shade of brown will feel cozy and warm in a kitchen with cream cabinets.
For example, a deep shade of brown can be a bold choice for a neutral kitchen. A warm shade of cocoa, for example, can bring much depth to a modern or traditional kitchen.
Light Blue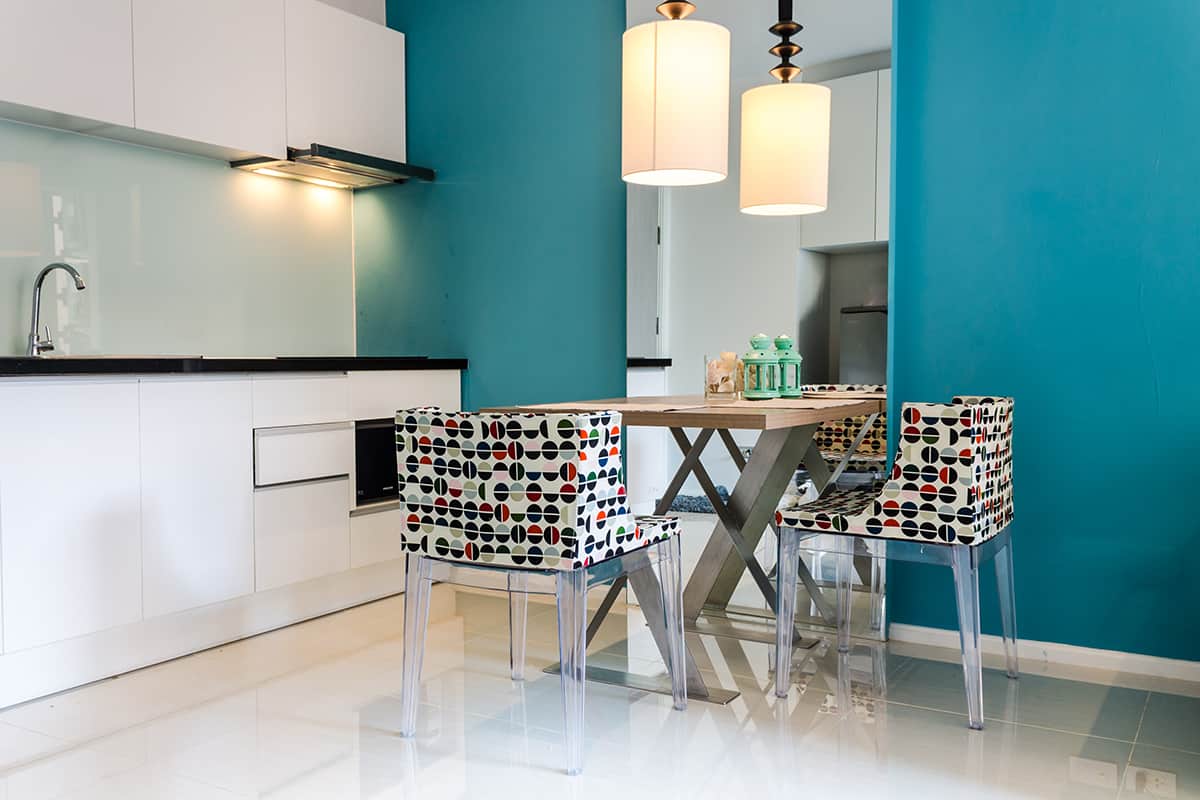 In nature-inspired kitchens, blue is the perfect color companion for cream cabinets. Any light blue tone can bring a serene feel to your kitchen.
The shade of blue seen in this example has added a beautiful splash of color to the bright cream cabinets. This contemporary style kitchen can be further enhanced with black stainless steel appliances and other metallic tones to coordinate with the blue wall and cream-colored cabinets.
Navy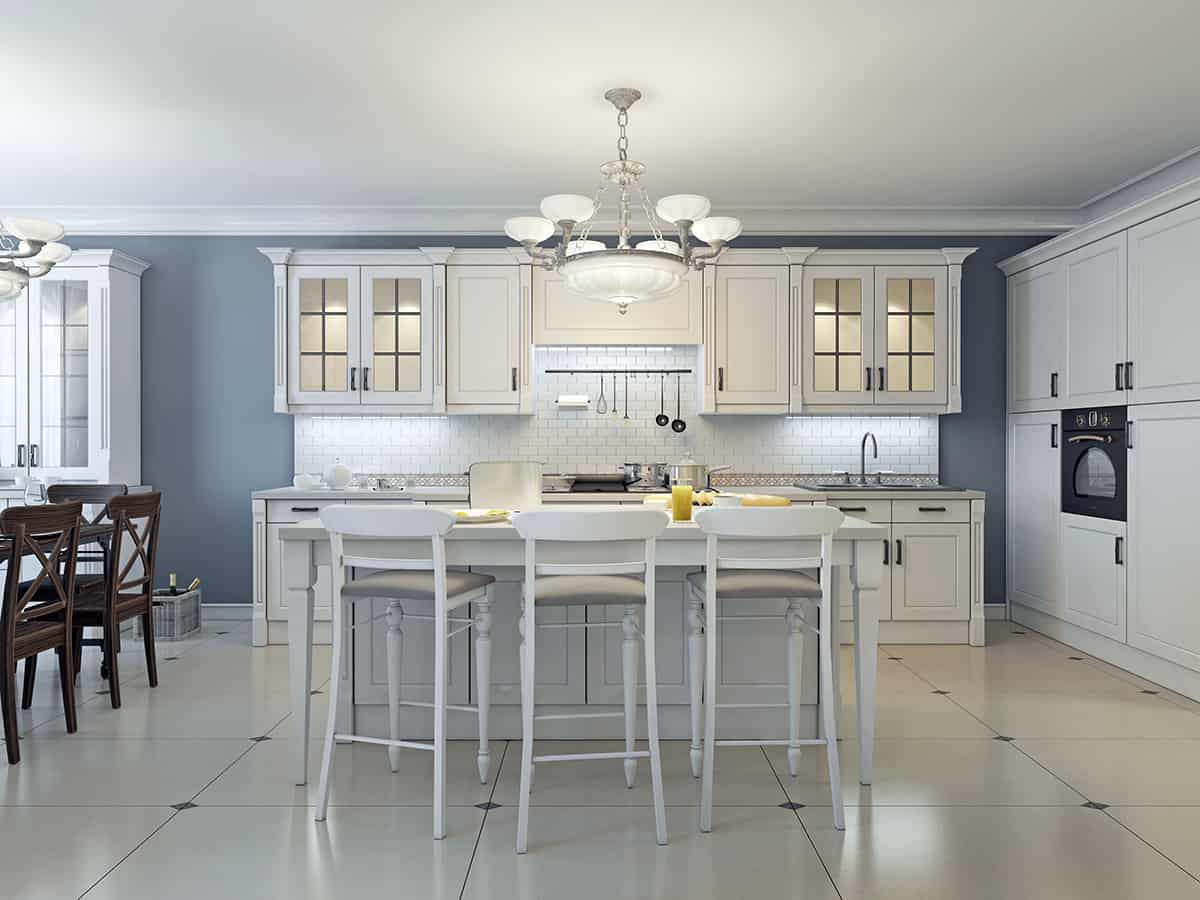 For an even bolder look for your kitchen, consider combining your cream cabinets with navy blue walls. This lively shade brings a contemporary twist to an art deco-style kitchen just like the one shown here.
In kitchens with low natural light, creamy white cabinets can brighten up the room, even if you prefer painting the walls a stark blue shade. Navy is an understated color that you don't commonly see in kitchens, but it is not too intense to overpower the room.
Plus you can incorporate deep navy backsplashes to add a beautiful effect. We also like white marble countertops as the luxurious element of a kitchen with cream-colored cabinets.
Green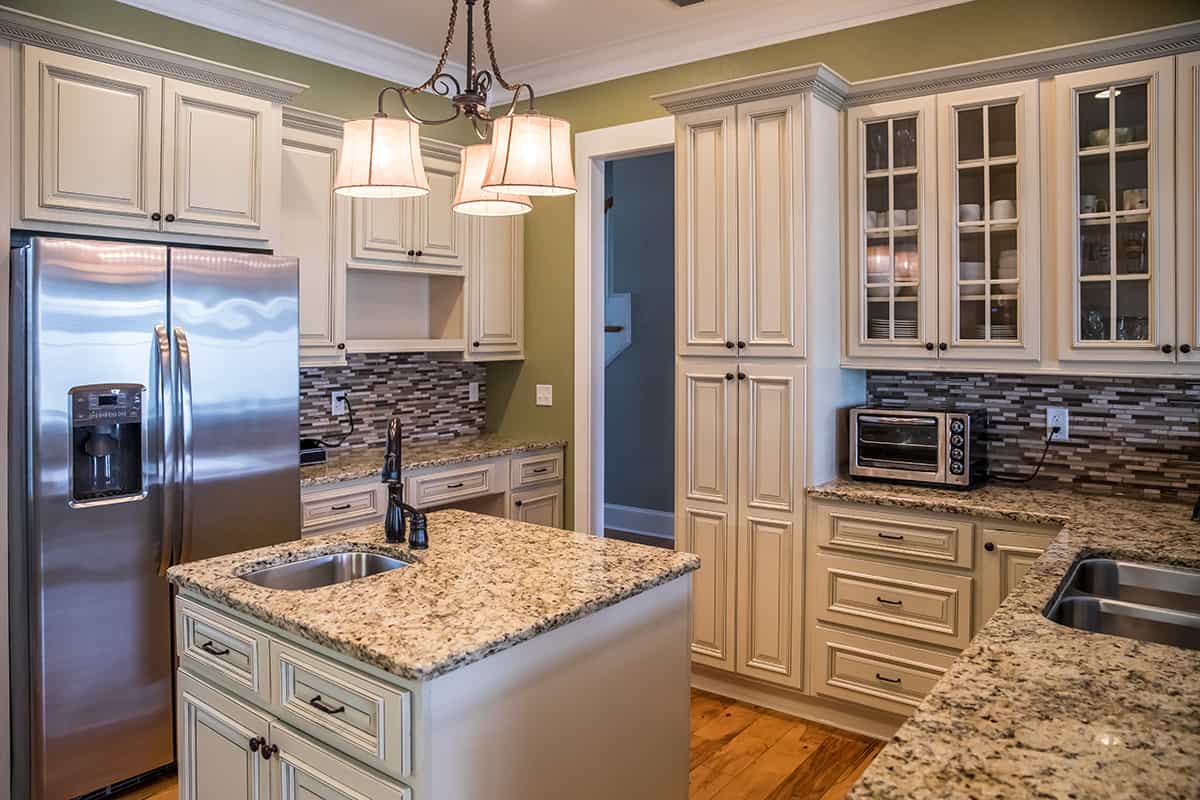 Just like the nature-inspired blue, green is another fresh, contrasting color to cream. Any soft shade of green can bring a tranquil feel to your cooking and eating space. Notice we said soft shade as a vivid green shade can be too loud for some people.
Nevertheless, green is a beautiful, warm paint color to combine with warm cream cabinets. The final result is without doubt a very eye-catching color palette.
The soft green walls in this example bring out the beauty of bright cream cabinets and gray countertops with black and gray backsplashes. You may choose any light shade of green paint for your walls to achieve the same look.
Pale Purple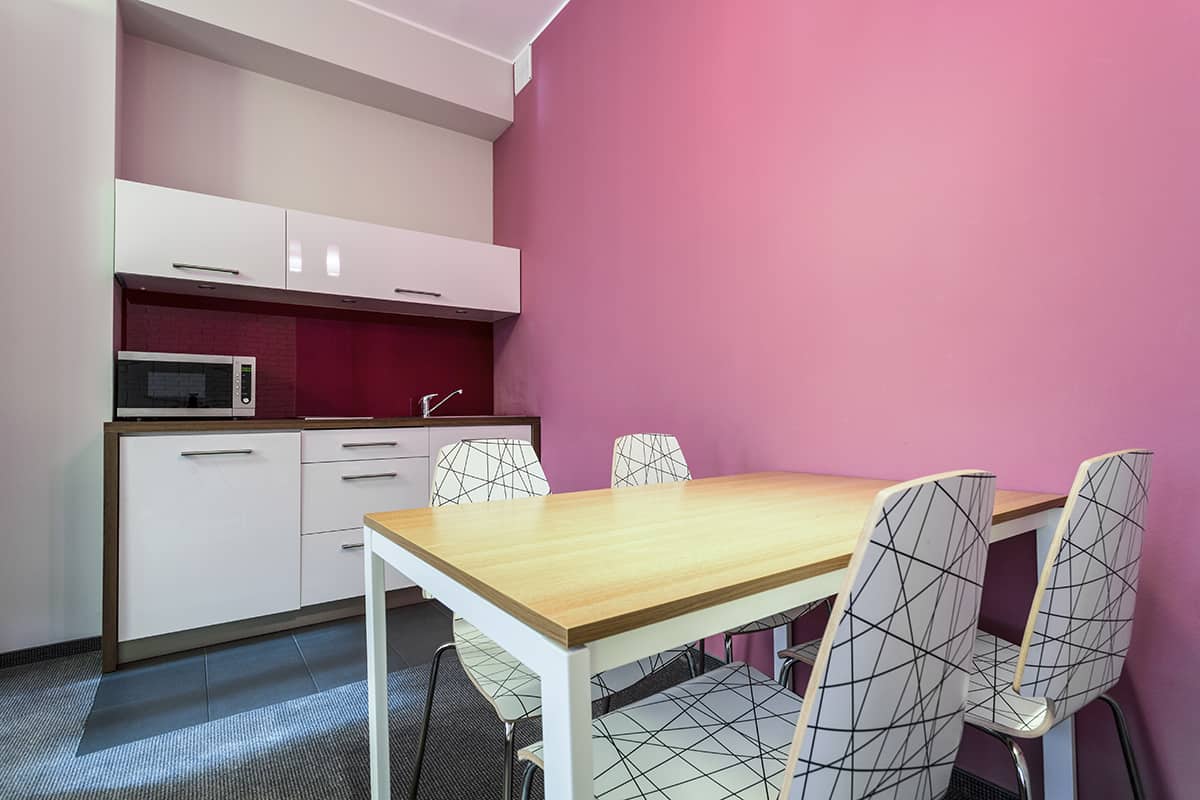 Soft purple like magenta or orchid may sound like an odd wall color choice, but when you pair this elegant color with cream cabinets, your kitchen can look very chic and modern. Add coral pink window treatments or red accessories for a touch of sophistication.
Cream on Cream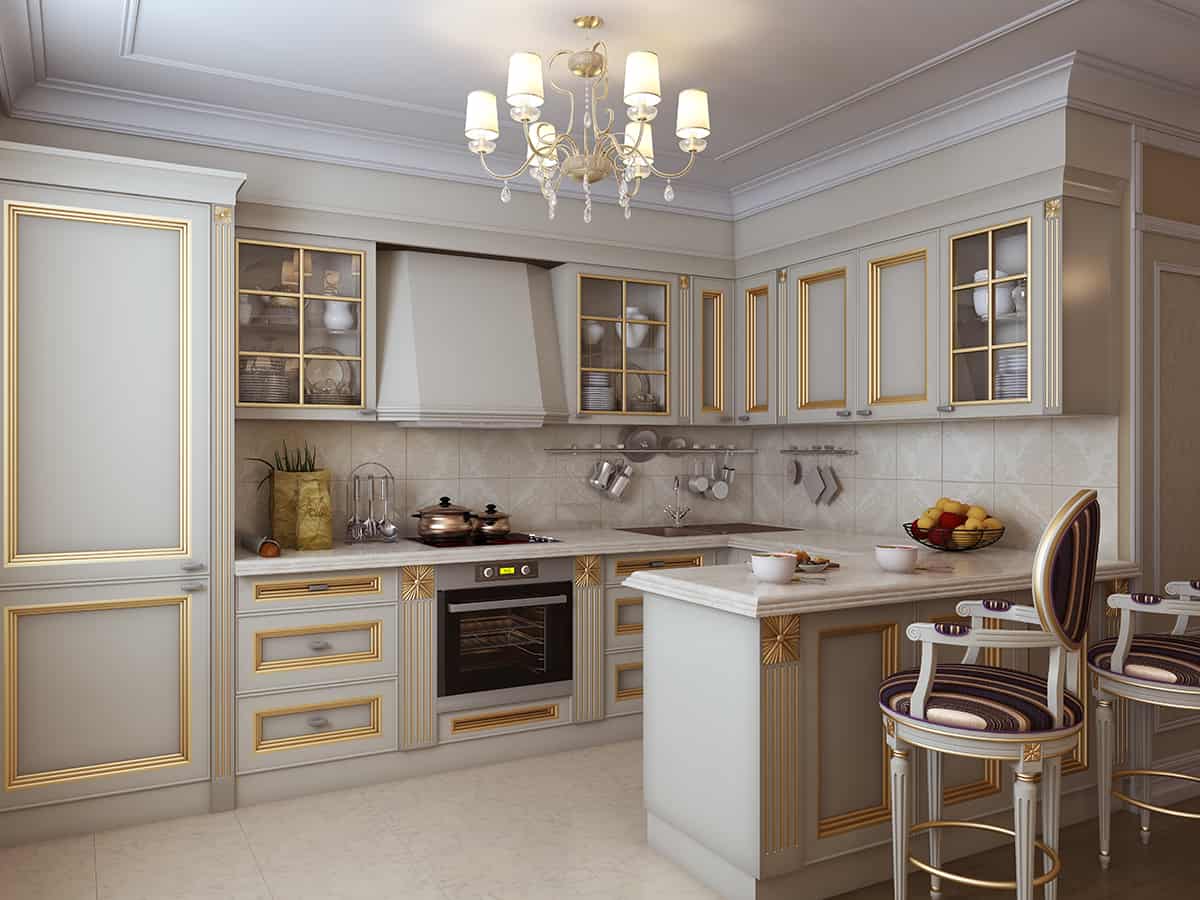 An all-cream color scheme is a cohesive design for a luxurious kitchen interior. This is the safest choice for creating a clean and inviting feel. Settling on the same color for both the walls and the cabinets of your kitchen can give a defining character to the room, but you can also incorporate dark-colored backsplashes or countertops to balance out the neutral color scheme.
All you need to do is choose your favorite shade of cream for the walls and cabinetry just like the example here. We particularly love the gold hardware on the cream-colored cabinets as the perfect feature of this warm-looking space. For even more contrast, consider a darker color flooring and countertops so that your cream walls and cabinets can shine against other darker colors.
Yellow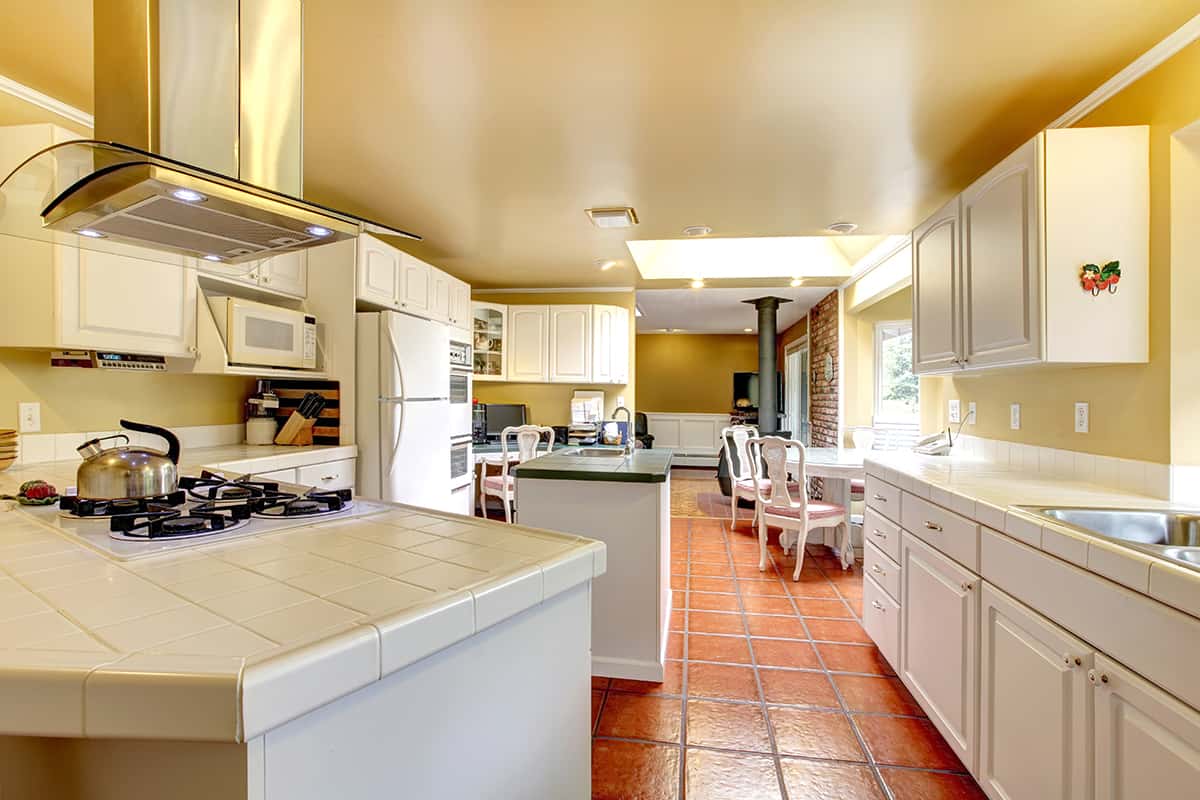 As a fun, joyful color, yellow walls can be a welcoming addition to your kitchen. Any bright shade of yellow can highlight the undertones of your cream cabinets.
In particular, mustard and pale yellow add a subtle brightness, thus a perfect choice for country-style or rustic kitchens.
Orange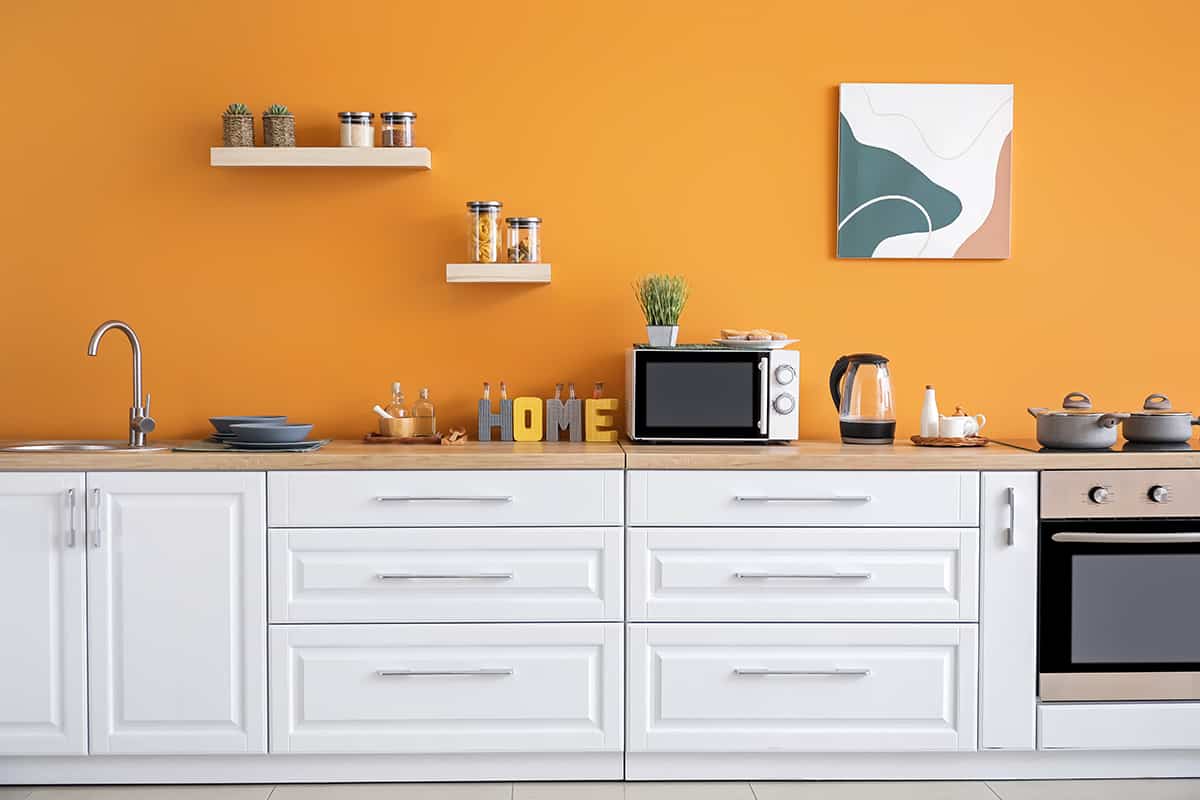 Another unique shade of soft orange is a muted burnt tone. This wall color is sure to bring life into a neutral kitchen. By combining your cream-colored cabinets with an orange wall, you'll create an earthy toned palette.
This example shows how warm and welcoming such a color combo can look thanks to the extra pop of the orange wall. Hang some copper pots or metallic elements for accent.
Red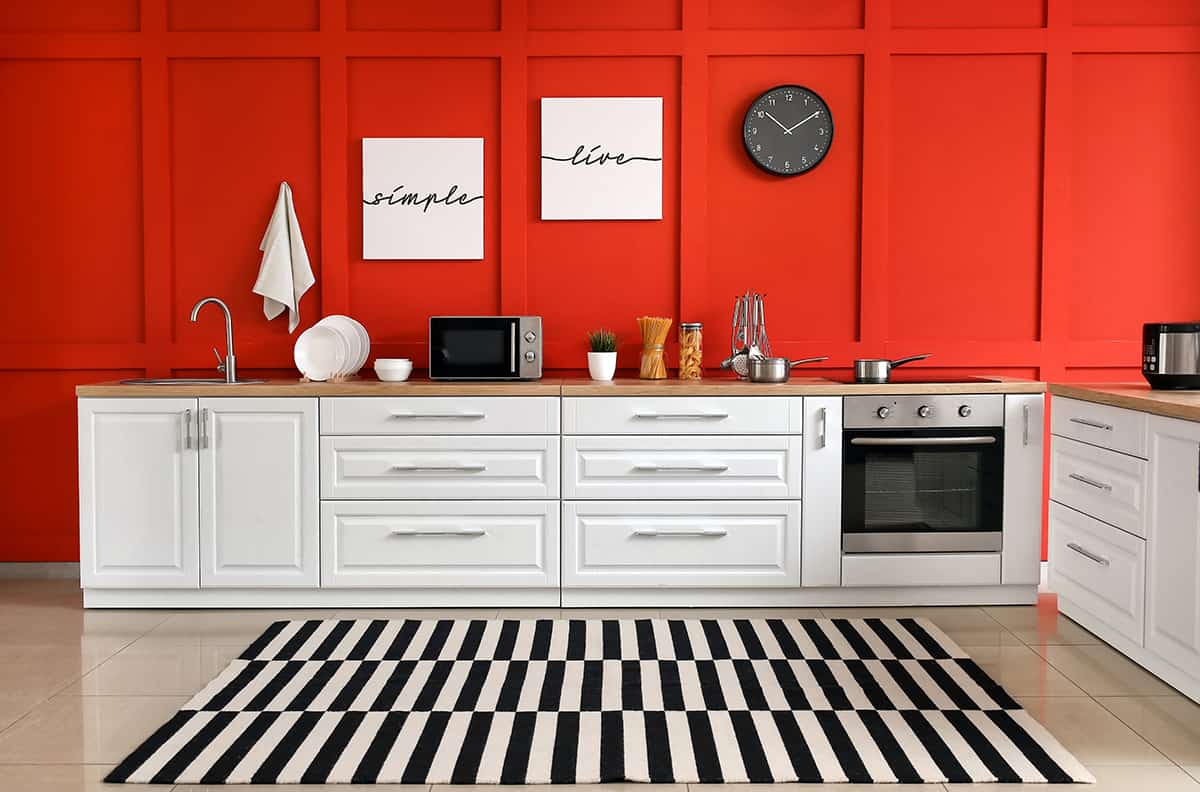 Our final wall color that works with cream cabinets is a fiery shade of red. Deep, rich reds go well with neutral colors as shown in this photo.
If you want to give your cooking space a bold, vibrant look, any shade of red will work for the walls. The cream-colored cabinets tone down the red and prevent it from being overbearing.
Are Cream Kitchen Cabinets Trendy?
Just as white cabinets are a timeless option, cream cabinets will never go out of style, regardless of whether your kitchen is traditional or modern. Cream is a neutral shade in the same family as white, but as a more upscale palette. This soft shade is ideal for anyone looking for a neutral kitchen design, without having to opt for the conventional white.
Cream is an excellent color to make a small kitchen appear larger. Unlike the cold tone of white, cream cabinets emit a more welcoming feel in kitchens, so it's no wonder homeowners are turning to this warm shade instead.
What Color Countertops Complement Cream Cabinets?
Since a countertop is a necessity in the kitchen, it is important to create a visually pleasing color combination that goes with cream cabinets.
With cream cabinets, black granite, gray and white marble countertops look particularly beautiful in modern kitchens.
In traditional style kitchens with cream cabinets, however, you may opt for wood countertops like cherry, beige pine or dark brown oak. Rustic or country style kitchens work very well with cream shaker cabinets and dark color wood countertops.
Conclusion
Your kitchen is one of the most used spaces in the house so it should represent your personal style. When your kitchen cabinets are cream, it is important to create a welcoming vibe using the right wall paint colors.
We hope our above selection of wall color ideas to pair with your cream cabinets have met your expectations. If you want to inject pops of color to your neutral kitchen, opt for yellow, red, orange or green walls. To keep it muted and simple, light blue, pale purple or gray paint will work nicely.