Cream is a flexible color for furniture as this neutral shade allows you to explore a huge range of paint colors to pair with it. Whether you use your living room with cream furniture for entertaining guests or relaxation, you'll need to plan an inviting interior for a calming effect. When it comes to deciding what wall color goes with cream furniture, you have a number of options.
Neutral or earth-toned wall colors serve as a clean backdrop to cream furniture. Whites, browns, grays, and beige are often seen in contemporary homes that are furnished with light-neutral furniture.
But since cream furniture goes with any style of interior, including the farmhouse, industrial, bohemian, modern, and many others, you should focus on whether you want warm or cool-toned paint colors to tie your wall with the furniture
To give you some excellent wall color ideas for cream furniture, check out the following suggestions right here:
Best Wall Colors that Go with Cream Furniture
Gray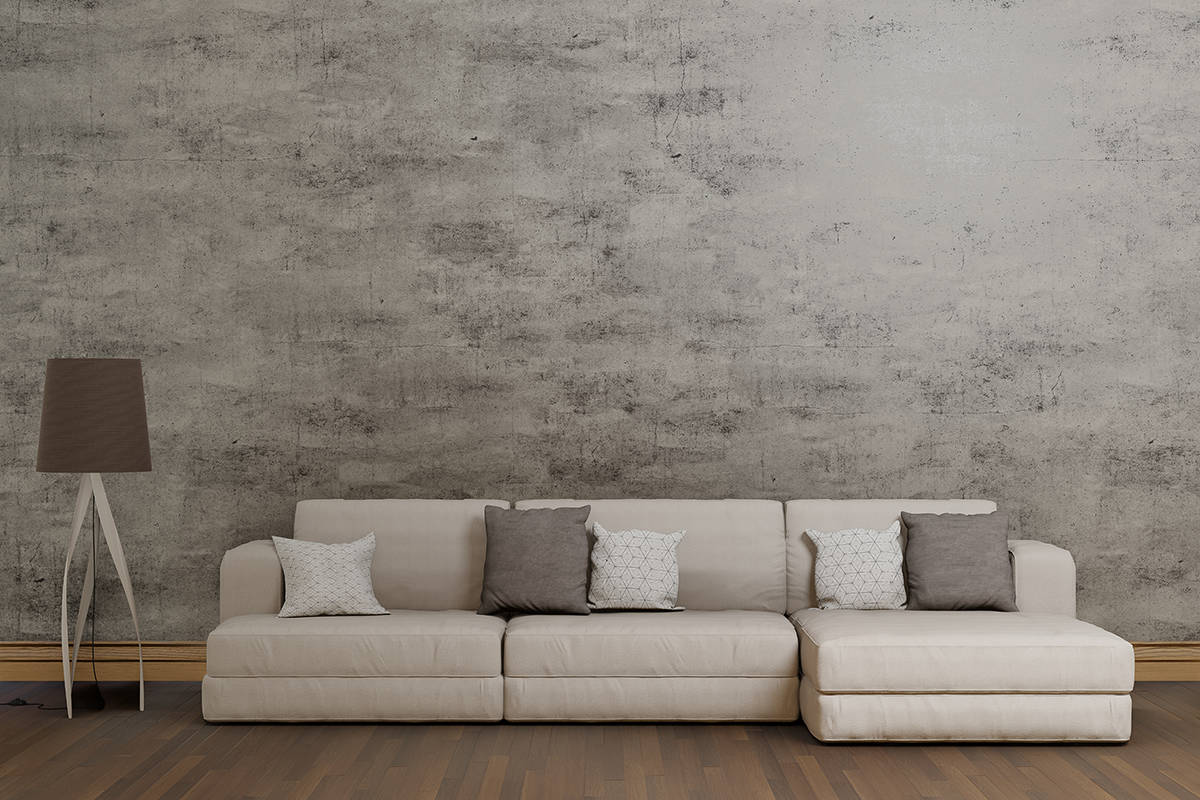 When we mention gray, you might think a neutral color like this will look boring with cream. However, by adding texture or patterns to your neutral space, gray walls will work very well with bright cream furniture. Colorful throw pillows or a floral curtain are just some of the exciting additions to a gray wall and cream furniture living room.
In minimalist or Scandinavian style interiors, light gray walls are a great option with classic cream furniture. This timeless combination works especially well in formal living rooms as the gray wall helps the cream furniture stand out.
Whether you pick a warm or cool-toned gray shade for your walls, it is sure to create contrast with the cream.
Here, the mid-toned gray wall highlights the cream couch, with matching gray pillows and a lamp blending in with the rest of the decor.
Green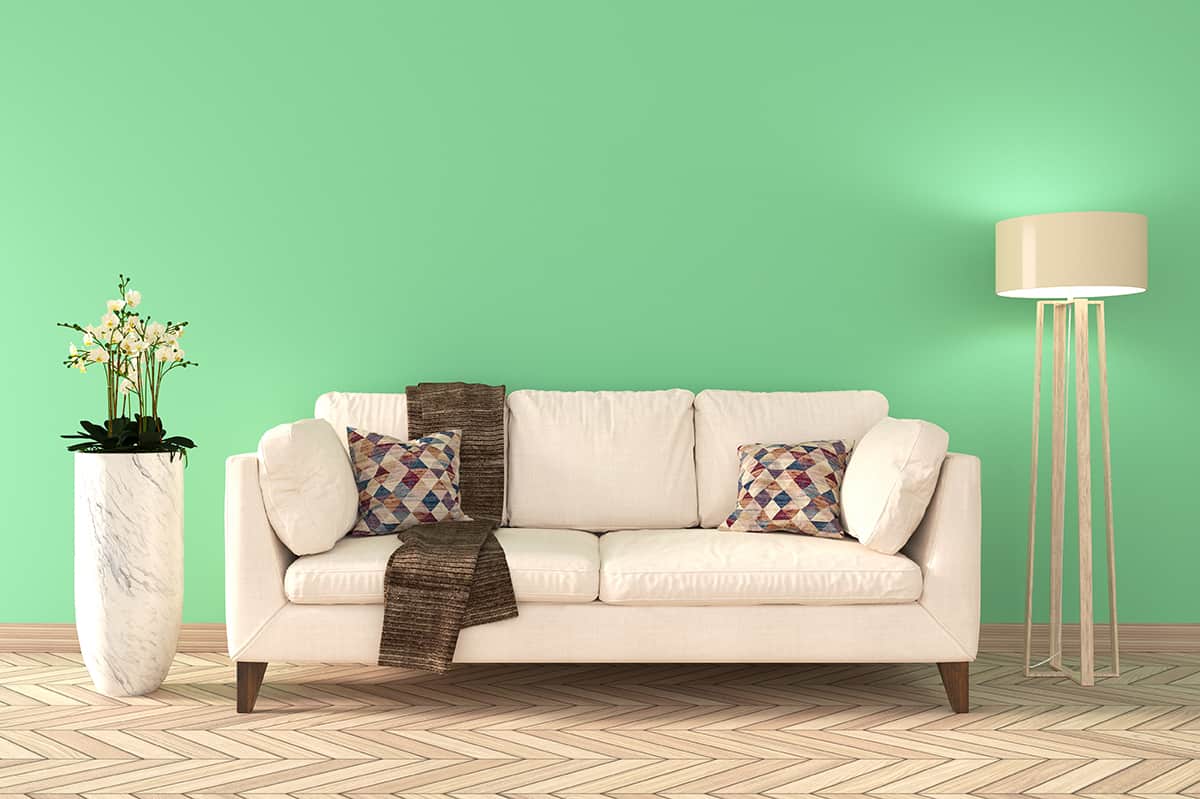 Injecting a vibrant green color into your walls makes perfect sense when you have cream furniture. Green is an earthy hue that's full of energy. Whether you pick a pastel or a rich shade of green, you can be sure of sprucing up your neutral interior.
A cool-toned green shade like the one shown in this example can really lift the mood in an eclectic or minimalist space.
Good to know: when you're undecided on the best shade of green to pair with your cream furniture, you should know that every shade goes with cream, although lighter tones like lime, chartreuse, and seafoam look particularly refreshing and trendy. Add some exotic foliage to your living space to complete the earthy, outdoor-inspired decor.
Pink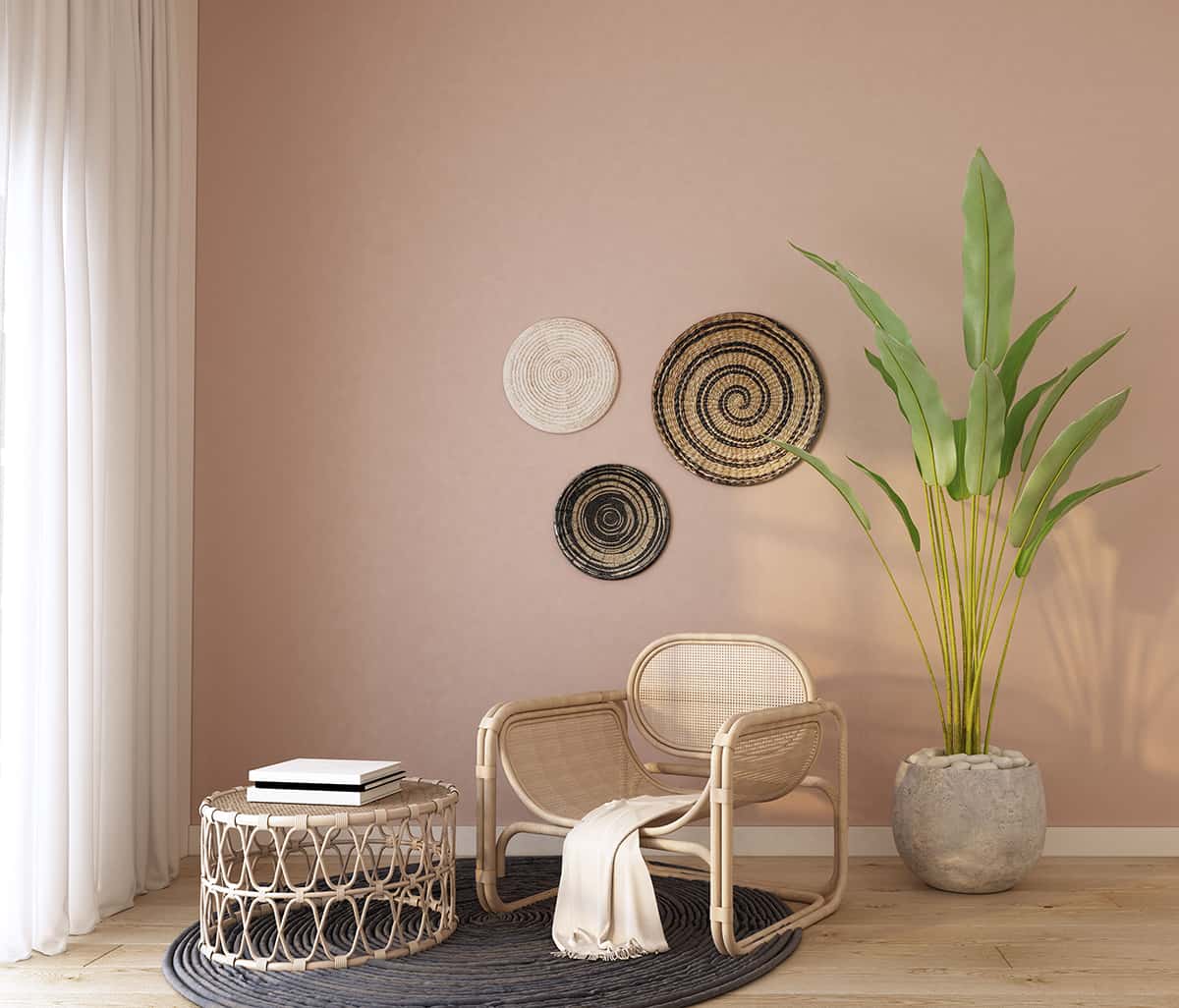 Cream is such a fresh color for furniture that it would be a pity not to pair it with a vibrant, soft shade of pink. A light pink tone for the walls will bring a calming vibe to your living room. Add rattan accessories for layering the room with cream furniture as shown here.
Pink walls and cream furniture are also a great combination for a girl's bedroom or nursery. For accent, add brown curtains to bring depth to the room.
Blue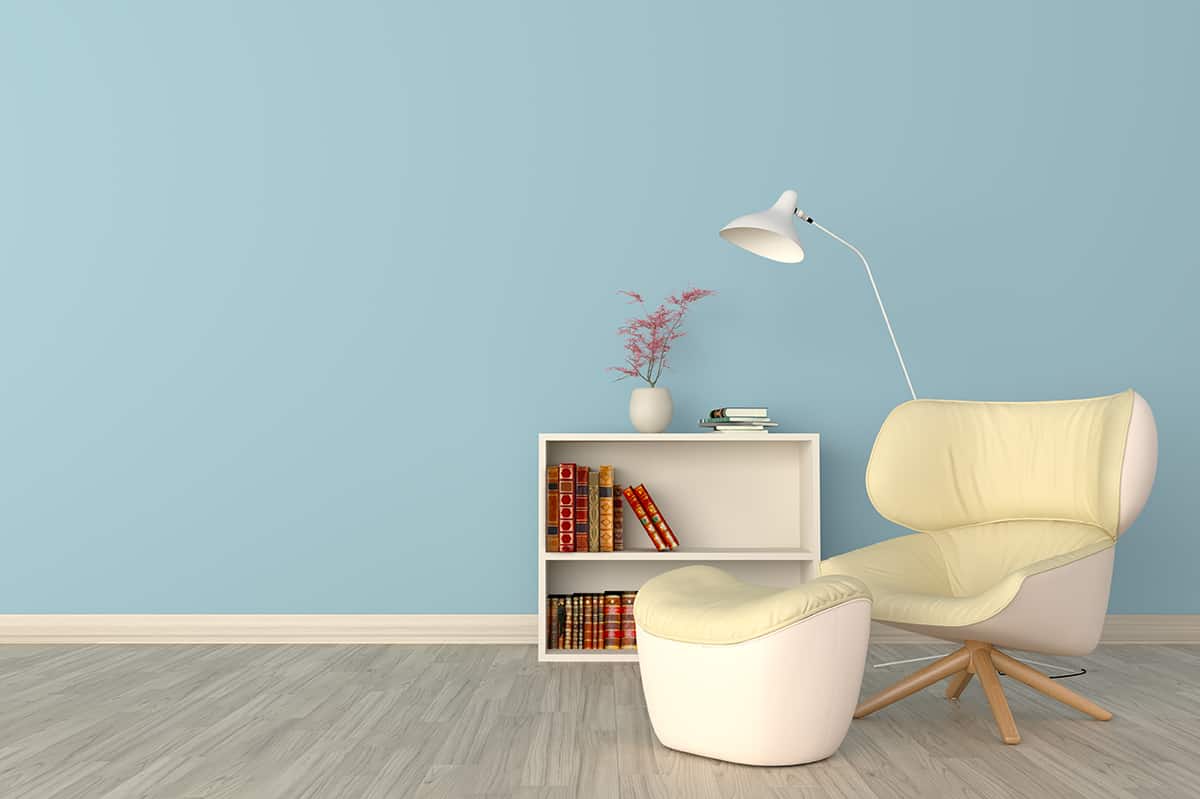 To bring depth to a room with cream furniture, paint your wall an attractive shade of blue. This helps the neutral furniture stand out so the deeper the blue hue the better.
Note: if you pick a dark blue shade, it can make a small room appear visually smaller. In such cases, we recommend sky blue as a calm and serene shade.
Dark blue, such as navy, is recommended for large, open living rooms with high ceilings. This color combination highlights the cream furniture without darkening the room.
Another attractive shade of blue for medium to large living rooms with cream furniture is turquoise. This shade will look lovely as the background color to cream furniture. Turquoise doesn't compete for attention, and the warm shade of cream makes it a perfect backdrop for any style of interior.
Off-White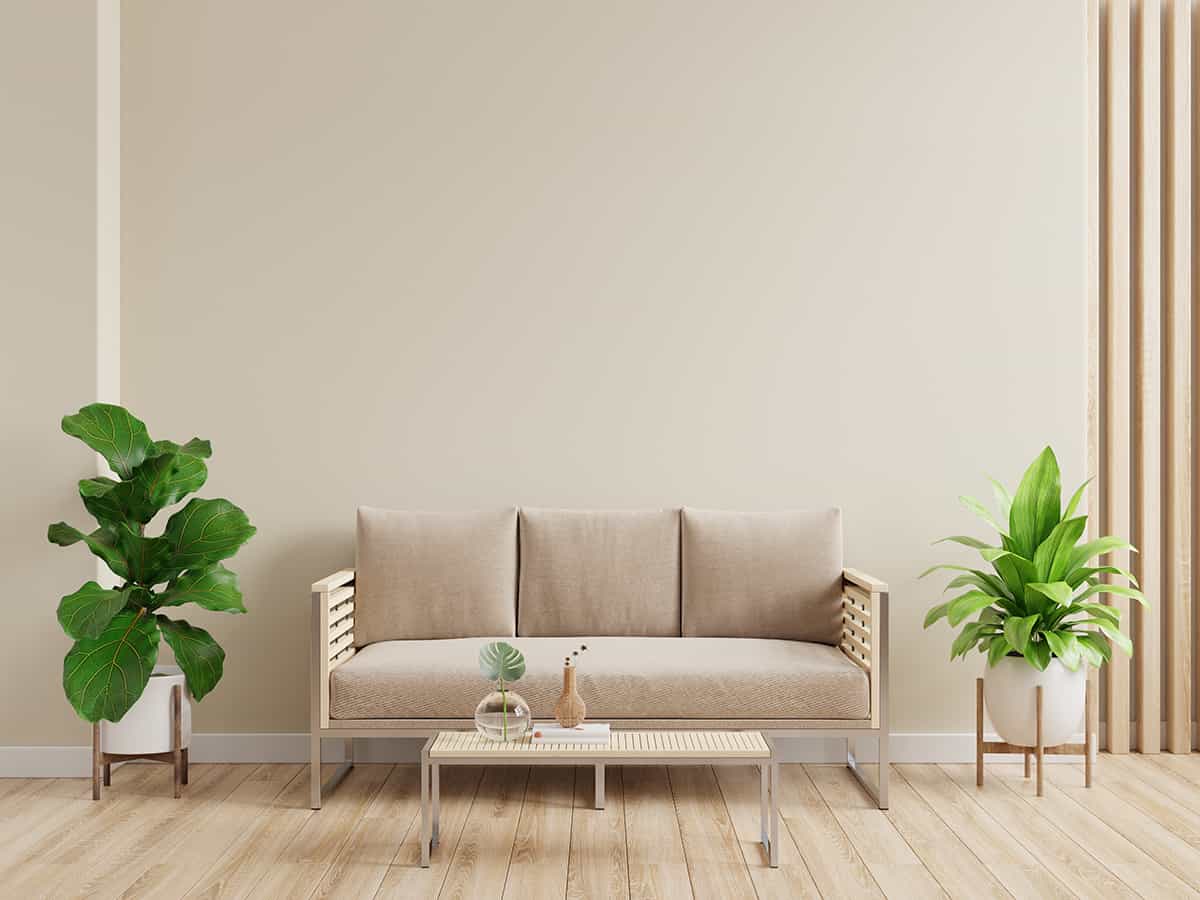 Perhaps you prefer a similar-toned color combination instead? Then you'll be pleased to know that off-white walls look very stylish next to cream furniture as shown in this example.
The cozy living room is styled with off-white walls and a stunning display of cream furnishings on light hardwood floors. We love the cohesive color scheme of this simple yet elegant living room. Notice the addition of indoor plants for a refreshing touch of color.
Beige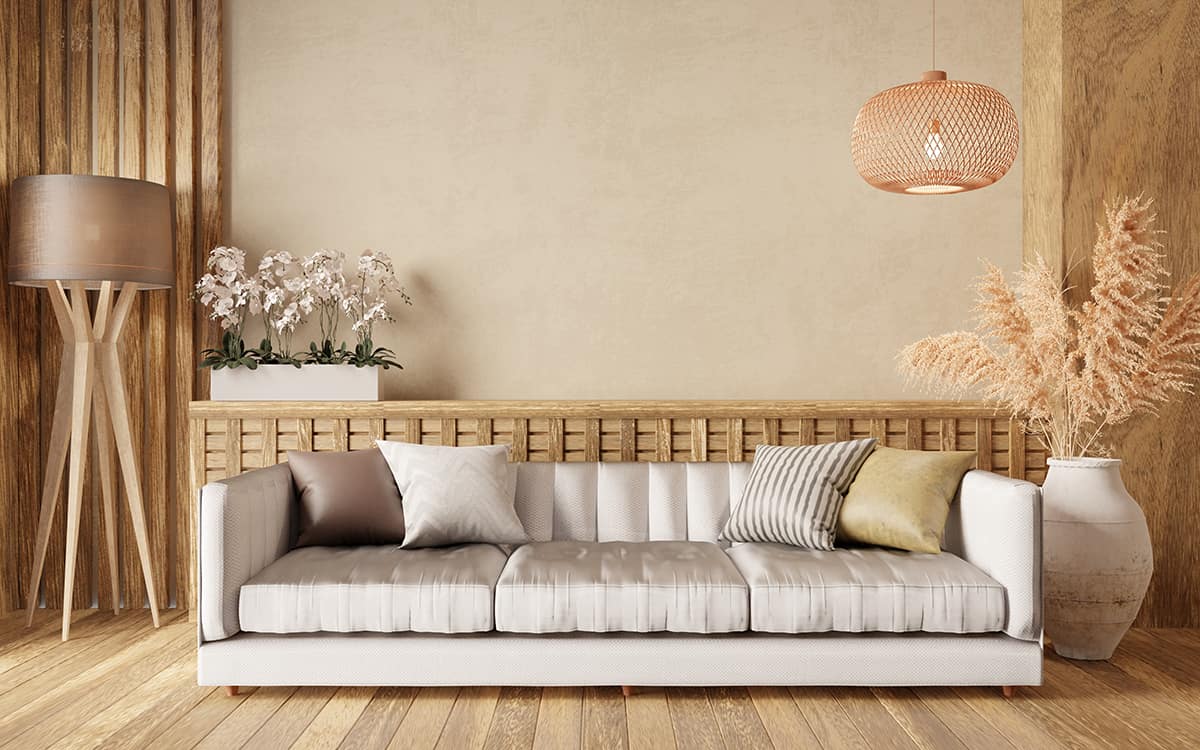 A beige wall that goes cohesively with cream furniture is sure to showcase the bright and airy feel of your living room. This neutral color pairing makes it possible to incorporate colorful details without overpowering the room.
The beige and cream color scheme is easy on the eyes and it lets you add bold accent hues like black or charcoal gray to the mix.
In this farmhouse-style living room, the colors beige and cream are beautifully blended together to create a cohesive design. Any natural elements can be added to complete this look, including wicker, wood, and fur
Brown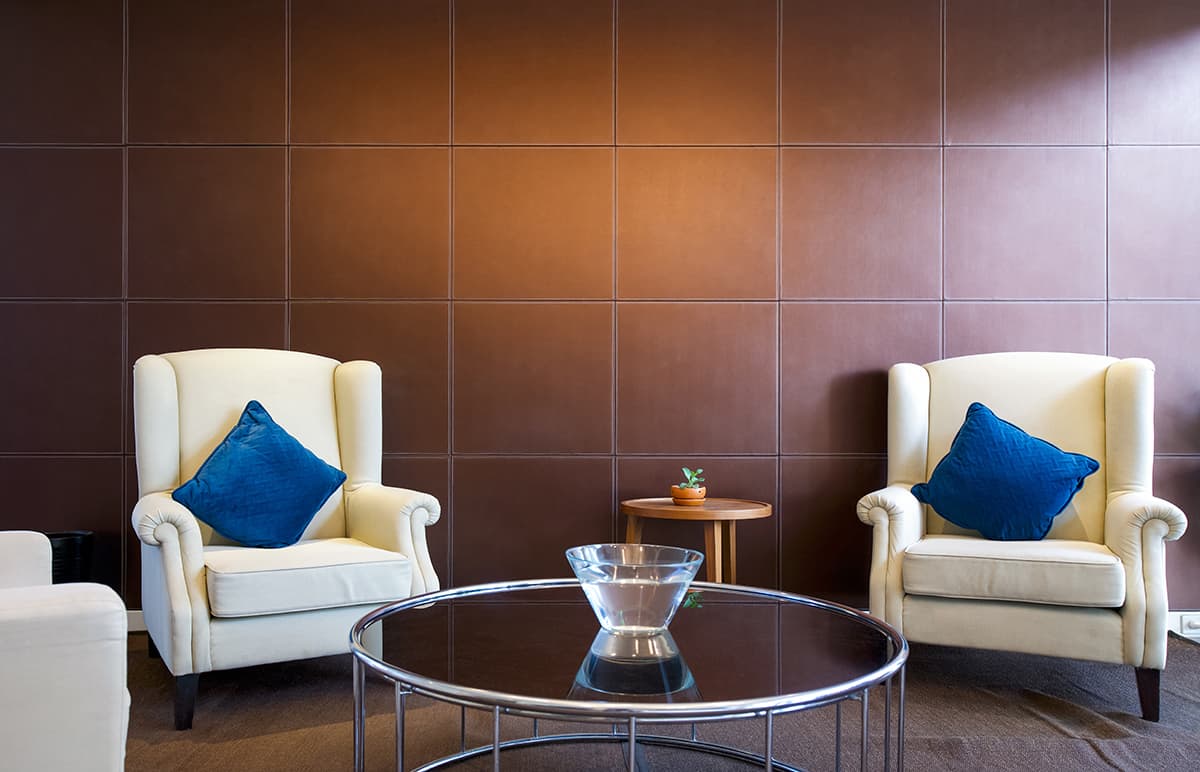 Earthy hues like brown emphasize the warmth of cream furniture without overpowering it. A deep, rich shade of brown goes well with cream in both traditional and modern rooms.
When you apply a splash of dark brown to your walls, it instantly draws attention to the cream furniture. But you don't have to paint all your walls brown. Choose one as a visual focal point and surround your cream furniture close to that wall.
This living room features a visually interesting chocolate brown wall as the focal point, with bright cream furniture and dark blue throw pillows for a punch of color. This is our favorite color scheme because of the warm and inviting vibe it evokes. This space looks well designed and super comfortable, don't you think?
Pale Yellow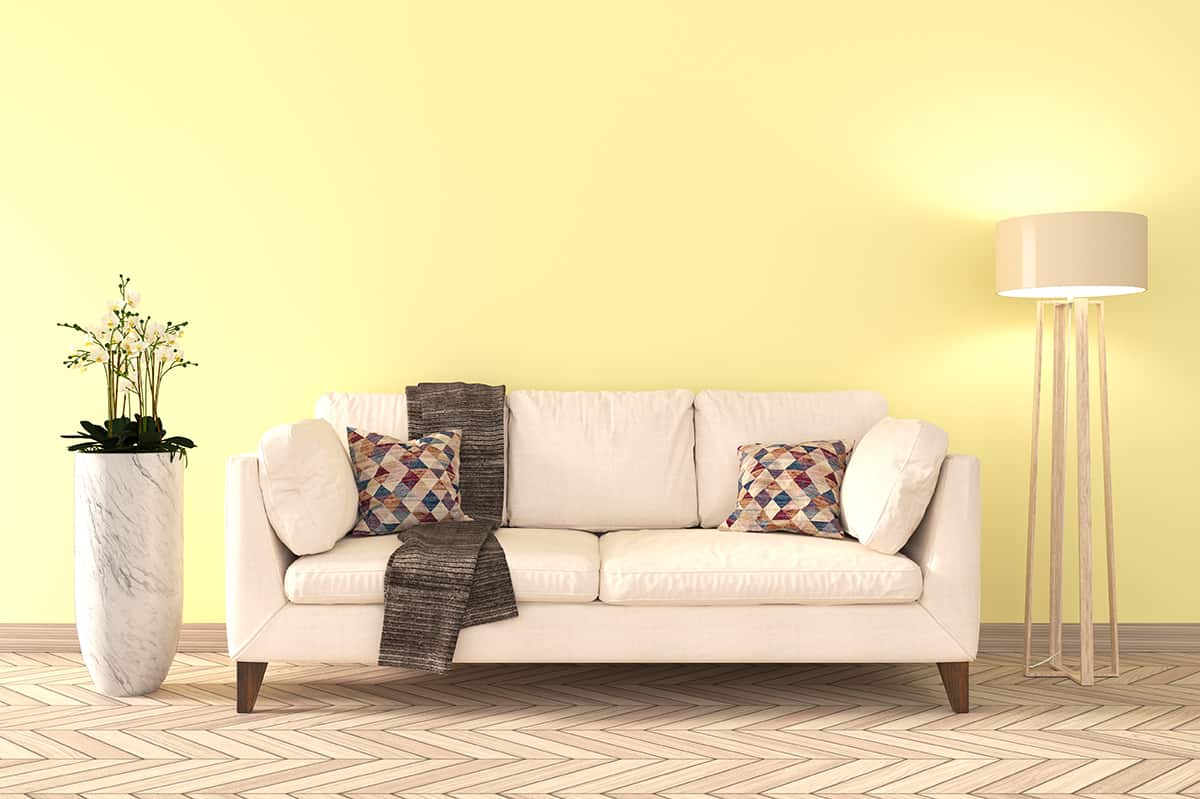 Just like beige, pale yellow walls evoke a welcoming feel, especially if you have a minimalist interior. Opt for a soft yellow shade for a touch of color.
This cozy color scheme is ideal for any room of the house where you want a vibrant and comfortable ambiance using cream furniture. Here, the designer has added texture with a black throw blanket and patterned pillows.
Purple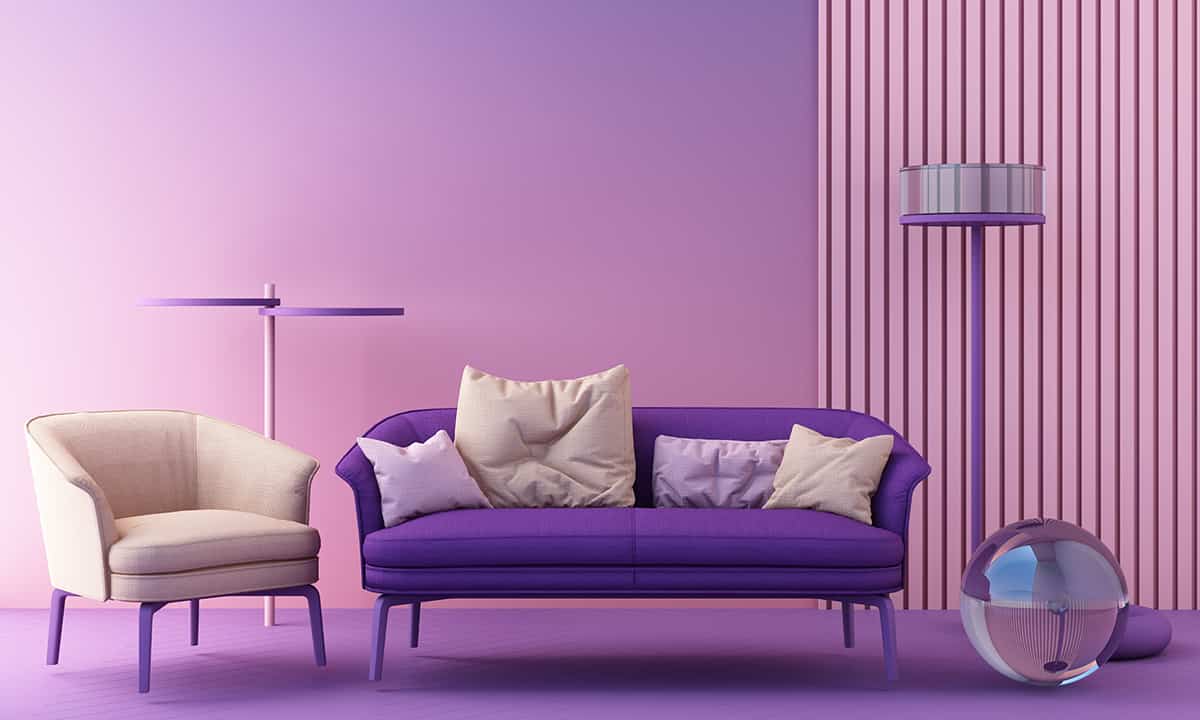 Purple oozes luxury thanks to its blend of cool blues, warm reds, and pastel pinks. This is one of those colors that immediately draws attention. By pairing purple with cream, you can certainly make a bold statement.
For balance, add wall art to the purple wall and perhaps a purple couch to blend in with the cream furniture like the example shown here
Can You Mix Cream And White Furniture Together?
Yes, you can mix your cream and white furniture together as the two neutral colors balance each other out. Cream brings extra warmth and depth to the room, whilst crisp white give the space a brighter feel. This combination creates visual interest thanks to the intensity of crisp white with warm cream furniture.
Depending on which color of furniture you want the most attention to be focused on, you can use a mix of cream and white, with one prominent color appearing more than the other for variation.
Another visually stunning creation is to add textures in bold colors to complement the cream and white furniture. Red, yellow or brown curtains go well with such a color scheme, so when done well, you can achieve a truly beautiful interior using cream and white furniture.
Conclusion
There are many advantages to using cream furniture to brighten up a living room. But when it comes to selecting the right color wall that goes with cream furniture, you'll need to decide carefully.
One of the easiest ways to design a neutral living space is by going with earthy or neutral-toned color schemes, such as brown, beige or off-white.
As shown in our examples of wall color options, your cream furniture will look good with both pastel and soft paint colors. Cream is a warm, neutral color that works with both cool and warm hues, so the task of pairing your furniture with a certain wall color isn't difficult.
To inject a positive and inviting vibe into your living pace, take the time to get to know the feel of each paint color and how it ties your room with cream furniture together. If you don't want to use neutral colors throughout your space, add patterned window treatments or throw pillows for a pop of color.