Beige is a neutral color, though most commonly, it will have undertones of orange or yellow which make it a warm shade. Beige carpet is a common choice for flooring because it is a subtle color that provides a good base in a room.
As a neutral shade, beige will go with a wide range of colors, but here we will look at the most stylish wall color to pair with beige carpet.
Benefits of Beige Carpets
If you have moved into a home that has beige carpets, then you may be less than pleased, as beige has a reputation for being bland and old-fashioned; however, you'll be glad to know there are numerous reasons why a beige carpet is a good flooring surface. If you are renovating a home and considering beige carpets as a possible option, then rest assured that this is a solid choice for a variety of reasons.
Warmth
Beige is a warm color that makes a room feel inviting and comfortable. Even if you are using a predominantly cool color palette, a beige carpet is a good way to ensure the room doesn't feel cold and clinical without interfering with the look of the space.
Neutral Base
As a neutral color, beige carpet makes a great base for a room. It isn't a bold color to which the eye is drawn, and so it is easily able to fade into the background, creating a blank canvas on which the rest of the room can be built.
As a neutral shade, beige can work really well with pretty much any accent color you like. This means that you can switch out your cushions, curtains, and candles at a later date to change your color scheme, and you can be confident that whichever new color you choose will still work with your beige carpets.
This can save you money in the long run because as trends and styles change, your beige carpet will still be relevant and won't need to be replaced in order to work with a new color scheme.
Practical
Unlike white or cream carpets, beige carpets are pretty good at hiding stains and dirt. This means that they won't need vacuuming as often as lighter carpets and can look good for longer because they mask marks and scuffs.
For this reason, beige carpets represent a good option in a wide range of rooms, including living rooms and bedrooms.
Best Wall Color for Beige Carpets
Beige carpets can be paired with almost any color you like because beige is a neutral shade. Here we look at the most stylish wall colors to go with beige carpets, which will give your room a modern, updated look.
Gray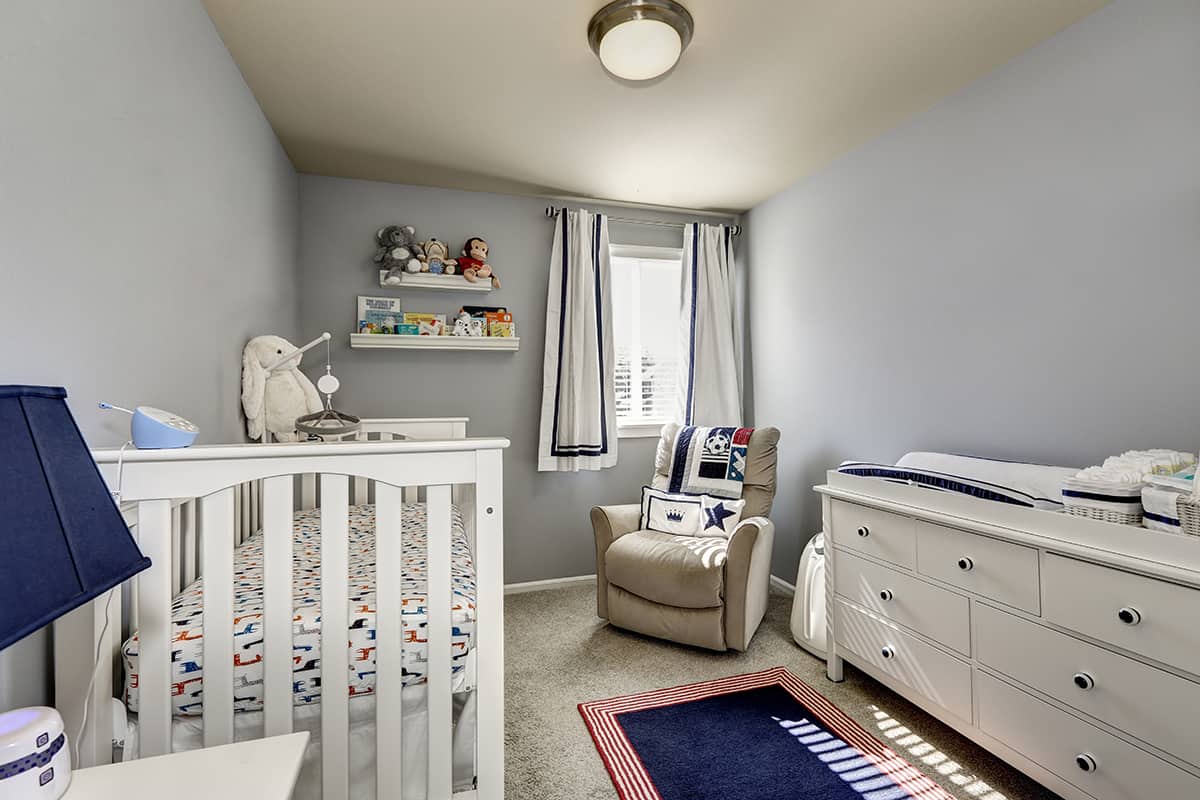 Gray walls are very on-trend in interior design right now. Gray is another neutral color, like beige, which makes it a good wall color because you can switch up your accessories to change your color scheme without having to repaint your walls.
There are so many shades of gray paint available, and the slightest change in hue can make the room feel entirely different.
A warm gray with pink undertones will make the room feel cozy and relaxing, while a cool gray with purple or blue undertones will have a fresher feel.
If you want a completely neutral feel in your room, then choose a true gray, which will have no undertones at all; this is known as a pure neutral and doesn't lean towards being warm or cool.
Gray walls work well with beige carpets, especially cool grays, because these balance out the warmth in the beige carpet. Beige has a reputation for being a little bland or dated, so if you have a room with beige carpets that you want to make feel more modern, then gray walls are the best option.
Gray is a very contemporary shade, and when used on the walls, this color immediately brings the space up to date. Cool tones are very popular in home decor right now, and they are great for bringing a feeling of crisp freshness to a room. This can really help to rejuvenate a room with beige carpets, which might be feeling a little drab or lackluster.
However, if you want to make a room feel cozy and comfortable while still adding a modern touch, then warm gray paint is a good choice.
Pale warm grays may have yellow undertones and look slightly beige, or 'greige,' while dark warm grays will have a hint of brown in theme. These colors have the capacity to look welcome and relaxing while also being contemporary shades.
White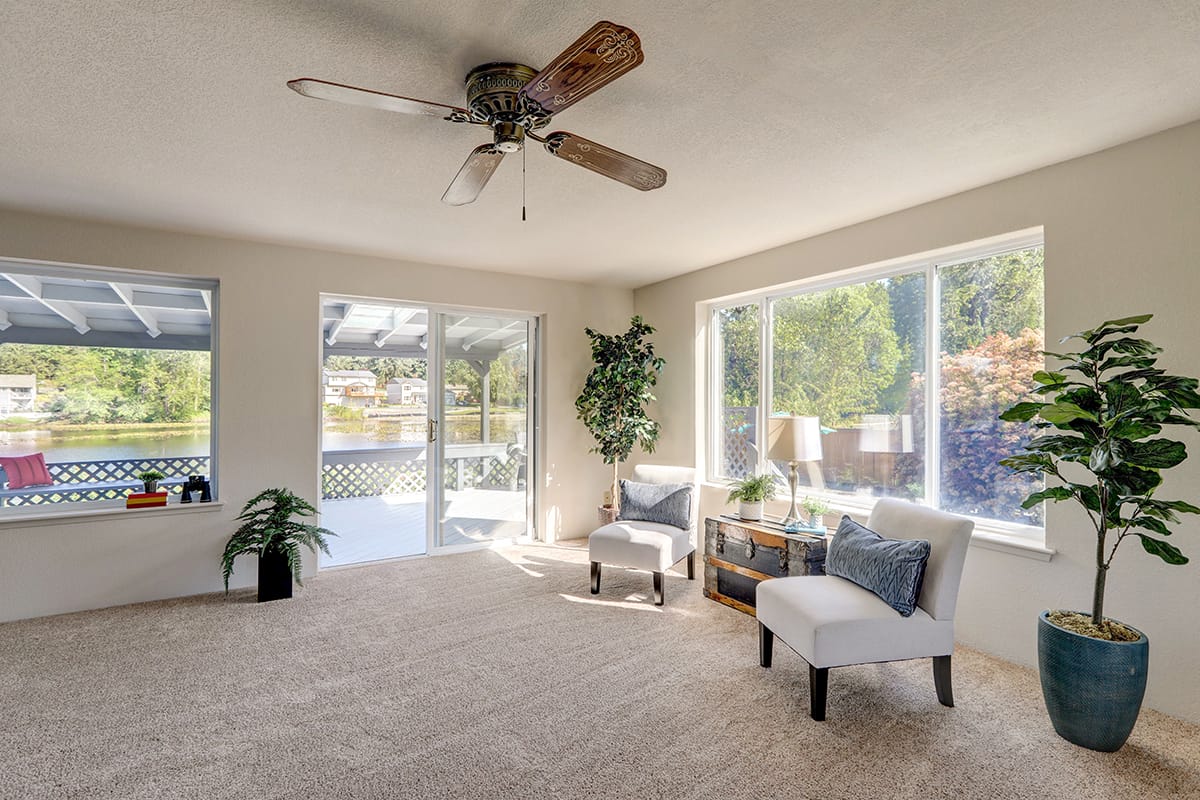 White walls are seeing a resurgence of popularity in interior design, and though this color might initially seem a little basic, there are actually so many variations of white that can bring a lot to the table.
If you have a small room, then pale beige is one of the easiest carpet colors that pair with white walls, as the combination makes the space seem bigger than it really is. And white can also look great in medium to large spaces.
If you have a room that enjoys a good level of natural light, then you have the option of choosing any shade of white, whereas rooms that feel a little dark should use off-white colors with a warm undertone, such as ivory or cream.
Like gray, cool shades of white will instantly lift a room with a beige carpet and make it feel modern and refreshing. Warm white walls with beige carpets will have a more soothing effect.
If you like to change your accessories regularly, or you're unsure of what color scheme you want in your room, then white walls with beige carpets will provide the perfect blank canvas.
You can add furniture and soft furnishings in accent colors to help define the rooms color palette without ever having to invest in new paint or carpet because white walls and beige carpet can be used in any color scheme,
This is also a good color choice for properties you plan to rent out or sell in the future because beige carpets and white walls are very bright and neutral, allowing future residents to envisage themselves in your property.
Beige carpets and white walls don't inflict any of your own personality onto a space, which helps other people feel welcome in your home.
Green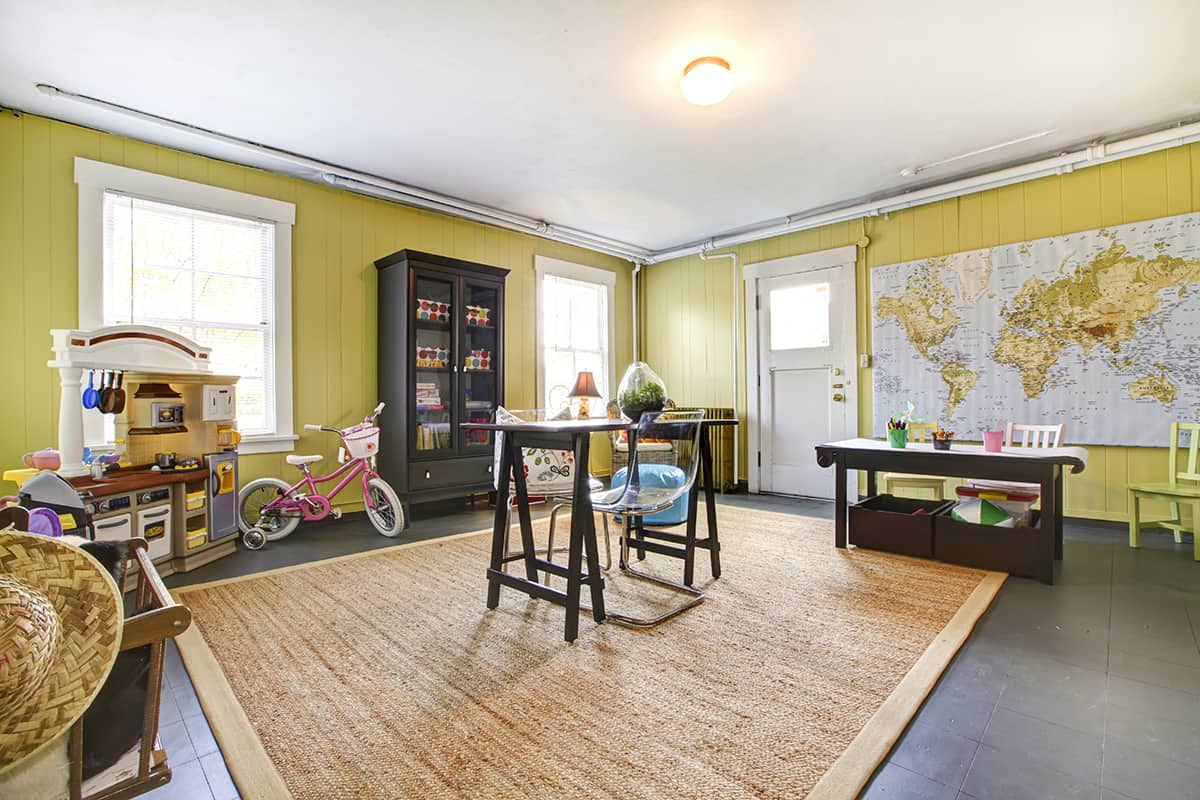 Beige and green are wonderful color pairings because they are synonymous with nature. Although green is not a neutral color, it is often thought of as neutral because it is so often associated with the outdoors and natural backdrops such as trees, mossy mountainsides, and grassy fields. Beige is also a color associated with nature, such as on sandy or pebble beaches.
When used together in interior design, beige and green make for a very uplifting yet neutral atmosphere. In a room with beige carpets, paint the walls in a fresh shade of sage green and opt for other neutral shades on furnishings, such as a dark beige sofa with green cushions and brown wooden side tables.
Green is a cool color, and it balances out the warmth in beige to bring a contemporary, vibrant feel to the room. This style of decor works well in living rooms, bedrooms, and dining rooms. Other shades of green can also work well with beige carpets.
Consider forest green wall paint for a more dramatic mood, which can also add depth to a space. This color pairing creates a great balance because a green room could look too cold and uninviting, but the beige carpet works to add warmth to level out the energy.
Blue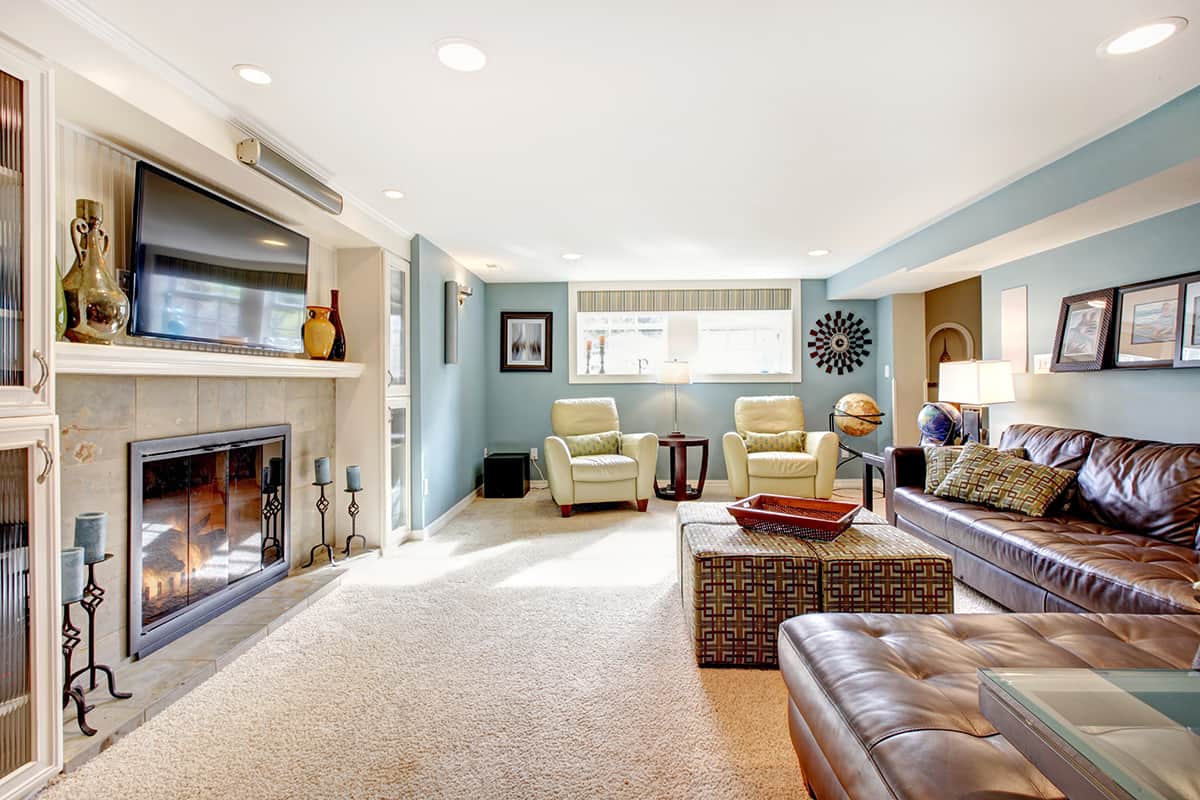 Blue walls can be used with beige carpets in a wide range of styles to achieve different looks. Pale pastel blue is a popular choice with beige carpets to create a coastal vibe. The beige carpets represent the sandy beach, while the blue walls represent the blue skies.
The cool tones in pale blue bring an invigorating feel to a room, while the beige carpet brings comfort. These two colors and their energy work together to create a feeling in a room that is like a deep breath of fresh ocean air, reviving and restorative.
Other shades of blue can also work really nicely with beige carpets, as the cool undertones of blue help to balance out the warm energy in beige. Peacock blue is a good choice for wall color because it brings depth and drama to a room with beige carpets, which otherwise may have felt dull.
For more grown-up spaces, such as formal dining rooms, choose navy blue walls with beige carpets. This contrast of light and dark, as well as warm and cool, creates an appealing look that is bold and powerful.
Deep dark colors such as navy blue make a room feel more dramatic, while the beige carpet provides contrast and makes for a good neutral base so that the room doesn't feel overwhelming or flat.
Before you go, here are some articles you might like.