A nightstand is an essential part of every bedroom. It is the place for storing your books, alarm clock, lamp, and other items. This low bedside table is usually placed next to the headboard of the bed, which is why many people prefer to match this furniture color to their bed.
When you have a gray bed, you may want to consider using the right color nightstands to avoid a design clash. Luckily, when it's a gray color you're working with, you have numerous options for compatible colors.
So what color nightstands go with a gray bed? Whether you like neutrals, natural wood, glass, or metal, any of these designs will go with a gray headboard or bed frame. To give you some ideas, take a look at the following examples right here:
Nightstand Colors that Complement a Gray Bed
Blue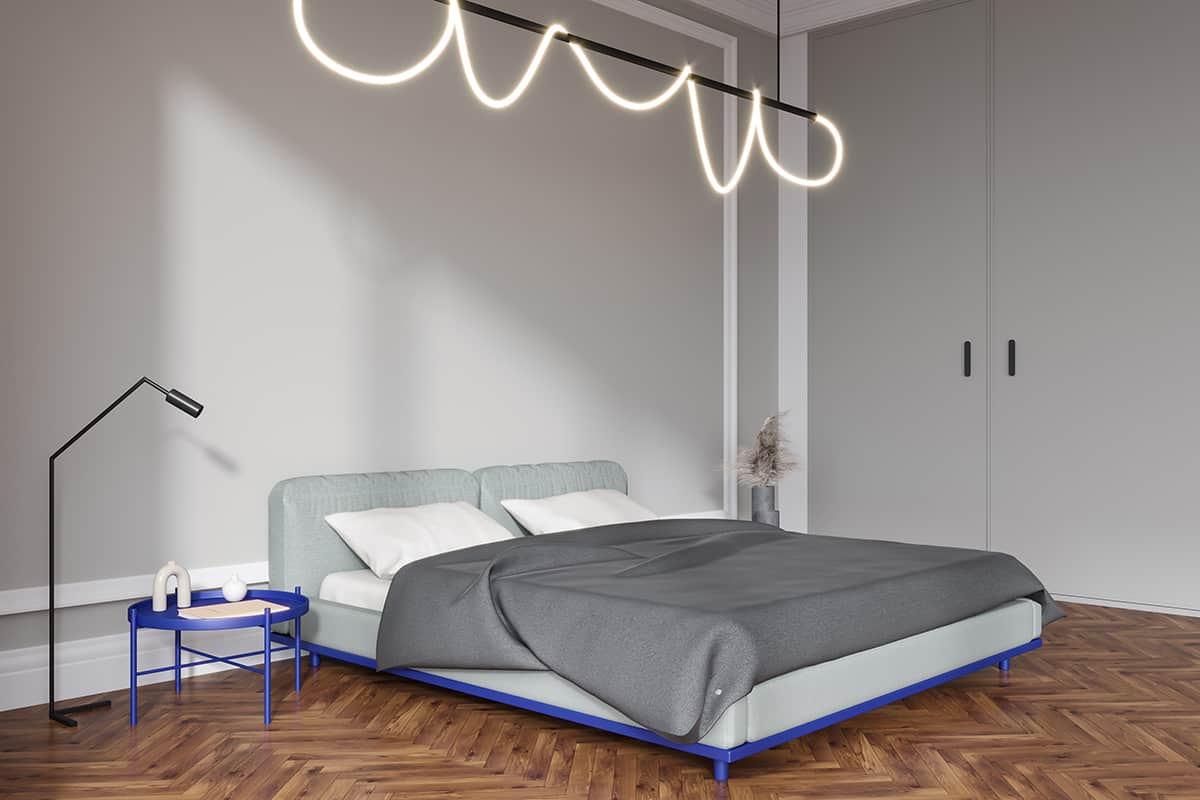 A blue bedside table may not be the first color idea that comes to mind, but as a show-stopping combination, a gray bed with a dark blue nightstand can add a classic look to your bedroom. Just like in this example, the light gray headboard and medium-toned gray bedding go beautifully with the cool-toned blue nightstand.
The latter is the highlight of the bedroom as a striking contrast against the gray bed. Choosing a dark blue nightstand is the perfect way to bring some color to your neutral bedroom and give the overall atmosphere an uplift.
Light Gray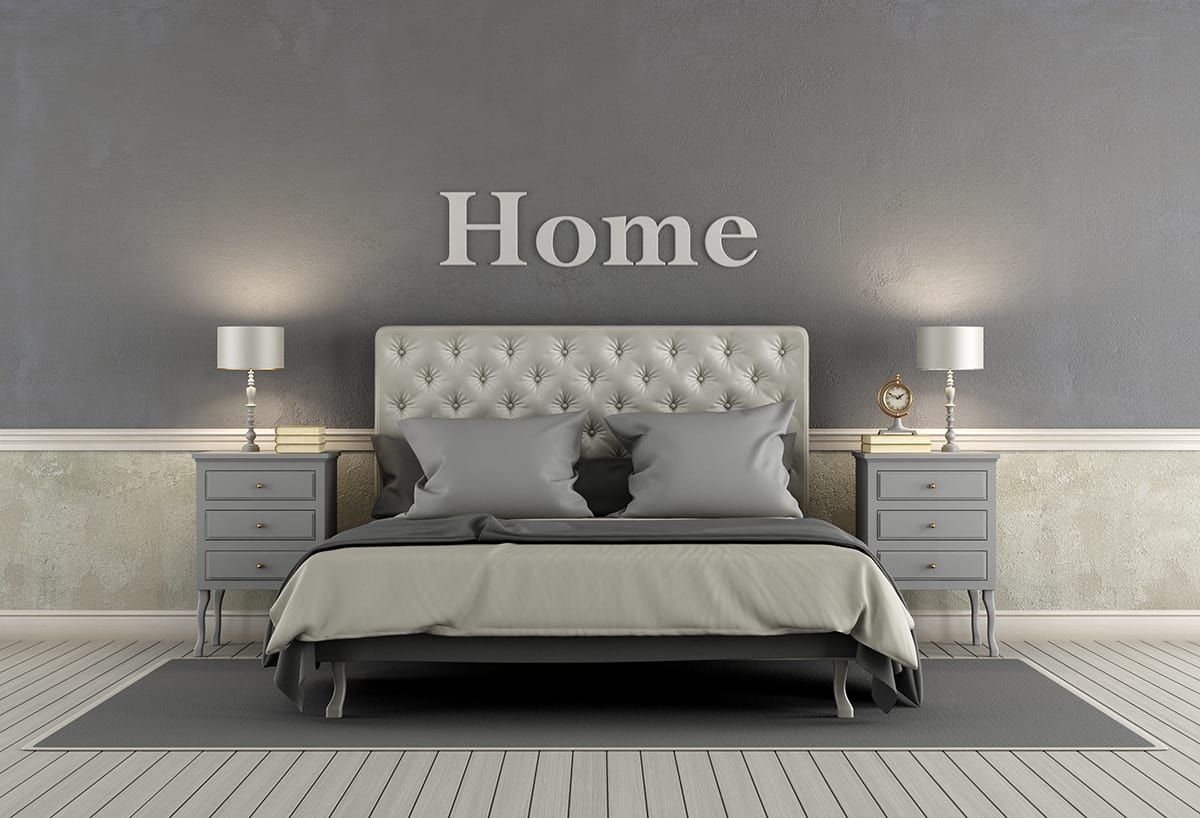 When you're matching your nightstand color with your bed, there are multiple routes you can explore. For example, if you have dark gray bedding, pair it with a light gray bedside table for a little contrast.
In classic bedroom designs, we recommend matching the gray nightstand with the headboard, just like in this example. The traditional three-drawer bedside tables on both sides of the bed enhance the aesthetics of this gray finish furniture pairing. Whether you pick wood or metal pieces, they can both look great next to a gray bed.
Dark Gray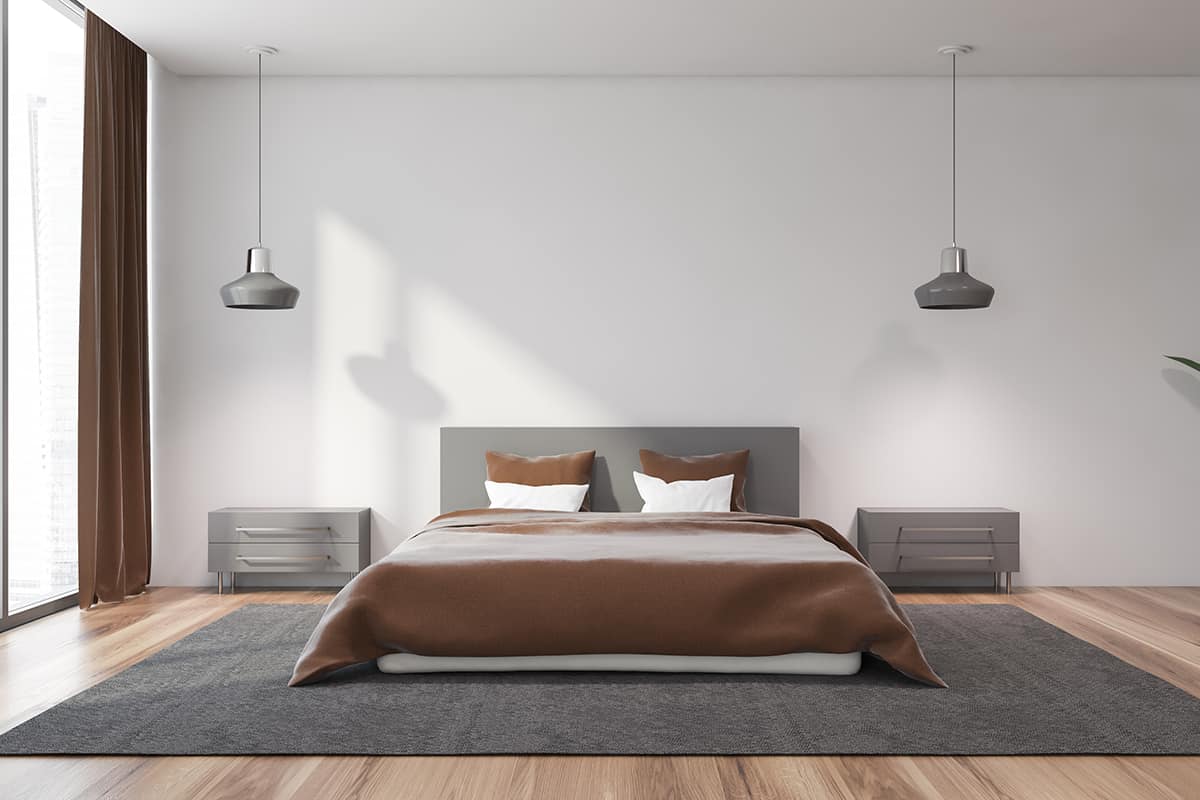 While we're talking about monochrome designs, you might want to consider matching your dark bed to dark gray nightstands. For example, if your headboard is in dark gray, you can layer it with a different shade of gray for the bedding in order to create a subtle contrast. A monochrome look can add depth and character to a master bedroom.
A warm-toned gray works well when paired with dark gray. To inject some color into your neutral bedroom, go with a lighter color wall with a bold rug to highlight the gray bed and nightstands.
Sleek White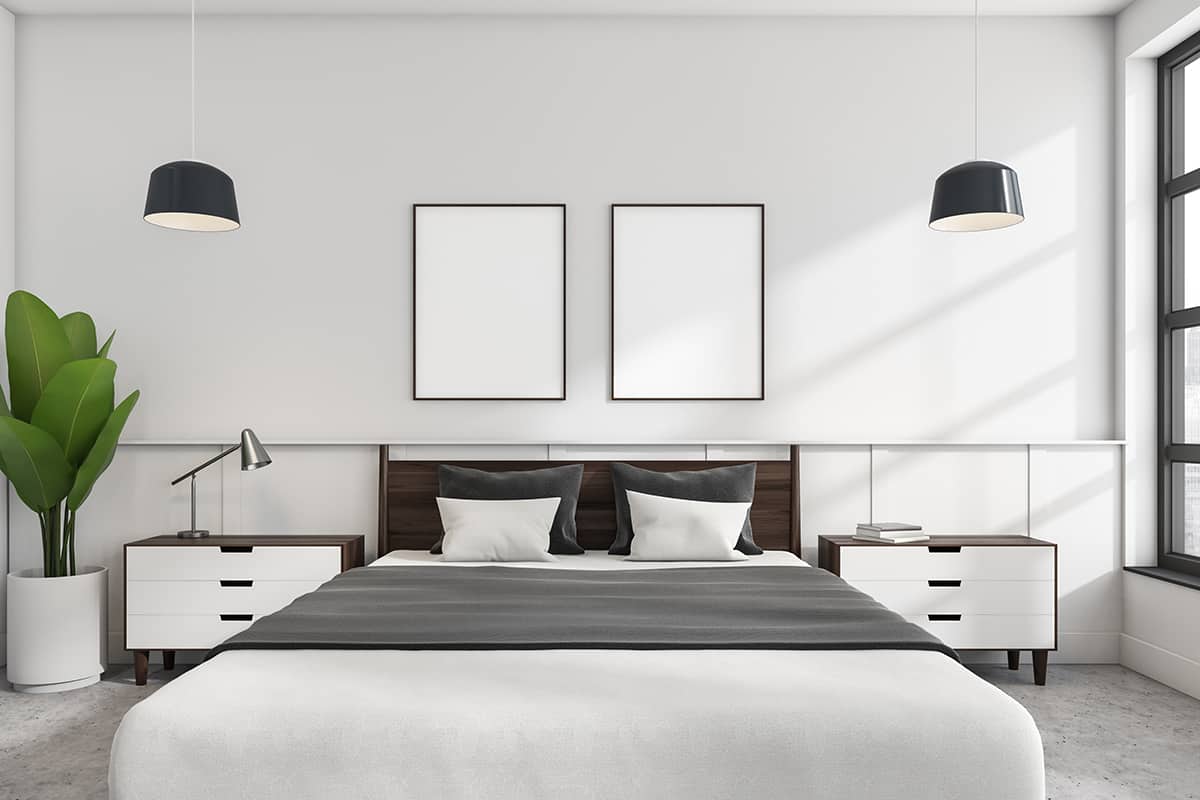 White bedside tables are a foolproof color pairing with a gray bed. This neutral combination is perfect for those who don't want their bedroom furniture to stand out too much. As versatile colors, both white and gray are an excellent team for a light, airy bedroom.
Look how eye-catching these sleek white bedside tables look next to the light gray bed. The bright white storage tables add to the visual appeal of this neutral room thanks to the bright, airy feel of the space.
Black
For those who are looking for a powerful yet simple color match to their gray bed should consider black bedside tables. Black is a neutral color like white and gray, but it does stand out beautifully next to other colors.
For example, a cool-toned gray bed can look stunning next to a black metal nightstand. Both gray and black share an identical bold vibe that allows them to go well together. These two neutral colors work especially well in minimalist-style bedrooms like the one shown here.
This stylish black metal bedside table stands out beautifully next to the elegant gray and white bed. For added color and a refreshing look, you can introduce a cactus or similar succulents to the room. This neutral color combination is sure to make your bedroom visually interesting!
Black and White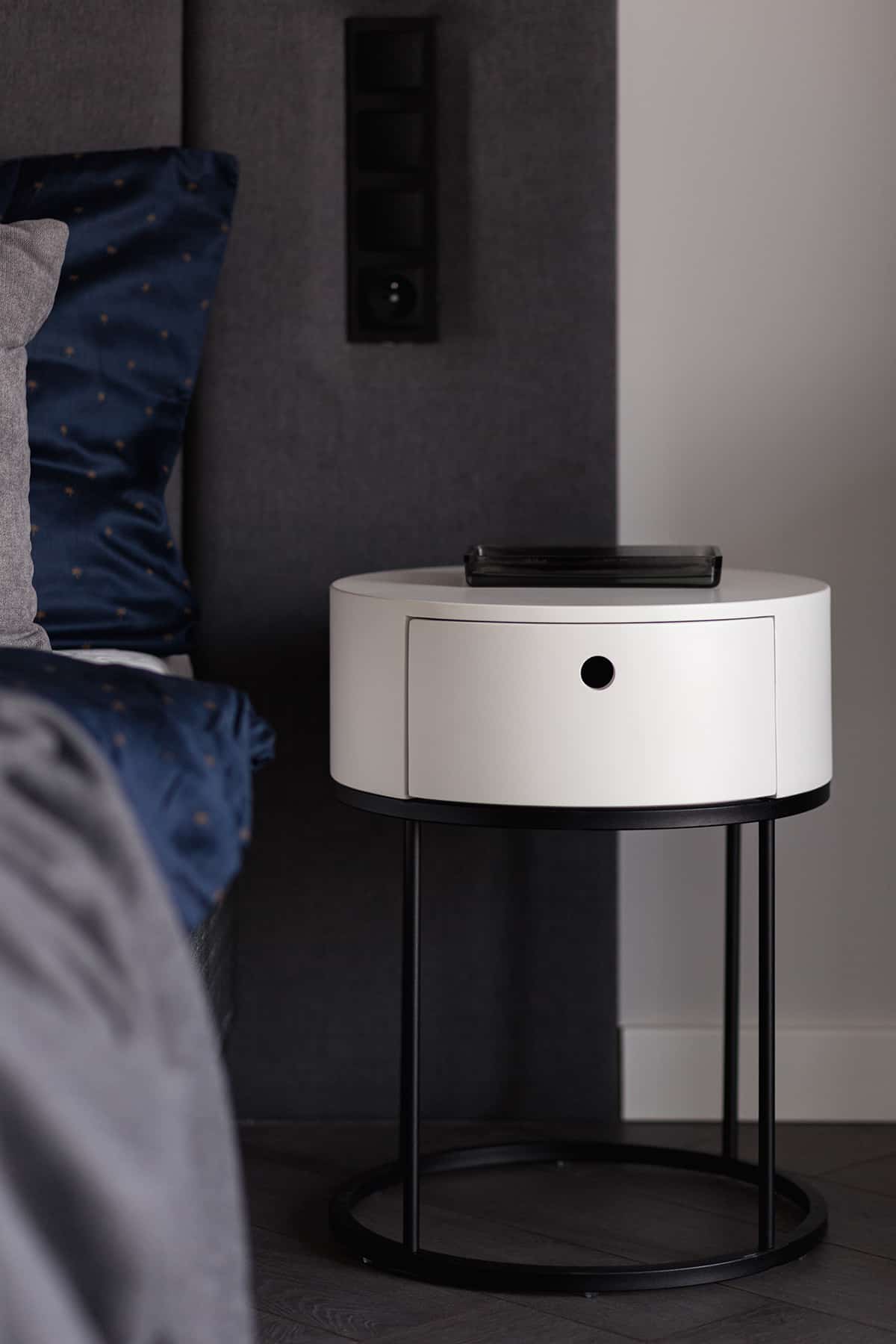 Another visually interesting color option for a gray bed's nightstand is a combination of black and white. Whether you pair this option with a gray headboard or bedding, it is sure to create a fun and unique vibe. For example, a white nightstand with black metal legs can add an elegant contrast next to a gray bed.
This color scheme will look sleek in both modern and traditional bedrooms. Chrome black legs on a stylish white bedside table will enhance the gray bed, and since both colors are neutral, your gray bed won't be visually competing for attention.
White with Glass Finish
If you still love white but aren't keen on pairing it with black, why not consider a combination of white and glass nightstand instead? White and glass go with any shade of gray as the perfect addition to an ultra-modern bedroom.
For example, a white marble bedside table with glass drawers next to a light or dark gray bed can bring a sense of sophistication and glam to your bedroom. Enhance the neutral, shiny look by including other glass elements like a chandelier in your bedroom.
Gold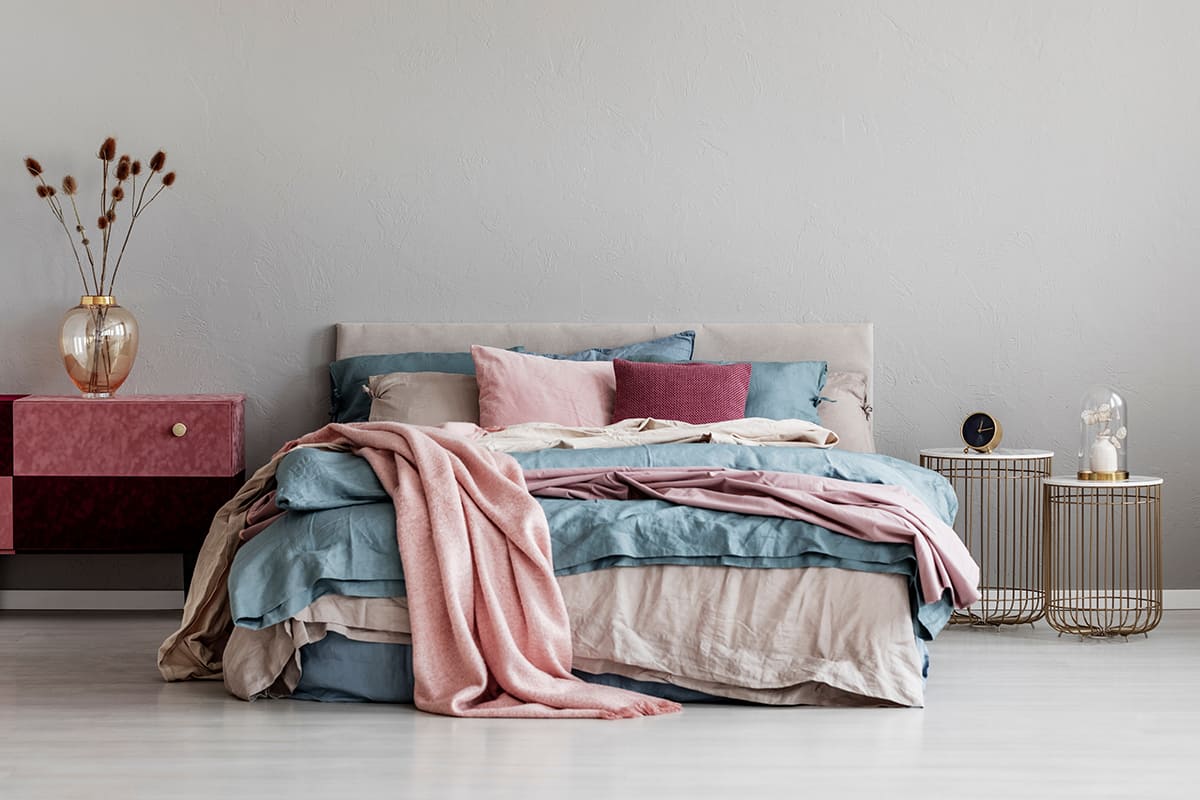 A gold bedside table is another powerful and glam choice to pair with your gray bed. Since gray has a metallic undertone, it will look amazing next to gold as a complementary combination. A gold nightstand can also be an excellent choice if you have other gold accessories in your bedroom, such as a gold-framed mirror or paintings.
In this example, the simple-designed gold bedside tables blend in nicely with the gray headboard and pastel pink bedding. This bedroom pops with bright, bold colors without the gold nightstands overwhelming the space.
Red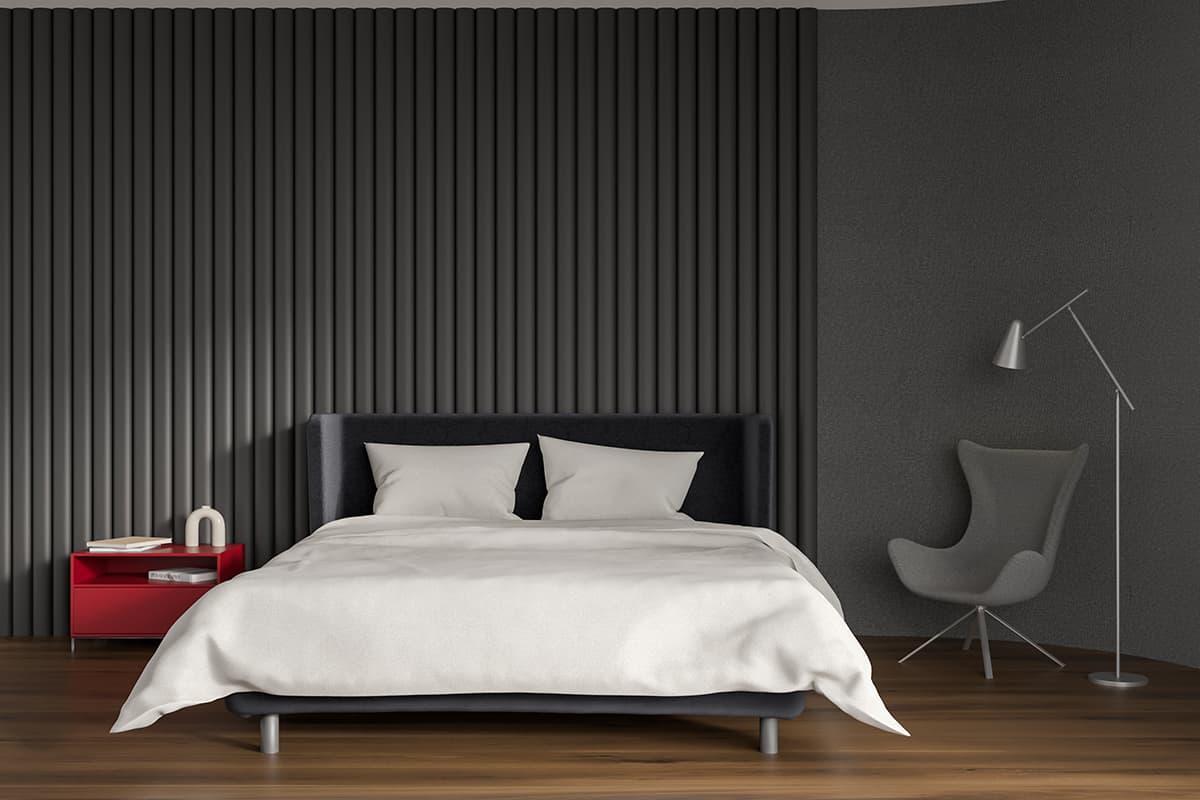 If you prefer a sharper-looking bedside table for your gray bed, we suggest a bold red as a contemporary choice. A rich red nightstand can bring a stunning aesthetic to your dark gray bed, just like in this example.
This dark gray bedroom features an all-gray decor with dark brown hardwood flooring and a rich red nightstand as the centerpiece of the room. We think the room is full of sophistication thanks to the warm, rich undertones of the bedside table and the flooring.
Natural Wood Finish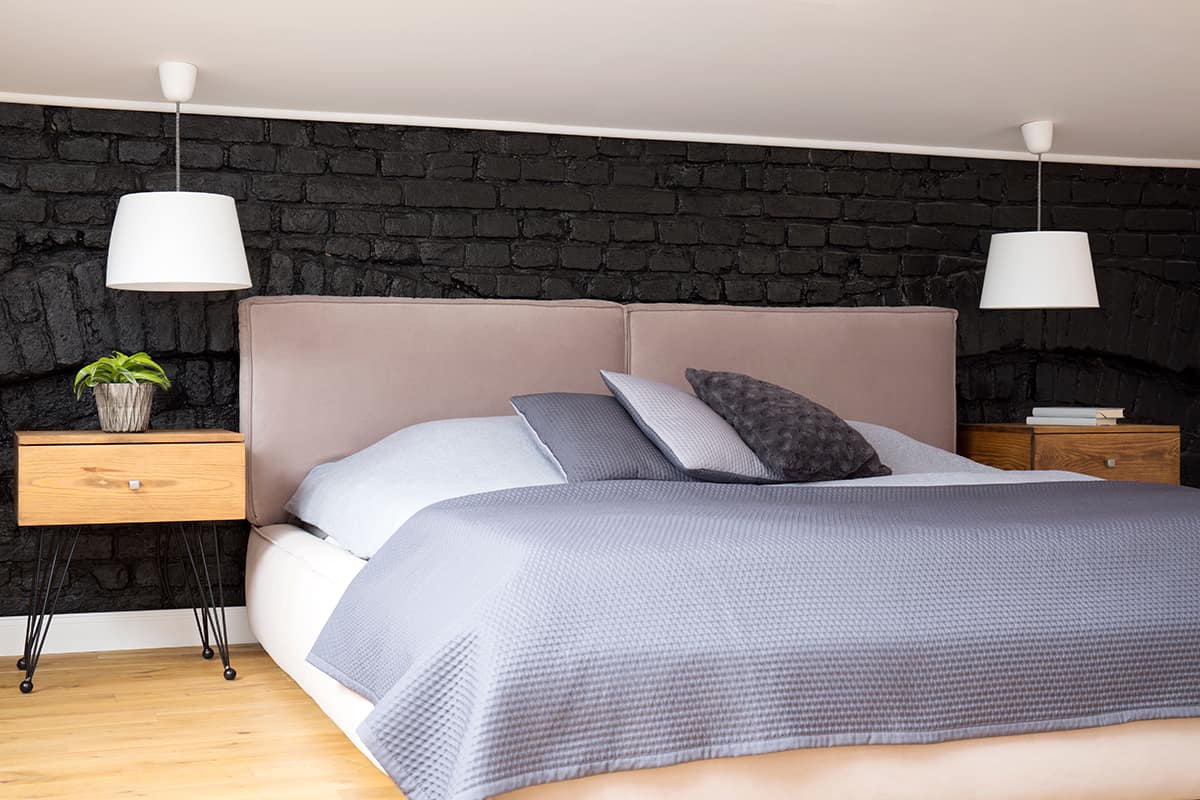 A bedside table with natural wood finish adds a soft feel to a light gray bed. This is the perfect combination with a gray headboard or bed frame, as the natural wood finish isn't as stark as black or white options.
A natural wood bedside table doesn't overwhelm a neutral bedroom's design. By picking this natural, warm-toned color, you can give a perfectly subtle balance to your bedroom, as shown in this example of two wooden nightstands on either side of the light gray bed.
Dark Brown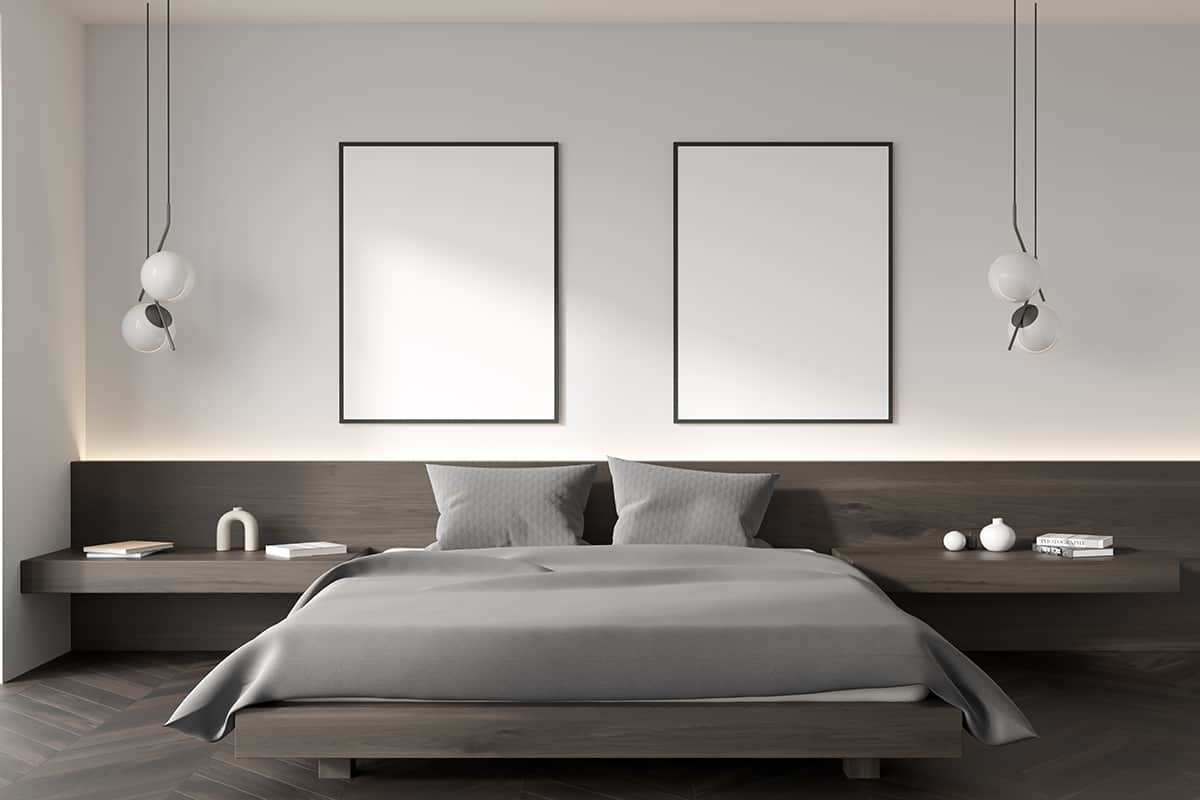 Still keen on the idea of wooden bedside tables? Then how about a dark brown option to pair with your gray bed? Whether you choose a walnut or chocolate brown shade, your nightstands can truly stand out next to any gray shade. Dark brown has the ability to inject an air of mystery into a neutral room. When paired with a medium to dark gray bed, the bedside tables can blend in with the bedroom's overall design.
Here, the dark brown bedside tables radiate a mysterious, powerful vibe next to the gray bed. This is an excellent option for anyone who admires darker, earthy colors for their neutral bedroom.
Should Nightstands Match Headboard or Bed Frame?
There is no hard rule on whether you should match your nightstand color with your bed's headboard or frame. If you buy a bedroom set, all the pieces will match, but it is important to ensure the set you choose goes with your bedroom's overall design. As you've seen in our examples, some of the nightstand colors go with the gray headboard, while the others are matched with the bedding or the frame.
That said, your nightstand can either match your bed's headboard or the frame should you wish to create a cohesive look. But to enhance the visual interest of your bedroom, you can choose a nightstand color that complements the bedding. This is because the bed frame and headboard don't tend to stand out visually.
It is the bedding that you notice first when stepping in the bedroom. So whether you match your nightstand with the bed frame, headboard, or bedding color, you can give your neutral bed a modern vibe by adding the most complementary nightstand colors like the ones we've shown you.