If you want to create a dramatic look for the interior look of your home to play around with a room's proportions, an easy trick is to paint your walls a dark color and your floors a light tone for contrast. Light color floors give the room a brighter feel and help it appear bigger than it really is.
Whether you furnish your rooms with modern, rustic, or vintage furniture, the space is sure to reflect your personality. This approach adds high contrast to the room, thus making it perfect for bathrooms, bedrooms, and living areas.
Here we have put together the hottest design ideas for rooms with dark walls and light floors so you can get your inspiration from our concepts.
Let's first start with the examples that include images before providing you with some excellent reasons for choosing light color flooring.
Dark Walls and Light Floor Design Ideas
Add Geometric Patterns for Texture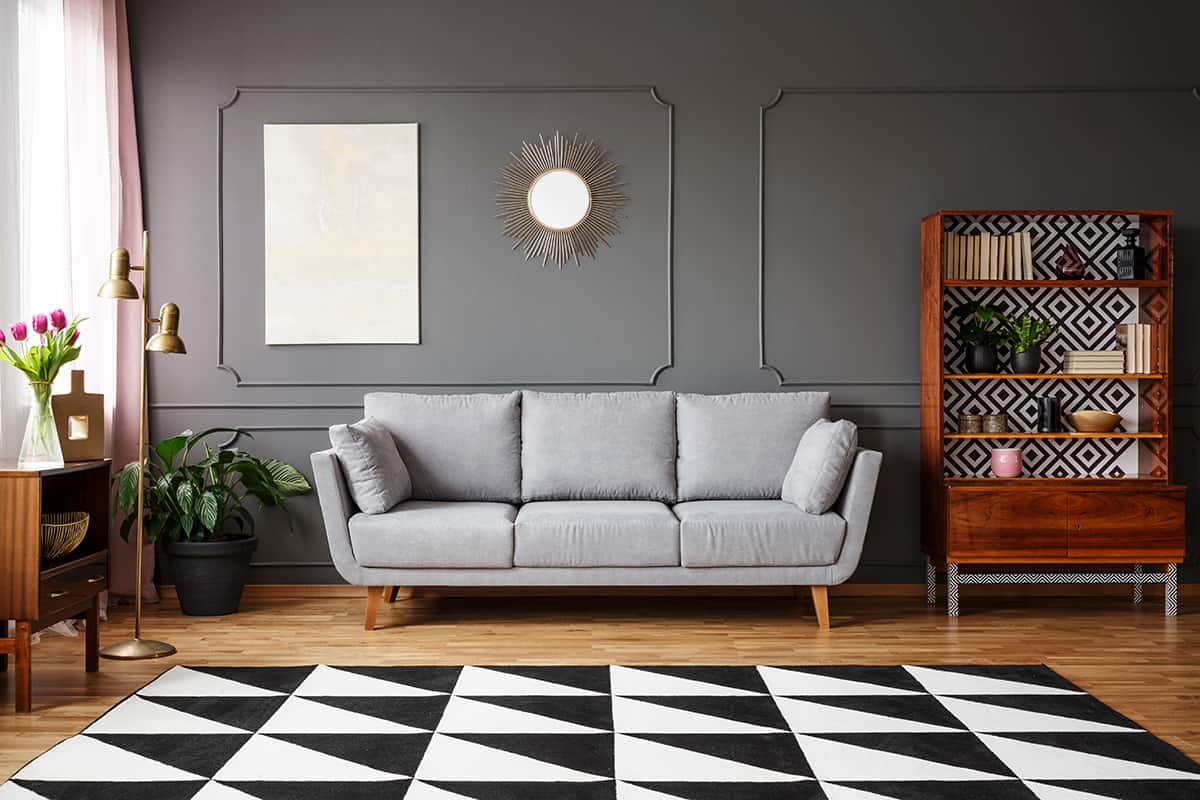 When you have dark walls and light floors, you must think about ways to break up the contrast by adding a splash of interesting patterns to this color combination.
For example, a room with grayish-blue walls and light pine flooring will look amazing with a black and white geometric patterned rug, as you can see in this photo.
The mid-century modern living room features a light gray couch with matching throw pillows and a patterned vintage cupboard, which goes with the geometric floor covering. Light gray is definitely among the easiest furniture colors that go with gray walls.
The geometric design is an excellent way to mix the old with the new as well as bring some texture to the room.
Go for High Contrast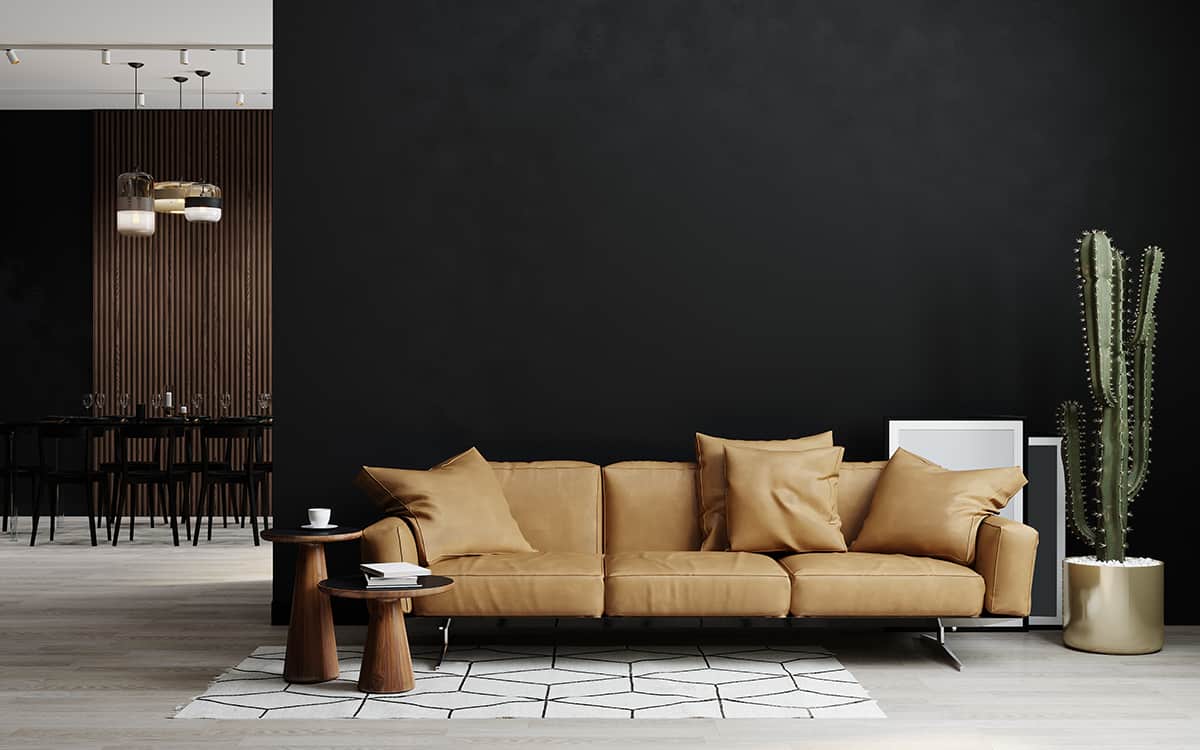 There are no colors more contrasting than black and white. These two elements help balance out the room's harmonious vibe without one or the other feeling too sterile.
Here, the white wood floor is the perfect finishing touch to the striking black walls. To soften the mood, the designer has added light brown furniture and a cactus plant for an earthy, warm feel.
Decide Between a Traditional or Contemporary Look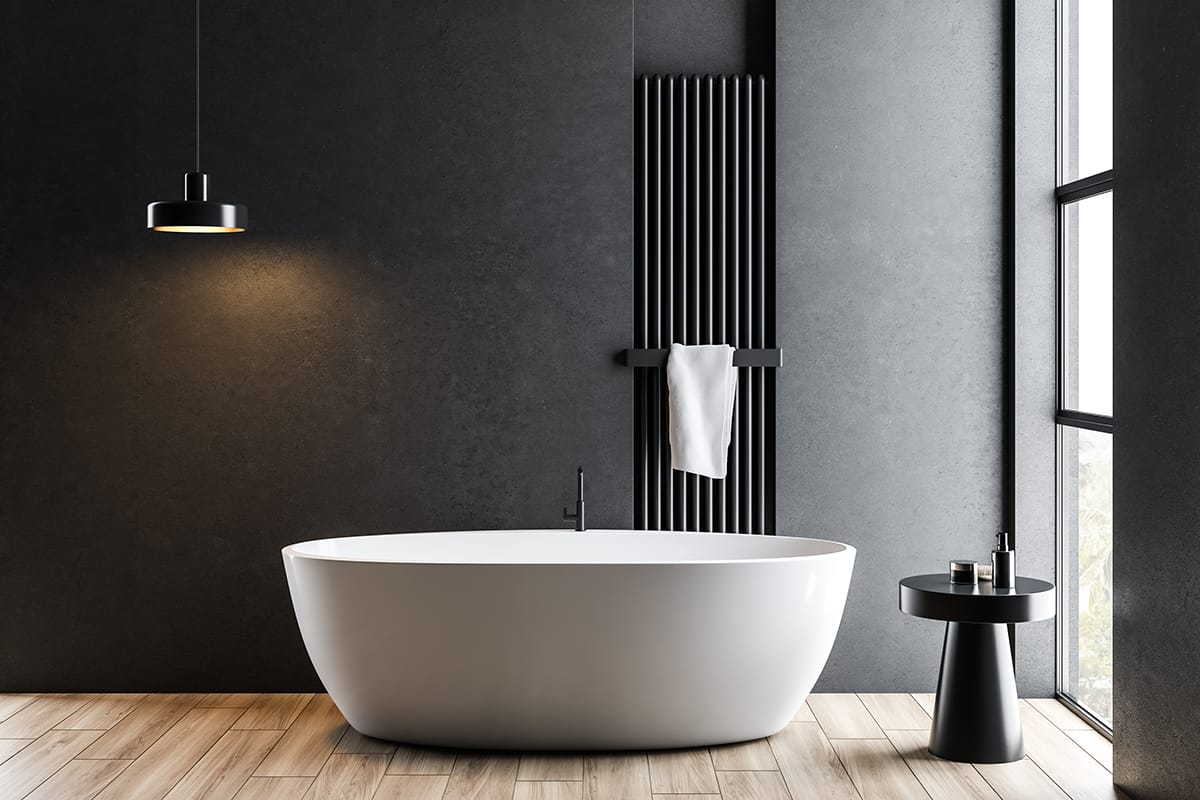 When you're deciding on the right contrast between the walls and the floor, think about your personal style first. For example, do you prefer a modern look, or are you a fan of the traditional design?
You might even prefer both styles, which is perfectly fine! In this case, we suggest choosing a dark shade of gray for the walls paired with light brown flooring. Gray is a neutral and highly versatile color.
What's more, it goes well in contemporary interiors. Brown, on the other hand, is a traditional color, which complements the gray, thus you can pair these two colors together for a combination of modern and traditional design as shown in this example.
Use a Monochrome Color Scheme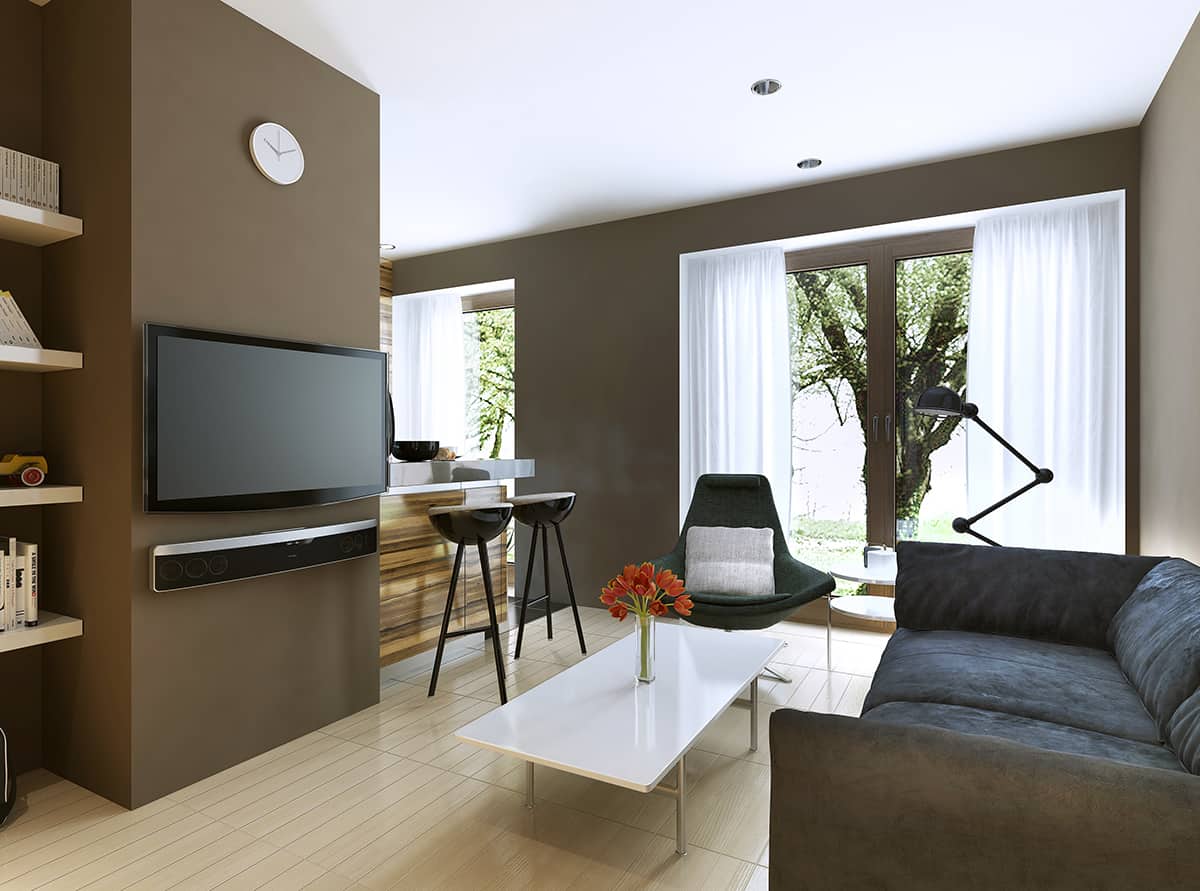 Whether you prefer to use cool-toned shades or warm-toned ones, the best way to accomplish a monochrome color scheme is to pair your dark walls with the same color as the floor but in a shade or two lighter. In large rooms, a warm, deep shade of brown for the walls can be paired with light brown floors for a monochromatic color scheme.
That said, painting your walls a dark color can run the risk of making your space feel heavy or enclosed. To lighten the room's mood, always layer the brown with different shades for the furniture and the floors.
By adding the appropriate brown shades to the furniture and the floors, your dark brown walls create a beautiful warm contrast to metallic elements like gold or silver decor.
Embrace Neutral Tones for Balance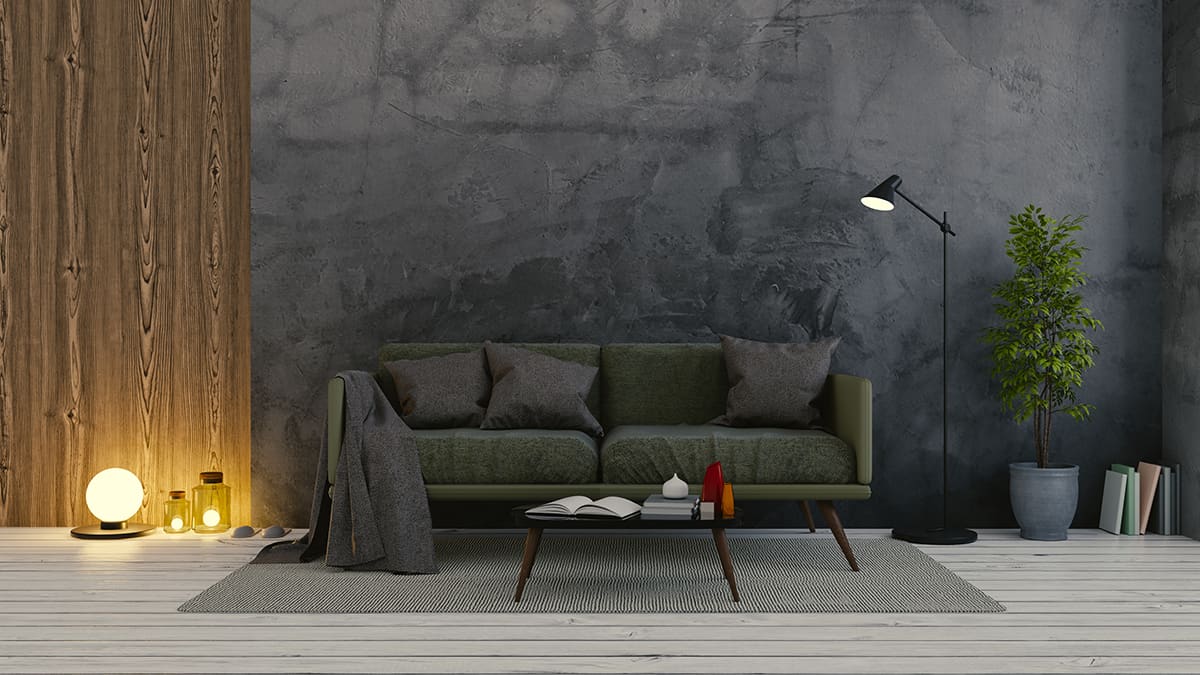 Neutral tones in rooms with dark walls and light floors can help balance the room and give it a brighter feel. You can use this approach for the trim or furnishings as a complementary companion to your walls and floor. Neutral tones can be anything from whites, creams, beiges, grays, or light browns.
In this example, the dark gray couch, wooden wall paneling, and gray rug all work well with the dark gray wall and light flooring. A blend of neutral tones helps give this modern living room a cohesive feel.
Bold Colors Help Prevent a Gloomy Look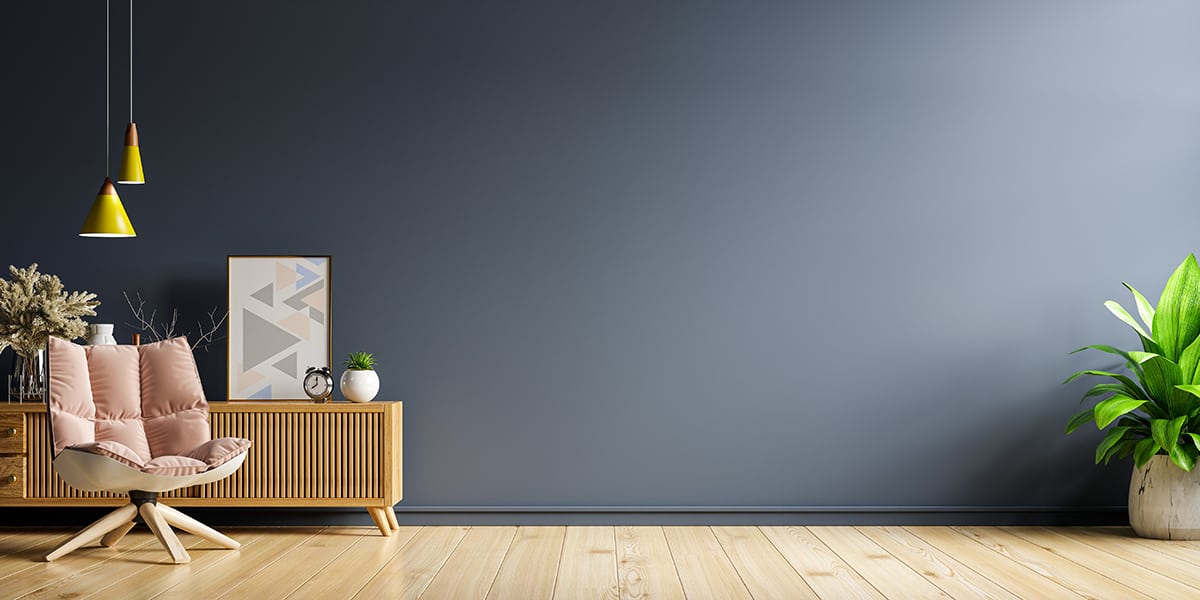 An impressive color combination for a room with dark blue walls and light floors is a mix of bold colors. For example, a pink armchair and yellow lighting can bring some color to the room and prevent a gloomy vibe.
Similarly, a bright yellow couch with orange throw pillows can become the focal point of a room with dark blue walls and beige pine floors.
Choose Your Furniture Color Accordingly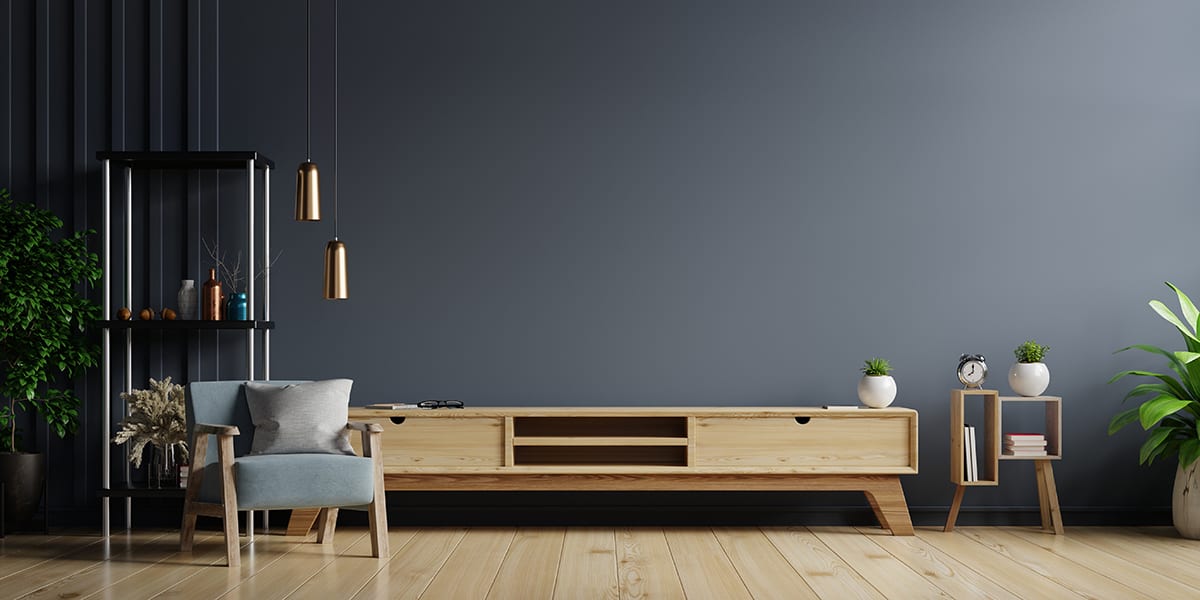 Whilst we're on the subject of dark blue walls and light wood floors, it is important to choose the right furniture color to complement the two elements.
This approach helps keep your room from appearing too much like a dark cave. For example, when you have dark blue walls and light pine flooring, you may want to add light blue seating furniture with a natural wood TV cabinet, as shown in this example.
This minimalist-style room doesn't feel too dark thanks to the light furnishings that complement both the dark wall and the light-color floor.
Include House Plants for Dash of Color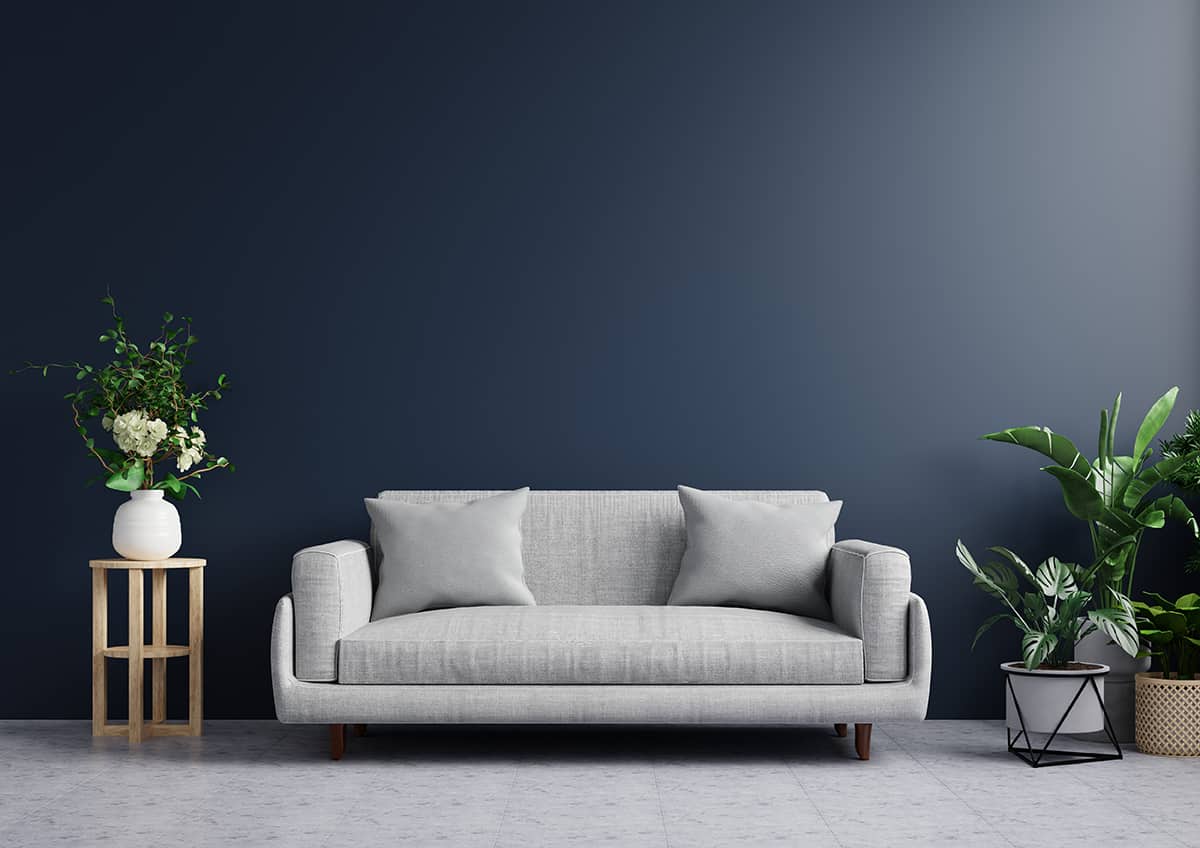 Who doesn't love house plants! Indoor plants help purify the air we breathe and add color to our space. Whether you choose aloe vera, ficus, or succulents to bring freshness to your room, you can add a rustic touch to your dark walls and light floors.
Indoor plants unify any theme and make it pop as you can see in this example. The living room features a dark blue wall, white tiled flooring, and a light gray couch with plenty of indoor plants for a warm, nature-inspired feel. You can also add hanging plants on the wall behind the couch or mount a wooden shelf on the wall with lots of small succulents on display.
Do Light Floors Make a Room Appear Bigger?
Most people believe that dark color floors can constrict the sense of space. This conception is partly true as dark tile or hardwood colors can make a small room appear even smaller, especially when they are paired with darker trim or molding colors.
In such instances, you should use white or other neutral trim colors in warm tones in order to bring a sense of expansiveness.
That said, there is no denying how brighter and bigger light color floors can make a room appear. This is because light-colored floors are more reflective, thus maximizing the natural light effect. As a result, your room will feel airier and open thanks to the soft, light color tones of your hardwood or tile flooring.
Reasons to Choose Light-Color Floors
They hide debris and light-color hair better: if you have pets or children with light-color hair, having light floors will hide their debris better than dark-color ones. There are also shiny light-color composite floors with grain patterns that don't show stains as much as darker ones.
Can make a small room appear larger: light colors bounce lighter than dark floors, thus making a space feel bigger.
Gives a casual feel to the space: light-color floors have a casual feel to them, which suits any style of interior. They make an ideal choice for informal living rooms and bedrooms.
Versatile and flexible: with light-color floors, you can match them to any interior design style, such as rustic, contemporary, mid-century modern, and many more. For light hardwood floors, you can find any stain or paint finish to achieve your desired vibe.
They go well with dark walls: if you have dark-colored walls, it makes sense to choose light-color flooring to help visually balance the contrasting colors.
Is it Easy to Keep Light-Color Floors Clean?
Light-color floors have their own unique advantages and disadvantages. For one, they show less dust but more dirt when compared to dark-color floors. But if you want to hide marks or scuffs as well as dirt, go for a satin finish as flaws or damages won't show as much on this type of paint finish.
So if you're wondering whether light-color floors are easy to keep clean, you should know that dirt and stains are easily noticeable on light-color floors. Therefore, you must clean such floors more often.
That said, there is always an alternative to cleaning your floors regularly; just remove your footwear at the door before walking on the light-color floor in order to protect it for longer.