Dark hardwood flooring gives a classy touch to any traditional or modern setting. But when it comes to choosing the right furniture color that goes with dark hardwood floors, the decision can often feel overwhelming. Dark furniture can make a living space heavy and closed in so you must also consider the ceiling and wall paint colors. Using too many dark shades can feel claustrophobic as they don't give a positive vibe to a room. It is, therefore, best to mix darker shades with light colors to enliven the atmosphere.
It is easy to achieve beautiful contrasts with dark wood flooring. There are many smart furniture color options to design around your hardwood floor. Since dark wooden floors can withstand high foot traffic, it is not surprising to see why so many homeowners opt for this durable choice over light wooden flooring.
If you want to personalize your dark hardwood floors with contrasting and complementing furniture colors, here are our top ideas with pictures to give you some inspiration:
Best Furniture Colors that Go with Dark Hardwood Floors
White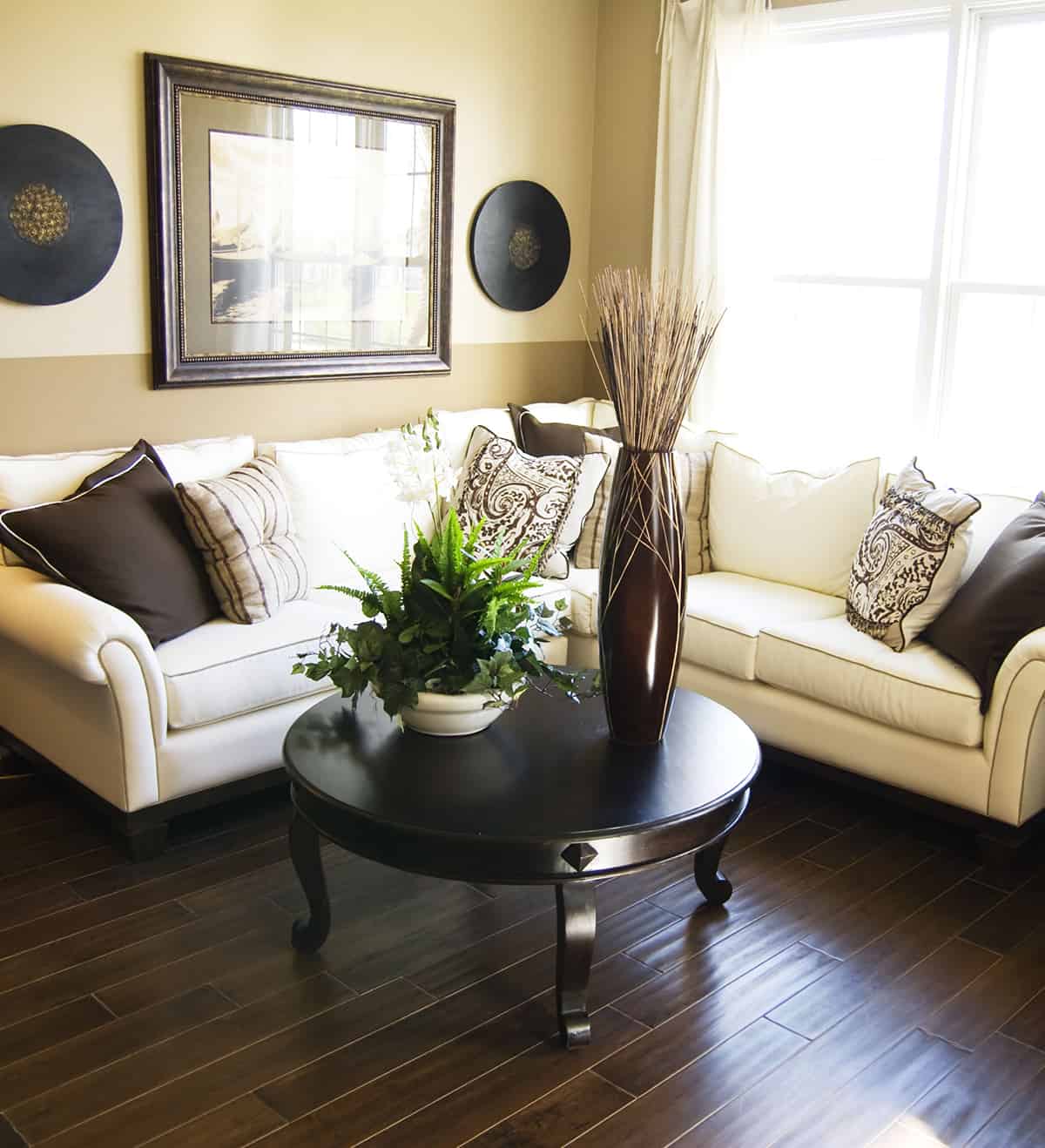 White goes with everything so why not include some bright white seating to go with your dark hardwood floors. White sofas with some decorative pillows in several colors will brighten up your living room. This color pairing will make the room feel larger and brighter. In addition, white furniture will conform to the dark wooden floors and balance the room by adding a sense of purity and airiness.
Light to Medium Wood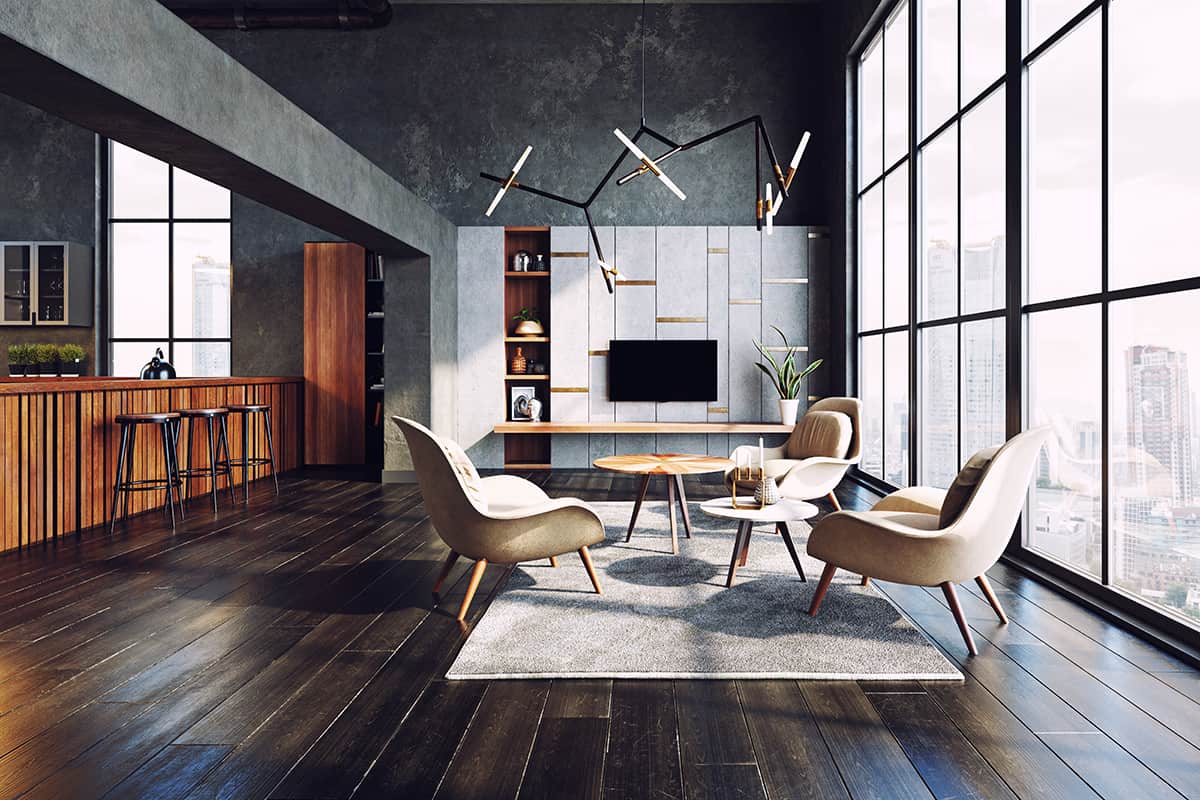 A light to medium shade of wood furniture will also work in harmony with dark hardwood floors. For example, you may choose a light color sofa with light to medium shade of wood for the legs. Alternatively, you can place some wooden chairs around the room to lighten up the space as shown here.
Dark Wood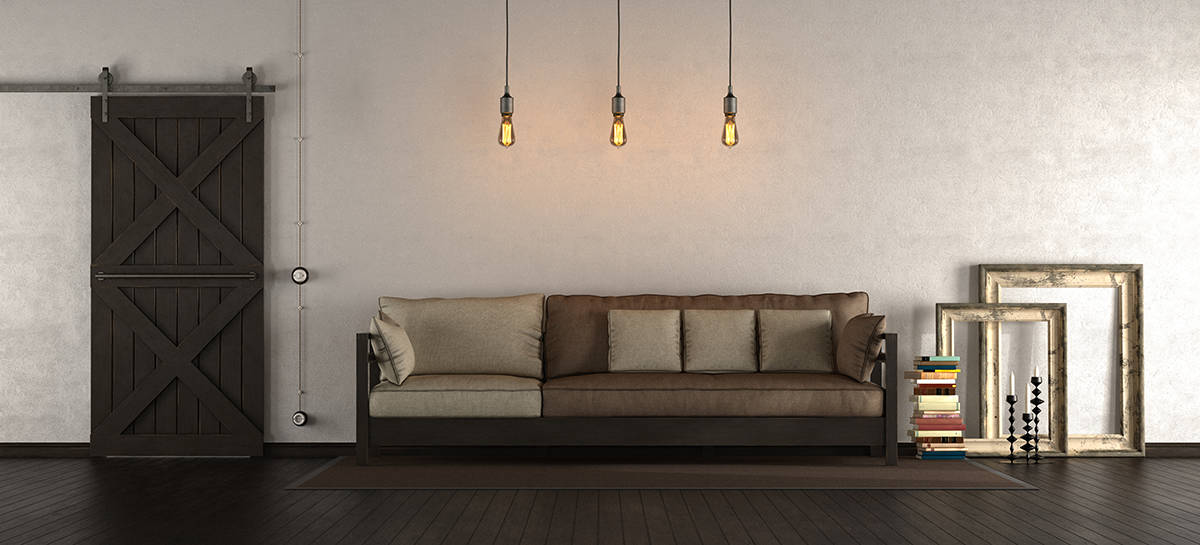 If your living space is large and open, you may choose dark wood furniture to match your flooring. This will create a coordinated look, especially in rustic style home. Your sofa's frame can be in dark wood, or you can decorate it with a dark wood coffee table for a cohesive look. This combination works best in large, open spaces to enhance the rustic beauty of the room.
Dark Blue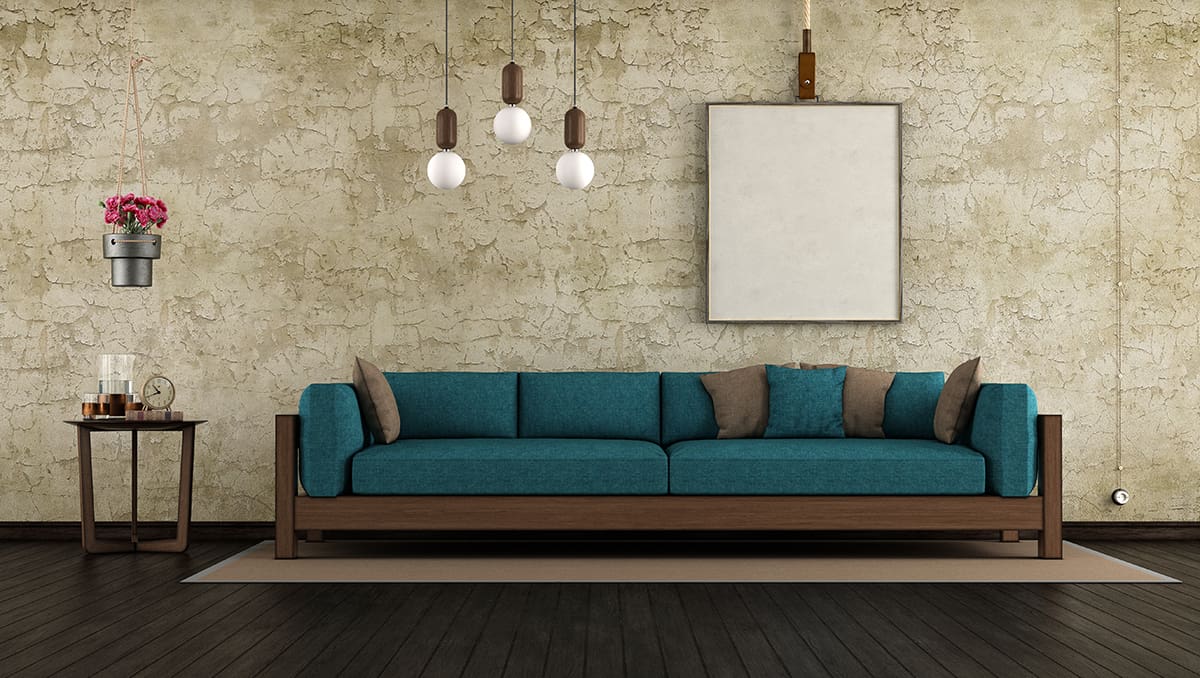 If you still want to keep the sofa legs or frame in dark brown, you can always choose a dark blue shade for the seating parts of the sofa. The combination of dark blue and brown will complement the dark hardwood floors as shown in this example. To avoid making the room feel dark, paint the walls a neutral color.
Grey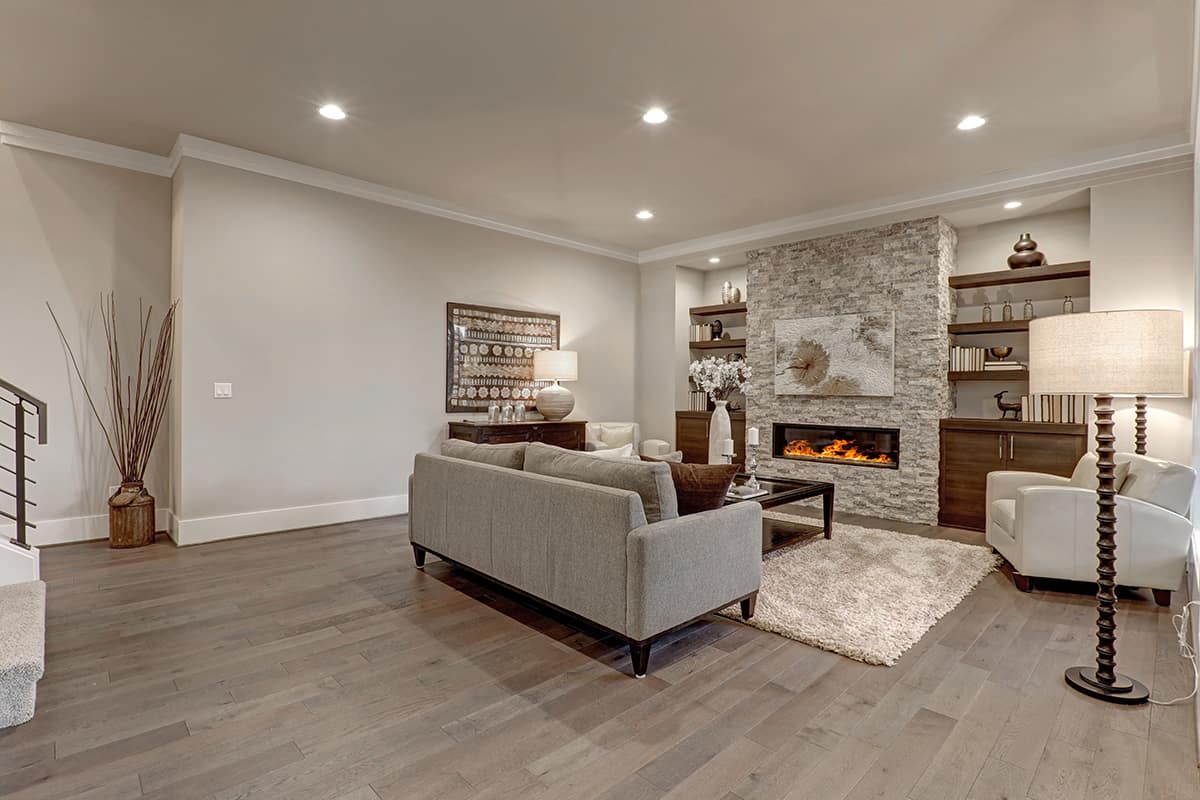 A neutral yet modern color like grey pairs well with dark hardwood floors. To keep your living room welcoming and elegant, use grey sofas with white walls to blend with the dark floor. It doesn't matter how dark your wooden floor is, as grey furniture will further enhance its sophisticated look just like the example shown here.
Brown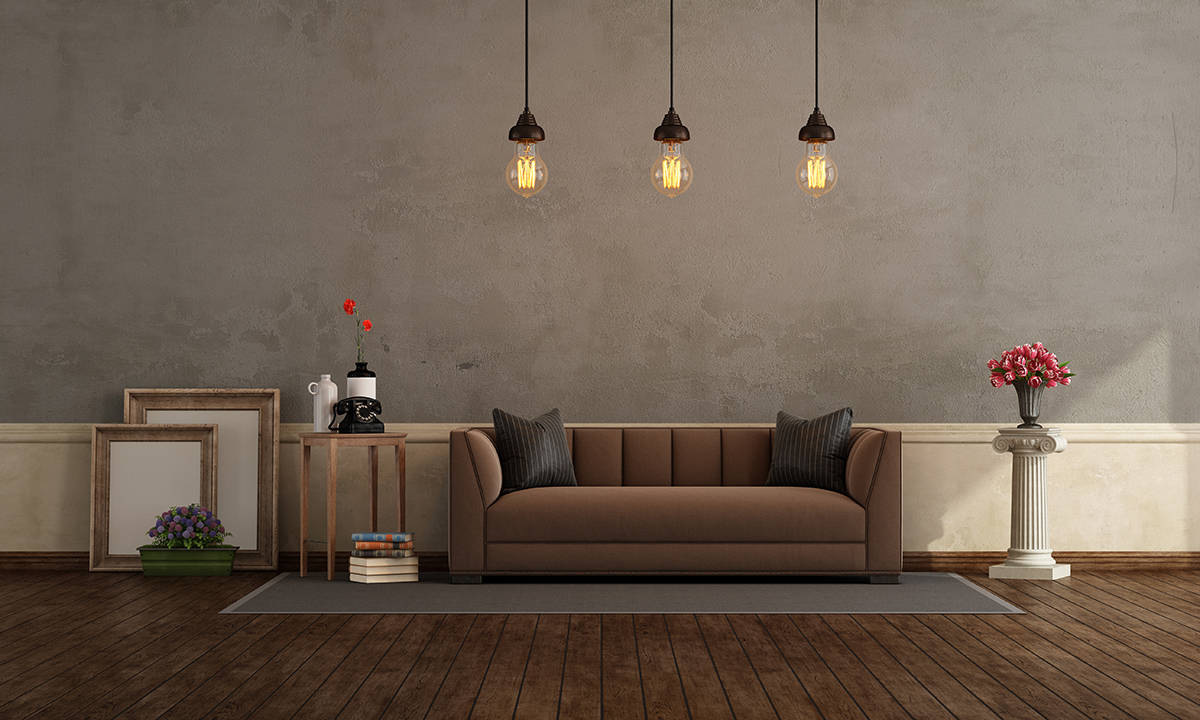 An earthy color that goes perfectly with dark wood is brown. Using this trendy color for your sofa, rug or coffee table will give the living room a positive and retro vibe. If your wooden floor resembles brown, it is best to use the exact shade for your furniture to give your room a cohesive look. See how inviting this retro living room is with its brown sofa and matching brown floors. The rest of the room doesn't look closed in as brighter colors are also used to liven up the space.
Black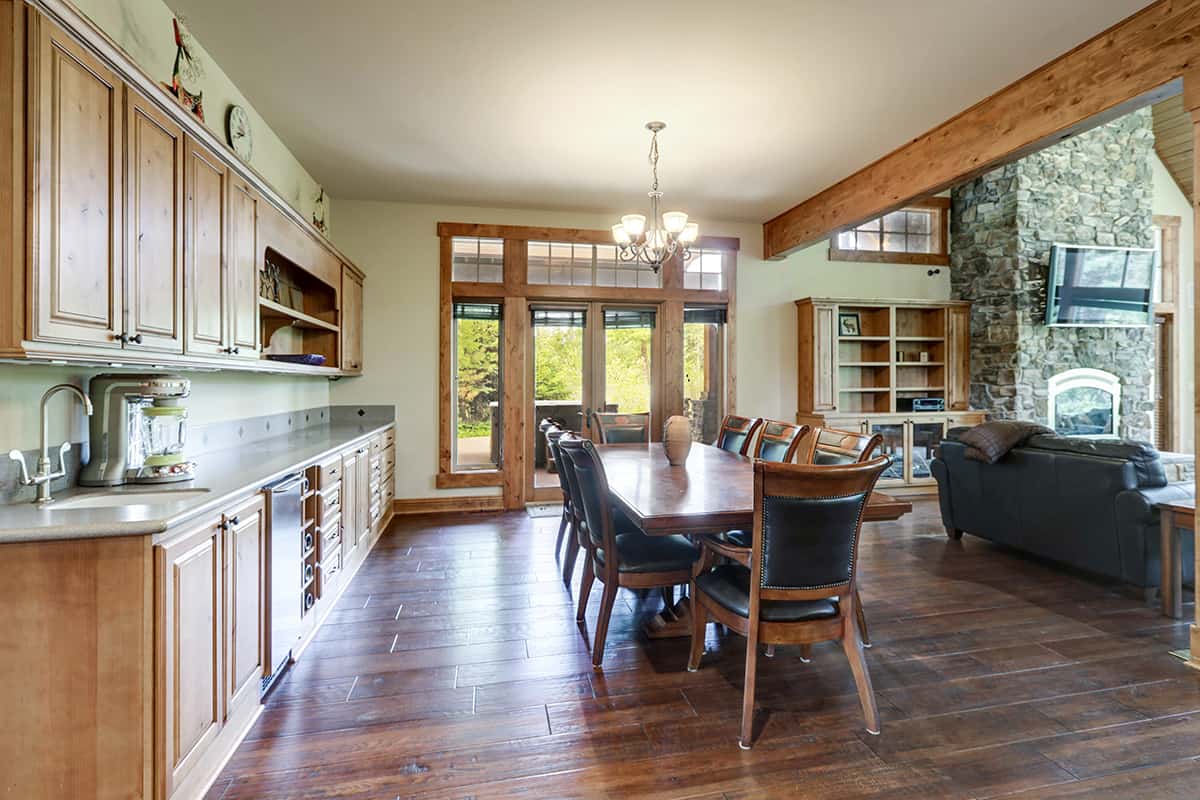 A formal dining room with dark hardwood floors can benefit from black seating furniture. If you think black is too dark against the floor, mix it up with some medium to dark brown shades. Just like in this example, the stylish dining room has a blend of light and dark brown with hints of black that go perfectly with the wooden floors. You can even create contrast between black and brown by adding an off-white paint color to the walls and ceiling.
Green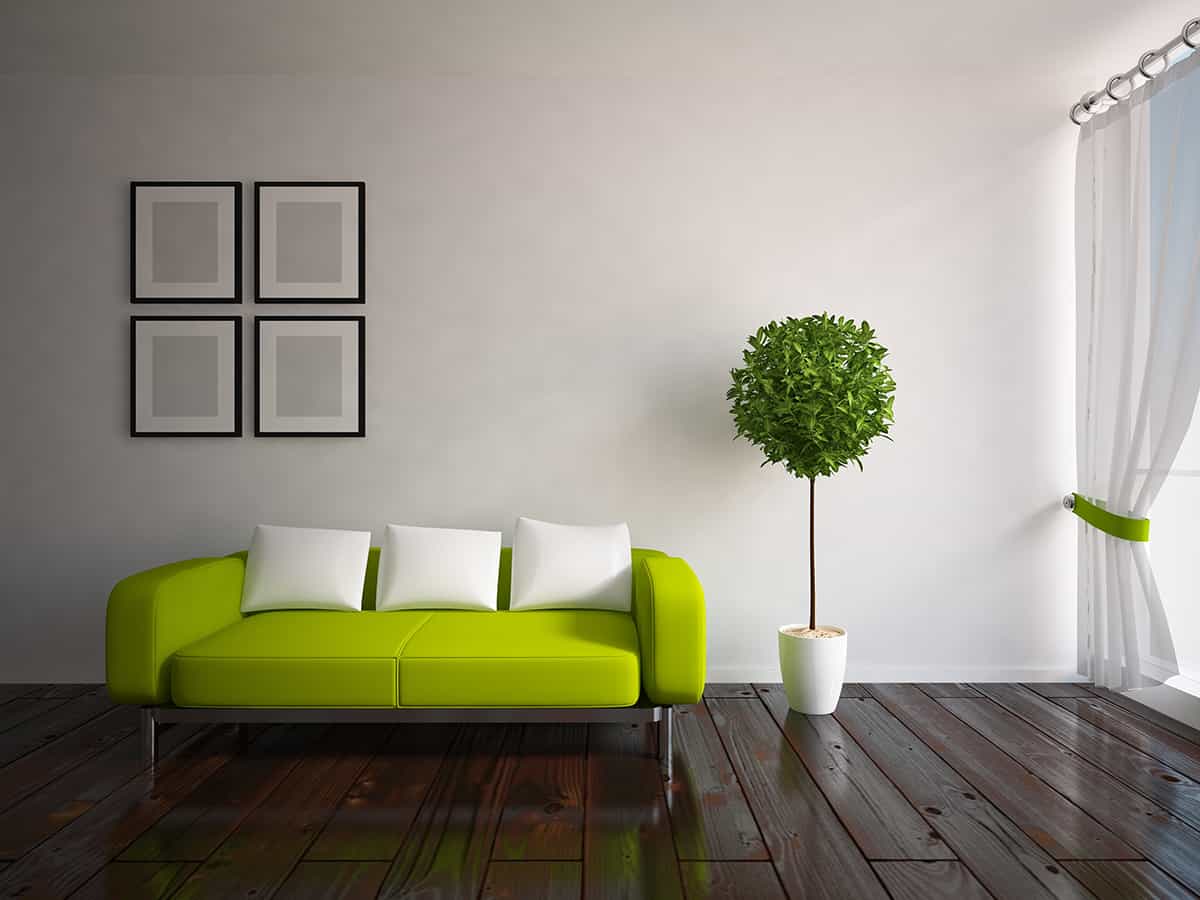 Green furniture might not be the first color that comes to mind, but since it's a nature-inspired color like earthy brown, it makes sense to pair a pistachio green couch to add prestige to the room. You may even opt for mint green furniture as a darker shade that goes well with dark brown. To brighten up the room even more, hang sheer white curtains and paint the wall white as shown here.
A Mix of Neutrals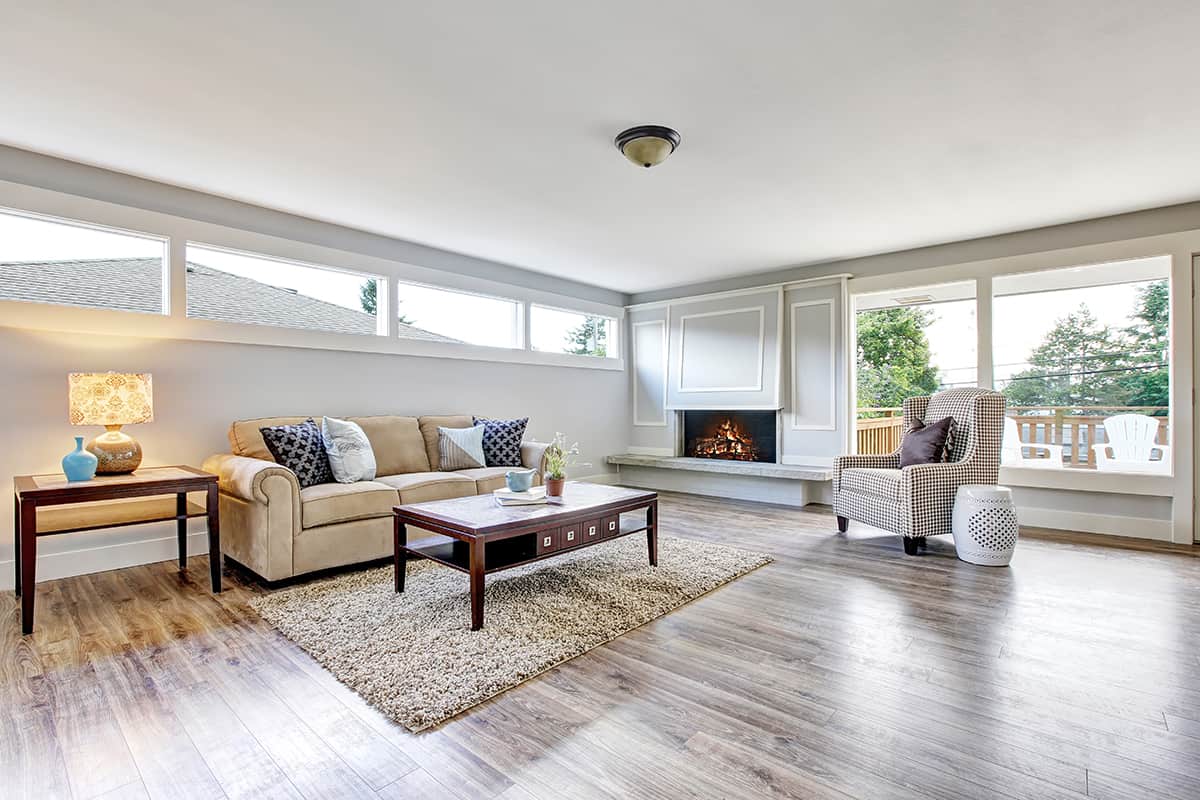 You don't necessarily have to stick to just one furniture color for your dark wooden floors. A combination of beige, grey and white (neutrals) will work nicely on dark hardwood floors. Add a neutral rug and other accessories to your living room to make it even more attractive.
In this inviting living room, the sofas are in two neutral colors, which work well with the hardwood floors. The dark brown tables work in harmony with the neutral furnishings and provide a polished feel. The only thing missing here is a light color window treatment to complete the look!
Orange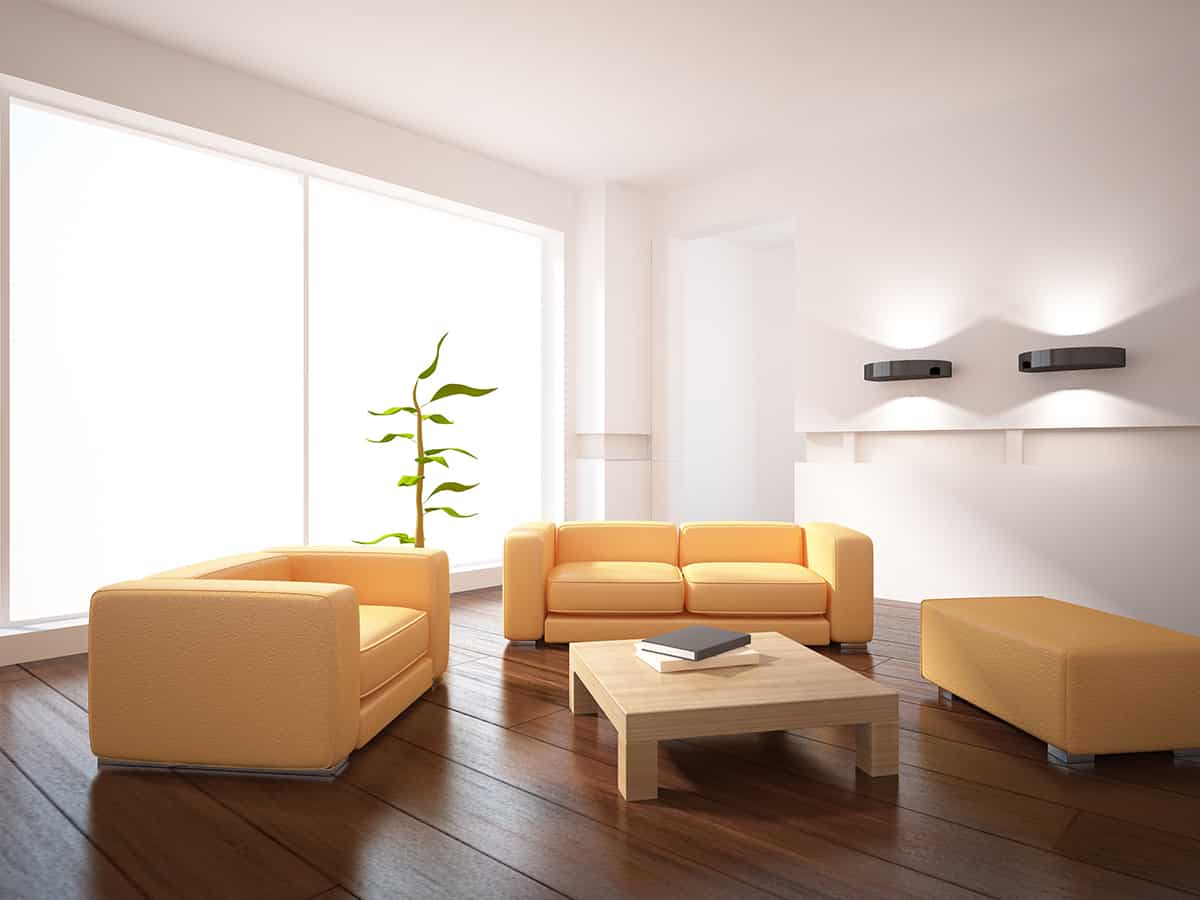 Why not get a little daring and go for a bold furniture color to layer your room. This will take the spotlight from the dark wooden floors and instead draw the eye to the furniture. One bold and bright color that you might want to consider is orange. The burst of brightness from this color will liven up your living room. A couple of light orange couches strategically placed in the middle of the living room with a light wood table will look beautiful. These color combos are sure to add value to your home!
Purple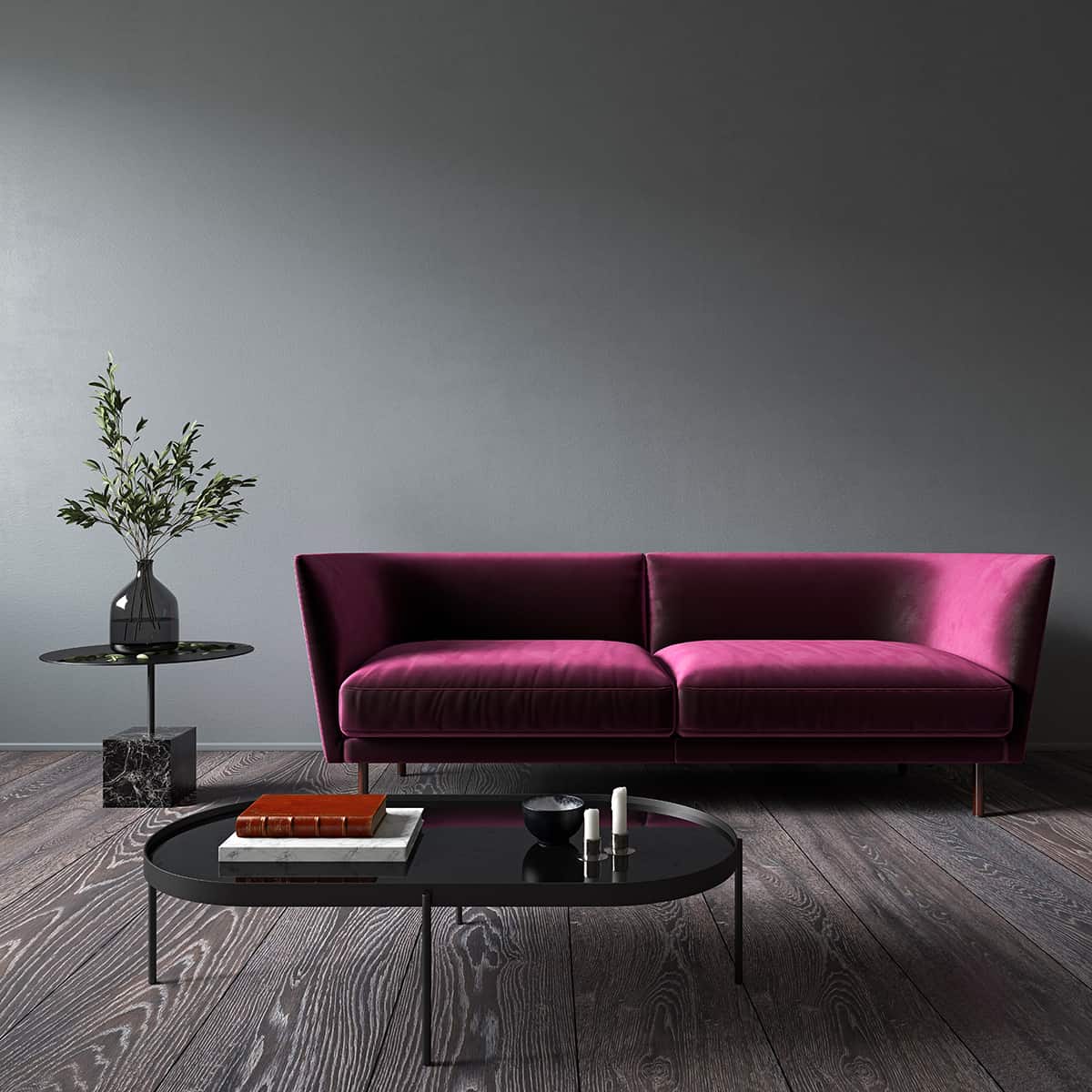 To continue with the bold and bright furniture color ideas, how about a gorgeous shade of purple like indigo or violet. Dark hardwood floors are the perfect backdrop for such bright and daring colors like purple. In a formal room, a vivid purple sofa will complete the room's aesthetic design and allows the furniture to stand out.
Take a look at how beautiful this purple sofa looks in a room with black tables and grey hardwood flooring. No matter how dark your wood flooring is, you can add an elegant purple sofa as the focal point of the room.
Yellow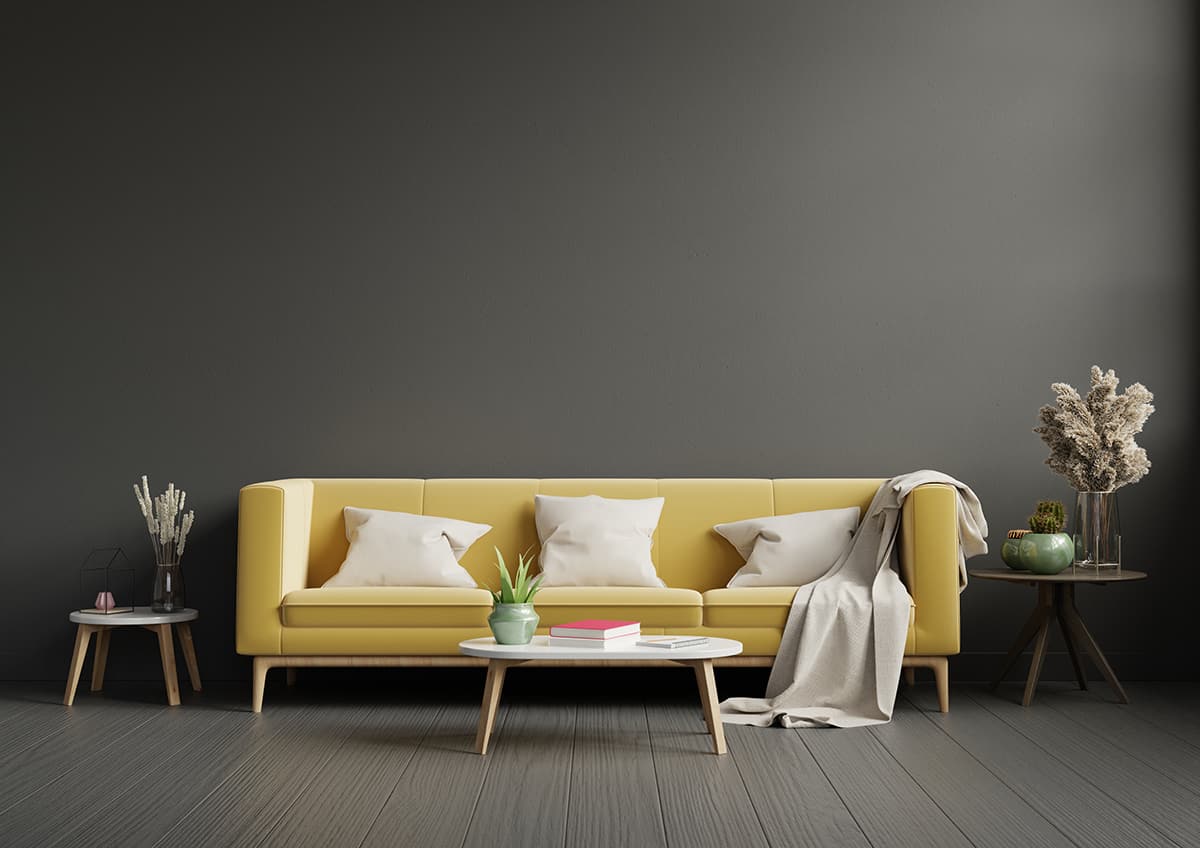 Another smart and bold option for furniture color is sunny yellow against dark hardwood floors. A bright yellow couch provides a burst of color that perfectly goes with dark grey or brown hardwood floors.
See how this yellow sofa with its crisp white throw pillows and blanket stand out in this modern interior. Every other color stands in the background while the bold shade of yellow truly pops.
How do I Brighten Up My Room with Dark Hardwood Floors?
Select your furniture color carefully: if you have picked dark color furniture like red, black, or dark brown, be sure to add some neutral tones like greys or whites to the room.
Add colorful accents: just because you have dark wood floors, it doesn't mean you can't use pops of color. Blankets, throw pillows, or wall decors in bright colors will add dimension to a room with dark hardwood floors. You may even paint your door trimmings the same color as your wood floors.
Paint the walls a light color: the best way to brighten up your room with dark hardwood floors is to paint the walls a contrasting color. This will offset against your flooring and provide a nice balance between the light and dark hues. What's more, light paint color on the walls will cause more light to bounce around the living room, thus making it feel larger and brighter. Wall paint colors, such as cream or off-white will work nicely with dark hardwood floors.
Hang sheer curtains: the window treatments can also play a role in brightening up a living room with dark hardwood floors. Hang sheer white or beige curtains to bring flow to your room. Light fabrics provide enough privacy while still letting plenty of natural light enter the living room. As a curtain alternative, you may opt for fabric panel blinds to add depth and texture to your room.
Final Thoughts
If you want to add a sophisticated flair to your living space, dark hardwood floors are an excellent solution. These low-maintenance floors are highly durable and ideal for high-traffic areas. With their striking appearance, you can easily create a modern interior by coordinating the right furniture colors based on our list of ideas.