A coffee table is a must item for any living room. There are many kinds with different looks and functions, but all have the same purpose – to improve the home interior design and comprehend your living room style. If you're looking for coffee table decor ideas, then look no further.
Read on to discover popular, unique, and imaginative inspiration for your coffee table decor.
1. Minimal Rustic Coffee Table

This coffee table has been sanded back to reveal its beautiful naturally pale tones. The simplicity and straight edges of the table design make it work perfectly in a minimalist space, while the choice of a natural wooden material ensures it is warm and inviting.
2. Angular Metal Framed Coffee Table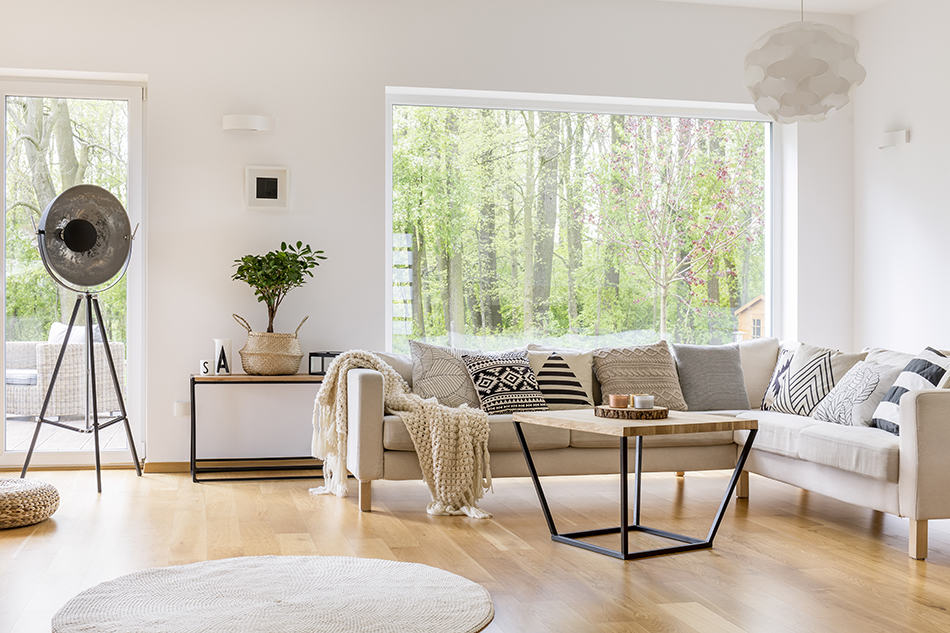 This coffee table has an industrial edge to it thanks to the black metal frame beneath the plain square of wood which acts as the tabletop. The angles in this table give it added interest while keeping it simple.
3. Pallet Coffee Table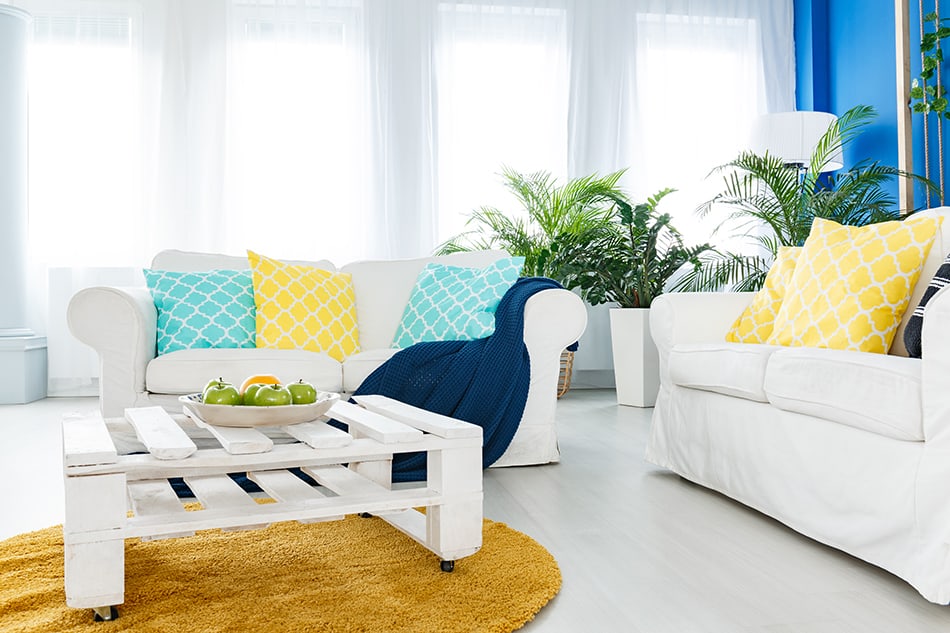 For casual or coastal style interiors, utilizing old wooden pallets is a very inexpensive way to furnish a room. In this case, the pallet has been painted white to fit with the beachy feel of the space, and castors have been added to make the table more practical.
4. Vintage Trunk Coffee Table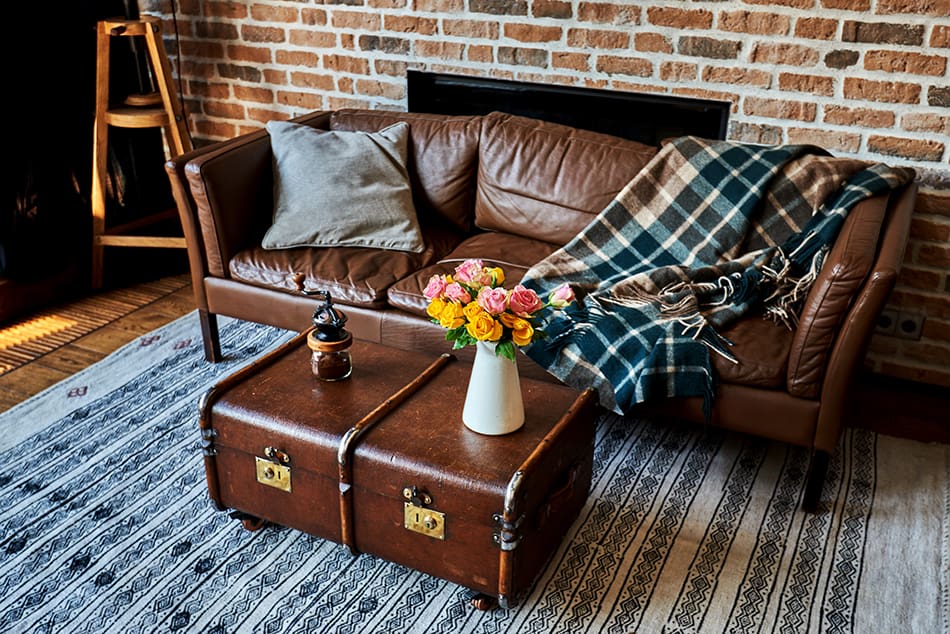 Coffee tables don't need to have been designed with that purpose in mind, and actually, there are a number of items you could use as a coffee table. Old trunks are ideal for use as coffee tables because they are the perfect size and height. Old trunks can also add a vintage or antique style to a room.
5. Marble Coffee Table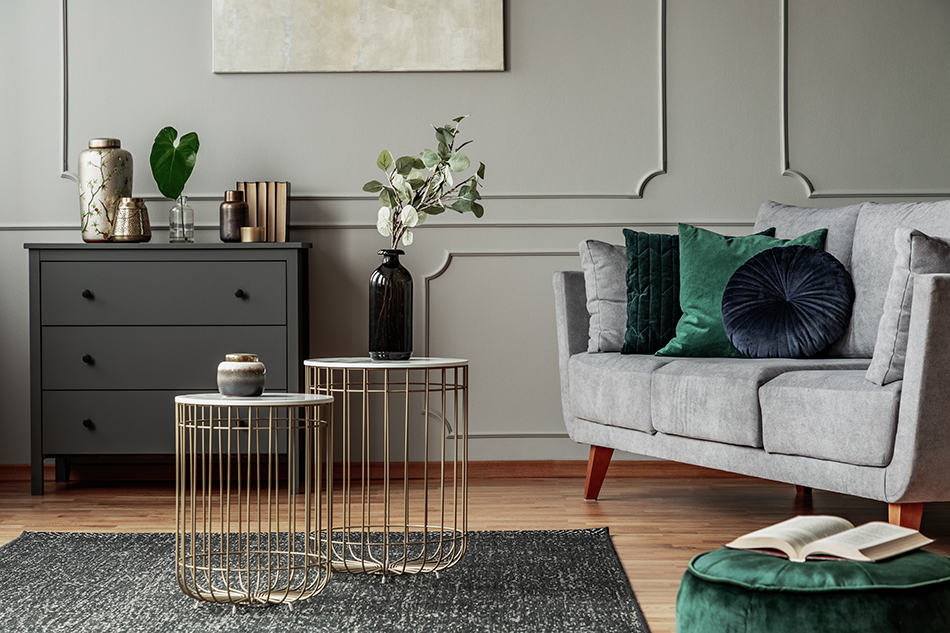 This set of two matching coffee tables have marble surfaces, which exude elegance and sophistication. The metal cage-like design of the table legs ensures that it is modern and relevant.
6. Modern Boho Coffee Table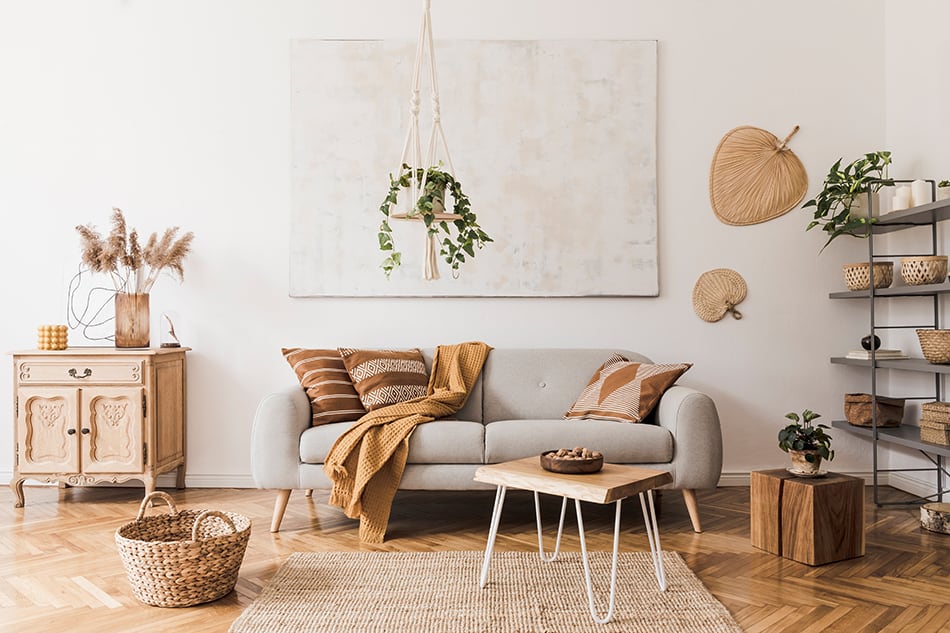 This coffee table has hairpin metal legs that have been sprayed white, with an angular slab of wood for the tabletop. It has a casual style that works well with modern boho-themed interiors, but it is neutral enough that you could also use this type of table in other spaces.
7. Ornate Coffee Table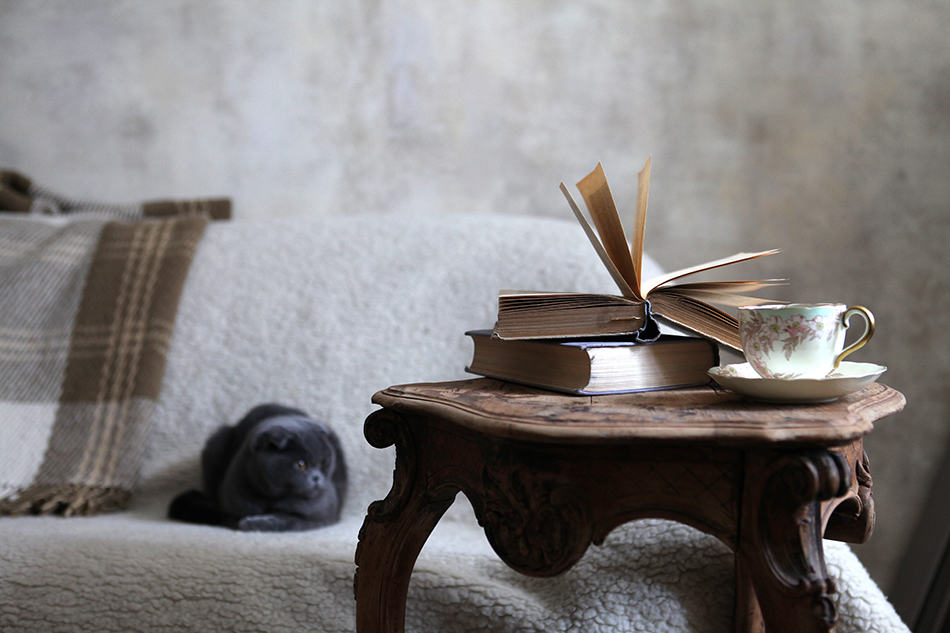 This antique coffee table features detailed carvings in a traditional style. The ornate markings lend it well to use in a farmhouse style space, or a vintage interior theme. The dark wood gives the table a weighted look and makes it a more dramatic piece of furniture.
8. Solid Cube Coffee Table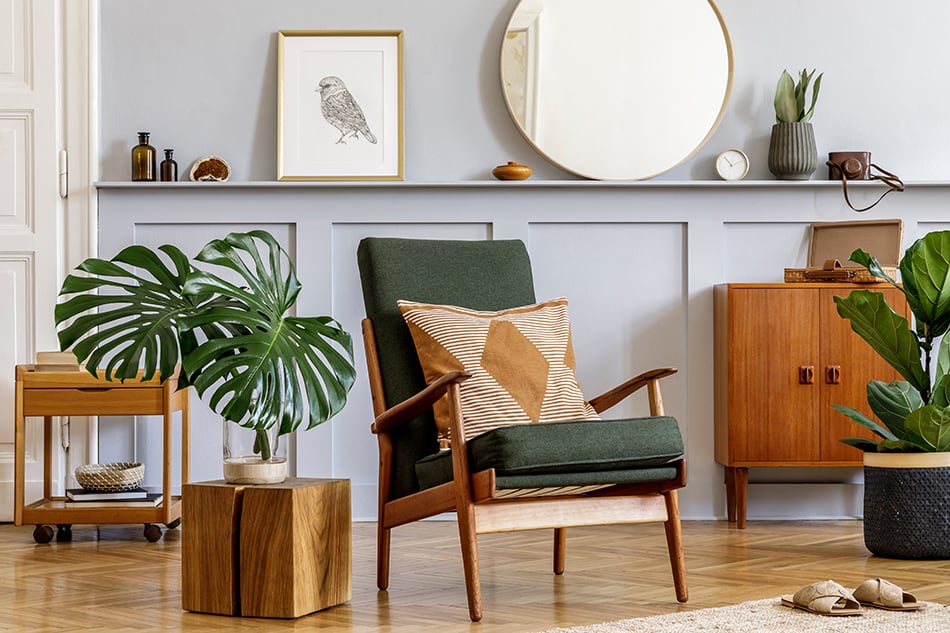 (Image: Stylish interior of living room with design armchair, wooden vintage commode, round mirror, shelf, tropical leaf, coffee table, decoration, carpet and personal accessories in home decor)
This side table is formed simply from a cube-shaped solid piece of wood. The chunky design of the table makes quite a big impact despite the table being small. This type of coffee table is sturdy and therefore well suited to those with young children.
9. Circular Coffee Table with Storage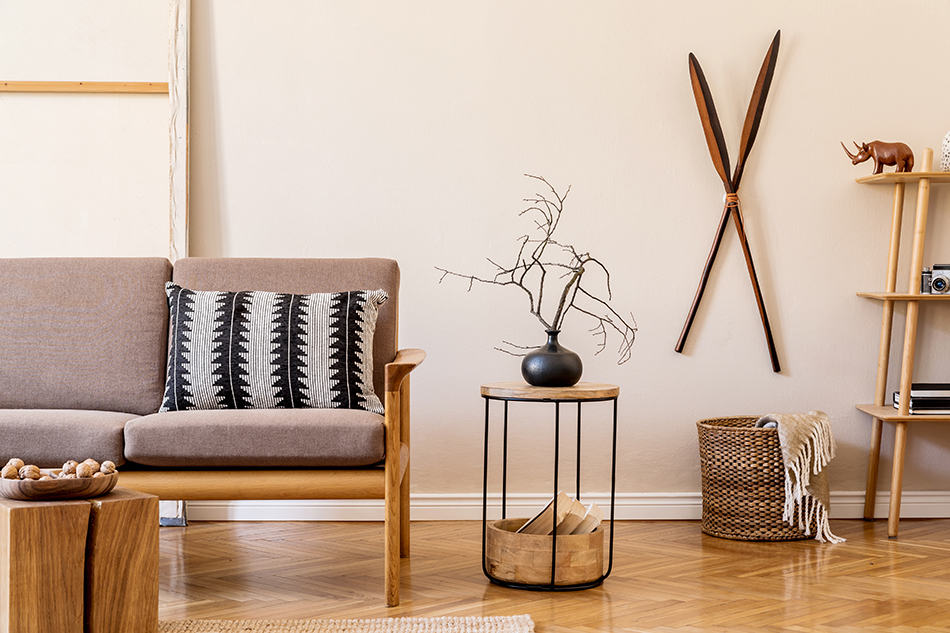 This coffee table has a minimalist design due to the slender metal legs; however, it has the additional feature of a storage compartment at the bottom to keep small objects out of the way and hidden from view. The circular tabletop gives the furniture a more casual and less formal style.
10. Glass Coffee Table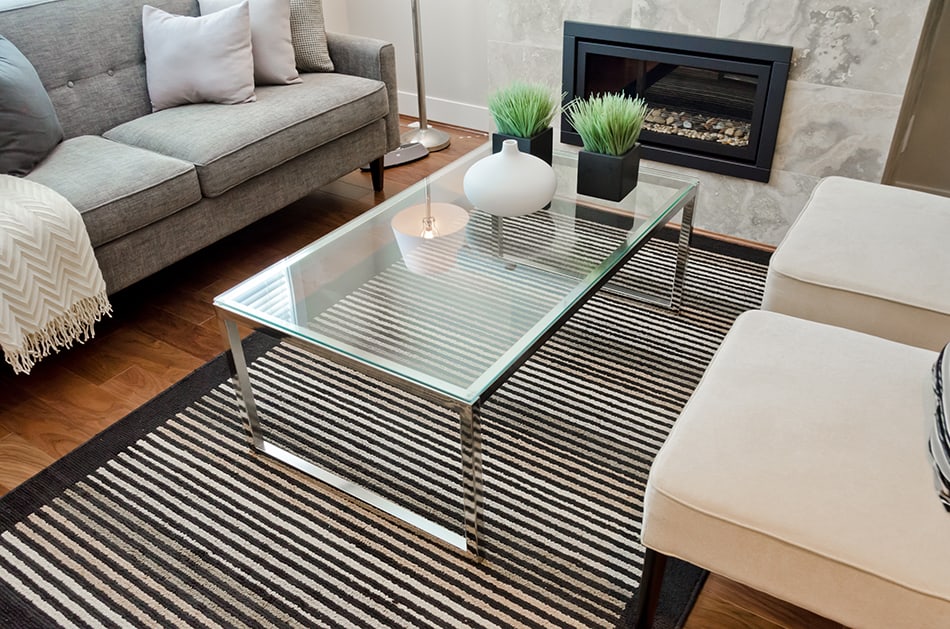 Glass coffee tables are great for creating a feeling of space and airiness, as they allow light to pass through and don't create the barrier that solid coffee tables do. This glass table has a very sleek and modern look, paired with the high gloss silver metal legs.
11. Wood and Resin Coffee Table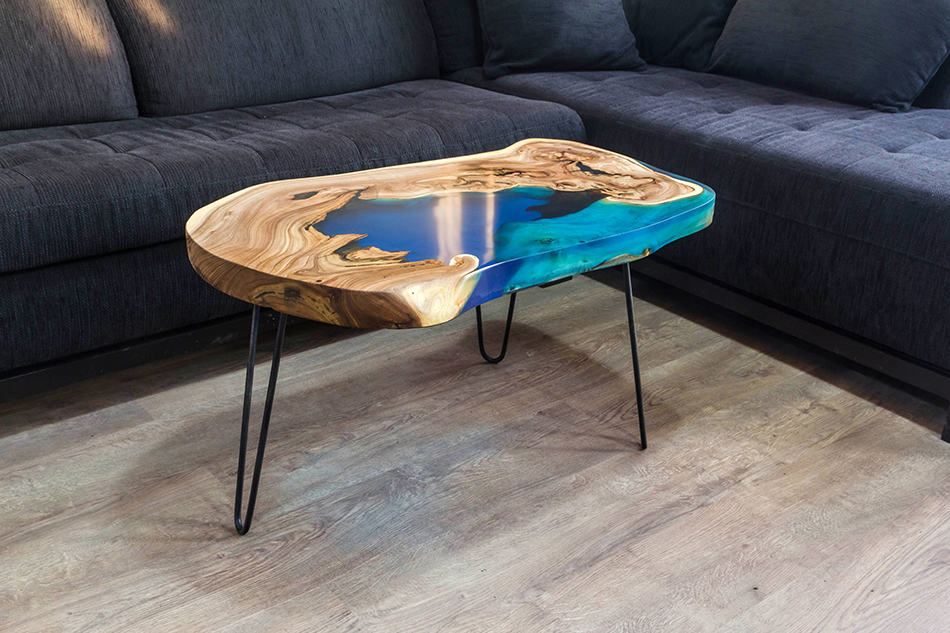 Wooden furniture filled with colored resin creates a bold style statement that is rapidly growing in popularity. This look combines both rustic with ultra-modern styling, which adds a really unique feel to a space. You can find makers of resin furniture online who will customize the color of the resin to match your interior theme.
12. Rustic Cart Coffee Table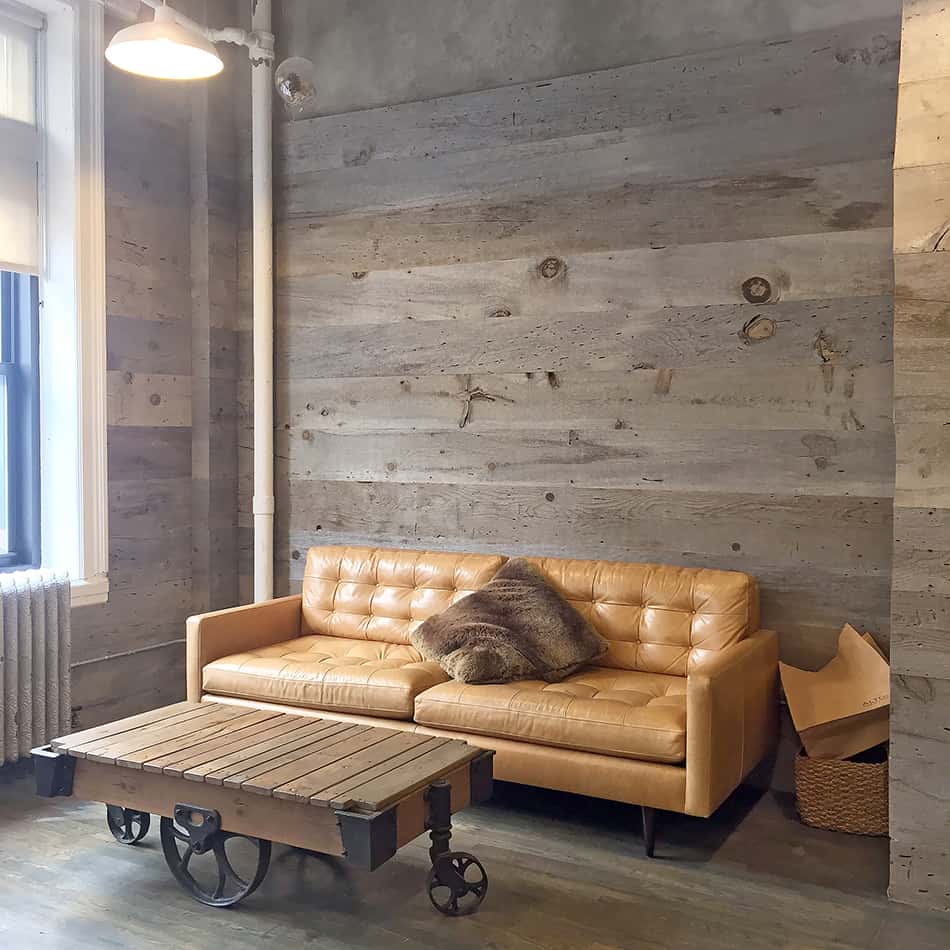 Coffee tables like this can be made from genuine antique carts, or be replicas styled to look like old carts. Either way, this type of coffee table will help to define the theme of the room as rustic and vintage. The great thing about rustic furniture is that it doesn't matter if it suffers from wear and tear, as any scratches or marks will just add to the wood's character.
13. Clock Coffee Table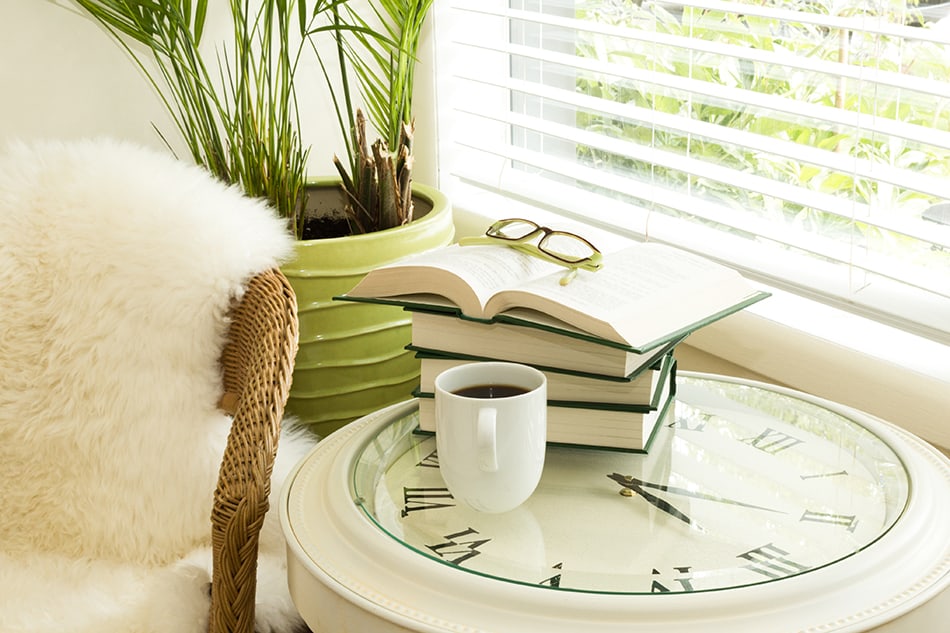 This unique coffee table utilizes a clock face as the surface of the table. It adds a touch of whimsy to the interior decor theme and doubles up as an actual clock so you can read the time while seated nearby.
14. Minimalist Industrial Coffee Table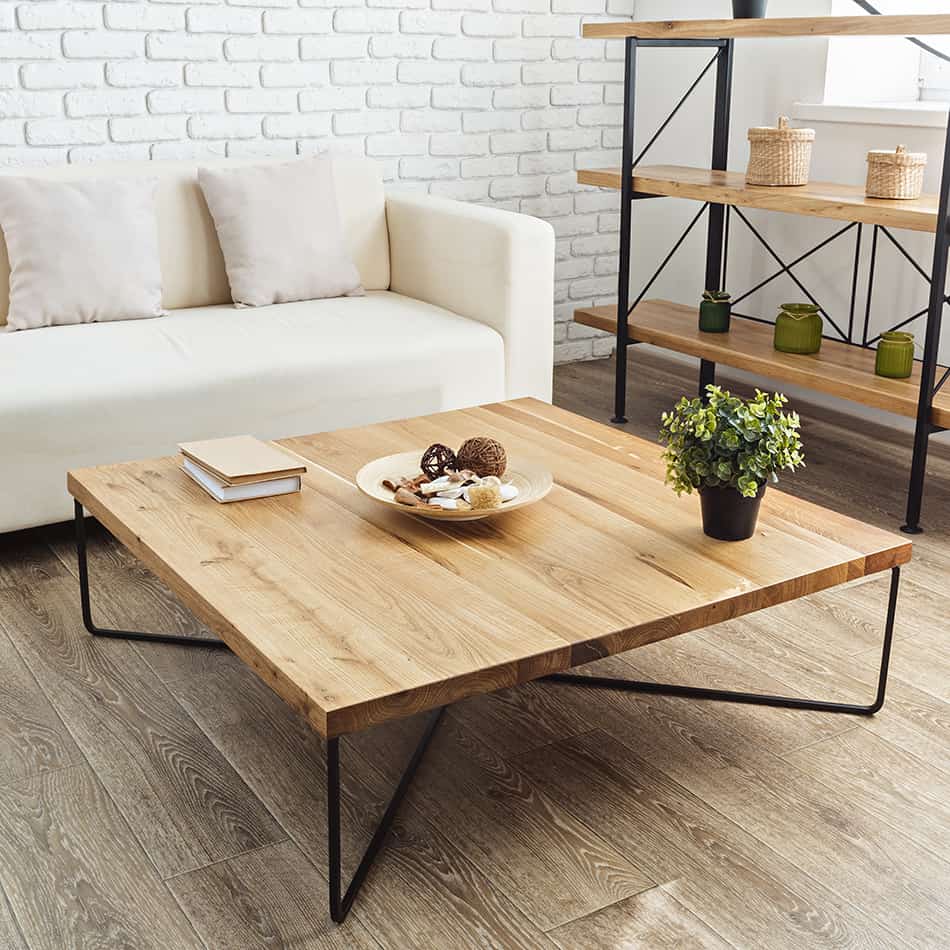 If you have a loft space to furnish or an industrial-style interior, then a coffee table like this would work well. The black metal legs and the clean lines of the wood give this table a minimalist edge while keeping with the industrial look.
15. Coffee Table on Wheels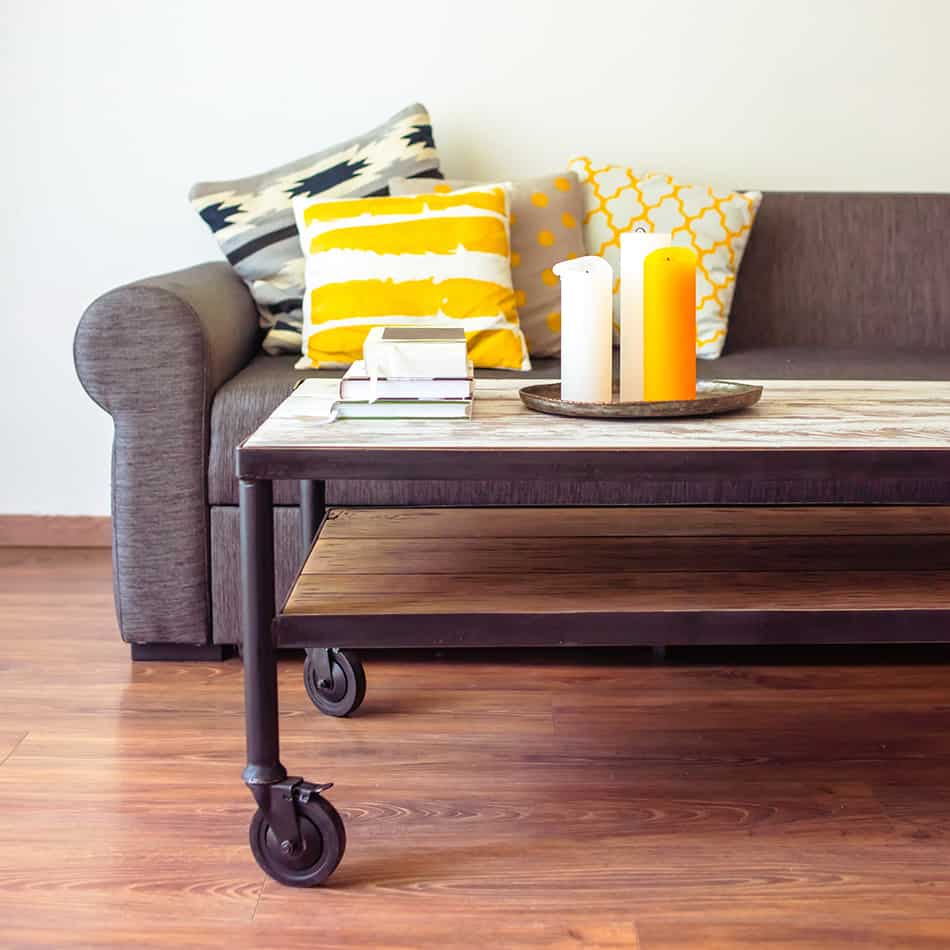 This wooden coffee table has casters, which makes it easily portable to different areas of the living room. This adds an element of functionality, but the wheels also serve as a design feature, giving the table a rustic yet industrial style.
16. Stainless Steel Coffee Table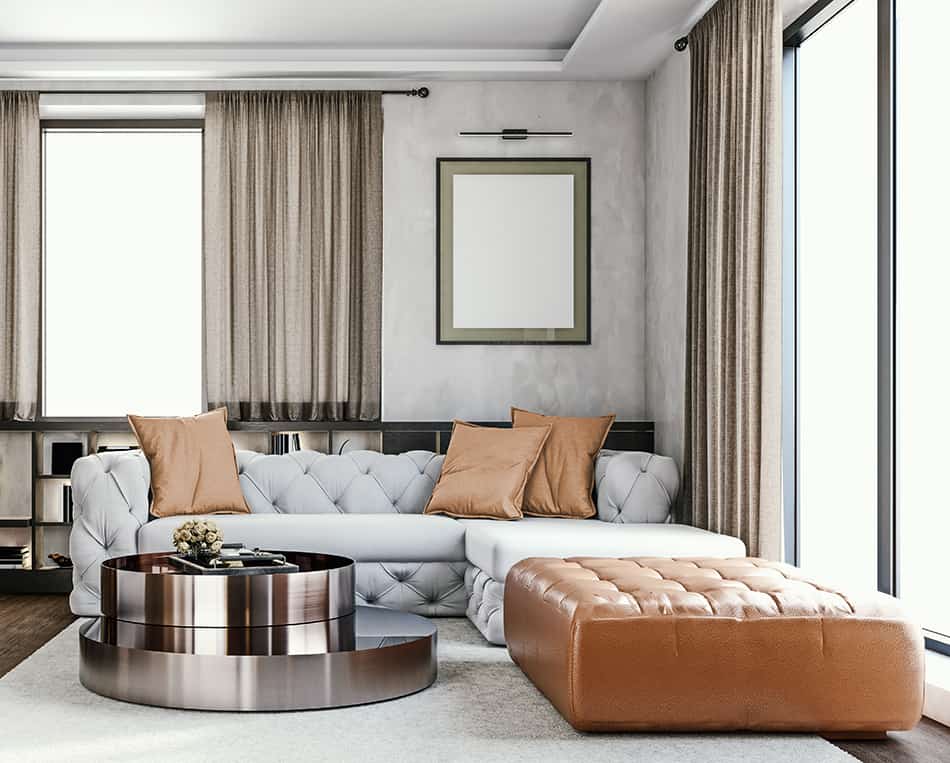 This unusual coffee table made from a silver-colored metal has a flawless finish which gives it a luxurious and modern feel. Opting for a metal material over wood creates a more formal space and is ideal for use in formal living rooms or office meeting spaces.
17. Patterned Coffee Table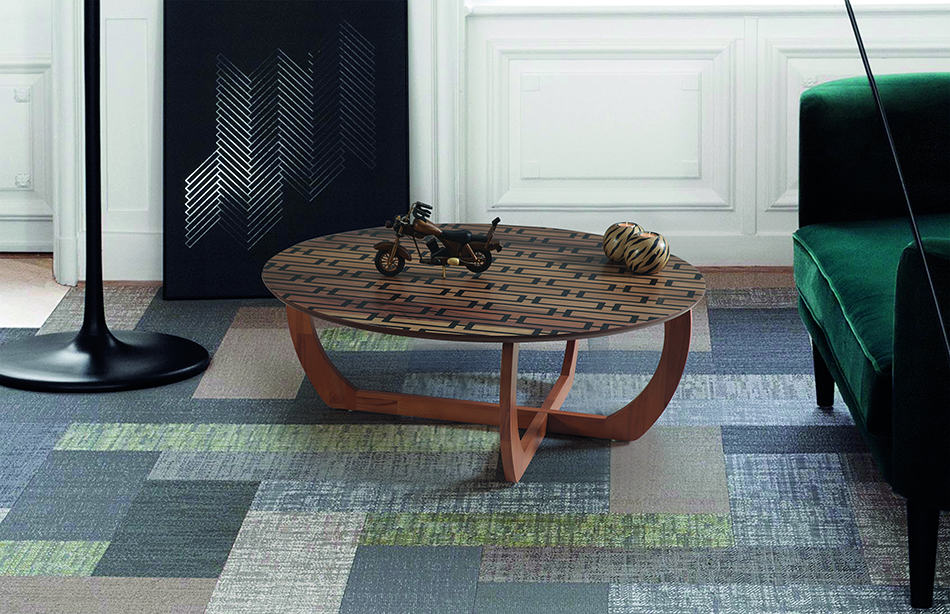 This wooden coffee table has a repeating geometric pattern printed on the top to make it a little more interesting. If your interior decor is themed around a particular pattern, you could source a coffee table to match or even paint your own pattern on top of your old coffee table with a stencil and wood paint to upcycle it.
18. Painted French Style Coffee Table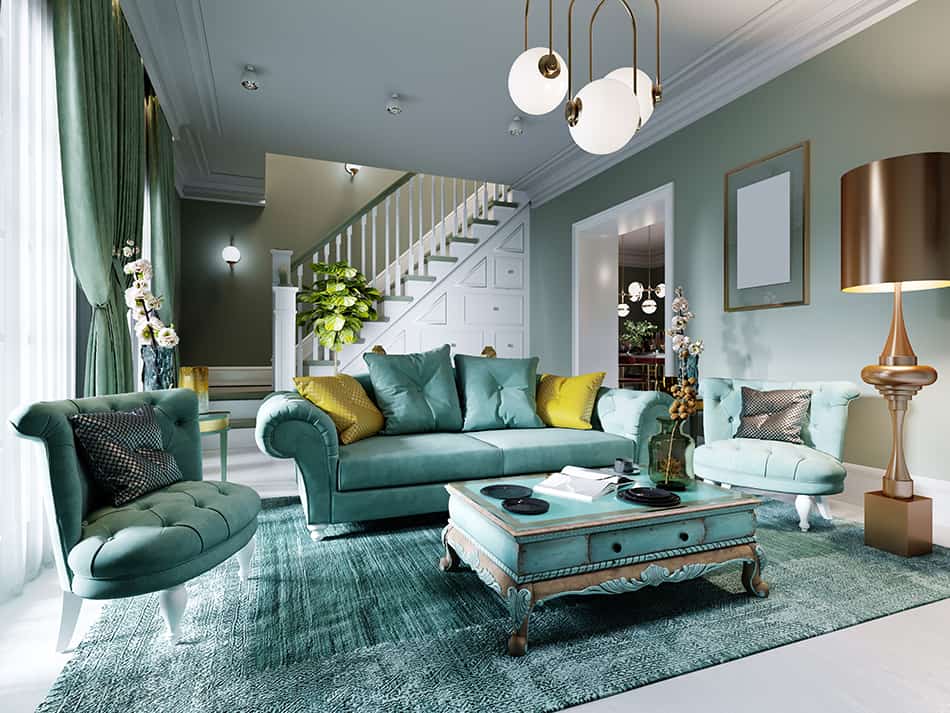 This coffee table features ornate carvings in a classical French furniture style. Painted wooden furniture is a very popular French style, and in this case, the color used is a sweet shade of mint. This type of coffee table helps a room to achieve a traditional or classic look.
19. Marble and Gold Coffee Table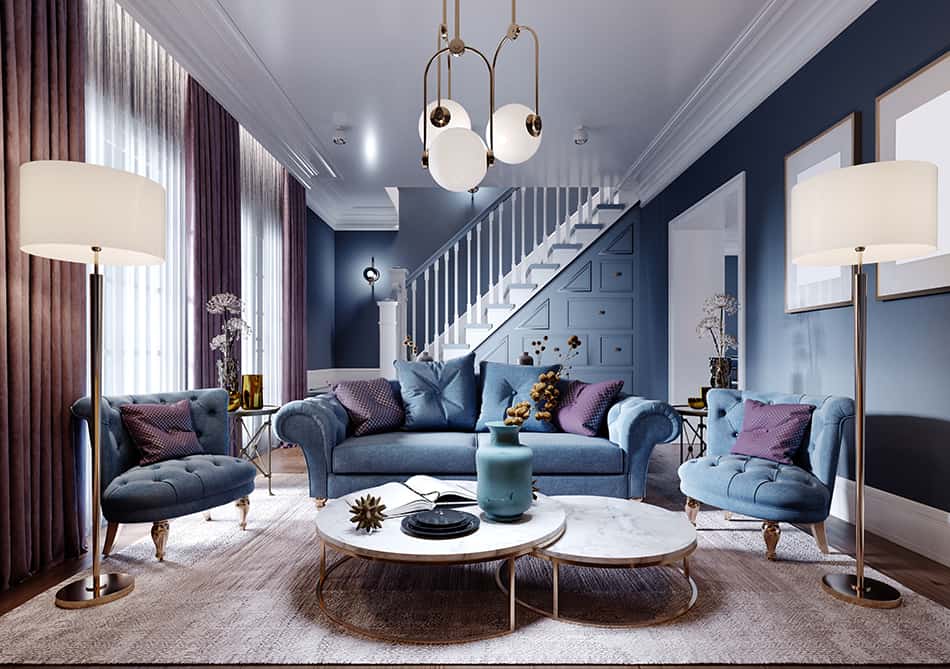 Pairing up a marble surface with a high gloss warm-colored metal such as gold or copper is an easy way to achieve a high-end luxe look. The circular shapes of these tables give them a classic style, whereas, in square shapes, they would look more modern and minimalist.
20. Cage Style Coffee Table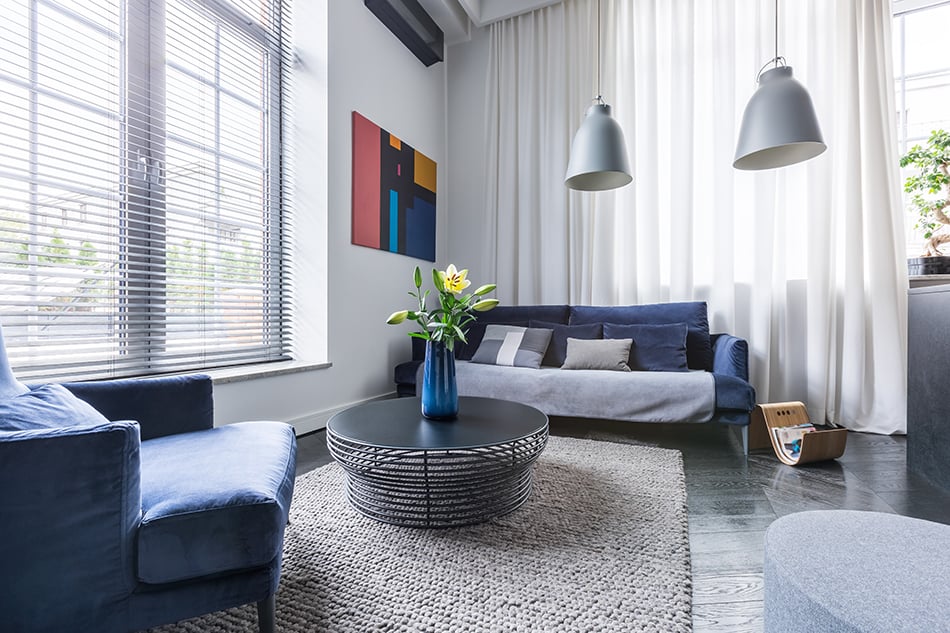 Rows of metal bars around the legs of a table create a cage-style, which adds some interest to a space while remaining minimalist.
21. Geometric Coffee Table

This coffee table is supported by a metal geometric framework instead of traditional table legs. This gives the table a contemporary look which is hugely popular right now. The metal frame allows plenty of light through, which also ensures the space around the table feels open and airy.
22. Farmhouse Coffee Table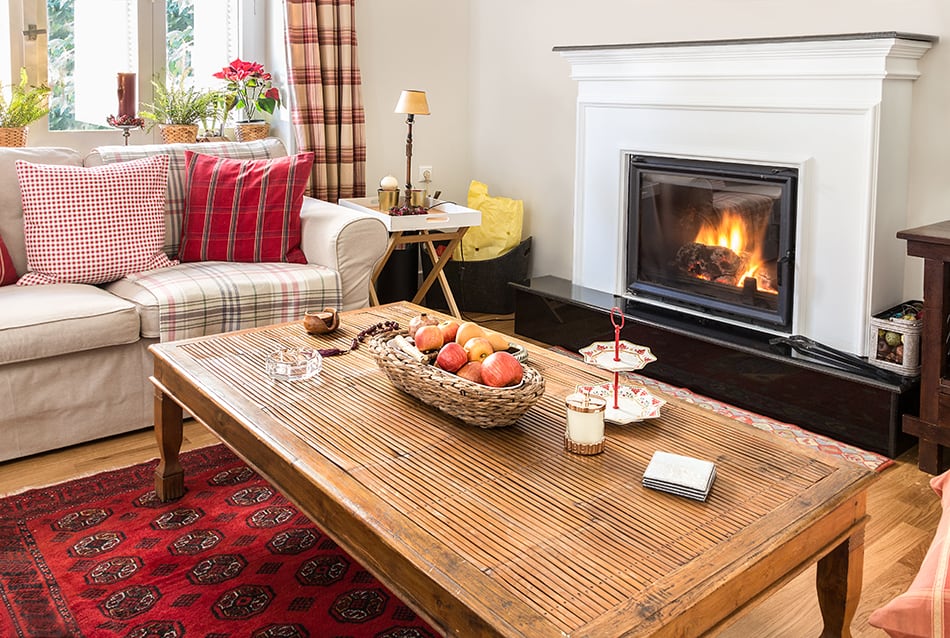 This solid, traditional-style coffee table has a sturdy and reliable feel which works well in farmhouse interiors. This type of table would typically be made from oak for high quality and long-lasting appeal.
23. Scandinavian Style Coffee Table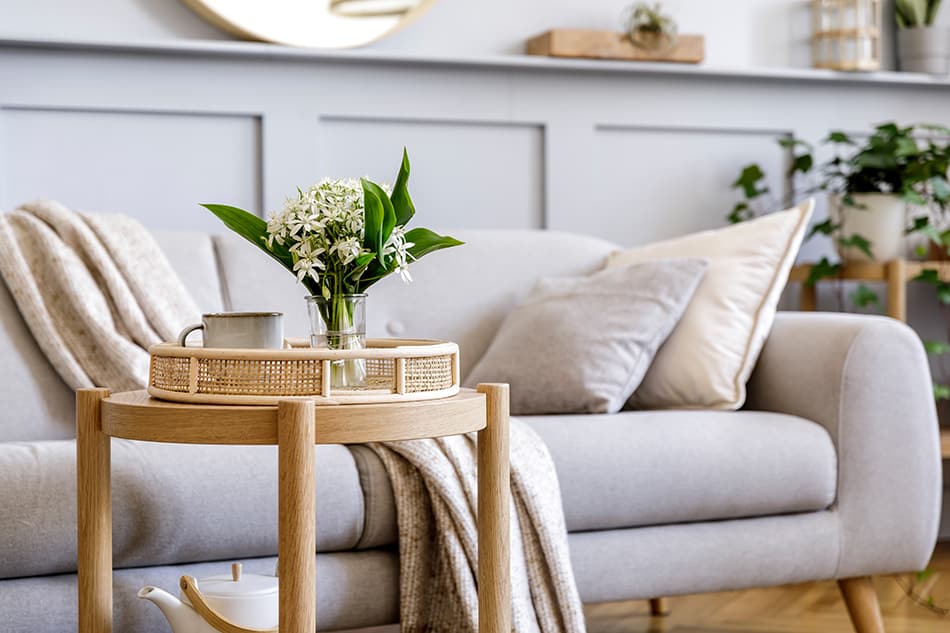 This pale wood side table has a Scandinavian style, which focuses on functionality, simple designs, and the natural beauty of materials. It is small, but the addition of a lower shelf makes it more practical.
24. Three-Legged Coffee Table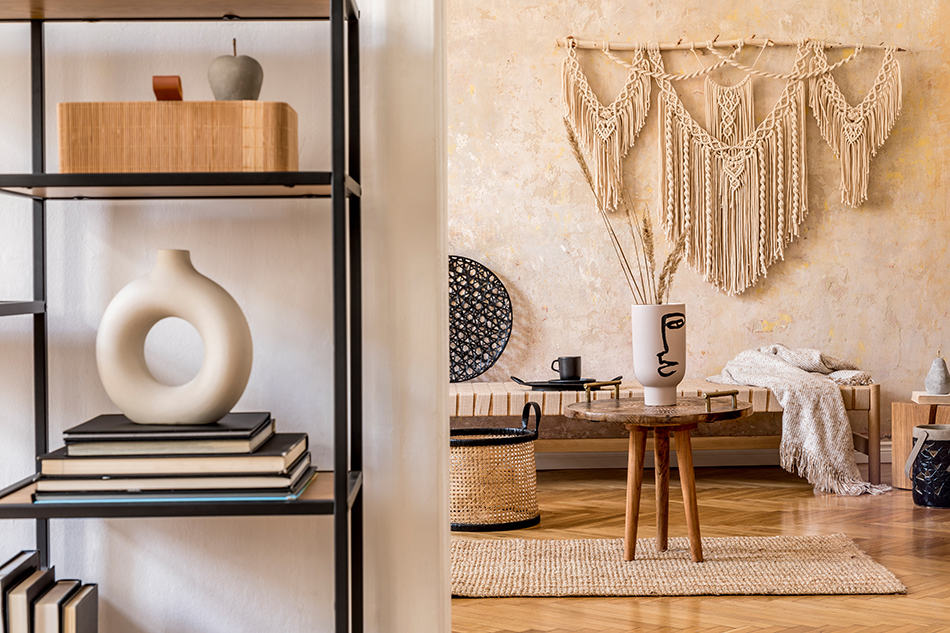 This coffee table has a quirky look due to its centrally located triple legs. The simple yet unusual design combined with a heavily-grained dark wood material makes this table ideal for casual, boho-style interiors.
25. Cut-Out Coffee Table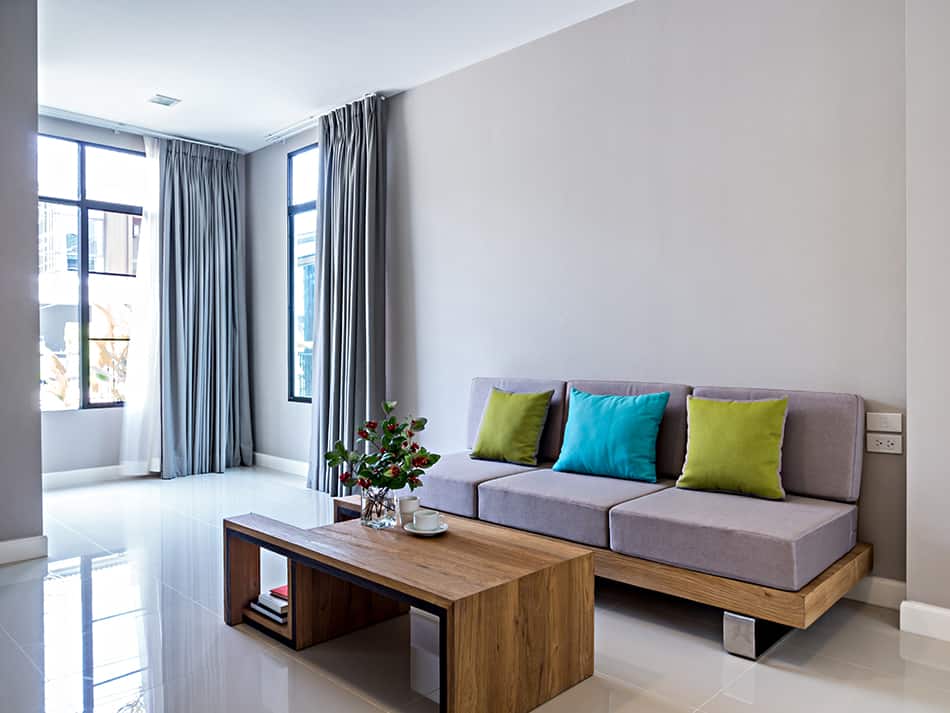 This coffee table has numerous right angles, which gives it a bold and powerful look, drawing attention as one of the key design features in the space. The table has an area cut out at one end, which creates a hidden shelving space to keep items stored but partially out of sight.
26. Square Coffee Table

Coffee tables traditionally have a rectangular top, but if your space permits it, then a square table can create a more modern vibe in your room.
27. Glass-Topped Pallet Coffee Table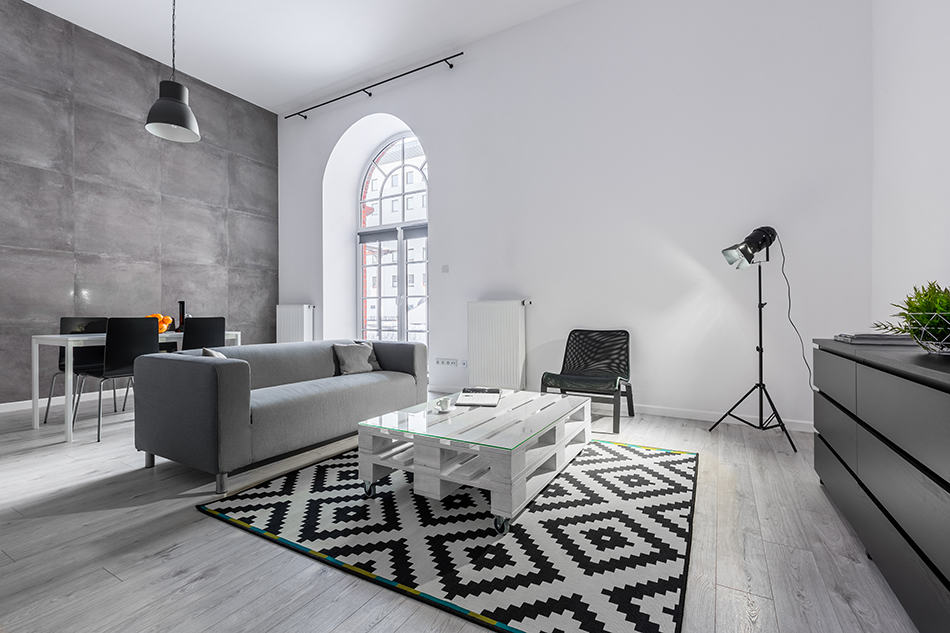 Coffee tables constructed from old pallets typically have a casual, rustic style which works well in laid-back coastal interiors. However, in this case, a glass sheet has been fitted to the top of the table, which gives it a sleeker, more finished feel. This type of table would work well in loft apartments or modern industrial interiors.
28. Folding Coffee Table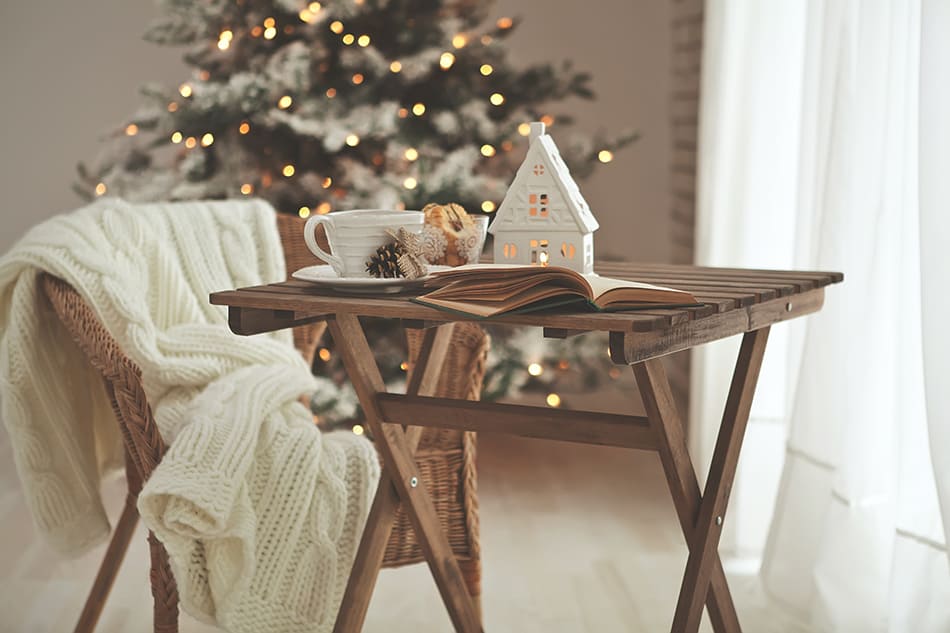 If you have a small space, then a folding coffee table is a great idea because you can store it away when it's not in use and bring it out when guests come over, and you need more surfaces for people to place drinks on. These types of tables are usually sold as garden furniture, but they can work equally well indoors.
29. Ottoman Coffee Table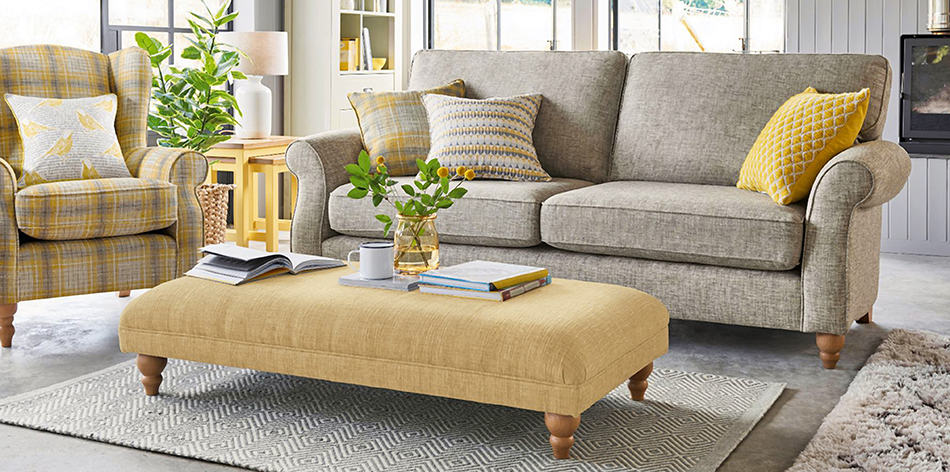 A coffee table is simply a flat surface where you can rest your drink or place down a book, and it doesn't necessarily need to be an actual table.
You can place a tray on top of an ottoman so that it can be used as a coffee table, then take the tray away when you want to put your feet up. This works well if you don't want additional furniture cluttering your space or if you have a small room.
30. Christopher Knight Home Rache Modern Round Coffee Table with Hammered Iron
This hammered iron coffee table in silver is cylinder-shaped and comes fully assembled. The tabletop has a lip to help prevent items from being knocked off the table, and it also means any accidental drink spills will be confined to the tabletop and won't drip down to the floor. The table has a sleek and simple design to work in a range of decor styles. It measures 17 inches in height and is 26 inches across.
Buyers of this table love the contemporary feel it gives to a room and believes it is a small item that makes a big style impact. Many users agree that the quality of the table is reasonable for the price and note that despite looking heavy and solid, it is actually very lightweight.
Some buyers, unfortunately, found the packaging to be inadequate, and as a result, a few people received coffee tables that had dents and dings on them.
Pros:
Stylish
Reasonable quality for the price
Cons:
31. Design Toscano The Greek Muses Glass Topped Side Table
This coffee table features a sculpture of dancing Greek goddesses, which are in a circle so they can be appreciated at any angle. The sculpture is made using real crushed stone, which has been bonded with resin to make it durable with the look of real aged stone.
The goddesses depicted are the goddesses of poetry, art, and science. The table is topped with a circular sheet of glass, adding to the elegant look and enabling users to enjoy the sculptures through the glass. The table is 20 inches in height and has a diameter of 18 inches. It weighs 30 pounds.
Buyers of this table love the look of it but find it would actually be better suited as a decorative item than a functional table, as the glass surface is very small, and placing anything on it would detract from seeing the sculptures beneath. Buyers were impressed with the detail of the sculpture and agree that the item is of high quality.
It is very heavy and sturdy and requires two people to lift it. Some users felt that the table was much smaller than they expected.
Pros:
High quality
Detailed replica sculpture
Heavy and sturdy
Cons:
32. Design Toscano Stacked Book Volumes Vintage Decor End Table with Glass Top
This table features a sculpture of a pile of books supporting a circular glass sheet that acts as the tabletop. The sculpture is made from real crushed stone mixed with resin, which results in a strong and durable product. The books have been aged to have an antique look and have been painted in rich shades of brown, green, blue, and gold. The table measures 20.5 inches high and 18.5 inches wide.
Buyers of this table love the look of it but unfortunately found it to be easily breakable. Some buyers were also disappointed to find that the glass tabletop is fixed to the base with just three suction cups, which can be seen through the glass and look very cheap considering that the table is fairly expensive. Other users commented that the gold paint on the book sculpture was very shiny, which gave the table a cheap look.
Pros:
Attractive and unique sculpture
Cons:
Cheap suction cups
Cheap-looking paint
Expensive
Breakable
33. Patio Sense 62420 Garden Stool
This round stool doubles up as a side table or coffee table. It is decorated with reclaimed pieces of pine, acacia, and rubberwood in a mosaic style. It can be used indoors or outdoors and has been pressure treated to prevent damage. It measures 19 inches high and 16 inches wide.
Buyers of these stools felt they looked even better in real life than in photos. Most buyers agreed they were of very high quality, though some buyers experienced incidents of pieces of wood coming loose and needing to be glued back on.
Pros:
Rustic style
High quality
Sturdy
Larger than expected
Cons:
Wood pieces may come loose
34. VECELO End Side Table with Storage Space
This table can be used as a nightstand or side table and features a lower shelf with two pull-out drawers for extra storage. It is made from durable particle board with a wood-look covering and a black metal frame. The table measures 23.8 inches high, 13.8 inches deep, and 15.7 inches wide.
Buyers of this table found it to be bigger than expected and liked its rustic industrial look of it. Most buyers agreed that the table was sturdy and that construction was easy though time-consuming.
Pros:
Stylish
Large size
Easy assembly
Cons: