Carpet is an easy-to-maintain, comfortable and warm flooring that has always been a popular choice. When it comes to choosing the color of your carpet, you must make sure it matches the style of your interiors. The right color carpet can completely transform the look and feel of a home, and since you'll be living with it for a while, you must make the right choice.
But how do you know which carpet color is best for your overall decor? Get the answer to your question and more by reading this article now.
The Importance of Choosing the Right Carpet Color
In interior design, the overall shade of a room can influence the mood, so it's vital to match the carpet color to your existing interior. To avoid clashes with your wall colors and accent tones, you need to determine the right feel for your room. Certain color palettes are known to relax (blues and greens) or stimulate your mood (reds and oranges). There are also yellows and purples that bring a cheery and luxurious feel.
Blues, browns, and greens denote nature, while reds and oranges create a warm, glowy feel to a room space.
By taking into account the overall color of your room or the mood you want to create, you can then decide on the right carpet color. Keep in mind the importance of hitting the right balance with your chosen carpet color as well as how to radiate it within your interior design.
Tips on Choosing the Best Carpet Colors
Level of traffic: consider how much traffic your carpet will be getting, as this will determine the chances of stains, spills and dirt. Light-color carpets are less expensive and made to be more stain-resistant, but they can still show dirt quicker than their darker-color counterparts.
In households with pets or small children, dirt can quickly show on light-color carpets, especially in the hallways and living rooms. Kitchens should never be carpeted as they receive the highest traffic. Tip: choose darker colors for high-traffic rooms.
If you don't use the room often, the carpet color will stay intact so you can use light-color carpets in those areas only. However, rooms with high traffic should have darker carpets to hide the wear and tear.
Lighter colors for darker rooms: if your room doesn't have a lot of natural light, you should choose a lighter-color carpet. Otherwise, you will darken the room even more. Take note of the sample color as it may appear lighter after installation. For example, if your bedroom has several windows and you install beige carpet, the color may look more like khaki than beige.
Use of space: do you want your chosen carpet to darken or brighten up your room? For darker living rooms, hallways and dining rooms, red carpets are a perfect choice as they wear well and don't show stains. For extremely bright rooms, on the other hand, choose lighter colors so as to avoid fading due to excessive sunlight.
Personality match: does the carpet color match your personality? Laid-back people tend to favor warmer, earthy tones, while detail-oriented people often prefer whites, blues, greys, and reds. Tip: always choose a color that you are most comfortable with. For example, if you like light grey or charcoal but don't want to use it in your living room flooring, go with a beige or khaki instead.
Design match: think about whether you want a carpet that blends in with your overall interior design or one that makes a fashion statement. If your room lacks a focal point, you can add a piece of furniture that draws the eye and completes the look with the right carpet color.
But what you don't want to do is to confuse the room's feel and make it appear busy or cluttered. Tip: pick a dark-color carpet to make a large room comfortable and modern.
Dark carpets are ideal for large rooms, so it's a great idea to make these spaces look more inviting by choosing dark blues, reds, or purples. For a trendy bedroom or living room flooring, opt for dark brown or charcoal carpet. Small rooms, on the other hand, can benefit from light-toned carpets like sandy beige, tan or cream. They especially work well in traditional homes.
Room's style: so far, we've covered your personality and design style when choosing a carpet color, but let's also mention the style and personality of the room you want to carpet. Since basic carpet colors can fade into the background, bold colors will do a better job of acting as a focal point.
In conservative rooms like home offices and dining rooms, off-white, grey, and tan work best. For bedrooms and living rooms, dark grey and red will provide more impact.
Use carpet samples for best results: With all the above tips in mind, you will make a better decision if you bring home some samples of your favorite colors.
Sometimes, the carpet colors look lighter or darker at the store or showroom, so it's recommended to assess which color is best for your rooms by bringing some samples home. Compare the samples with the wall paint, furniture, and the overall style of your room to ensure they match. This way, you'll get a better idea of what the carpet will look like before installation.
What Color Carpets Hide Dirt Effectively?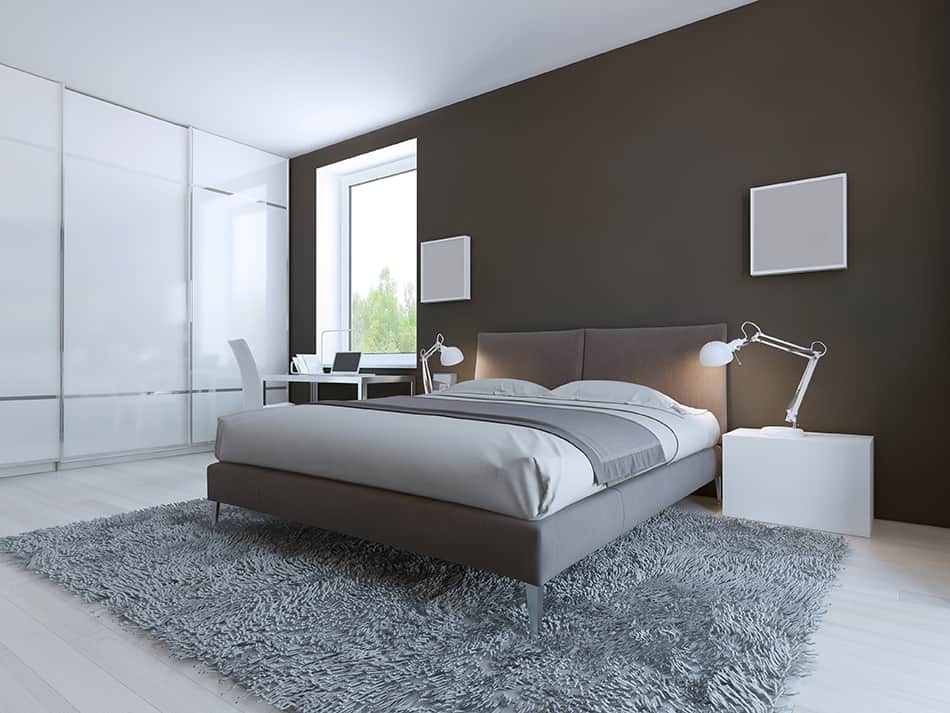 While you can increase the longevity of your newly installed carpets by regularly cleaning and vacuuming them, choosing a specific color will work better at hiding dirt and reducing the need to clean often. Dark brown or charcoal grey carpets are the best colors to hide dirt. The thicker the carpet, the better it will mask the stains and foot traffic.
Go for loose piles or fluffy types of carpets that are made of polyester or acrylic. Some people would also recommend medium-toned tan carpets.
If you choose such a color, be sure to look for multiple tones to minimize the appearance of dirt. Multi-colored carpets, especially chocolate brown with patterns, do a better job of hiding stains.
Keep in mind that you'll want to choose a dark-color carpet for high-traffic areas, as I mentioned before. But this doesn't mean the carpet will stay clean in such rooms. Over time, it will show where dirt has been absorbed, so you still need to clean it regularly.
Should Carpets Be Lighter Or Darker than Walls?
As a rule of thumb, choose a carpet color that's two shades darker or lighter than your walls for optimal visual interest. If in doubt, a neutral carpet color makes the best choice, regardless of the color of the walls.
Overall, lighter carpet colors make the room appear more spacious and brighter, whereas darker colors close in the room and make it feel cozier.
For more tips and ideas on matching carpet colors with your walls, keep reading the rest of the article.
Carpet and Wall Color Combinations
What Color Carpet Goes With Grey Walls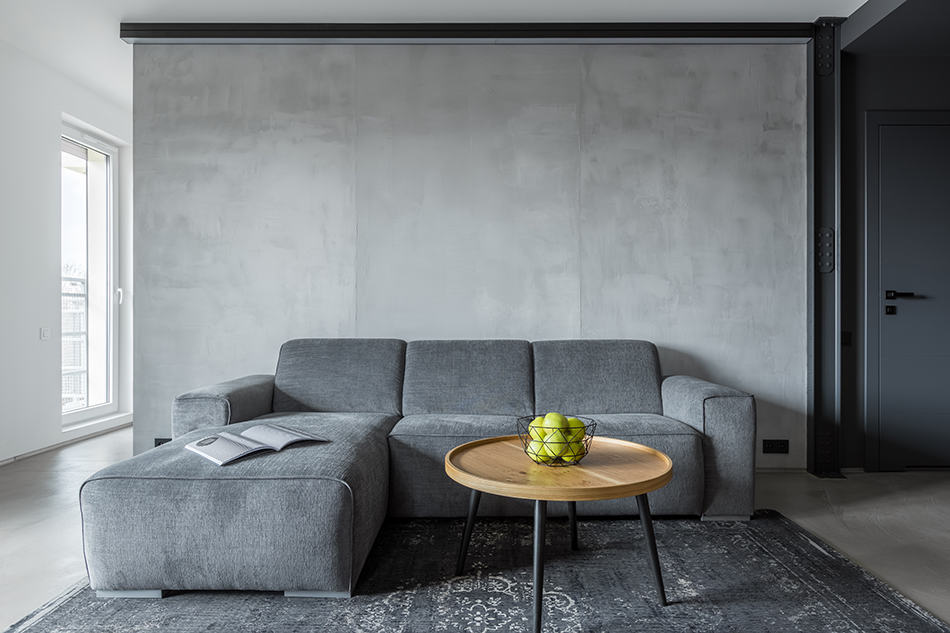 Grey walls will look great with matching carpet colors like light or dark grey. A matching grey color combination will make your room cozy and warm. But you can also choose medium or dark blue tones for your carpet, especially if your room is larger.
For dark grey walls in smaller rooms, consider opening up the space by opting for cream, beige, white, tan, brown, and light multi-toned carpet shades.
These color combinations will prevent the small room from feeling boxed in or cluttered. And the best thing about grey is that it gives you the freedom and flexibility to choose the carpet color you want. To play it safe, stick with a neutral combination or a distinctive color carpet like dark blue to stand out in the room.
What Color Carpet Goes With Beige Walls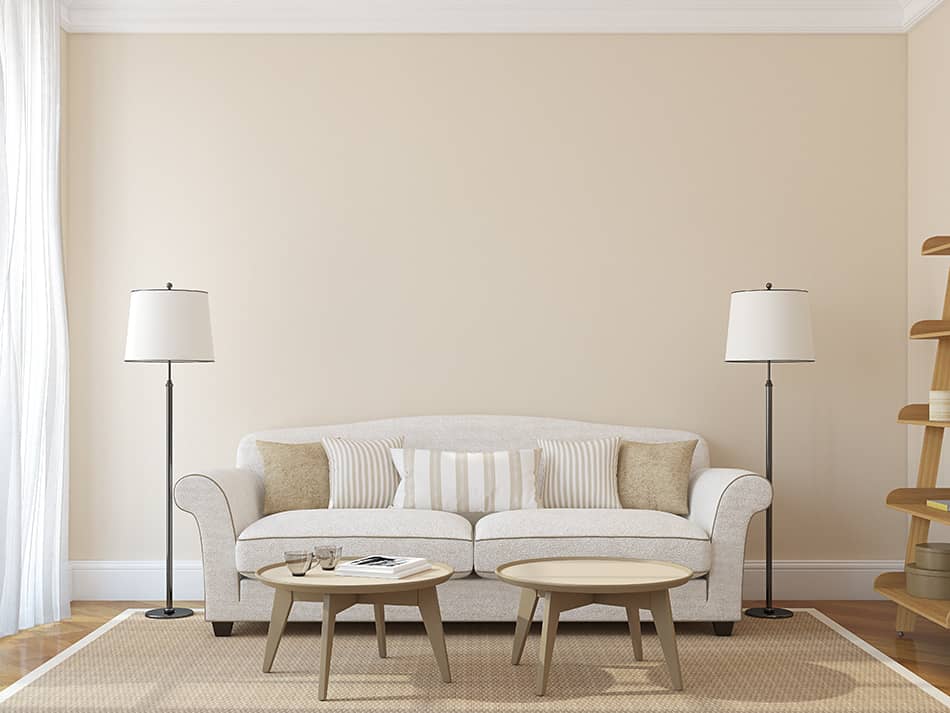 Beige walls work best with bold carpet colors like light blues and even pinks. But you must determine whether these shades will match the rest of your room's decor.
If you're looking for a casual tone, opt for a beige carpet for your beige walls. A lighter or darker beige tone will contrast your walls while remaining neutral. Other patterned or multi-colored carpets will also work just as well. These include:
Green
Cream
Turquoise
Navy
Red
Orange
Learn more about the color carpet that goes with beige walls here.
What Color Carpet Goes with White Walls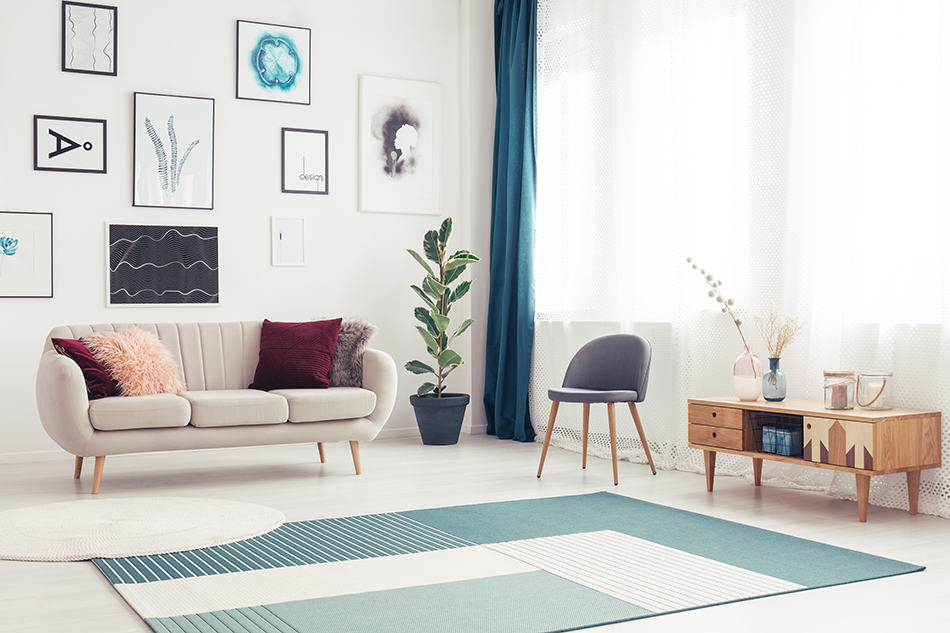 White is a safe and risk-free color for the walls, but you don't have to stay safe with your carpet. Since white goes with just about any shade or texture, you'll have plenty of options when it comes to choosing the right carpet color.
Most people would opt for grey or beige carpet for their white walls. Neutral carpet colors add elegance to any interior decor but feel free to explore all other shades, such as reds, blues, and browns, especially if your rooms are larger.
Carpet Color Combination Ideas
Dark Carpet Color Combination
Aside from choosing the right carpet color that works with your walls, it is important to think about the rest of the room's furnishings and how dark floors will make an impact on your room. After all, the color you choose for your flooring will alter the brightness and appearance of the room.
Dark color carpets like dark browns and charcoal greys can make the room appear smaller. Pair them with neutral tones and only consider them for large spaces. A sizable living room or master bedroom will feel cozier and more welcoming with dark carpets. What're more, darker colors absorb warmth, thus making them ideal for cooler environments.
Pair earthy brown, black or dark grey carpets with matching furniture colors to complement their richness and add drama. Ornamental accents in oranges, reds, and pinks with dark carpets enhance sophistication. Consider making a statement with the aforementioned colors in your study, living room or dining room.
Neutral Carpet Color Combination
There is a reason why neutral carpet colors are the most popular flooring. Since bright colors can be overpowering in large expanses, it makes sense to opt for lighter carpets. Unless you have the resources to replace your flooring every few years, it's best to choose a neutral color for the carpet to avoid the expense of replacing it later on.
Light color carpets will open up the room and make it appear larger. These are especially recommended in dark hallways as they prevent the feeling of being boxed in.
To give any of your rooms an airy feel, go for neutral beige carpets. Light-color carpets work well in small guest bedrooms, home offices, and compact living rooms. Pair them with light-color furniture to enhance the room's brightness.
Light carpets also work in small apartments. Even if you have a contemporary warm grey decor, cream carpets will give an overall larger appearance and enhance the look of your room. The current trends point towards earthy tones and, of course, the ever-popular beige.
So to play it safe, it's best to stick with a neutral carpet color, such as beige, pale brown, taupe, oatmeal, or stone colors to keep it traditional and classy.
While some people may think that these colors are somewhat dull or bland, keep in mind that you can always add accent or bold color furnishings to your room. With a vibrant decor and wall color, a neutral carpet will balance out your interior nicely.
Final thoughts
By now, you should feel more confident in picking the right carpet color for the different rooms of your house. Just remember to consider the usage of your rooms, how much light they get, and the items already in the space before selecting the best hue.
For larger rooms, go for a darker shade to make the space feel cozy and warm, and for smaller rooms, opt for a light color to create the feeling of spaciousness.
Ultimately, your personal taste will be the deciding factor in the carpet color you end up with, but I hope my tips and recommendations have been useful to you.