So you have decided to paint your walls beige but are in two minds about the best carpet color that goes with beige walls. Depending on which rooms you want to carpet, this type of floor covering can be a difficult decorating component since there are so many styles and colors available.
Choosing the right carpet color is one of the hardest decisions for homeowners. It can be tough to visualize beige walls with different carpet colors. After all, the wrong carpet color can leave an undesirable effect, and it's not easy to start all over again with a different carpet.
But the good news is that, like gray walls, beige is a neutral color for the walls and can easily be matched with darker or lighter carpet colors.
If you're not sure where to start when deciding on what color carpet goes with beige walls, then read on for some useful tips and ideas.
Tips on Selecting Carpet Colors for Beige Walls
A carpet, along with other fixtures and furnishings, creates the overall mood in a room. Whether you want to create a calm and soothing vibe in your bedroom or recreational space in your living room, carpeting will make your home more comfortable and warm. But the trick is to choose a suitable color that goes with neutral wall colors like beige.
– Light carpet colors are ideal for small spaces as they make the room feel larger. Consider picking pastel colors like white or sandy beige to match your beige walls.
– Cool or muted colors like light blue or green carpets create a calming atmosphere. Monochromatic color schemes work especially well for creating a relaxing vibe.
– Current trends point towards warm, earthy hues such as brown carpets as well as beige. But neutral shades don't have to be boring. To inject some personality into your space, choose a textured carpet. This will bring character to your room while keeping it subtle enough so as not to distract from the main focal point of the room.
– Bold or vibrant carpet colors such as reds or oranges create a sense of energy and work well with beige walls. Deep colors, on the other hand, make a room feel more intimate so try navy blue or brown carpet.
– For high-traffic areas, choose darker carpet colors to hide dirt or wear and tear. In low-traffic rooms, however, light carpet colors will stay intact for a long time.
Rug Vs. Carpet: Which Should You Choose for Your Beige Walls?
Rugs go well with any room's interior decor by adding a stylish appeal. If you follow a monochromatic color theme, a contrasting color for your area rug can break the monotonous feel of the room. When used in large spaces, rugs can bring together all the furnishings for a cohesive look.
When comparing rugs to carpets, the biggest advantage of rugs is their portability. In addition, they are easy to clean and allow better airflow, thus preventing mold growth. This is a huge benefit to those who are allergic to mildew or dust. However, one major drawback to rugs is their tripping hazard as they are not secured to the floor.
Unlike carpets that provide better insulation in a room, rugs only provide warmth to the section of the floor they cover. So if you live in a very cold region, you may want to pick carpets over rugs for better insulation.
Carpeting not only provides better warmth and insulation but it can also be coordinated easier with your home design theme. In fact, carpets can make the home look larger and more stylish than rugs. And since carpets are permanently fixed to the floor, they are stable and non-slip. If you have a toddler, you won't be worrying about them tripping on the floor covering!
By investing in a carpet, you can enjoy its long lifespan without the need to worry about changing it time and again.
When fitted with cushioned padding, your carpets will further reduce heat loss and sound transmission, thus making your home feel more comfortable.
Since carpets come in an assortment of colors and sizes, you can use them to provide a stylish look in all your rooms. Whether you're renovating your home or decorating a new house, it is important to create a warm and inviting feel.
The biggest decision you'll have to make is how to coordinate your carpet colors with your beige walls. The color of a carpet can affect the entire feel of the room so you must make sure you select the color carefully.
To help you pick the best carpet colors for your beige walls, take a look at our ideas right here:
7 Carpet Colors that Go with Beige Walls
Multi-Colored Carpeting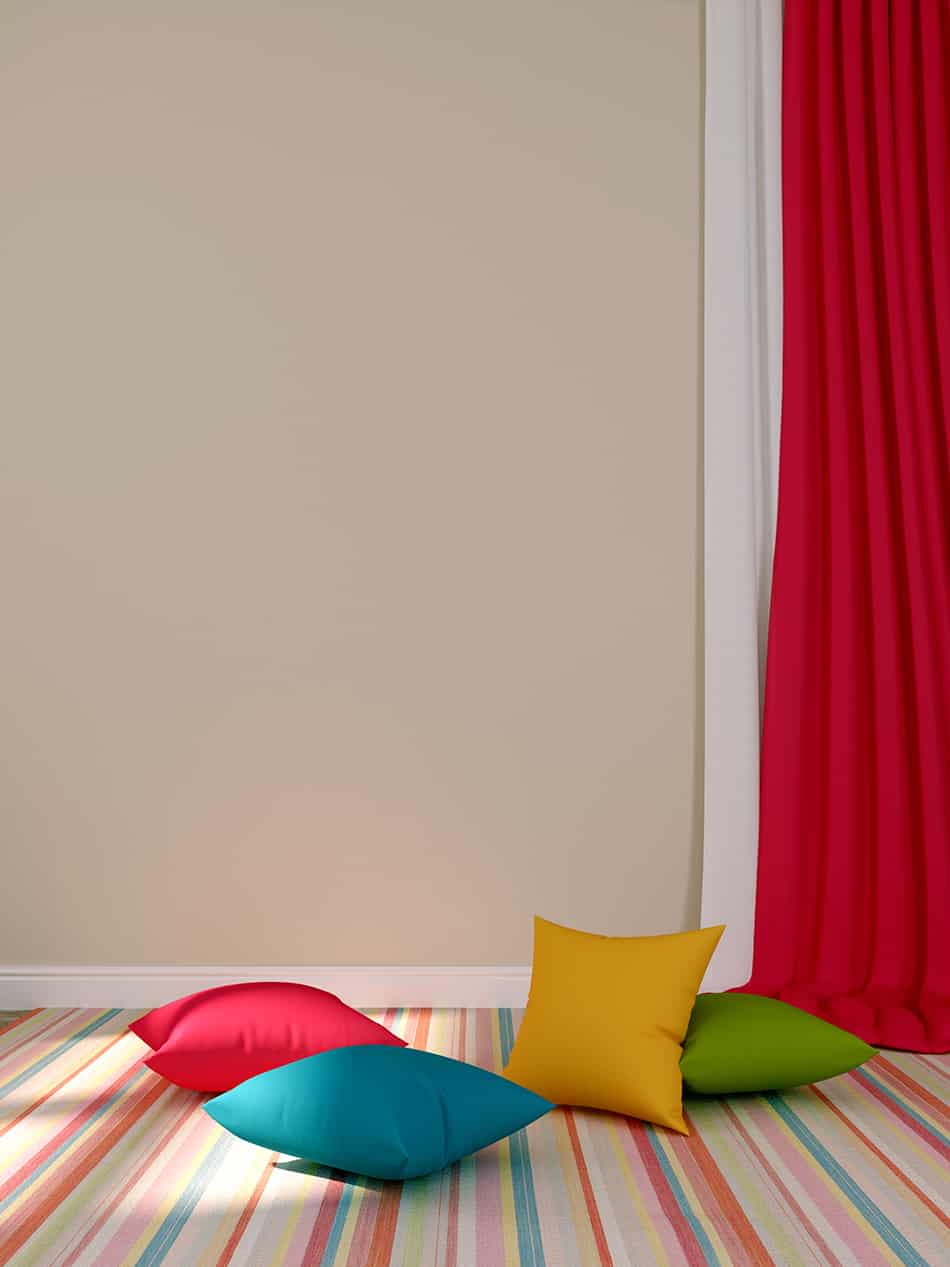 Colors not only add dimension to a room, but they can also affect our mood. It is, therefore, important to think about the carpet color carefully. Multi-colored carpets in relaxing hues like blues, yellows and purples emit a calm feeling.
You can use brightly colored carpets in any room with beige walls. Bold colors enliven the rooms so if you fancy introducing some color into your home, consider contrasting colors against your beige walls.
Multi-colored carpets are the best idea as they feature earthy tones and pops of color. These are ideal for anyone who isn't afraid of going outside their comfort zone and trying bolder options.
From pinks, oranges, and greens to yellows and deep purples, a carpet with a blend of bold colors can make a fantastic impression on your guests. See how color-coordinated this living room with beige walls is against the brightly colored carpet and brightly colored throw pillows.
White Carpet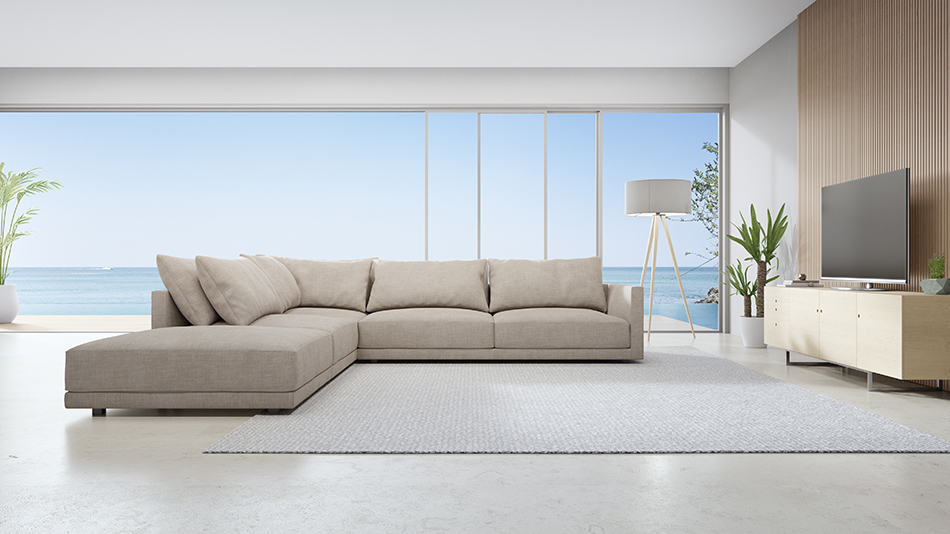 Earthy, neutral tones look great with beige walls in large living rooms. White carpets make an attractive choice, especially on marble floors as shown here.
The white carpet and beige walls tie the room together, and the simple design makes a complementary combination next to the accompanying furniture. White and beige are in the same color wheel so one can safely say the two are a match made in heaven/interior design!
Brown Carpet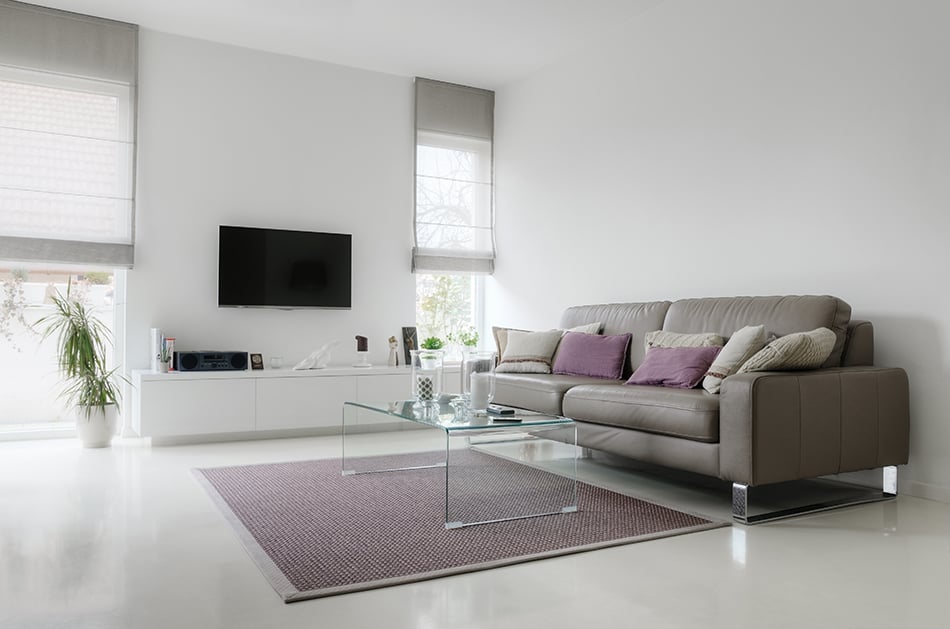 Brown and beige are another great match made in neutral heaven. Whether you go for light or dark brown carpet, this color will enhance the crispy beige walls. As a neutral color, any shade of brown will work with other neutral tones.
But to make a bold statement, opt for darker shades of brown like chocolate or coffee.
Gray Carpet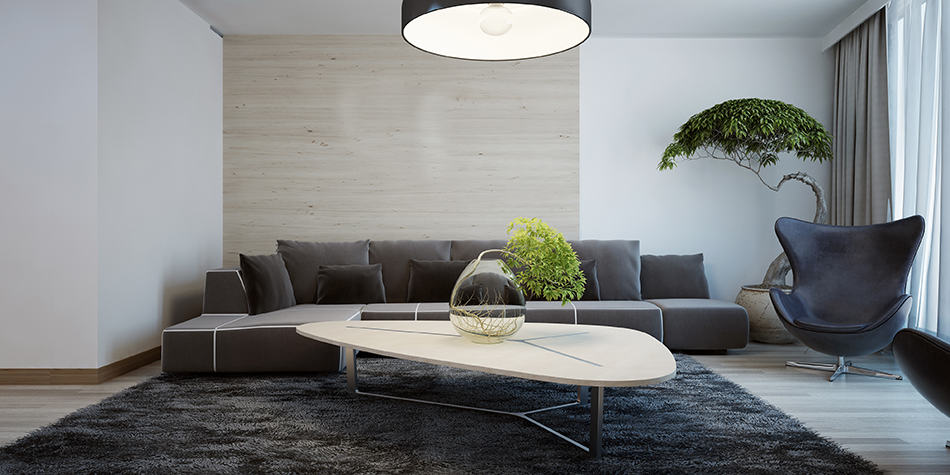 Gray is yet another carpet color that matches beige walls. A barely-there shade of beige for the walls is a great way of adding some depth to a neutral room. With the addition of a dark gray carpet, you will avoid darkening the space thanks to the light beige walls.
Just be sure to choose a warmer shade of beige so as to make the living space feel bright and open. Tip: for a heathered effect, choose a thicker carpet for warmth, plus it won't show up dirt or stain marks!
Oatmeal Carpet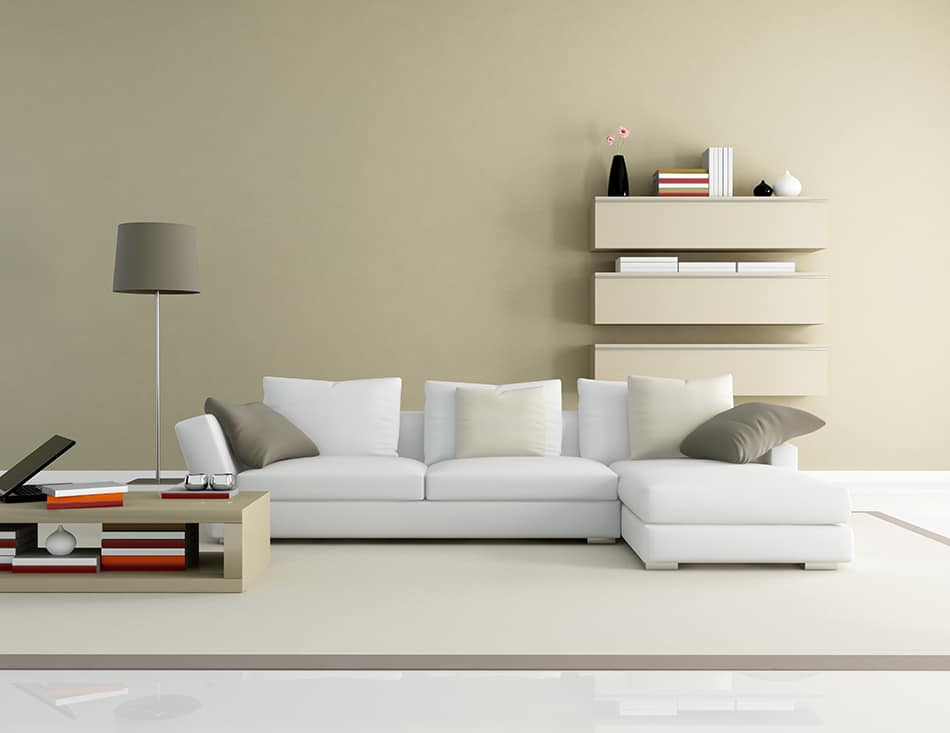 Oatmeal is an earthy tone in the same family as sandy tan. This color can blend well with almost any interior decor. When chosen as a carpet color, it will create a nice pattern in both a large or small space.
Oatmeal is surprisingly low maintenance as it doesn't show stains. When paired with light color sofas and beige walls, this honey color carpet will bring much warmth to the living room. Small rooms will feel bigger thanks to the light oatmeal shade of the carpet.
In this example, the bright white sectional sofa against the beige walls and sandy carpet has created depth and made the space feel larger.
Neutral-Patterned Carpet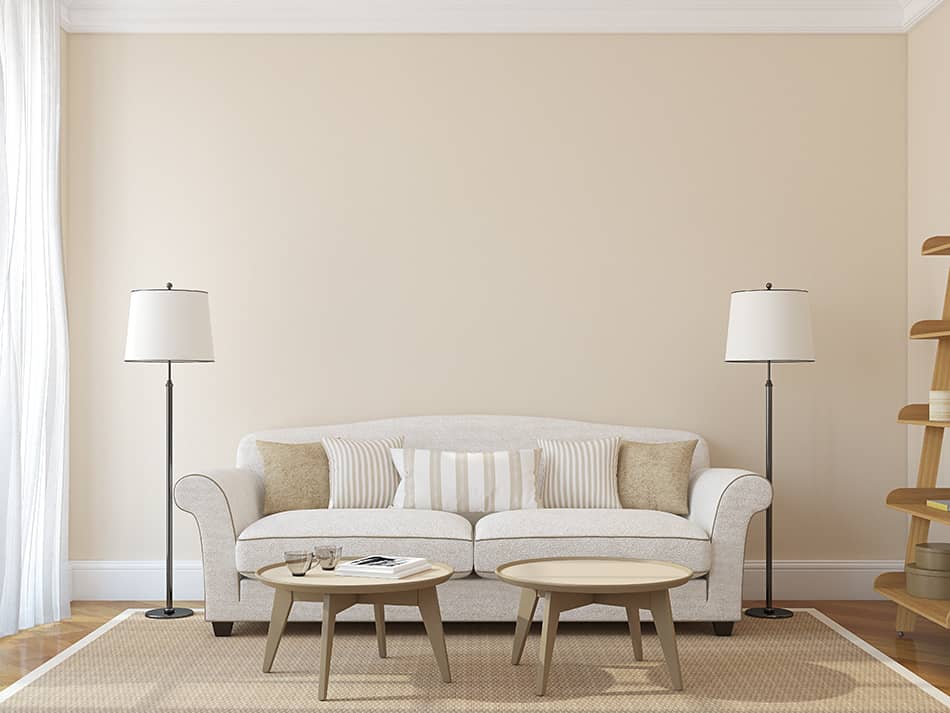 Just because you have beige walls, it doesn't mean you can't make a statement with patterned carpet. Neutral patterned carpets go hand in hand with beige walls, as one won't fight for the attention of the other. In this case, the carpet can act as a focal point.
If the idea of a patterned carpet is a little too much for you, you can always tone it down with a carpet runner instead. This is a safe decorating idea that works well as a neutral palette. Choose from basic beige patterns or popular grays ranging from charcoal gray as the backdrop. Cream shades in patterns also work beautifully alongside beige walls, as shown here.
Black and White Carpet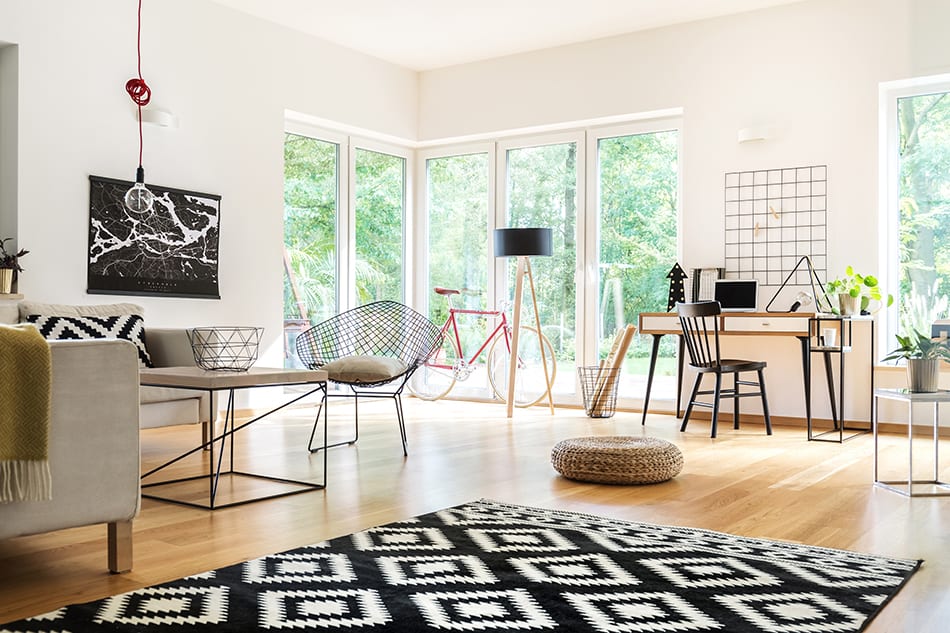 Black and white carpet is just as classic as any other color combo for beige walls – with a tad more welcoming feel. While black has a stark, modern look, it is softened by the sophisticated white, thus pairing well with neutral beige walls.
A black and white carpet is an excellent choice for any shade of beige, but it works particularly well with medium shades of beige or even khakis.