From cocoa and coffee tones to light tan, a brown carpet is a popular choice for rooms with high foot traffic. This durable color option is ideal for concealing dirt and stains, so it's no wonder many homeowners favor this color carpeting over hardwood floors. A brown carpet provides soft warmth under your feet, making it more comfortable to walk on than tile or wood flooring.
However, color-coordinating around your brown carpet can be a little challenging. The rich neutral tone of this earthy hue overpowers the space and even dictates limited paint color options to pair with it.
But while brown is a dominating color, it is surprisingly a versatile hue that allows you to add nature-inspired paint colors for a warm and inviting vibe. In fact, you'll be surprised how well it can be coordinated with both primary and accent colors for a flawless color palette.
If you're looking for the perfect wall color that goes with a brown carpet, this post will ensure you find the best option. So let's get started now!
Wall Paint Colors that work with Brown Carpet
White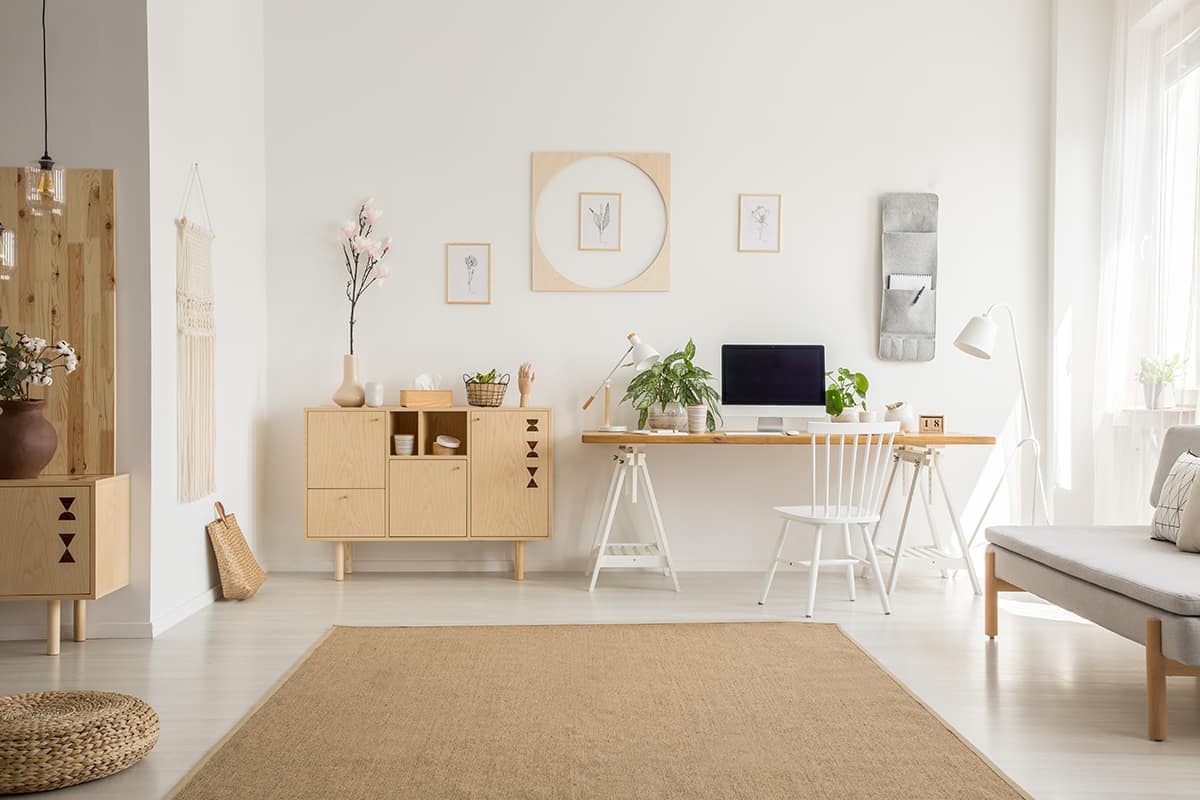 When you coordinate your wall paint with the color of your carpet, you can enhance your room's visual ambiance. In darker rooms, the best way to restore brightness is by painting the walls pure white. This neutral universal color works with any carpet color and is arguably the safest option for pairing with a brown carpet.
When you opt for white walls to pair with the carpet, you can keep your brown carpet the focal point of the room. White walls not only make the carpet color stand out, but they also make a small room appear larger. This lends to a more vibrant and airy room, as you can see in this example of a light brown carpet and pure white walls.
Cream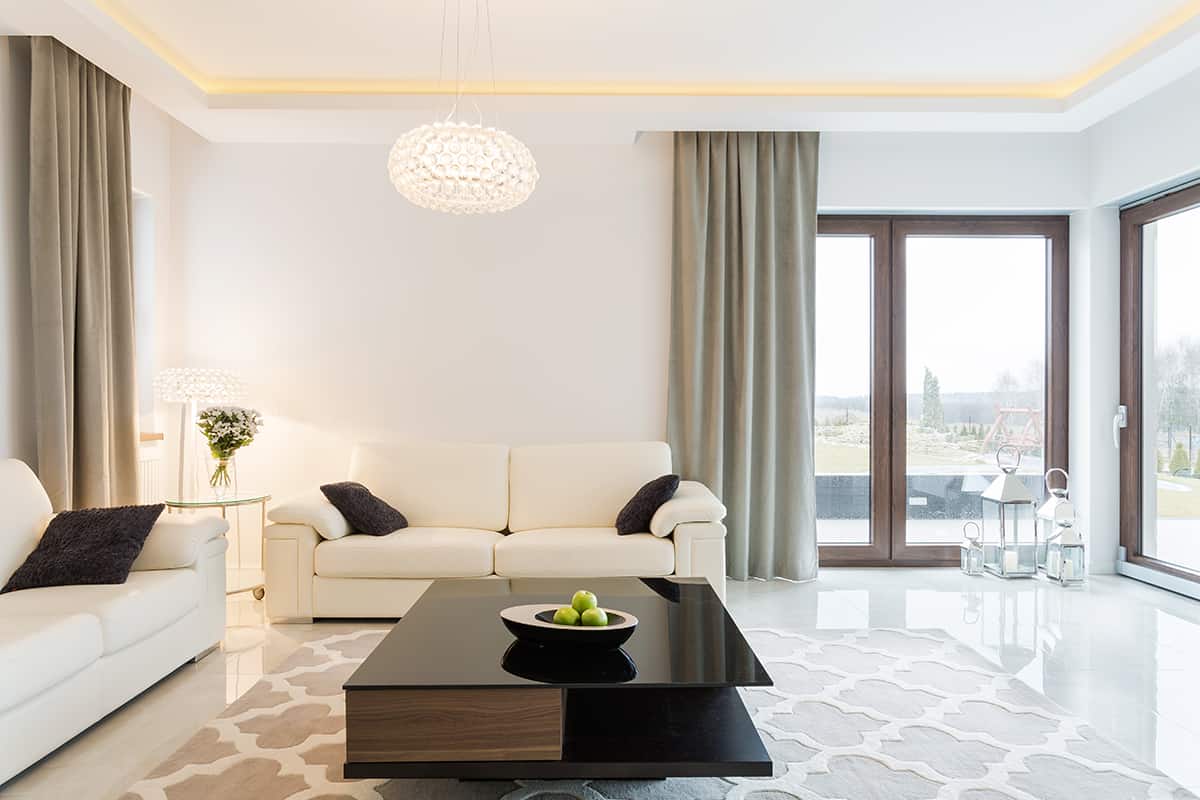 Cream is another safe wall paint option as it's a neutral hue that goes with every carpet color. If you find white a little too cold, cream is a better option thanks to its light, earthy undertone that brightens up the space. This inviting and soft hue has a blend of beige and yellow undertones that work perfectly with a light brown carpet. This warm color keeps a monochromatic scheme in a modern room with a brown carpet, making the cream walls appear dull or muddy.
Here, the light brown carpet is accompanied by mid-toned curtains and a dark brown coffee table. The cream backdrop blends in nicely with the brown color palette, thus giving this living room a luxurious and chic vibe.
Tan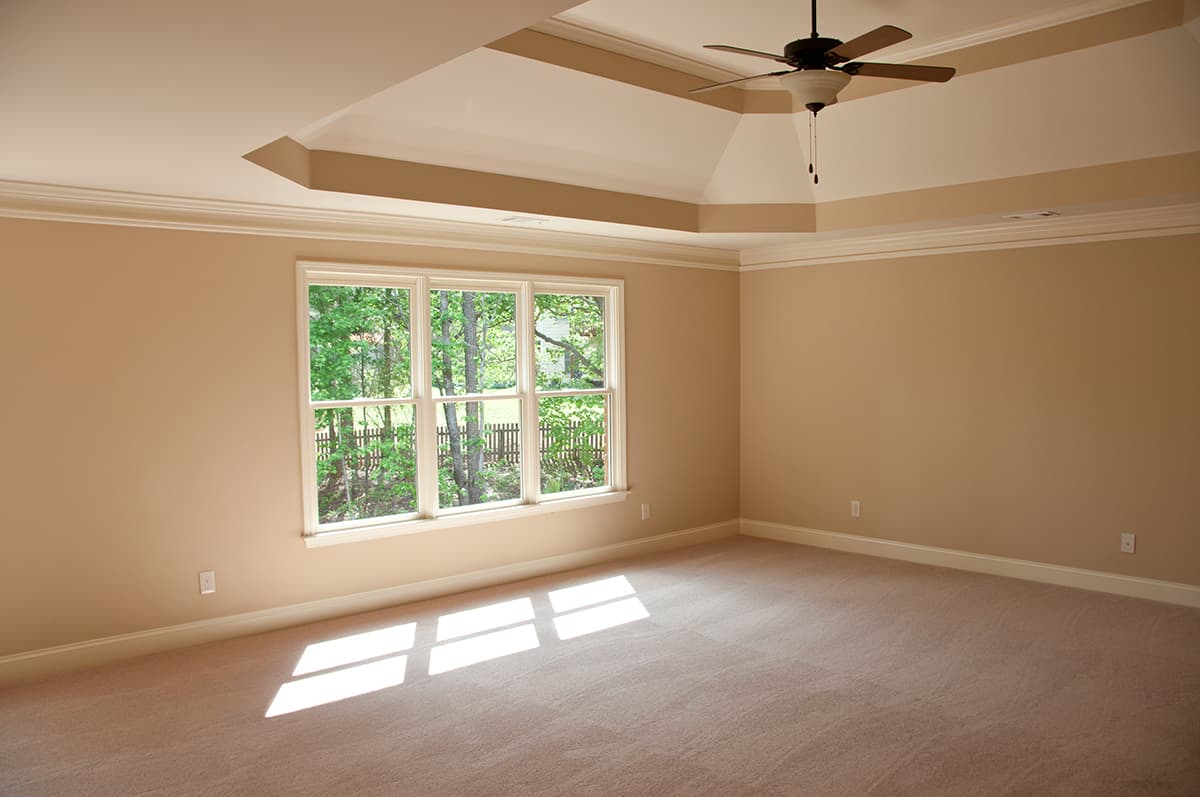 For an even warmer wall paint color pairing with a brown carpet, consider light tan. This neutral shade is in the same family as brown, thus the ideal choice for a modern bedroom or living room.
Tan is also similar to beige and cream, which gives a seamless look against dark brown carpeting. This neutral hue opens up the space, so you can add any other color to the combination as you like.
Green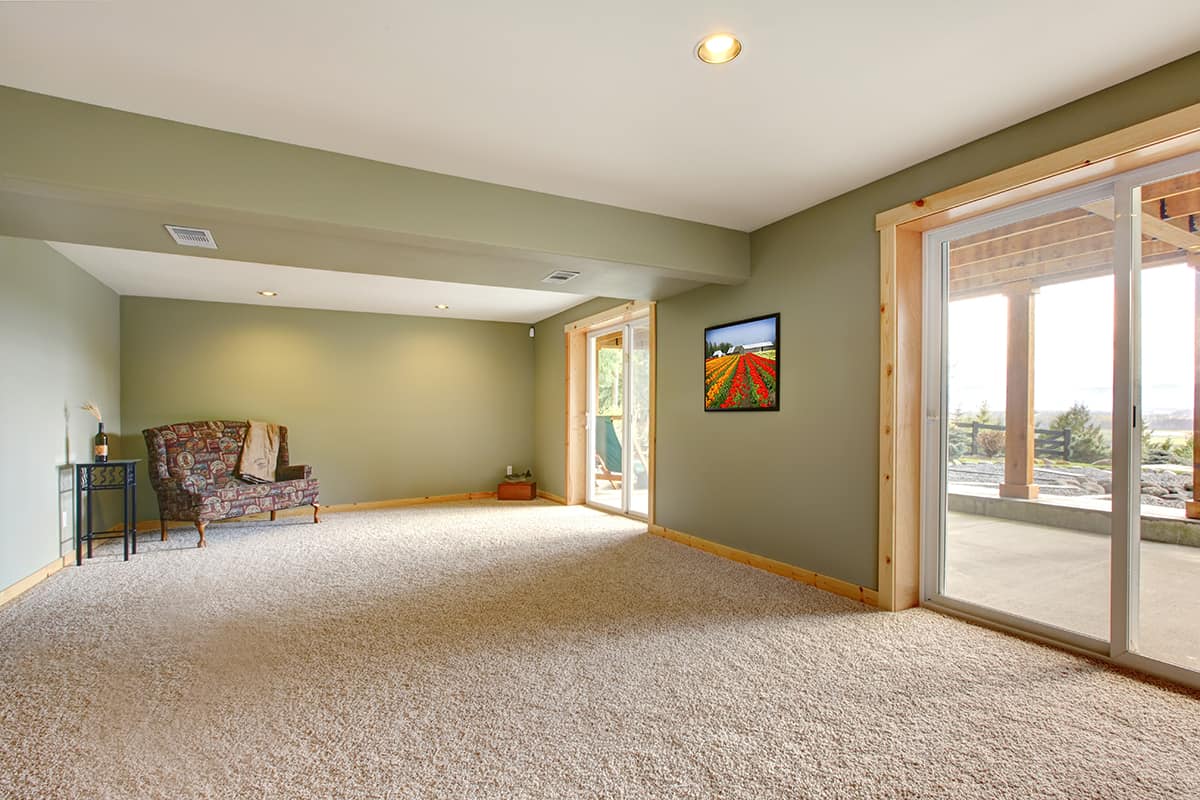 An earthy color like brown is a classic match with green walls as we often find these colors in nature. To create a relaxing and refreshing vibe in your living room, consider painting your walls a soft shade of green and installing light brown carpeting. Since some green shades work better than others, based on our research, we think light olive is the best shade to pair with a light brown carpet.
Another suitable green shade that works well with a brown carpet is one with a slight gray undertone. This helps balance out the brown carpet's warmth as well as lighten up the space. Other complementary hues that go with green and brown include cream, beige and tan for a warm look.
Blue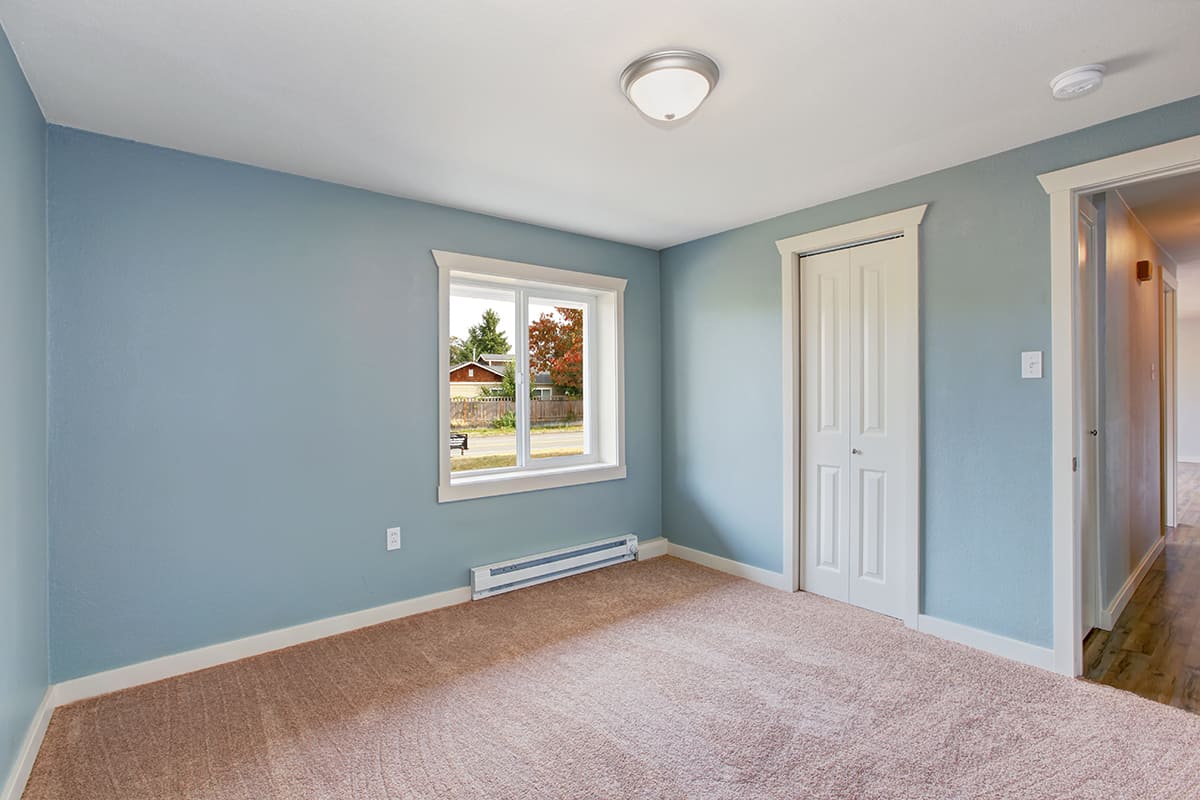 If you have a mid-toned brown carpet in your bedroom but can't decide on the right wall color, you can neutralize this floor covering color by incorporating a light shade of blue into your room.
A cool-toned blue paired with a warm, mid-toned brown carpet, for example, can help balance out your room's ambiance. For best results, look for a unique blue shade that has a slightly gray undertone, such as Santorini or Krypton.
This light blue bedroom looks stunning with the mid-toned brown carpet. The two colors help bring a relaxing and cozy feel to this space, which eradicate the need to add any other accent color to the room.
Gray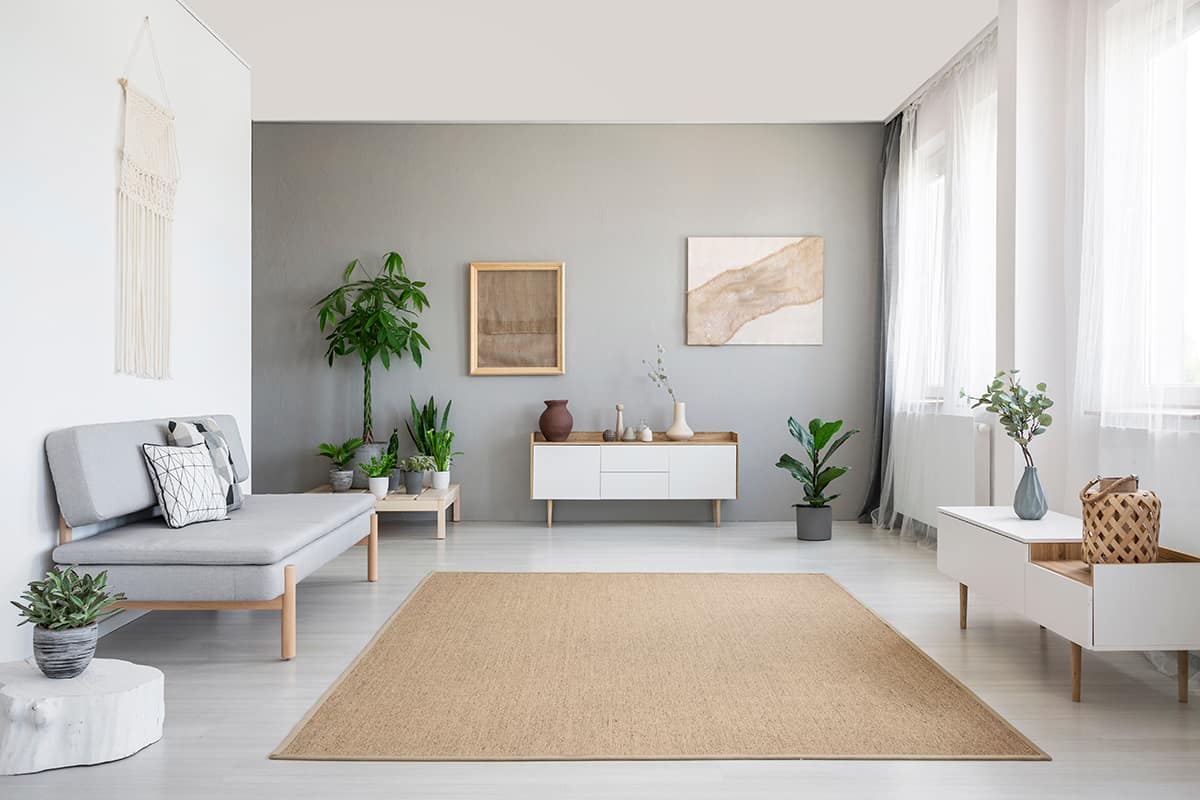 Gray walls bring a clean and contemporary feel to a room with brown carpeting. This neutral is the perfect paint color to enhance the elegance of a space. Whether you choose a gray with warm or cool undertones, it is a crisp color that has become incredibly popular to pair with brown.
The trendy, sophisticated look of a gray wall in combination with gray and white furniture doesn't detract from the light brown carpet in this room. In fact, the carpet color has dominated the neutral space simply because the gray wall is of a lighter shade. This helps prevent the room from becoming too dim or dingy.
When you take on a basic approach by using gray with brown, your space may run the risk of looking muddy. It is important not to blend too many cool and warm tones in a room as these colors will compete with each other. For best results, fill your space with lighter versions of the same color or colors that are in the same family in order to complement your carpet and walls.
Pink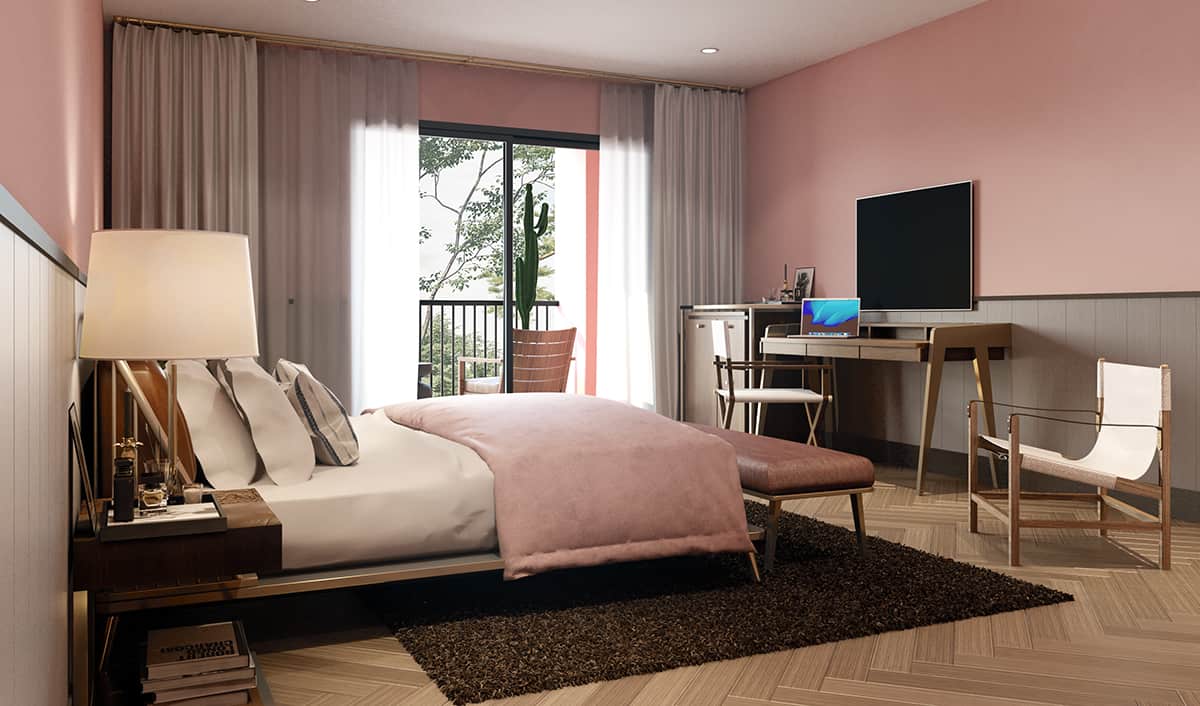 If you want to add a feminine touch to your brown carpeting, paint your walls a pastel shade of pink. This color choice looks exceptional in a luxury style bedroom or nursery. There are many soft pink shades to choose from, including coral, seashell and mauvelous. A dark brown carpet won't overpower a pink bedroom as you can see in this example. The trick is to choose a soft shade for the walls and pair it with warm-toned accent colors like beige or dark gray.
Other Wall Paint Colors That Work Well With a Brown Carpet
Yellow: Soft yellow tones add a sophisticated and charming look to a room with brown carpeting. By painting your walls a pastel yellow shade, the warm feel of your room can be maintained thanks to this complementary color scheme.
Ivory: Every brown shade goes with ivory walls, thanks to their warm undertones. Since pure white is too harsh or cold next to brown, it pays to stick to a softer shade like creamy ivory. After all, the idea is to create a tonal contrast instead of a stark one.
Fuchsia: this vivid reddish purple color gets its name from a flower. Use it to transform your room with a brown carpet into a feminine and stylish setting.
Red: from ruby and cherry to burgundy, any shade of red will complement a brown carpet as both of these colors have warm undertones. But to avoid a dull look, opt for a lighter shade of red like scarlet or tart to pair with a mid-toned brown.
Is Brown a Good Carpet Color?
While many homeowners opt for beige, gray, or other light-neutral carpets to make their rooms feel more spacious, most aren't keen on having to clean their carpets on a daily basis.
For this reason, brown is a great carpet option as it hides dirt and stains better than light neutral shades. The darker the shade, the more effective it is in concealing dirt and stains, thus reducing the need for regular cleaning. Furthermore, this carpet color is an excellent choice for households with children or pets.
Brown carpeting can make a large space feel cozier and more inviting when compared to white or gray. In smaller rooms with cool-toned wall paint, however, it is best to choose a light brown shade so as not to make the space feel restricted.
Therefore, a brown carpet is a great choice for large rooms that see high foot traffic. This carpet color option makes a cozy statement in any room you install it. But the ultimate decision on whether it's a good color or not comes down to how you use it in conjunction with other colors.
In case you're unsure, our above examples of the best wall colors that go with a brown carpet should help you select the right color combination for your home.