An L-shaped living room is one that is made up of two rectangle shapes joined together at a corner angle, creating a space that from above looks like the letter 'L.'
This might initially seem like a difficult shaped room to furnish and live with, but actually, it is great for creating an open plan living space while still having some element of separation. It's also useful in apartments or loft-style living areas where you need to integrate numerous uses into one space.
If you have a home with an L-shaped living area, here are some layout ideas to use as inspiration for what you can achieve with this kind of shaped room.
Lounge Diner Layout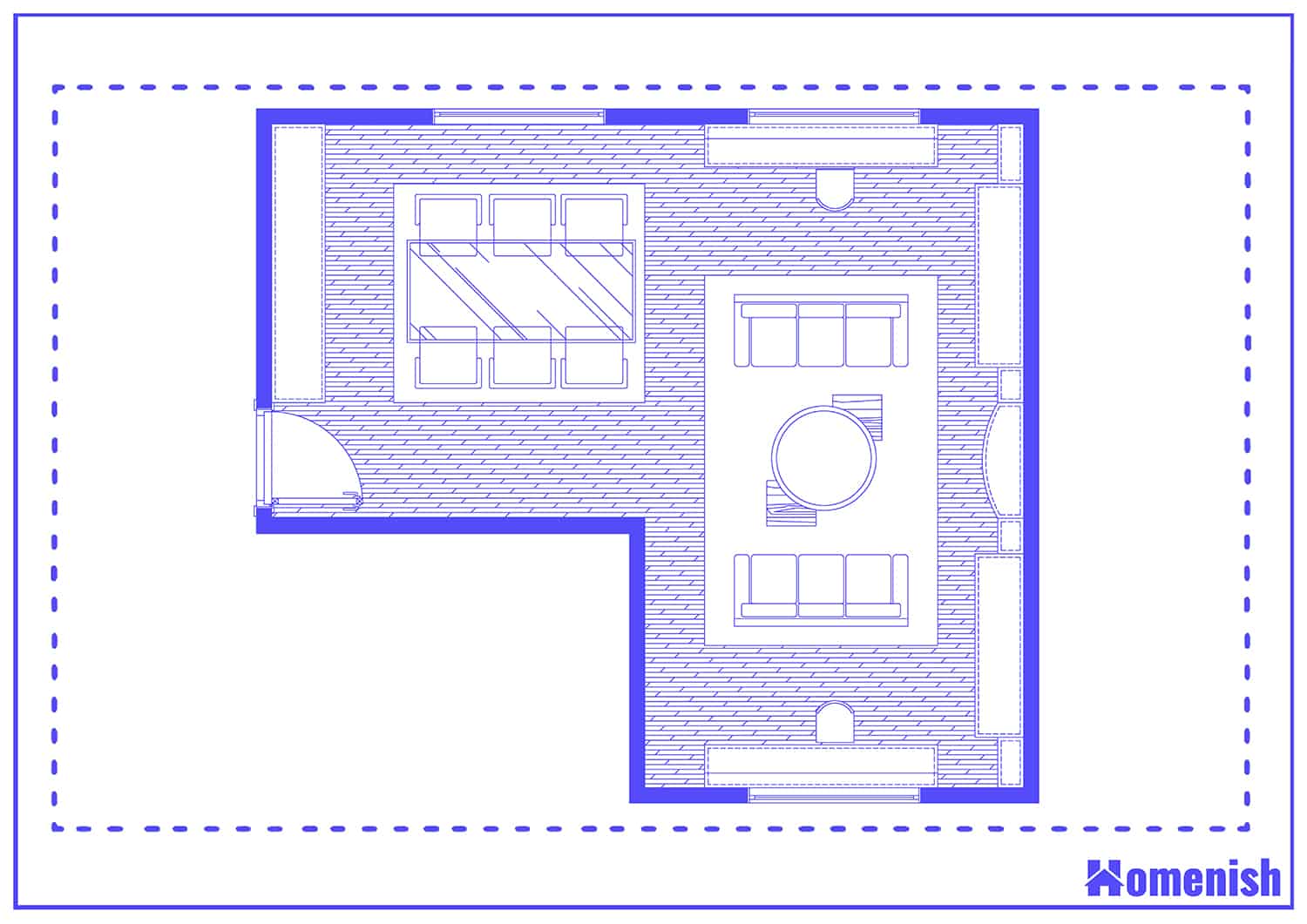 This L-shape has a large living room occupying most of space and a dining room in the remaining area. If we think of an L-shape as one rectangle (the tall part of an 'L') joined with a square (the tail of the 'L'), then in this layout, the living room covers the rectangle area while the dining room covers the square.
The living room portion of the plan is nicely balanced due to the fact that it is symmetrical, with two sofas towards the middle of the room facing each other, separated by a coffee table.
The dining room section is defined as such by the presence of a dining table with six chairs, allowing it to accommodate a large family for meals or several guests for dinner parties.
This layout works really well for an entertaining space because it allows an easy flow of people between the two areas. It also works nicely in a family home because both rooms feel bigger due to the fact that there are no walls separating the space, therefore allowing longer sightlines.
Living Room and Home Office Layout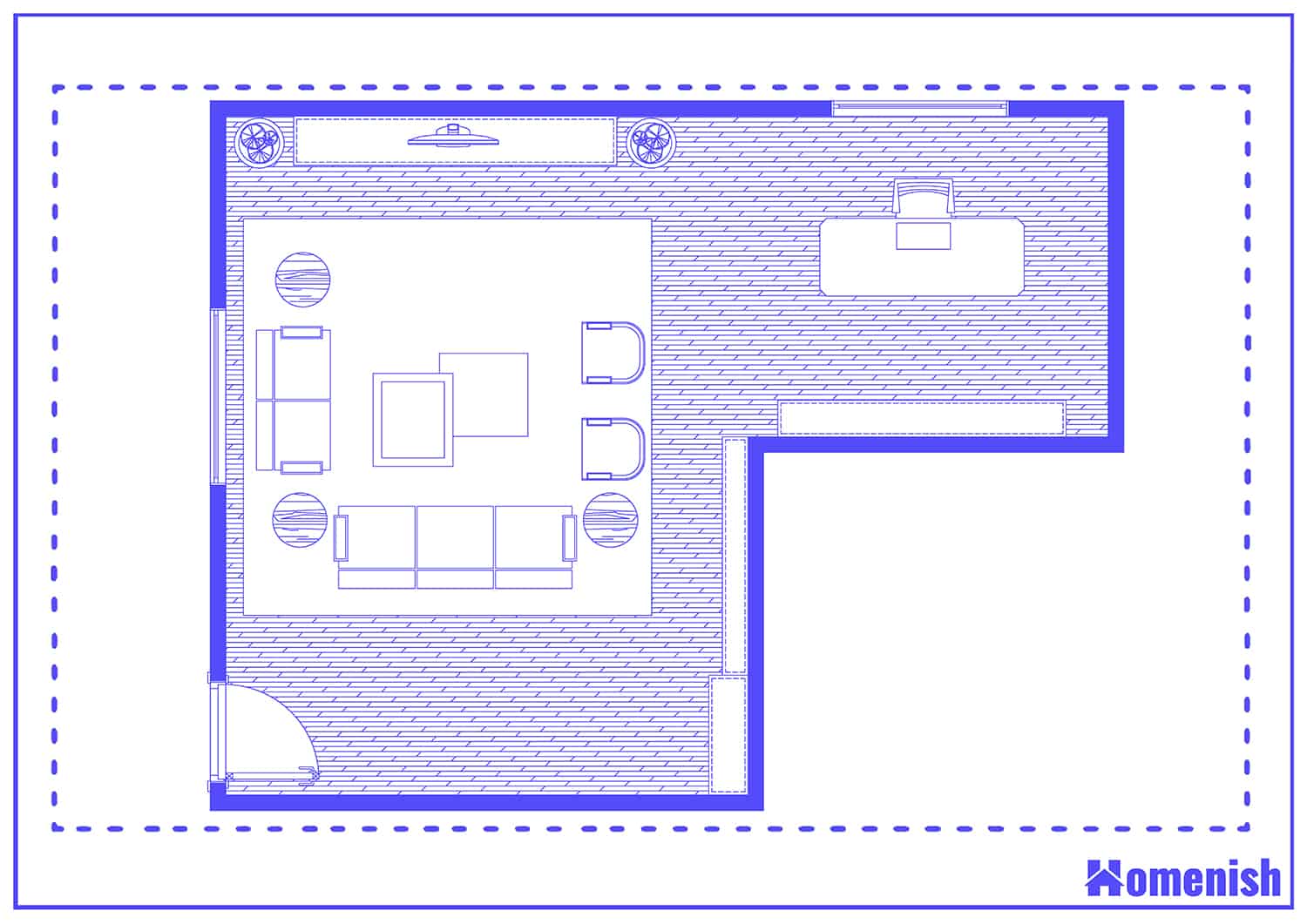 This layout features a large living room area in the rectangular portion of the L-shape and an office in the remaining square portion.
The living room area has been nicely defined by a rug on which all of the furniture sits. The furniture is assembled in a U-shape around a coffee table and facing a TV. This allows for a good social space where people are ideally positioned for conversation, as well as a relaxing space for enjoying television time.
The living room furniture backs onto the home office portion of the room. Using furniture in this way is another good strategy for helping to define and separate areas of a room that have different uses.
This layout could work for a young family, allowing a parent to work in the home office while also keeping an eye on children in the living room.
Multifunctional Living Room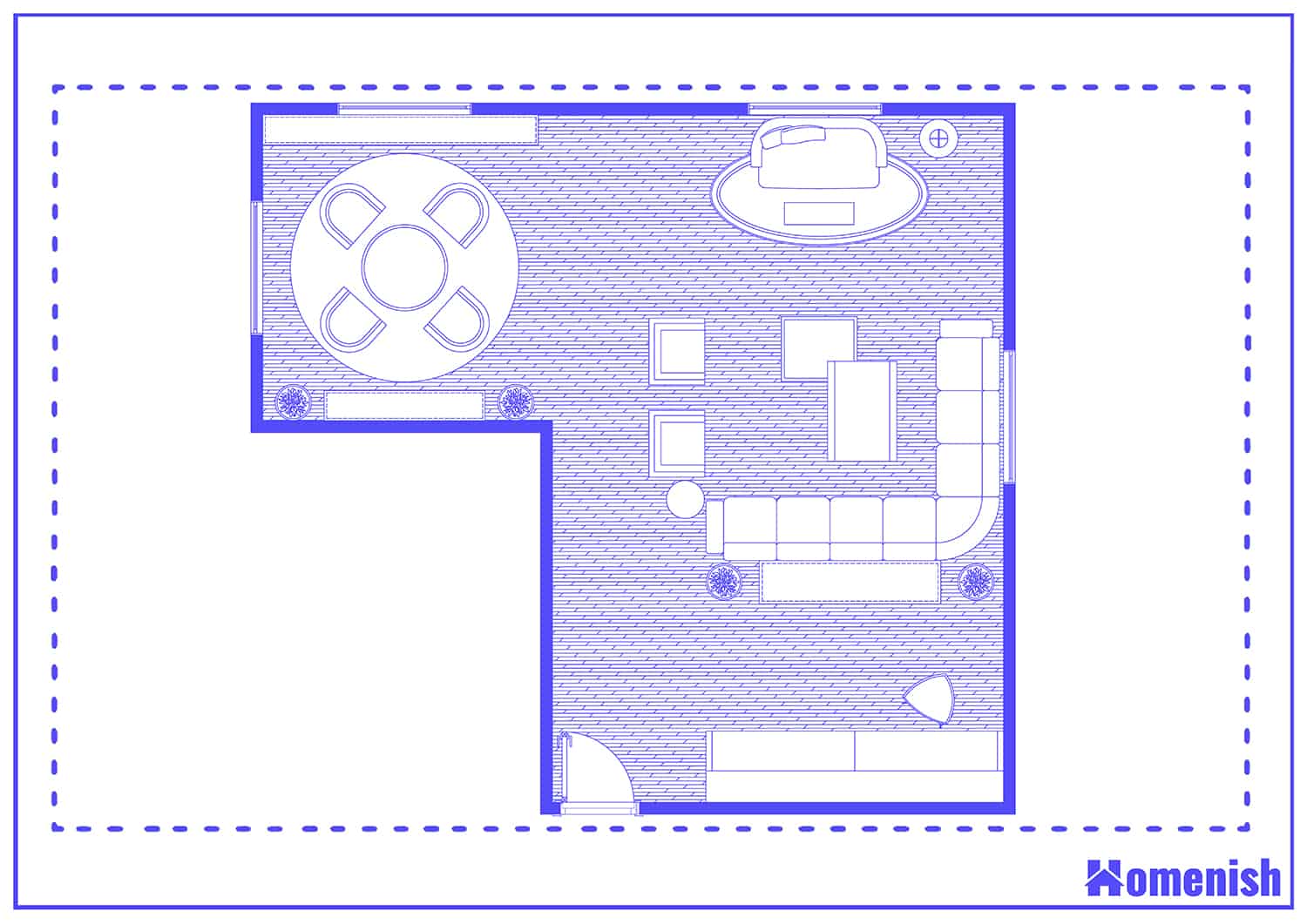 This L-shaped living room has impressively fitted three areas into the space. In the square part of the 'L' is a dining area, helpfully defined by an area rug underneath dining furniture, The opposite end of the 'L' is occupied by a desk and desk chair, creating a casual home office area.
Set between these two areas is a generous living room space, with a corner sofa, several side tables, and coffee tables, and an additional couch.
This open-plan living area would work well for a family who has various different interests but likes to occupy the same space. It is also ideal for anyone who works from home but doesn't have a separate room available to set up as a home office, which is an increasingly common situation.
The corner sofa in the middle of the room works well to define the living space and separate it from the home office behind.
Corner Lounge and Dining Room Plan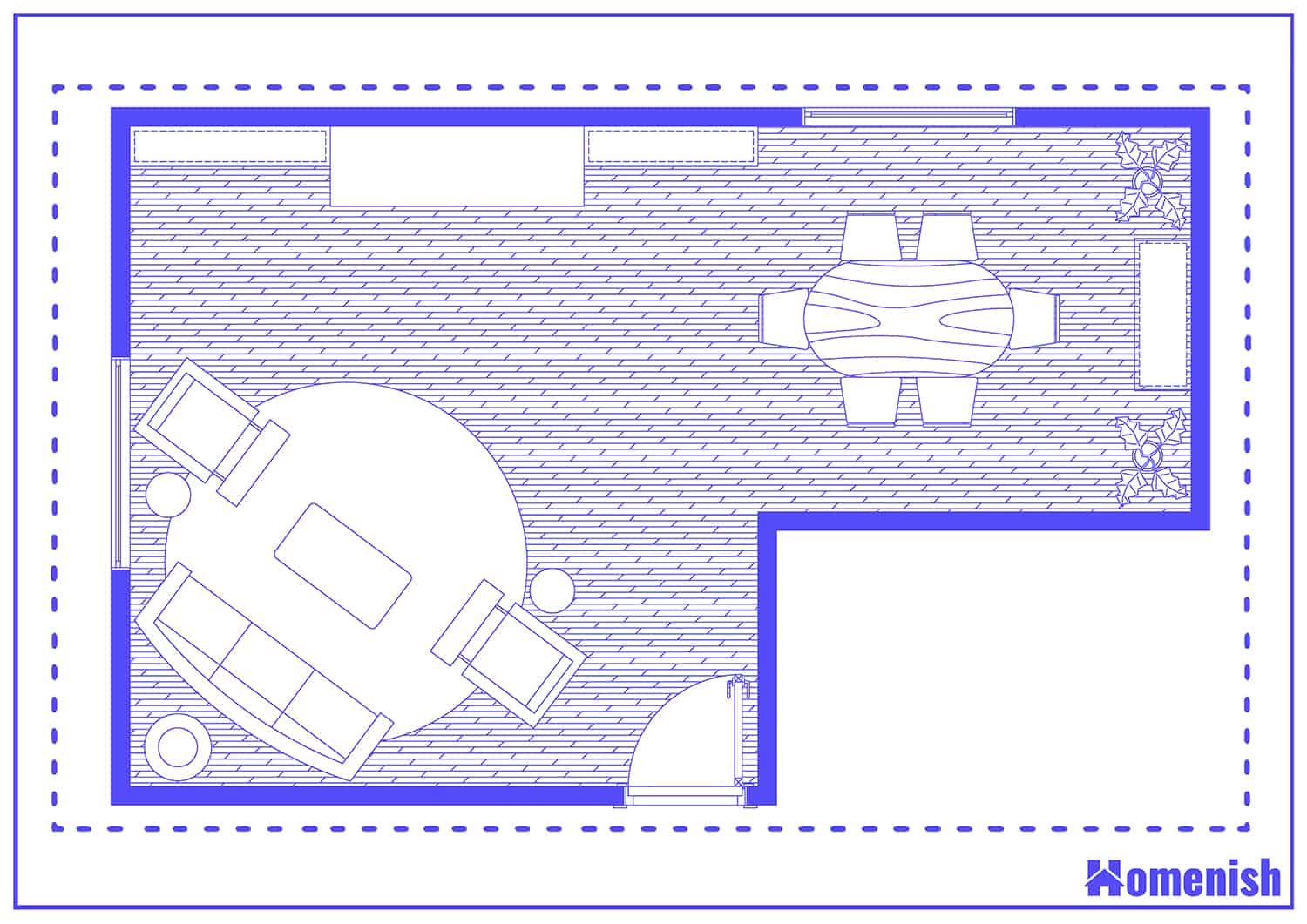 This plan takes a more unconventional layout which would work well for social families who enjoy spending time in the same space. The living room furniture has been positioned at an angle so that it faces towards the dining room section, opening up the space for communication rather than blocking it off.
This could be good if some children are doing homework at the dining table while parents supervise from the living area. It would also be ideal as an entertaining space, providing a nice flow between the two parts of the room.
Tri-Purpose Living Room Layout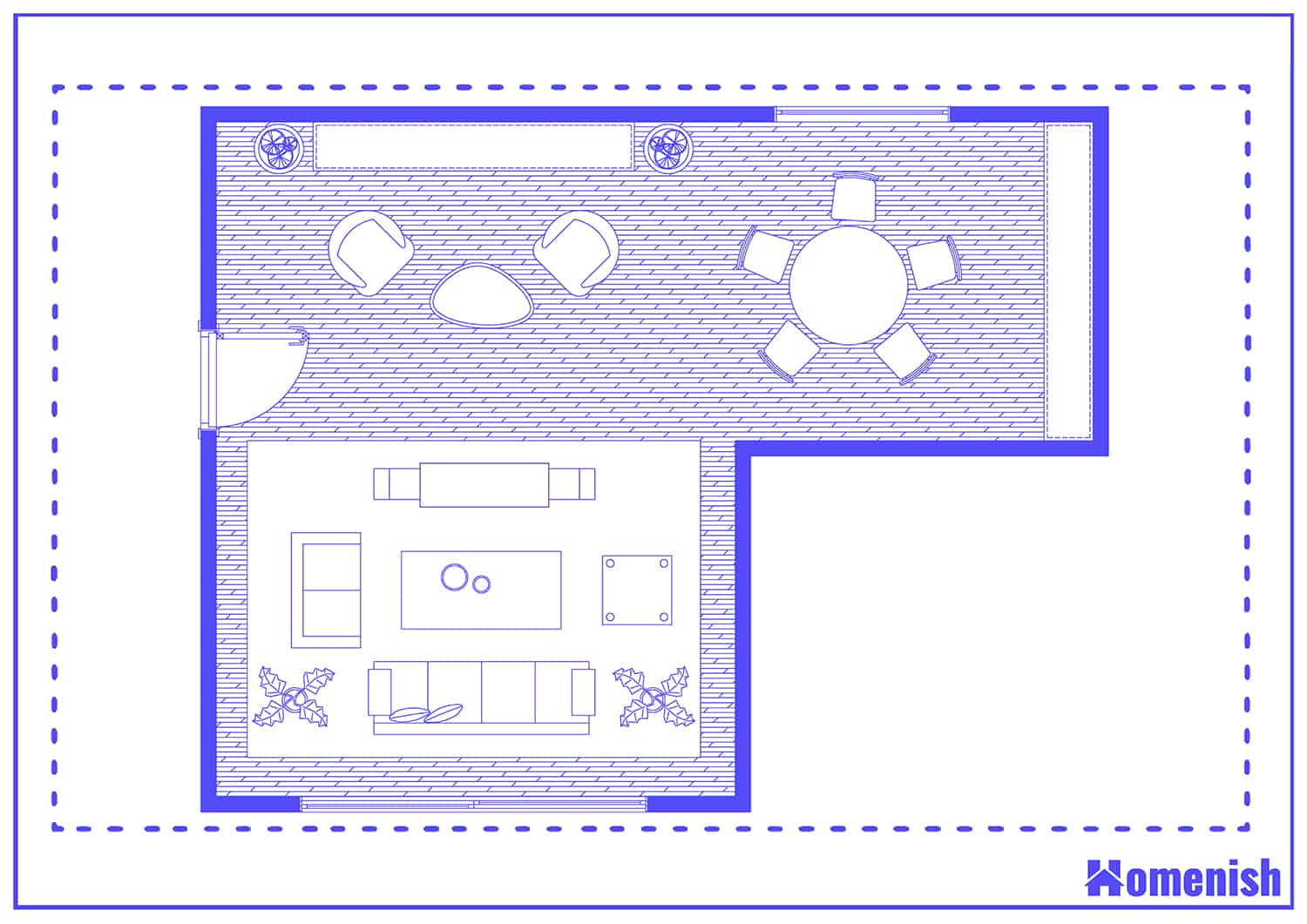 This L-shaped living room includes a dining area, a casual seating area, and a more relaxing lounge area. The lounge portion of the space has been defined by an area rug upon which all of the furniture sits.
This includes two sofas, a coffee table, and other storage pieces which could be used to house music systems or an entertainment center. The dining area occupies the opposite end of the L-shape, while a more casual seating area sits between the two.
This includes two armchairs and a coffee table, which would provide a nice space to enjoy a morning coffee or read a book. This would be a useful layout for a family with older children, so for example, teenagers could hang out in the lounge area while the parents enjoy more adult time close by in the casual seating area.
Like most L-shaped living rooms, this layout would also be good for parties as guests can separate into smaller groups while all still being in the same space.
Chunky L-Shaped Layout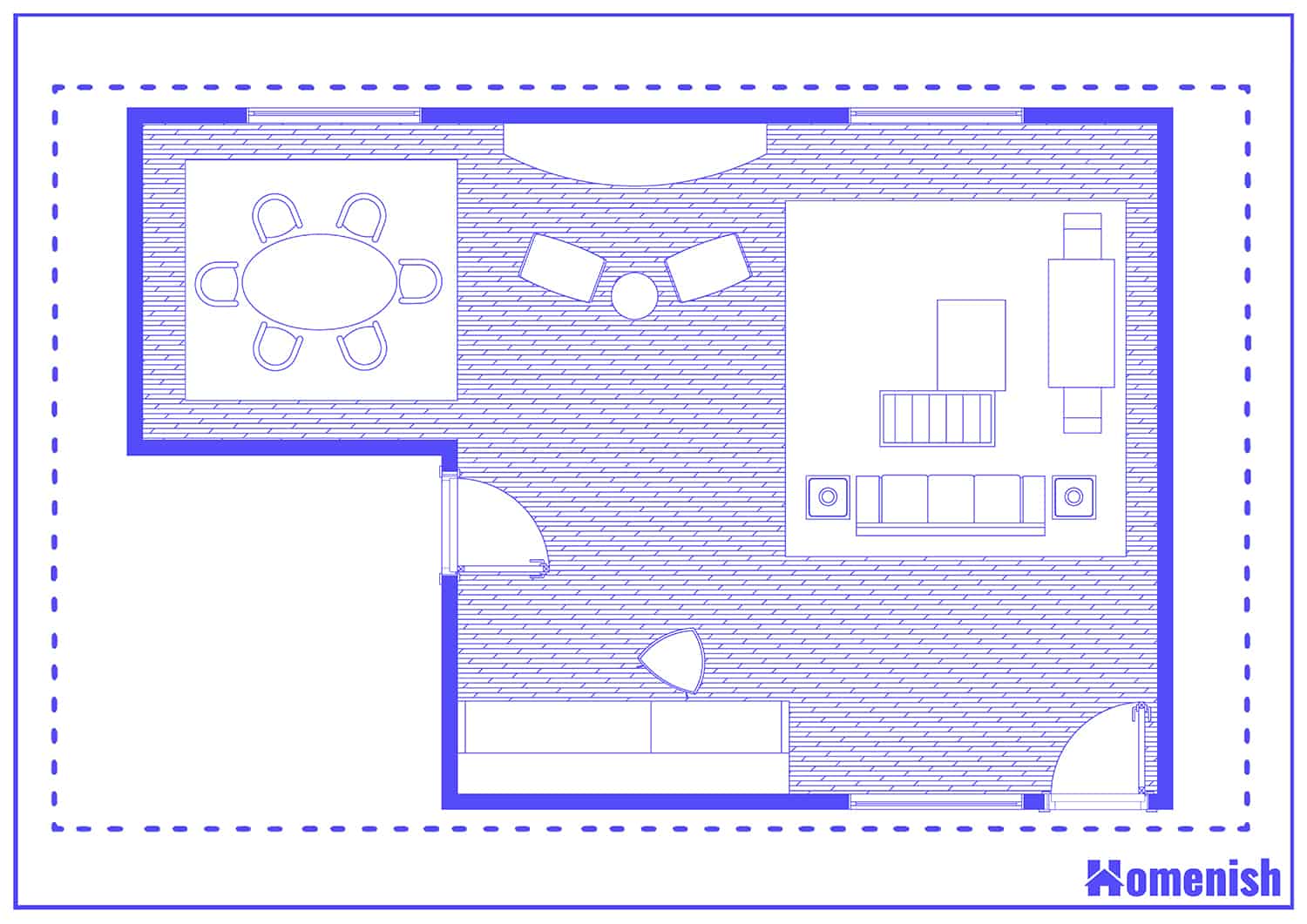 This L-shaped room takes a more chunky form than most, being made up of two adjoining squares rather than a square and a rectangle.
The largest square portion is divided into three usable spaces, including a living room area, a home office, and a reading area. The smaller square space is being utilized as a dining room. This is a great layout for a house with a large open plan room but is lacking other smaller rooms, as it allows you to have everything you need all in one space.
Loft Living Layout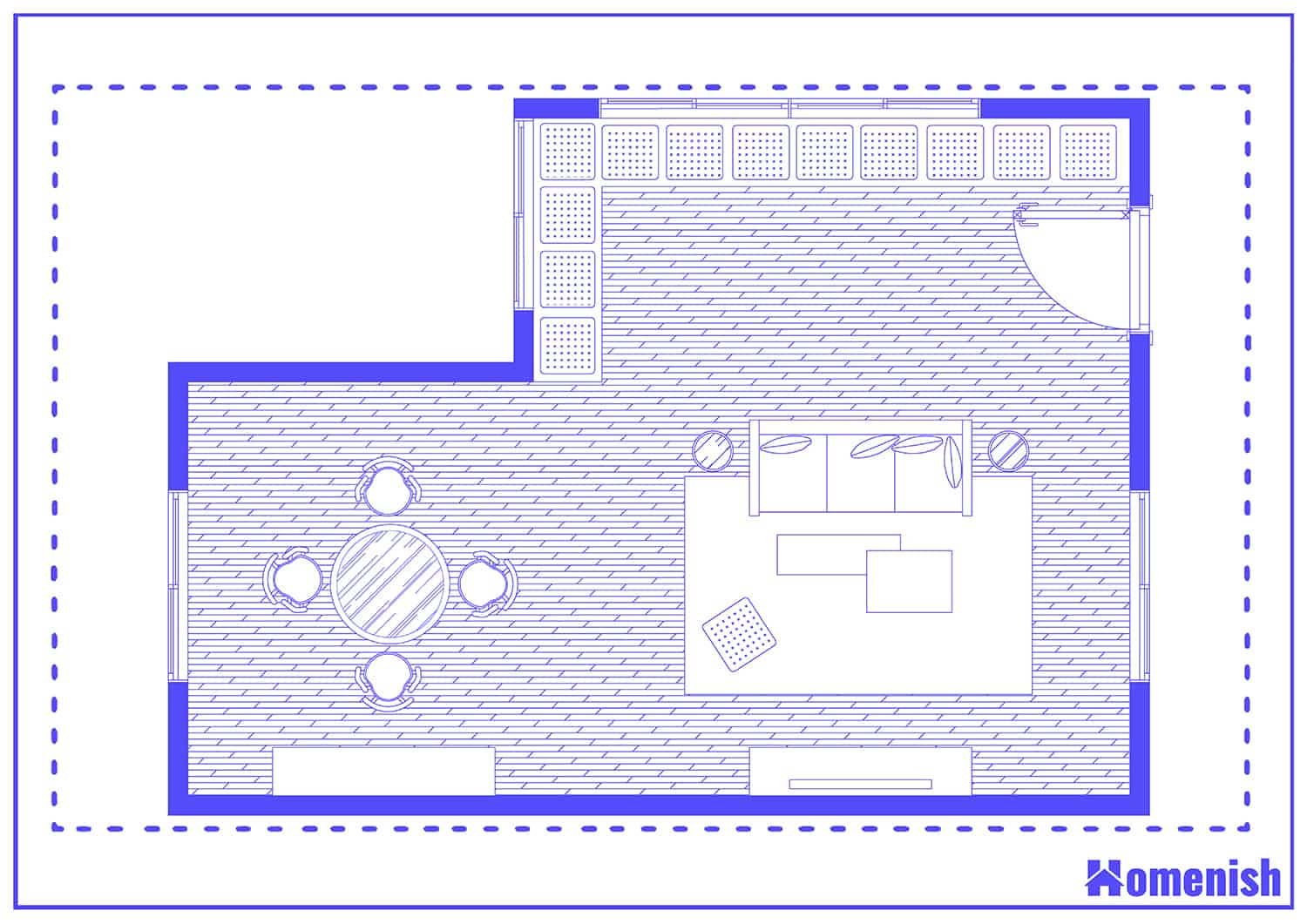 This is a great layout for an apartment or a loft-style room, incorporating a living room, dining area, and kitchen all into one open space. The L-shape is beneficial for creating corners and definitions for different areas while still allowing the space to remain open and airy.
Here, the kitchen occupies two walls, with cabinets opening out towards the living area for a nice flow in the space. The living room portion is defined by an area rug, and the dining space is tucked away into the remaining corner of the layout.
Area Rug Arrangement Layout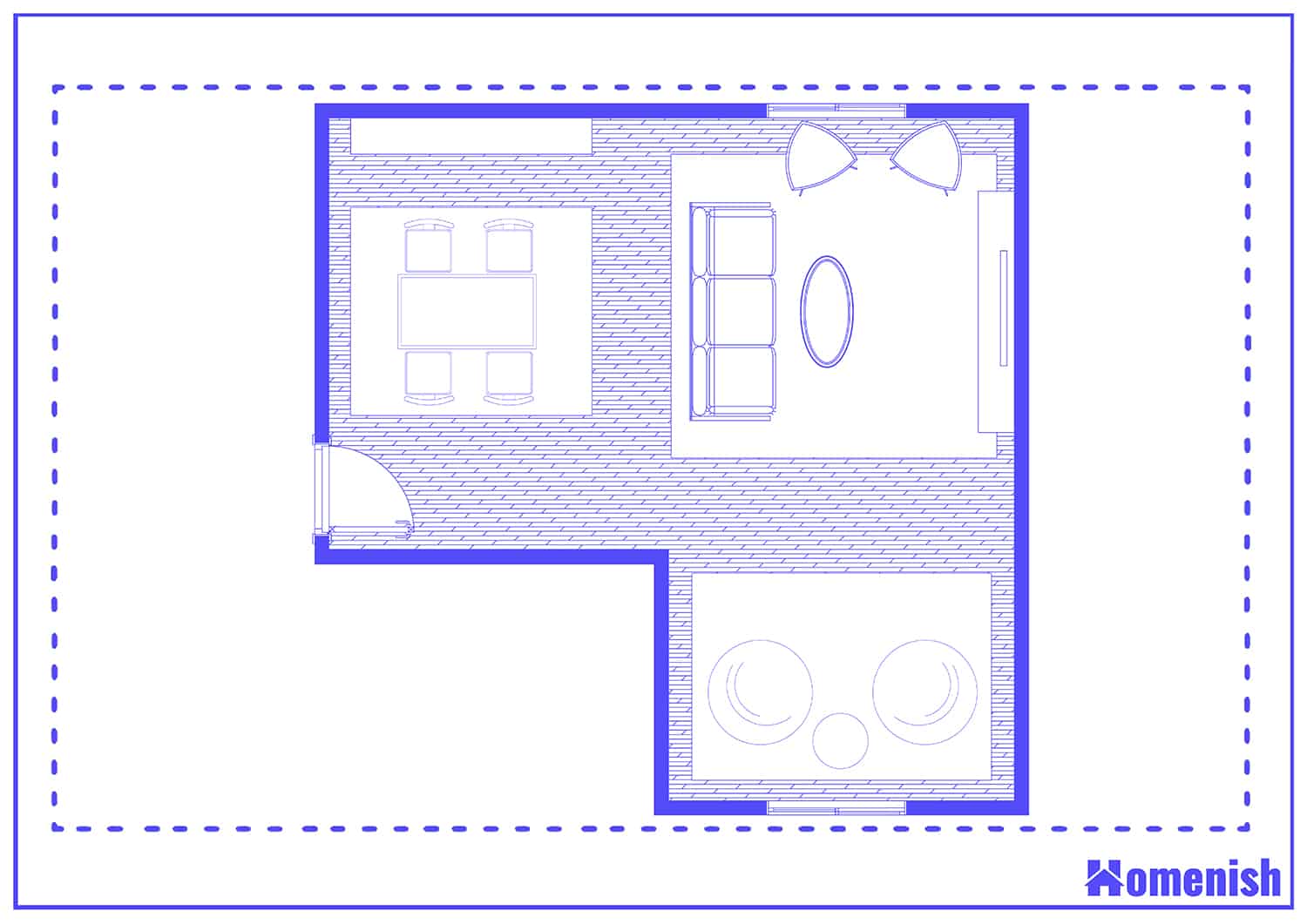 This L-shaped space has been divided into three parts using an area rug to define the spaces and their uses. There is a dining room area, a living room area, and a separate seating area.
This is a smaller room which would be well suited to a couple or a small family, as there is less space to accommodate furniture, resulting in a dining table with four chairs, and just one sofa in the living room.
The living room is set up as a place to watch TV, while the seating area would be best used as a reading area. It is a clever layout for maximizing space and creating several different areas and would work well in an apartment or single-family home.