Kitchen islands have become an indispensable part of every modern kitchen. Taking them from your kitchen is like stealing the liveness of your kitchen design. If you are looking for ideas to remodel your kitchen island or kitchen room, you'll love this article. Take a look at these 60 amazing kitchen island ideas for inspiration.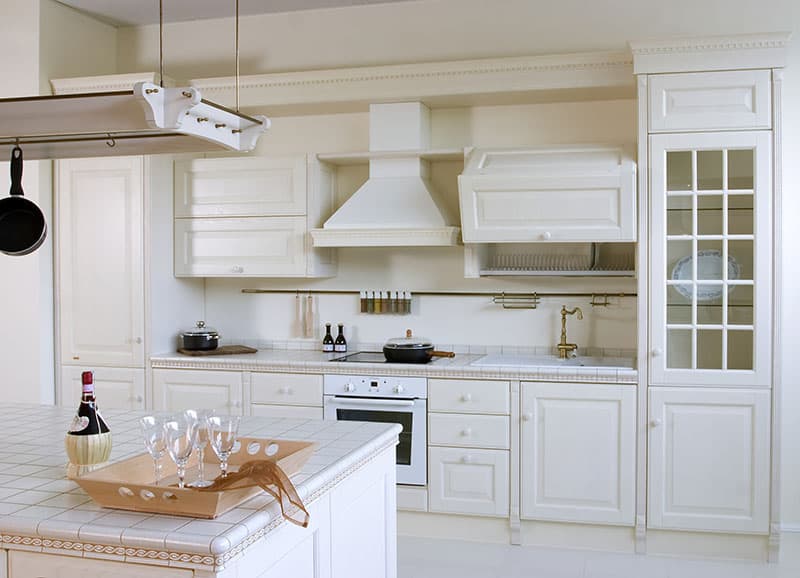 1. This is a small, white-dominated kitchen with recovered wood applied to the cabinets, Kitchen Island, and the vent. The oven is housed between cabinets on the lower end of the kitchen, which further enhances the storage capabilities of this compact kitchen. There is a nice storage area on both extremes of the kitchen to keep delicate items, with one providing a good view through a glass surface. The vent looks to be made from wood and blends perfectly with the rest of the design. The kitchen island is nicely tucked out of way with extra space above that can be used as a pot rack. Thus, the kitchen exudes that rustic look we all crave with premium storage.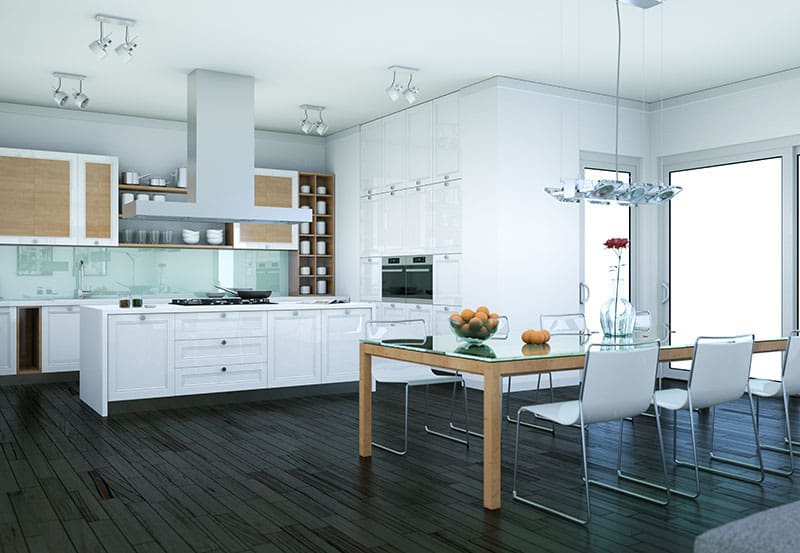 2. This modern kitchen design emphasizes simplicity, with the powerful use of hardware. The color contrast created by the wood on the table and cabinets, and the black floor draw attention and the bright white color adds a beautiful tone to the whole setup. The kitchen features Italian marble, stainless vent and plenty of space to make cleaning easy and stress-free. The pane door also offers a nice view of the outside world, you aren't going to feel alone while carrying out your kitchen chores.
The long pure white island blends in with the white emphasizes and offers good storage capabilities provided by the flat front cabinets on it.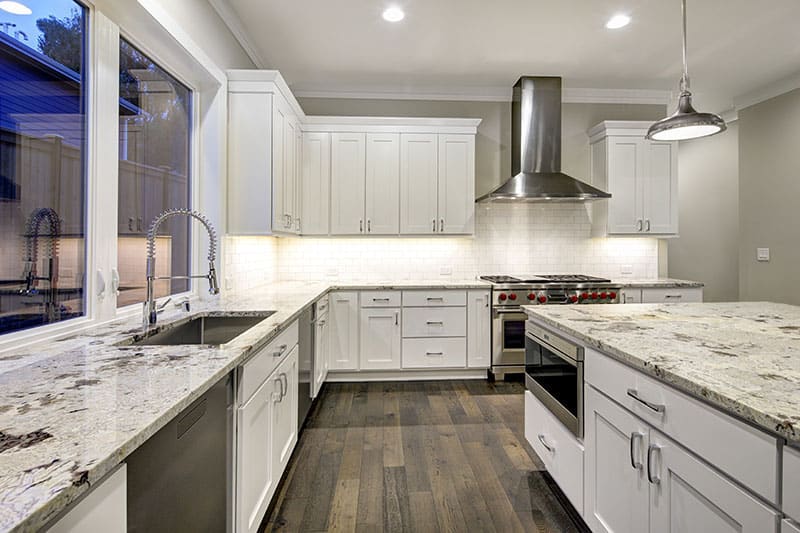 3. This spacious kitchen offers a cool blend of color with a dedicated kitchen island and minimum kitchen appliances. The kitchen island offers lots of storage and the cabinets are nicely carved and well-spaced; no obstruction means you can get things done quickly. As you can see, the island has a couple of drawers with varying storage capacities and has the same design with the opposite cabinets, which helps to maintain the tone of the design. The chandelier overlooking the countertop adds a modern touch as well. Although the stainless vent looks almost out of place, it's complemented by the chandelier and the cooker.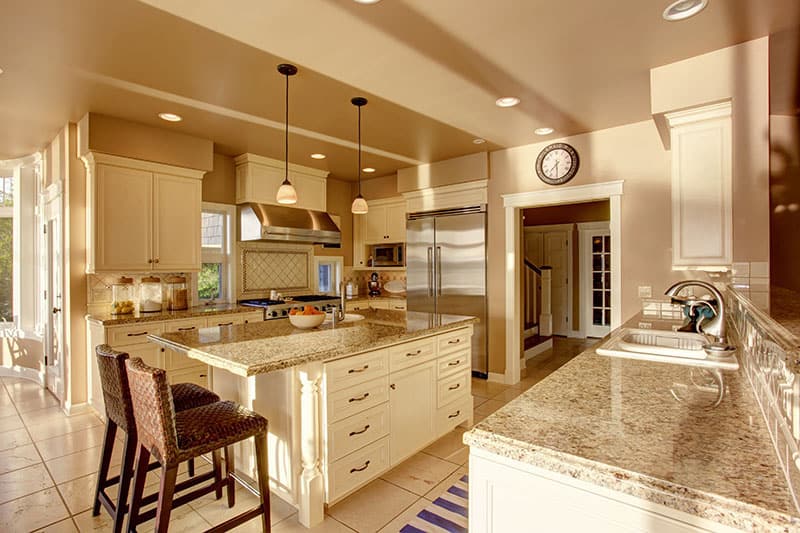 4. This premium and spacious kitchen has the primary colors as beige and white. The island lays in the middle of the kitchen fits very well with the whole setup with beige countertop and white cabinets. The dark stools beside the island create the high contrast with dark red color; however you can also choose the primary colors as beige or white for them, which creates a great sync for the whole kitchen colors.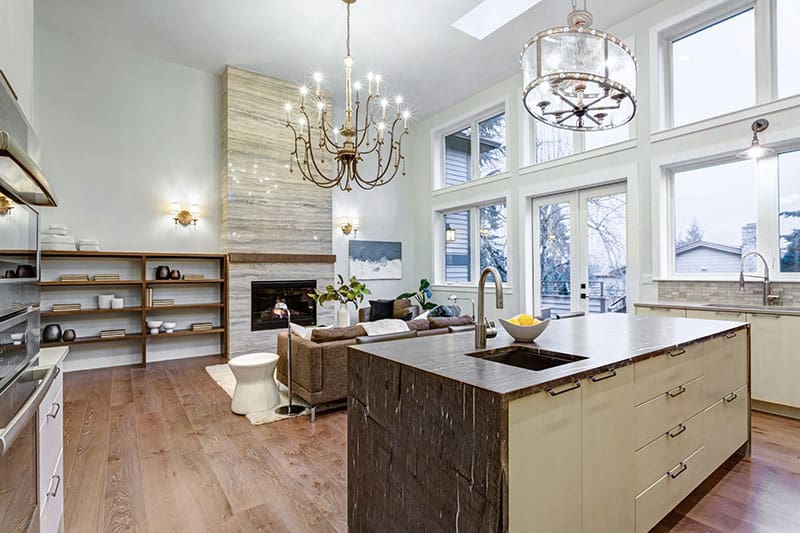 5. This is a bright and airy living room with high ceiling and behind it is an exquisite living room with a fireplace. The whole setup is marked up by a stone fireplace, large windows for a great view, and a kitchen with a Granite top island. The antique tiles make a lively backsplash with two chandeliers overlooking the floor to make a strong first impression. This open concept kitchen and living room see the kitchen linked to the living room area, thus eliminating the barrier between the kitchen and the social space – a great and practical move for the 21st century.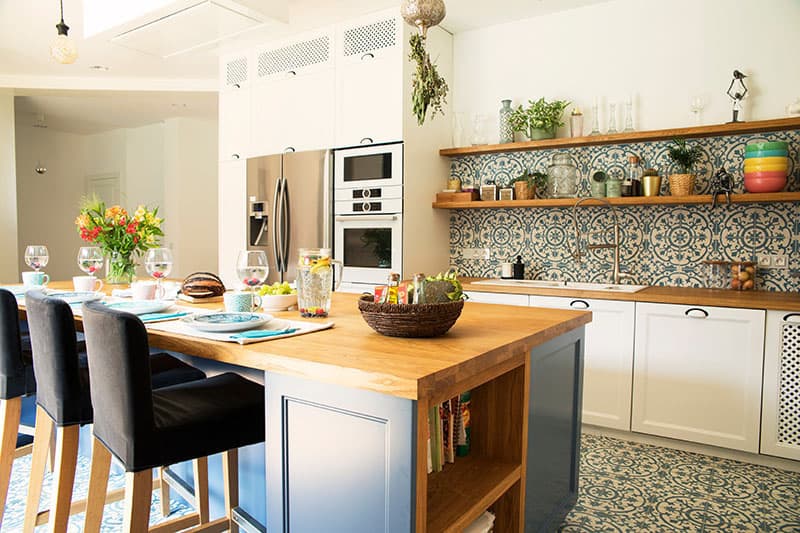 6. Even if you have a small space, you can achieve a Mediterranean style kitchen like this. The custom tile that forms parts of the wall in this retro design creates a backdrop that balances the cream color paint in the rest of the kitchen. The kitchen features a bright and sunny space with a lot of herbs and plants. The natural wood front and back and the scattered wooden plates here and there gives the kitchen more of a traditional look than a modern concept. There is no dominant color here, but the rich use of wood tones and color contrast on the wooden island creates a welcome and calm feel.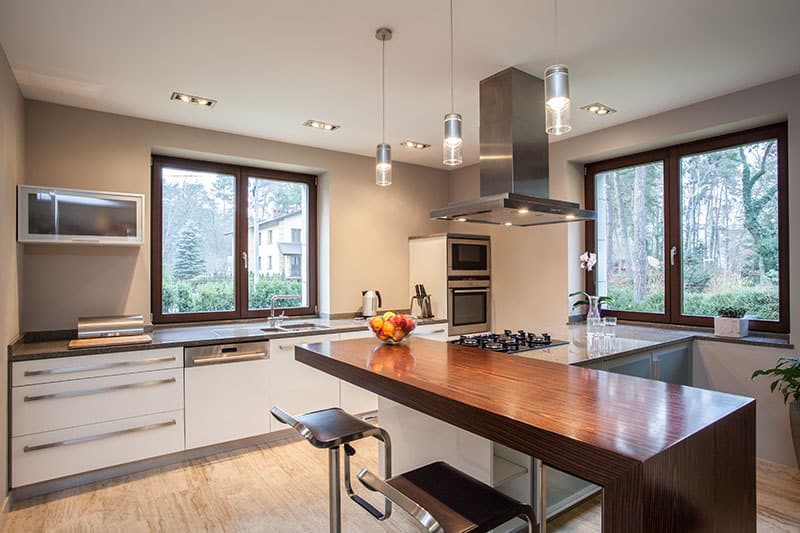 7. This enclosed kitchen design in this Travertine house features light wood cabinets, under mount sink, gorgeous pendant lights, contemporary Travertine floor, and a nice looking vent. Part of the allure of the Travertine is its charm and how it can illuminate a dull kitchen – it's been used on floors, walls, stairs, since the last century for this same reason. Here, you can see the long wooden kitchen island backing the cooking area with matching stools of stainless steel make. The two big adjacent windows provide a good view of the woods, so you can entertain yourself while dining.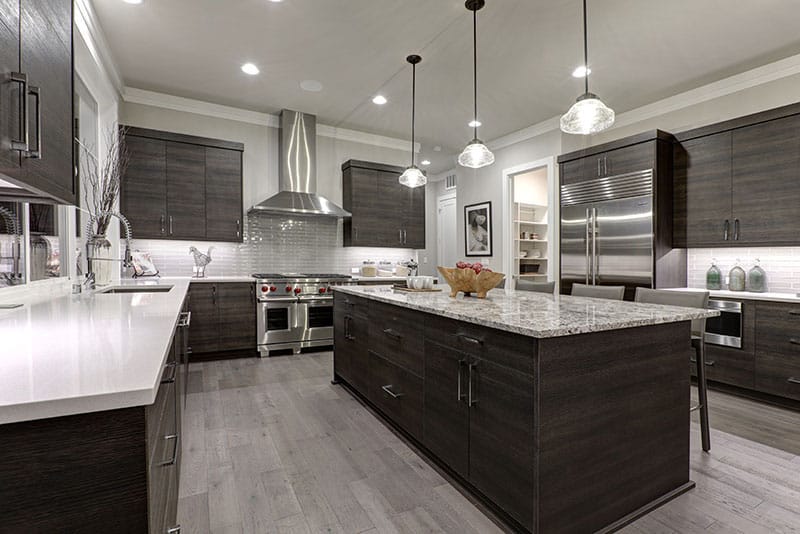 8. This modern dark-brown kitchen features a glossy linear tile backsplash and shaker cabinets with white quartz covering. This large kitchen manifests a most welcoming color ambiance while the pendant lights provide enough brightness to break the dark-brown color domination. While the kitchen is surrounded with cabinets looking similar, the view is immediately captured by the stunning cooker and vent – both stainless and drawing attention.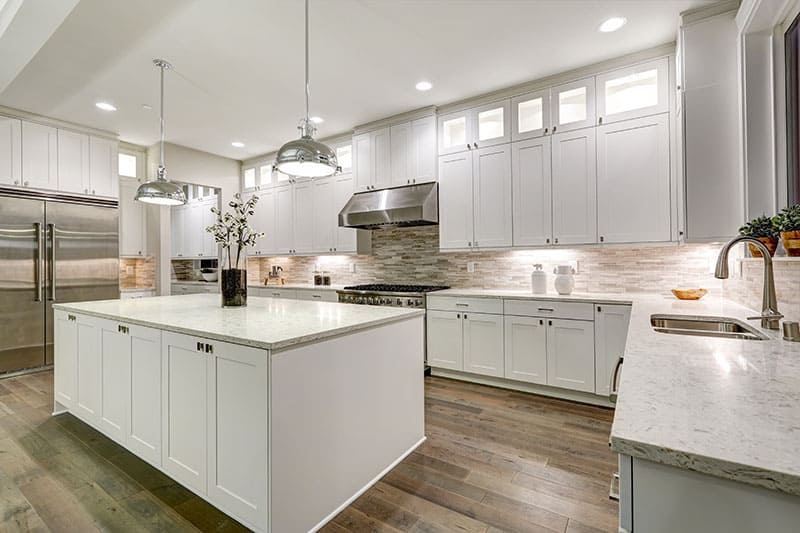 9. This Gourmet kitchen features white shaker cabinets with marble countertops, a combo that most homeowners love because of its luxurious feel. The design includes stone subway tile backsplash and a gorgeous kitchen island. To top it, just add a double door stainless steel refrigerator as shown in this picture. The two dropping pendant lights above the Island emphasizes the white dominance in this modern kitchen. The bright ceiling lightens up the setup and the straight edges enhance the style of the kitchen. There are small windows across the cabinets to allow natural light to come in.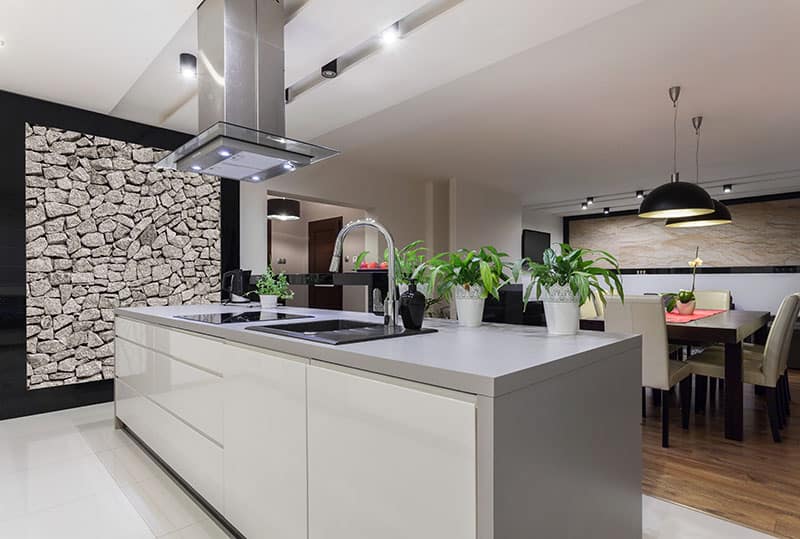 10. The stone wall in this kitchen creates the right combination of texture and warmth, just enough to provide a great first impression. Playing with color here definitely creates a real statement. The kitchen is opened to the dining room area and the large rectangular island blends well to the surrounding, especially the beige color. The island provides an extended space for preparing meals. The smooth and clean surface not only house your spices and other ingredients but also a healthy collection of flower vases to keep the air purified and maintain humidity.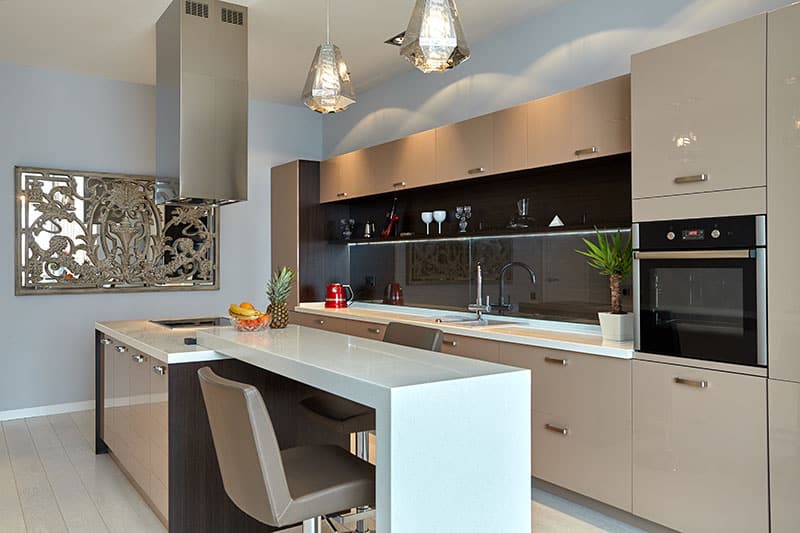 11. With plenty of appliances, this kitchen is beaming with beauty. The pendant light above the island not only add personality to the design but also to further enhance the look of the kitchen. The dominating figure is the kitchen island itself, which blends smoothly with the wall of the kitchen and provides ample space for dining. The island is compact and its rectangular shape doesn't eat up valuable real estate, so this enclosed kitchen isn't too tight to carry out most cooking activities. The cabinets are painted in light brown, which a deep hue balanced by the floor backsplash.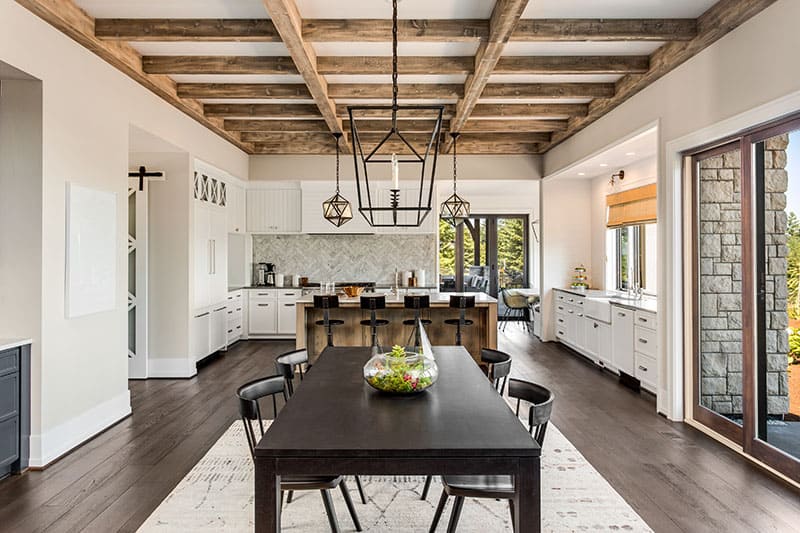 12. This stunning dining room and kitchen in a new luxury home allow you to bring the outdoors in with natural finishes and colors. The wood beams and elegant pendant lights accent the beautiful open floor plan, dining room, and timber ceiling. The design features large sliding doors and custom ceiling made from Oak with plenty of recessed space in the kitchen. The dining table is painted in dark brown and commands great attention with enough dining space and matches the elegant floor backsplash and kitchen rug. The kitchen island features glossy marble that blends with the creamy color of the walls while giving the setup a classy definition.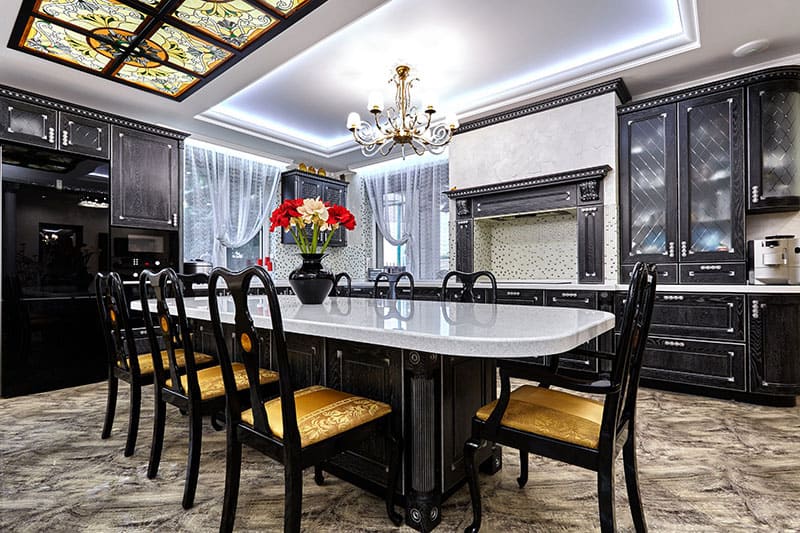 13. In this kitchen, you can see the elegant chandelier hanging above the kitchen island with an oval shape that provides plenty of surface space. The island is lit up by the beaming ceiling and its glossy finish is very well visible because of that. The top of the island also matches the wall and ceiling while the wood below the marble blends in with the rest of the cabinets. You don't need another room for dining because here, you can have your meal right on the kitchen island itself.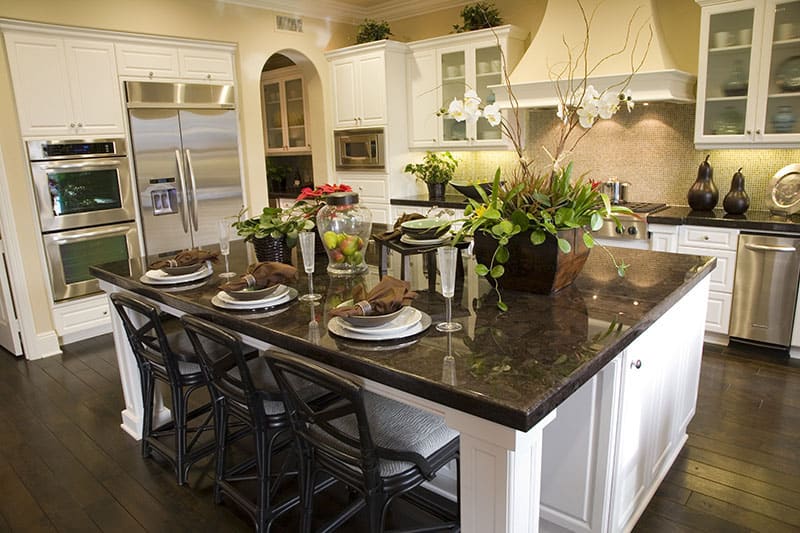 14. Who says you can't have a square and spacious kitchen where you can dine and wine with your family without leaving the kitchen? Unless you don't have a kitchen with a hardwood floor and a breakfast table. The square kitchen island provides enough countertop space and can serve as a nice buffet table to entertain your guest or an informal dining table. The massive island is covered with brown marble that blends well with the backsplash floor while the white color below it matches the rest of the kitchen cabinetry. The top of the island looks a bit rough here so you can free up space by removing some flowers and creating another space for them in the kitchen.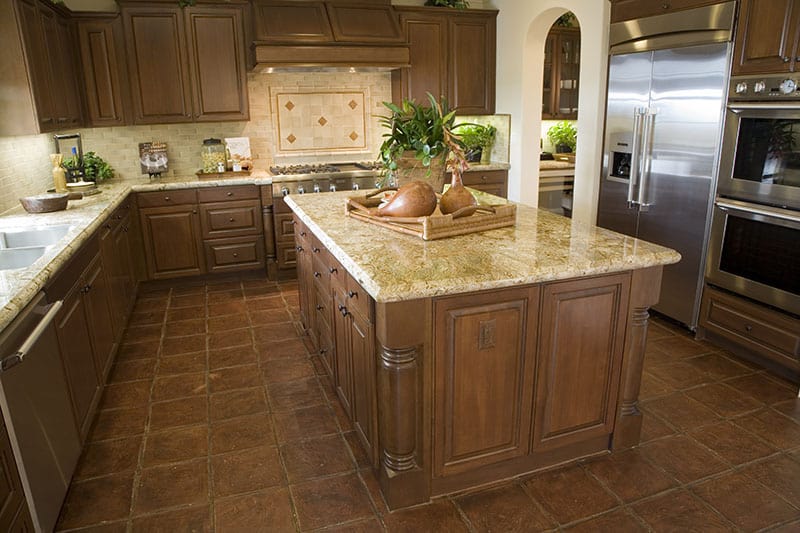 15. This modern kitchen with orange tiles looks charming and quirky with nothing looking out of place. The rustic farmhouse kitchen island looks great and is a great example of what you can achieve by transforming and refurnishing old furniture. Use old wood for your cabinetry, ceiling and island and throw in a couple of stainless steel appliances to transform the look of your kitchen. The center of attention is the island, not only because it blends in with the natural color of the kitchen but also because it takes the central stage of beauty.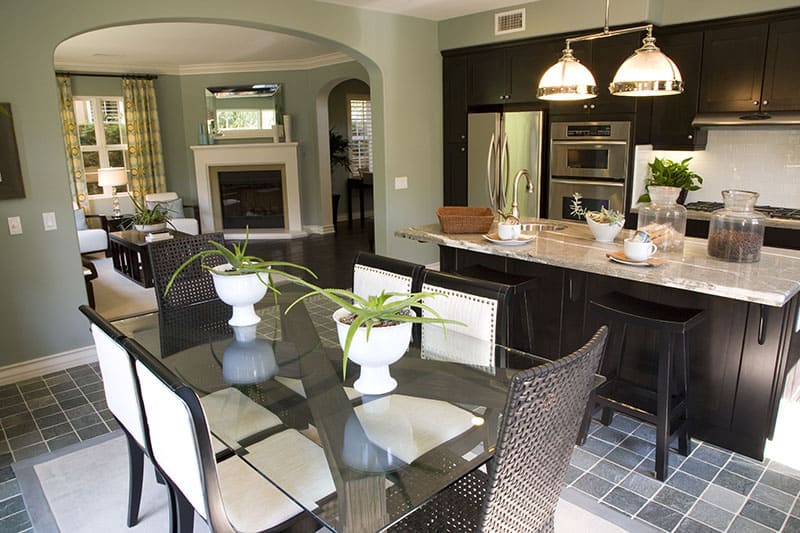 16. This space-saving design can really show your creativity. In this kitchen, you can see this space is economically and prudently managed with the merging of the kitchen and dining room. You can add the living room to make a 100% open plan arrangement. Although, the island is almost out of sight if not for the beaming pendant lights from above, which exposes its shape and form. Always remember the island can be dull but a well-positioned light above can turn things around as seen here.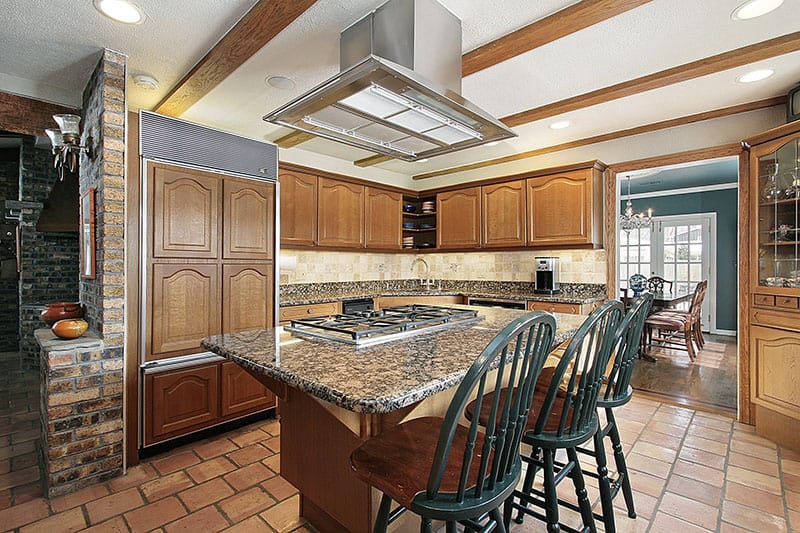 17.  Use a deeply veined marble as your island countertop and create a striking statement in your kitchen just as with this kitchen with brick and wood cabinetry. It has an impressive affluence feel, with all-marble countertops and bricks on some part of the kitchen. The rustic appearance of the kitchen gives it a warm feeling and the use of recovered barn wood will definitely see you saving money.



18. This kitchen is in a primitive colonial style reproduction home, with barely any modern appliance or feel. You could see more than one island here to try to spice things up, although they all are small and do not look distinguishable at all. Most of the kitchen is built with materials reclaimed from structures built in the late 1700s, which is evident from the vintage look. This kitchen looks more like a room with many antiques from the late 18th century. Anyway, you can still use vintage appliances like this if you want to give a homey, rustic feel to your kitchen, but you better not make that the majority of your setup.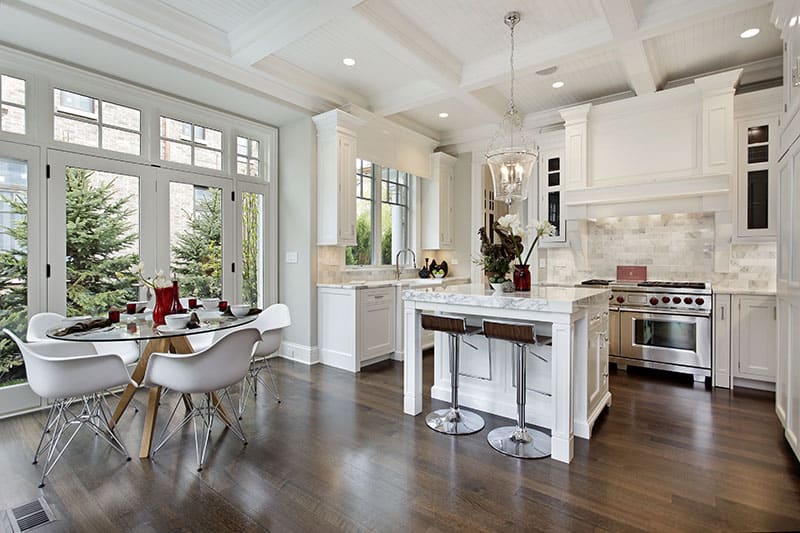 19. This amazing white kitchen is fitted with custom white shaker cabinets, creative marble-topped kitchen island and stainless steel appliances to keep the luxury look of the rest of the house. The planked hardwood floor is smooth, and the dining table is placed just around the large doors for a spectacular view to the outside. The island is tucked at an angle to form a seamless angle with the cabinets around it. The island is small but magnificent, hideous but attractive, white and brilliant. What more can you ask for?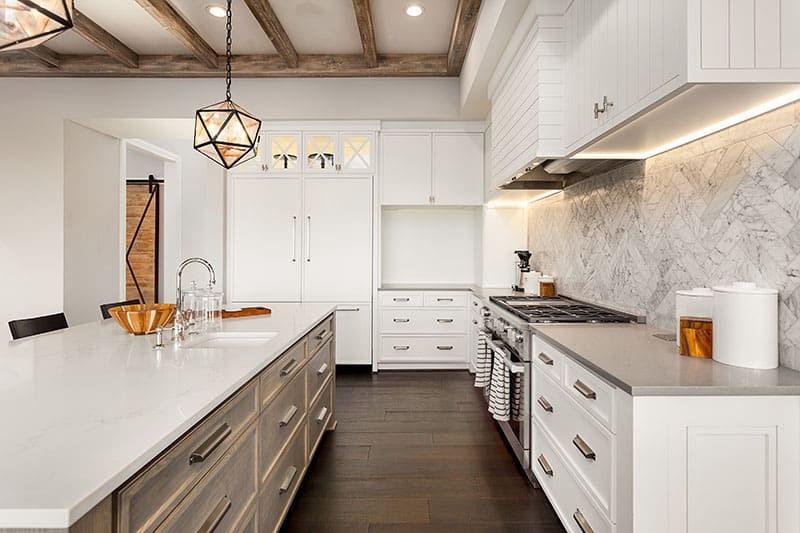 20. This kitchen interior is fitted with a large kitchen island that takes up most of the kitchen with a few pendant light fixture, sink, and shaker cabinets. The island is fitted with the same cabinets on the opposite but the difference in color creates a varied appearance, something that's always good to shoot for in a modern kitchen. The hardwood floor and timber fitted ceiling and textured limestone wall give this kitchen a relaxed farmhouse vibe. If you like a minimalist kitchen design with fewer kitchen appliances, this is a great option for you.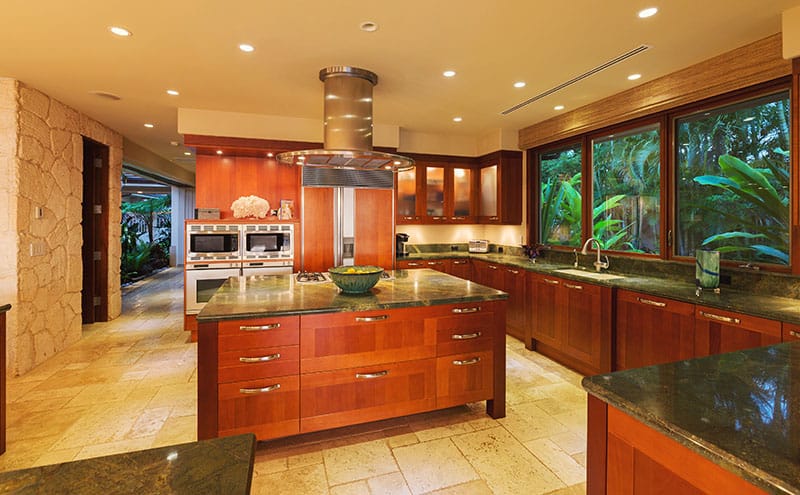 21. You don't have to make your kitchen island built-in and still make a striking statement by using the same wood on the island and the rest of your cabinetry. The island is at the forefront of the setting, with a beaming countertop that'll stop any guest for a second look. This beautiful kitchen in a luxury home is cool and peaceful and features a good view of the greenery outside and a passage into the living room. The color of the ceiling equally matches the backsplash floor here, further enhancing the color contrast of the kitchen island.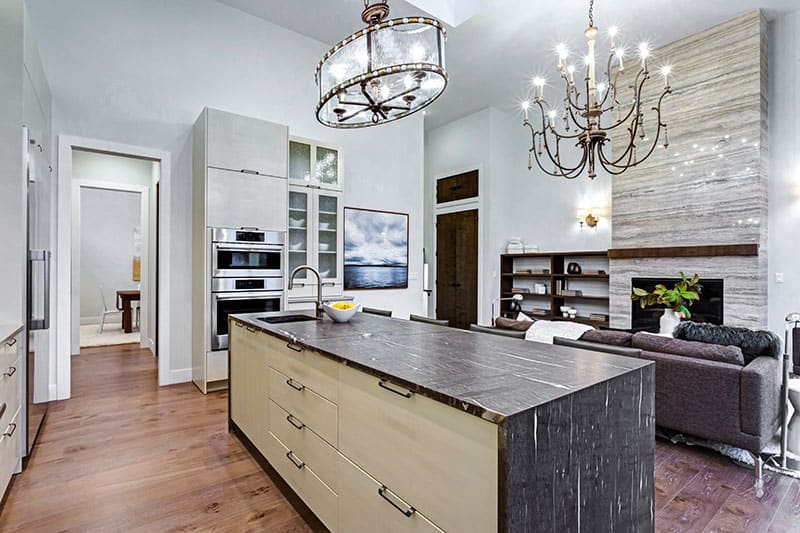 22. This kitchen features incredible light and an airy living room with high ceiling, stone fireplace, and large windows. The fireplace is concealed behind the sitting room sofa and offers a great resort for a day's rest on a cold winter day. The view from this stylish kitchen with granite-top Island is befitting a modern home. The kitchen island is entirely made of wood and stands out from the rest of the setup so that it's the first thing visitors see. The chandelier above also offers remarkable illumination, further amplifying the makeup of the island.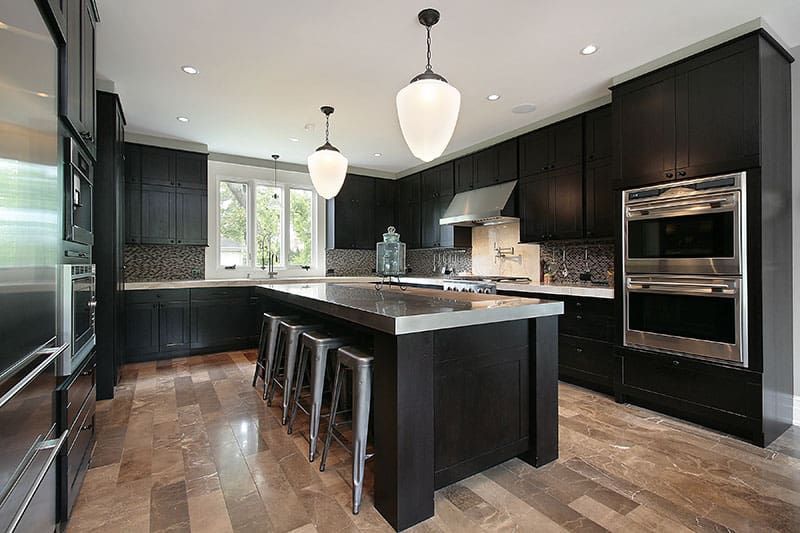 23. When you make use of a dark stained wood for your kitchen cabinetry, your kitchen is most likely going to feel powerful and vibrant. Look at this kitchen, the dark cabinets have great ambiance with different tones, materials, and wood. They are minimalistic but deep and rich in color. There is a good contrast between the dark toned wood and light-colored countertop with the large kitchen island blending in smoothly. The kitchen island is of the right height and enamored with pendant lights of cool ambiance. It features a dining table and a great space underneath to accommodate stainless steel stools. If you take the island out of this picture, it'll mostly be likely to look bare.
24. If you live in a condo or an apartment, there is no reason you can't have a glamorous kitchen design with a small budget. With enough creativity, you can achieve the same elegant appearance in this image. Here, you can see the distinctive fabrics of various shades and color contrasts. Make the top of your kitchen island marble, leave enough space for dining and use refined furniture for the rest of the build. You'll see this that the left angle of the island matches the color of the tiles and cabinets while the other side blends with the ceiling and wall. Even with little lighting, this kitchen will always feel breezy.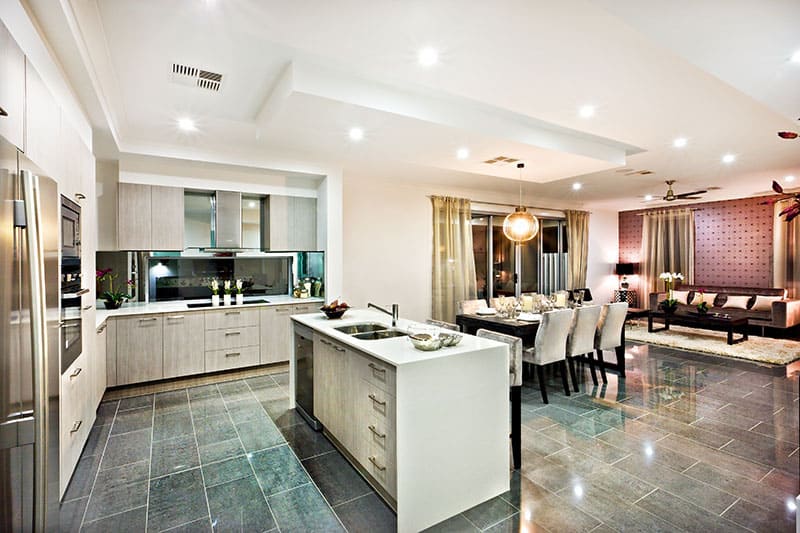 25. Get yourself a modern and shiny kitchen with dining and living room area, including a countertop and a marvelous island on reflective tiles. You need only a small, rectangular island that stays the same course with the cabinets, chairs, and ceiling. With lights flashing at night from the ceiling, this kitchen will never be dull.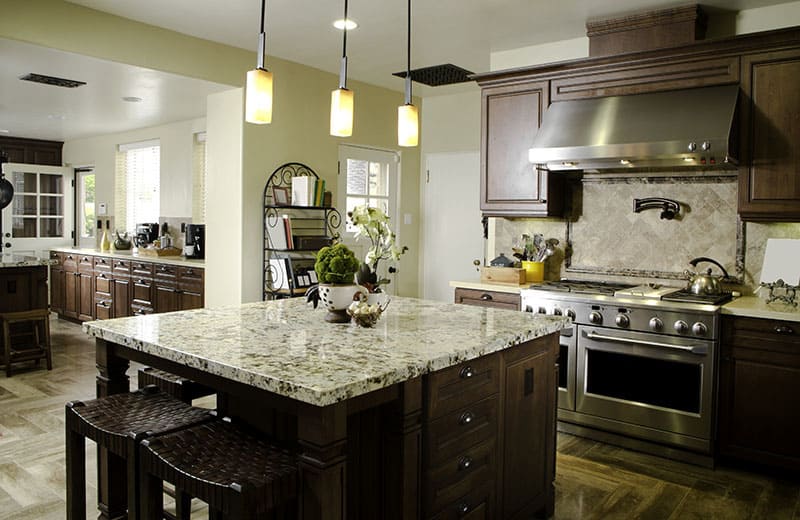 26. This open-ended kitchen sees the living room, dining room, bathroom, kitchen, and office, all bundled into one large area for easy access. It's interesting how much you can cram into a kitchen, even if space is tight. All you have to do is add a square island with ample space for food prep and breakfasting. Add even more spice by matching the cabinetry to the island storage space.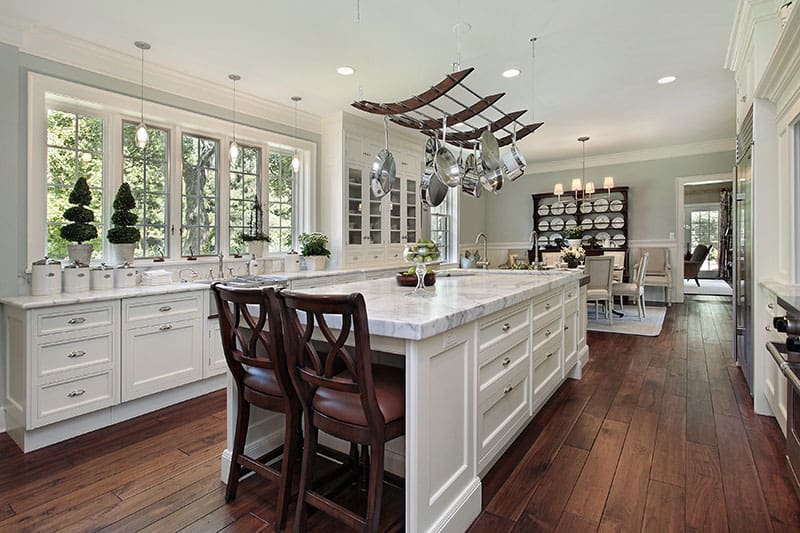 27. This white kitchen features a large bar-style kitchen island with granite countertop with hideous pendant lights arranged throughout the setup to provide adequate illumination. Look at the nicely crafted rack above the island too, offers instant access to utensils you may want to need. If you have a large kitchen with enough space, there is no reason why you shouldn't have that in your kitchen.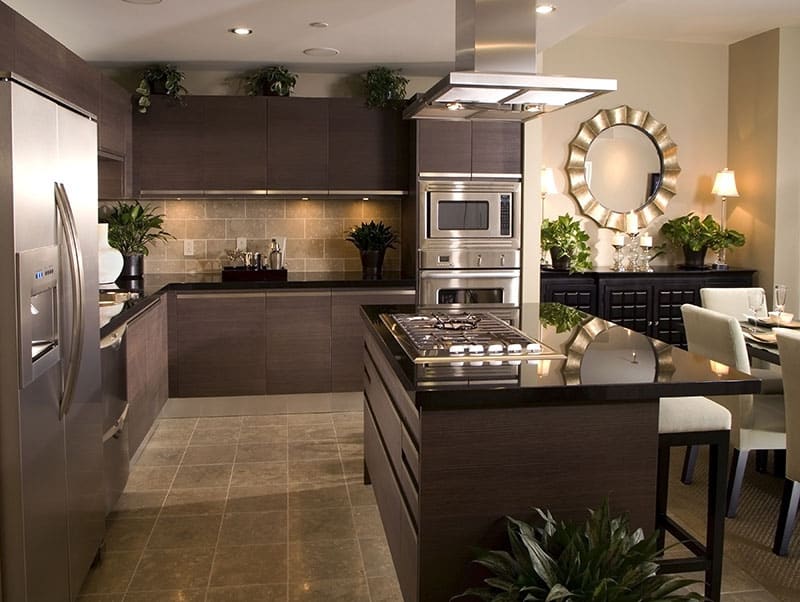 28. This is a good example of a warm and inviting kitchen. It's not instantly clear whether it's the lights or the flashy island with dark brown that's the source of the warmth though. With this rectangular dark-colored island with cooktop and enough space to prepare food, you won't have much complaint about a closed kitchen.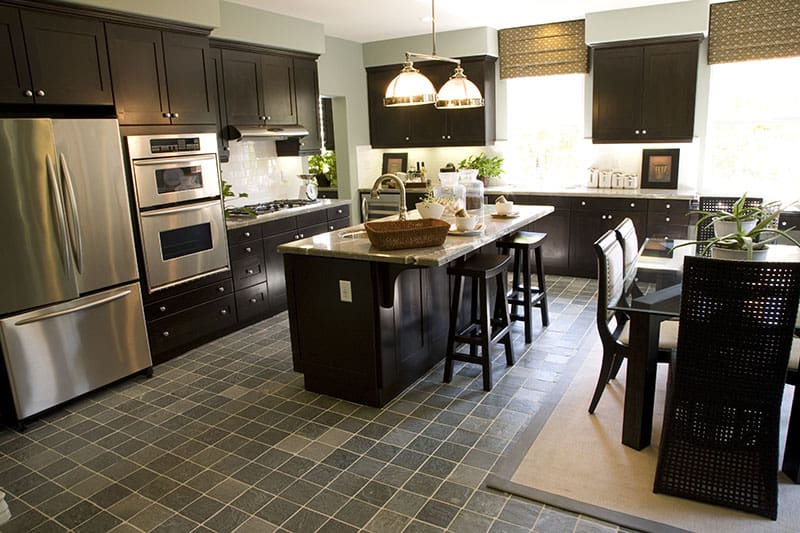 29. This custom kitchen is richly decorated with a medium kitchen island and a nice-looking breakfast table for the occasional family treat. You can see it's easy to get extra seating in your kitchen without moving the island. Whether your kitchen is small or big, you can add this versatile breakfast bar as an extension of the kitchen island. Not only will you save space, but you'll also not need too many appliances in doing so.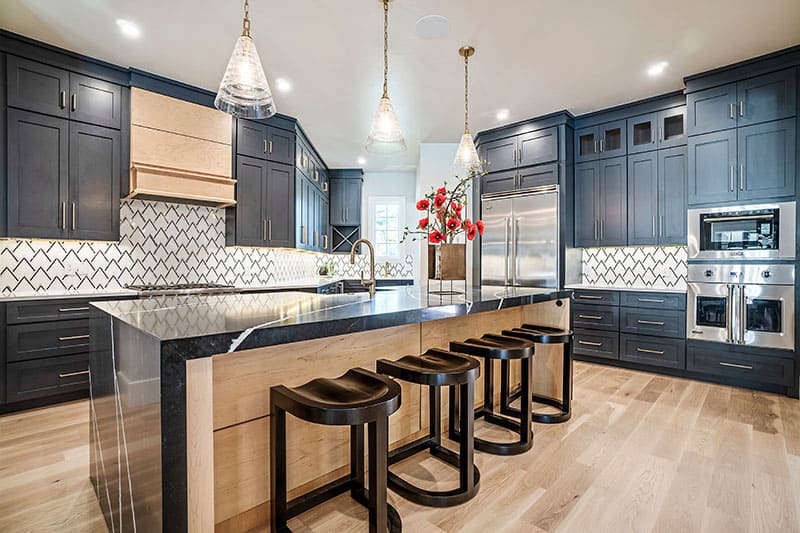 30. This modern luxury kitchen proves that you can have an open island with plenty of seating and counter space and not spoil the look and feel of your kitchen. The island is black but blends in nicely with the cabinetry and wooden floor, creating an amazing color palette. This is a great option for couples looking for a minimalistic kitchen design that fits nicely into a big kitchen.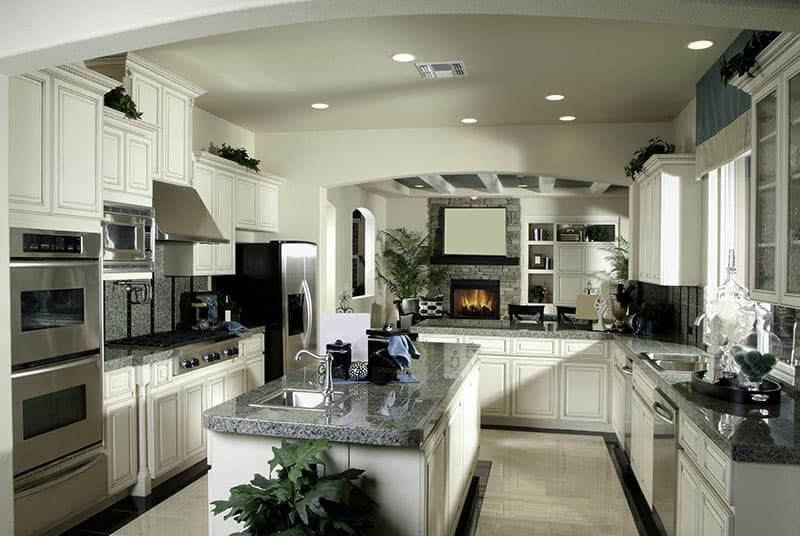 31. This is a small kitchen with very limited lighting from the outside, which often requires a lot of creativity to be worthwhile. There are only three color here, those of the cabinets, which is white and the grey marble surrounding the whole kitchen. The other is the light greenish color that blends in with the former. The island is small, although it provides enough counter space and leaves ample real estate for moving around the kitchen.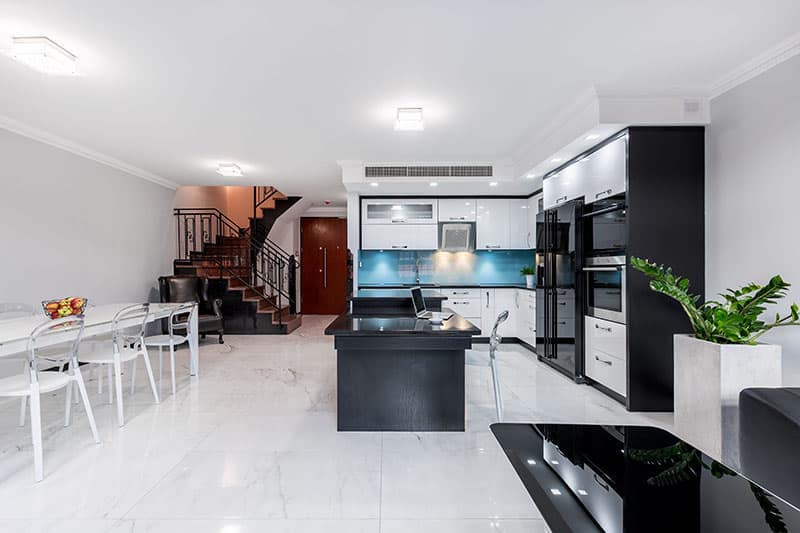 32. It is not so easy to achieve the look of a modern and functional living room interior with open kitchen space and dining room unless you work off somebody's creativity. In this modern design, you can see the structure looks more like a living room with different sections attached than a kitchen. Since black and white is the dominant color here, it's easy to pick out each item though. Maybe adding a large kitchen island instead of a black table will make it look more like a modern kitchen than a living room?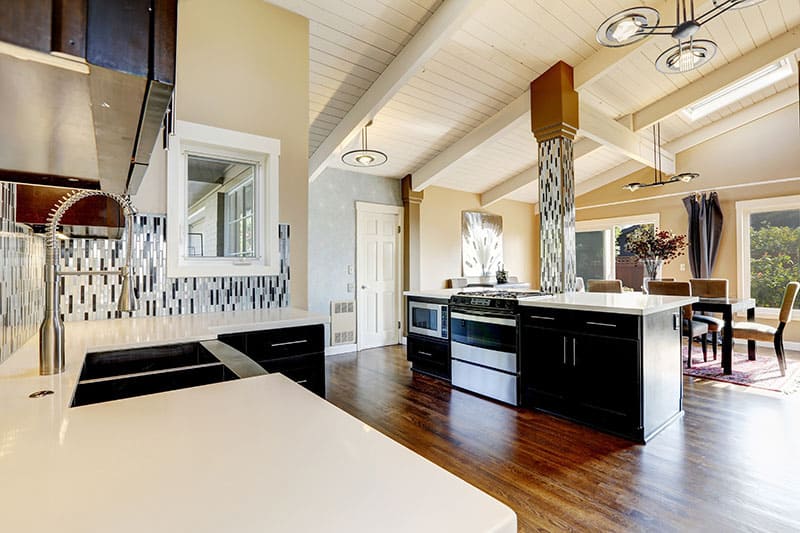 33. Like many kitchen islands, the one in this image has plenty of storage space and its dazzling black stands out enough to create a great first impression. Changing the black color to match the floor backsplash and using a grey marble may have had a much more powerful touch and nuance to the scenery.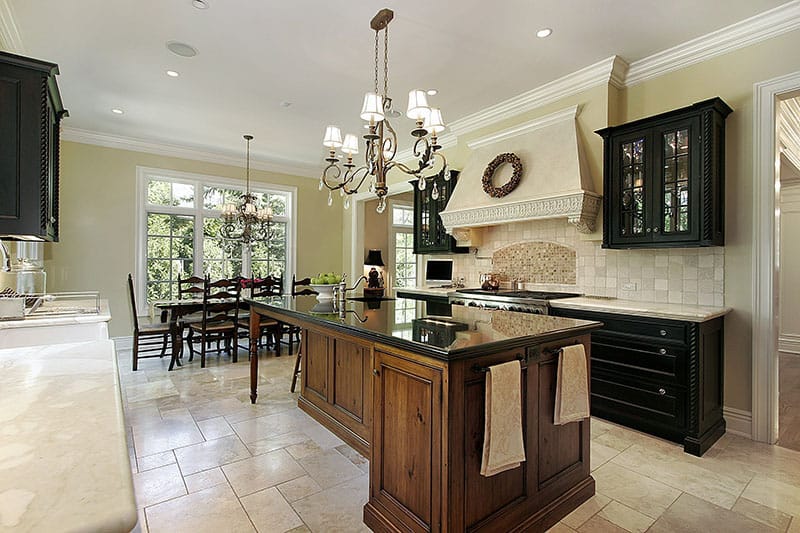 34. When you have a 100% wooden island, you can add a few extensions for storing miscellaneous items in the kitchen as evident in this kitchen. The breakfast bar in the far end of the kitchen seems like an extension of the island so maybe that's why stools are not added to this island. You can definitely spice it up by adding two or three stool and it won't take away from the cool ambiance of this design.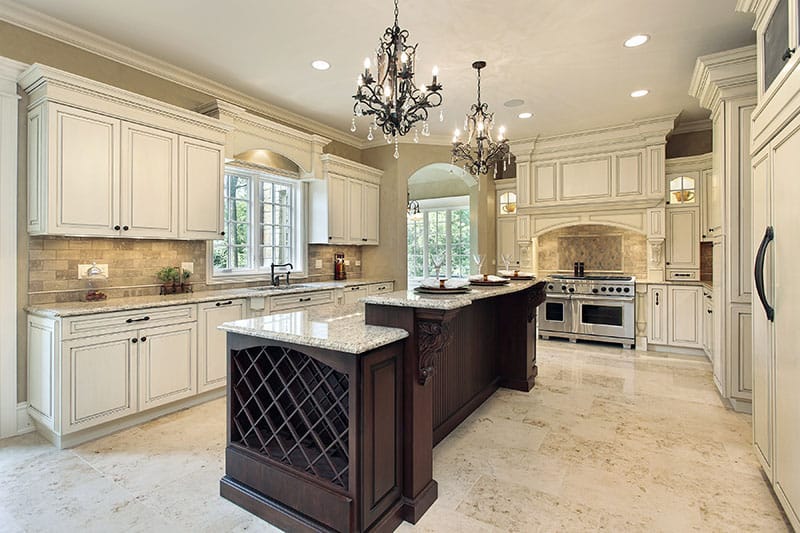 35. You can make a kitchen island for eating as well as cooking with a double deck design. If you are undecided on which one to go with, you can follow the lead of this design. The eating area is on a higher level than the cooking area so you can enjoy the best of both worlds, without any hindrance. Another thing worth noting is that this design is great for a small kitchen as much as it is for a larger one so don't get discouraged if you have a tight space. And don't forget, add 2-3 beautiful brown chairs to the eating area of the island to complete the look.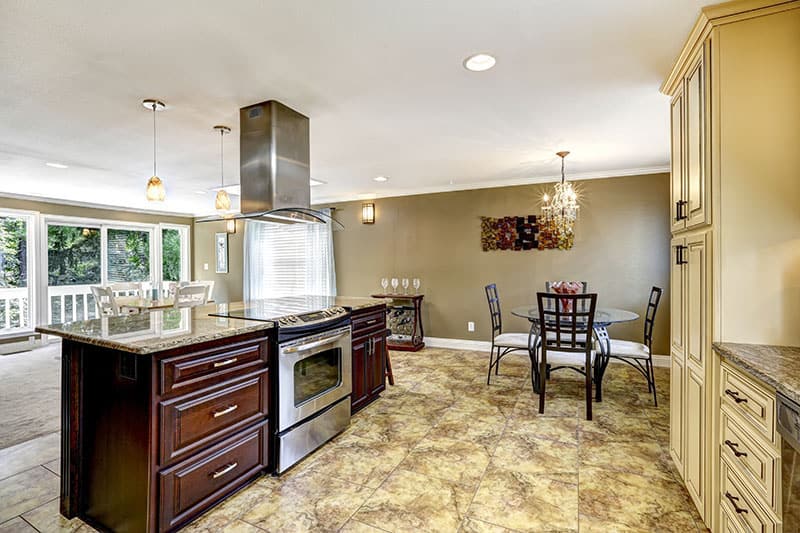 36. Finding the right color for your kitchen island can sometimes be difficult especially if you already have a diverse set of colors for your cabinets, floor, and ceiling. But since you already have the style and color scheme of the kitchen itself, simply choose a color that'll tone down the hue of the kitchen. In order not to have a kitchen with too many colors that look cluttered, choose a color that's not repeated elsewhere in the kitchen for your island. The advantage is that your kitchen doesn't look cluttered and your island can stand out.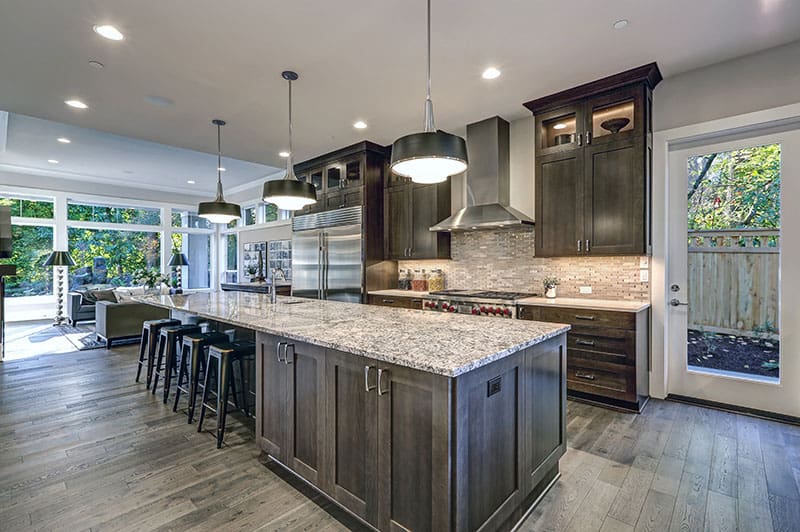 37. This modern kitchen has a lot of appliances ranging from a big refrigerator, a long island with stools and granite countertop and a fine beige backsplash. Many homeowners default to a small kitchen island but sometimes, only a long, oversized island can complement the beauty of your cabinetry and appliances.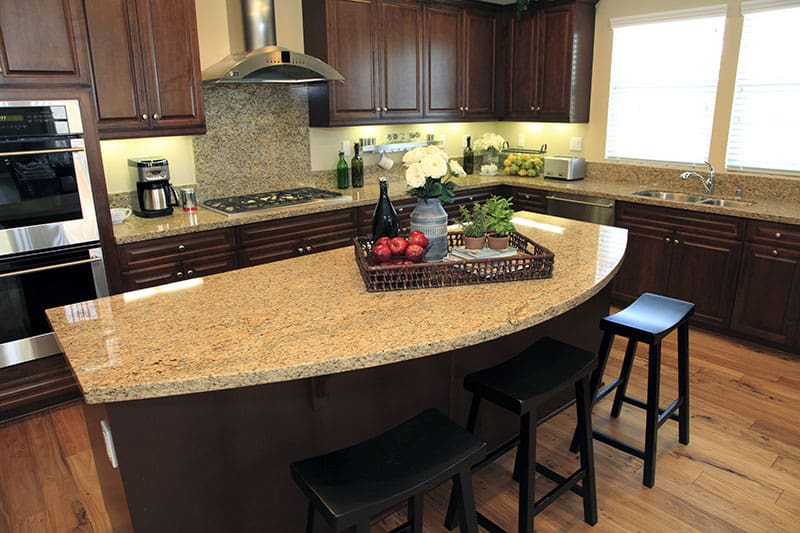 38. You can have a kitchen island with extended dome-shaped countertops and stools so you can dedicate it to food prep or just an ordinary eating table for your kitchen. Just add a few cabinets and an extended marble top on the island that's emphasized throughout the kitchen.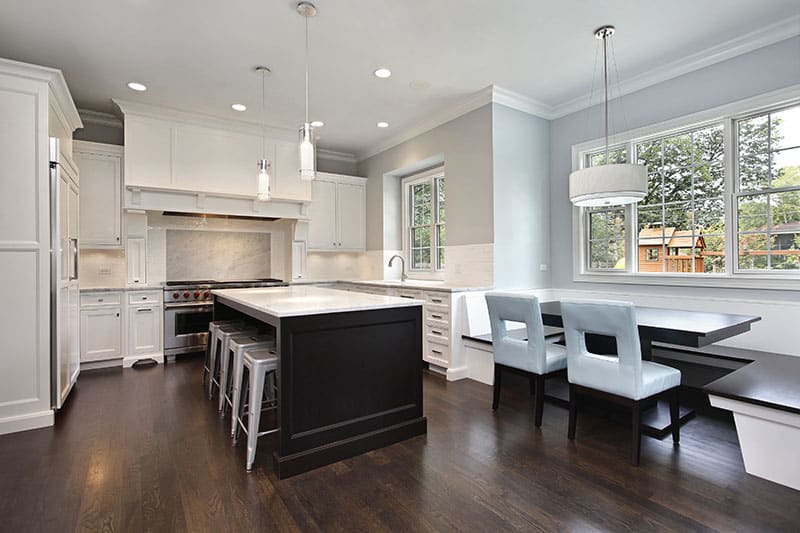 39. This is a kitchen in an upscale home with a bench and table for eating. The kitchen island is a hue of black and white and blends in with the kitchen cabinets bright ceiling, and the dark wooden floor. And there is not much to be said as the picture itself speaks in a thousand words. If you have a large kitchen, you can go with this beautiful kitchen setup.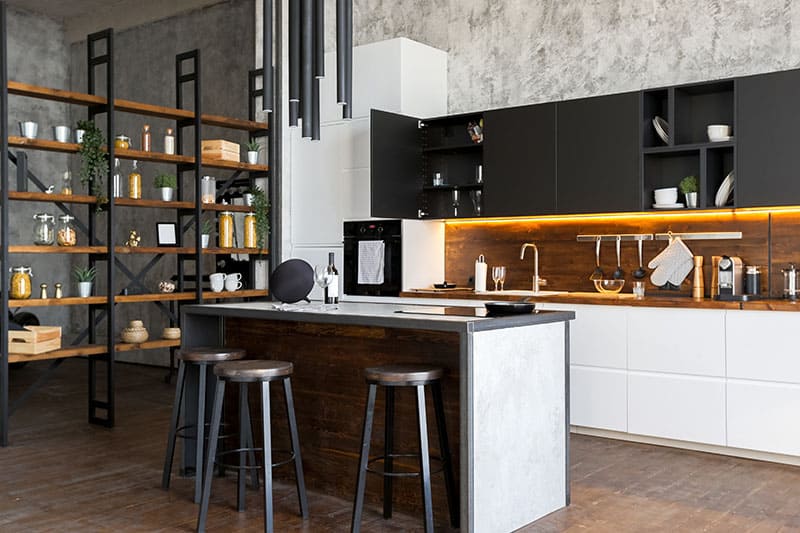 40. This luxury studio apartment features a free layout in a loft style with dark colors. Choosing a kitchen design for this kind of setup may look difficult, probably because of tight space or the inability to match the luxurious feel of the rest of the apartment. This stylish modern kitchen area with an island is a trial and it seems to blend in nicely. Fix it to a cozy bedroom area with a fireplace and personal gym and you are good to go.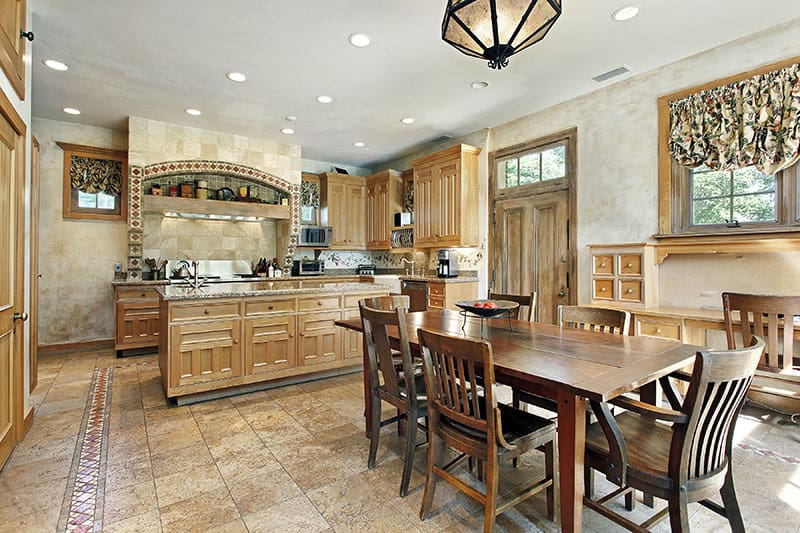 41. If you want to make a beautiful kitchen island, you need to make sure the frame blends in with the cabinetry and pretty much everything in between. The lighting, eating table, flooring, window pane, all blend seamlessly with the island and it seems like everything is one. And to achieve this kind of lush, add a marble or granite top to the island.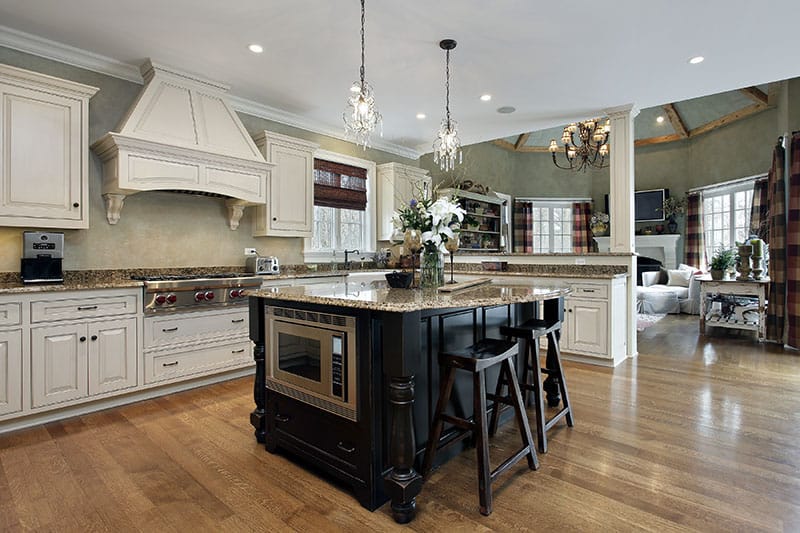 42. Make your kitchen island for two purposes, a simple breakfast bar and a stage for preparing food. This kitchen in a luxury home with white cabinetry features a square but a solid island with a two stools to match. The marble countertop is more striking as it gives the island a strong character. This design shows a great setup of the kitchen island and things in an opened space between the kitchen, dining and living room.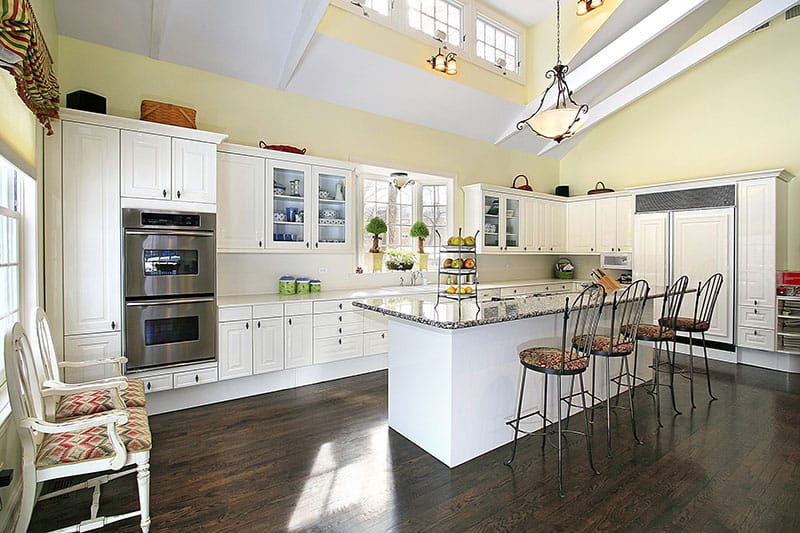 43. One thing that's evident from this kitchen is the calm and serene atmosphere. It makes you feel welcomed and gives you a feeling of exploration. Add a personal touch, by connecting a bookshelf somewhere on the island and store your books there so you can flip through your favorite cookbooks while experimenting with different recipes.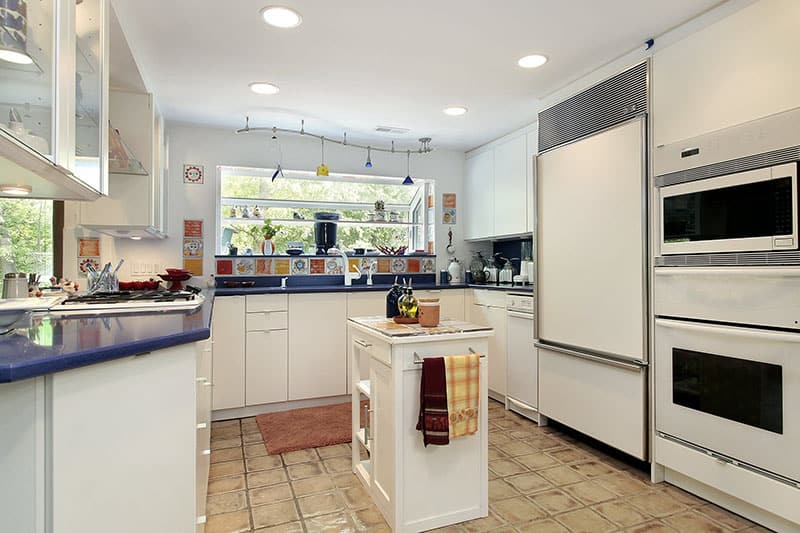 44. Although this island looks small, it's quite functional in that it has its own cabinet for storage and a countertop for a few kitchen items. You can choose to have a marble top or granite top, but that might be an overkill. If you have a small kitchen, this is your best option. One problem is that it doesn't have good support so you'll not be able to use it as a food prep or keep anything heavy on it.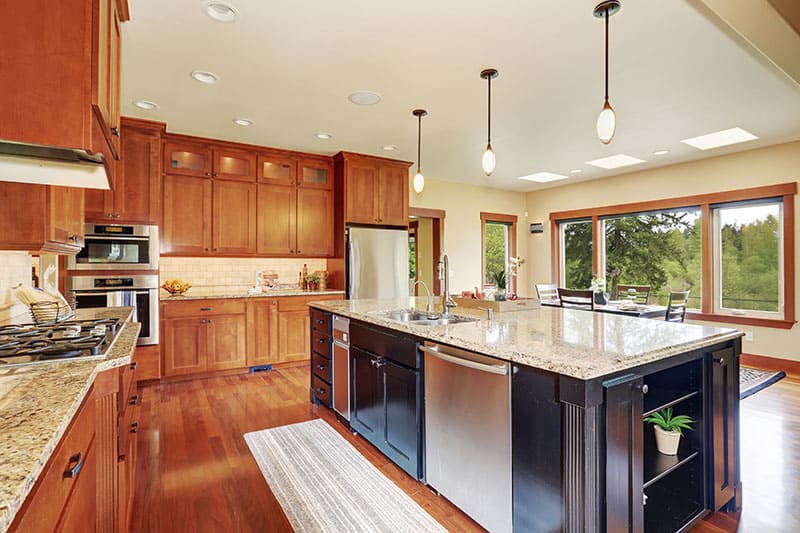 45. This colorful kitchen island with a whitish-grey marble top steals the show in this kitchen design. It brings a new look to the kitchen despite the cabinets and flooring option looking dull. With marble countertops being deployed in most kitchen island today, pairing one with a blue island is the way to go. Some chic light-blue island can be great but you can steal the spotlight with an island in darker shades of blue. Install this in a kitchen with uninteresting kitchen cabinets plus a few bright pendant lights to have a cool, cheerful kitchen.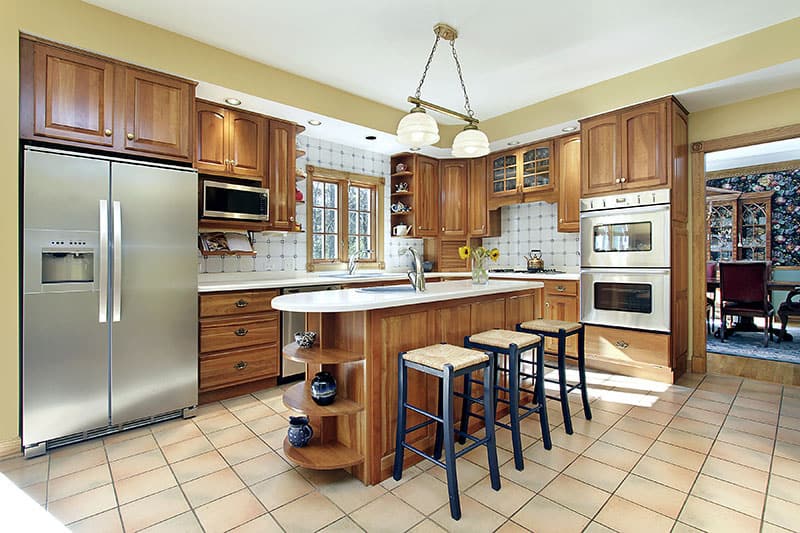 46. This kitchen island houses the sink, dishwasher, and some other cabinets for storing small items. This type of island is called a sink island for all the customizable options it gives you. What's more, it even has space for attaching stools, so you can do more than just food prep here.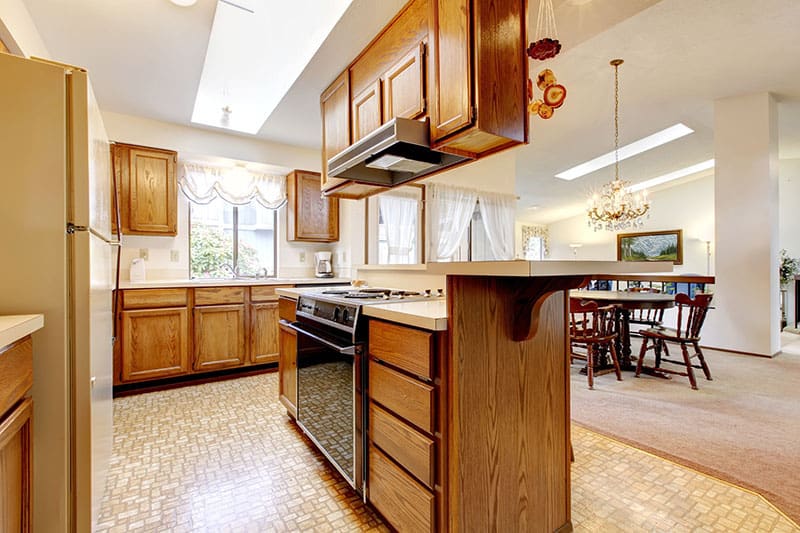 47. Even in a 21st-century kitchen setup, a bright kitchen room with a high vaulted ceiling and skylights will wow your visitors. Add a rustic dining table set with a matching kitchen island to keep the kitchen cheerful and full of life.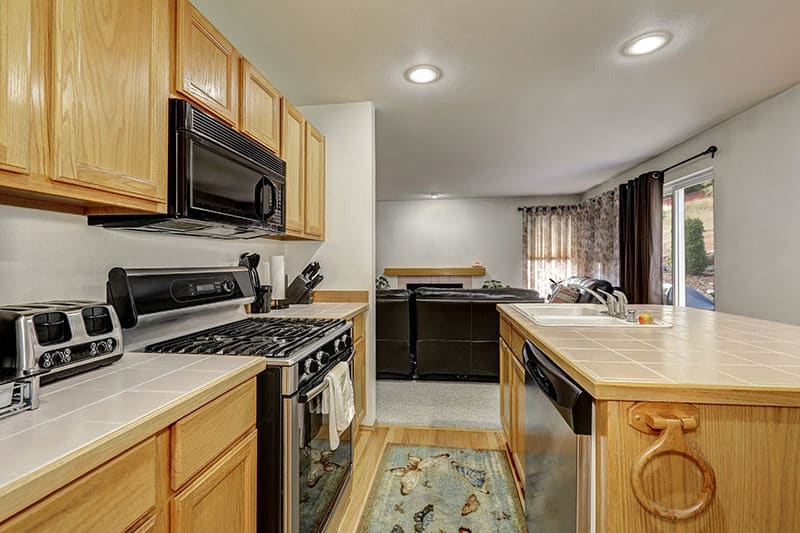 48. This is a small kitchen space in a newly finished apartment. There is nothing special about the appliances used, the sink island or the freshly furnished cabinets. But when you look at the skillful arrangement of each item, you'll start to see why new owners want this kind of design. Bonus: use the same material on the kitchen cabinets and island for a cool ambiance.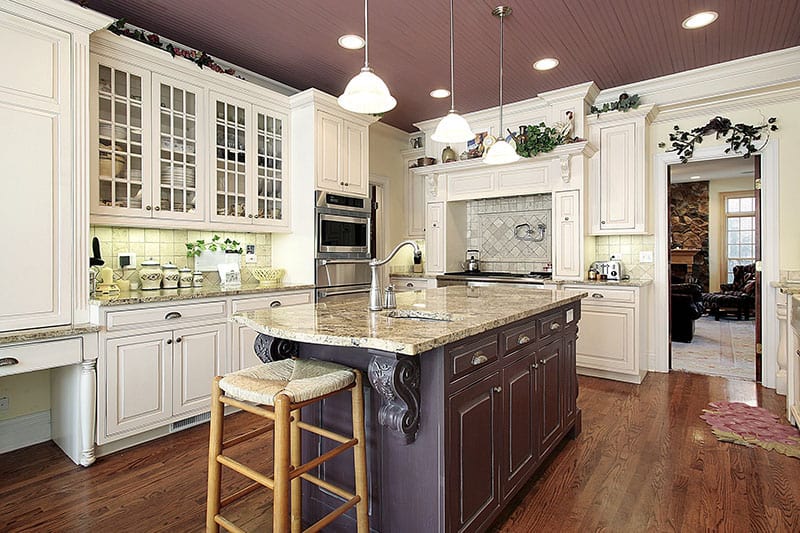 49. Whenever you want to decide on choose unique colors for your kitchen island, choose the one that can add a dash of freshness – one that escapes the mundane color of most setups. Instead of going with blue, red, white, or any of the popular ones, break the norm and choose an ordinary color like grey, purple, or peach brown. And to further enhance the look, go with a multi-colored kitchen island that combines different hues for a unique collage.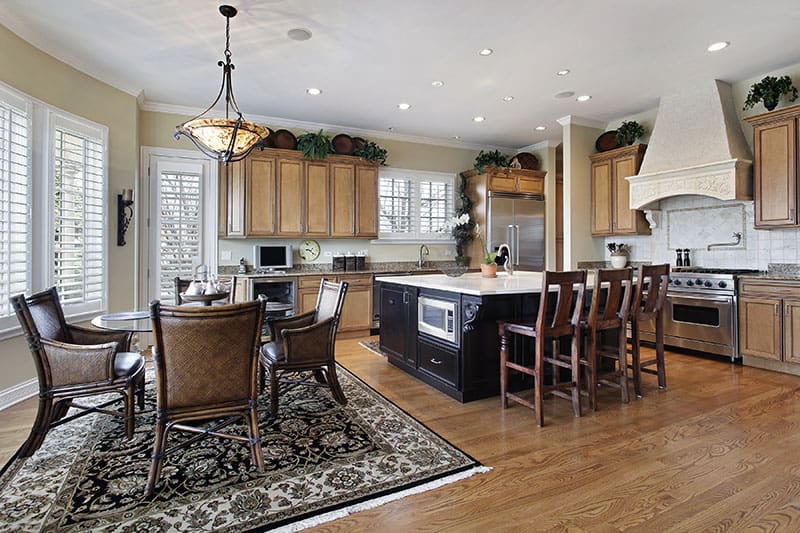 50. This kitchen is outfitted with overhanging pendant light, recessed light, and strategically placed window vessels. Add in a customized kitchen island with a granite top and its own chair. As you can see, there are plenty of chairs here for a quick breakfast with a small screen for staying up to date with your favorite programs.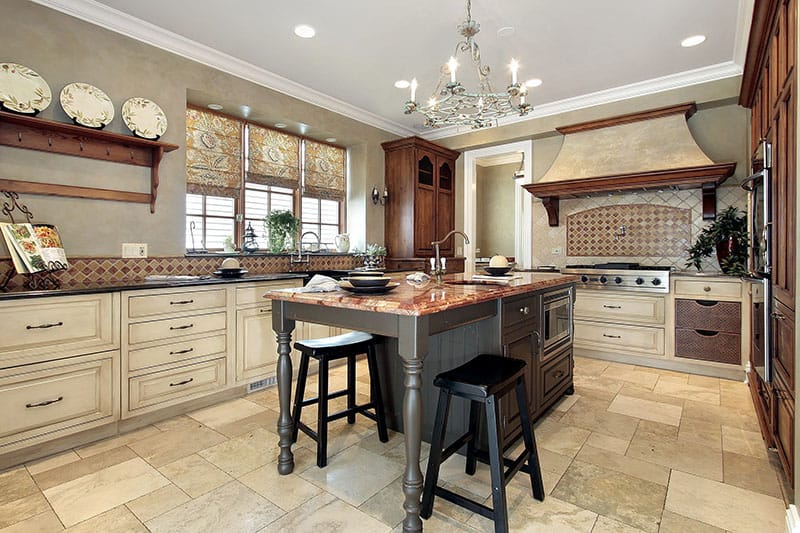 51. This is a fully functional kitchen island with sink, drainage, and ample counter space. This is not just another counter in the kitchen but rather another convenient area where you can carry out lots of kitchen activities. The kitchen island is isn't dull, instead, it's immediately noticeable with its nice color palette and simple structure.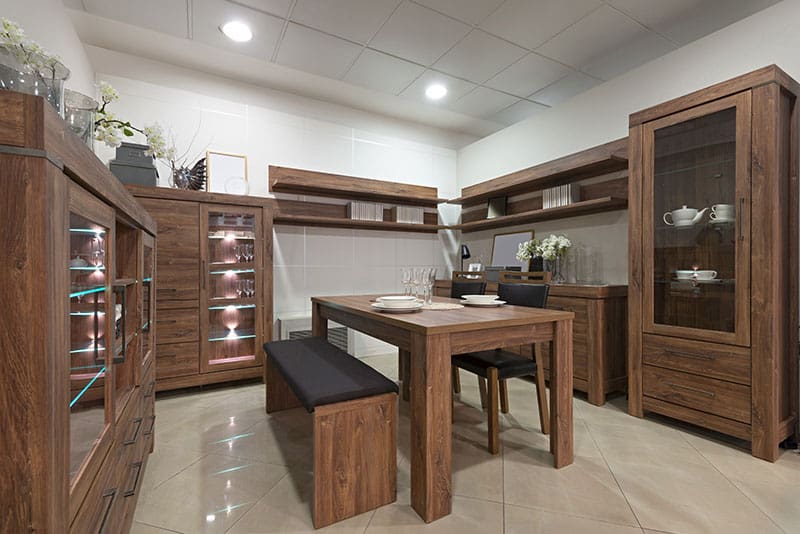 52. This custom dining room has a striking resemblance to a barn style kitchen with lots of customized wooden appliances. This looks more like a traditional setup than a modern kitchen with custom cabinetry entirely made of wood. The small bench beside the wooden island provides ample space for a quick family discussion while you prepare dinner.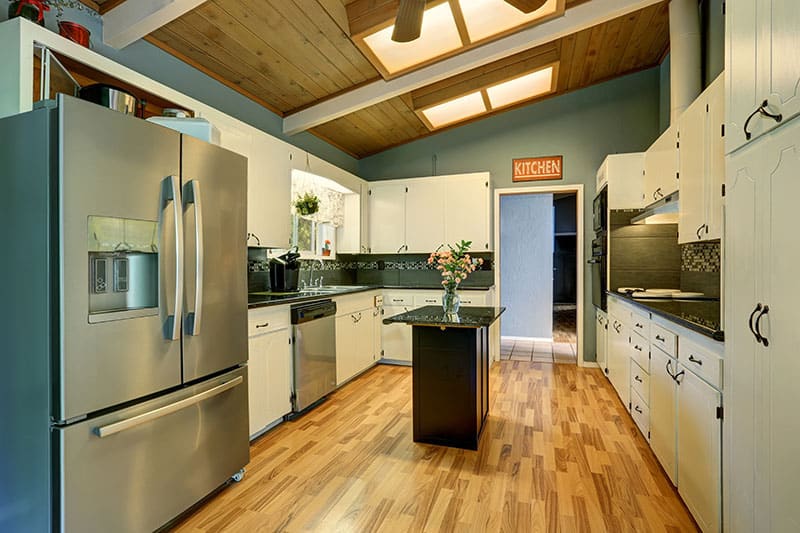 53. If you have a small kitchen but with enough storage space in the kitchen, you can go with this portable kitchen island. It's more of a stand for keeping flower than a kitchen island, so you may have to explain to uninformed visitors every time that this is really a kitchen island.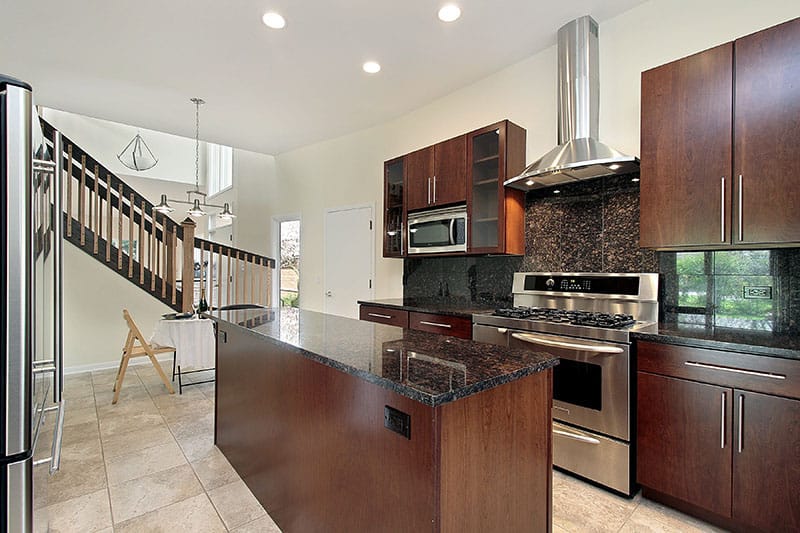 54. After a remodel in the home, you always have a lot of options on what new style to bring into your kitchen. As you can see here, this is a small and closed kitchen but every space is utilized to the maximum. The island is sharing the same furniture with the cabinets while the rest of the kitchen appliances like refrigerator, oven, and vent take the form of stainless steel. This minimalistic design shows you don't need to spend thousands of dollars on materials to make a striking statement in your kitchen.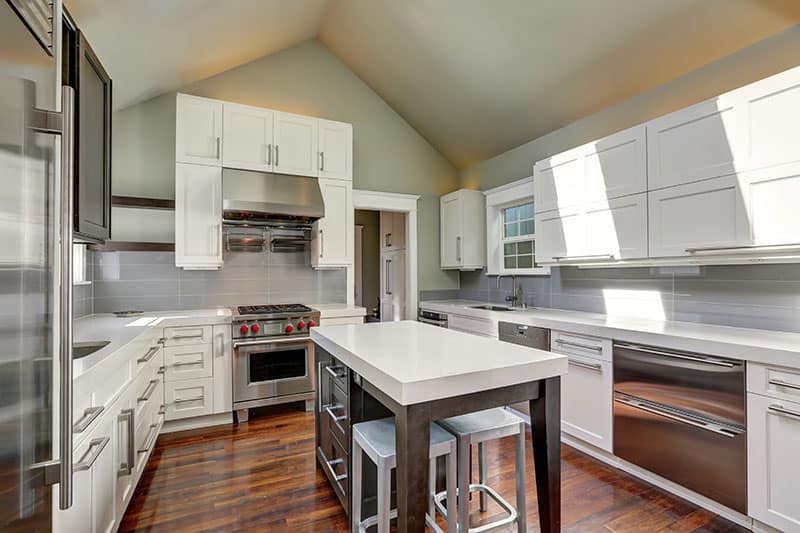 55. This is a modern style kitchen interior with brown and white cabinets, stainless steel appliances and a vaulted ceiling. The island is small but offers plenty of storage space for kitchen items and dedicated stools. The top is entirely white, to match the rest of the flat front cabinets.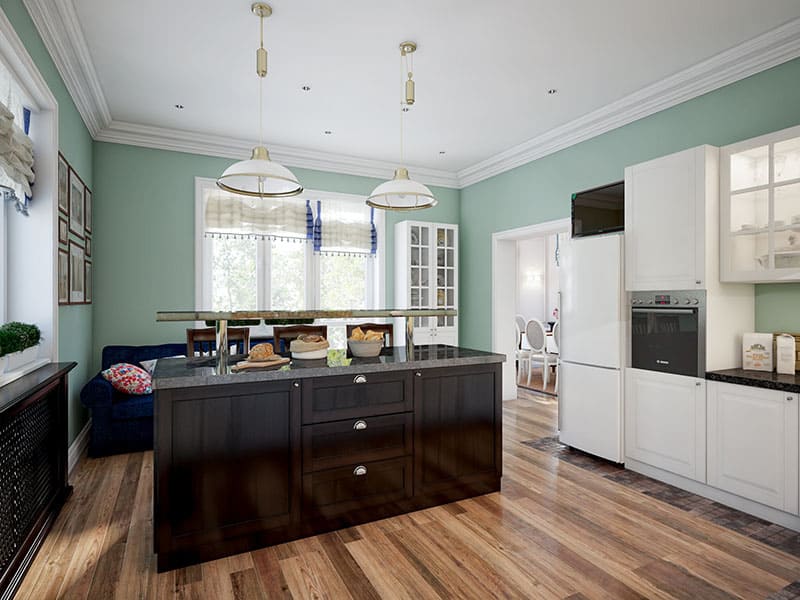 56. This is another kitchen in a luxury home with shaker cabinets, gorgeous pendant lights and a wide kitchen wall in light green. What's more striking here is the kitchen island, crafted in dark brown and a grey marble top that looks no different. The island offers three drawers for miscellaneous items, large counter space for keeping spices and other ingredients, and a nice hanger for hand towels and other clothing items.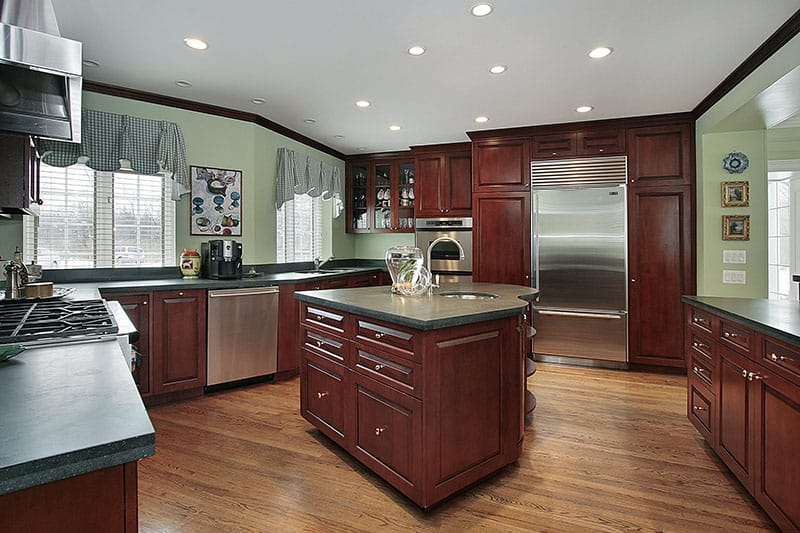 57. It's evident in this design that the kind of kitchen appliances, cabinetry, and sink used can help you keep costs down without sacrificing your style.  The wooden cabinets match the floor for a seamless effect and the small, non-portable kitchen island look more like the popular rolling cart island and the correct height for preparing food. The good thing is that it's suitable for a tight space and won't roll away while you are cutting something.


58. This cream-dominated color sets a calm tone for the whole kitchen with natural elements, refinished wood on cabinets, marble on island countertop, and three-step ceiling design. The cabinets are charming, but the island is lovable. As you can see, the kitchen island has its tentacles all around the whole kitchen giving you ample counter space and storage space. Add a few stools here and there to fill up any baring in the design.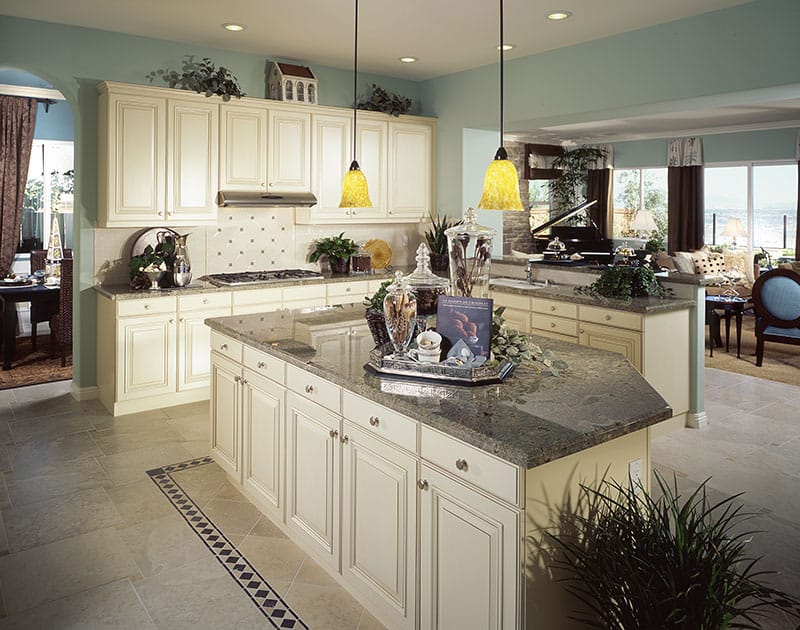 59. This contemporary kitchen has a sleek design with a large island and traditional lighting. The island features a marble countertop with refurnished wooden cabinets that blend with the rest of the kitchen cabinetry. The dropping pendant light is also an inch away, bringing every detail and nuance of the island into view. The kitchen is open to the sitting room and veranda, which gives the kitchen a modern feeling.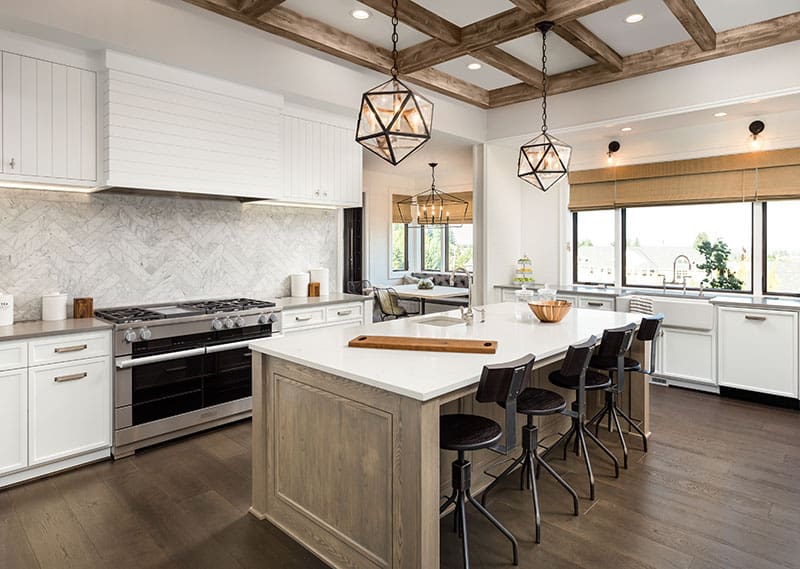 60. This kitchen interior features an island, sink, cabinets, and hardwood floor plus elegant pendant lights and a farmhouse sink next to the window. The island is simple but it shines when it blends in with hardwood tile and timber tamed ceiling.